35 Famous Landmarks in Arizona to Visit
Destguides may receive commissions from purchases made through affiliate links in this article.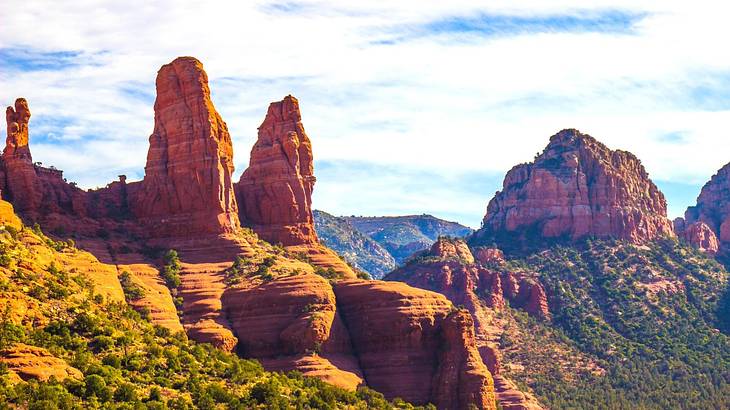 If you're reading this article, it's because you might be wondering what Arizona is known for. Arizona is known for its desert landscape and various cultural and historical attractions.
Famous landmarks in Arizona range from world-renowned sites, like Antelope Canyon, to places of cultural interest, like Taliesin West. If you're still wondering what to see in Arizona, read on for 35 of the Grand Canyon State's most incredible attractions!
35 Famous Arizona Landmarks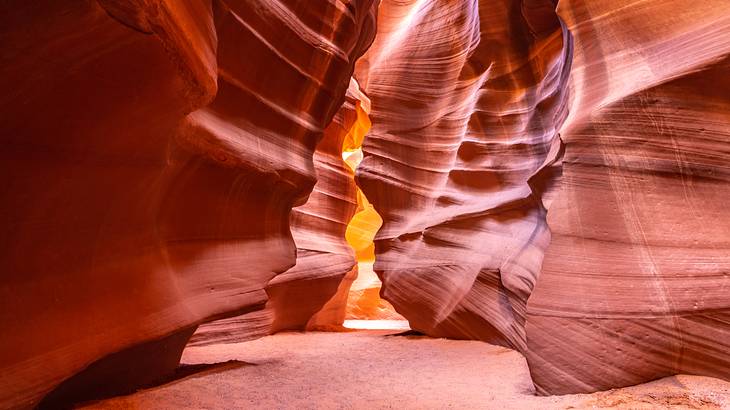 Antelope Canyon
Antelope Canyon is considered sacred by the Navajo and is located in Navajo land near Lake Powell and the city of Page. To enter the area, a guide must accompany you, and they will take you to the best parts of the Upper and Lower Antelope Canyon. Visiting this incredible landmark is hands down one of the best things to do near Page, Arizona!
Arizona Museum of Natural History
The Arizona Museum of Natural History has interactive, informative, and well-organized exhibits for visitors of all ages. The museum focuses on understanding the natural world around us and how we can preserve and record it.
To make admission easier, buy your tickets online ahead of your visit. Also, note that the museum is not open on Mondays.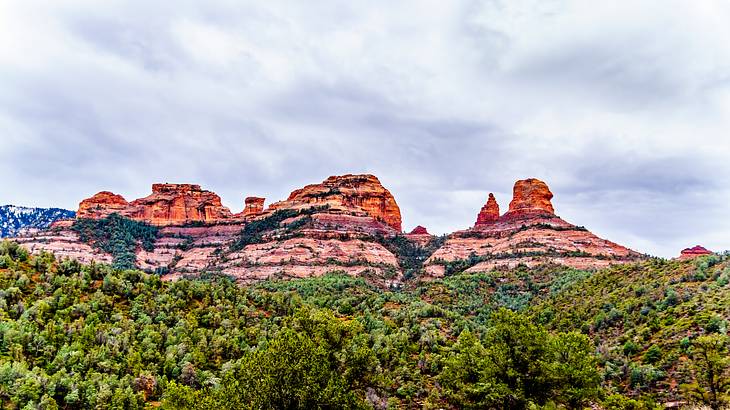 Arizona Route 89A
Arizona Route 89A is considered one of the most scenic routes in the USA, and it is one of the Arizona famous landmarks that you must make time to see.
The route's elevation changes and frequently twists, making for a fun and engaging ride. As you drive along the road that runs from Flagstaff to Sedona, you will also get to enjoy stunning views.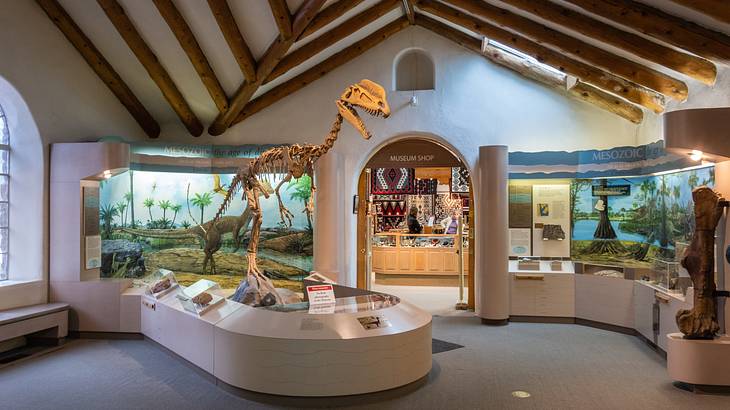 The Arizona State Museum
The Arizona State Museum has been accumulating and preserving Southwest history since 1893. Notably, it is the oldest anthropological museum in the region.
The museum's collection of pottery and photography comes from ten different groups of indigenous peoples, like the Tohono O'odham and Pascua Yaqui tribes. By viewing the displays here, you can get an inside look at the life of indigenous tribes from the US and Mexico.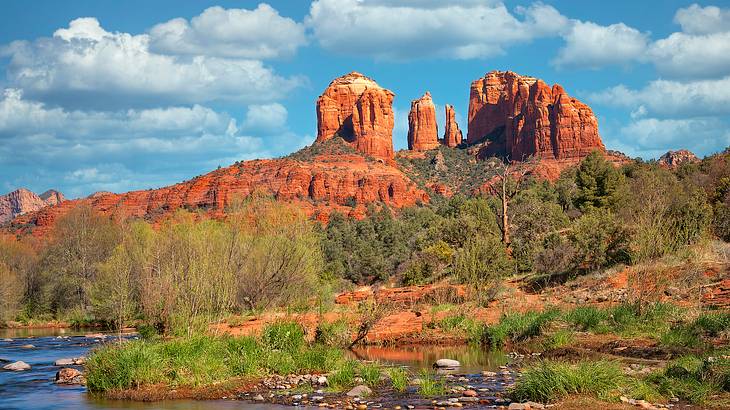 Cathedral Rock
Cathedral Rock is part of the beautiful Sedona skyline and is located in the Coconino National Forest in Yavapai County. This natural sandstone hill is one of the most popular photo-op places in the U.S.
Making time to check out the breathtaking view of Cathedral Rock is bound to be one of the most perfect parts of your visit!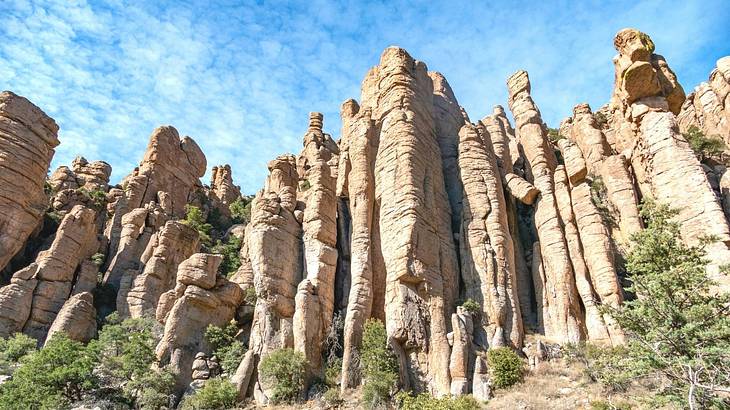 Chiricahua National Monument
The Chiricahua National Monument is the product of an enormous volcanic eruption that happened over 27 million years ago.
Covering 12,025 acres, the park features an extensive system of hoodoos and other geological formations. Seeing these rare rock formations is a must, and you can also find several moderate hiking trails surrounding the monument.
Colorado River State Historic Park
The Colorado River State Historic Park was once a military supply point and is now one of many interesting historic sites in Arizona. The park is home to restored historic buildings that display period-correct furnishings and historical artifacts.
You will also be able to see scale models of what the region looked like in its prime and learn how the Colorado River is managed for irrigation.
Copper Queen Mine
One of the more unique famous places in Arizona is Copper Queen Mine. Taking a tour inside this copper mine will allow you to learn about the copper-making process and what life was like during the facility's heyday.
You will also learn about the method used to get to the precious rocks and how each one has to be mined differently. It is an educational and adventure-filled experience you will want to include on your trip.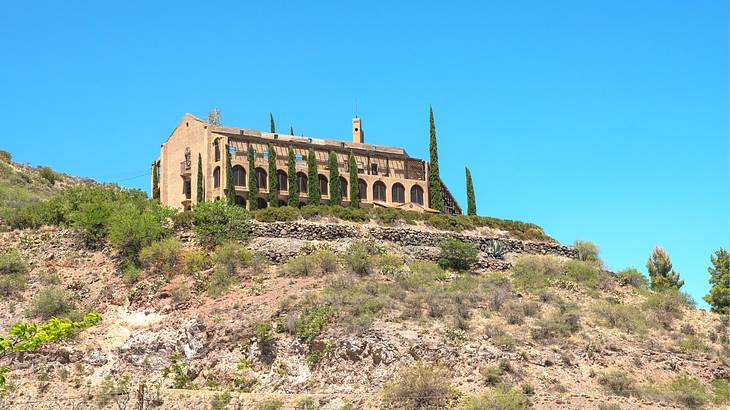 The Douglas Mansion
The Douglas Mansion was previously the home of a mining baron and his family. It is located in Jerome State Historic Park. This Arizona landmark became a museum in 1965 and has been used to preserve and educate visitors on life during the rise and fall of the Jerome mining town.
Inside the house, you will find photographs, artifacts from the era, and a 30-minute informational video presentation. Along with its beautiful views and historical significance, this stop is sure to be entertaining.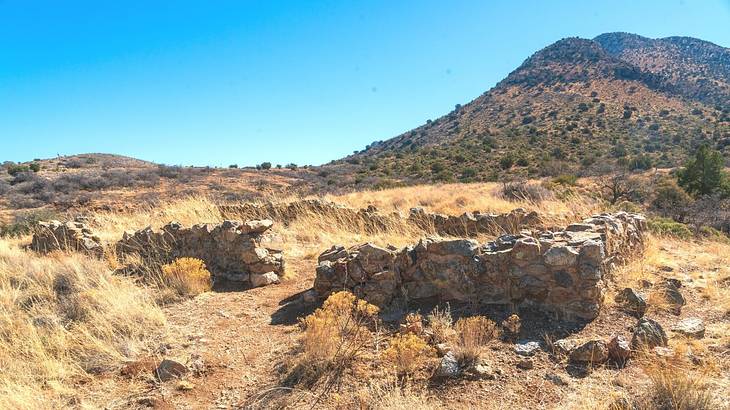 Fort Bowie National Historic Site
Fort Bowie is a historical site that was used during the Apache Wars in the 19th-century. The most notable battle here was the Battle of Apache Pass. When visiting, you can hike a 1.5-mile trail to the fort ruins and learn more about the events that took place here.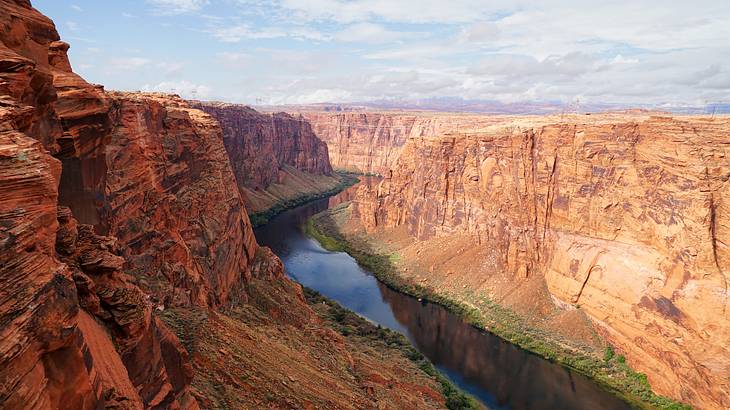 Glen Canyon Dam Overlook
Tackling the quick 30-minute hike to the Glen Canyon Dam Overlook is well worth it. Once you get to the overlook, you will be able to see across an expansive red rock canyon and the Colorado River. Don't forget to bring your camera to get the perfect pictures of this landmark!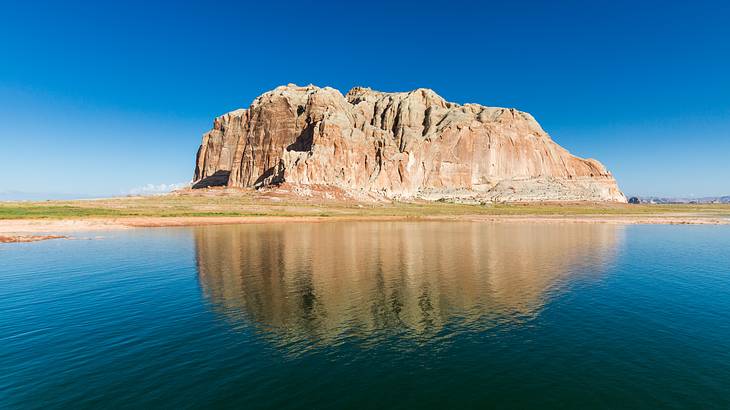 Glen Canyon National Recreation Area
Surrounded by Lake Powell, the Glen Canyon National Recreation Area is one of the most beautiful points of interest in Arizona. It is the ideal place to stop for a picnic or spend the day. You can also find hiking trails, lookouts for nature watching, and camping grounds.
Grand Canyon National Park
Grand Canyon National Park is one of the most famous landmarks in the world. Its exquisite views and geological history attract more than five million people per year.
You can stop at the edge of the canyon and take a picture, hike on numerous trails, or even stay at the Grand Canyon Village located on the south rim. The possibilities are endless at this renowned North American landmark!
Hoover Dam
Hoover Dam, formerly known as Boulder Dam, is a concrete arch-gravity dam constructed in the early 1930s. It is located on the border between Arizona and Nevada, and you can stand in two states at once when visiting.
The landmark also has a visitor center, where you can learn about flood and slit control, hydroelectric power, and agricultural irrigation.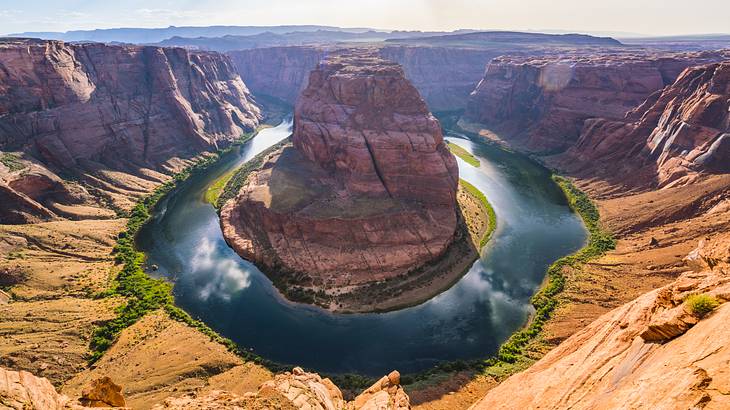 Horseshoe Bend
Horseshoe Bend is a unique topography that overlooks the Colorado River. Located near Page, Arizona, it is often called the "east rim of the Grand Canyon."
The natural landmark features red rock formations and a horseshoe-shaped meandering river. If you visit, you are guaranteed to get some incredible photos!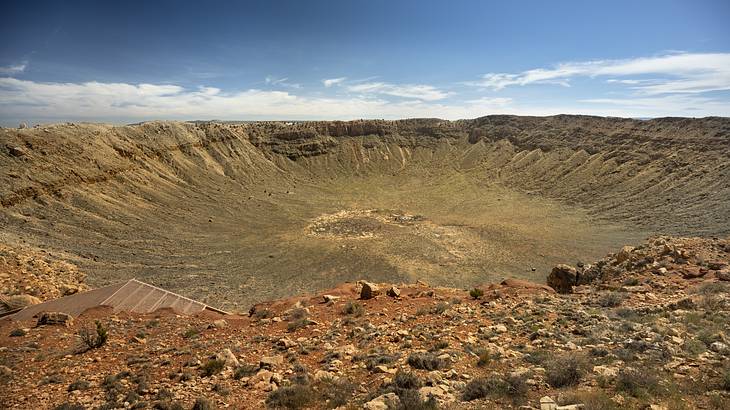 Meteor Crater Natural Landmark
As the first proven meteorite impact site in the Arizona desert, the Meteor Crater Natural Landmark is understandably one of the most famous tourist attractions in Arizona. The collision happened over 50,000 years ago when a piece of an asteroid hit earth at a speed of 26,000 miles per hour.
Located about 37 miles from Flagstaff, the out-of-this-world attraction is excellent for all ages. Stop by the Meteor Crater Discovery Center to learn even more about this fascinating landmark.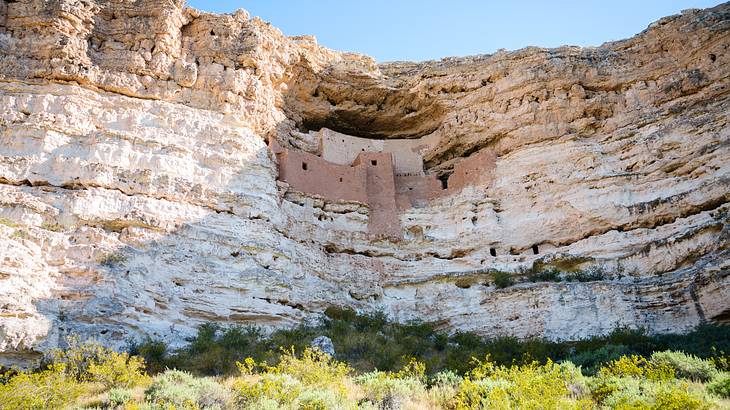 Montezuma Castle National Monument
The Montezuma Castle National Monument comprises dwellings that date back to 1110 AD. The primary structure to see here is a stone castle with 45 rooms built on a cliff by Southern Sinagua farmers. During your visit, you can get a fantastic view of the castle and learn more about the site's history.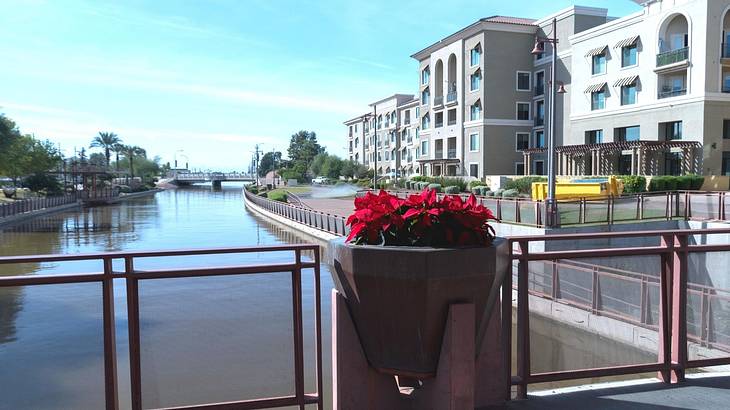 Old Town Scottsdale
Stopping by Old Town Scottsdale is a must-do activity when in Scottsdale. Whether you drop by an art gallery, grab a bite to eat, or shop at local boutiques, exploring the area will allow you to enjoy the friendly atmosphere and visit some unique outlets. You can also admire the Arizona-style architecture.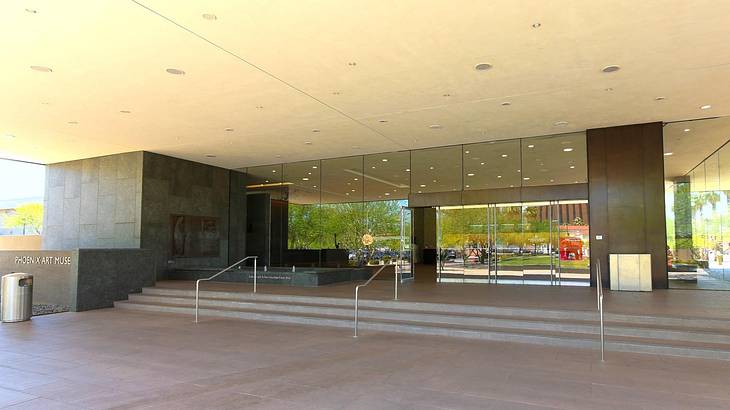 The Phoenix Art Museum
The Phoenix Art Museum is the largest in the Southwestern United States. Its permanent collections include over 20,000 curated works from all around the world.
The museum's exhibitions cover everything from Western American and contemporary art to Latin American art and fashion design. If you are looking for things to do in downtown Phoenix, checking out the Phoenix Art Museum is a must!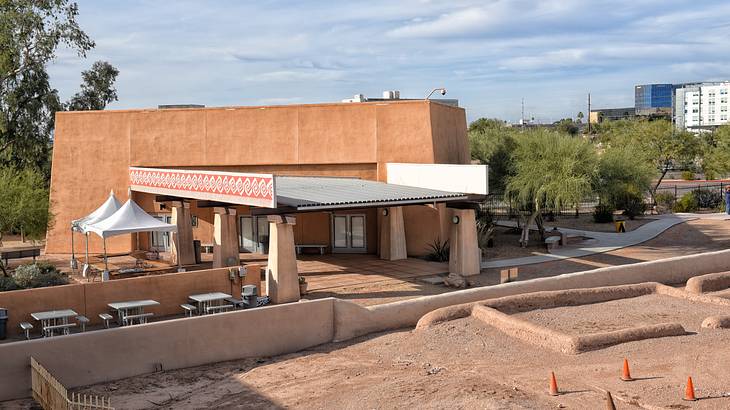 Pueblo Grande Museum Archaeological Park
The Pueblo Grande Museum Archaeological Park is home to the Pueblo Grande Ruin, one of the best-known national landmarks in Arizona. The park is located on a 1,500-year-old archeological site and is only a few minutes from downtown Phoenix.
The museum has been open since 1929 and is home to three galleries. The first gallery covers the Pueblo Grande Village site and Hohokam culture. The second gallery offers immersive activities for your kids to learn about archeology. Finally, the third gallery is for rotating exhibits on Arizona history, southwest culture, and more!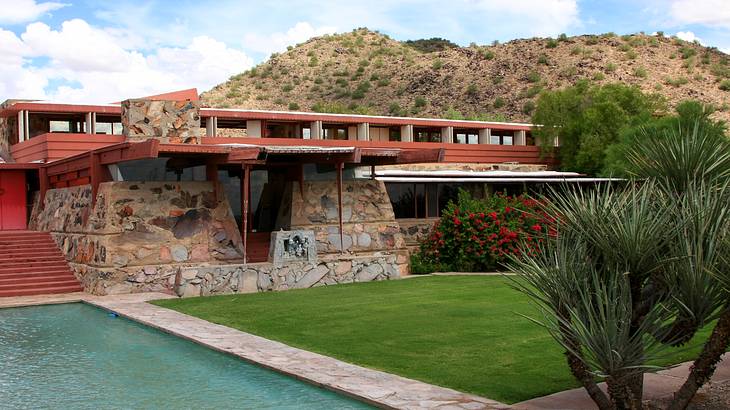 Taliesin West
Taliesin West is a national historic landmark and a UNESCO World Heritage Site. This landmark is notable as it was the winter home of the architect Frank Lloyd Wright from 1937 to 1959. The house sits within the foothills of the McDowell Mountains in Scottsdale on a Native American archeological site.
During a visit, you can marvel at this iconic piece of architectural design and learn more about the grounds. Interestingly, the ashes of Frank Lloyd Wright and his wife are also buried here.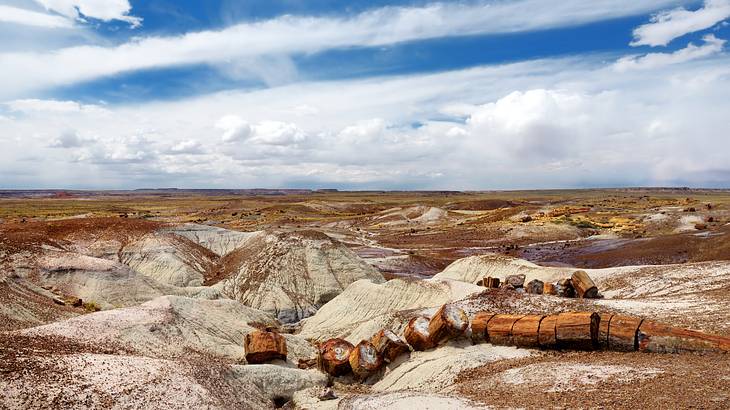 Petrified Forest National Park
Petrified Forest National Park is one of the best National Parks on the West Coast. It is known for the array of rainbow-colored wood that covers the area. Notably, it holds the largest concentration of petrified wood in the world.
The park is located in northeastern Arizona, about 100 miles from Flagstaff. As you explore the attraction, you can admire the sea of colorful petrified wood and take some fun photos. Visiting this unique natural landmark is well worth the drive!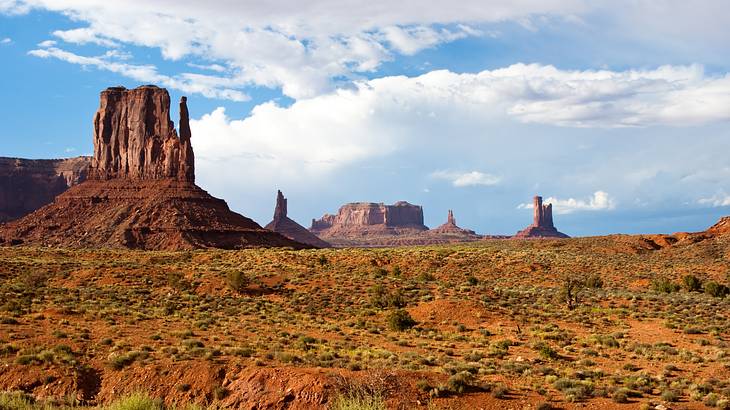 Monument Valley
The breathtaking red-sand desert region of Monument Valley sits on the Arizona-Utah border. Monument Valley, in Navajo County, is known for its large sandstone hills and spectacular sweeping views.
The site is also a popular filming location and is known for being featured in the movie Forrest Gump. While you can get out of the car to take pictures and walk around a little, driving through the valley is recommended.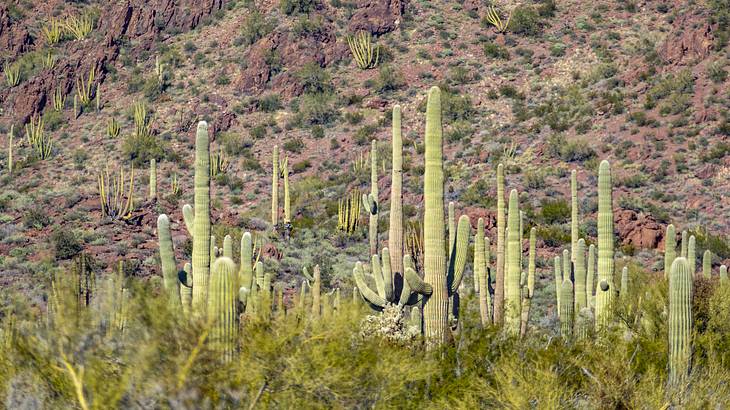 Sonoran Desert
Known as the hottest desert in both Mexico and the United States, the Sonoran Desert covers 260,000 square kilometers. The vast body of the desert features several national parks, national monuments, and cities like Phoenix and Tucson.
It also features various plants and wildlife, such as prickly pears and barrel cacti. Once home to the Hohokam people, it is now commonly used for retirement villages and resorts. Exploring this area will make it clear why people refer to AZ by the Arizona nickname of the Desert State.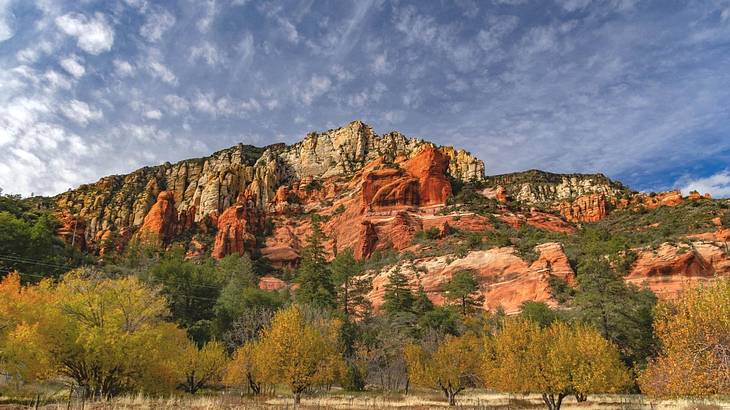 Oak Creek Canyon
Oak Creek Canyon is what some would consider a smaller version of the Grand Canyon. Located just outside Flagstaff, the park is full of colorful rock formations and covers about 12 miles.
When visiting, you will be able to hike trails that early settlers used and can also camp, fish, and swim in the area all year round.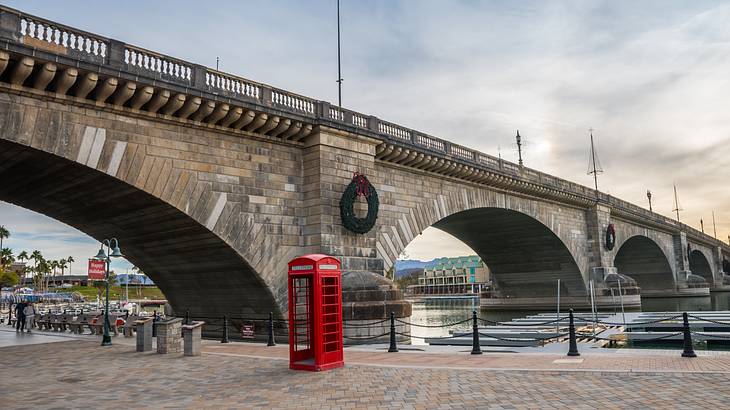 London Bridge
In the west of the state, Lake Havasu City is the home to London Bridge, one of the most charming famous attractions in Arizona. Not to be confused with the iconic bridge in London, United Kingdom, this bridge was purchased in 1964 by Robert P. McCulloch, Sr., for 2.46 million USD.
However, the bridge was shipped from England and rebuilt on Lake Havasu in 1971. A quaint English village replica can also be found next to the bridge.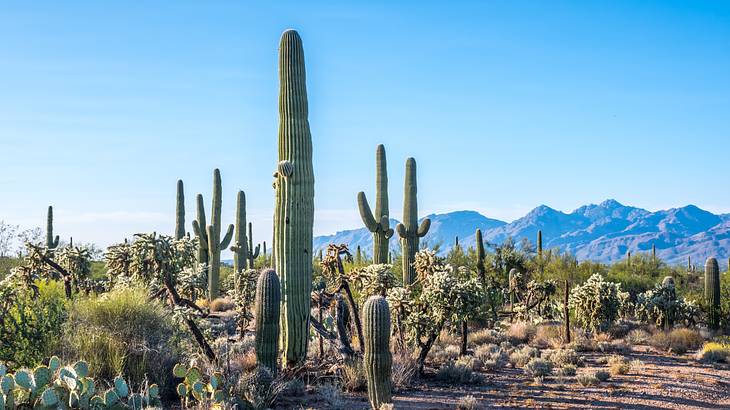 Saguaro National Park
Composed of two distinct districts, the Rincon Mountain District and the Tucson Mountain District, Saguaro National Park offers more than just your average vast desert views.
The park is notably home to a variety of animals. Some wildlife to spot includes Roadrunners, horned lizards, kangaroo rats, and white-tailed deer. Managed by the National Park Service, the outdoor attraction also has beautiful hiking trails and cozy camping sites.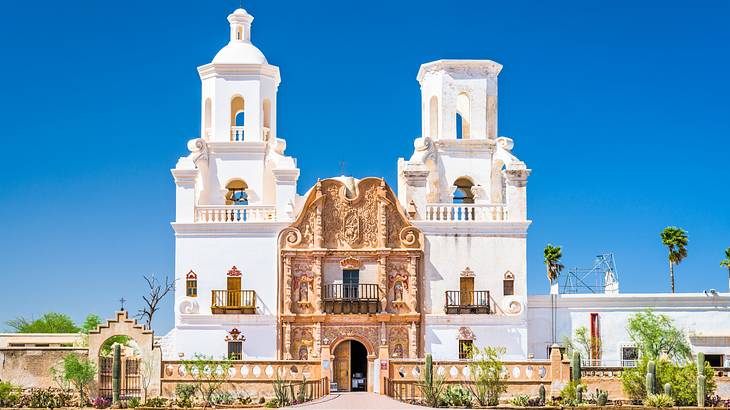 San Xavier del Bac Mission
The stunning San Xavier del Bac Mission is a National Historic Landmark founded by Father Eusebio Kino in 1692. The church is the oldest intact European structure in the state, making it one of Arizona's most famous places to visit.
When exploring the church's interior, you will discover original 18th-century statues and beautiful mural paintings.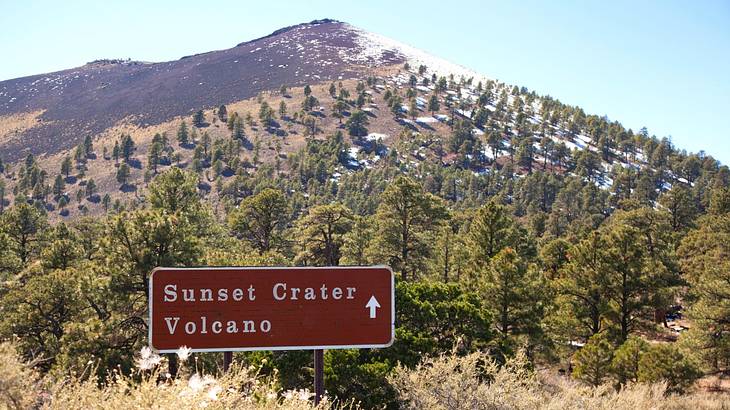 Sunset Crater Volcano National Monument
After a volcano erupted around 1085, a mark was left north of Flagstaff, which is today the Sunset Crater Volcano National Monument site.
The crater is believed to also be the source of the Bonito and Kana-a lava flows, traces of which you can see to this day. If in the area, stop by this geological site to witness how nature bounces back after a volcanic eruption.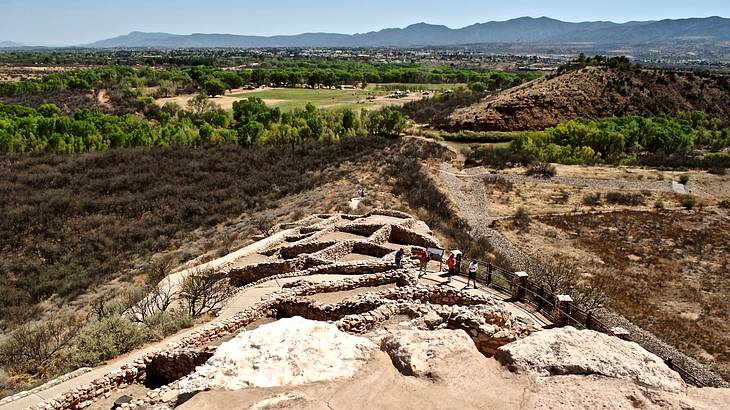 Tuzigoot National Monument
One of the must-see historical sites in Arizona is the Tuzigoot National Monument. This site comprises the ruins of a village built in 1100 AD by Pueblo Indians.
When visiting the 110-room hilltop structure, you can learn about the indigenous people who lived in the area almost one thousand years ago.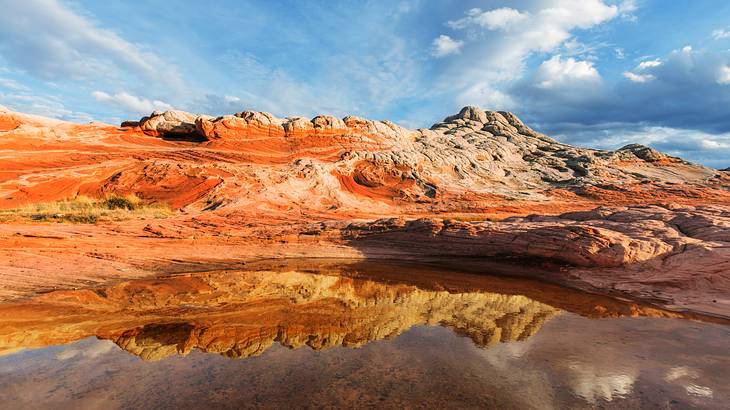 Vermilion Cliffs National Monument
With its impressive, towering red cliffs, it's no wonder this site is considered a US national monument! At Vermilion Cliffs National Monument, you will find some of the most beautiful hiking trails and views in the world.
There are several different landscapes to explore in the park, including Paria Plateau, Vermilion Cliffs, Coyote Buttes, and Paria Canyon.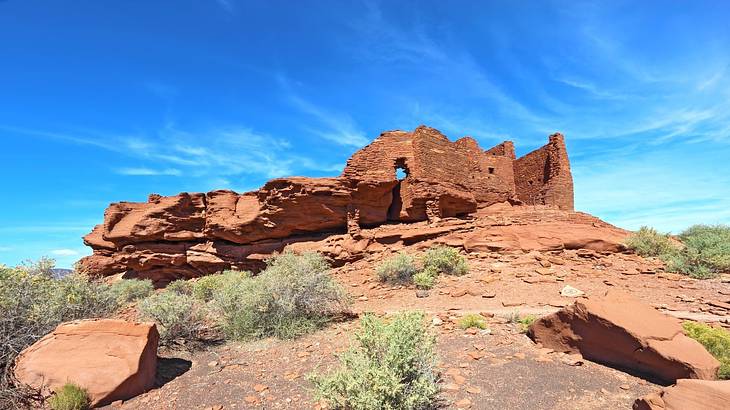 Wupatki National Monument
Wupatki National Monument is a 900-year-old Puebloan site with more than 100 rooms, a nearby blowhole, and a Hohokam-style ballcourt.
The National Park Service aims to preserve the living remnants of the herders, ranchers, and caretakers who called Wupatki their home. It is a landmark that will surely transport you into the past.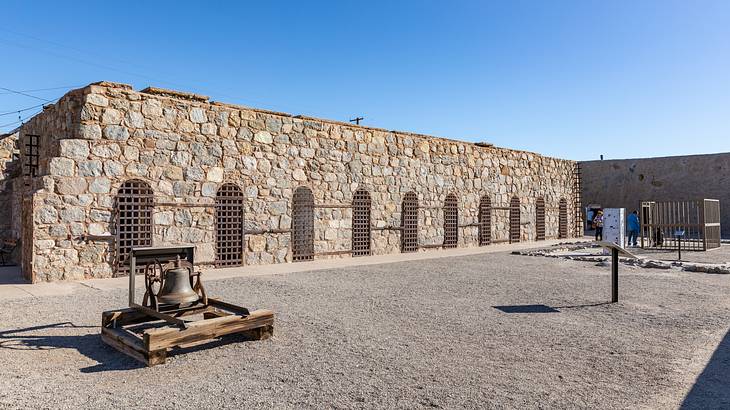 Yuma Territorial Prison State Historic Park
This former prison, located in Yuma, Arizona, was open for 33 years and now serves as a living museum of the Old West. Yuma Territorial Prison housed many prisoners, including polygamists and murderers, and served as inspiration for Hollywood movies like "3:10 to Yuma."
Exploring the prison will allow you to learn more about its history, and you can see artifacts and photographs in an on-site museum.
Hubbell Trading Post National Historic Site
The Hubbell Trading Post is the oldest operating trading post in the Navajo Nation. This attraction is notable as it shows the contrast between the two cultures that used the site; the new settlers and the Navajo.
When in the area, you will be able to visit the on-site museum and learn about the Hubbell family through family archives, furnished buildings, and business records.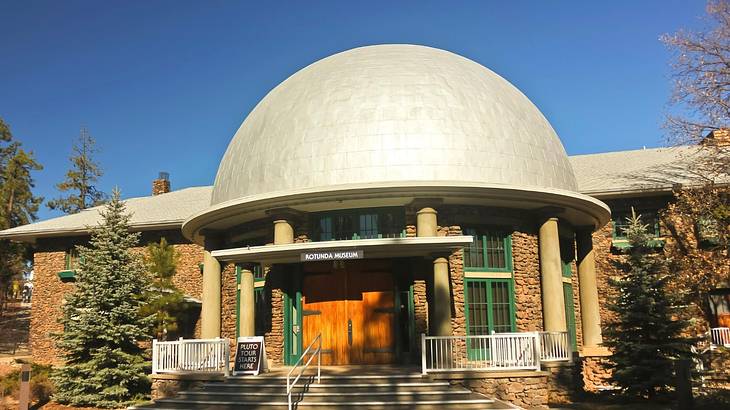 Lowell Observatory
Established in 1894, this astronomical observatory is one of the oldest in the United States. The Lowell Observatory is open for both daytime and evening tours. You can use their telescope (weather permitting), enjoy exhibits and science talks, and get a souvenir at the Starry Skies Shop.
In Summary
As you can see, there are a variety of fascinating Arizona attractions and landmarks to visit. Places to see range from natural landmarks to locations of cultural and historical significance.
When visiting the Grand Canyon State, including a visit to a least a few of these sites on your to-do list is a must!
Give us feedback about this article
More visual stories related to this article:
---
---
Want to keep exploring?
Subscribe for discounts on tickets and hotels and our latest guides.
Thank you for subscribing
We will be in touch soon with discounts on tickets and hotels and our latest guides.
Want to keep exploring?
Subscribe for discounts on tickets and hotels and our latest guides.
Thank you for subscribing
We will be in touch soon with discounts on tickets and hotels and our latest guides.
Related Articles