15 Most Romantic Hotels in Las Vegas for Couples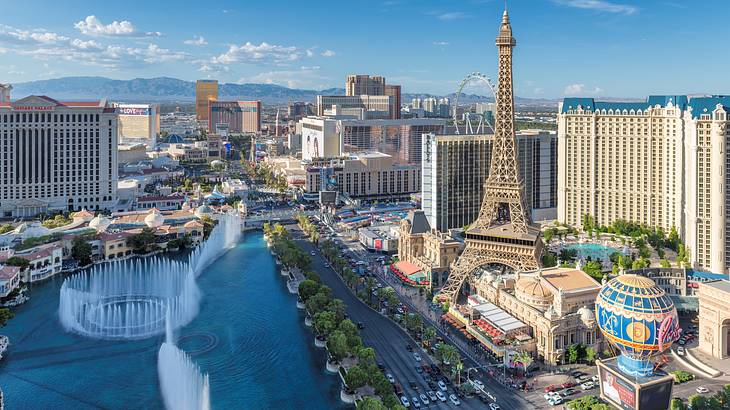 One of the most popular tourist destinations in the US is Las Vegas, Nevada. This unique and vibrant hotspot pleases a range of travelers. Notably, it's the perfect place to visit for wedding parties and couples.
If you're planning a trip to Sin City with your loved one and are looking for the most romantic hotels in Las Vegas for couples, this list is here to help! Whether you and your significant other like to gamble, dine at world-class retardants, or hang out by the pool, Vegas has a hotel for you.
15 Romantic Las Vegas Hotels
Las Vegas Hotels Map
Using the map of Las Vegas, you can explore all the hotels.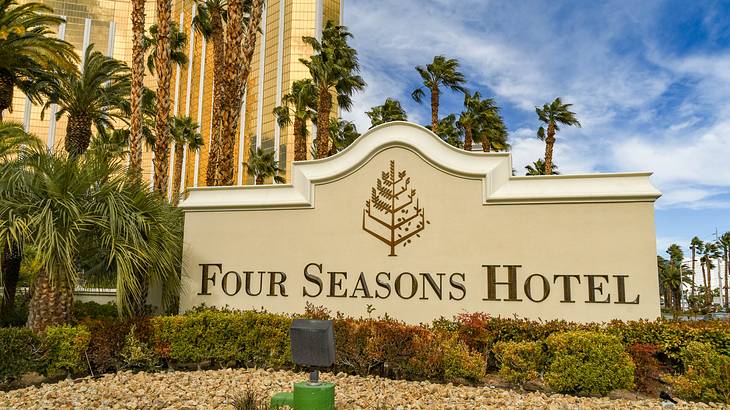 Four Seasons Hotel
If you and your partner are looking to relax and unwind without gambling in Las Vegas, the Four Seasons Hotel is for you. This five-star establishment is one of the only Vegas hotels that is non-gaming, with no casino.
Couples that choose to stay at the Four Seasons can enjoy complete luxury in this high-end resort. Guests have access to a stunning spa, a beautiful outdoor pool with cabanas, and a state-of-the-art fitness center.
Of course, the hotel rooms are sophisticated and luxurious as well. You can choose from 23 room types, all decked out with contemporary furniture, 25-foot floor-to-ceiling windows, and lavish bathrooms.
In-room amenities include a stocked mini-bar and a full room service menu. In addition, this hotel has bars and restaurants and is pet-friendly if you want your four-legged friends to join you. The Four Seasons is also non-smoking, another unique attribute in Las Vegas.
Caesars Palace
As one of the best-known hotels in the United States, it's no surprise that Caesars Palace is one of the most popular Las Vegas hotels.
This iconic casino resort offers couples access to a casino, seven swimming pools, a 50,000 square foot spa, celebrity chef-owned restaurants, and ten bars and lounges. There are also many shops in the Forum Shops complex to explore, and Caesars Palace is pet-friendly too.
The guest rooms at this hotel are exquisite as well, with standard rooms, suites, and villas available. No matter which type of room you and your partner choose, you'll get to relax in a lavishly decorated environment. Rooms are complete with plush beds, stylish dual sink bathrooms, and flat-screen TVs.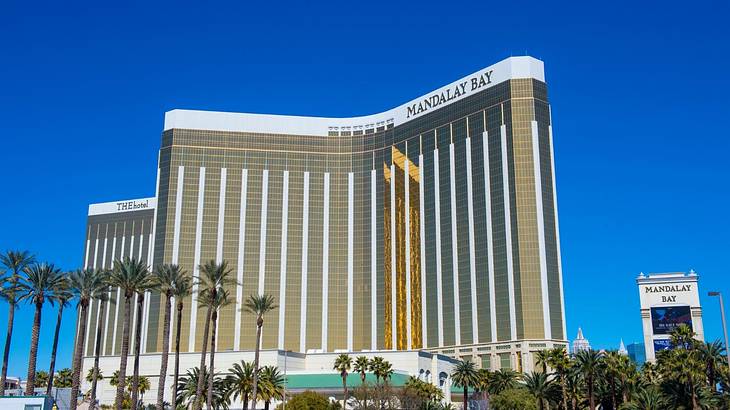 Mandalay Bay
Another of the best places to stay in Vegas for couples is Mandalay Bay. The 43-story hotel has a casino, shops, restaurants, and a large pool area. Mandalay Bay is also another of Las Vegas' pet-friendly hotels.
The guest rooms feature stylish retro decor and come with flat-screen TVs, stocked minibars, and large spa-like bathrooms. You can choose from standard queen or king rooms as well as a range of suites. Best of all, all rooms come with floor-to-ceiling windows offering incredible views of the strip and the Nevada desert.
If you and your significant other are looking to relax by the pool, you're in luck! Mandalay Bay has multiple outdoor swimming pools and a lazy river. One pool even has a sand beach next to it, and you can rent chic cabanas around the other pools.
MGM Grand
The MGM Grand is one of Vegas' glitziest hotels. Complete with the large gold lion statue that sits out front and movie-like billboards and signs. You and your partner will feel like stars staying here.
This hotel offers a very modern and sleek interior. Rooms feature comfy beds, flat-screen TVs, and a contemporary and bold color scheme. Standard rooms, suites, and "Skylofts" are available to book.
Room views look out onto the strip and New York New York. If you get a view of the latter, the penthouse-style room design will make you feel like you're in Manhattan, not Las Vegas!
An in-hotel casino offers you and your other half the chance to gamble. You also have access to tropical-themed pools and multiple celebrity chef restaurants. If you and your loved one would like to bring your pet with you, MGM Grand welcomes animals too.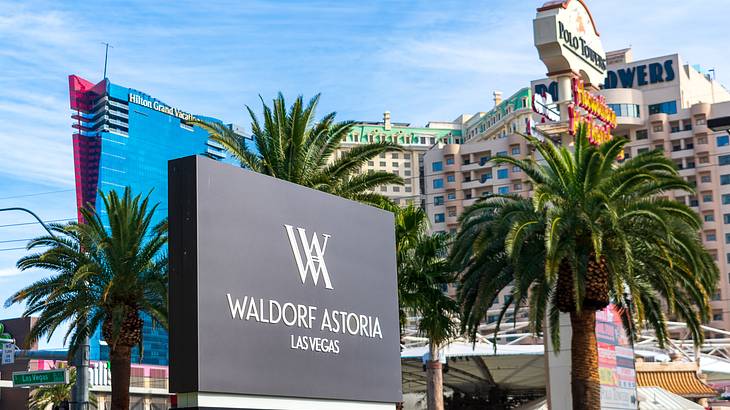 Waldorf Astoria
When planning a romantic getaway in Las Vegas, you have to consider staying at the Waldorf Astoria. This five-star luxury hotel is the perfect place for couples to treat themselves and relax in high-class style!
Guest rooms featured plush, lavish designs, with rooms including flat-screen TVs and minibars. The spa-like bathrooms are amazing too, and feature plunge baths. A range of standard rooms and suites can be booked.
To really relax, ensure you and your other half visit the 27,000 square foot spa. In addition, you can enjoy two lap pools, a plunge pool, and two hot tubs.
Having spent the day at the spa, you can dine and grab drinks at one of multiple bars and restaurants. Options include Twist by Pierre Gagnaire and the Skylounge, which offers stunning panoramic views of Vegas.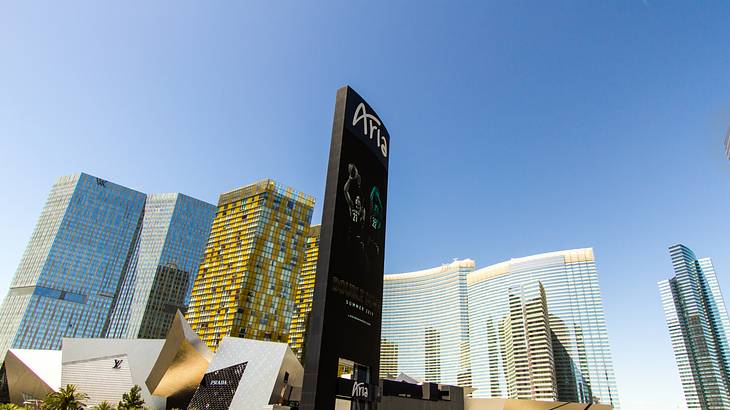 ARIA Resort & Casino
One of the most romantic resorts in Las Vegas is the beautiful ARIA Resort and Casino. Located right on the strip, this sleek hotel will allow you and your partner to access three pools, a 150,000 square foot casino, and multiple bars and restaurants.
ARIA's guest rooms are sure to please anyone that stays here. The deluxe rooms include plush furniture, minibars, and flat-screen TVs. Bathrooms feature soaker tubs, elegant glass showers, and comfy robes.
You and your other half will be spoiled for choice in terms of entertainment options at the ARIA. An on-site spa and swimming pool will allow you to completely unwind. You can then hit the casino and eat at one of over 20 dining establishments. A fitness center is available for use too.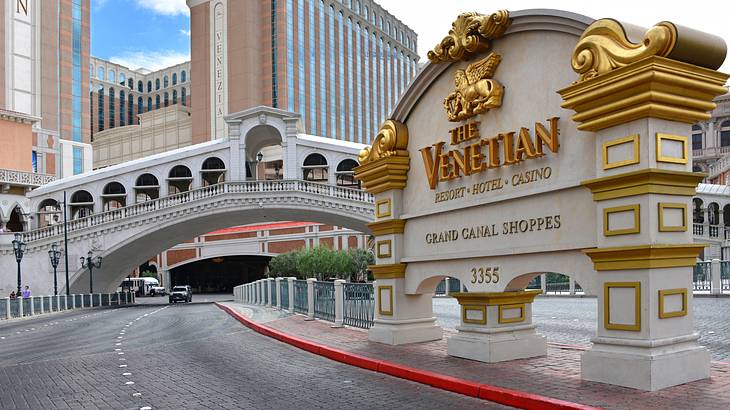 The Venetian Resort
Staying at The Venetian Resort will transport you and your significant other to Italy. This beautiful European-style hotel is modeled on Venice and even features a canal where you and your loved one can take a gondola ride. An additional Las Vegas fun fact about this hotel is that it's the second-largest hotel in the world!
The Venetian offers a range of stunning suites designed in a luxurious Italian villa style. All rooms feature plush beds, a sitting area, and amazing marble bathrooms. The most expensive suites even come with 24/7 butler service.
To relax, be sure to head to the Canyon Ranch Spa. Before heading to the Venetian or Palazzo pool deck. You'll also have access to the casino and a vast array of fine dining options.
Interestingly, this resort is eco-friendly. That makes this Vegas hotel a great option for couples that want to lower the environmental impact of their vacation.
Red Rock Casino Resort & Spa
For couples that want some quiet and don't mind being a little off of the strip, the Red Rock Casino Resort & Spa is a great choice. Located close to Red Rock Canyon National Park, this upscale spa resort combines modern luxury with desert charm.
Guests at the Red Rock Casino Resort can enjoy a relaxing spa, an outdoor pool, and a stylish casino. Rooms here have a contemporary and classy design and feature flat TVs, marble bathrooms, and amazing views. Standard rooms, suites, villas, and penthouses are available to choose from.
This is one of the absolute best Vegas resorts for couples that want to enjoy the bustle of the strip and the laid-back vibes of the Nevada desert.
Paris Hotel & Casino
Take your loved one to France without leaving the US by staying at the Paris Hotel Las Vegas! The themed hotel features the Paris balloon and the Las Vegas landmark Eiffel Tower, both of which sit proudly on the strip.
This chic hotel is ideal for couples and features a rooftop pool, casino, and the classy Eiffel Tower restaurant. Rooms at the Paris hotel feature quirky patterned fabrics, flat-screen TVs, and stunning marble bathrooms.
You and your partner can also relax at a hotel spa, grab a drink in one of seven bars and lounges, and shop at an indoor mall. Paris is pet-friendly too. This unique hotel is definitely one of the best places to stay in Las Vegas for couples.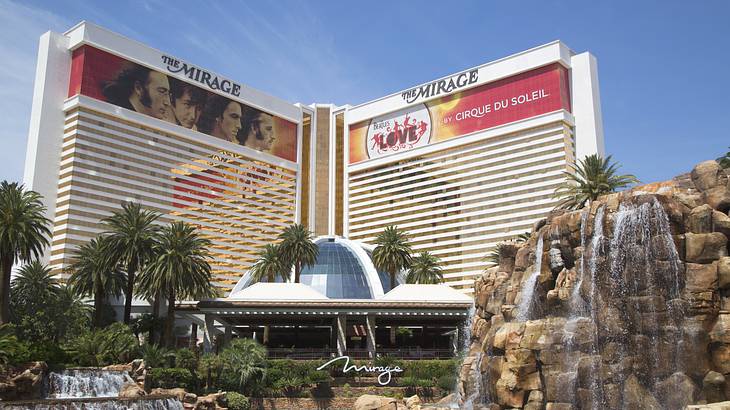 The Mirage
Located on the strip, The Mirage is the perfect hotel for couples that want to split time between their resort and exploring Las Vegas. This romantic hotel features a casino, swimming pools with waterfalls, a spa, and even a wildlife habitat. Bars, lounges, and restaurants are plentiful too, and the Mirage is also pet friendly.
If you choose to stay here, you and your loved one can relax in modernly-designed rooms, with flat-screen TVs and sleek bathrooms. Depending on your budget and needs, you can book a standard room, suite, lanai room, or villa.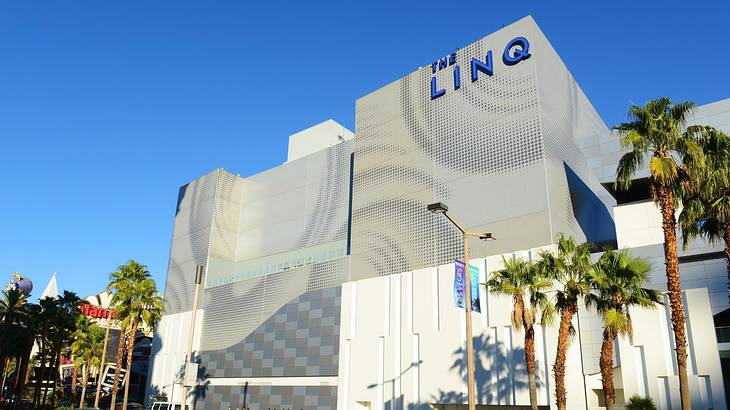 The LINQ Hotel
One of Vegas' trendiest hotels is The LINQ, and it's also an amazing romantic getaway destination. This hotel includes a stylish casino, many fine dining restaurants, and a luxury shopping mall.
You and your partner will get to stay in funky rooms with graffiti wallpaper, vibrant colors, and stylish furniture. Floor to ceiling windows offer incredible views of the strip, and you can choose from standard rooms or "Cabana" rooms or splurge on a penthouse suite.
The High Roller observation wheel is also easily accessible. Either pay to ride the wheel or head to 107 SkyLounge, where you can enjoy views for free in Las Vegas.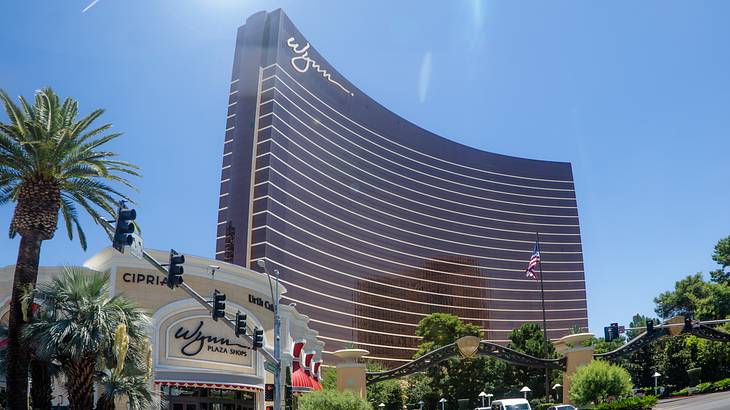 Wynn Las Vegas
As another of numerous romantic places to stay in Las Vegas, Wynn Las Vegas is ideal for all types of couples. This elegant hotel has a modern spa offering couples treatments, three pools, a casino, and many outstanding eateries. There's even a boutique shopping mall, selling brands like Chanel and Louis Vuitton.
Beautiful and tranquil rooms and suites can be booked at the Wynn. No matter which room you and your partner choose, you'll get to enjoy comfy beds, a flat-screen TV, and a modern bathroom.
Flamingo Hotel & Casino
The pretty pink Flamingo Hotel is the perfect place to stay for a fun and romantic couples getaway. If you choose to stay at this quirky hotel, you can access a casino, two outdoor pools, and a spa. Flamingo also houses many world-class restaurants, bars and lounges, and a shopping mall.
Guest rooms are contemporary in style and feature fun pops of pink and Miami beach-style decor. Flat-screen TVs and chic bathrooms are also available in a choice of standard rooms or suites. Pets are welcome in all rooms too, if you want to bring your fluffy friends!
You and your loved one can even discover a tropical garden that's home to real flamingos. Taking some pictures with these gorgeous birds is one of the best things for couples to do in Vegas.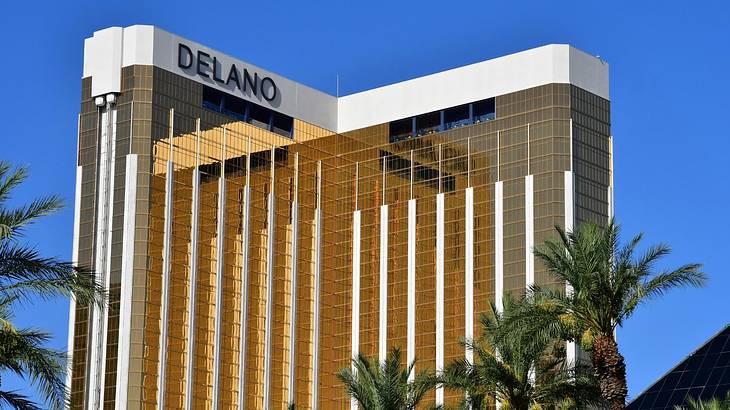 Delano
Las Vegas' Delano is located next to Mandalay Bay. This trendy hotel features a spa and its own beach club. At Delano Beach Club, you and your partner can rent cabanas, order delicious cocktails, and even enjoy live DJ sets.
The rooms and suites at the Delano are sleek and minimalist, with lots of white and silver colors featured. Each room has a flat-screen TV, contemporary bathroom, and views of the strip, the pool, or the Vegas desert.
You can also have a dinner date at a range of outstanding restaurants and get drinks at stylish bars. Delano is an ideal choice for couples that come to Vegas to party and chill by the pool.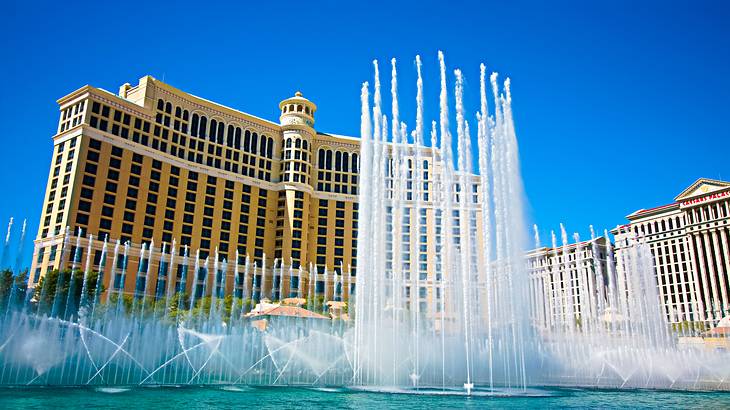 The Bellagio Hotel & Casino
The iconic Bellagio sits right in the middle of the strip and is one of Vegas' most glamorous hotels. This elegant hotel features a casino, five outdoor pools, and even a botanical garden. You and your partner can also dine at many high-end restaurants within the hotel.
You and your other half can choose from one of many room options, including standard rooms, fountain view rooms, and suites. Every room is decorated luxuriously and extravagantly with rich colors and plush fabrics.
Of course, you'll also get to see the famous Bellagio dancing fountains. Seeing the renowned water show is a must-do activity on your Vegas itinerary!
In Summary
Las Vegas is a super fun vacation spot for couples. Conveniently, Sin City has a host of amazing hotels for a romantic getaway. If planning a trip soon with your loved one, this list should have helped you find the perfect Vegas hotel for you both.
For more interesting articles about United States, read:
---