60 Most Romantic Things to Do in Vegas for Couples
Destguides may receive commissions from purchases made through affiliate links in this article.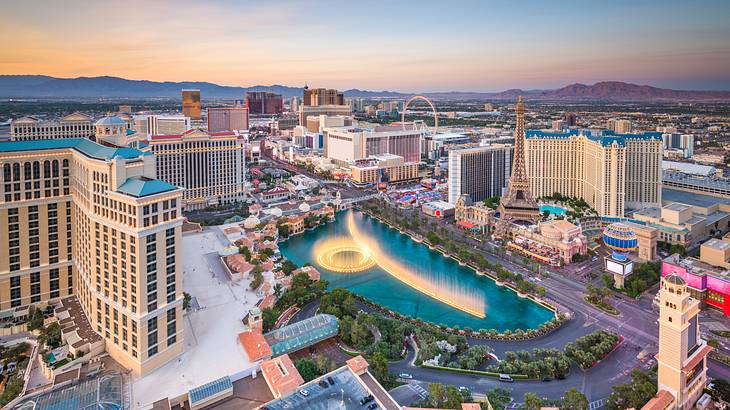 As one of the most visited destinations in the US, Las Vegas attracts millions of tourists every year. Vegas has a vast array of attractions and is very popular with couples. If you visit Sin City with your other half, you're sure to have an exciting and memorable getaway.
Some of the most romantic things to do in Vegas for couples include going on a helicopter tour above the strip, taking gondola rides, and even hiking in stunning parks. Keep reading to discover 60 fun ideas for things to do when in Vegas with your partner!
60 Most Romantic Things to Do in Las Vegas
Romantic Things to Do in Las Vegas for Couples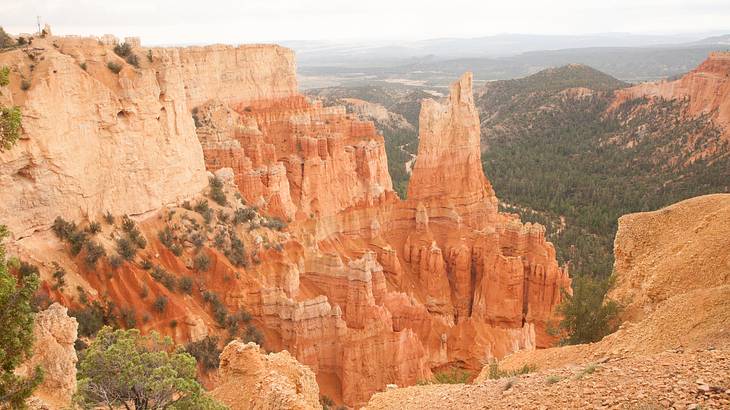 Hike through Red Rock Canyon National Conservation Area
Red Rock Canyon National Conservation Area is one of the most stunning national parks in Nevada. If you and your other half love the outdoors and nature activities, hiking at Red Rock Canyon is a must.
You can head out to the canyon by yourself or consider taking a tour of Red Rock Canyon. If hiking isn't your thing, you can also bike through the park. Whichever option you choose, you'll be able to appreciate the stunning red rock mountains and surrounding desert.
If you're wondering when to visit Las Vegas to plan the best trip to Red Rock Canyon National Conservation Area, opt for a spring or fall trip when the weather is optimal.
In the summer, the weather is extremely hot and not ideal for hiking or other outdoor activities. During winter, rain and colder temperatures are likely, which can affect your enjoyment when exploring the attraction.
Fly above Las Vegas on a hot air balloon ride
What's more romantic than taking your partner on a memorable hot air balloon ride? If that sounds appealing, you'll be pleased to learn that taking a hot air balloon ride is one of the many activities in Vegas for couples you can experience. This is also one of the fun things to do off of the Las Vegas strip.
Rides take off from Pahrump Valley, and once aboard, you and your significant other will be lifted high above the clouds. In the air, you can view many Vegas landmarks. Once you land, you will both get to enjoy a glass of champagne too!
Enjoy a nighttime helicopter tour of Las Vegas
If you want to stay close to the strip, then a nighttime helicopter tour of Las Vegas is a highly recommended thing to do with your other half. Once in the aircraft, you'll fly above Sin City to witness the illuminated area from a new angle.
Landmarks you'll see include the Bellagio, the Luxor, Stratosphere Tower, and much more. You'll both also enjoy a glass of sparkling wine as you take in the views. A Vegas helicopter tour is definitely one of the most fun and romantic evening activities in Las Vegas.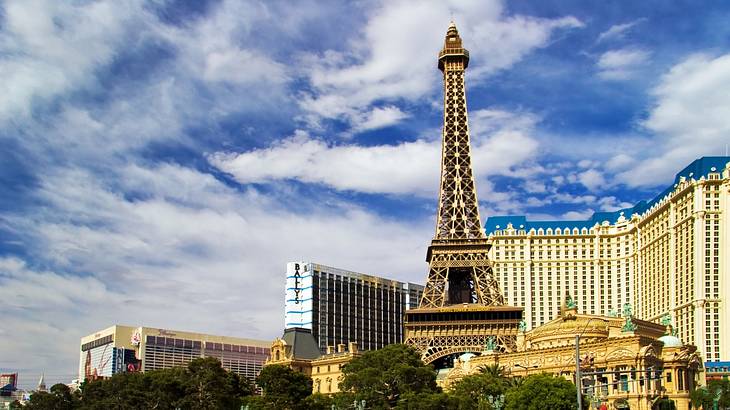 See Vegas from the Eiffel Tower with the Eiffel Tower Experience
Another of the romantic activities in Las Vegas to enjoy is going to the Eiffel Tower observation deck. The replica of Paris' Eiffel Tower is one of the most famous landmarks in Las Vegas and visiting it can't be missed!
The Eiffel Tower Experience is the name given to going up to the observation deck in the tower, located 460 feet off the ground. From here, you'll both get to admire breathtaking views of Las Vegas. While in the tower, you can also treat yourself and your other half to dinner in the high-end Eiffel Tower restaurant.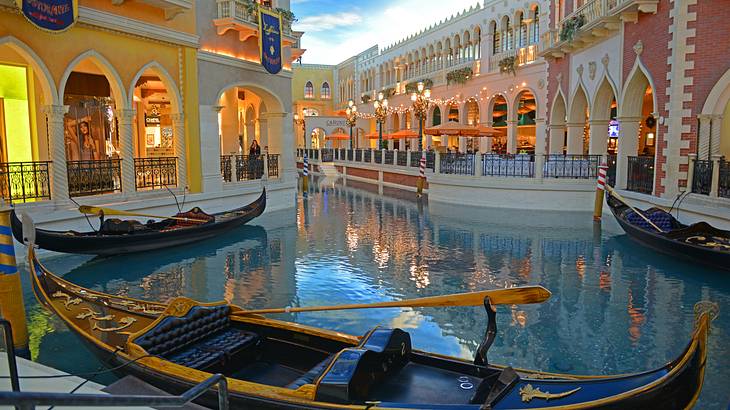 Share a gondola ride at the Grand Canal Shoppes
Located in the Venetian Hotel, the Grand Canal Shoppes are designed to be a replica of Venice, Italy. The shopping and dining area of the hotel features canals, Italian-style facades, and even gondolas.
A cute thing to do with your partner is enjoy a gondola ride together at Grand Canal Shoppes. While it might not quite live up to a gondola ride in Venice, a Vegas gondola ride is a fun experience that's still very memorable!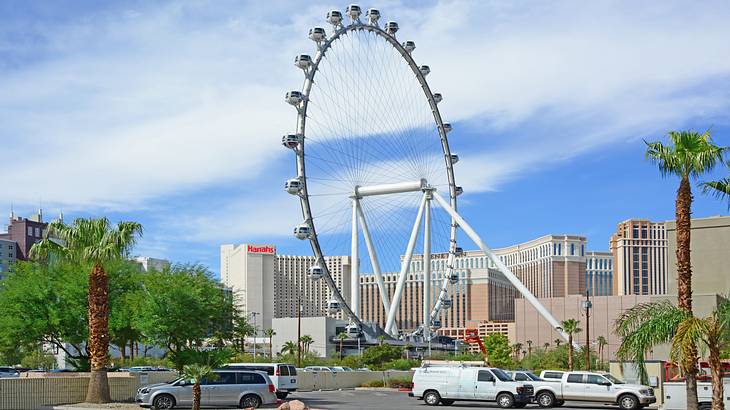 Ride the High Roller observation wheel
Riding on the High Roller observation wheel at the LINQ is another of the super fun things for couples to do in Las Vegas. Once in the observation pod, you'll both be taken high above the strip, enjoying the unique views as you reach the top.
While you ride the observation wheel, you'll be able to enjoy champagne, sparkling wine, or other alcoholic and nonalcoholic beverages. If possible, ride the wheel during happy hour for incredible deals!
You can also check out the classy 107 SkyLounge if you want to extend your time on the High Roller. Taking your loved one on the High Roller is an activity that you can't leave off your Las Vegas itinerary!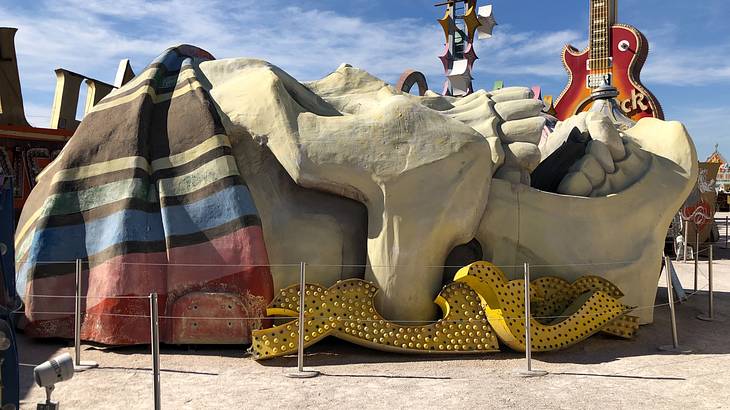 See old illuminations at the Neon Museum
Las Vegas' Neon Museum is a homage to all the famous signs and illuminations that have sat on the strip and surrounding areas. When signs get taken down, or hotels and attractions close, many of the iconic symbols that once represented these places are transported to the Neon Museum.
Signs on display include those from the Hard Rock Cafe and Moulin Rouge Hotels as well as from wedding chapels, nightclubs, and more. Visiting this outdoor museum is extremely fun, and you'll be able to get some fun pictures together!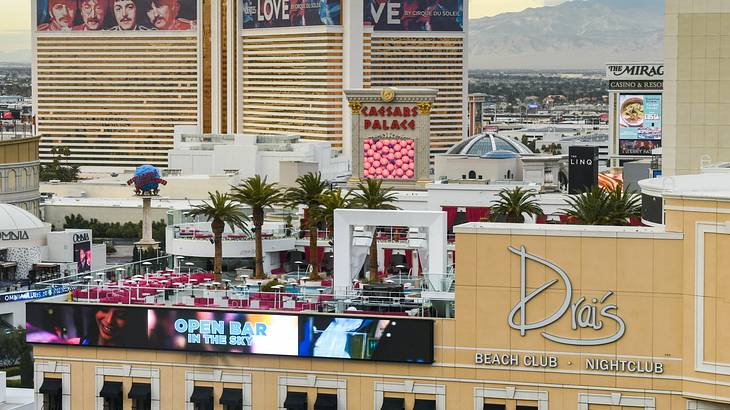 Party the night away at the best clubs in Vegas
When in Vegas, partying at least a little is almost a must! If you and your partner like bars and clubs, going on a club crawl is one of the must-do couples activities in Las Vegas.
On the club crawl, you'll be taken between the hottest spots in Las Vegas, with drinks included. At each stop, you can dance, drink, and meet new people. Vegas nightlife is some of the best in the world, so partying into the night with your partner at the coolest clubs must be on your Vegas bucket list.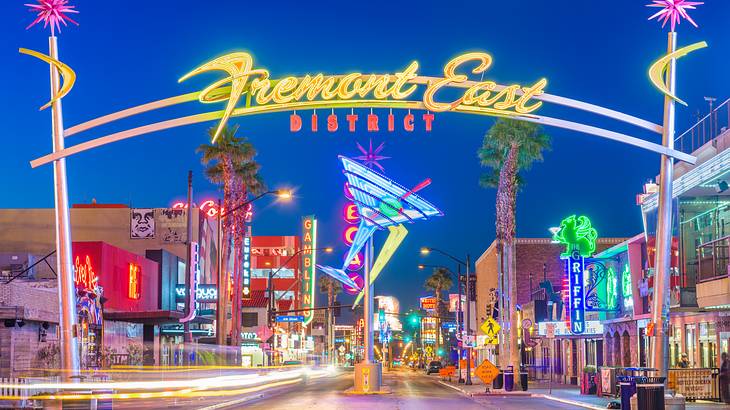 Discover Fremont Street
Fremont Street is located in Old Las Vegas and is a little more toned down than the main Vegas strip. The area features more retro hotels, casinos, and attractions. To ensure you and your other half don't miss any of the must-see spots, taking a Fremont Street walking tour is recommended.
On the tour, you'll stop by the Fremont Street Experience, the Downtown Container Park, the Golden Nugget Casino, and much more. There are also concerts held on Fremont Street that you can watch at no cost; doing so is one of the best free things to do in Las Vegas!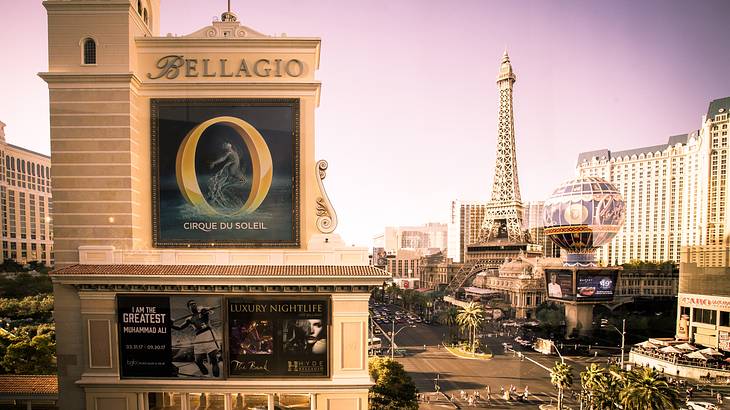 Marvel at the Cirque du Soleil
Cirque du Soleil has been a main attraction in Las Vegas for years. The Cirque du Soleil performance at the Bellagio is one of the most-loved and well known. If you're looking to treat your loved one to an exciting night out, then getting tickets is a must.
The hour-and-a-half-long show features amazing acrobats, dancers, and special effects. Having been amazed by the show, extend your evening by hitting the Bellagio Casino or watching the hotel's dancing fountains show.
Taste Vegas' best dishes on a food tour
Las Vegas has some outstanding dining options, from high-end restaurants to quick eats. One of the fun things for couples to do in Vegas is finding the best of this cuisine on a Las Vegas food tour.
This foodie tour will take you to some popular spots in the city and you'll try everything from savory dishes to sweet treats and drinks. You and your partner are highly likely to find a new favorite dining spot thanks to this tour!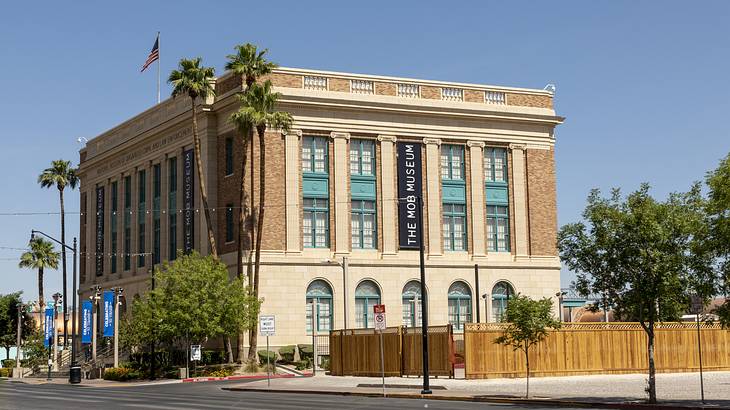 Go to the Mob Museum
An interesting Vegas date idea is going to the Mob Museum. This famous Vegas landmark houses exhibits on the mafia in Las Vegas and police operations to break up the criminal enterprises. If your partner likes specialty museums, a trip to the Mob Museum is recommended.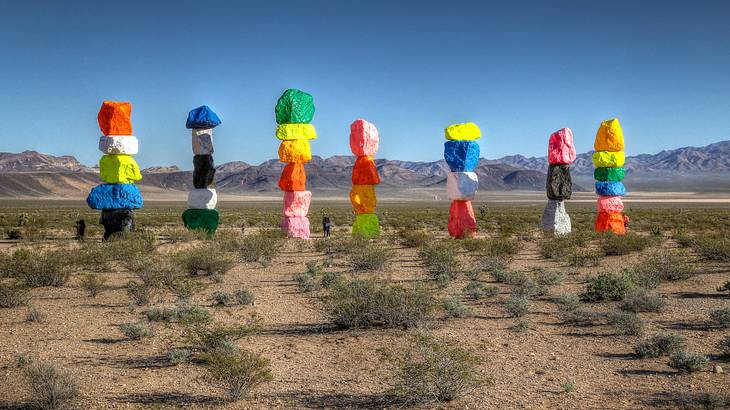 View a desert art installation at Seven Magic Mountains
Seven Magic Mountains is a unique art installation placed in the Nevada Desert by Ugo Rondinone. The artwork features seven towers made from stacked bright-colored rocks.
There are many tours from the strip to Seven Magic Mountains, so there's no excuse not to go! Seeing the lively colors against the neutral desert backdrop makes for a stunning view and photograph.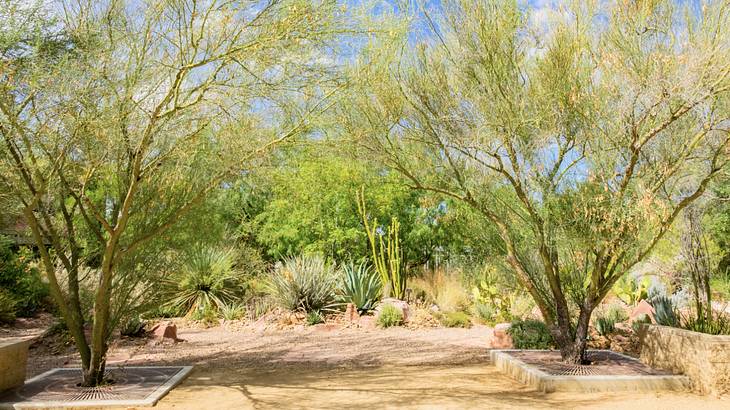 Visit Springs Preserve
A must-do activity in Vegas for couples is visiting Springs Preserve. This 180-acre attraction has hiking trails, a botanical garden, and butterfly and turtle habitats. The preserve also has a museum. At Origen Museum, you can view exhibits on wildlife, animal conservation, and the protection of the environment.
Grab ice cream and watch a show at We All Scream
Getting ice cream is a cute date idea, but you can make it more unique in Vegas by going to We All Scream. Menu options include various flavors of ice cream and boozy milkshakes, with vegan options on offer. While you can just pick up ice cream, events are also held here, like concerts, DJ sets, and movie nights.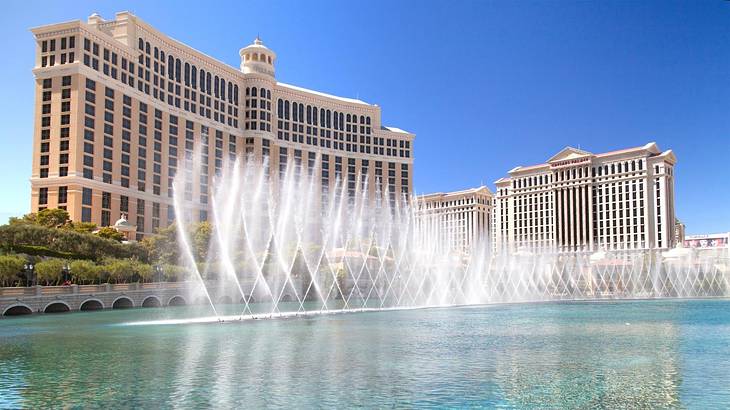 Watch the dancing fountains at the Bellagio
The dancing fountains show is one of the most famous things to see in Vegas. The show happens at the fountain outside the Bellagio Hotel every 15 to 30 minutes. Watching the water dance to the music is truly magical!
The Bellagio is also one of the most romantic hotels in Las Vegas, making it the perfect place to stay if you want to splurge a little.
Get drinks at a wine bar
One of the most laid-back things to do for couples in Vegas is stopping by a wine bar. You can find many options on the strip and the surrounding area.
Edo Tapas & Wine is a great choice. They have an extensive wine menu and serve authentic tapas, with vegetarian and vegan dishes available. Wally's Wine & Spirits also has an outstanding wine selection and serves brunch, lunch, and dinner.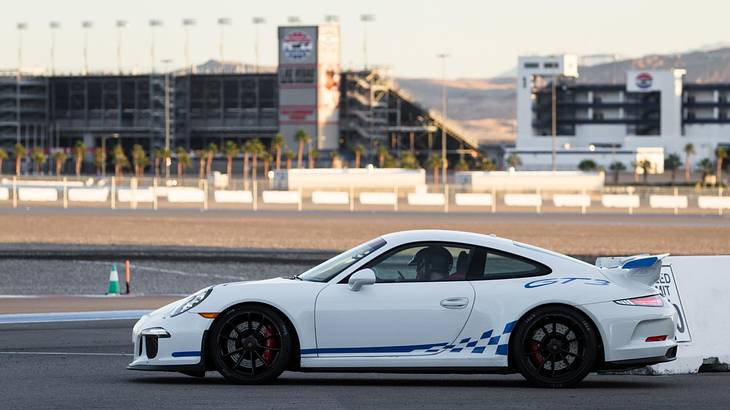 Drive luxury cars
You and your other half have the chance to drive luxury race cars thanks to Las Vegas Motor Speedway. During the experience, you can both drive a car of your choice around the racing track. Cars to choose from include Ferraris, Porsches, and Lamborghinis.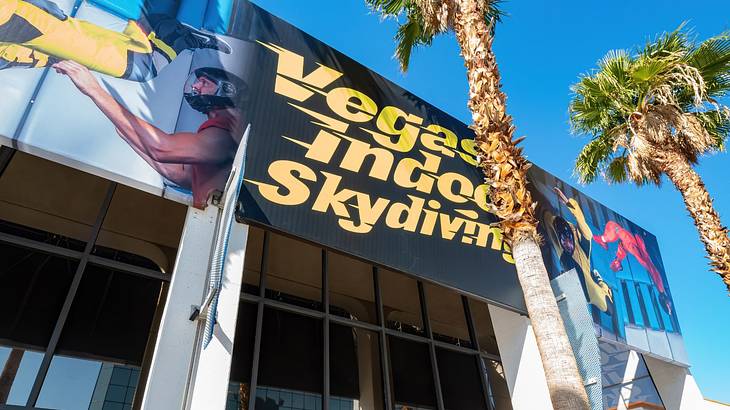 Try skydiving
For couples that like adventurous activities, trying indoor skydiving is a must. A guide will show you the basics before you can dive within a state-of-the-art wind tunnel. If you have fun, consider outdoor skydiving for your next date!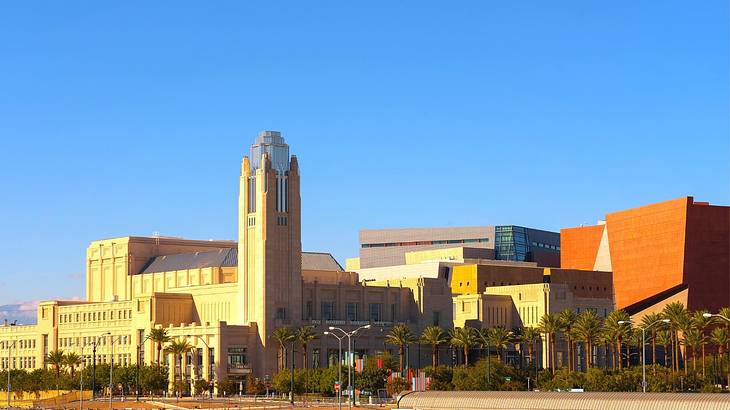 Catch a performance at the Smith Center for the Performing Arts
Another of the places to go in Vegas for couples is the Smith Center for the Performing Arts. A fun Las Vegas fact is that the theater is frequently named as one of the best in the world.
You and your partner can see a range of shows at the world-class venue, including Broadway shows, concerts, and ballets.
Sip cocktails at a cocktail bar
Las Vegas also features many unique cocktail bars. A fun one to visit is The Golden Tiki, which has tiki-style cocktails, a great happy hour, and snacks. The pretty Velveteen Rabbit is another top spot to check out, as is Bound Cocktail Lounge.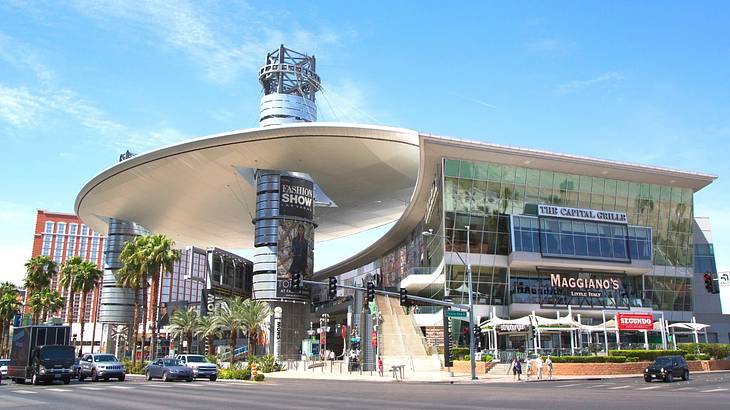 Do some shopping on the strip
No matter what type of things you and your partner like to buy, there'll be an option for you on the strip. You can discover chain shops, souvenir stores, and luxury fashion outlets.
Vegas also has shopping malls, including the Miracle Mile Shops at Planet Hollywood, the Grand Bazaar shops, and Fashion Show Mall. You can also go to fun specialty stores like the M&M's store and Hershey's Chocolate World.
Dine at one of many top restaurants
A dinner date is always a good idea, and Vegas has lots of options to choose from. Some of the most recommended places to visit include Chica Restaurant, Anima by Edo, and Jaleo tapas bar. No matter which of the many great dining options you choose, you're sure to enjoy incredible food and drinks with your loved one.
Treat yourselves to Sprinkles Cupcakes
Sprinkles Cupcakes is a well-known cupcake bakery chain with a few locations in Las Vegas. Getting some sweets from the bakery is a cute way to treat your partner. Flavors on offer include red velvet, salted caramel, and strawberry. You can also get cookies and brownies to enjoy.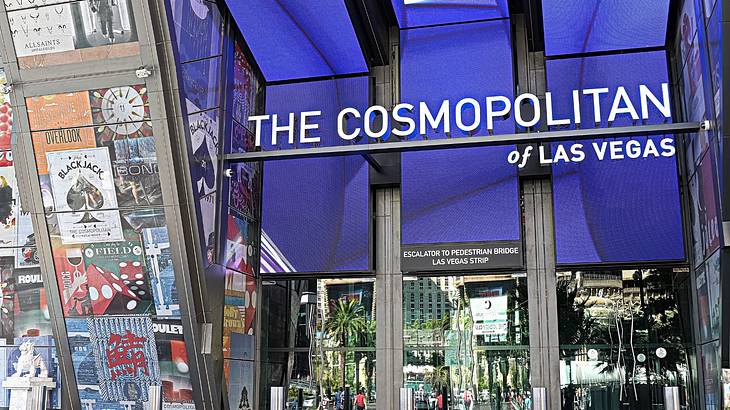 Relax at the spa
Vegas has many spas, with almost every hotel having spa treatment choices. Spending some time with your loved one at one of these spas is the perfect way to unwind. Just a couple of the spas to visit on the strip include Canyon Ranch and the Cosmopolitan Hotel spa.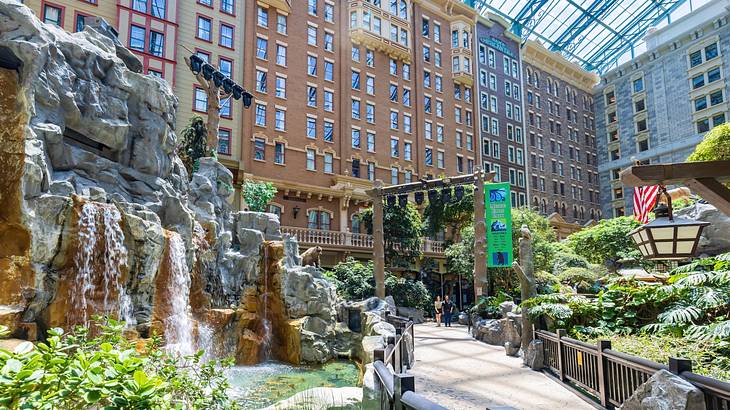 See the lights show at Mystic Falls Park
Mystic Falls Park is another botanical-style garden in Vegas. Located at Sam's Town Hotel, the attraction has water features and plant displays. You can also see a laser light show in the evening. A great idea is to watch the show with your date from the hotel's Ram's Head Bar.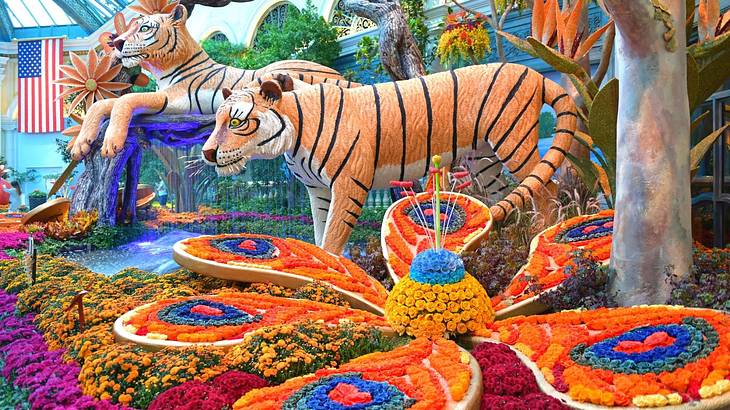 Wander around the Bellagio Conservatory and Botanical Gardens
The Bellagio Conservatory and Botanical Gardens comprise a 14,000 square foot site in the Bellagio Hotel. The gardens feature beautiful plant displays, water features, and animal sculptures.
Walking around and taking some pictures with your partner in the magical surroundings is a must. The gardens are also decorated for different holidays.
Sample whiskey at Spirits & Spice
If you and your partner like whiskey, stop by Spirits & Spice to sample some high-quality spirits. After tasting, you can purchase a bottle of your favorite. The specialty store also sells other liquors, spices, and oils. Best of all, the tasting is free!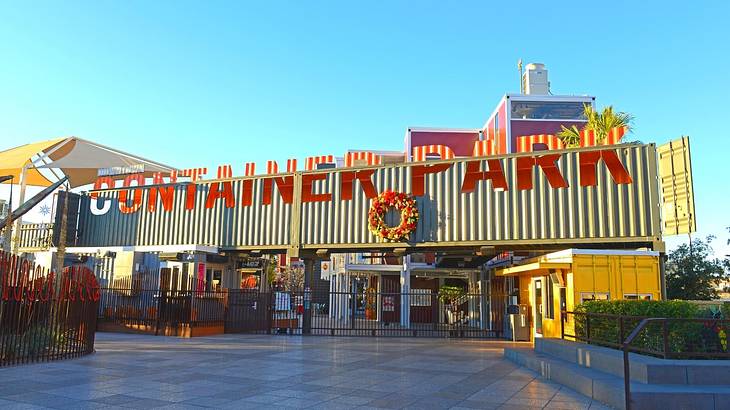 Look around the Downtown Container Park
The Downtown Container Park is one more of the must-visit attractions in Las Vegas for couples. As the name suggests, the park has containers that are used as shops to create an open-air mall.
You and your partner can explore the stores and grab something to eat at one of the numerous food outlets. There's even a flame-shooting praying mantis statue to see.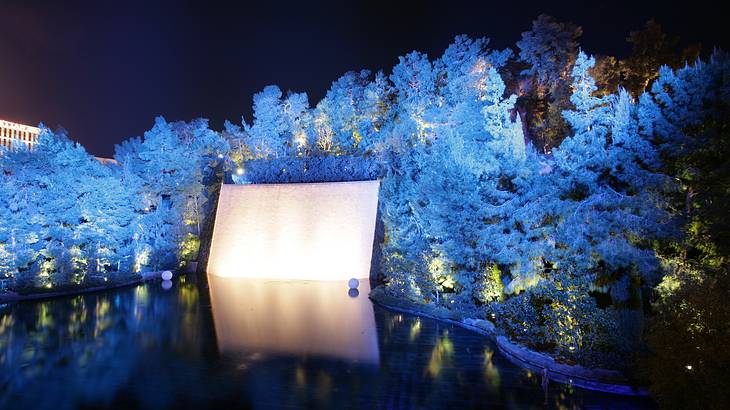 Enjoy the Lake of Dreams show
The Wynn Hotel and Casino has a large pond-like water feature that hosts a lights show each evening. A great way to see the show is from the patio of the hotel's Lakeside or SW Steakhouse restaurant. You can even order a Lake of Dreams cocktail.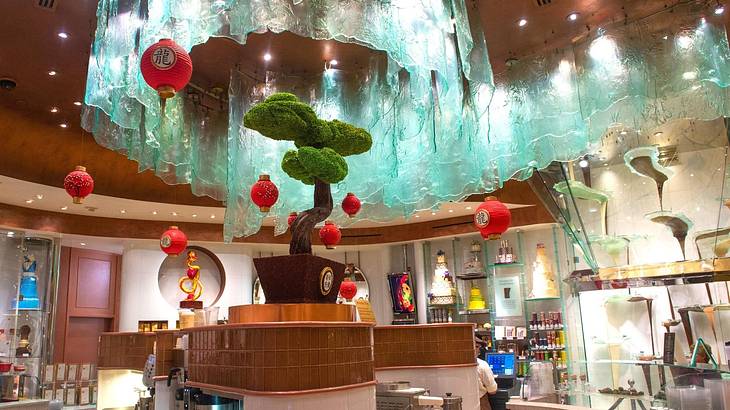 Discover the world's largest chocolate fountain
The Bellagio is home to what many say is the largest chocolate fountain in the world. The fountain is found at Bellagio Patisserie and stands at 27 feet tall. After seeing the fountain, you can treat your partner to something sweet from the cafe.
Snap pictures at Studio 71
One of the most fun Las Vegas couples activities is taking pictures together at Studio 71. The attraction is created to be the perfect backdrop for Instagram pics. There are mirrors, glitter balls, neon signs, and lots of other cute decor pieces to make your photos exciting and unique.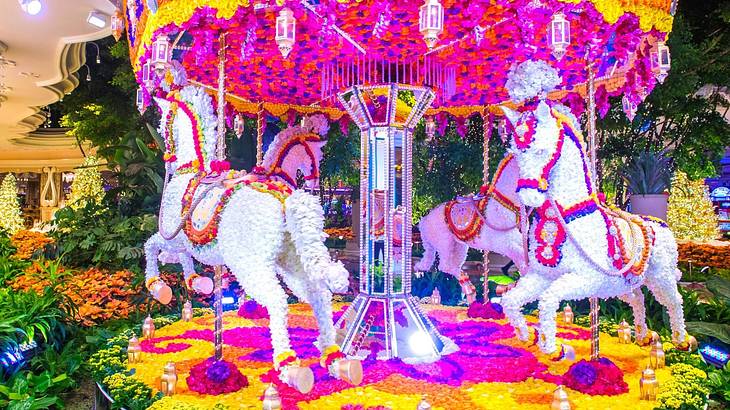 Explore the Wynn Botanical Garden
The Wynn Botanical Garden features pretty floral displays in bright colors. You also find flower sculptures, like a carousel made entirely from plants. This is another great spot to take some photos with a unique backdrop.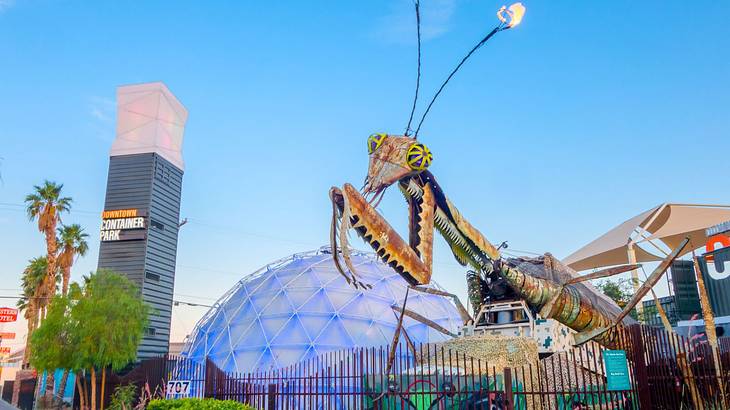 Share desserts
If you and your partner have a sweet tooth, checking out some of Vegas' best dessert spots is a must. Waffelato at the Downtown Container Park is a local favorite that sells bubble waffle desserts. Other great outlets include Sweets Raku, which specializes in Japanese French fusion desserts, and Donut Bar.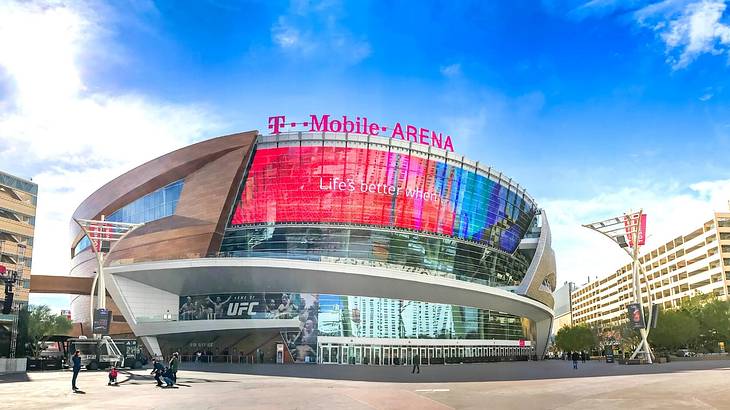 Watch the Las Vegas Golden Knights play
One of the unique date ideas in Las Vegas for couples that like sports is watching the Golden Knights NHL team play. The team plays at T-Mobile Arena close to downtown. Even if you aren't the biggest sports fan, going to a game is a fun and memorable thing to do together.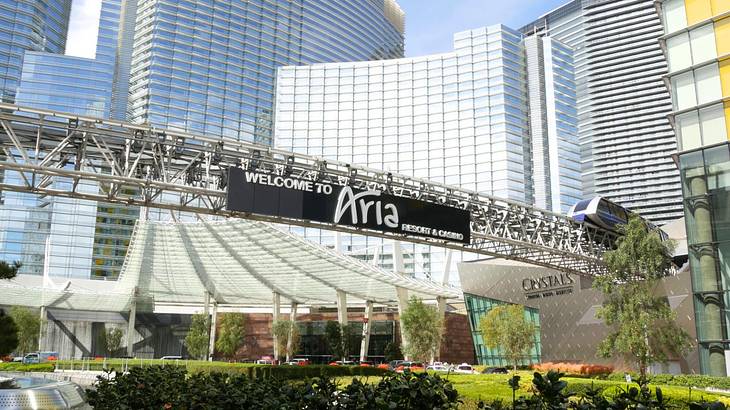 Enjoy brunch together
Going to brunch is always a great date idea, and many restaurants in Vegas have a brunch menu, at least on the weekends. Bardot Brasserie at the Aria Hotel is highly recommended and has dishes like avocado tartine, French toast, and pastries.
Americana Las Vegas is also recommended and serves classic savory and sweet brunch dishes, plus bottomless mimosas.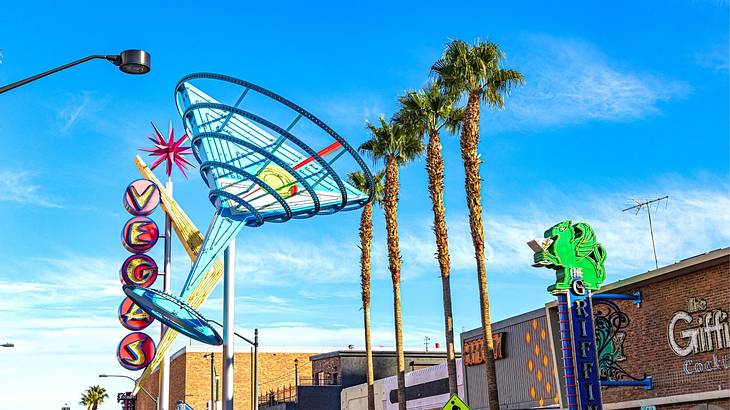 Explore Old Las Vegas on a pop culture walking tour
You and your partner can get to know Old Las Vegas and Fremont Street better on a pop culture walking tour. This experience takes you past street art and art installations in the area, like the martini glass sculpture. You can also go to some Vegas landmarks, and a complimentary cocktail is included in the tour.
Work together to get out of an escape room
Collaborating to get out of an escape room is a great date idea. At Escape Game Las Vegas, you can choose four different themed games: gold rush, prison break, playground, and heist. You then get 60 minutes to solve puzzles and break free.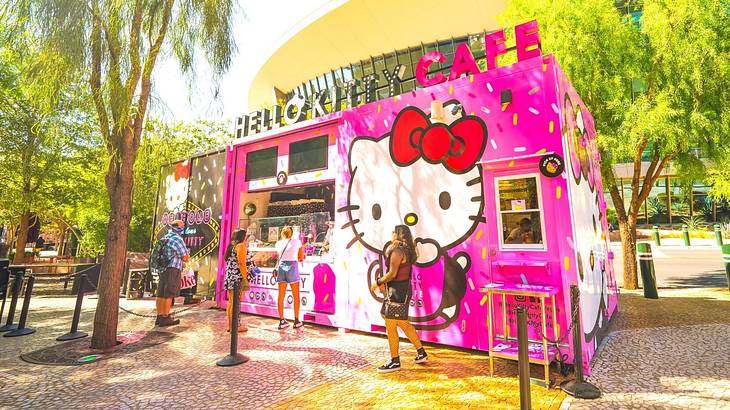 Get cute treats at the Hello Kitty Cafe
A fun place to check out together is the Hello Kitty Cafe. The cartoon-themed food truck has lots of tasty treats to order. From Sanrio cookies, cupcakes, and donuts to ice cream, lemonade, and more. You can pick up some Hello Kitty merchandise too.
See a movie at a drive-in movie theater
West Wind Drive-In is an outdoor movie theater located about 15-minutes from the strip in North Las Vegas. Movies being shown change frequently and include new releases and classics. West Wind sometimes plays double features too, and you can purchase snacks from an on-site snack bar.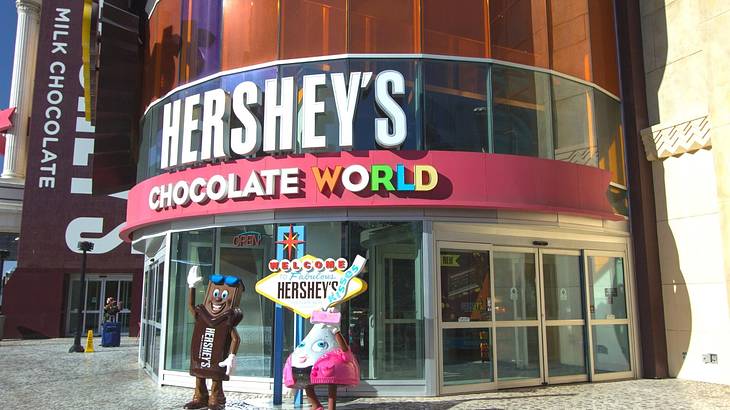 Taste the best candy in the city on a chocolate tour
If your other half has a sweet tooth, take them on a Vegas chocolate tour! This experience allows you to visit chocolate and candy shops found on and around the strip. Places to visit include the Ethel M Chocolate Factory, Hershey's Chocolate World, the M&M store, and Pinkbox Doughnuts.
Check out some breweries
While many associate drinks like cocktails and champagne with Las Vegas, Sin City has some outstanding breweries too. If you and your partner like trying new beers, checking out some of these breweries is recommended.
A handful of the places to go include Hudl Brewing, Able Baker Brewing, and Tenaya Creek Brewing.
Have dinner with a view at the Stratosphere Tower
The Stratosphere Tower is the tallest observation tower in the United States, standing at 1,149 feet. When in Vegas, you can go up into the tower to eat at the Top of the World Restaurant. You and your other half can admire panoramic views while enjoying a delicious meal.
Roller Skate at Skate Rock City
Another of the super fun Vegas hot spots for couples is skating at Skate Rock City. The roller rink is owned by Floyd Mayweather and is found about 20 minutes from the strip.
The rink allows couples to skate under colored lights, with themed nights happening often. You can also learn to skate at Skate Rock City.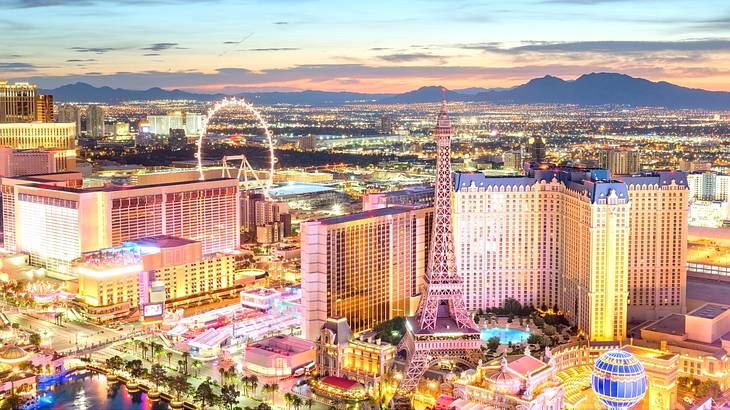 Admire the views from a rooftop bar
Vegas has many rooftop bars that allow you and your other half to relax with a drink and admire the views of the city. Located a little off of the strip at Mandalay Bay is one of the best rooftop bars, the Skyfall Lounge.
Legacy Club is another popular rooftop bar to visit. Found at the Circa Resort and Casino, this bar has some of the best craft cocktails in Sin City.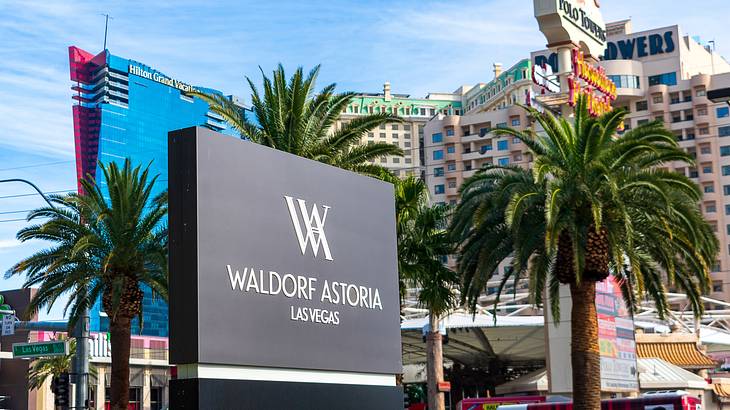 Luxuriate with a fancy afternoon tea
Afternoon tea is a luxurious and romantic meal to share. In Vegas, you can book afternoon tea at the Waldorf Astoria. At the Tea Lounge, you can enjoy finger sandwiches and desserts, like macarons and caramel tarts. You can accompany your food with tea, champagne, mimosas, or bellinis.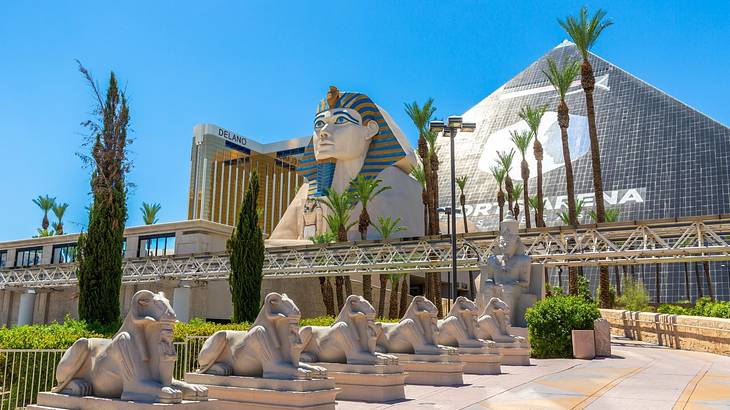 Watch a show at the Luxor
The Luxor Hotel hosts a range of shows that will appeal to all couples. Entertainment options include Blue Man Group shows, burlesque performances, and concerts. If you don't feel like watching a show, the hotel also hosts exhibitions. Past displays have included a Titanic exhibit and a popular exhibit on the human body.
Book a couples massage
Another of the things couples can do in Vegas is booking a couples massage. The 60-minute treatment features a salt foot scrub and hot stone massage. It's the perfect way to relax and unwind after exploring Las Vegas.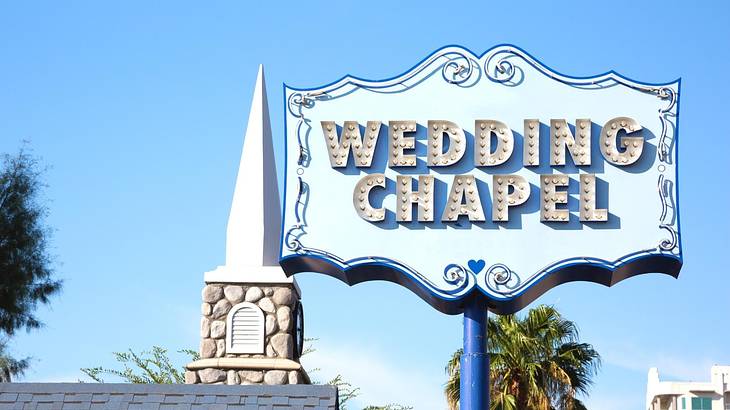 Get married!
The Las Vegas nickname of Marriage Capital of the World exists for a reason. Thousands of people flock to the city annually to get married, with some even deciding to wed during their visit!
If you and your loved one are ready to make the commitment, one of the most romantic activities in Las Vegas is getting married. You can find a vast selection of Las Vegas wedding chapels and venues. If you're already married, you can also find vow renewal ceremony options.
Things to Do Near Las Vegas for Couples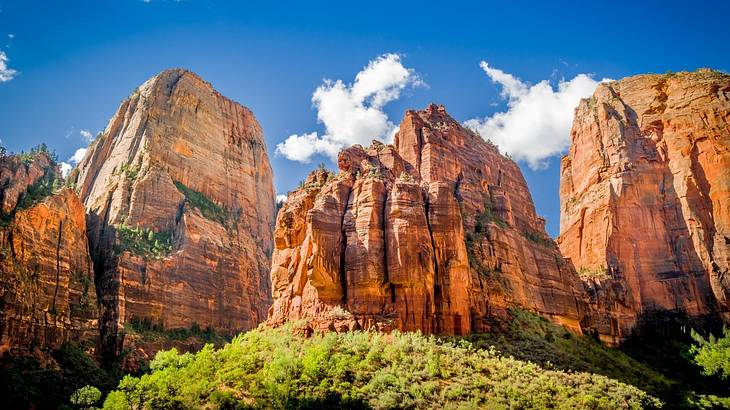 Try Canyoneering at Zion National Park
One of the fun things to do near Vegas for couples that like adventure activities is canyoneering in Zion National Park. The park is located in Utah and is a two-hour drive from the strip.
This experience allows you and your partner to go into the slot canyons within the park and immerse yourself in your breathtaking surroundings.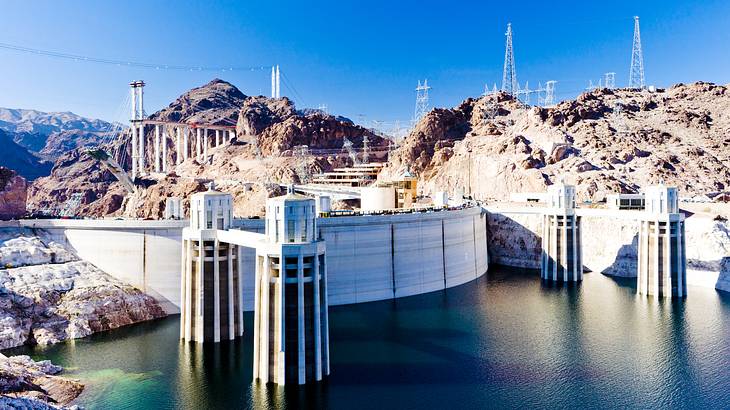 Tour Hoover Dam
Hoover Dam is one of North America's most famous landmarks, and it's conveniently located less than an hour from the strip. You can find numerous tours of Hoover Dam, making it easy for you and your partner to visit.
At the dam, you can appreciate the incredible structure and take lots of pictures as a souvenir of your visit. For the most incredible views of Hoover Dam, walk across the Mike O'Callaghan - Pat Tillman Memorial Bridge. If with a tour guide, they'll also provide you with more information on the history and purpose of this American landmark.
Explore Spring Mountains National Recreation Area
Another great outdoor attraction near Las Vegas is Spring Mountains National Recreation Area, also known as Mount Charleston. Found just 20 minutes from the strip, the park has hiking and biking trails and lots of wildlife to see.
There are also roads around the park, allowing you to go for a romantic drive in Spring Mountains National Recreation Area.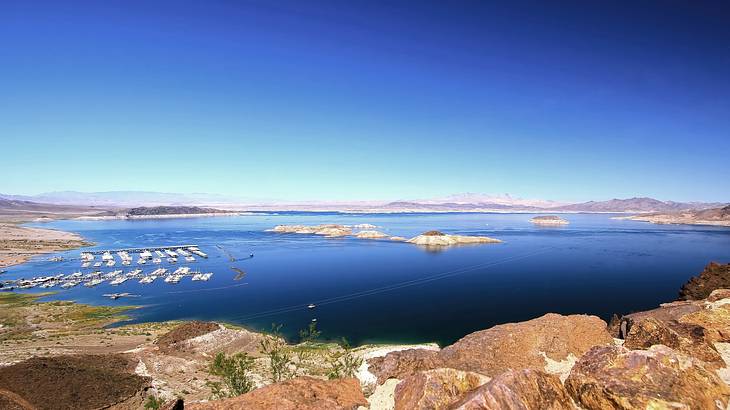 Hang out at Lake Mead
Lake Mead is a large reservoir, formed by Hoover Dam. The reservoir is a popular spot for Las Vegas residents and tourists to head to for a chilled-out day.
If you're interested in visiting, there are numerous things to do at Lake Mead. Activities for you and your partner to try include kayaking, stand up paddleboarding, and white-water rafting. Whatever you do at Lake Mead, you'll both have an enjoyable and exciting time!
Learn how chocolates are made at Ethel M Chocolates Factory
Ethel M Chocolates Factory is located 20 minutes from the strip and produces gourmet chocolates and other sweet treats. You and your other half can explore the factory and learn more about the production process during a visit.
You can also try samples and treat yourselves to some candy to take home. There's also a charming cactus garden to visit next door to the shop and factory.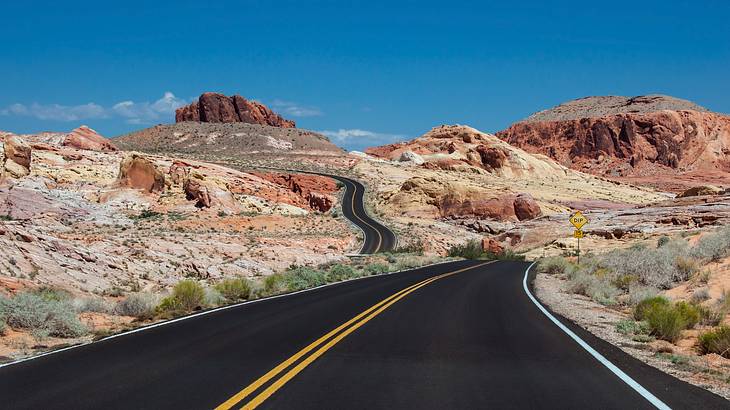 Explore Valley of Fire State Park
Another of the beautiful national parks in the United States that's close to Las Vegas is Valley of Fire State Park. This vast desert park stretches across 46 acres and has rolling sand dunes and red sandstone mountains.
If interested in visiting, it's well worth joining a Valley of Fire State Park tour. While many of the tours are hiking tours, you'll also find operators offering exciting ATV tours of the area.
Go wine tasting at Pahrump Valley Winery
Leaving the bustle and craziness of the strip to go wine tasting in Pahrump Valley is one of the most romantic and relaxing things couples can do in Las Vegas. Pahrump Valley Winery is located about an hour's drive from Las Vegas Boulevard.
The winery is the largest wine producer in Nevada and creates high-quality wines all year. At the winery, you'll get to taste a selection of Pahrump Valley Winery blends. Of course, you can then purchase some bottles to take home; opening a bottle on your next date night is a meaningful reminder of your Las Vegas trip!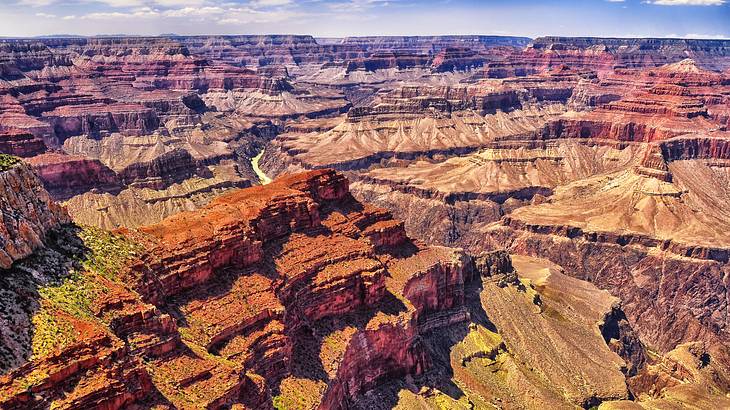 Take a road trip to the Grand Canyon National Park
Grand Canyon West is an ideal day trip location, located just two hours from Vegas. However, if you're up for a longer journey, why not travel to the rest of Grand Canyon National Park in Arizona. This trip is closer to four hours, but it's worth it!
There are a variety of Grand Canyon tours and activities to choose from. These include road trips, overnight trips, hiking tours, and helicopter tours. If you have the time, then seeing the entire Grand Canyon is highly worth it!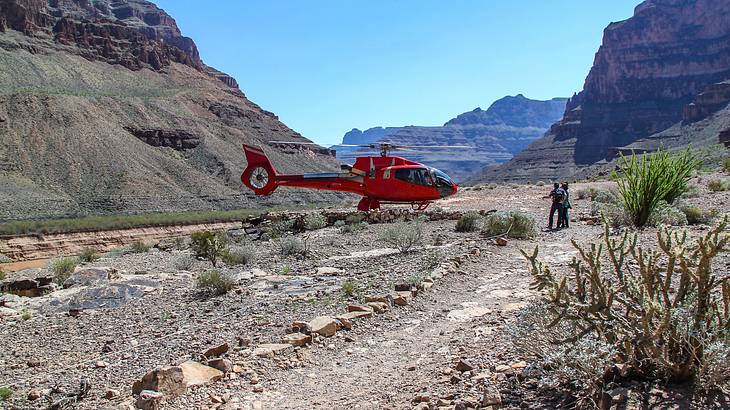 Take a helicopter ride over Grand Canyon West
The Grand Canyon is one of the most famous landmarks in the world. It's also very close to Las Vegas, especially the Grand Canyon West area. A romantic way to see this landmark with your partner is on a luxury helicopter tour of Grand Canyon West.
On your 70-minute flight, you'll be flown above the canyon to appreciate the breathtaking sight from up high. On the way to Grand Canyon West, you'll also see Hoover Dam, Lake Mead, and many other Nevada landmarks. A helicopter tour of this world landmark is the ultimate vacation experience.
Kayak at Emerald Cave
Emerald Cave is located in Arizona and is an hour from Las Vegas. If you like outdoor adventure activities, kayaking at Emerald Cove is a must. You can choose from a selection of operators and will get to sail through caves as you admire the views. Kayaking the caves is a popular activity, with over 25,000 people visiting the destination each year.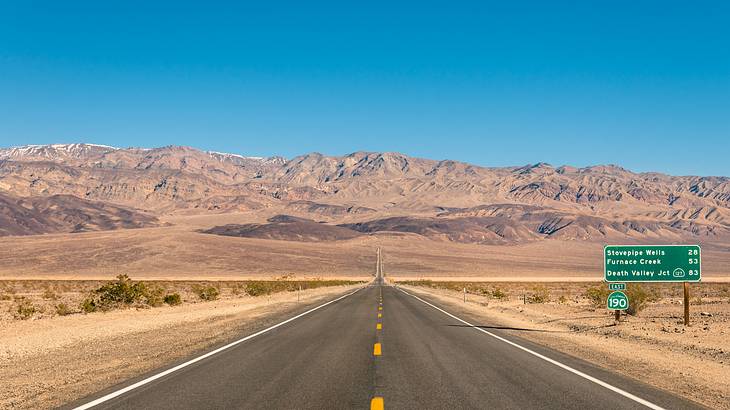 Venture to Death Valley State Park
Death Valley State Park, or Death Valley National Park, is one of the best national parks on the West Coast. The park sits between Nevada and California and is known as being one of the hottest and driest national parks in the US.
However, the renowned park is well worth a visit, and along with desert scenery, you can actually see snow-capped mountains and various wildflowers. A day trip to Death Valley National Park is an ideal choice when visiting from Las Vegas. On the trip, you'll learn more about the park's environment and will get to appreciate the unique and breathtaking landscape.
In Conclusion
Las Vegas is an exciting, fun, and unique vacation destination for couples. There are so many memorable activities to try and landmarks to see in and around the Vegas strip. If planning a romantic getaway to Las Vegas, keep these activities for couples in mind!
Give us feedback about this article
More visual stories related to this article:
Want to keep exploring?
Subscribe for discounts on tickets and hotels and our latest guides.
Thank you for subscribing
We will be in touch soon with discounts on tickets and hotels and our latest guides.
Want to keep exploring?
Subscribe for discounts on tickets and hotels and our latest guides.
Thank you for subscribing
We will be in touch soon with discounts on tickets and hotels and our latest guides.