A Guide to Airports in Washington State, USA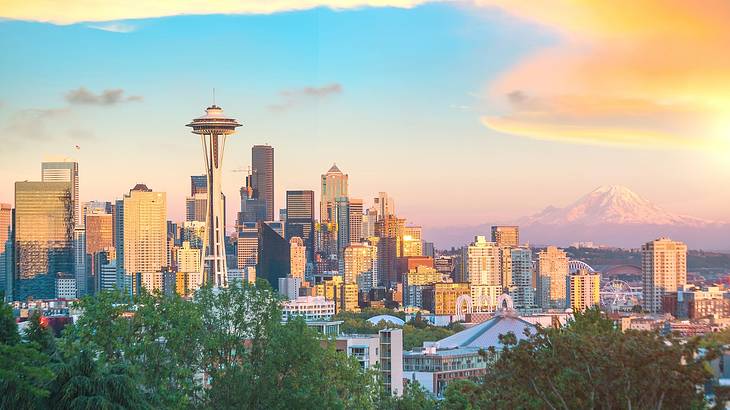 Are you planning a trip to Washington State? Or, are you looking to fly out of an area within WA? If so, knowing which airports are available to fly in and out of is helpful information to have.
There are hundreds of airports in Washington State, USA, but only a handful operate frequent passenger flights to and from major US cities.
This guide to airports in Washington State will outline those airports. It will include some that operate international flights as well.
The guide will also highlight the facilities available, destinations covered (to and from), and airlines operating at each airport.
If you need to travel to or from this area in the Pacific Northwest, then keep reading to learn about 9 airports in Washington State, USA, you can use.
9 Washington Airports to Use
Airports in Washington State Map
Using the map of Washington, you can explore all the airports.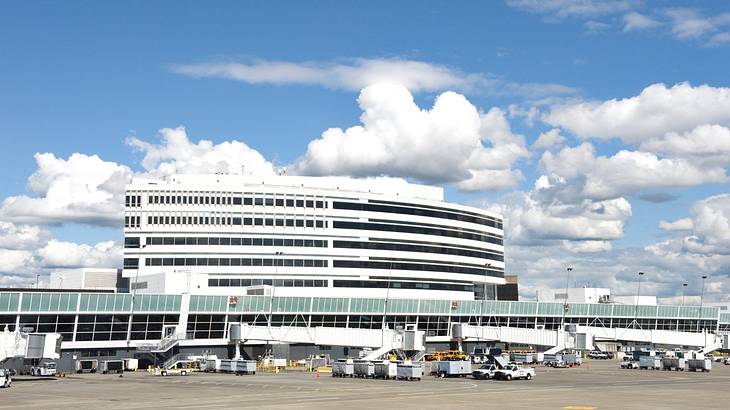 Seattle-Tacoma International Airport, Seattle
Seattle Tacoma International Airport (SEA) is the busiest of the airports of Washington State. The airport is conveniently located just outside of downtown Seattle and is about a 20-minute drive from the city center.
If you are short on time when in Seattle, flying into Sea-Tac would be your best bet. It would allow you to make the most of the many fun things to do in Seattle.
There are flights to and from Seattle Tacoma International Airport from a range of international locations. These include London, Tokyo, Cancun, and Seoul. The airport also services flights to all major US cities.
Over 30 airlines fly from here, including Alaska Airlines, Virgin Atlantic, and Air Canada. The airport has many facilities. You'll find multiple dining options, including dine-in and take-out, plus various retail outlets.
Other facilities and amenities include free WIFI, charging outlets, a kids' play area, and a pet relief area if traveling with animals. Duty-free is also available, and those with the credentials can access airline lounges.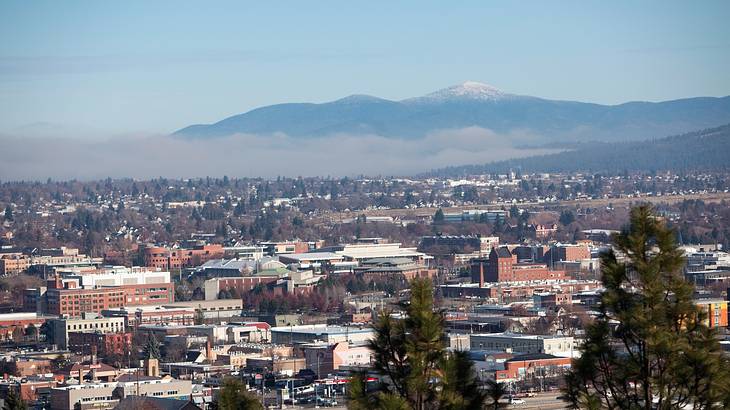 Spokane International Airport, Spokane
Spokane International Airport (GEG) is the second busiest international airport in Washington State. It's about seven miles from downtown Spokane.
You can fly to and from many US cities directly from this airport. These cities include Denver, Los Angeles, and San Francisco. A range of airlines operates out of Spokane International Airport, including Southwest Airlines, American Airlines, and Delta.
International direct flights are not currently offered. However, many passengers connect to other cities via Spokane to catch international flights.
There are various fast-food dining outlets at Spokane Airport, including Starbucks and Burger King, plus a few bars like Spokane Tap Room. You'll also find multiple newsstand shops selling reading materials, snacks, and essentials.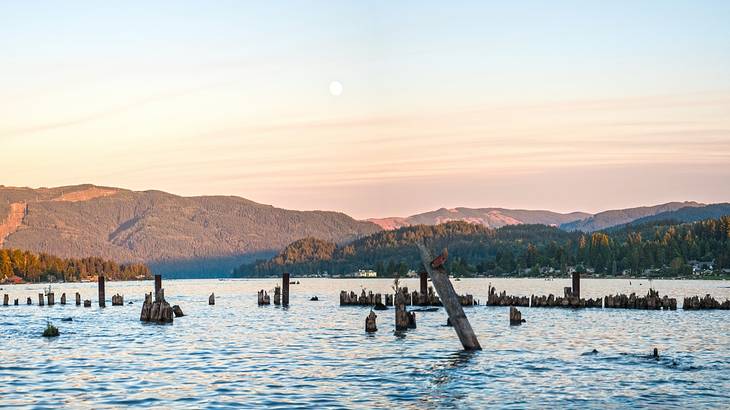 Bellingham International Airport, Bellingham
Bellingham International Airport (BLI) is about three miles northwest of central Bellingham. It's a reasonably small airport that is convenient for those living in the area.
US destinations serviced by flights here include Las Vegas, Los Angeles, and Oakland. You can also fly to Seattle from Bellingham. Currently, you cannot fly directly between Bellingham International Airport and any international destination.
The four airlines operating out of Bellingham are Alaska Airlines, San Juan Airlines, Allegiant, and Southwest Airlines.
Free WIFI is available to all passengers, and there are a few food options and concessions where you can buy snacks, reading materials, and other in-flight essentials.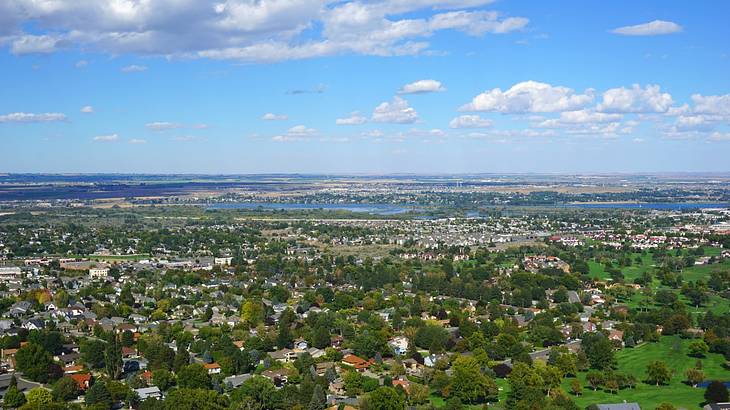 Tri-Cities Airport, Pasco
Tri-Cities Airport (PSC) is in Pasco, Franklin County, Washington. It is the fourth largest airport in Washington State. This airport flies directly to ten US cities such as Minneapolis, Salt Lake City, and Phoenix.
Like all Washington airports, Tri-Cities operates flights to and from Seattle. You cannot fly internationally at the moment. Airlines operating here include Alaska Airlines, Allegiant, and Delta.
There is a selection of dining options here, including a bar and grill and take-out shops. There's also a gift shop and concession selling in-flight necessities.
Pullman-Moscow Regional Airport, Pullman
Pullman-Moscow Regional Airport (PUW) is in Whitman County, Washington. It gets its name from being two miles from Pullman, Washington, and four miles from Moscow, Idaho.
The main flights in and out are coming from or going to Seattle-Tacoma. These flights are direct and operate daily. The flights are run by Horizon Air, a branch of Alaska Airlines. Starting August 2021, Air Alaska will also fly to Boise, Idaho, out of this airport.
As a small public airport, there are no facilities such as shops or restaurants. Passengers tend to go straight through security and board.
Pangborn Memorial Airport, East Wenatchee
Pangborn Memorial Airport (EAT) is located in Douglas County, four miles from the city of Wenatchee. Pangborn Memorial is another airport in WA that flies to various US cities such as Sacramento, Las Vegas, and Boise.
Currently, the only airline operating out of Pangborn Memorial Airport is Alaska/Horizon. You cannot take direct international flights to or from this airport.
Being a smaller airport, facilities are minimal. There is free WIFI as well as a cafe, ATM, and vending machine. If used to flying from airports with more amenities, be sure to pack everything you need.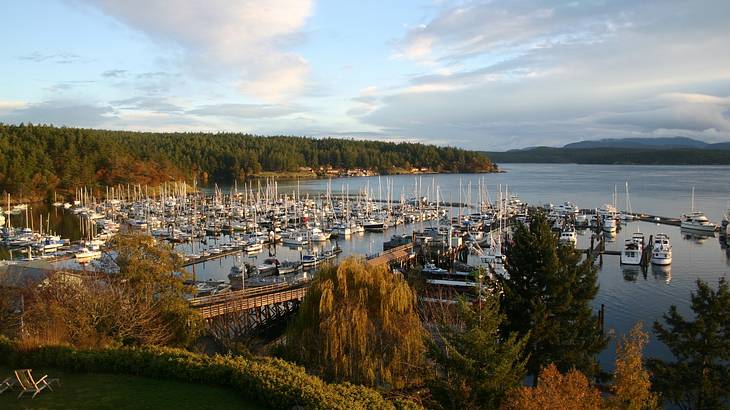 Friday Harbor Airport, Friday Harbor
Friday Harbor Airport (FHR) is a small airport that operates passenger flights to other areas in Washington State. It's located just outside of the town of Friday Harbor on San Juan Island.
This airport operates flights to Seattle as well as to East Sound, Everett, Bellingham, Lopez Island, and Anacortes. The airlines flying here are Kenmore Air and San Juan airlines.
Like some of the other small airports in Washington, facilities at Friday Harbor Airport are limited.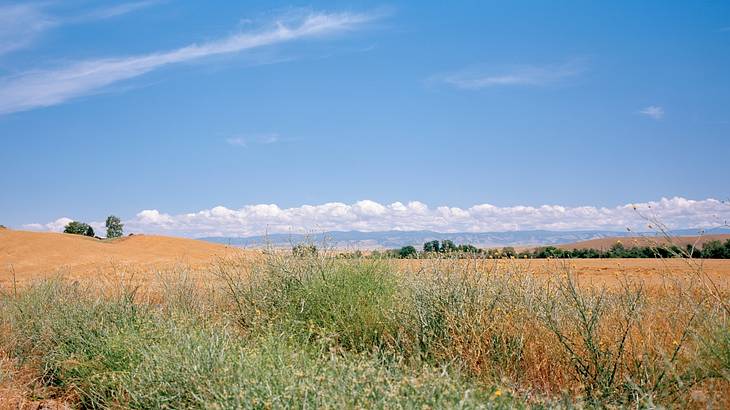 Walla Walla Regional Airport, Walla Walla
Walla Walla Regional Airport (ALW) is located in Walla Walla County, Washington. Interestingly, this airport was used as a base for the United States Air Force during World War II. Today, it offers passenger flights to limited US destinations.
Walla Walla Regional is another of the airports of Washington that flies daily to Seattle. Again, these flights are operated by Alaska Air. Various cargo flights to Seattle-Tacoma and Yakima Air Terminal also fly from Walla Walla.
This airport offers free WIFI and power outlets, but there are no other facilities or airport lounges.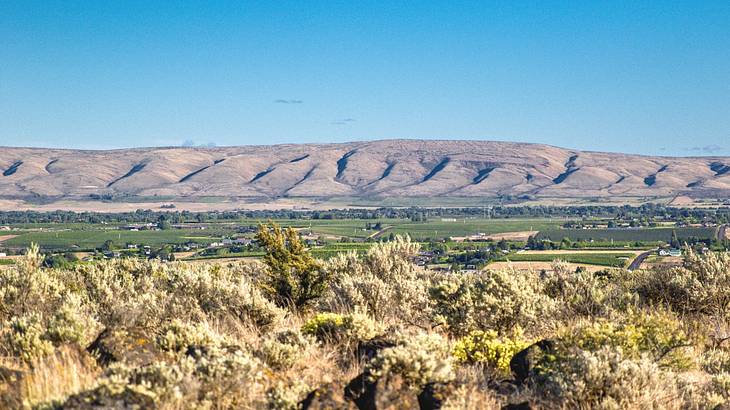 Yakima Air Terminal, Yakima
Yakima Air Terminal is three miles from Yakima in Yakima County. This is another small airport in Washington, but it does operate 16 daily passenger flights to Seattle-Tacoma. All flights are by Alaska Airlines.
Again, facilities at this airport are limited, with most passengers clearing security and boarding straight away. Despite this, if you need to travel between Seattle and Yakima, this airport makes it incredibly easy with flights throughout the day.
King County International Airpot, Seattle
King County International Airport - Boeing Field (BFI) is located five miles from downtown Seattle. This airport flies passengers to two destinations: Friday Harbor and Eastsound. All flights are operated by Kenmore Air.
As a smaller airport, there are very few facilities. However, most passengers quickly clear security and board their flights, meaning shops and dining options aren't necessary.
King County International Airport is an ideal option for those who want to travel to and from these destinations as you avoid the crowds of Seattle-Tacoma.
In Conclusion
If flying in or out of Washington State, there are multiple airports to choose from.
Whether you want to get to a hub like Seattle to explore its famous landmarks or a smaller town like Yakima or Friday Harbor, hopefully, this guide showed you how easy it is to find a suitable airport in Washington State.
This article was edited by Loredana Elena.
For more interesting articles about United States, read:
For some great articles about airports, check out:
---