Where to Stay in the Blue Ridge Mountains - 11 Best Towns & Hotels
Destguides may receive commissions from purchases made through affiliate links in this article.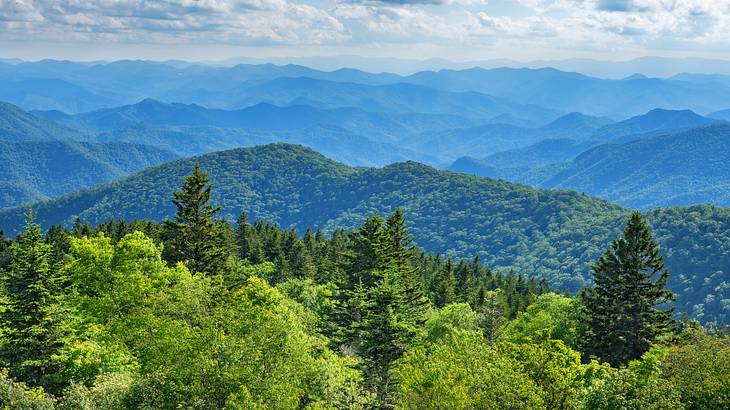 The Blue Ridge Mountains are a popular vacation destination in the Appalachian Mountains, flowing through multiple states in the Southeastern United States. The mountains are rich with oak trees emitting isoprene into the air, lending the mountains a signature hazy blue appearance.
If you are planning a trip and are wondering where to stay in the Blue Ridge Mountains, you've come to the right place. Whether you are looking for a low-key, casual vibe or a bustling nightlife to return to after your day outdoors, you'll find it in this Blue Ridge Mountain guide. Read on to discover which of these spots most appeals to you.
Best Places to Stay in the Blue Ridge Mountains
Best Areas to Stay in the Blue Ridge Mountains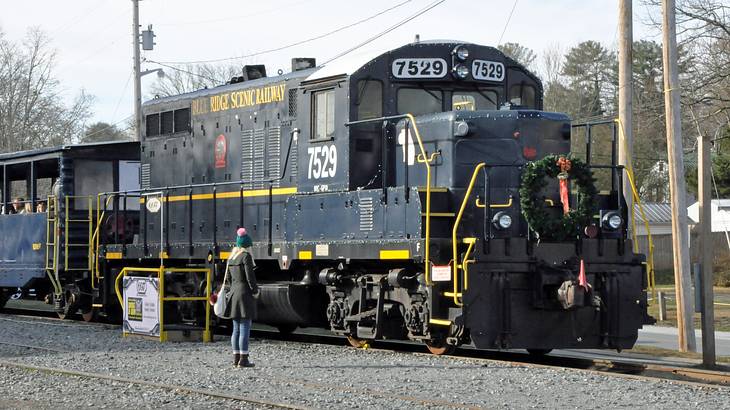 Blue Ridge, Georgia
Blue Ridge, Georgia, is located on the southern side of the Blue Ridge Mountains, about 90 miles north of Atlanta. The area offers numerous opportunities for hiking, along with kayaking, swimming, and paddle boarding at Blue Ridge Lake.
This small mountain town will notably appeal to those seeking to enjoy cultural activities along with their outdoor pursuits. For example, you can watch a performance at the Blue Ridge Community Theater or admire artworks at High Country Art.
Another interesting activity is riding the Blue Ridge Scenic Railway, which is a Georgia landmark. You'll ride along the Toccoa River with small-town stops along the way. Those looking to stay in Blue Ridge will find accommodations to suit various budgets. Blue Ridge includes luxury spas, bed and breakfasts, cabin rentals, and a few contemporary hotel chains.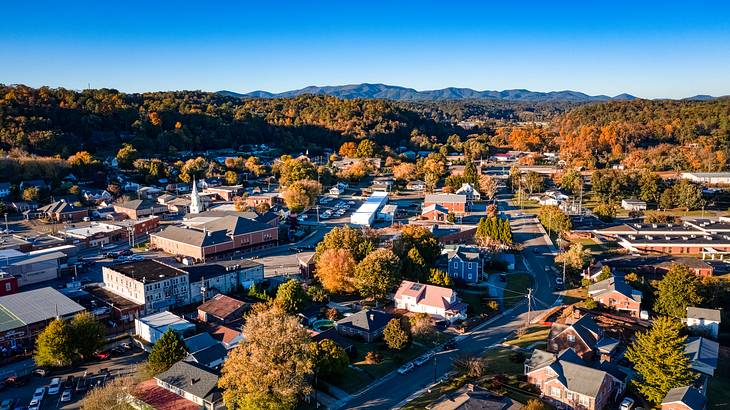 Ellijay, Georgia
Ellijay, Georgia, is located at the crossroads of the Ellijay River and the Cartecay River in the southern Blue Ridge Mountains. Popular activities here include white water rafting, tubing, and kayaking.
If you're looking for a laidback day outdoors, rent a pontoon boat on Carters Lake. This is one of the largest reservoir lakes in Georgia and is only 30 minutes by car from Ellijay. Hikers will also find many trails of interest to choose from around Ellijay, including points along the Appalachian Trail.
In addition, the "Apple Capital of Georgia" is known for its abundant heritage apple orchards that dot the landscape. Whether you spend the day apple-picking, on the water, or hiking, head Downtown in the evening to relax in one of many local restaurants.
Cabins are the best option in terms of where to stay, with over 2,000 rentals with lake, river, or mountain views to suit all budget needs. If you want a mix of water recreation and hiking, Ellijay is the best area to stay in the Blue Ridge Mountains.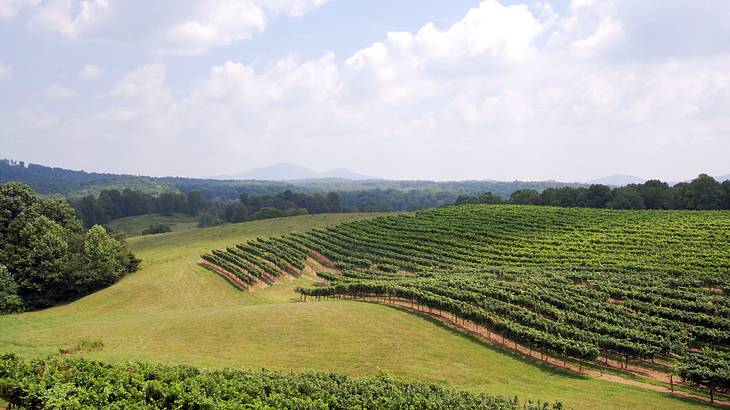 Dahlonega, Georgia
Dahlonega, Georgia, is nestled right at the foothills of the Blue Ridge Mountains. During your stay here, you can learn about the area's history as the first significant gold rush site by visiting the Dahlonega Gold Museum Historic Site. Alternatively, spend a day at one of the many wineries in the "Heart of Georgia Wine Country."
There are various lodging options for all price ranges, including charming inns and bed and breakfasts. Mountain lodges, resorts, and cabins are available as well. Dahlonega's proximity to the Chattahoochee National Forest gives hikers, day-trippers, and fly fishermen plenty to do.
The iconic Appalachian Trail also starts here, along with many other paths worthy of exploration. Dahlonega is the perfect romantic mountain getaway for couples or anyone looking to savor a glass of wine at the end of a busy day of hiking.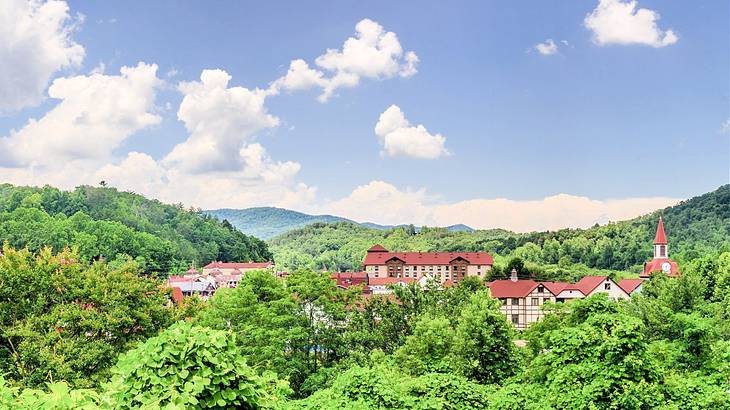 Helen, Georgia
Helen, Georgia, offers visitors a touch of European flair amidst the mountains. This location is styled after a Bavarian village with authentic German dining, cobblestone streets, and whimsical architecture.
You'll want to book your accommodations early, as Helen is the third most-visited city in Georgia. Choose between alpine-styled inns, luxury hotels, cozy cabin rentals, or familiar chains. However, you'll find higher prices in Helen due to its popularity.
The Chattahoochee River runs through Downtown Helen, luring tubers, rafters, and fishermen to its currents. Hikers of all abilities have multiple trails to choose from, including the family-friendly Anna Ruby Falls Trail and the more difficult Blood Mountain Loop.
When you're ready to rest at the end of the day, savor a glass of wine in one of Georgia's oldest wineries, the Habersham Winery. Helen is the perfect place for outdoor recreation with a Bavarian backdrop.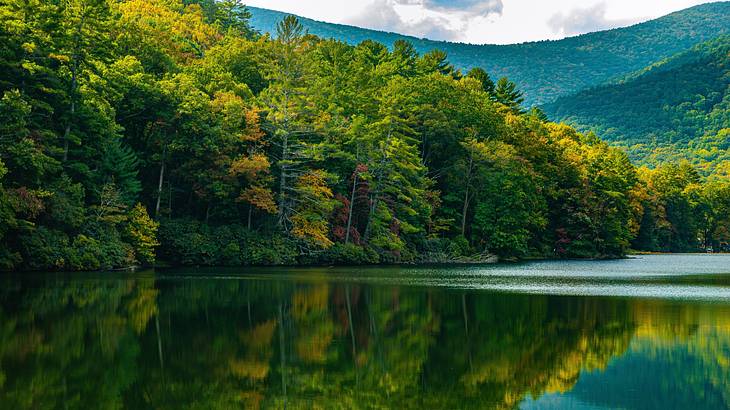 Blairsville, Georgia
Blairsville was founded in 1835 within the Chattahoochee National Forest and the Blue Ridge Mountains. Today, one of the area's most popular attractions is Lake Nottely. Visitors can wander the 106 miles of sandy shoreline around the lake or go boating, jet skiing, and fishing. Nearby Vogel State Park is also a great place for hikers, and there are many trails at the base of Blood Mountain.
Blairsville also hosts over 80 miles of the Appalachian Trail. You can even hike up to Georgia's highest mountain, Brasstown Bald, which provides sweeping views of four neighboring states. After a day outdoors, unwind at a local winery or stop by Grandaddy Mimm's Distilling Company to sample craft moonshine.
Blairsville offers a range of accommodations, from rustic cabin rentals to modern hotel chains. Those seeking an affordable mountain escape emphasizing outdoor recreation will find Blairsville the optimal choice.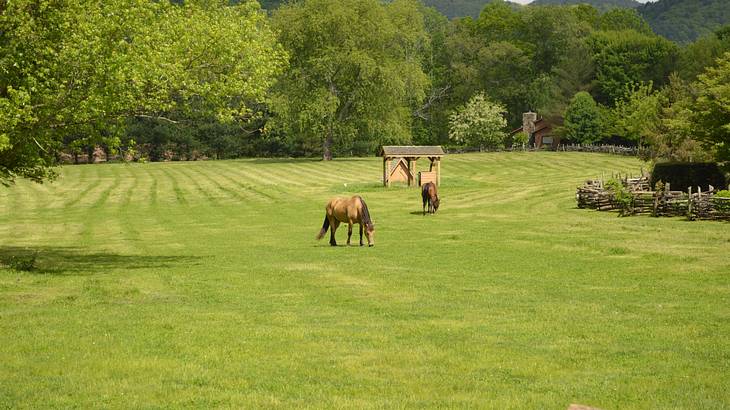 Dillard, Georgia
John Dillard, a Revolutionary War veteran, established this town in the 19th century, and his descendants still own and operate the iconic Dillard House. The town of Dillard is widely considered one of the gateways to the Great Smoky Mountains in the middle of the Blue Ridge range.
Dillard suits a variety of budgets, as you can opt for a mountain cabin, luxury rental, or historic bed and breakfast. You can also bring your RV to one of the many camping sites nearby.
Best of all, you can access three state parks from Dillard, including the Black Rock Mountain State Park. There are also almost 20 waterfalls to hike to around Dillard. Additionally, the Chattooga River offers fly fishermen and white water rafters a chance to challenge their skills. Visitors looking to enjoy their favorite outdoor recreation activities should definitely plan a trip to Dillard, Georgia.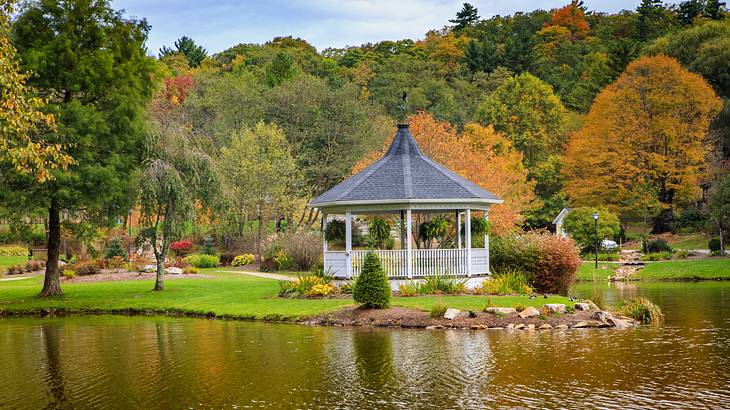 Blowing Rock, North Carolina
Blowing Rock, or "The Crown of the Blue Ridge," sits in the North Carolina High Country. Its name comes from the Blowing Rock tourist attraction, a scenic area that sits 3,000 feet above the Johns River Gorge. Be prepared for the attraction's signature force winds as you take in the incredible mountain views. Blowing Rock is also located on the scenic 469-mile Blue Ridge Parkway.
Along with having excellent outdoor attractions, this area is often called one of North Carolina's most scenic villages. Many inns and hotels are located near the city's heart. While in town, you can stroll through the downtown area and explore art galleries, boutiques, and antique shops. Alternatively, take an ice cream cone to Broyhill Park.
Blowing Rock is the best place to stay in the Blue Ridge Mountains for those looking for a walkable town set high in the mountains with easy access to the Parkway. Do note that accommodations at this popular location will run relatively high, so visitors need a healthy vacation budget.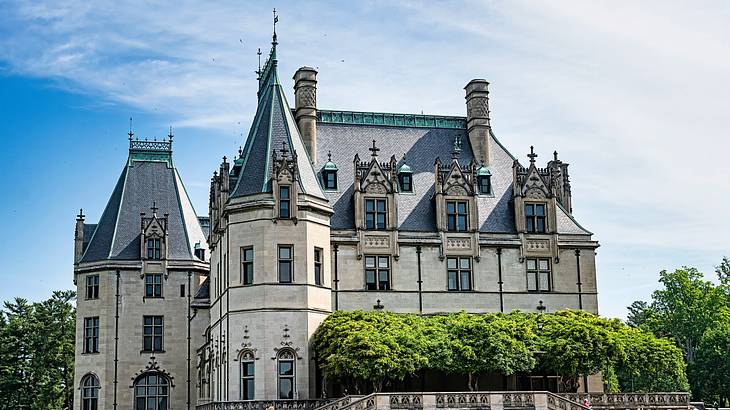 Asheville, North Carolina
Asheville, North Carolina, is the largest metro area in the Blue Ridge Mountains. It's known for a fun vibe, with art galleries, a lively music scene, and a wide variety of restaurants. This "Beer City" hosts more breweries per capita than any other city in the country other than Portland, Maine.
Before or after visiting some breweries, take a tour of the North Carolina landmark Biltmore Estate. This beautiful property is America's largest privately owned home.
Asheville is also at the confluence of the French Broad and Swannanoa Rivers, making it ideal for paddle boarding, kayaking, and river tubing. Pisgah National Forest is about 30 miles north of the city, with over 500,000 acres of dense forest, whitewater, and trails to enjoy.
Numerous lodging options, ranging from expensive luxury resorts to affordable hotel chains, are available. If you want a vibrant nightlife to balance your outdoor pursuits, plan a trip to Asheville.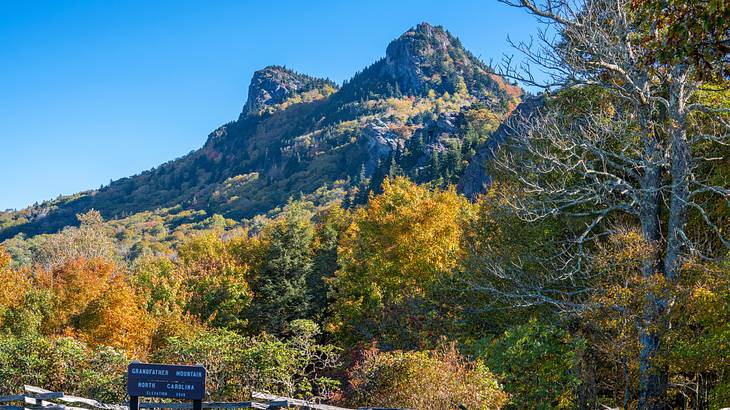 Banner Elk, North Carolina
Banner Elk is located next to the vast Pisgah National Forest in the North Carolina High Country. This beautiful small town is a culinary draw. It has something for everyone, from white-linen, five-course dining restaurants to authentic homestyle fare. The South Carolina landmark Sassafrass Mountain is a few hours away as well if you want to take a fun day trip.
Visitors should also plan a trip to the iconic Grandfather Mountain, which is about 30 minutes away. This famous mountain is almost 6,000 feet high, making it the tallest mountain on the eastern side of the Blue Ridge. While at Grandfather Mountain State Park, you can see ancient geological formations or hit the state park's 12 miles of trails.
In terms of accommodation options, you can check into a historic inn or bed and breakfast near the downtown area. Alternatively, seek seclusion with a mountain cabin or vacation rental. Banner Elk will appeal to those looking for a small-town getaway with incredible dining options and easy access to Blue Ridge's top draws.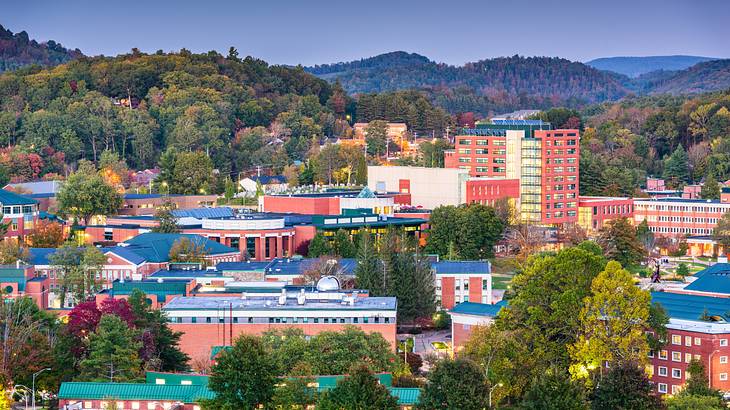 Boone, North Carolina
Boone is another high-altitude mountain town, over 3,300 feet above sea level. The city's namesake, Daniel Boone, reportedly camped here. Home to Appalachian State University, this destination doubles in size whenever students are in town.
Residents here have deep ties to Appalachian culture and history. There's notably a robust bluegrass music scene. If you want to stay in Boone, check out one of its hotels or cabin rentals for affordable options.
Hikers will find numerous trails near Boone, including the one-mile Otter Falls Trail. The Greenway Trail, a three-mile route popular with hikers, bikers, and birdwatchers, is also recommended. Another option is to visit the Hickory Ridge History Museum, where you'll learn about colonial life between the 1700s and early 1800s. Boone is ideal for a relaxed break with access to the high peaks, trails, and other fascinating attractions.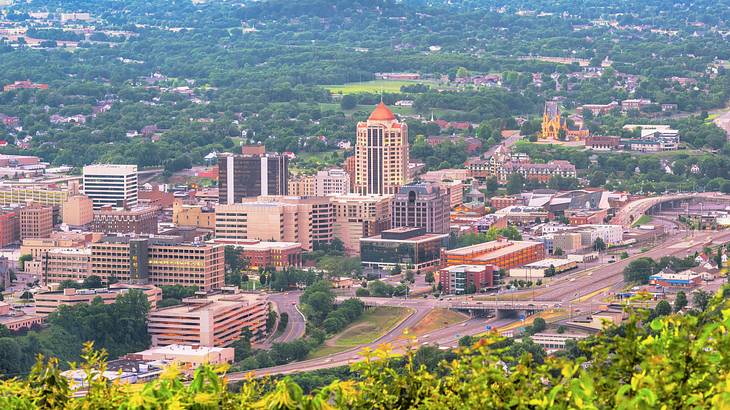 Roanoke, Virginia
If you'd like your mountain getaway to include big-city amenities, head to Roanoke. This city is the largest in the Blue Ridge Mountains. It's located along the Roanoke River, just north of the Blue Ridge Parkway.
The Roanoke Valley offers over 25 miles of green spaces, with hiking and biking trails to explore. Roanoke is also a great jumping-off point to reach Virginia landmark Shenandoah National Park. It's also near George Washington & Jefferson National Forest, boasting miles of trails and river access.
During the evening in Roanoke, there are plenty of dining and cultural events, as the city is widely considered the Southwest Virginia hub. Accommodations are available to suit every interest and budget, whether you're seeking a historic inn, boutique hotel, or glamping site. Roanoke is perfect for those searching for endless nighttime activities to top off a day outdoors.
Where to Stay in the Blue Ridge Mountains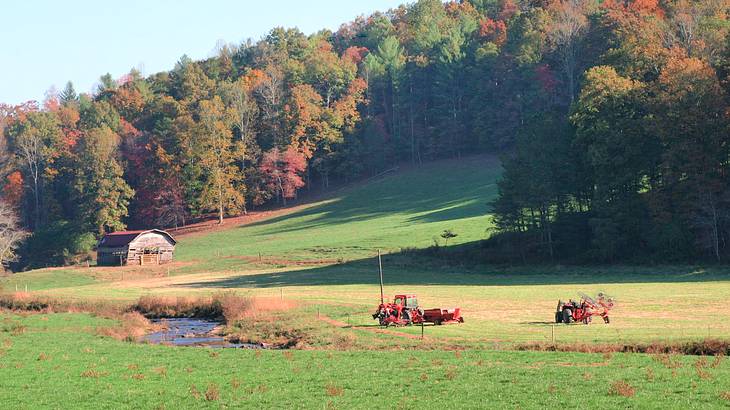 Where to Stay in the Blue Ridge Mountains with family?
Ellijay, Georgia, is an excellent option for families. There are a variety of accommodations, whether you're looking for a cabin with plenty of outdoor space or a hotel with a pool. If you're visiting in the fall, kids will love going to the Hillcrest Orchards. They can pick apples, visit the petting farm, and explore the playground.
Helen, Georgia's Bavarian-style village with its delicious restaurants and themed shops, will also appeal to families. Older children will love the Cool River Adventure zip lines and the Georgia Mountain Coaster, the state's first alpine rollercoaster. For the younger ones, plan a visit to BabyLand General Hospital to see the birthplace of the signature Cabbage Patch dolls.
Where to Stay in the Blue Ridge Mountains for first-timers?
First-timers will enjoy the small-town charm of Banner Elk, North Carolina. Banner Elk offers premier dining, wine, and craft brewing options. It is also near Pisgah National Forest, Grandfather Mountain, and multiple hiking and waterfall trails. Wildcat Lake offers swimming, paddle boarding, and fishing if you prefer water recreation.
Dahlonega, Georgia, provides first-time visitors to the United States landmark Blue Ridge Mountains the chance for a genuine mountain getaway. Its location at the foothills of the signature range provides incredible views from many of its resorts, lodges, and cabins. Visitors can enjoy one many historical sites, including those covering the gold rush, or relax at a nearby vineyard with a glass of wine.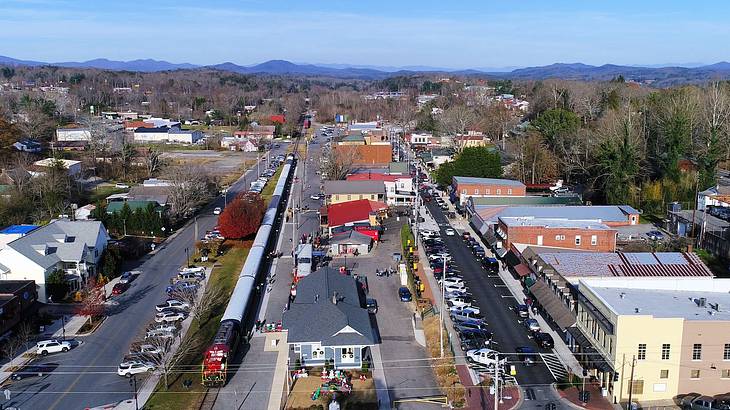 Where to stay in the Blue Ridge Mountains for hiking?
Many locations offer incredible hiking, but two towns stand out. Blue Ridge, Georgia, is near the Chattahoochee National Forest, providing several chances for hikers to enjoy the Appalachian Trail. Over 300 miles of trails can be accessed near Blue Ridge, including the trek to the towering 700-foot plus Amicalola Falls.
Blairsville, Georgia, is another option for passionate hikers. The trails near Blairsville range from the easygoing Meeks Park to the more strenuous Blood Mountain and Freeman Loop Trail. The Appalachian Trail is also accessible from several trailheads near Blairsville, whether you're looking to stroll a few miles or hike to scenic viewpoints.
Where to stay in the Blue Ridge Mountains for camping?
Blue Ridge, Georgia, has campgrounds on the Blue Ridge Reservoir and along the shores of the Toccoa River. These locations are excellent if you're looking to cool off with a swim or go kayaking or paddleboarding at the end of the day. Those wanting to backpack into the wilderness for even more seclusion can find options along the Appalachian Trail.
Boone, North Carolina, is another popular option for campers. It provides several large campgrounds with RV hook-ups and other amenities. The Julian Price Campground has campsites next to the scenic Price Lake. Reserve your spot six months in advance to secure the perfect home base for hiking, fishing, and boating.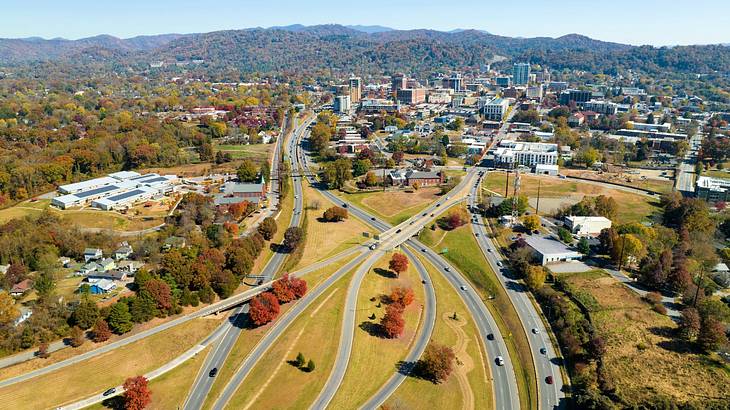 Where to stay in the Blue Ridge Mountains on a budget?
Two cities provide affordable accommodations in the Blue Ridge Mountains whenever you book. Asheville, North Carolina, offers glamping sites, hostel stays, and modern chains. Some hotels are located near the downtown area, allowing you to save gas by walking to shops and restaurants.
Roanoke, Virginia, the largest city in the Blue Ridge Mountains, is another good bet for affordable lodging. There are many house and cabin rentals with kitchens here, perfect if you'd rather cook your meals than eat out. Roanoke also has numerous choices for low-budget rooms in recognizable hotels.
In Summary
There is an abundance of areas to stay in the Blue Ridge Mountains. In Georgia, head to Dahlonega to learn about the gold rush or go to Helen for a taste of Bavaria. Alternatively, the North Carolina High Country offers easy access to the Blue Ridge Parkway, while the mountain community of Boone will give you all the fun of a college town.
Avid hikers should consider Blue Ridge and Blairsville in Georgia. Budget hunters may find that Asheville, North Carolina, or Roanoke, Virginia, best meets their needs. Whatever you are looking for in your mountain getaway, you'll find it in the Blue Ridge Mountains.
Give us feedback about this article
Read more articles about the United States:
More articles about places to stay:
---
---
Want to keep exploring?
Subscribe for discounts on tickets and hotels and our latest guides.
Thank you for subscribing
We will be in touch soon with discounts on tickets and hotels and our latest guides.
Want to keep exploring?
Subscribe for discounts on tickets and hotels and our latest guides.
Thank you for subscribing
We will be in touch soon with discounts on tickets and hotels and our latest guides.
Related Articles