4 Days in Paris Itinerary - The City of Lights
Destguides may receive commissions from purchases made through affiliate links in this article.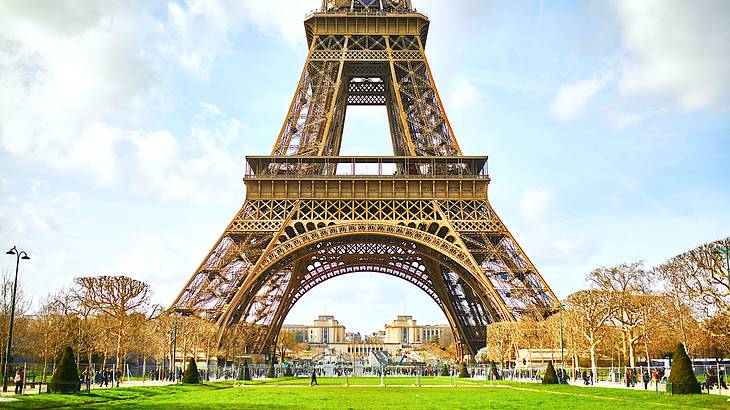 This 4 days in Paris Itinerary is designed to pack in a lot of fun in a short amount of time. It will help you explore everything that Paris has to offer by checking off some of the top attractions on your Paris bucket list.
Paris is the capital city of France. It has over 2 million people, making it the most populated city in the country. With over 25 million visitors per year, it is also one of France's most visited places. People worldwide visit Paris for museums and other historical and architectural landmarks that can only be found in Europe.
Paris was one of the first European cities to use gas street lighting. Because of this, it was called "The City of Lights". Rumours also exist that Paris is home to the first-ever "bloody mary cocktail", specially made for Ernest Hemingway when the American journalist was in the city.
The historical city of Paris has many activities and adventures that are easily accessible to anyone visiting. Whether you are travelling solo, with a partner for a romantic weekend getaway, or with your family - Paris is a convenient city to explore.
Did you know that Paris is also a very dog-friendly city? If not, now you do! So before travelling to France, do some research ahead of time to understand how things work in the country, like their public transport system!
4-Day Paris Itinerary
Paris Classics - Churches, Museums & Monuments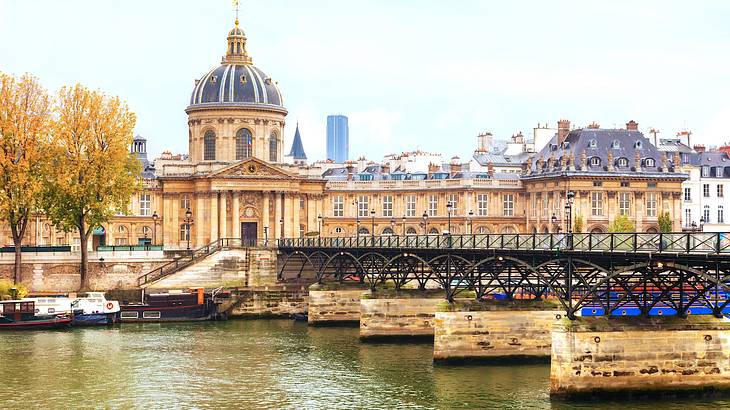 Paris is famous for its museums. It is home to some of the world's most well-known artworks, including the Mona Lisa by Davinci, the Self Portrait by Van Gogh, and the Poppy Field by Claude Monet. There are also many other important and timeless art pieces and sculptures to ponder and contemplate while visiting the museums of Paris.
You also can't take a trip to Paris without visiting some of its historical churches, such as the Notre Dame and Sainte Chapelle, and its monuments, towers, and structures.
The most convenient way to experience Paris is with the Paris Pass. The Paris Pass is an excellent investment because it provides free entry to over 60 museums and attractions, a hop-on-hop-off bus tour, "skip-the-line" benefits as well as a guide book that can help you plan your trip to check off all the unique things to see in Paris.
You can also book something called the Paris Museum Pass, which also gives you access to 60+ museums, but does not come with a sightseeing bus nor a Metro travel card. The Metro card included in the Paris Pass is useful as it gives you unlimited travel on the RER, Metro and bus in zones 1-3.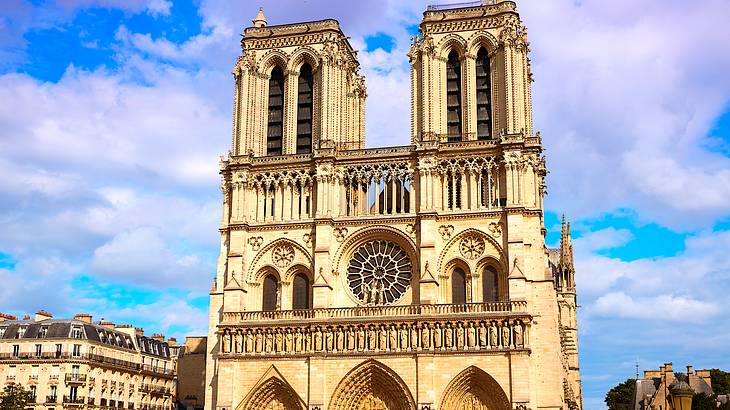 Notre Dame
Notre-Dame Cathedral is one of the most iconic and prominent buildings in Paris. Originally built between 1163-1345, Notre-Dame receives more visitors than the Eiffel Tower. It is one of the largest religious buildings in the world and was home to the Crown of Thorns, one of the most sacred religious artefacts.
In April 2019, this world-famous cathedral was ravaged by a fire in its bell tower. While many of the important relics and artwork were saved, like the three stained-glass rose windows that date back to the 13th century, there was massive structural damage done to the nearly 900-year-old building.
The cathedral's spire, roof, and most of its upper walls were also destroyed. The vaulted stone ceiling saved the rest of the structure because it contained the fire within the roof.
Restoration donations have reached over 1 billion dollars from all over the world, and rumours suggest that by 2026 it should be completed. However, there is still a debate going on whether to restore the cathedral to what it was or to give it a few updates.
As of now, you still cannot enter the cathedral. However, you can view it from afar or enjoy a beautiful Parisian sunrise here. When it opens again, you can also climb up the tower to soak in the stunning views of the city.
Sainte Chapelle
The Sainte Chapelle is renowned for its massive stained-glass windows. There are 15 in total, and just like the ones in the Notre Dame, they all date back to the 13th century.
Over 1000 biblical figures can be found amongst the stained glass as well as scenes from the old and new testament. There are also windows depicting how kings and queens should live.
While the chapel was built under the order of King Louis IX in 1242, no one knows who actually designed this fantastic church. The King needed the chapel to house his legendary religious relics collection, which included the Crown of Thorns, the Image of Edessa, fragments of the Holy Cross and the Holy Lance - relics related to the Virgin Mary and the Holy Sponge.
Bear in mind that this place is notorious for its long waiting lines, so if you want to avoid them, arrive 5 – 10 minutes before the opening time.
Louvre Museum & Pyramid Entrance
The Louvre Museum is considered by many to be the world's greatest art museum. It is also one of the most famous landmarks in France. Over 10 million people a year walk through its doors for a chance to view its popular paintings, sculptures and other well-known art pieces. The museum is massive and can comfortably fit 15,000 people walking its halls.
Located just outside the museum is the majestic Louvre Pyramid, which is technically the main entrance of the museum. It was completed in 1989 by Chinese-American architect I. M. Pei.
The Pyramid is made of glass and metal and has since become a landmark of Paris in its own right. It reaches a height of 71 feet, and the base measures 112 feet across. It was created to accommodate the ever-rising number of visitors to the museum.
Not only does the Louvre Museum contain a lot of history, but the building itself is also historical. It was initially built as a fortress before becoming the royal palace in the 16th century. It finally became a museum in 1793.
As said earlier, The Louvre is massive, and it will be impossible to see all the art that it holds. Even if you spent your entire four days in Paris exploring it, you still wouldn't come close to seeing everything it has. Your best bet is to pick out the pieces you want to see beforehand and map out where they are.
Guided tours and audio tours are available. The museum also offers "visitor trails" where you can choose a theme and a length of time, and it will create a trail for you to see pieces related to that theme. There are 15 themes to choose from with durations of up to 3 hours.
The Louvre Museum has eight cultural departments that include the following: 215 Paintings, including the legendary Mona Lisa; 207 Egyptian Antiquities; 207 Greek, Etruscan, and Roman Antiquities; 182 Near Eastern Antiquities; 83 Sculptures; 261 Decorative Arts; 12 Works of Islamic Art; and 186 Prints and Drawings.
The Collection of the Masterpieces includes the Frieze of Archers, The Emperor Triumphant, the Portrait of a Woman, The Cheat with the Ace of Diamonds, The Consecration of the Emperor, The Wedding Feast at Cana, the Winged Human-headed Bull, and more.
The other collections include jewellery, writings and others. You can also walk through The Carrousel & Tuileries Gardens to see over 20 sculptures plus 200 statues and vases dating back to the 17th century.
Since the museum is such a popular place to visit, it is recommended to book a timeslot before your visit, which you can do online. Admission prices vary. It is important to remember that your ticket is only valid for the date and time you chose, and you cannot be readmitted.
Carrousel du Louvre
Carrousel du Louvre is a beautiful underground shopping mall with 36 shops and nine restaurants. It is open every day from 10 am to 8 pm and is considered one of Paris's premier shopping destinations.
It is also home to the inverted pyramid (Pyramide Inversée) created by I. M. Pei once again.
Pont Alexandre lll Bridge
Deemed by many people to be the most beautiful bridge in Paris, the Pont Alexandre III Bridge was built in 1896. It was also constructed for the World's Fair so visitors could easily see all the exhibits as they were set up on both sides of the river.
The bridge is anchored by four granite columns, is 132 feet wide by 353 feet long, and sits 18 feet above the water. At one end of the bridge is Les Invalides, a complex of buildings and the final resting place of Napoleon. It connects the Grand and Petit Palais on the right bank with the Hôtel des Invalides on the left.
The Grand Palais is a big building that includes a museum and an exhibition hall as well as a police station underneath to protect all the relics and valuable things inside.
The Petit Palais is also a museum with several travelling exhibitions and permanent collections. They also hold events and workshops.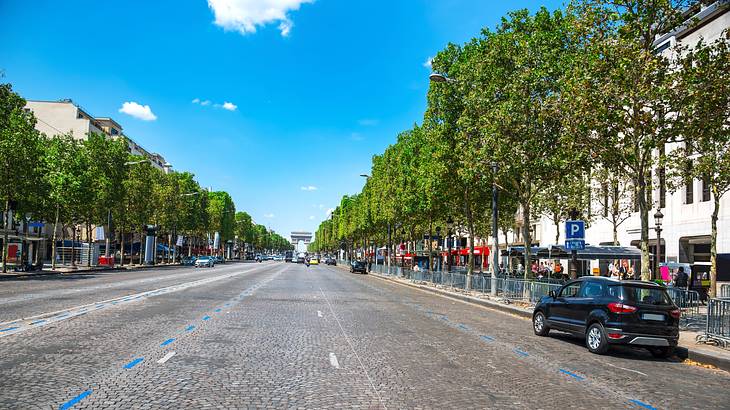 Champs-Élysées
Another infamous shopping must-see for 4 days in Paris is the Champs-Élysées. Also known as "the world's most beautiful avenue", the Champs-Élysées is just over a mile-long street that is lined with shops, cafes, restaurants, boutiques, book stores, theatres, cinemas and monuments.
It is also home to exclusive French brands, luxury brands and budget-friendly shops. If you have an appetite for desserts, then stop by the Laduree to try out their macaroons.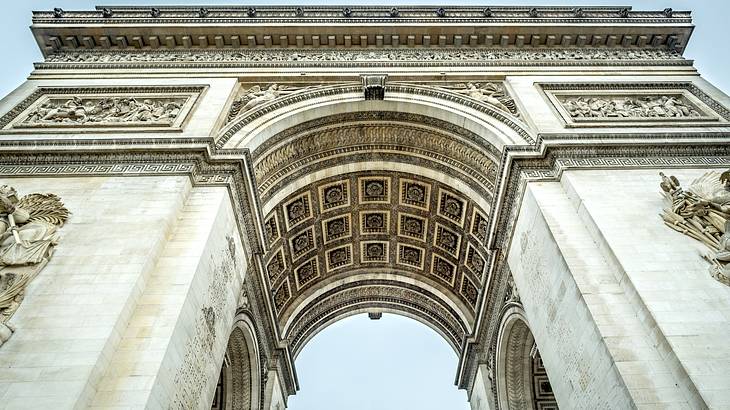 Arc de Triomphe
At the western end of Champs-Élysées is the Arc de Triomphe. The Arc de Triomphe is also the end of 11 other avenues, which forms a dodecagonal shape.
The Tomb of the Unknown Soldier is located at the base of the Arc. It is in recognition of an unknown soldier who died during World War 1. Every night at 6:30 pm, the flame is relit to honour him.
Thrills and Chills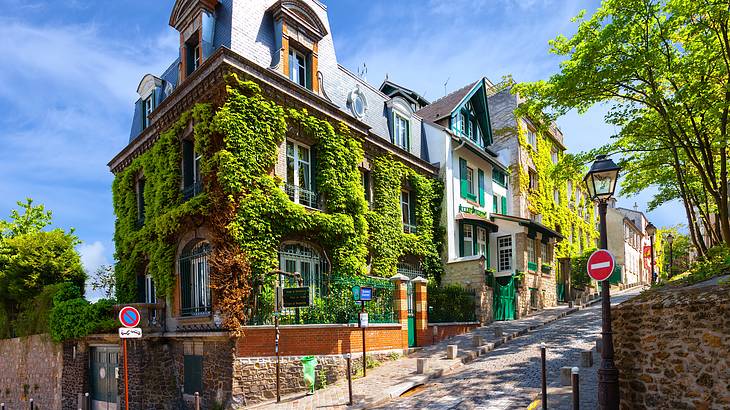 Paris has a side that you might not know about, a side that is a little creepy and otherworldly.
So you will start your second day in Paris with a walking tour of a popular cemetery, then go for a stroll through underground catacombs, and finally head to the beloved Eiffel Tower.
Finish off your day with some wine and cheese in front of the Eiffel Tower in the well-manicured Parc du Champ de Mars.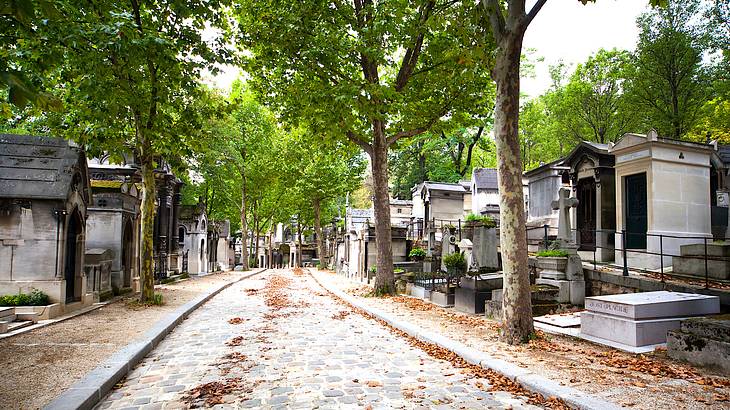 Pere Lachaise Cemetery
Pere Lachaise Cemetery is probably one of the most visited graveyards in the world. It is the final resting place for quite a few famous figures from throughout history. So take a walk through the area to see who you can find taking their eternal nap.
You can take guided tours of the cemetery, but most people tour it on their own. So if you are doing your own walking tour of the place, make sure to keep an eye out for the following popular people buried here:
The cemetery is open Mon-Fri from 8 am to 6 pm, Sat from 8:30 am to 6 pm, and Sun from 9 am to 6 pm. It is free to enter.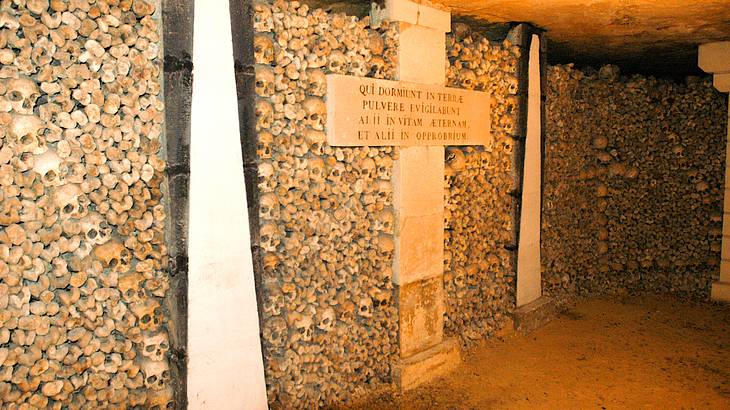 Paris Catacombs
The catacombs under Paris hold the remains of more than 6 million men, women and children. They were built to relieve the overflowing cemeteries within the city.
The network of underground tunnels is lined with bones and skulls in a beautifully intricate, endless creepy work of art. After a series of wall collapses at cemeteries, work began in the late 1770s to construct the tunnels. After it was completed, the tunnels were allegedly forgotten about.
The catacombs themselves have a bit of history as well. The tunnels were used during WWll, and the Nazis made use of them as underground bunkers.
In more recent times, people used the catacombs as venues for concerts, parties and screenings, and in 2004, police even found a fully-functioning movie theatre within the tombs.
Today, you can take guided tours of the catacombs, which is highly suggested so that you don't get lost and become part of the decor.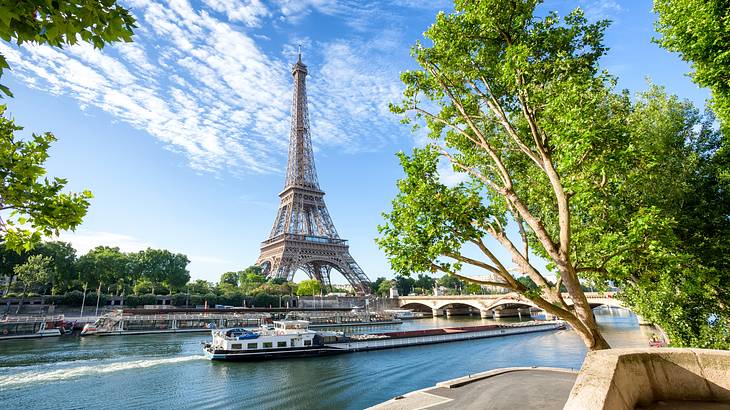 Eiffel Tower
The Eiffel Tower is arguably the most recognisable symbol of Paris. Constructed in 1889, it was built as the entrance arch to the 1889 World's Fair. Paris hosted this fair to celebrate the 100th anniversary of the French Revolution.
The tower took two years, two months, and five days to build, and was originally only supposed to stand for 20 years, but it was such a popular attraction that it has remained standing to this day.
It reaches 1063 feet into the air and has a total of 1710 steps. However, the public can only access the first two floors. Interestingly, the Eiffel Tower shrinks or grows based on how hot or cold it is, and it is built to withstand super-high winds. From any height, the Eiffel Tower offers unforgettable views of Paris, both during the day and at night.
Parc du Champ de Mars
End your day at the Parc du Champ de Mars - a large outdoor green park in Paris that is open to the public in front of the Eiffel Tower.
It is a beautiful place to sit, especially on a warm spring or summer day, with some wine, bread and meat and cheese varieties.
So go on, prop yourself in front of the Eiffel Tower, relax and enjoy a sunset over the impressive structure - you've earned it!
Outdoor Attractions
Paris is a beautiful city full of stunning areas that offer magnificent views of the city, like anywhere along the Seine River really and the top of Montmartre hill.
You also cannot come to Paris and not see a Moulin Rouge show. That would be a great tragedy! So the last stop of your third day will be going for some food and a show at the Moulin Rouge Cabaret.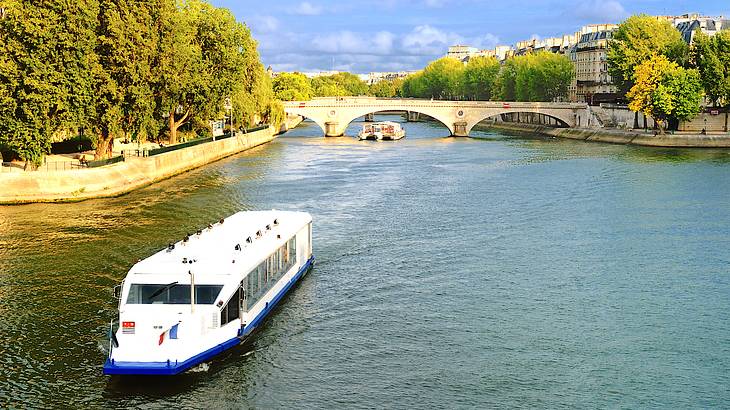 Seine River Cruise
The Seine River is 483 miles long and is one of the busiest rivers in France. The river divides Paris into two sections known as the Left and Right Bank. Going on a cruise down the river, even on a simple cheap one, is a great way to see the many iconic landmarks in Paris.
There are so many different types of boat cruises you can take on this all-important river. You can catch a boat ride for any time or meal of the day, including brunch, lunch or dinner. You can go on a wine-and-cocktail cruise, luxury cruise, discount cruise, sightseeing cruise, hop-on/hop-off cruise and a romantic sunset cruise.
Luxembourg Gardens and Palace
The Luxembourg Gardens are one of the most beautiful gardens in Paris and is spread over 55 acres of land.
The gardens are filled with flowers, statues, fountains, tree-lined promenades and plenty of areas to sit and enjoy the sun or a picnic. There is even a little duck pond where you can rent a tiny wooden sailboat to play with on the shores of the water.
The palace and gardens were designed in 1612 by Marie de' Medici as a memory to her childhood home in Florence, Italy. They have not always been a happy and beautiful place, however.
During the French Revolution, the palace was used as a prison, and during WWll, the Germans used it as barracks. The Germans even dug a bunker in the gardens.
The Gardens have two sides, the French Gardens and the English Gardens. A small forest and pond split the two. You should also look around for an old apple orchard together with an orchid and rose garden.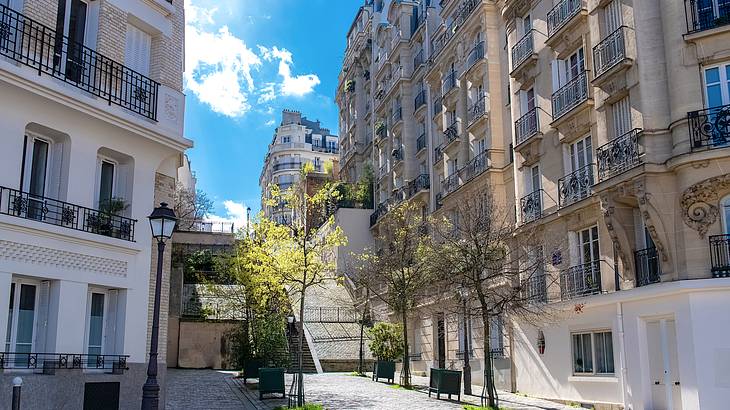 Montmartre Hill & Village
Montmartre is a hill in Paris that offers breath-taking, panoramic views of the city. The Basilica of the Sacred Heart, or Sacré-Cœur as it's often simply referred to, is a popular site located at the summit of the 430-foot high hill. The Basilica is a large and beautiful white-domed building.
Montmarte Village is also loved for its artistic history as many artists have made this area home. Maurice Utrillo, Pierre-Auguste Renoir, and Suzanne Valadon have all painted and lived here.
Some several museums and houses have been turned into museums dedicated to the arts. There is the Musée de Montmartre as well as the Espace Dalí (Dali Paris), which is dedicated to the art of Salvador Dali.
Montmartre also has a thriving nightlife and "red light district". The area is primarily filled with music stores, concert halls and theatres. The village also has its very own vineyard called the Clos Montmartre Vineyard.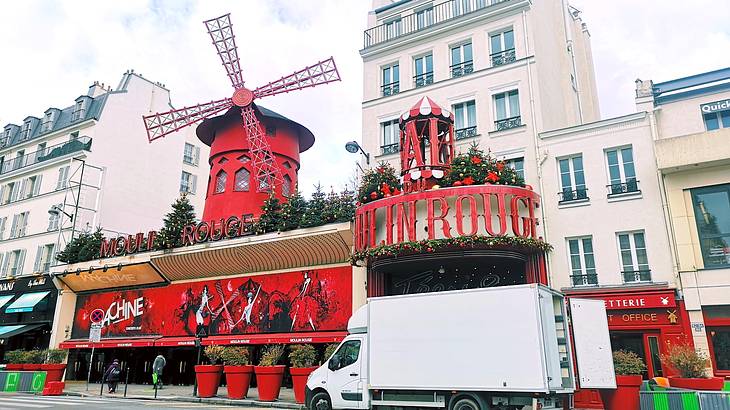 Moulin Rouge Cabaret
The infamous Moulin Rouge. This cabaret is memorable and best known for introducing the "can-can" dance to the world. It was nicknamed The First Palace of Women and was a place where people from all walks of life gathered to be entertained by skilful dancers, musicians and actors.
Moulin Rouge first saw success with over-the-top shows, reminiscent of the circus. There were also operas and concerts and plays. Everything was extravagant and entertaining.
You can still go to the Moulin Rouge for a dinner and show as well as matinees and VIP evenings.
Day Trip to Versailles & Wine Tasting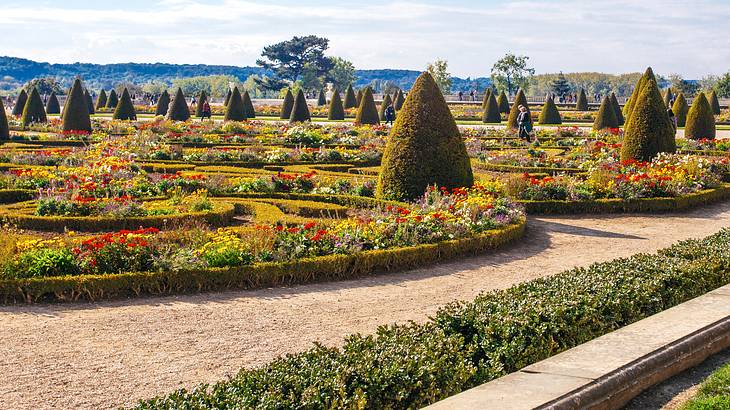 It's a sin to have four days in Paris and not pay your respects to Versailles Palace, its gardens and the surrounding sites. It is one of the best things to do in France after all! So, for your fourth and final day in Paris, your main activity will be to explore this majestic building and area.
You will start your day by having breakfast at Claus in Paris, and then make your way to the Palace. Spend a significant amount of time at Versailles, so you don't feel like you've missed out on anything. Then, head to a winery to relax after a busy day of venturing around. Put an end to your day by having dinner in the trendy district of Le Marais back in Paris.
Breakfast at Claus
Claus restaurant serves freshly-made, delicious breakfast varieties throughout the day, every day of the week. It was actually the first restaurant in Paris that dedicated its entire menu and establishment to this oh-so-very-important meal of the day. It now has three places in Paris and also offers vegetarian and vegan-friendly options.
From typical breakfast fare, like eggs and toast, to homemade pastries and cold cuts/tasty cheeses - Claus really does have it all! So be sure to head here to make your breakfast a classy affair!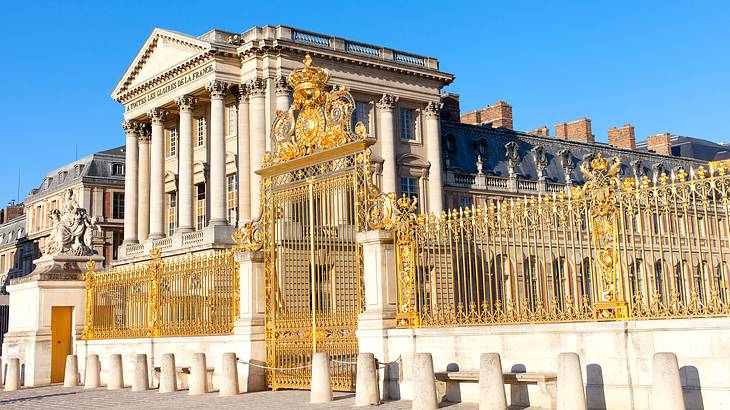 Versailles
The Palace of Versailles is a massive and extravagant 17th-century structure that was home to France's monarchs until the French Revolution.
Your 4-day trip to Paris would not be complete without a visit to Versailles. It is a mesmerising palace located a bit outside the city centre. It is faster to get here by train than by car, which takes over 1 hour. So take the RER C train to Versailles-Château-Rive-Gauche station from the centre of Paris to be here in under 45 mins.
Self-guided, or paid tours, can be taken here. In the interest of time though, and considering how long this itinerary already is, I have just included some of the main sites to keep an eye out for once you're here:
Versailles Palace & Gardens (Le Jardin de Versailles in French) - The main attraction, of course. Make sure to check out The Hall of Mirrors - the most popular room in the palace, and a stunning sight to see. There is a lot of art on the walls, around the windows, and up high on the ceilings - so don't forget to look up
The Trianons & The Hamlet - A highlight for many, The Petit Trianon was Marie Antoinette's small personal palace, and The Hamlet is a "peasant" village that has real farm animals and even a lighthouse
The Temple of Love - A beautiful gazebo-like structure with columns that houses the statue of Eros.
The Royal Chapel - This chapel was the fifth and final chapel that was built in the palace. It was constructed in 1710 and still stands today.
The Water Parterres - A beautiful water fountain that makes for a great backdrop in a selfie - why not? Everyone does it these days
This grand palace has many things to see and can take some people up to an entire day to explore it, so do head out here early and stay until at least dusk.
Wine Tasting
Now that you have spent a significant amount of time venturing around Versailles, you should relax with a drink in hand since wine tasting is a popular experience in Paris.
Nearby the palace is BiBoViNo Versailles, which is an excellent place to have a glass of wine with a charcuterie. So lucky for you, this means you won't have to go very far to sip on your well-deserved wine!
Dinner in Le Marais
What better way to end your trip in Paris than by having dinner in the fashionable locality of Le Marais. Although this area is famous for its boutiques, there are tons of eateries here as well that you can choose from.
If you are running low on budget, then there are some inexpensive restaurants in the area too, like the L'As du Fallafel.
The Take Away
If this 4 Days in Paris Itinerary has not given you enough reasons to fall in love with Paris, then I'm not sure what else to tell you!
At the very least, especially if it's your first time to Paris, it will help you see the very best sites in the city, and maybe some things you didn't even know about!
---
---
Want to keep exploring?
Subscribe for discounts on tickets and hotels and our latest guides.
Thank you for subscribing
We will be in touch soon with discounts on tickets and hotels and our latest guides.
Want to keep exploring?
Subscribe for discounts on tickets and hotels and our latest guides.
Thank you for subscribing
We will be in touch soon with discounts on tickets and hotels and our latest guides.
Related Articles