Do You Know These 50 Fun Facts About Paris, France?
Destguides may receive commissions from purchases made through affiliate links in this article.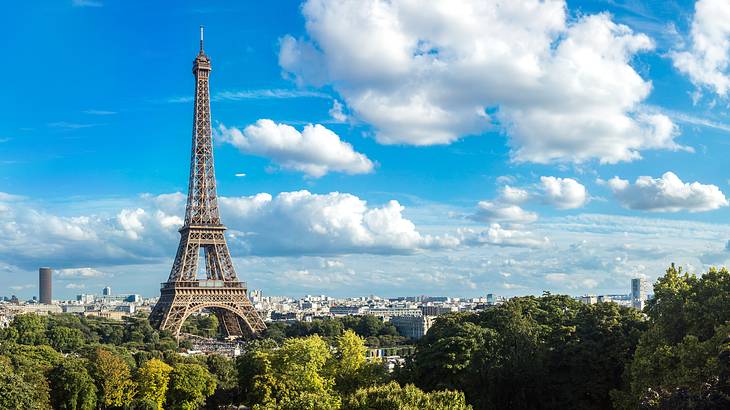 Paris is found on the Île-de-France and is the French capital city. This beautiful city in France is a world-renowned tourist destination and welcomes millions of visitors each year.
Many people are aware of Paris' top landmarks and have an idea of what the city is like, even if they have never visited it. Popular things to do in Paris include visiting its famous French landmarks, like the Eiffel Tower, Notre Dame Cathedral, and the Louvre Museum, as well as trying some of the city's world-class cuisine and soaking up the Parisian atmosphere.
But Paris is also a city with a fascinating past and present, and there are a plethora of fun facts about Paris, France, to discover that most people don't know. From the area's most-visited attraction to a law on how to make a baguette in the town and an eerie world hidden under its streets, this comprehensive list of 50 amazing facts about Paris is sure to teach you something new!
50 Fun Paris Facts
Paris Facts Video
Check out our highlights video of Paris facts.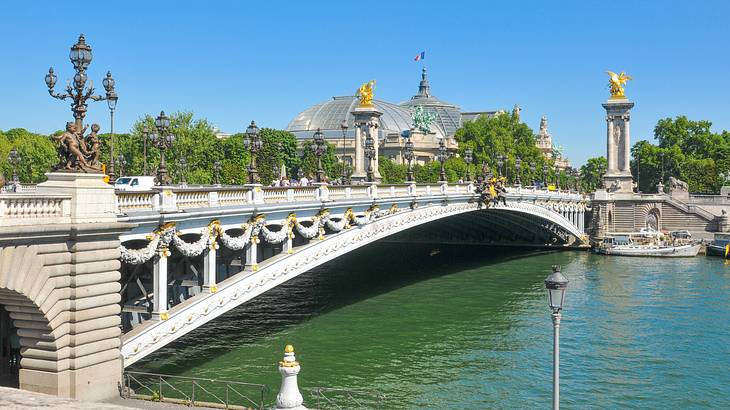 Paris is one of the most-visited cities in the world
A trip to Paris is on almost everyone's bucket list. This fact results in it being one of the top ten most-visited cities in the world. Currently, Paris is ranked as the second most-visited city according to the Mastercard Global Destination Cities Index. It welcomes over 19 million visitors annually.
Paris sits ahead of popular cities like New York, London, and Singapore. Paris falls behind only the world's most-visited city, Bangkok.
Many tourists experience Paris Syndrome
Due to the many depictions of Paris in the media, which aren't 100% accurate, some tourists suffer from Paris Syndrome; they're disappointed when they arrive in the city. Being faced with the less glamorous side of Paris (such as crime, dirty streets, and not-so-friendly locals) is too much to handle.
Those suffering from Paris Syndrome don't just suffer disappointment; they can experience hallucinations, dizziness, sweating, and more. While Japanese tourists are reported to be the most afflicted, visitors worldwide suffer from Paris Syndrome each year.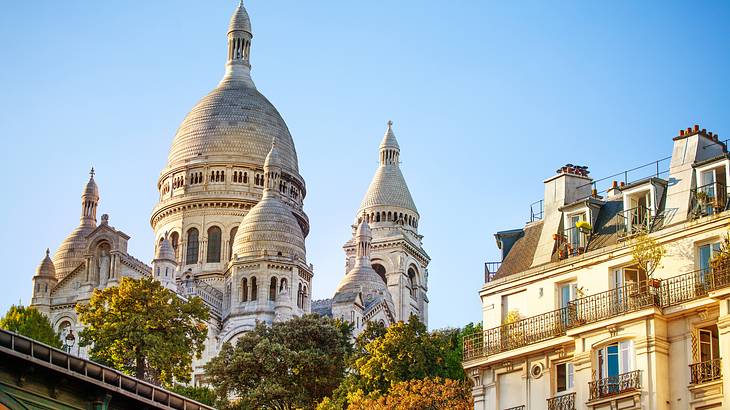 Paris is often called La Ville Lumière, the City of Light
This interesting fact about Paris is known to many, but only a few people know why Paris gained the name of the City of Light. The name comes from the 17th century and the Age of Enlightenment. Intellectuals would flock to the city to share ideas and innovations, with these intellectuals being the "lights."
From a more literal standpoint, it was the first city in the world to get street lights. Of course, today, the Eiffel Tower also brightens the area at night with its sparkling lights. Paris is also called the City of Love, the Fashion Capital of the World, and the City of Art.
The city was previously called Lutetia
One of the interesting historical facts about Paris is that it wasn't always called Paris. When the Romans conquered the area that is present-day Paris in 52 BC, the city was named Lutetia Parisiorum. It later went on to be named Parisius. Paris became the French capital in 987 AD and has kept that name and title ever since.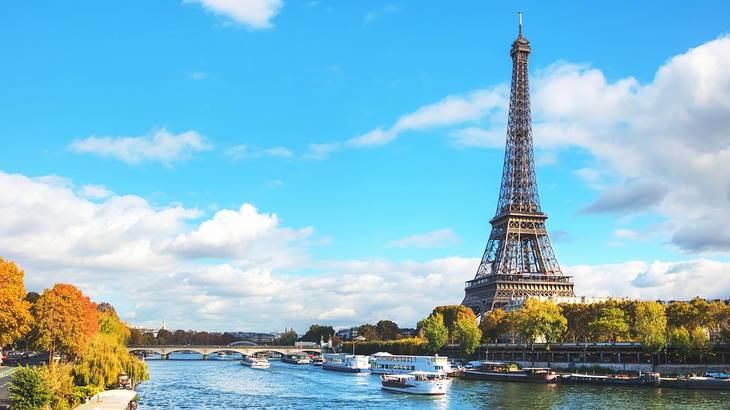 The Eiffel Tower was very unpopular when it was built
This fascinating fact about Paris is a surprise to many. While it's one of the most loved and most-visited structures in the world today, Parisians were not originally fans of the Eiffel Tower.
Built in 1889 for the World's Fair Exhibition, people in Paris called it a monstrosity that would ruin the city's beauty. They even started a petition to have it removed. This group didn't get their way, and while it was only supposed to stand for 20 years, the Eiffel Tower still sits proudly on the Champ de Mars.
There are 1,665 steps to the top of the Eiffel Tower
To get from the esplanade to the very top of the Eiffel Tower, you'd have to climb 1,665 steps. If visiting, however, you won't need to tackle them all. Visitors can only get to the second floor, and doing so by foot means you have 674 stairs to climb instead. Doing so will take about 30 minutes.
On the observation deck, you can enjoy incredible views of Paris. If you want to go higher up than the second floor, luckily, you won't have to climb the remainder of the steps. A lift pass can be purchased instead.
It's illegal to distribute images of the Eiffel Tower at night
Knowing this crazy fact about Paris could save you some trouble! Under French Law, art installations are copyrighted for the artist's lifetime plus 20 years. The tower's copyright has expired, so daytime images can be used for any purpose.
At night, it's a different story. The tower's light installation is still protected under copyright. So, if you take and share a nighttime picture of the Eiffel Tower, you could be subject to copyright violations.
Luckily, the La Tour Eiffel website states that the law won't be enforced as long as your photos were not taken for commercial purposes.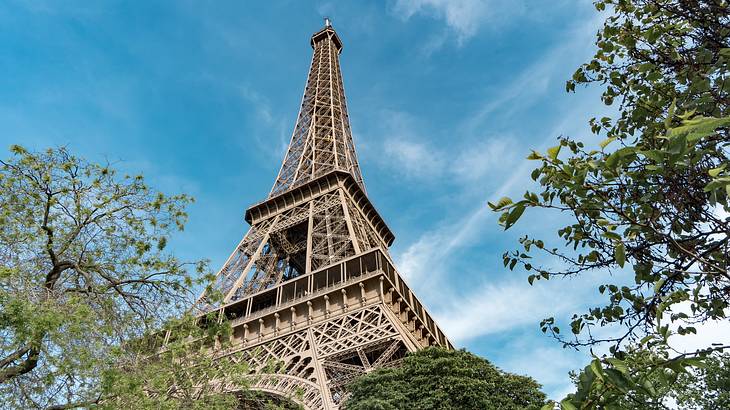 When the Eiffel Tower needs repainting, it's done by hand
Another of the many cool facts about Paris, France, and the Eiffel Tower is that when the structure needs painting, it's done by hand with 60 tons of paint. The tower has been painted 19 times since construction, an average of once every seven years.
The colors used have varied too. It's gone from reddish-brown to chestnut and even yellow! Since the 1960s, "Eiffel Tower Brown" has been used.
The Eiffel Tower was almost destroyed during WWII
Just before the liberation of Paris in August 1944, Hitler ordered the destruction of the Eiffel Tower. Hitler wanted important landmarks destroyed, including the Eiffel Tower, and bombs to be placed at transport hubs. He then demanded that General Dietrich von Choltitz detonate the bombs, leaving Paris in ruins.
Fortunately, the general loved the city and the Eiffel Tower too much to do so. Instead, he surrendered to the allies!
There are over 40,000 restaurants in Paris
This fact about Paris food and dining will not be surprising to those that visit the city to enjoy the vast range of cuisine. These 40,000 plus Parisian restaurants include fine dining establishments, bistros, and cafes.
In central Paris, you'll find approximately 12,000 dining options. Of these, 94 have one Michelin Star, with 12 having two and ten having three stars. Paris comes second in the world for the most Michelin Star restaurants after Tokyo, Japan.
The Bloody Mary was invented in Paris in 1921
This classic cocktail of tomato juice, vodka, Worcester sauce, lemon juice, and seasoning was created in Paris during the 1920s. French Bartender Fernand Petiot invented the drink at The New York Bar in Paris (now called Harry's New York Bar.)
The mass immigration of Russians to Paris increased the demand for vodka. Finding this spirit tasteless, Petiot tried mixing it with American canned tomato juice and founded the renowned drink.
Others say Ernest Hemingway requested a drink at the Ritz that didn't have an alcohol smell and got served this. Being impressed, he exclaimed, "bloody Mary" (his wife's name), and that's where the name originated.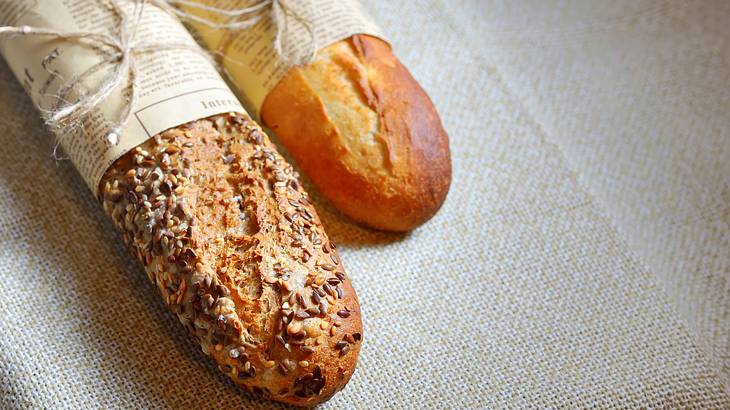 There is a law about the exact recipe for baguettes
Want to sell baguettes in Paris? They must meet the Décret Pain put in place in 1993. To officially be a Parisian baguette, the bread must have a specific dough consistency and be of a certain size.
The law also says that baguettes must get sold on the premise that they are made. So bakeries cannot ship baguettes from elsewhere. Lastly, the bread must include just four ingredients: wheat flour, yeast, water, and salt.
Paris has an annual competition to find the city's best baguette
Baguettes and Paris go hand in hand. Along with the previously mentioned baguette law, Paris hosts Le Grand Prix de la Baguette each year to find the city's finest french loaf.
Although it sounds cute, this is a serious competition for the 200 bakers involved. The winner gets prize money of at least 4,000 euros, recognition across France, and undoubtedly more customers at their bakery!
The city has the largest wholesale food market in the world
Along with a vast selection of restaurants, this city of haute cuisine has the largest food market in the world. Rungis International Market spans over two square kilometers and sells an incredible range of fresh produce.
Twenty thousand buyers visit the market each day to buy fruit, vegetables, fish, meat, cheese, and more. Usually, the market is for businesses only, but it opens to the public on the second Friday of each month.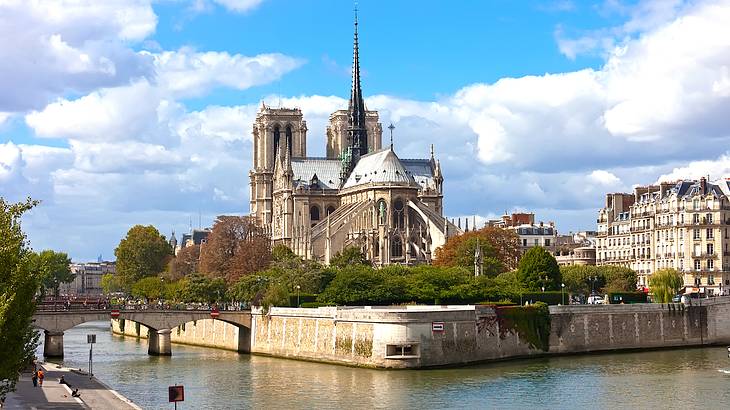 Notre Dame Cathedral is Paris' most-visited landmark
Notre Dame Cathedral is the most-visited attraction in Paris. The 800-year-old world-renowned cathedral receives 12 million visitors each year. Visitors come to see the intricate interior, stunning architectural exterior design, and of course, to keep a lookout for Quasimodo!
Unfortunately, this number of visitors did drop after the devastating fire that occurred in April 2019. Once the cathedral reopens completely, people expect that this number of visitors will easily get reached again.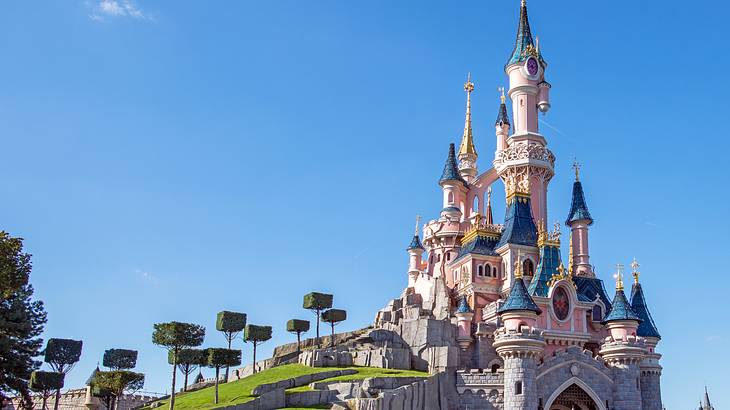 Disneyland is Paris' second most-visited attraction
Many assume the Eiffel Tower, the Louvre, or the Arc de Triomphe would be the second most-visited attraction in Paris after Notre Dame, but it's actually Disneyland!
The Paris version of the theme park receives 11 million visitors a year. Opened in 1992, Disneyland Paris features everyone's favorite Disney characters, rides, shows, and restaurants.
Another fun Disneyland Paris fact is that a colony of feral cats lives there. Although they tend to hide and sleep during the day, you may spot one.
Notre Dame's largest bell is called Emmanuel
One of many super fun facts on Paris, France, is that Notre Dame's main bell has a name: Emmanuel. The 13-ton bell is the largest of the cathedral's ten bells. It was King Louis XIV that requested the bell be named Emmanuel in 1681, and it stuck.
Luckily, Emmanuel survived the fire that destroyed parts of Notre Dame in 2019. All nine other bells are also named, with names including Marie, Gabriel, and Marcel.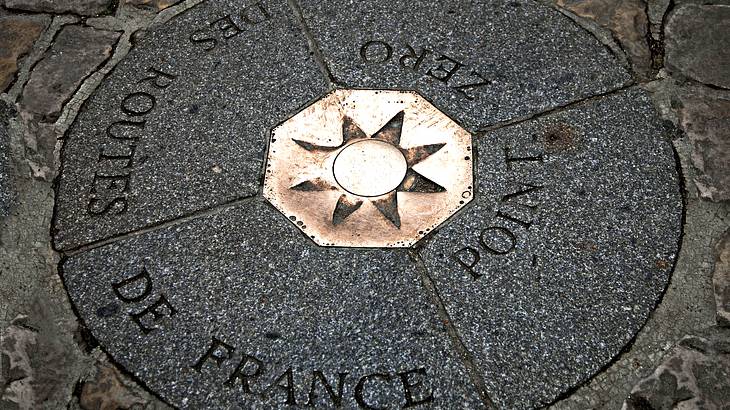 All distances in Paris are measured from the Notre Dame
There are many little known facts about Paris, with this being just one of them. On the ground, just outside Notre Dame Cathedral, sits a compass.
This compass, called "Point Zero," marks the center of Paris. Any distance to and from Paris also gets measured from there. While viewing this compass isn't the main reason people visit Notre Dame, be sure to check it out when at the cathedral!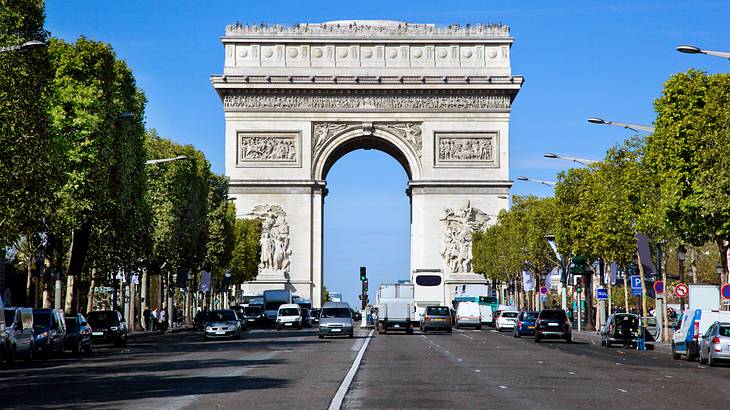 The Arc de Triomphe took 30 years to complete
The Arc de Triomphe is an incredibly famous Parisian landmark. But what many people don't know is how long it took to build. Napoleon commissioned the renowned arch in 1806 to celebrate the Grand Armée. It was finally completed 30 years later in 1836.
If you've ever visited the Arc de Triomphe, you'll know that this long wait was worth it! Since construction, the Tomb of the Unknown Soldier was also added.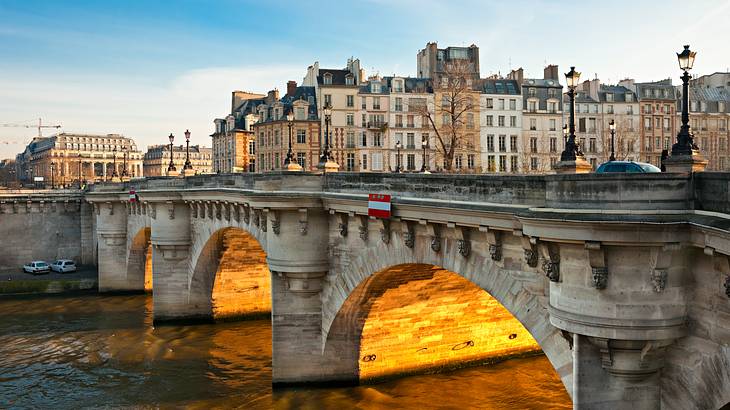 Pont Neuf is actually the oldest bridge in Paris
Thirty-seven bridges cross the Seine at various points, and Pont Neuf is the oldest of them. Despite being called the "new bridge," construction of this landmark began at the end of the 1500s.
The bridge connects the 1st and 6th arrondissements, connecting Île de la Cité to the rest of Paris. It's both a UNESCO World Heritage site and has special French protections.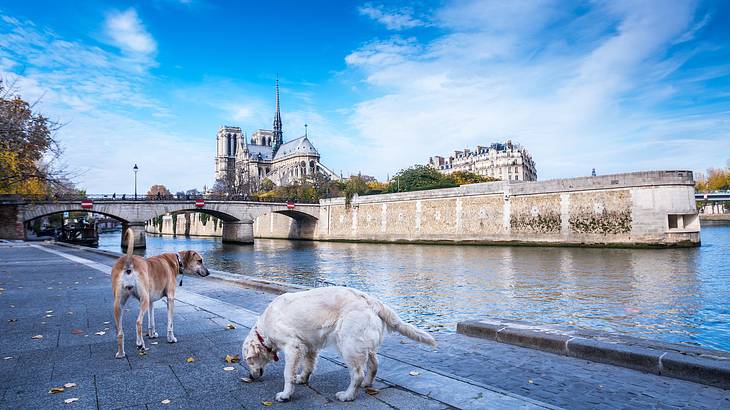 There are more dogs in Paris than children
Parisians love their dogs! So much so that there are more dogs than children living in the city. There are over 300,000 dogs in Paris, meaning there is one dog for every seven people and every two children.
Due to this, you'll find lots of dog-friendly restaurants and cafes, plus cute dog boutiques. Dog accessories are even available at high-end stores like Louis Vuitton.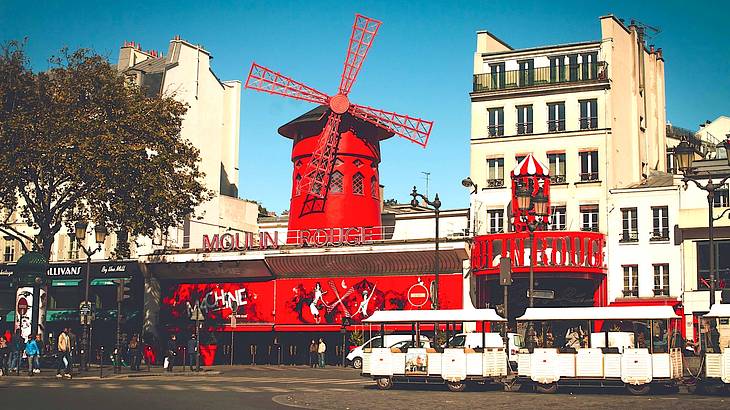 Paris is home to the world's most famous cabaret
Burlesque and cabaret clubs have been a part of Paris' history for centuries. Many are still active, and Paris houses the most famous cabaret in the world, Moulin Rouge.
The Moulin Rouge is a major Parisian landmark. The bright red exterior and windmill structure harks back to the former redlight district in Montmartre.
Today, you can stop for dinner and view the most famous burlesque show in the world. Paris is also home to the oldest cabaret, Paradis Latin, which Napoleon Bonaparte founded in 1802.
It was illegal for Parisian women to wear pants until 2012
A Parisian fashion law imposed in 1800 stated that women couldn't wear trousers unless they obtained permission from the police. What's most shocking is that this law didn't get formally abolished until 2012!
Despite this, Parisian women have been wearing pants for decades with no consequences. Many Parisian fashion houses have also included pants in their collections for years, with no concern for this dated rule.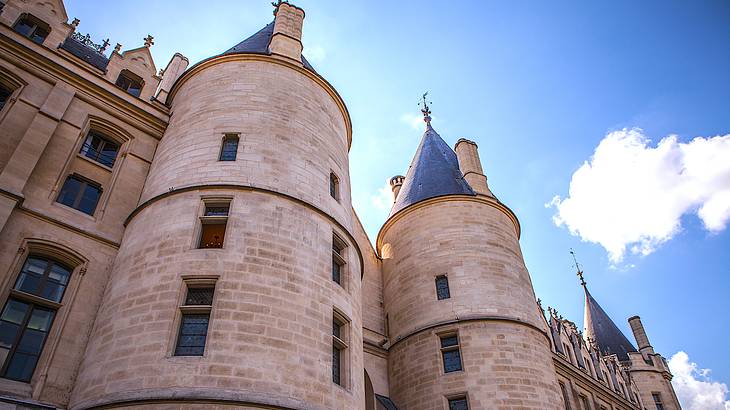 You can visit the prison that held Marie Antoinette
The Conciergerie on Île de la Cité was built to house the French Royal Family in the 10th century. It later got turned into a prison that held those awaiting execution during the French Revolution. Prisoners included Marie Antoinette, André Chénier, and Georges Danton.
Today, you can visit the building that has become a museum and see Marie Antoinette's cell. The building itself is also a stunning piece of architecture that hides all signs of its gory past.
The first photograph of people was taken in Paris
When you visit Paris, you'll undoubtedly take lots of pictures of yourself and fellow tourists with Parisian Landmarks. But did you know that the first photograph with people was taken in Paris?
This interesting fact about Paris, France, dates back to 1838. The picture is called Boulevard du Temple and shows the street with a man getting his shoes shined in the left-hand corner.
The Mona Lisa is the most viewed artwork in the world
This world-famous portrait of a beautiful young woman painted by Leonardo da Vinci sits in the Louvre and is a major tourist attraction in Paris. It's the most-visited piece of art in the world, along with being the planet's most famous artwork.
Found in the equally renowned Louvre Museum, a fan favorite among first-time visitors to Paris, the painting is visited by over 10 million people each year. It even has a dedicated room in the museum!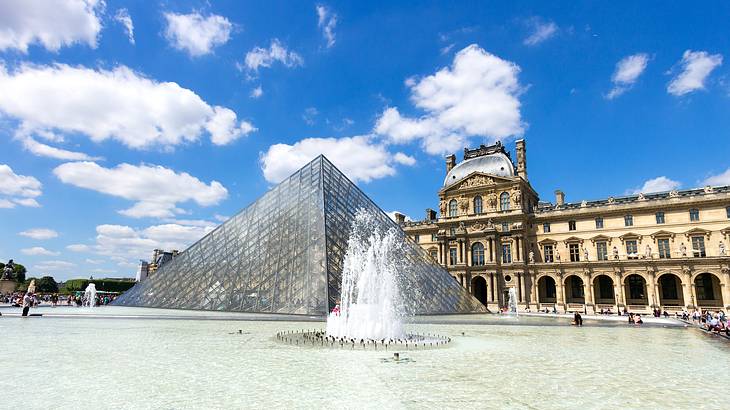 The Louvre is the most-visited museum in the world
Housing the most-visited artwork in the world helps make the Louvre the world's most-visited museum. 10.2 million visitors pass through the iconic museum annually.
Along with being the home of the Mona Lisa, other famous artworks to see include the Venus de Milo and The Wedding at Cana. The museum design itself is an attraction, with millions of tourists posing by the stunning glass pyramid each year.
The public can only view a fraction of the artworks at the Louvre
Another of the many fascinating Paris art facts is that visitors to the Louvre can only see a handful of works stored in the museum. The museum houses over 600,000 objects, but visitors can view just 35,000.
It can take two to three days to see all 35,000 pieces on display. If you wanted to view all the art pieces, it's estimated it would take you at least 35 days to do so!
Paris has been home to the world's greatest artists
Paris is a place full of art and culture and, as such, has been home to and inspiration for a range of the world's best artists. Painters, sculptors, illustrators, and other creatives have flocked to the city over the last centuries.
Notable artists who spent time living in Paris include Picasso, Monet, Matisse, and Salvador Dali. Many of these artists have their work displayed at Parisian art museums, and tours to places they frequented are available.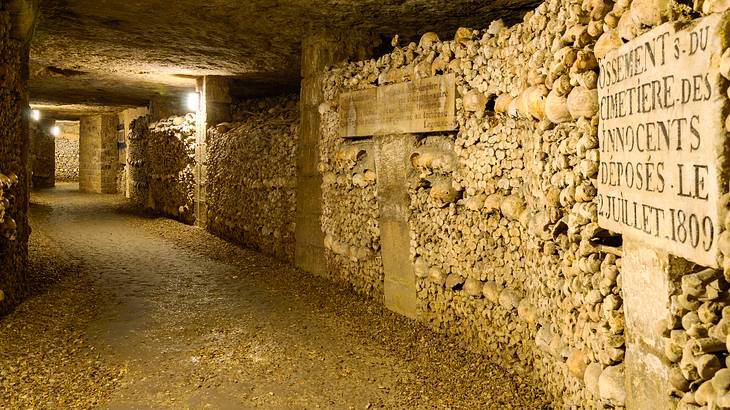 There are millions of human remains under Paris' streets
In the 1800s, cemeteries began overflowing to a point where bodies were becoming unburied. The Paris government decided to place the remains under the city streets in Catacombs.
Today, the remains of approximately six million Parisian residents still rest in the spooky extended tunnel of bones and skulls. The Catacombs stretch for miles under Paris, but only a minuscule section is accessible to tourists.
The Catacombs hold secret worlds
While many are surprised to learn of the existence of the Catacombs, what's even more shocking is what happens in the inaccessible areas. The underground cemetery stretches for over 170 miles, but only a tiny portion can be accessed legally.
While it's illegal to enter other areas, that hasn't stopped Parisians. In fact, "Cataphiles" have illegally explored the tunnels, swam in the underground reservoirs, and even set up a bar and movie theatre amongst the dead!
Paris has one of the highest costs of living in the world
This key fact about Paris won't be welcome to anyone hoping to move to the city. Living in Paris, especially in central Paris, is extremely expensive. Paris, along with other hubs like New York, Hong Kong, and Singapore, consistently ranks as one of the world's most expensive cities.
It's estimated that you need a salary of 1,500 euros a month just to cover basic needs. Costs for one person can reach 1,000 euros before rent, with a one-bedroom apartment in Paris costing between 1,000 and 3,000 euros monthly.
You can see the Statue of Liberty in Paris
The Statue of Liberty in New York was given as a gift to the United States by France. You can find smaller replicas of this statue around Paris. There are five to be discovered in total.
The most well-known of the five statues is found on the Seine near the Pont de l'Alma. You can spot it from the river banks or when taking a Seine River cruise.
Paris has the least number of stop signs of any city
Despite many cars being driven in Paris, there are no stop signs. There was one stop sign for a long time in the 16th arrondissement, but that disappeared during 2014. This fact gives Paris the title of being the city in the world with the least stop signs.
In Paris, cars on the right-hand side of the road always have the right of way when at an intersection, hence the reason for the lack of stop signs.
The French Army still uses carrier pigeons bred in Paris
Carrier (homing) pigeons have famously been used in the past, including during WWI and WWII, as a means of communication. Almost like little flying mail carriers!
While many think this method of communication is a thing of the past, the French Army still breeds homing pigeons in Paris for use as needed. So, if you see a pigeon flying overhead in Paris, it could be delivering a very important message!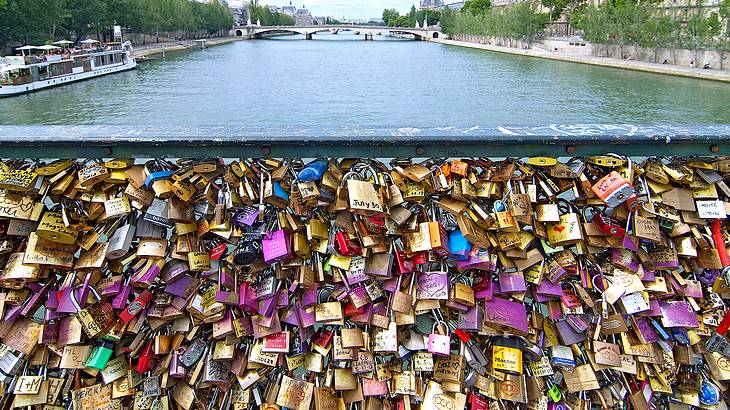 There are multiple installations relating to romance around the city
The most famous of these was the Love Locks installation on Pont des Arts. Millions of couples from around the world attached padlocks to the bridge, complete with their names and romantic messages.
Unfortunately, so many locks got attached to the bridge that it began causing structural issues, and they had to be removed. You can still see locks on other bridges across the Seine. There is also the I Love You wall in Montmartre, which features the phrase "I Love You" in 250 languages.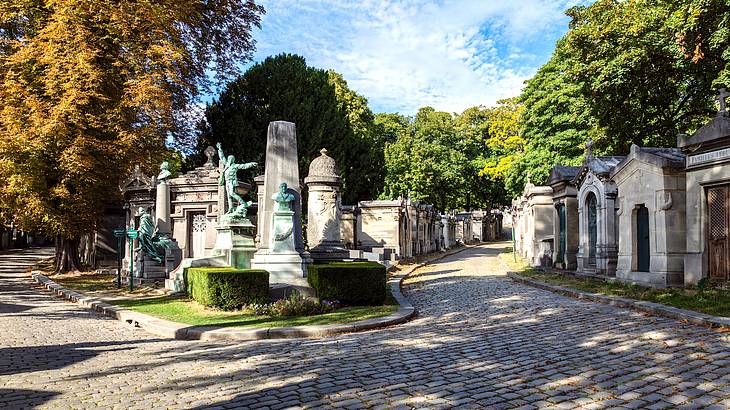 Paris is home to the world's most-visited cemetery
This is one of many Paris culture facts that are interesting to know. Père Lachaise, found in the 20th arrondissement, receives 3.5 million visitors a year. The cemetery is known for its unique and striking tombs, gravestones, and statues.
It's equally famous for the residents buried there. Oscar Wilde, Chopin, Jim Morrison, and Edith Piaf are just a handful of well-known individuals laid to rest here. If in Paris for four days, adding a visit to this cemetery to your to-do list is a must!
A Parisian man invited strangers to dinner every week for 30 years
Although American by birth, Jim Haynes lived in Paris for over 50 years. What makes this individual interesting is that every Sunday for 40 years, he welcomed guests for dinner, most of whom were strangers.
Guests could call or email to "book" their spot. One of Jim's friends would prepare a feast guests would enjoy in Jim's garden or atelier. Jim passed away in January 2021, but Parisians will remember his legendary dinner parties for the foreseeable future.
Paris is a city of innovation that gave us many inventions
Paris has been drawing intellectuals, innovators, and creators for centuries. Due to this, several inventions that are part of everyday life today were created in Paris.
Things developed and discovered in Paris include chemistry, street lights, photography, scuba gear, and Haute Couture fashion. Famous Parisian inventors and innovators include Marie Curie, Louis Braille, and Coco Chanel, among many others.
Tom Cruise wasn't allowed to become an honorary citizen of Paris
This little known fact about Paris came about when the actor applied for honorary citizenship in 2005. Leaders in Paris voted against this due to Cruise's involvement with Scientology, with many thinking he was a sect leader.
Despite being an honorary citizen of Marseille, Paris did not want to welcome the actor due to his involvement in what they call a cult-like organization.
The biggest celebration in the city is held on Bastille Day
While there are many events, celebrations, and festivals in Paris, the largest, without a doubt, is held on July 14 - Bastille Day. This day marked the date when Parisians revolted against the royal family, marking the start of the French Revolution and independence from the crown.
Today, Paris holds a large military parade along the Champs-Élysées, a flypast, and a range of spectacular fireworks displays. Almost every Parisian will also be out celebrating the holiday.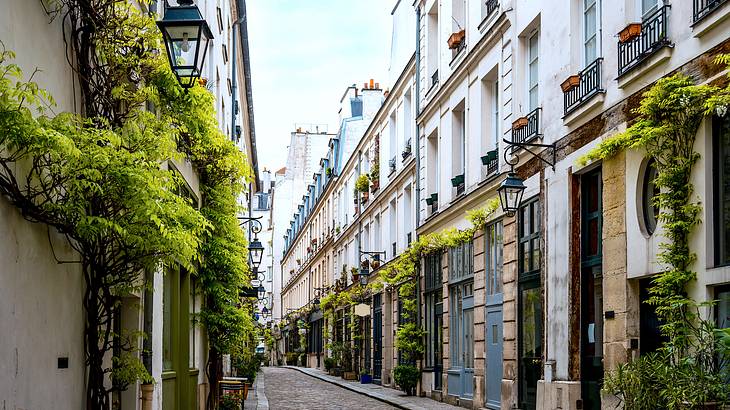 Paris apartments may be hiding some expensive secrets
This unique fact about Paris shows that you never know what's hiding in this historical and cultural hub. In 2010, those dealing with a French woman's estate found she paid rent on a mysterious Parisian apartment for 70 years.
At the apartment, they discovered she abandoned it at the start of World War II. The interior was as it was in the 1940s, and a Boldini painting worth almost two million euros was inside.
The city has one of Europe's busiest underground transport systems
Paris' Métro underground transport system is quite famous, with Métro signs being recognizable across the globe. It's also one of the most extensive and most used transport systems in Europe.
Four million people use the Métro each day on average. It stretches for 136 miles, with 304 stations on its 16 lines. In Europe, only Moscow has more daily users of an underground transport system than Paris.
Paris has many abandoned metro stations
Along with being one of the busiest metro systems in the world, Paris is home to a network of abandoned "ghost" metro stations. These stations include those built and never used and those in use but then closed.
There are at least 14 of these stations, but it's thought that there are others that only a few people know about. While some of these stations sit completely abandoned, others are used as film sets or discovered by urban explorers.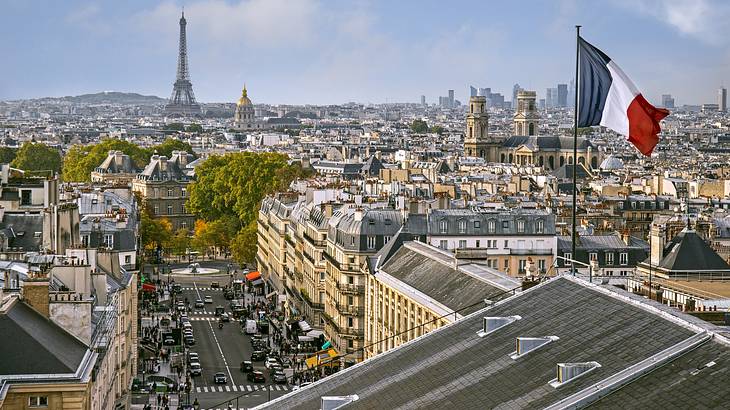 The city has very few skyscrapers
Unlike many North American cities, Paris has few tall buildings. This is because the government and residents choose to keep older (and smaller) buildings, renovating instead of demolishing them. There are also strict regulations around building height and the number of stories.
In addition, the catacombs tunnel system has weakened the strength of Paris' streets, meaning skyscrapers could collapse. There are taller buildings in La Défense, but that's about it.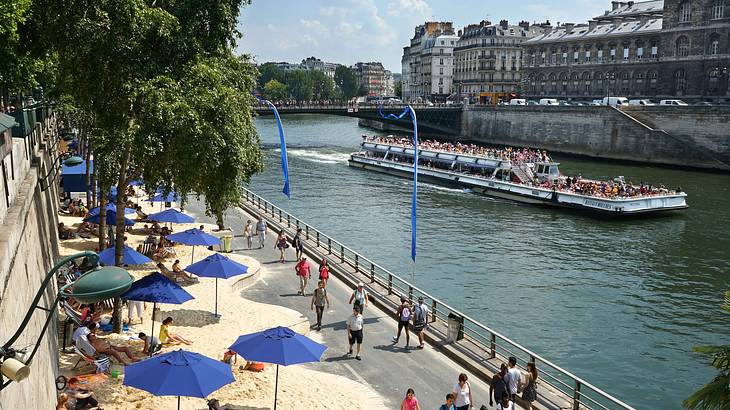 In the summer, you can go to the beach in Central Paris
During July and August, the city puts sand onto the banks of the Seine, making river-side beaches for residents and tourists to relax on. In addition, palm trees, sun umbrellas, and deck chairs get added.
There are sometimes events on the pop-up beaches too. Paris can get very hot in the summer, and Les Paris Plages are the perfect places to go to cool off and hang out with friends.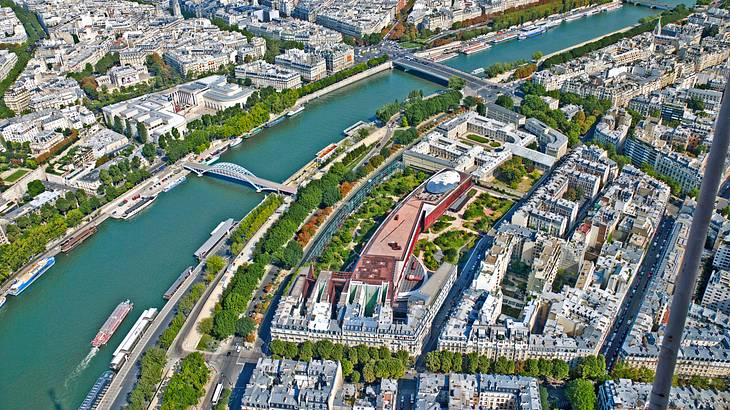 The city has over 6,000 streets
When visiting Paris, make sure you have a good map as you could very easily get lost in the city's many streets! Paris has approximately 6,100 streets for you to explore.
These include the famous Champs-Élysées and Avenue Victor Hugo. The latter is in the 16th arrondissement where the Les Misérables author lived. It's an unspoken rule in France that every city must have a street named after him.
Paris does not have the world's biggest French-speaking population
This random fact about Paris is unexpected and not known to many. Being the largest city in France, you'd think that Paris has the largest French-speaking population in the world, but Paris actually sits in second place.
The town with the most francophone residents is Kinshasa in the Democratic Republic of Congo. This place has 12.6 million french-speaking residents versus Paris's 2.1 million. French is the official language of 29 countries in total.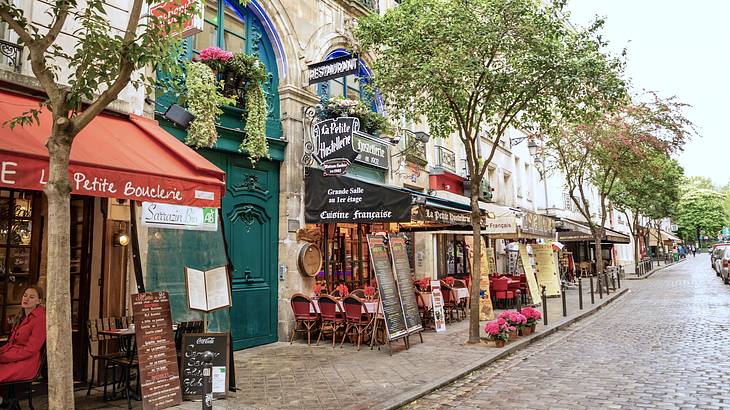 The Arrondissements have names as well as numbers
Most people know about Paris' numbered arrondissements, with many simply referring to them by their number (Ex. In the 16th.) But each of the 20 arrondissements also has a name.
The names relate to landmarks found within each arrondissement. These include "Louvre" for the 1st, "Luxembourg" for the 6th, and "Élysée" for the 8th. Although not their official names, well-known monikers include the "Latin Quarter" for the 5th, "Invalides" for the 7th, and "Saint-Germain-des-Prés" for the 6th.
Paris is home to one of the world's richest football clubs
The Paris football (soccer) team, Paris Saint-Germain, is one of the top ten richest clubs in the world. It's valued at 2.5 billion USD.
It's also currently home to the world's two most expensive players: Brazilian superstar Neymar and French World Cup winner Kylian Mbappe.
Luckily, tickets to a game don't have to break the bank! This team is very important to Parisians, and watching them play is a must.
In Summary
Paris is a place packed full of culture, history, art, unique sites, and incredible cuisine. It's no wonder it's the second most-visited city in the world. It's also an area that boasts many interesting and fun facts, of which only some have been covered here.
This collection of 50 interesting facts about Paris, France, is intended to spark your curiosity, and hopefully, it has done just that. If this list resulted in you adding some unique must-do activities to your Paris bucket list, even better!
Give us feedback about this article
Learn more about Paris:
Read more articles about France:
More articles about facts:
---
---
Want to keep exploring?
Subscribe for discounts on tickets and hotels and our latest guides.
Thank you for subscribing
We will be in touch soon with discounts on tickets and hotels and our latest guides.
Want to keep exploring?
Subscribe for discounts on tickets and hotels and our latest guides.
Thank you for subscribing
We will be in touch soon with discounts on tickets and hotels and our latest guides.
Related Articles