30 Most Romantic Things to Do in Paris for Couples
Destguides may receive commissions from purchases made through affiliate links in this article.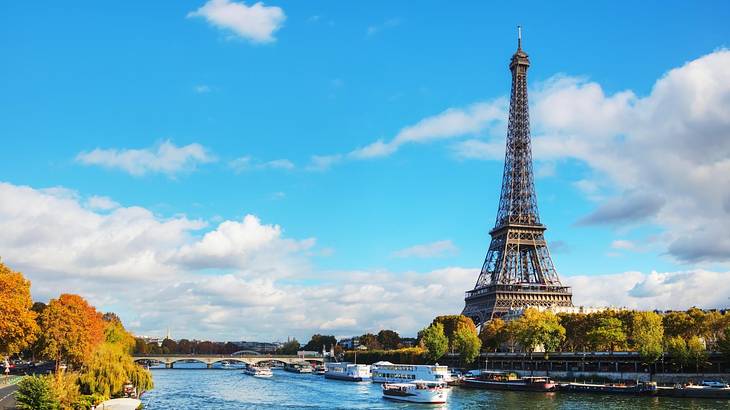 Not only is Paris one of the most renowned destinations to visit, but it also holds the title of being one of the most romantic cities in the world. Located on Île-de-France, Paris features an abundance of landmarks, world-class eateries, and a chic atmosphere.
Couples planning a Parisian vacation will not be disappointed by the number of activities to enjoy in the French capital. Some of the most romantic things to do in Paris for couples include indulging on a Seine dinner cruise, seeing a show at Moulin Rouge, and wandering around Luxembourg Gardens.
To discover all the things to do in the "City of Love," keep reading for 30 memorable Paris date ideas.
30 Most Romantic Places in Paris, France
Romantic Places to Go in Paris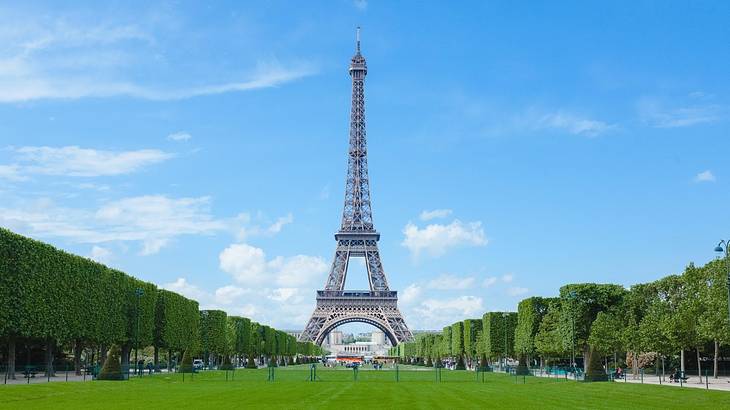 Go to the top of the Eiffel Tower
The Eiffel Tower is without a doubt one of the most famous landmarks in the world. While viewing the iconic structure from the Champs de Mars is memorable, going up the Eiffel Tower is even better!
Once on the viewing deck, you can enjoy panoramic views of Paris and the Seine. Booking an Eiffel Tower entry ticket in advance is recommended to save you and your partner a lot of time.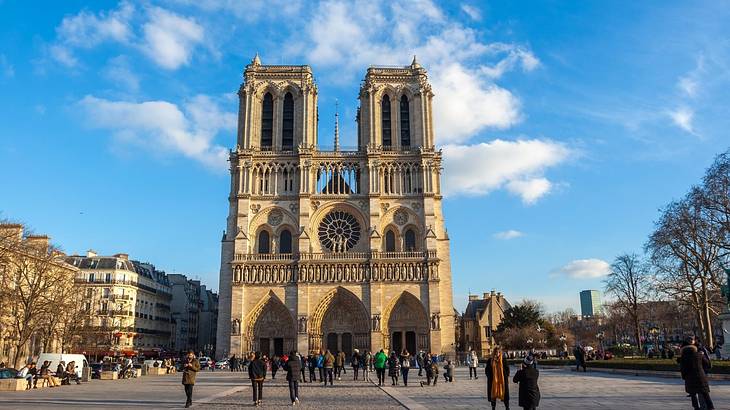 Visit Notre Dame Cathedral
One of the most charming and romantic Paris attractions is Notre Dame Cathedral. The French gothic-style church opened in 1345 and features ornate details, plus gargoyle statues said to keep evil spirits away.
The interior of the cathedral is currently closed to the public due to renovations after a fire in 2019. However, you and your other half can admire the exterior and snap some couple's photos with the renowned church in the background.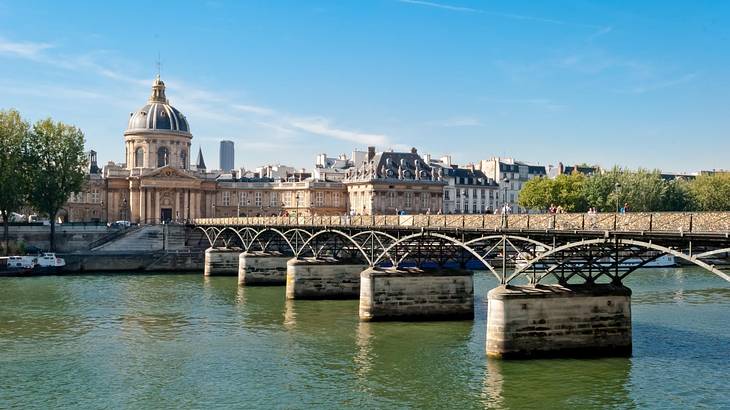 Cross Pont des Arts
Pont des Arts has for years been associated with romance in Paris. It was previously a place where couples would attach love locks, throwing the keys into the Seine below.
Unfortunately, most of the locks have now been removed, but strolling along the bridge is still incredibly romantic. As you do, you can take in views of the Seine and nearby Paris landmarks.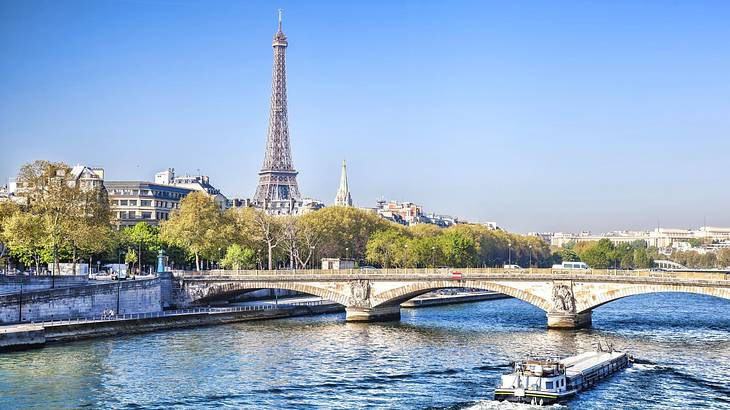 Cruise along the Seine River
One of the most romantic things to do in Paris is sailing along the Seine River, taking in the stunning surrounding views. On a sightseeing cruise down the river, you and your loved one can spot a variety of landmarks. Places to see include Grand Palais and the Eiffel Tower.
Experience a cabaret show at Moulin Rouge
Moulin Rouge is one of the most extravagant attractions in France. The burlesque club was founded in 1889 and is known for its iconic red exterior with a large windmill statue.
The club still hosts burlesque and cabaret shows, and seeing a Moulin Rouge performance with your date is a memorable and unique thing to do!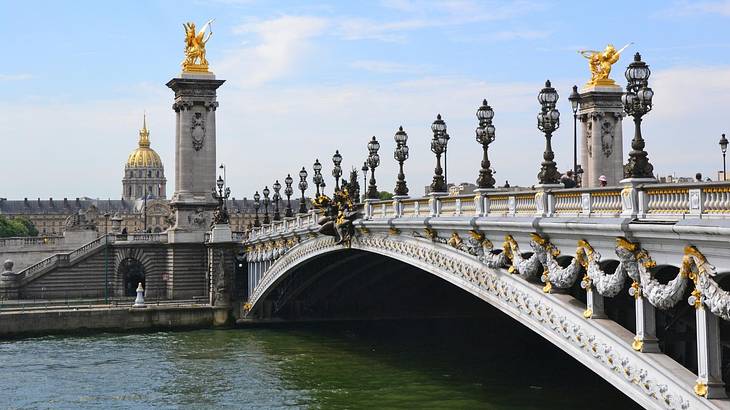 Walk across Pont Alexandre III
Another beautiful bridge in Paris to stroll across with your partner is the Pont Alexandre III. The ornate bridge has charming lampposts and regal gold statues.
You can see Grand Palais on one side and Les Invalides on the other. This bridge is a popular photoshoot location too, allowing you to have the Seine as your backdrop.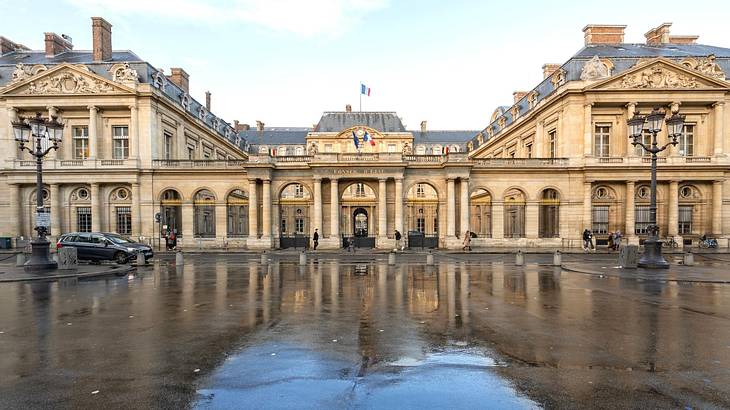 Feel like royalty at Palais-Royal
Domaine National du Palais-Royal is a former royal residence constructed in 1639. While you cannot go inside the palace, you can admire the regal exterior design and explore the beautifully manicured gardens.
As you walk through rose gardens and past stunning statues and fountains, you're sure to feel like royalty!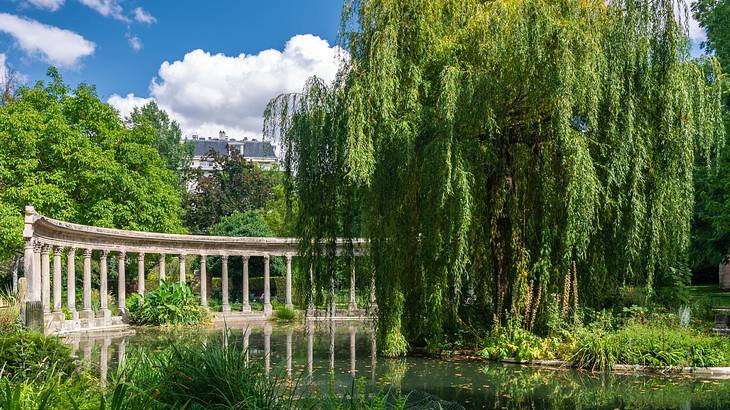 Unwind at Parc Monceau
Another public park to visit with your date is Parc Monceau, located in the 8th Arrondissement. Construction of the park began in the 17th century, and today, it houses tranquil ponds and a unique column structure. Wandering around the park is the perfect way to unwind!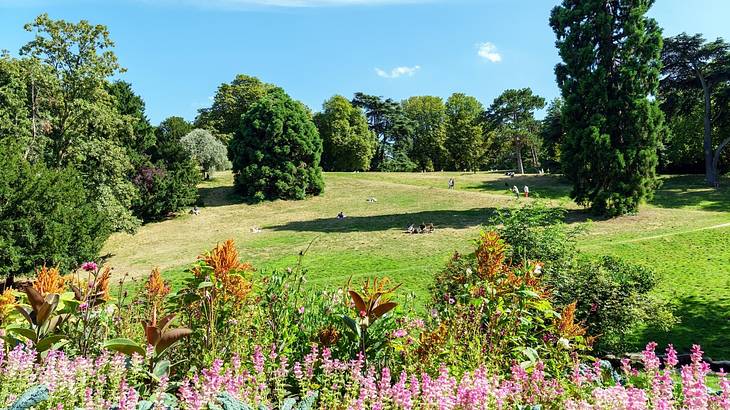 Spend time outdoors at Parc des Buttes-Chaumont
Parc des Buttes-Chaumont is located slightly outside of the primary tourist part of Paris in the 19th arrondissement. Despite being a little off the beaten path, the park is a great place to hang out with your other half.
You can enjoy a picnic on the grassy lawns, go for a bike ride, or admire flower gardens along scenic trails.
Admire artworks at Musée de la Vie Romantique
Located in Montmartre, exploring Musée de la Vie Romantique is, as the name suggests, one of the top romantic things to do in Paris, France. The site has a charming garden and courtyard and pretty buildings with green shutters.
Inside the museum, you'll find works by renowned artists, all of which have a romantic theme.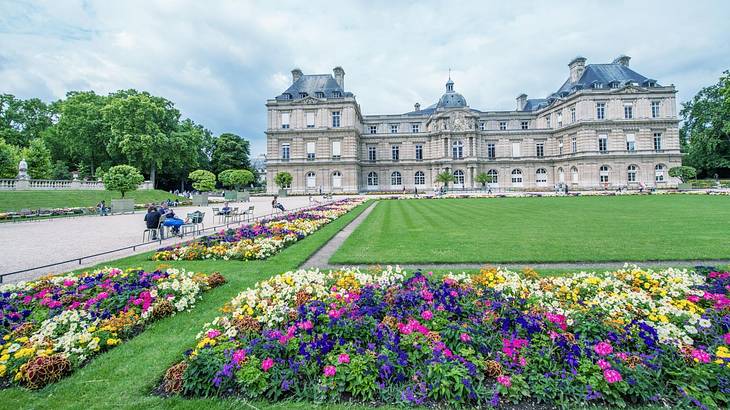 Wander through Luxembourg Gardens
One of the most scenic outdoor places in Paris is Luxembourg Gardens, known as Jardin du Luxembourg in French. The manicured gardens were once for the eyes of royalty only but today are open to all.
Things to see include one of Paris' five Statue of Liberty replicas, l'Orangerie du Sénat, and the 17th century Palais du Luxembourg.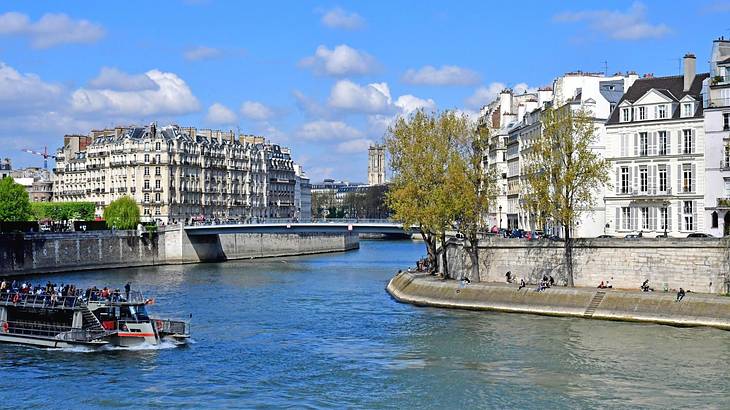 Check out  Île Saint-Louis
While Île Saint-Louis may not be top of mind as one of the most romantic places in Paris, France, this 11-hectare island is worth a visit with your loved one. The island is found in the Seine and is connected to the 5th Arrondissement by Pont de la Tournelle.
On the island, you can find multiple ice cream parlors, 17th and 18th-century mansions, and an art gallery.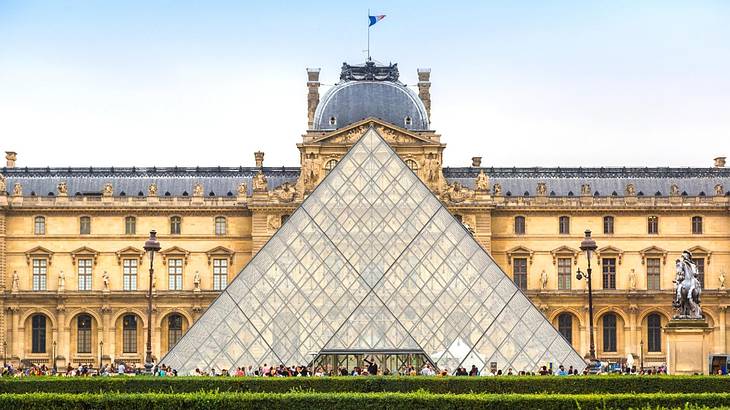 Discover masterpieces at the Louvre Museum
If you and your other half love art and cultural attractions, the Louvre has to be one of the first places you visit in Paris. The world-renowned art museum houses numerous priceless artworks, including the Mona Lisa and The Raft of Medusa.
Don't forget to snap some pictures of the museum's glass pyramid exterior that's just as famous as the works housed inside it. To avoid long lines, purchase Louvre admission tickets in advance.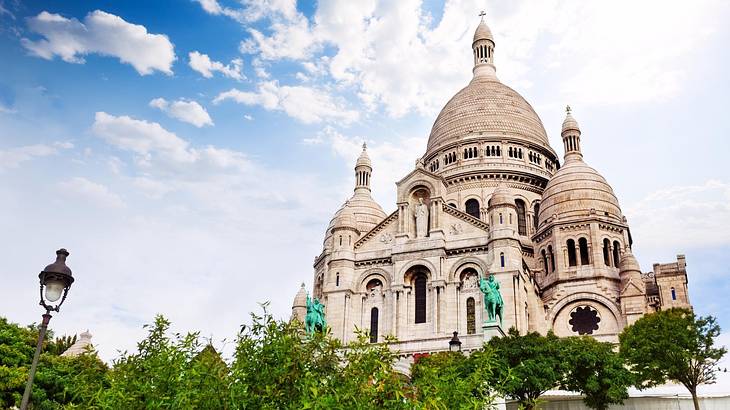 Look inside Sacre-Coeur Basilica
Opened in 1875, the Sacre-Coeur Basilica is another of the numerous beautiful landmarks to see in Paris. The Roman Catholic church is located in Montmartre, and the interior is open to the public to explore.
During a visit, you and your date can go inside to admire the architecture and snap some photos outside. Afterward, you can wander around Montmartre, stopping at one of many Parisian cafes.
Say "I Love You" in Montmartre
As one of the most romantic destinations in the world, the Paris fun fact that there are multiple love-themed art installations across the city won't be of much surprise. One of these is the Wall of Love, also called the I Love You Wall or Le Mur des Je t'aime, in Montmartre.
The wall features the phrase "I Love You" 311 times in 250 different languages. It's a great place to take some pictures as a couple and say "I love you!"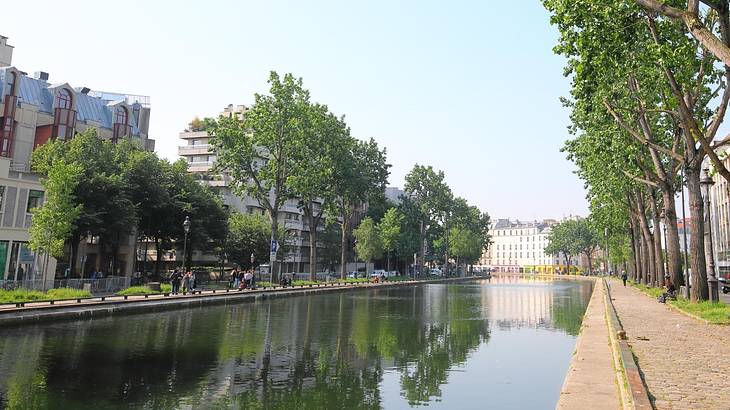 Relax on the banks of Canal Saint-Martin
One of the fun and laid-back things to do in Paris as a couple is hanging out on the banks of Canal Saint-Martin. The canal runs for 4.6 kilometers and connects the Seine with Canal de l'Ourcq. On the banks, you can chat, admire the views, and share a picnic.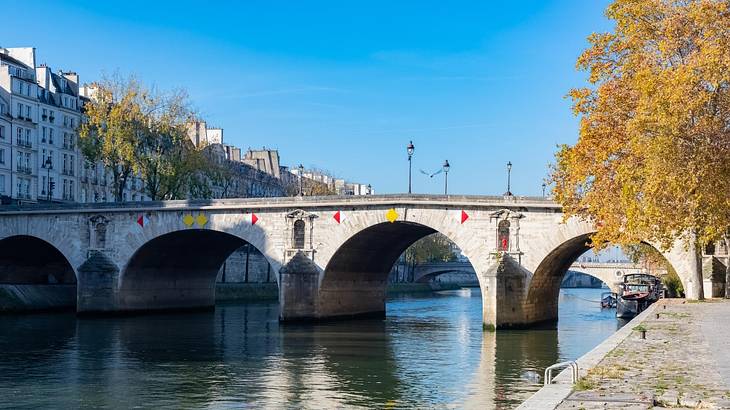 Walk across Pont Marie to Paroisse Saint-Paul Saint-Louis
If you go to Ile Saint-Louis, you can cross the Pont Marie and discover landmarks like Paroisse Saint-Paul Saint-Louis. This church was constructed in the 1600s and includes French and Italian baroque design elements. As you cross the bridge, you can enjoy more views down the Seine.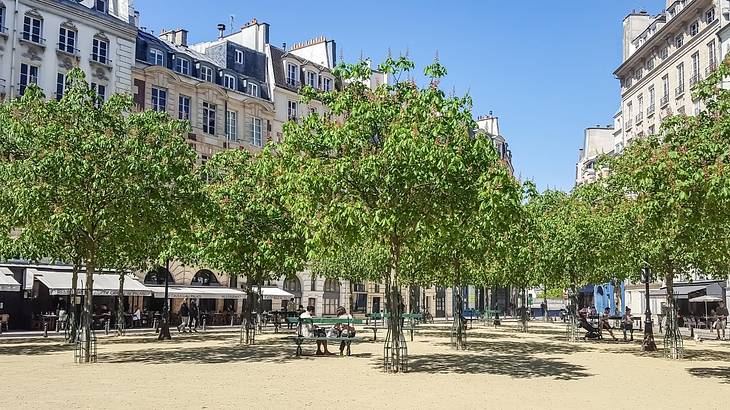 Enjoy the atmosphere at Place Dauphine
Place Dauphine is a quiet square with cobblestone streets and classic Parisian-style buildings. Wandering around Place Dauphine with your loved one will make you feel like you're in a romantic French movie! It's also the perfect place to take a break from exploring the city while enjoying a coffee from a local coffee shop.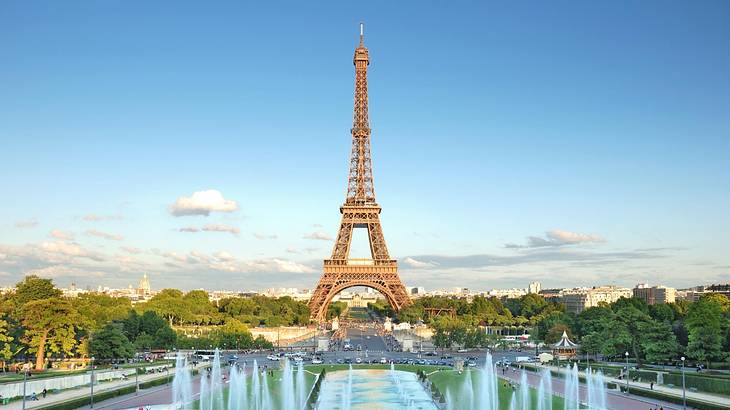 Appreciate Eiffel Tower views from Jardins du Trocadéro
Jardins du Trocadéro is a classic French landmark located across from the Eiffel Tower via Pont d'Iena. The gardens have perfectly manicured lawns and scenic water fountains. You can also get a stunning view of the Eiffel Tower, making it one of the best places to take pictures in Paris.
Indulge at Musée du Chocolat
Chocolate is a classic romantic gift, and you and your partner can discover how it's made by visiting Musée du Chocolat. At this specialty museum, you'll learn about the chocolate-making process and the history of this adored sweet treat.
Of course, samples are also included, plus you can buy handmade chocolates to take home.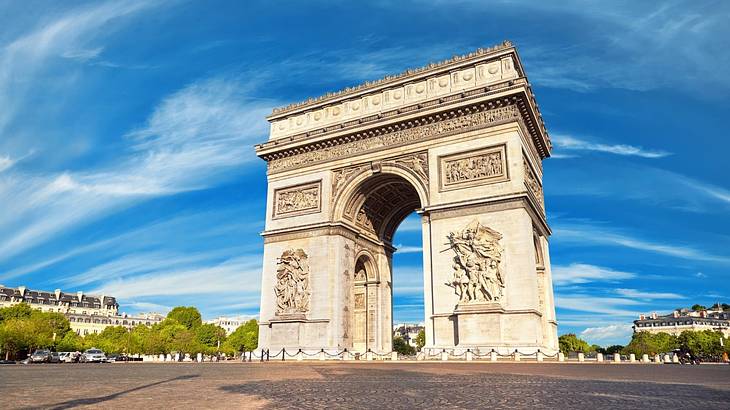 Snap photos in front of the Arc de Triomphe
Another landmark you must take a couples photo in front of is the Arc de Triomphe. Located in Place Charles de Gaulle, the iconic arch has sat in Paris since 1836. After taking some pictures with this European landmark, you and your loved one can stroll down the Champs-Élysées.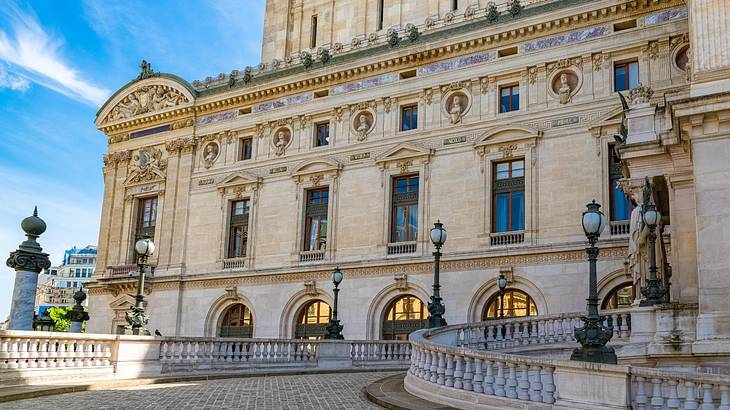 Watch an opera performance at Palais Garnier
An activity that has to be on your Paris bucket list is watching an opera at Palais Garnier. The 1,979-seat opera house was opened in 1875 and hosts performances throughout the year.
If you and your loved one want to learn more about the building after seeing a show, you can come back and take a Palais Garnier tour.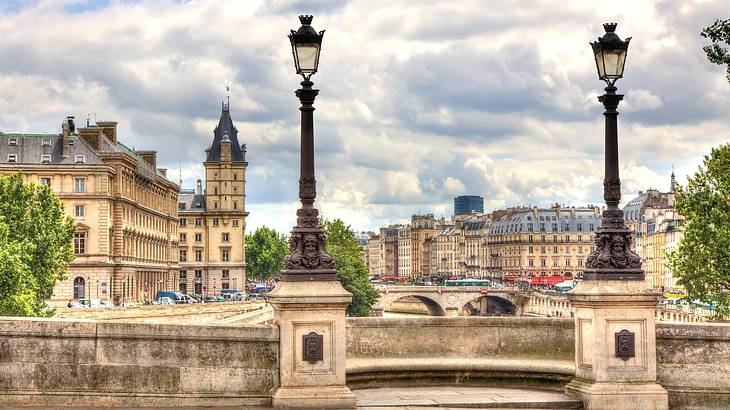 Have a photo shoot with a professional photographer
Paris is made for taking amazing photographs. The scenery of iconic landmarks, tree-lined streets, and Parisian buildings make a perfect backdrop.
If you've been wanting to take some pictures together, hiring a professional photographer in Paris is worth it! You'll take photos at a range of locations throughout the city, all of which will be professionally edited after.
Learn to make French macarons
France is known for its amazing patisserie, and if you and your partner have a sweet tooth, one of the most fun date ideas in Paris is attending a macaron cooking class.
During the class, you'll learn how to make pastry chef-worthy macarons in two flavors. You also get a copy of the recipe to recreate the treats at home.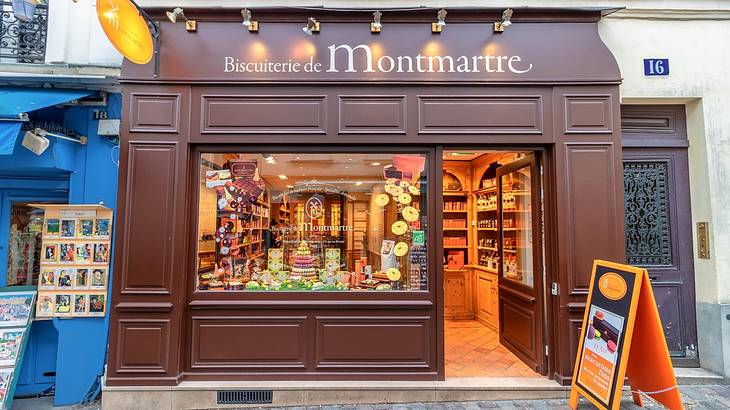 Eat delicious dishes on a food tour
French food is some of the best in the world, and a perfect way to try the country's delicious cuisine is by experiencing a Paris food tour. On the three-hour tour through Montmartre, you'll try a range of sweet and savory delicacies.
Wine tastings are also included, and you'll be able to see more of the Montmartre neighborhood.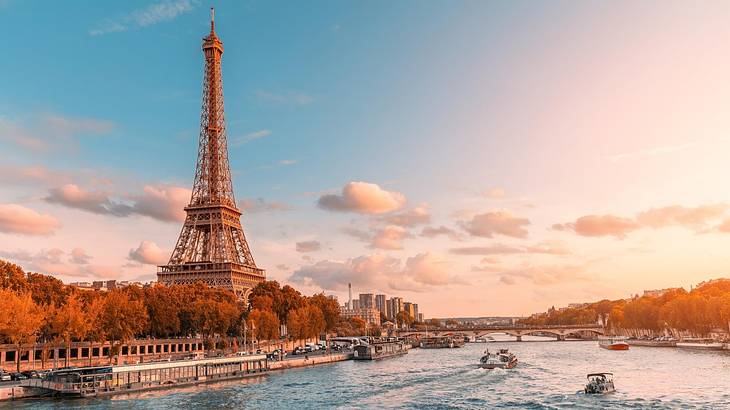 Treat your partner to a Seine River dinner cruise
Nothing says "Paris romance" like sailing down the seine together at night. Therefore, one of the best things for couples to do in Paris after dark is going on a Seine River dinner cruise.
Once aboard the glass-enclosed boat, you and your date can enjoy a three-course meal and champagne. You'll also be able to marvel at stunning Eiffel Tower views and spot other landmarks, like Notre Dame and the Louvre.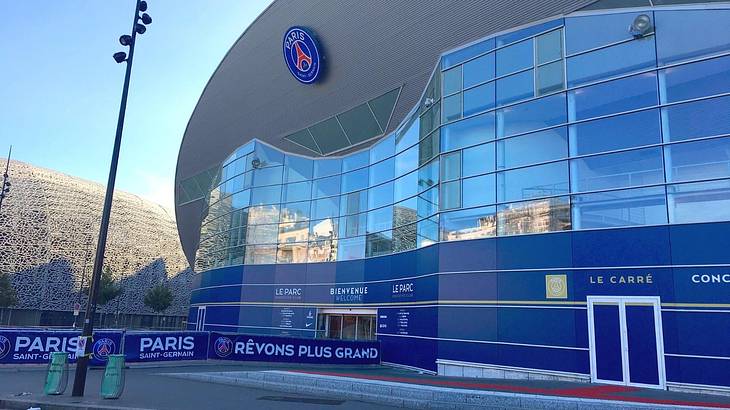 Attend a Paris Saint-Germain game
Paris Saint-Germain is one of the most popular football teams in both Paris and the world. If you and your partner like sport, going to a PSG game at Parc des Princes is a must.
The team plays from August through May, with both Ligue 1 and international club games, like Champions League games, played at the stadium. While getting a ticket can be challenging, it's well worth it if you can get a hold of them!
Romantic Things to Do Near Paris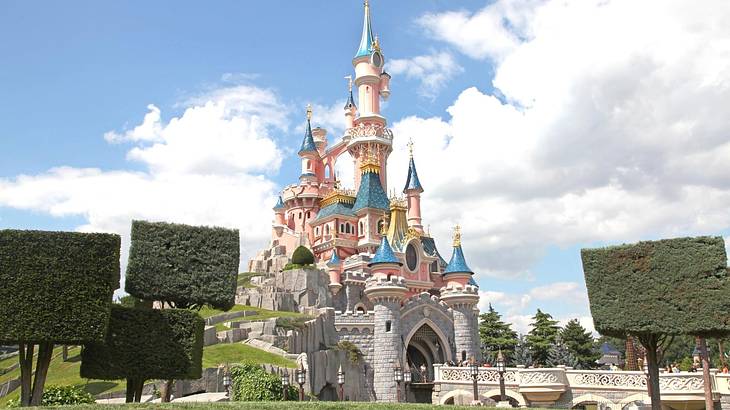 Have a magical day at Disneyland!
If you and your other half are kids at heart, one of the cute Paris activities for couples to enjoy is spending the day at Disneyland Paris! The theme park is an hour and a half away on public transport (or 40 minutes when driving.)
Once you arrive, you can go on rides, shop at Disney-themed stores, and see much-loved characters. If you stay until late, you may get to see the fireworks show too.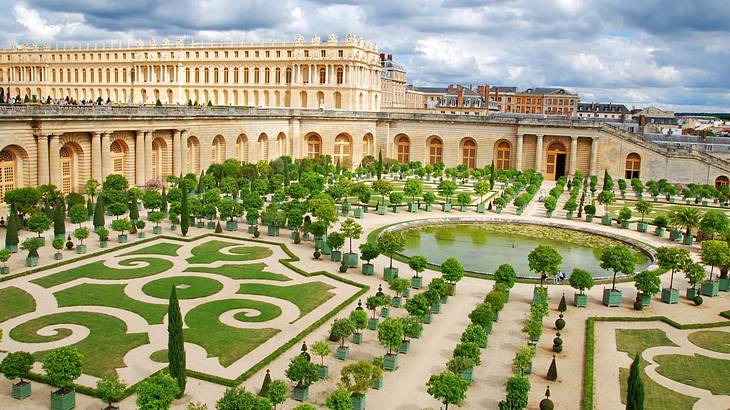 Plan a day trip in Versailles
Versailles is a commune in Île-de-France that's about 30-minutes away from central Paris. Known for the Château de Versailles and Gardens of Versailles, visiting Versailles on a day trip has to be on your Paris itinerary!
After you see the mentioned landmarks, you can dine at a romantic restaurant or go wine tasting.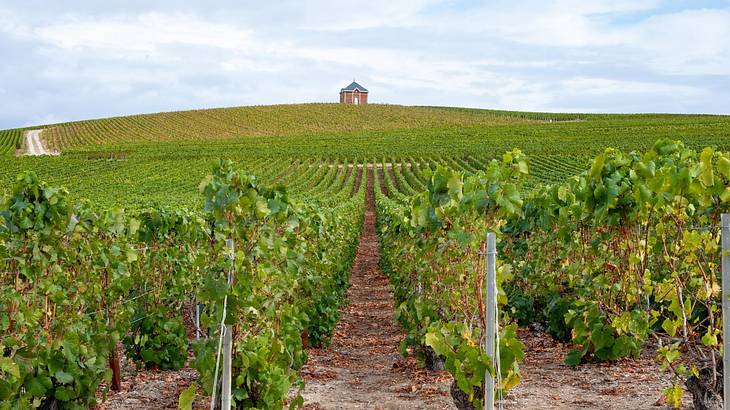 Sip Champagne on a day trip to the Champagne region
Located just under two hours from Paris, going on a wine tour to Champagne is one of the most romantic day trips available. Once in this iconic region of France, you'll get to visit renowned estates, including Moet & Chandon and Veuve Clicquot.
At the estates, you can taste wines and champagnes and admire the French vineyard views.
In Summary
As one of the most romantic cities in the world, it's no surprise that there are numerous things to do in Paris for couples. From wandering around scenic gardens to sailing down the River Seine and making macarons, you and your loved one are guaranteed to have a memorable couple's getaway in France's capital city.
Want to keep exploring?
Subscribe for discounts on tickets and hotels and our latest guides.
Thank you for subscribing
We will be in touch soon with discounts on tickets and hotels and our latest guides.
Want to keep exploring?
Subscribe for discounts on tickets and hotels and our latest guides.
Thank you for subscribing
We will be in touch soon with discounts on tickets and hotels and our latest guides.