Where to Stay in Nice, France - 6 Best Areas & Hotels
Destguides may receive commissions from purchases made through affiliate links in this article.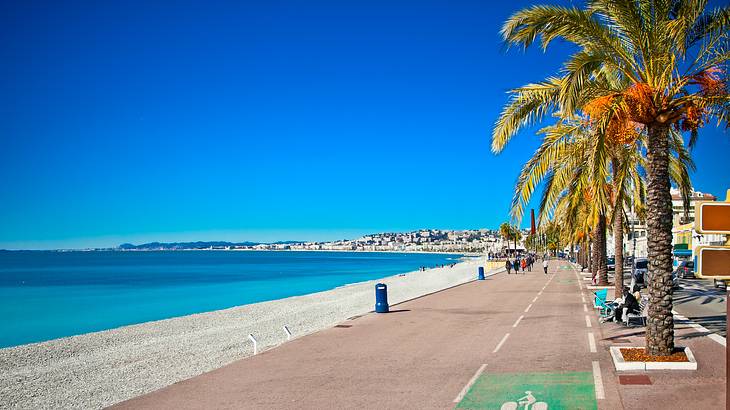 Nice is often considered the heart of the French Riviera. So, it's no surprise it's become a popular tourist destination. However, if you've never been to the city before, figuring out where you should book your accommodations can be confusing.
Vieux Nice is generally the best option for most travelers. It's close to many of the city's sites and has numerous food, hotel, and shopping options. However, if you've been to Nice before, you might want to consider more underrated spots like Cimiez or Gambetta, which offer quieter and more authentic atmospheres.
No matter what sort of traveler you are, keep reading to decide where to stay in Nice, France, for your trip to the Riviera.
6 Best Places to Stay in Nice, France
Nice Places to Stay Video
Check out our highlights video of Nice places to stay.
Nice Places to Stay Map
A map of Nice. Use the map to explore all the places to stay.
Best Areas to Stay in Nice, France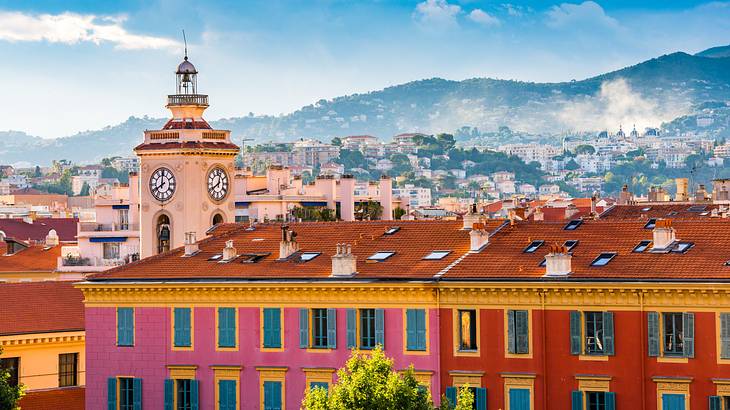 Vieux Nice (Old Town)
Old Town is the perfect place to stay if you're planning a short trip to Nice. Since this neighborhood is right on the city's coastline and near the harbor, it's just a short walk away from cafes, shops, and other popular sites, like Parc de la Colline du Château.
Other attractions to enjoy in the neighborhood include Cathédrale Sainte-Réparate de Nice and Musée du Palais Lascaris. A charming flower market, Marché aux Fleurs Cours Saleya, is also held daily.
Its proximity to everything you might want to see makes Vieux Nice a versatile spot for all types of tourists. It's also a safe area, making it great for families. It's additionally full of history and local culture, which is perfect for first-time visitors.
However, keep in mind that many of the streets in this part of Nice date back to the 16th century. So, they tend to be narrow, which can make them feel more crowded. That's especially true if you visit during spring and summer, the high tourist seasons. It's also not uncommon for lodging in this part of Nice to lack elevators or air conditioning.
Gambetta
If you're looking for a quiet area to stay in Nice, Gambetta might be an option worth considering. Since you won't find any landmarks in this corner of the city, it tends to fly under the radar of most tourists. As a result, you'll mostly encounter locals going about their daily routines.
That's not to say that Gambetta is a boring area to stay in. It's home to numerous local restaurants and shops so that you can have a truly authentic Nice experience. The area is also just a short distance from more bustling areas, meaning you can easily walk to city monuments or even local events that might be going on during your stay.
Since Gambetta is a calmer part of the city, it's an excellent place for couples to go for a romantic getaway. It can also be optimal for families who might need to put small children down for a nap during the day.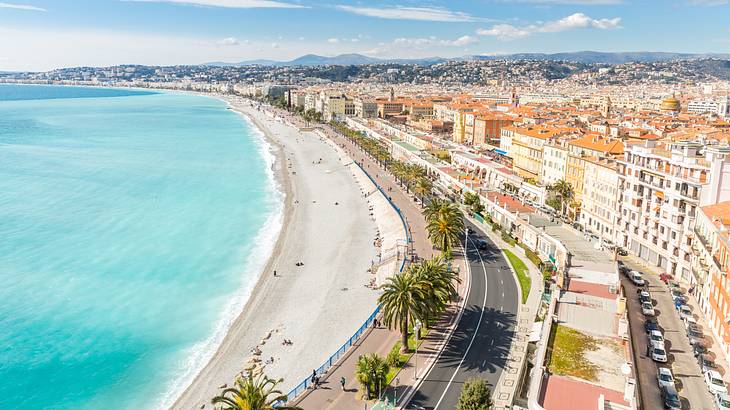 Promenade des Anglais
Nice's approximately seven-kilometer-long Promenade des Anglais is one of the city's most famous and vibrant areas. This promenade area runs along the seafront, so it's a popular spot for local events like the Nice Carnival, usually held in February or March.
Even if you visit when there are no festivities in Promenade des Anglais, the neighborhood will still bustle with people. Locals and tourists alike can be found going for afternoon strolls after work and on weekends, and you'll have numerous restaurant and cafe choices.
Of course, you'll also be able to access beautiful beaches from the promenade, like Plage des Ponchettes and Plage Publique de Castel. You'll come across the #ILoveNICE sign at the eastern end of Promenade des Anglais as well.
You won't find many of the city's landmark sites in this part of Nice, but the promenade's streets can lead you to them. For example, Place Masséna is just a five to 20-minute walk, depending on where you are in Promenade des Anglais. There are also some lesser-known museums you can visit for a one-of-a-kind trip.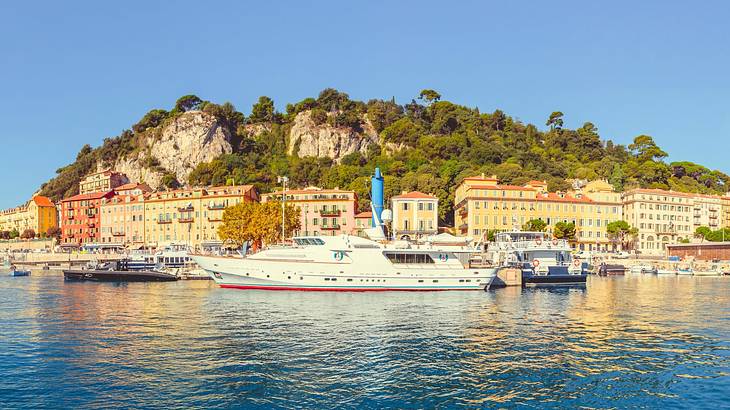 Le Port
If you're looking for a neighborhood to stay in Nice that offers an authentic local experience, consider Le Port. Also called Quartier du Port, this neighborhood is just a few minutes away from the harbor, so it's one of the best places to go to get the French Riviera experience.
If you decide to stay here, try to find a lodging option that will give you a view of the water. That way, you can admire the variety of yachts, ships, and fishing boats that routinely dock in the city.
Le Port has gained popularity in recent years. So while it used to be a relatively quiet neighborhood, today, it has a bustling nightlife and numerous boutiques.
For that reason, the area is recommended for younger travelers, especially those traveling with friends or spouses. On the other hand, visitors that are light sleepers may want to stay somewhere else and visit Le Port during the day.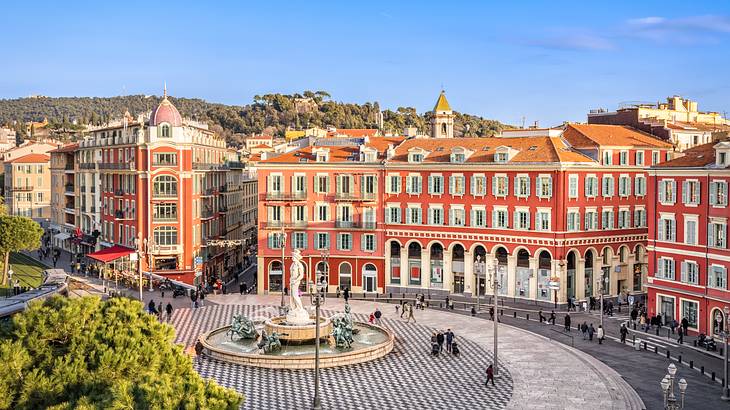 Avenue Jean Médecin (New Town)
If your favorite part about traveling is checking out local shops and buying souvenirs, Avenue Jean Médecin in Nice's New Town is the place for you. This street is two kilometers long and is the area's premier shopping district.
You'll be able to find local shops as well as chain stores that vary in price from affordable to luxury. In addition, there are a few landmarks in the area, like Basilique Notre-Dame de l'Assomption.
This part of the city is very well connected too. You can walk here from virtually anywhere in town, but there are also bus stops, taxi stands, and even a light-rail train station, all of which provide affordable transportation. You might even be able to find good deals on hotels since it's a little further away from the typical tourist sites.
Avenue Jean Médecin is a busy artery, though. So, expect bustling crowds and noise. That's especially the case if you plan to visit on weekends or in the evenings when more locals and tourists will be out shopping.
Cimiez
If you want to travel in luxury, Cimiez is one of the best locations to stay in Nice. This part of the city is primarily a residential neighborhood known for its upscale homes, art museums, and historical landmarks.
Cimiez has its roots in the Roman Empire since this part of France was used as a capital for the Maritime Alps province. To this day, you can still see ruins of the ancient city in the neighborhood's Jardin des Arènes de Cimiez. Many smaller artifacts that have been found in the area are also on display at the park's archaeology museum.
If you're more of an art enthusiast, you'll love the Musée National Marc Chagall and Musée Matisse, which both display priceless pieces. However, if you're looking for a bustling nightlife, this might not be the best place to book your accommodations. After all, Cimiez is famous for its calm and relaxing atmosphere.
Where to Stay in Nice, France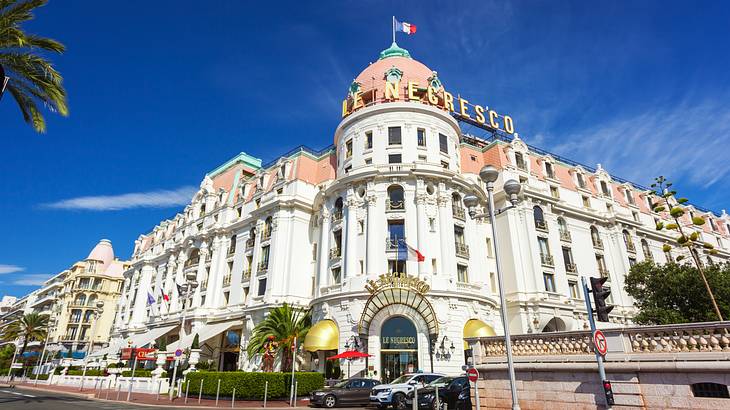 Where to stay in Nice with family?
With its miles of walkable and bikeable streets, good food, and top beaches, Nice has become one of France's most family-friendly locations. It's likely a family will be able to find an excellent place to stay no matter where they go in the city. However, a few neighborhoods stand out.
The city's Old Town is centrally located, with most of the area's top sites within walking distance. Since this location is so close to everything, you won't have to navigate the public transportation system much, which can be a relief if you're visiting with children.
Staying near Promenade des Anglais is also a good choice, especially if you plan on going to the beach. There are plenty of eateries, and you're never too far from a shop if you need extra sunscreen or a beach towel to lay out on the sand.
Where to stay in Nice for a romantic getaway?
Couples looking for a romantic place to stay in Nice have a few options. If romance to you means peace and quiet, Cimiez is pretty idyllic. Though this neighborhood is just over a mile from the harbor, it offers a calm and relaxing environment that couples love.
However, if you and your significant other are more social and enjoy sipping cocktails and trying out new restaurants, Le Port is the place for you. During the day, this area is pretty calm and is primarily frequented by people who want to admire or sail the boats docked nearby. However, numerous bars, restaurants, and clubs open at night with music and late-night food options for you to enjoy.
Instead, if you want to spend your romantic getaway soaking up the sun, head to the Promenade des Anglais. Notably, Les Baumettes, a neighborhood along Promenade des Anglais, offers a luxurious ambiance where you can relax and unwind away from the crowds.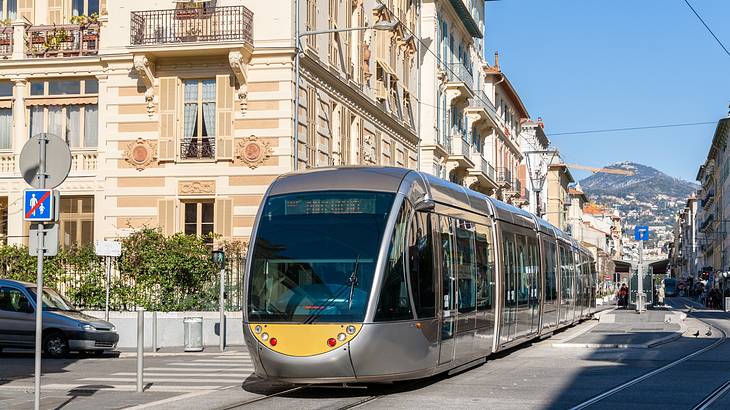 Where to stay in Nice for a weekend trip?
Even if you're just in town for a few days, you can see all the city offers. The best neighborhoods to stay in Nice for a weekend trip will come down to your travel preferences.
For those looking for a weekend trip full of as many activities as possible, Vieux Nice is your best option. Since it's the top tourist district in Nice, there's always something to do and see, even if it's just sitting at a cafe and people-watching.
On the other hand, if you're spending your weekend in Nice to celebrate a birthday, bachelorette party, or any other special event, head to places with the best nightlife. Le Port and Saint-Isidore are both excellent options. That's mainly because they both have restaurants and clubs that stay open well into the night on weekends.
Last but not least, if you want a relaxing weekend to unwind, stay somewhere around Mont Baron. You'll be near the sea and just a ten-minute bus or taxi ride from the city center. However, the ambiance is much calmer than what you'd find near the main promenade.
Where to stay in Nice for sightseeing?
If you're planning your first trip to Nice, the best place to stay is Vieux Nice. This part of the city offers the most sightseeing options, so you'll be able to get a well-rounded look at what this part of France has to offer. For example, Musée du Palais Lascaris, Chapelle de la Miséricorde, and Parc de la Colline du Château are all within walking distance of the neighborhood.
If you've been to the city before and are ready to see some of Nice's less well-known spots, consider staying near Promenade des Anglais. Hotels in this area will give you the best access to any local events that might be going on while you visit. There are also several art galleries that regularly rotate their displays, so each trip will be a little different.
Of course, if you're a history lover, Cimiez also deserves to be in the running of places to stay. The Roman ruins and multiple museums located in this neighborhood are well-worth visiting, even if you decide to book lodging elsewhere.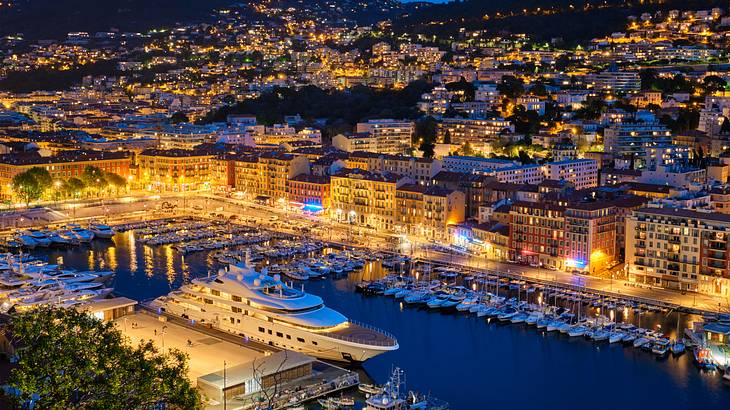 Where to stay in Nice for nightlife?
If you're interested in finding a location to stay in Nice that offers lively nightlife, there are a few options you can choose from. Le Port, located near the city's harbor, is often recommended for those visiting Nice for nightlife. This neighborhood has become a popular spot in recent years due to the many luxury yachts docked here.
As a result, restaurants, bars, and other establishments began opening and finding success, especially among night owls. Today, it's common to hear music and see places open late at night, especially on weekends.
Le Piol area is another option that offers late-night entertainment and food. This neighborhood is also more family-friendly since there are fewer parties in this area. So it's perfect for those traveling with teenagers who still want to explore this part of the city before turning in for the night.
Where to stay in Nice for a business trip?
If you're visiting Nice on business, you may want to avoid the main tourist spots. Since these areas tend to be concentrated around the city's most popular landmarks and sites, they can be very crowded and loud. That can make working and getting around less seamless.
Most likely, any business meetings you'll attend will be in the New Town area. These are where the main corporate districts are. The neighborhood around Avenue Jean Médecin is generally a safe option to choose, especially if you're not too familiar with Nice's layout. It's the town's main shopping area, but it's also near banks and other business offices.
However, you shouldn't have trouble getting around no matter where you stay. Most of Nice is well-connected via public transport, taxis, and ride-sharing services. The city is also relatively small, so it shouldn't take longer than 20 minutes to get between neighborhoods.
In Summary
Clearly, Nice has no shortage of places to stay. Whether you're staying in Avenue Jean Médecin for a business trip or enjoying the nightlife near Le Port, there's an option for you in this corner of the French Riviera.
Hopefully, this list has helped you figure out what you're looking for from your trip to Nice, so you can pick the best neighborhood for your needs. All that's left to do now is book your stay!
Give us feedback about this article
Learn more about Nice:
Read more articles about France:
More articles about places to stay:
---
---
Want to keep exploring?
Subscribe for discounts on tickets and hotels and our latest guides.
Thank you for subscribing
We will be in touch soon with discounts on tickets and hotels and our latest guides.
Want to keep exploring?
Subscribe for discounts on tickets and hotels and our latest guides.
Thank you for subscribing
We will be in touch soon with discounts on tickets and hotels and our latest guides.
Related Articles