A Weekend in Nice, France - The Perfect 3-Day Nice Itinerary
Destguides may receive commissions from purchases made through affiliate links in this article.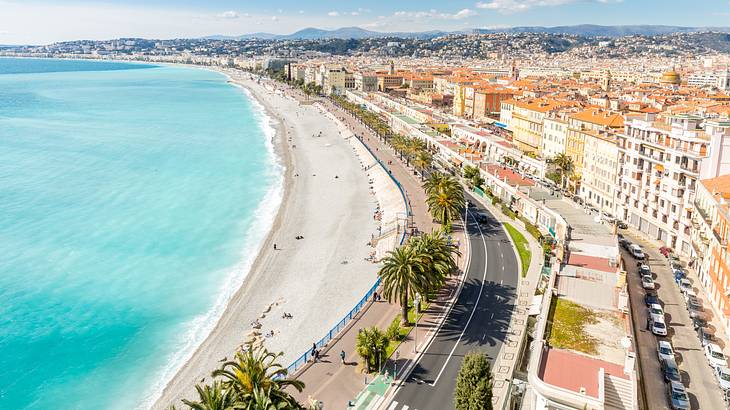 Nice, located on the French Riviera (or Côte d'Azur) in France, is a perfect mix of sand, sun, and sea. It's also the ideal place to head to in Europe for winter sun. While you could easily spend a week or so here, you can also experience all the town offers by spending a weekend in Nice, France.
You could additionally rent a car and include Nice as a stop on a road trip in Southern France. Best of all, it's an excellent destination for all types of travelers, from families to couples or solo travelers.
Tourists flock to this Mediterranean paradise for several different reasons. Notably, it's home to many unique attractions and landmarks, such as the Promenade des Anglais and Vieux Nice.
A range of museums, markets, and historical and cultural sites can also be found here. There's the option to simply relax on the beach as well, enjoying the warm weather and gorgeous views. By following this 3 day Nice itinerary, you can experience all of the above and more!
No matter what type of trip you've planned, continue reading to learn what to see and do during a long weekend in Nice, France!
Long Weekend in Nice, France - 3-Day Nice Itinerary
Riviera Stroll: Promenade des Anglais to Place Massena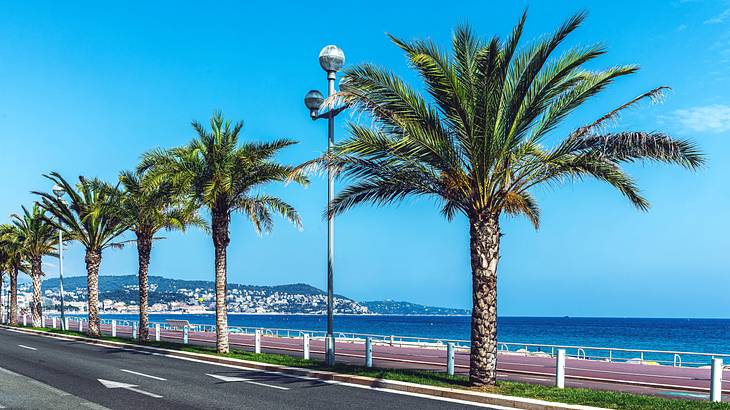 Your itinerary for Nice, France, will begin on the famous Promenade des Anglais. A walk along the promenade is a highlight for anyone intending to admire the stunning French Riviera.
After a stop at a rooftop bar for a quick refreshment, you'll next be visiting the green oasis of Jardin Albert 1er. Your next stop is another park, Parc de la Colline du Château. This park offers fantastic views of Nice along with several beautiful plants, ponds, and fountains to admire.
Next, a quick visit to Chapelle de la Miséricorde will allow you to soak in the gorgeous baroque design of this stunning catholic church. Having had a few peaceful and relaxed stops, you'll be ready for the liveliness of Place Massena.
This square gives access to Nice's two main shopping streets and is the location of many outdoor events. You can spend as much time as you like here, visiting all the shops or simply having a quick look around the area. Your first evening in Nice will be spent with a world-renowned meal at Hotel Negresco and a show at the local opera house.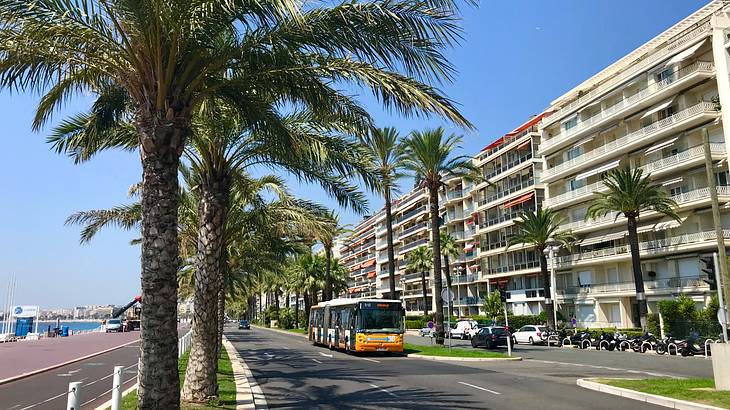 Promenade des Anglais
Taking a stroll along Promenade des Anglais is a must when in Nice. This seven-kilometer walkway takes you right by the sea, allowing you to admire the ocean and beautiful buildings on the other.
You can walk or cycle and stop to take in the view. There is also a range of beaches on the ocean side of the street that you can stop and relax on.
Having wandered down the promenade, stop at La Terrasse, a rooftop bar at the Meridien Hotel. Here you can enjoy delicious drinks and incredible views. Choose from a long list of cocktails, including sparkling wines and cocktails like Aperol Spritz and Chambord Fizz.
If you're looking for an area to book a hotel, Promenade des Anglais is also one of the best places to stay in Nice!
Jardin Albert 1er
Jardin Albert 1er is a beautiful city garden located off Promenade des Anglais. It's the perfect place to stop for a peaceful break from the busy promenade. The garden is filled with various plants and flowers, plus Nice's trademark palm trees.
There are also fountains, ponds, and lots of places to sit down and enjoy your surroundings. Once you've seen all the garden has to offer, head back to the promenade or visit the nearby high-end stores like Chanel and Louis Vuitton.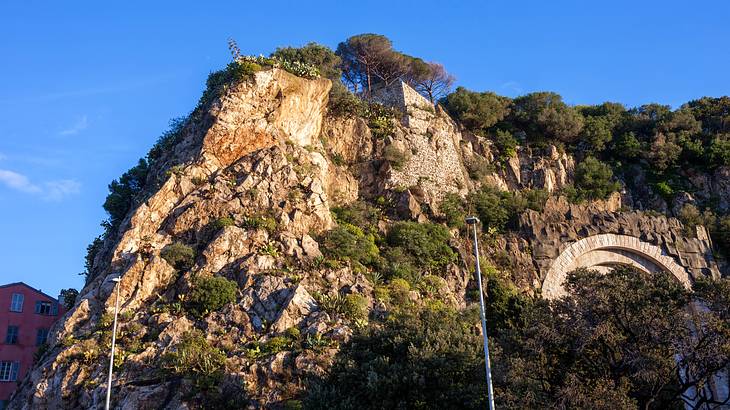 Parc de la Colline du Château
Colline du Château, or Castle Hill, is a tranquil park located in Vieux Nice. It's a beautiful French landmark and a must-visit on your 3 days in Nice itinerary. To access this vast green space, you can climb staircases or take an elevator.
Once at the park, you can relax and take in the greenery and amazing views of Nice. You can even see the Alps on clear days. You'll also discover a stunning artificial waterfall constructed in the 18th century.
Parc de la Colline du Château additionally covers the spot where Ancient Greeks established the city of Nikaia, dedicated to Nike, the goddess of Victory. There have also been archaeological digs here which uncovered Roman and Celtic remains.
There are a few restaurants and cafes to hang out at too. Parc de la Colline du Château is an ideal place to have some quiet time and enjoy beautiful views of Nice.
Chapelle de la Miséricorde
Nice is known not just for its vast history and many traditions but also for its multiple churches and monasteries. Should you be in Vieux Nice, a visit to one of these churches, the Chapelle de la Miséricorde (Chapel of Mercy), is recommended.
This Catholic church was built between 1740 and 1770 by Italian architect Bernardo Vittone and is designed in a distinct Baroque style. Upon arrival at the church, you can enjoy this rich Baroque architecture.
The outside of the church is painted in an eye-catching yellow, and the beautiful design details make it a stunning photo op. The inside of the church is equally breathtaking and ornately decorated. It is complete with marble, religious paintings, and even chandeliers. Whether you're religious or not, this church is a worthwhile cultural stop to enjoy and admire.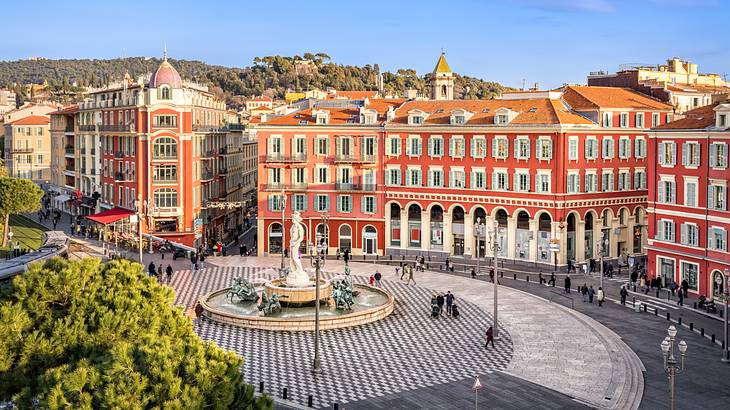 Place Massena
Located between Old Nice and New Nice, Place Massena is one of the largest squares in the city. Stunning traditional Niçoise buildings with red facades and white window frames surround the square. It also features a trademark black and white tiled floor and palm trees.
The square is home to many shops and restaurants. It's additionally where Nice's two main shopping streets, Zone Pietonne and Jean-Médecin, meet. The former is home to designer brands, while the latter has a selection of chain stores and the large shopping mall, Nice Etoile.
Along with shops and restaurants, Place Massena hosts several open-air concerts and other events and celebrations throughout the year. This includes the Nice Jazz Festival and Carnaval de Nice.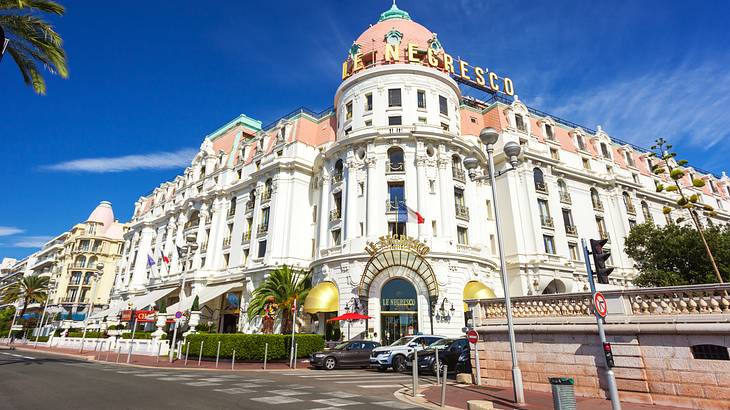 Hotel Negresco
Hotel Negresco is a famous hotel in Nice and on the Riviera in general. Along with being the top place to stay in Nice, people often make a beeline for this hotel due to its gastronomic offerings.
Whether you're heading here for a drink or set course lunch or dinner, this hotel is a must-try spot on your three days in Nice itinerary. There are two restaurants along with a bar to choose from.
Those looking for a Michelin-star meal must visit The Chantecler. This high-end restaurant offers tasting menus and an a la carte menu. Dishes to try include oyster tartare with caviar and grilled Mediterranean tuna.
For a more relaxed atmosphere, try the hotel's second restaurant, La Rotonde. This quirky brasserie is decorated in the style of a Baroque carousel, complete with carousel horses.
When here, you can choose from a selection of a la carte dishes such as lobster spaghetti, sea bass tartare, and roasted shrimp with quinoa. There are also two set menus to try.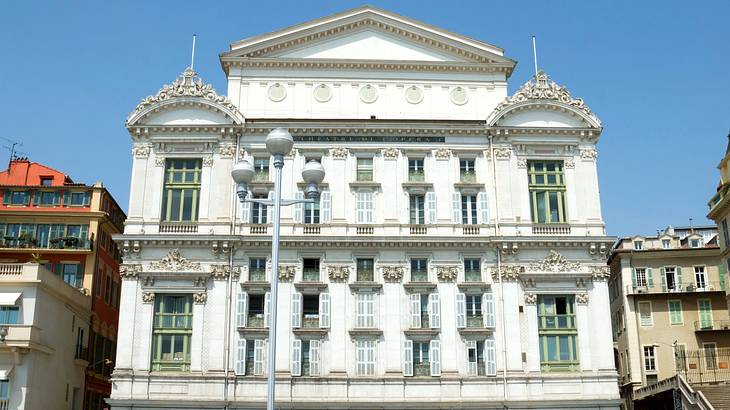 Opera de Nice
A visit to Opera de Nice, the main opera venue in Nice, is highly recommended for lovers of the arts. You'll be able to enjoy opera, classical music concerts, and ballet here. This includes shows by Ballet Nice Méditerranée and Nice Philharmonic Orchestra.
Tickets can be purchased from the Opera de Nice website. Be sure to book in advance to get to view the show you'd like to see.
An Excursion to Èze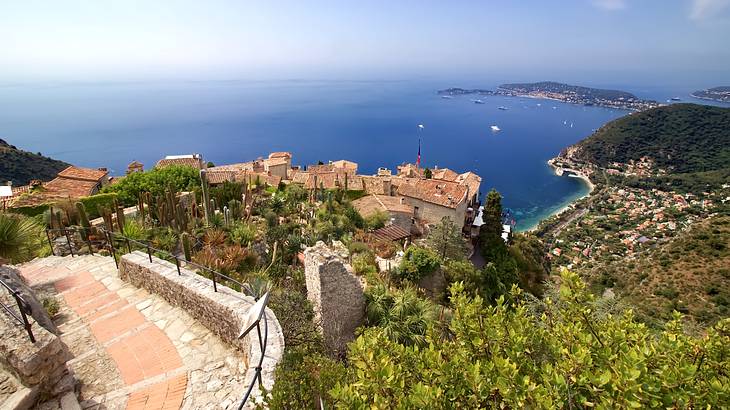 Your weekend trip to Nice, France, will take you out of Nice briefly on day two of your vacation. Your day will begin by traveling to Èze, a small town located down the coast. Here, you'll get amazing views of the Mediterranean. The village also has exotic gardens to wander around and many boutiques and perfumeries.
Once you've fully explored Èze, return to Nice to discover Cours Saleya. This flower and produce market is filled with beautiful bouquets and stalls upon stalls of local fruit and veg. Whether you buy anything or not, it's an interesting place to venture around.
In the evening, you can stop for dinner at Maido, a Japanese that serves Japanese sharing plates, plus traditional sake and Japanese beers. The rest of the night will be spent enjoying Nice's popular bar crawl. This fun activity is a great way to meet new people and check out multiple bars.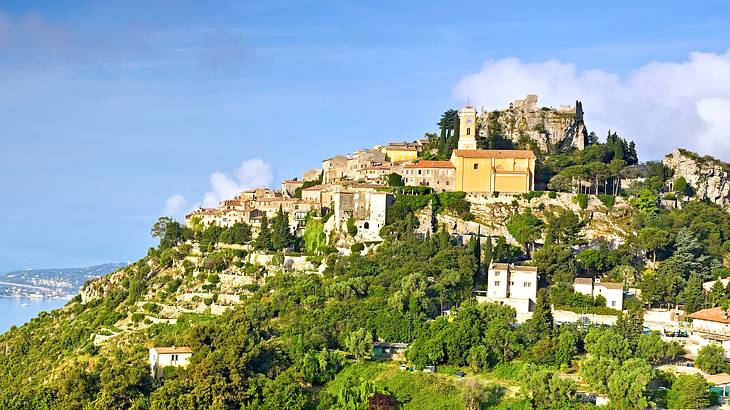 Èze
Èze is a quaint hilltop village located just 12.5 kilometers from Nice. Being just a 30-minute drive by car or bus (on the 82 bus), it's the perfect location for a full or half-day trip. Driving in France is relatively stress-free, so why not make the short trip?
Being a hilltop town on the Côte d'Azur, the vistas of the Mediterranean are incredible. Having taken in the views, there are many places to visit in Èze, including art galleries and boutiques.
The Jardin Exotique d'Èze (also known as the Jardin Botanique d'Èze) is a popular tourist attraction in the town. The garden is home to a host of exotic plants from various climates. This includes cacti and succulents, plus many tropical trees planted against the backdrop of the ocean.
Èze is additionally known for its perfumeries. You can visit perfume shops and treat yourself to a new scent. You can even tour Parfumerie Fragonard to learn about the perfume-making process.
After exploring Èze, if you are still in the mood for further day trips, there are several other beautiful villages in the south of France that are worth visiting. Or, if you're up for a longer drive, why not check out Bordeaux?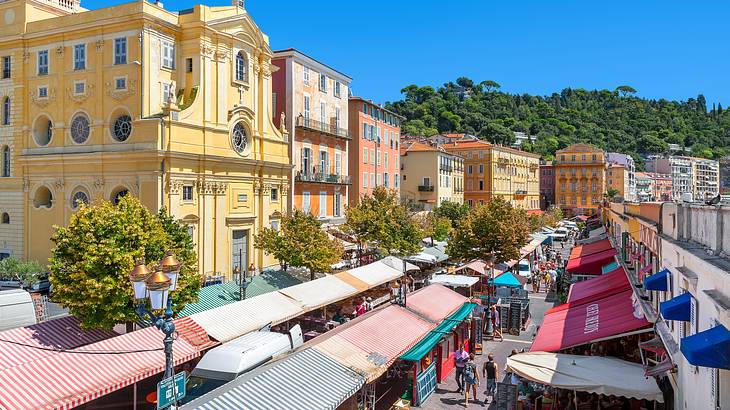 Cours Saleya Market
Cours Saleya is an open-air market featuring fruit and vegetable stalls and its well-known flower market. The market is open Tuesday through Saturday from 6 AM to 5.30 PM and from 6 AM to around noon on Sundays.
A visit to this market is often regarded as one of the best things to do in Nice. You'll find the freshest produce, most of which is sourced locally, and you can experience the bustling market atmosphere.
The Marché aux Fleurs Cours Saleya features hundreds of varieties of flowers, from bouquets to potted plants. As you explore the over 30 stalls, you can enjoy the beautiful colors and fragrances.
There are also many cafes in the area surrounding the market where you can stop for a drink and watch the world go by. Or if you want a sweet treat, Papilla ice cream shop is nearby. Choose from 32 flavors of ice cream, or try a fruity sorbet. The perfect way to beat the Nice heat!
Maido
Maido is a cute Japanese bistro that's perfect for a relaxed lunch or dinner. Everything is made in-house, and mainly local ingredients are used. A friendly atmosphere is always guaranteed too!
Instead of main courses, Maido serves up "tapas-style" plates of Japanese snacks. These include Japanese fried chicken, tofu salad, and a variety of flavored dumplings.
You can accompany your meal with wine, Japanese beer, or sake. If you aren't sure what to get, the hosts are happy to help you choose the best drink to accompany your meal. Finally, end your feast with a slice of delicious homemade cheesecake.
Riviera Bar Crawl
Hopping on a Riviera bar crawl is a great way to see all that Nice's nightlife has to offer. Along the way, you'll stop for drinks at a selection of Nice's best bars. There are also bar games to play, and you get the chance to meet new people, including locals and other tourists.
The crawl begins at Hostel Villa Saint Exupery Beach near Massena Square. The ticket includes bar entry, a shot at each bar, and access to exclusive drink deals. You may end up discovering some unique nightlife spots that you wouldn't have on your own!
The company also provides wine-tasting and food tours if you're looking to try another type of tour. You can additionally partake in a free walking tour during the day or at night, and private tours are also offered.
Nice Through Art and History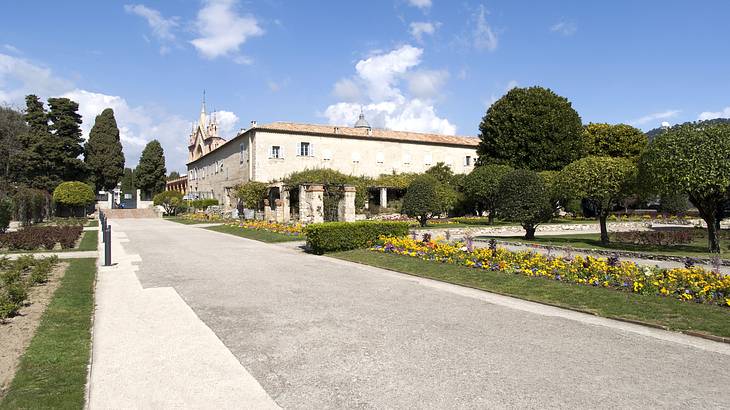 The last day of your Nice travel guide will take you to some of the city's best cultural and historical attractions. You'll also be able to try some of Nice's traditional and beloved dishes.
The majority of your day will be spent in and around the neighborhood of Cimiez. You'll begin the day exploring this area's attractions, including Musée Matisse and Parc des Arènes de Cimiez, which is home to ancient Roman ruins.
You'll then pay a visit to the Marc Chagall National Museum. Here you can admire the artist's biblical-inspired pieces. Before your next attraction, stop for a snack at Chez Pipo to try Niçoise favorites, socca and pan bagnat.
Another art museum, The Museum of Modern and Contemporary Art, is next on your agenda. This museum pays homage to avant-garde artists from the 60s onwards. One last museum trip will end your day of sightseeing in Nice.
Musée du Palais Lascaris is a fascinating musical instrument museum housed in a 17th-century aristocratic building. A great destination for music lovers and lovers of historical architecture and design.
End your long weekend in Nice, France, with dinner at Le Safari. This local favorite has one of the best salad Niçoise in the city, as well as other traditional French dishes. Finally, head to Le Bateleur to drink the night away.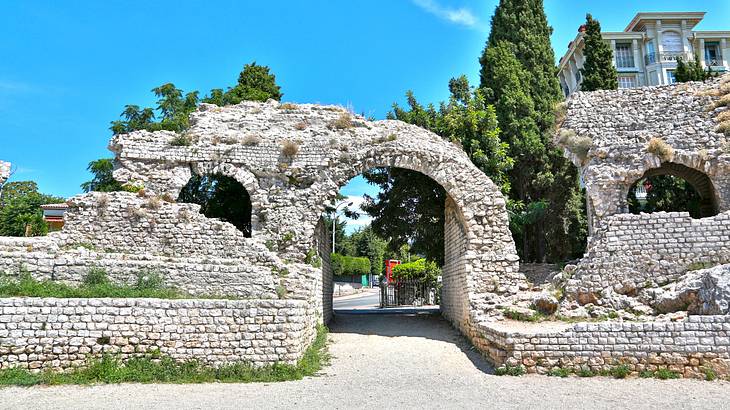 Cimiez
Cimiez is an upscale residential area of Nice that was home to French nobility in the past. Today, the area has many luxurious apartment buildings as well as a range of museums and other attractions.
It's definitely a worthwhile area to visit during your three days in Nice, and it is the perfect neighborhood for lovers of culture and history. The Musée Matisse, which sits atop Cimiez Hill, is a treat for art lovers. Musée Matisse houses the works of French painter Henri Matisse, among other donated artworks. Outside, it is surrounded by ornate Italian gardens ideal for photographs and leisurely walks.
Another popular tourist attraction is the Parc des Arènes de Cimiez. This park features Mediterranean olive groves as well as ancient Roman ruins, including an amphitheater that would have held 4,000 spectators. You'll additionally discover an archaeology museum in this peaceful and historic park.
Musee National Marc Chagall
Often regarded by historians as one of the last of the first generation of European Modernists, artist Marc Chagall lived a life dedicated to his craft. You'll be able to appreciate all of his works with a visit to the Musee National Marc Chagall (Marc Chagall National Museum).
Many of his artworks were inspired by religion, and these works take center stage at the museum. Seventeen pieces make up a biblical message using inspiration from the books of Genesis, Exodus, and Song of Songs.
His creative take on stained glasses also lines the museum's halls, and there are numerous other paintings and drawings to view. Marc Chagall himself even helped design the museum. His will outlined specific instructions on where to hang each painting in the museum.
Entry to the museum is free on Sundays, and audio guides are available in various languages, including French, English, and Spanish. If you're an art enthusiast, a visit to Musee National Marc Chagall is one of the best things to do in Nice, France!
Chez Pipo
Chez Pipo is the perfect place to stop for lunch or a quick snack. This affordable cafe has a range of great snacks, including some of the best Socca in Nice. Socca, a flatbread made of chickpea flour, is a traditional dish of Nice. It's a must-try while in the city!
Chez Pipo also serves pizza, pissaladière, and pan bagnat - another Nice specialty resembling a salad Niçoise sandwich. With most dishes under 5 Euros, it's the ideal snack break cafe!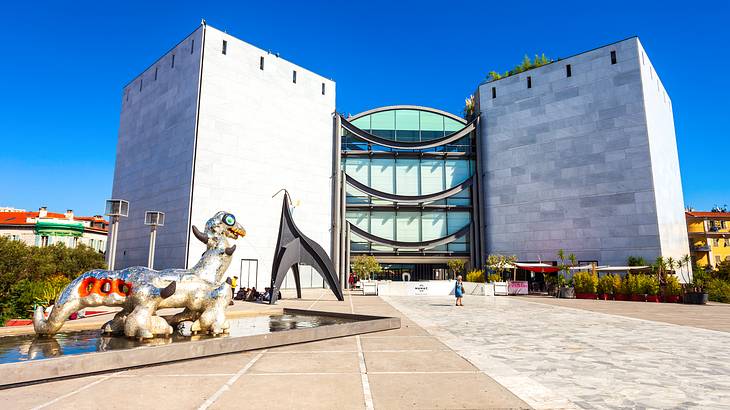 Musée d'Art Moderne et d'Art Contemporain
The Musée d'Art Moderne et d'Art Contemporain, or the Museum of Modern and Contemporary Art, houses various eye-catching works from the 1960s to the present. It's often considered one of the most exciting museums in the city, making it a must-visit attraction during your weekend getaway to Nice.
Artworks featured include those by well-regarded French, European, and American contemporary artists. Artists with works exhibited include Yves Klein (who was part of the Nice modern art movement), Andy Warhol, and Francis Bacon.
The museum offers a fresh take on art and a look into Nice's historical heritage. Even the museum itself features a unique modern architectural design in the form of a tetrapod that spreads across the Paillon River. The addition of a rooftop terrace provides stunning panoramic views of the city.
Musee du Palais Lascaris
Palais Lascaris is a historical European monument housed in a 17th-century aristocratic building. It's currently used as a musical instrument museum with over 500 instruments on display.
This museum has the most extensive collection in Europe after the collection on display at Musée de la Musique in Paris. Along with the musical exhibits, you'll be able to appreciate the Baroque design of the building and the luxuriously decorated rooms.
Each room retains its 17th-century style, and many have beautiful hand-painted murals on the ceilings. There is also a range of paintings, tapestries, and other artworks on display.
Restaurant Le Safari
A meal at Le Safari is highly recommended to get a taste of traditional French cuisine and Niçoise specialties. This quaint but well-known restaurant has been in Nice for almost 50 years and prides itself on serving dishes that highlight local ingredients.
Their salad Niçoise, arguably the most famous dish out of Nice, is a must-try. However, you can also choose from a range of other salads, plus fresh fish dishes and wood-fired pizza, among others.
After dinner, head to one of the many nearby bars for drinks and music. Le Bateleur is an excellent spot to check out first. They have a vast selection of draught beer as well as wine and liquor. They also have an extensive list of classic cocktails from Mojitos and Caipirinhas to Long Island Iced Tea.
In Conclusion
Nice is a melting pot of culture, history, fantastic cuisine, and stunning scenery. If you're planning a trip to France, visiting Nice should be near the top of your list.
While many consider the Riviera a seaside location, there's much more to do in Nice than hang out at the beach. From museums and historic parks to markets and exquisite restaurants, Nice has something to delight all visitors!
After reading this Nice travel tips article, you should have a good idea of all the great things to see and do in the city, even if only visiting for a short time. Along with being a great destination in itself, the stylish cities of Monaco and St. Tropez are not too far away either, making Nice a good stop on a scenic French road trip.
Give us feedback about this article
Learn more about Nice:
Read more articles about France:
More visual stories related to this article:
---
---
Want to keep exploring?
Subscribe for discounts on tickets and hotels and our latest guides.
Thank you for subscribing
We will be in touch soon with discounts on tickets and hotels and our latest guides.
Want to keep exploring?
Subscribe for discounts on tickets and hotels and our latest guides.
Thank you for subscribing
We will be in touch soon with discounts on tickets and hotels and our latest guides.
Related Articles