6 Days in Iceland Itinerary - Reykjavik and the South Coast
Destguides may receive commissions from purchases made through affiliate links in this article.
Iceland is an amazing country with a vast and varying landscape that begs to be explored. From enormous lava fields and volcanic beaches to stark ice caves and breathtaking waterfalls, the power of nature is so apparent in this remote part of the world. And that's not even mentioning the elusive northern lights, a natural phenomenon item that deserves a place on anyone's bucket list.
I recently spent 6 incredible days exploring the southern region of the country, with a base in Reykjavík, so I want to share this epic 6 Days in Iceland Itinerary with you. While six days is not nearly enough to explore all that Iceland has to offer, it's a good start for exploring the country. I challenge anyone to visit for this amount of time and not want to return immediately!
Iceland is terrific all year round, but it's a different experience depending on the season. This itinerary is geared towards visiting during the winter period. That said, the majority of the things listed below can be enjoyed all year round!
6 Day Iceland Itinerary
Explore Reykjavik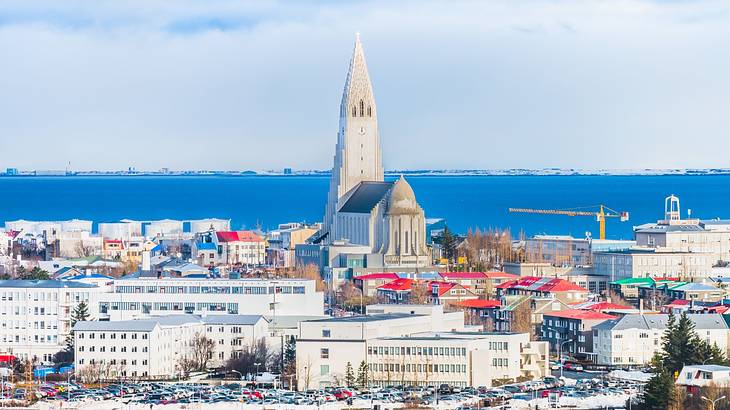 After arriving and settling into Reykjavik, you'll want to explore the best of what Iceland's capital city has to offer.
Reykjavik is a coastal city in the Southwestern region of Iceland, surrounded by islands and peninsulas. It sits in the shadow of Mount Esja, a mountain range that can be seen clearly from the city centre.
The first day of this Iceland guide includes visiting Hallgrímskirkja to admire its unusual architecture and picturesque views from above, hunting for colourful murals around the city and searching for the Aurora Borealis.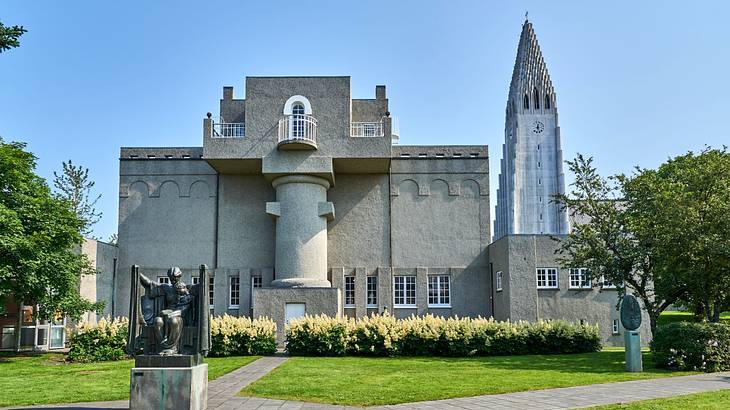 Admire the View from Hallgrímskirkja Church
Head to Hallgrímskirkja, a modern church and probably the most recognisable Iceland landmark of the city. It features an unusually narrow and tall architectural design. It is free to look around the church's interior, but climbing or taking the lift to the top of the church tower is an absolute must-do.
At the top, you will experience the best views of Reykjavik from above. You will see pretty coloured roofs, a view of the harbour, and snow-capped mountains in the background. It looks like a magical little Lego village from up high. It costs ISK 900 to go up the tower and is definitely worth it.
Discover Reykjavik's Street Art Scene
Reykjavik's city centre may be small, but it is thriving with creativity. There is a big street art scene in the city, with colourful murals from artists around every corner.
A fun and free thing to do is spending the afternoon doing a walking tour of Reykjavik's street art. It's a great way to explore the city on a budget and discover some amazing murals.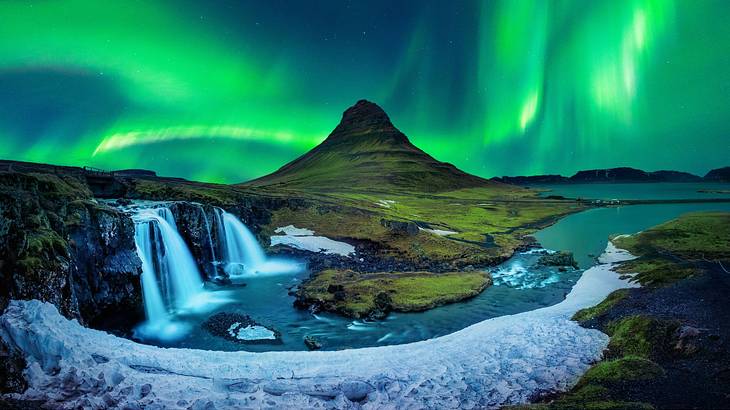 Hunt for the Elusive Northern Lights
One of the most amazing things to do in Iceland is hunting for the Aurora Borealis. It's worth noting that the lights are incredibly unpredictable and require specific weather conditions, such as dark skies and low cloud cover.
You can usually see the lights anytime between September and April, but I recommend not planning an entire visit around the lights. Visit Iceland for its breathtaking landscape, and if you manage to see the lights, that's a (pretty epic) plus!
Before heading out, check the Icelandic Met Office Website for regular weather updates. Your best chance of seeing the lights is to drive a bit further out of the city, but you can easily join a tour from Reykjavik. I recommend Reykjavik Excursions for this, but there are plenty to choose from.
Tour Iceland's Golden Circle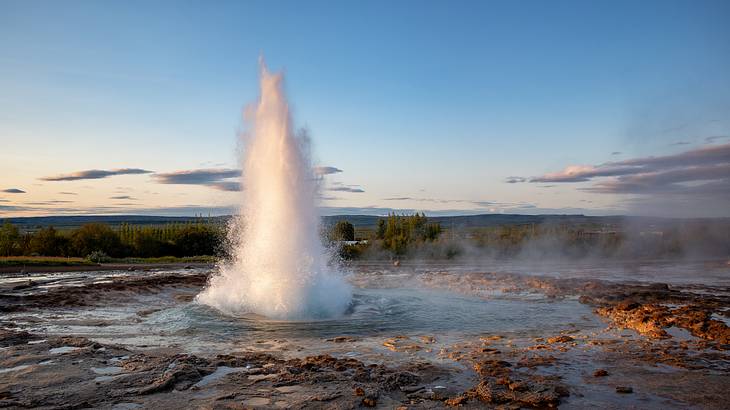 The Golden Circle is a collection of natural wonders around Iceland's Ring Road. It is one of the best things to do in Iceland. Again, you can either self-drive the Golden Circle, or pick from a variety of tours available.
On the second day of this itinerary, I'll guide you through the highlights of the Golden Circle. These include Thingvellir National Park, a site famous for its geology and history, Geysir Geothermal Area, a park full of hot springs and geysers, and the impressive Gullfoss Waterfall. Finish off your day by checking out Reykjavik's nightlife in the downtown area.
Visit Thingvellir National Park
Thingvellir National Park, located just a short drive out of Reykjavik, is a place of significant interest in Iceland for more than just its nature and rocky landscape.
Not only is it a UNESCO World Heritage site, but a historic site the Viking established. It is also where the Eurasian and North American tectonic plates meet, so you can effectively walk between two continents!
Get Your Mind Blown by Strokkur Geyser
Next, head to the Geysir Geothermal Area to witness more of nature's theatrics. The park is named after Geysir, the oldest known geyser in the world, from which all others get their name.
Though Geysir itself is currently inactive, the younger Strokkur more than makes up for it. The area is filled with geothermal activity and mini geysers, but the main sight to see is Strokkur, which erupts every 5-10 minutes and is a real spectacle.
See the Stunning Gullfoss Waterfall
Gullfoss Waterfall is the next big stop on the Golden Circle route. The name Gullfoss translates to 'Golden Waterfall'. It is a gorgeous sight to see, especially as it is partially frozen for a large portion of the year.
You can view this beautiful Icelandic waterfall from a higher and lower deck, and afterwards, you can stop off at the café and gift shop for a souvenir.
Check Out Reykjavik's Nightlife
Spend an evening in Downtown Reykjavik to experience the nightlife in one of the many bars around Laugavegur. In the winter, the streets look very pretty as they are all lit up at night.
Icelandic Beer is renowned for its quality due to the purity of the water used in the brewing process. Beer was prohibited in Iceland until 1989, so definitely sample some of the local brews.
Dip into the Blue Lagoon & See Icelandic Horses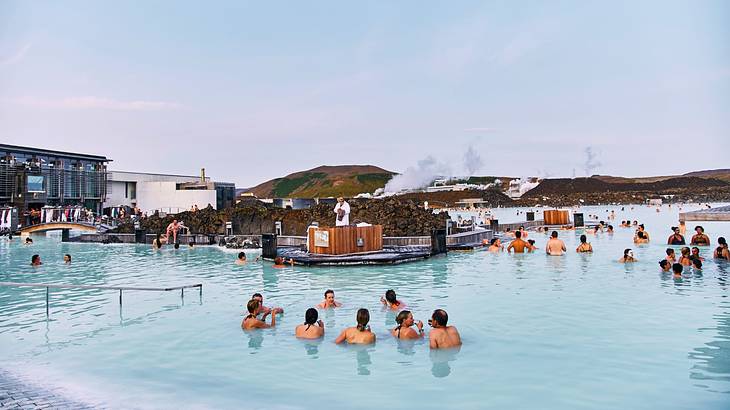 Your third day in Reykjavik is reserved for two iconic sights in Iceland, the Blue Lagoon and Icelandic horses. First, relax and warm up from the cold outside temperatures in the aqua waters of the Blue Lagoon, a thermal spa, while looking out over Iceland's dramatic landscape.
Once you're fully refreshed and revitalised, visit a local Icelandic horse farm. Here, you can make some furry friends and try your hand at horse riding with a beautiful backdrop.
Soak off Stress in the Blue Lagoon
The Blue Lagoon is an iconic spot in Iceland, and for good reason. Although it is not one of Iceland's natural hot springs, it is famed for its geothermally heated aqua blue waters and spa-quality clay face masks. After a few packed days of sightseeing, this is the perfect place to relax.
Look out over expanses of volcanic rock while sipping a free drink with your face mask on in what is essentially a huge outdoor bath. Expect the smell of rotten eggs from the sulphur in the water and shower before getting in.
Make sure not to get your hair wet - while the minerals in the water are great for your skin, they can leave your hair stiff and dry. Time your visit with the sunrise or sunset for an extra unique experience, and visit at off-peak times to save money!
Visit an Icelandic Horse Farm
Icelandic horses are a unique breed that has a short and stout stature, fluffy coats and pretty (often blonde) manes that withstand the harsh climate. Horses are an integral part of Iceland's culture and have a distinctive gait, making them renowned to horse lovers around the world.
There are plenty of options for stables to visit, but I can recommend Ishestar Horse Farm. We got to meet and learn about the horses before riding them through the snowy lava fields. The rugged mountainous landscape alone was breathtaking and well worth the experience.
Try Your Luck Again with the Northern Lights
As mentioned above, the lights are very unpredictable. You can have completely clear skies and not see them, or get a bad forecast for rain and still manage to catch a glimpse of the Aurora.
This is why it's best to allow for multiple times to see them in one trip. It gives you a better chance, and if you do get to see them twice or even three times, that's a pretty good bonus!
Do Some More Sightseeing on Your Last Day in Reykjavik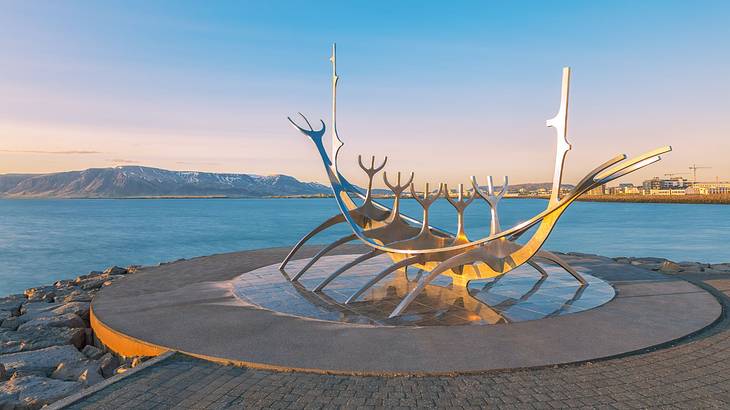 Before you head off to explore the waterfalls and glaciers of Iceland's South Coast, spend one last day in Reykjavik looking around and getting to know the city more.
This includes walking around Reykjavik's Old Harbour and admiring the views of Mount Esja, visiting the Sun Voyager sculpture, checking out the architecture of the Harpa Concert Hall, stopping in a local cafe for some tasty soup, and seeing a rainbow-coloured street.
Visit the Old Harbour & the Sun Voyager
Take a stroll along Iceland's harbourfront in the shadow of snow-topped mountains to admire the old yellow lighthouses and cairns along the waterfront.
Stop to pay a visit to Jón Gunnar Árnason's sculpture, Solfar (a.k.a. The Sun Voyager). Although it resembles a longboat of Iceland's Viking ancestors, the artwork was created as an ode to the sun.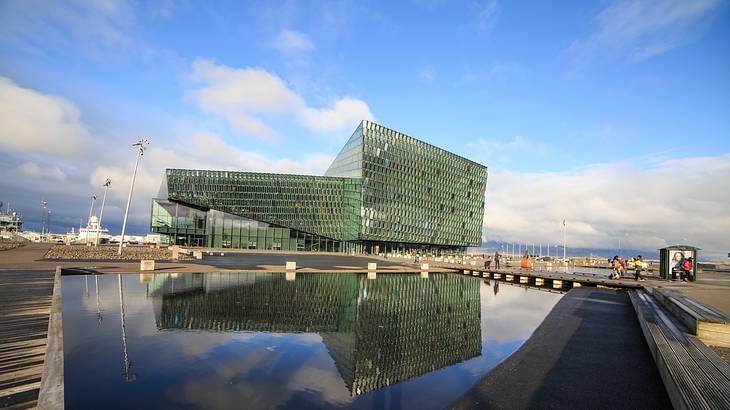 Admire the Architecture of the Harpa Concert Hall
Another must-see in Reykjavik is the Harpa Concert Hall. More than just an events venue, it has a striking architectural design. The stained-glass windows in geometric shapes are just as pretty (if not more so) from the inside, where you can look out across the city through their vibrant colours.
It's free to go inside and have a look around. It is also an excellent spot for photography. The outside of the building is often lit up with different colours and images, including the Icelandic flag.
Warm-up with Lunch at Svarta Kaffid
After doing some souvenir shopping and exploring all the shops along Laugavegur (a very long shopping street running through the city centre), pop into Svarta Kaffid for a comforting hot meal.
The café, which is tucked away and up some stairs, has a really cosy vibe and only serves one dish - hot soup in a crusty bread bowl at an affordable price. It's unique, delicious, and they give you free refills.
Walk Along Rainbow Road
Next, go walking on rainbows at Skólavörðustígur, a colourful street opposite to Hallgrímskirkja.
This street is hand-painted by locals in rainbow colours every year for Reykjavik Pride. Last year's rainbow has stayed put and is still there for you to enjoy and take some great photos with.
Chase Waterfalls on the South Coast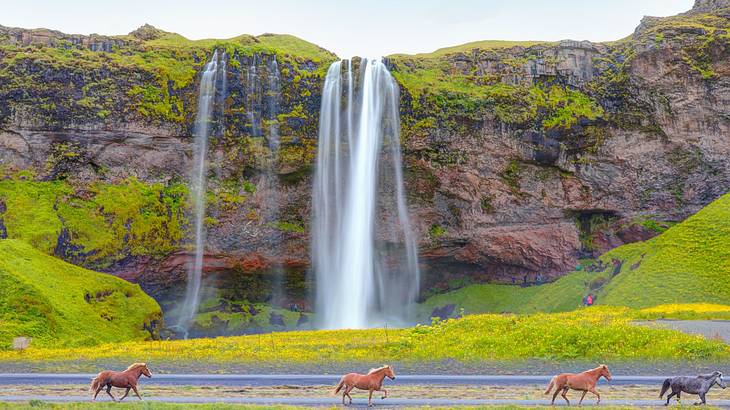 Now that you've seen Reykjavik and the Golden Circle, it's time to take a road trip to Iceland's South Coast to surround yourself with incredible and otherworldly vistas. Again, you can drive yourself, but as I was a solo traveller, I took a 2-day tour with Arctic Adventures to make the most of the trip.
On this day, you'll walk behind Seljalandsfoss, stand at the foot of Skógafoss and explore a Game of Thrones filming location - Reynisfjara Black Sand Beach.
Walk Behind the Veil of Seljalandsfoss
Seljalandsfoss is one of Iceland's most famous waterfalls, known for the unique feature of being able to walk behind it. The walkway is closed in icy weather for safety reasons, but if the weather is mild enough, you can take an easy (but very wet) route behind the water stream, which is an amazing experience! So, suit up in your waterproof clothes for this one - trust me, you will need them!
Get Soaked at Skógafoss
The next stop is Skógafoss - an impressive, tall waterfall with a mighty force. There is nothing stopping you from getting as close as you'd like to this one, though be warned - you will get wet!
You can view the waterfall from below, or climb the steps up the hill to see it from above. If you're lucky, you might even catch a beautiful rainbow across the waterfall.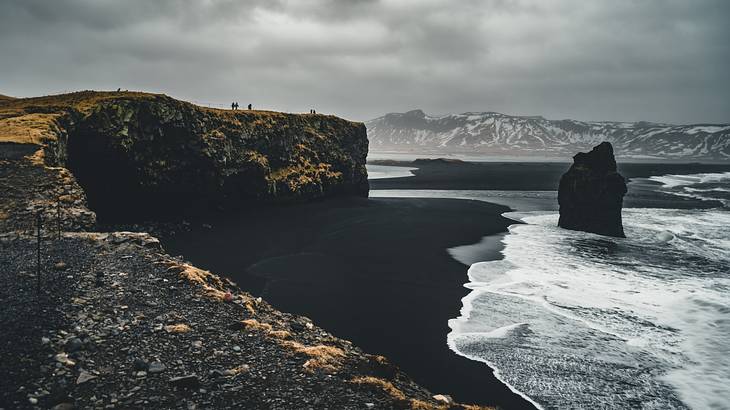 Visit Reynisfjara Black Sand Beach
The last stop of the day is Iceland's most famous black sand beach along the Reynisfjara coastline, near the picturesque village of Vik í Myrdal.
A hotspot for puffins in the warmer months, this beach is a great place to view Iceland's volcanic black sand, basalt columns and rock formations.
Head on Icy Adventures in Vatnajökull National Park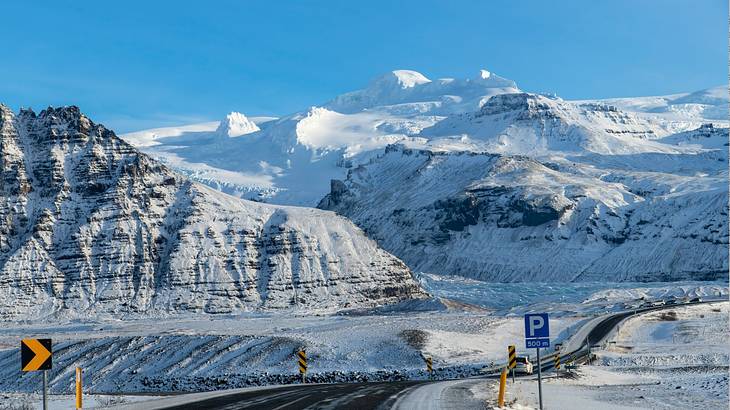 Spend your last day in Vatnajökull National Park, along the South Coast. It is home to Vatnajökull - Europe's largest glacier - which you can explore through ice caving and glacier hikes in the winter.
It is also the site of Jökulsárlón Glacier Lagoon and Diamond Beach. The park views are seriously spectacular, and it's no wonder films like Interstellar and others were filmed here.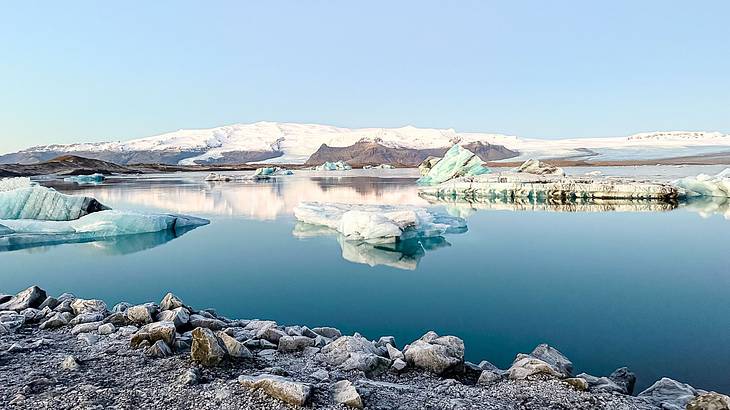 Visit Jökulsárlón Glacier Lagoon
Jökulsárlón is a lagoon created by Breiðamerkurjökull, a part of the larger Vatnajökull Glacier, which recedes and breaks off large chunks of ice that float in the centre.
In warmer months, you can take a boat ride around the lagoon to see it more closely. You will often see seals here, too!
Find Your Sparkle at Diamond Beach
Nearby, you'll find Diamond Beach, a black sand beach that is often covered in glacier pieces that sparkle in the light like diamonds.
As the glacier lagoon moves into the sea, the glacier chunks break up into smaller pieces and wash up on the shores of this beach. Go at sunset or sunrise for an unforgettable experience!
Go Ice Caving in Vatnajökull Glacier
Saving the best for last, explore a natural ice cave inside the glacier. This is a bucket-list-worthy experience and one that can only be done in winter, as the caves melt away in warmer weather.
To visit the caves, you will need to take a tour, which you can do from Reykjavik, or by driving yourself to the park to join one there.
Your tour company will provide you with all the necessary safety equipment, like helmets and crampons. You will take a super jeep part of the way, and then walk the rest of the way to the glacier.
This is one hell of an adventure that you won't forget anytime soon!
In Conclusion
There are plenty of epic adventures to be had in Reykjavik and Iceland's South Coast, including hot springs, geysers, waterfalls galore and ice caving. I hope you enjoyed reading this 6 Days in Iceland Itinerary, and that you get to visit this fantastic place!
---
---
Want to keep exploring?
Subscribe for discounts on tickets and hotels and our latest guides.
Thank you for subscribing
We will be in touch soon with discounts on tickets and hotels and our latest guides.
Want to keep exploring?
Subscribe for discounts on tickets and hotels and our latest guides.
Thank you for subscribing
We will be in touch soon with discounts on tickets and hotels and our latest guides.
Related Articles