35 Famous Iceland Landmarks You Must See
Destguides may receive commissions from purchases made through affiliate links in this article.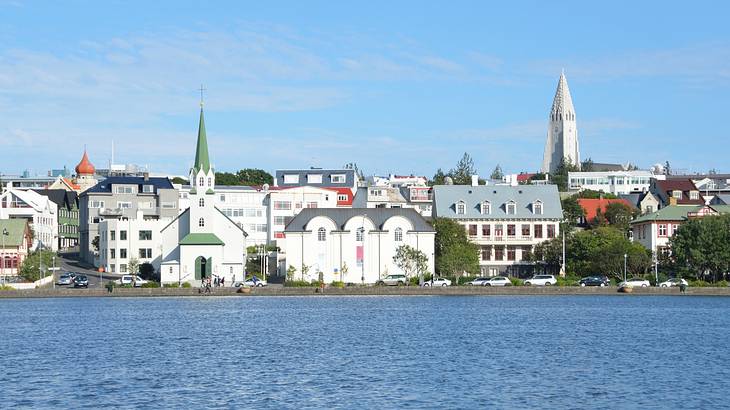 From the artsy, bustling streets of Reykjavík to the sounds of clanking beer steins with an authentic Icelandic Skål! Or, the rolling green countryside, black lava fields, and icy landscapes of Vatnajökull or Jökulsárlón, Iceland is like nowhere else in the world!
Iceland's unique landscapes are stunning at every turn. With volcanoes, hot springs, geysers, beautiful waterfalls, ice caves, and glaciers, "The Land of Fire and Ice" truly lives up to its nickname!
Iceland is also home to some of the most unique beaches on Earth. Beaches with dramatic basalt columns, black volcanic sand, and glittering gems of ice strewn about the shoreline. Playful harbor seals and beluga whales glide through the icy waters offshore while puffins nest on beachside cliffs.
Iceland's Viking roots are prevalent throughout the country's art, music, and food as well, with museums, interpretive centers, and ruins of centuries-old Viking cities offering an in-depth look at ancient Viking culture. Continue reading to learn more about these famous Iceland landmarks!
35 Famous Landmarks in Iceland
Famous Icelandic Landmarks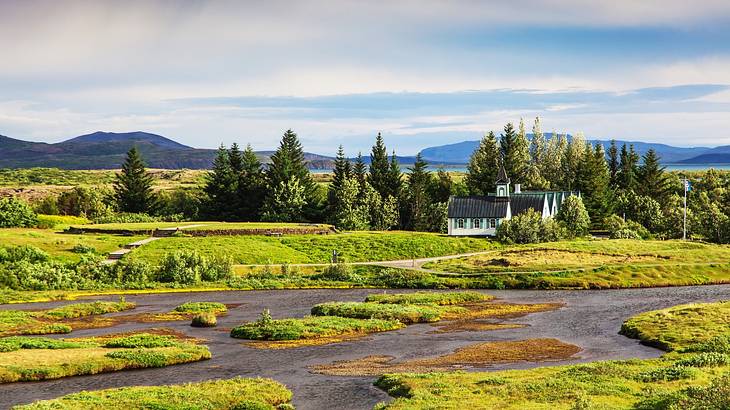 Iceland's Ring Road
Iceland's Ring Road is a 1322 km (or 820 miles) road that encircles nearly the entire country. It was completed in 1974 as a transport route and has grown into the most traveled road in Iceland. The Ring Road is a must on any Iceland itinerary!
The Ring Road connects over 20 cities and passes through many major landmarks in Iceland. It typically takes 7-10 days to drive the entire route and see all of the landmarks.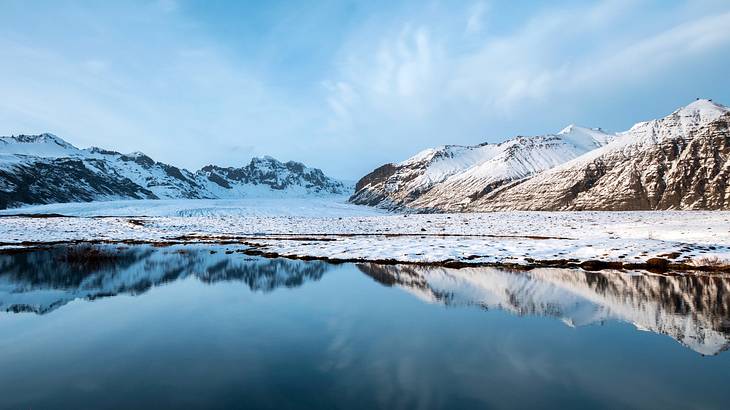 Vatnajökull National Park
Vatnajökull is Iceland's largest National Park covering over 12,000 square kilometers (or 4,600 square miles). Vatnajökull is a geological wonderland full of volcanoes, mountains, rivers, waterfalls, glacial lagoons, and ice caves. It is also the most popular place for ice climbing as it is home to the largest glacier in Europe.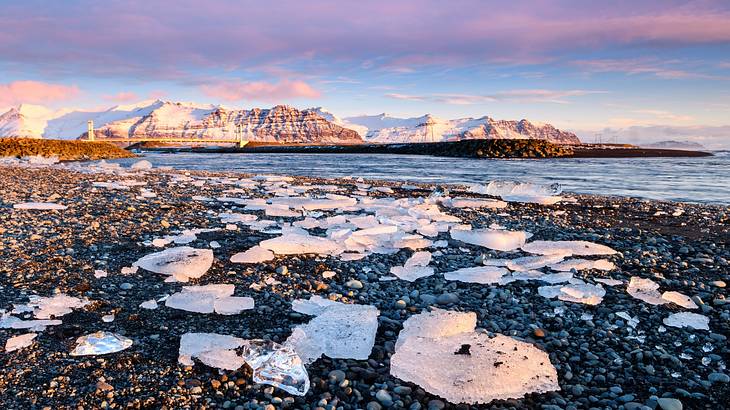 Diamond Beach
Diamond Beach is a unique volcanic sand beach near the Jökulsárlón Glacier Lagoon. Its proximity to the glacial lagoon means chunks of ice are constantly being swept up by the waves and pushed onto the shoreline. A stroll along this beach will provide endless views of glittering ice pieces in all shapes and sizes dotted along the shores.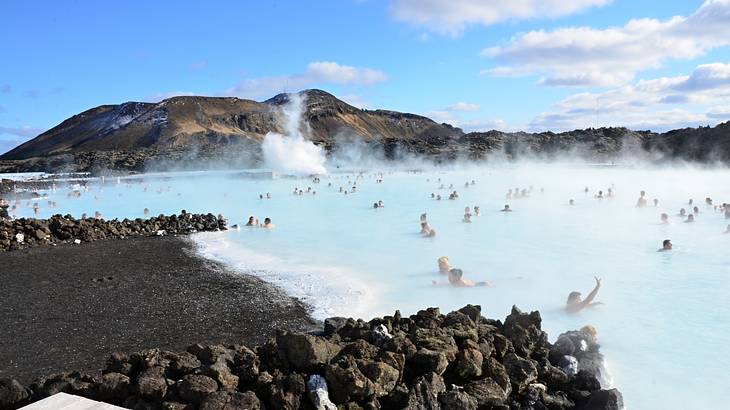 The Blue Lagoon
Founded in 1992 originally for medical purposes, the Blue Lagoon holds around 9 million liters of geothermal water noted for its high mineral content.
The iconic milky blue waters of the lagoon are world-renowned for their healing properties. The success of the Blue Lagoon led to the addition of an on-site hotel, spa, and restaurant. It is now one of the top attractions in Iceland.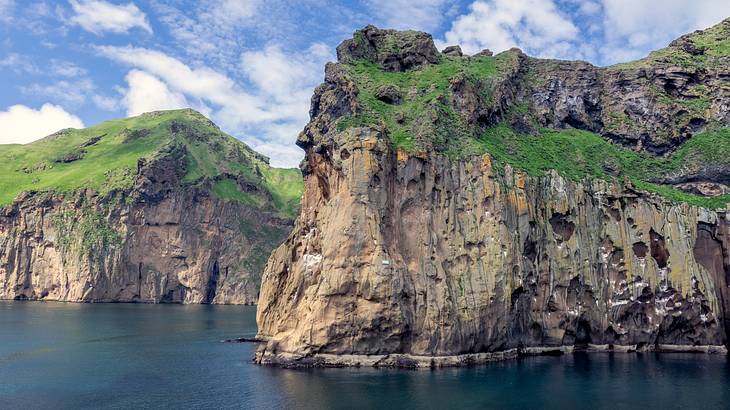 The Cliffs of Heimaey
Iceland's Vestmannaeyjar, also known as the Westman Islands, is home to the world's largest puffin colony. Puffin nesting season runs from April through August, and tourists and locals alike flock to Vestmannaeyjar to see them. While there are several puffin nesting spots around Vestmannaeyjar, the cliffs of Heimaey are known to be the best for puffin-watching.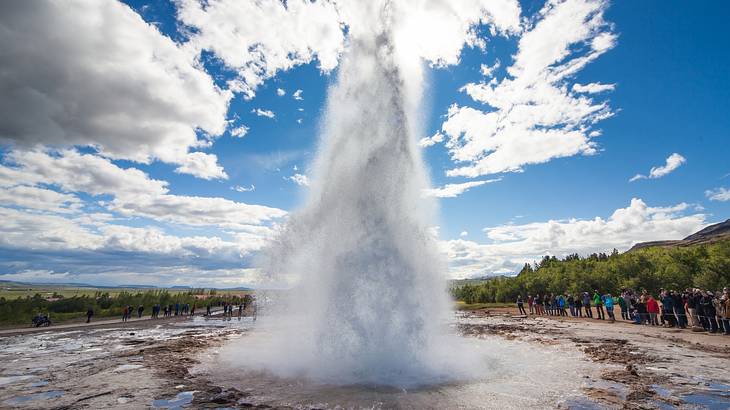 The Golden Circle
Known as the most scenic road in Iceland, the Golden Circle encompasses 250 km (or 155 miles) connecting several cities and landmarks in Southwest Iceland.
Visitors driving along the road will cross many scenic landscapes and have the opportunity to stop at waterfalls, geysers, volcanic features, and National Parks. Traveling the road can take one to three days depending on the time spent at each stop.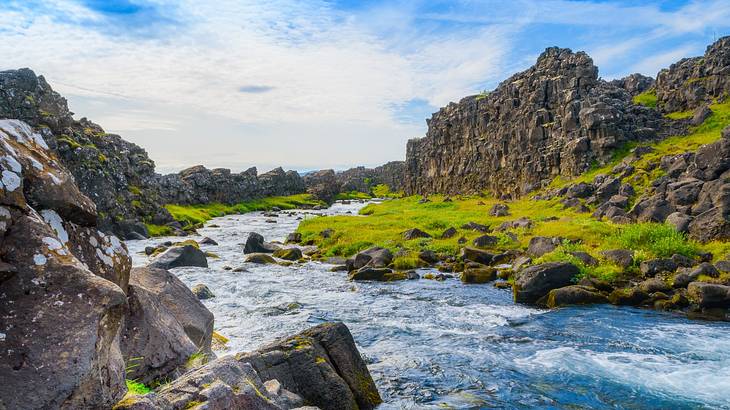 Thingvellir National Park
One of the most famous National Parks in Iceland, Thingvellir is known as the place where you can "walk between two continents." The Eurasian and North American Tectonic Plates meet in Thingvellir creating some of the most stunning geological features of the park.
Visitors come to walk amongst the tectonic plates or snorkel them in the Silfra Fissure. Thingvellir National Park is also a UNESCO World Heritage Site and was famously featured in "Game of Thrones."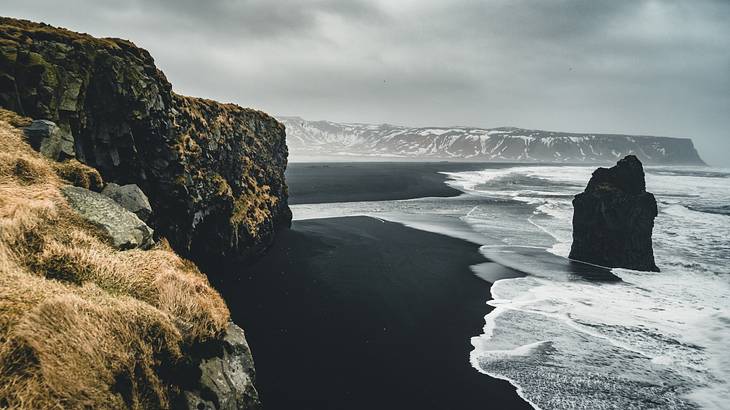 Reynisfjara Black Sand Beach
Known for its dramatic basalt columns, volcanic sand, and sea stacks, Reynisfjara is one of the most beautiful beaches in Iceland.
While the beach remains one of the top sights in Iceland, visitors are warned not to approach the water. The Reynisfjara coast is known for "sleeper waves" that can be deadly.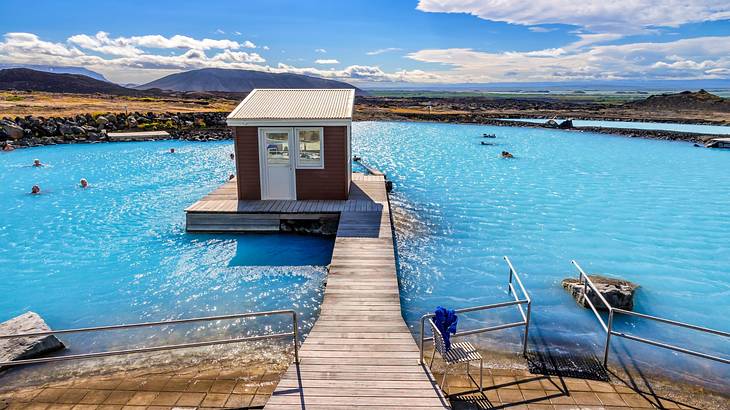 Mývatn Nature Baths
Known as "the Blue Lagoon of the North" the Mývatn Nature Baths offer a similar geothermal spa experience in a pool of rich thermic waters.
The waters of Mývatn Nature Baths have the same highly mineralized, milky blue waters of the famous Blue Lagoon and other geothermal lagoons around Iceland.
Into the Glacier, Langjökull Glacier
"Into the Glacier" takes visitors 500 meters inside the Langjökull Glacier. It is the "world's largest man-made ice tunnel." This impressive feat took 4 years of planning with geophysicists and engineers and an additional 14 months to carve out the tunnel. Since its opening in 2015, people can now get a fascinating, in-depth look inside a glacier.
Aurora Reykjavík Northern Lights Center
Aurora Reykjavík is a museum and tour operator dedicated to all things Northern Lights! It offers a fascinating inside look at this solar phenomenon that so many travel to Iceland to see. Visitors can learn about the Northern Lights through multiple displays and virtual exhibits or embark on a guided tour.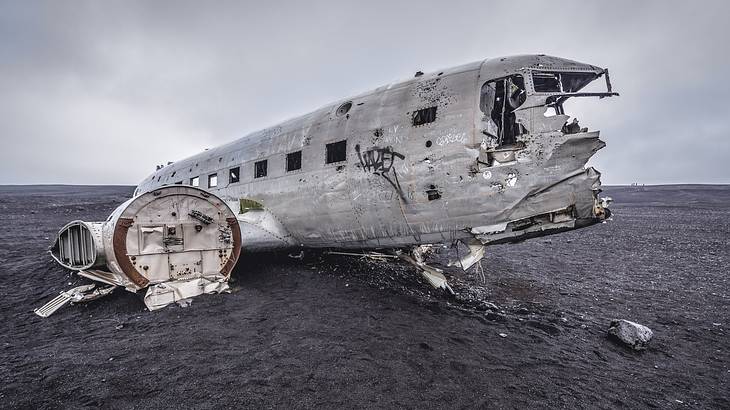 DC3 Plane Wreck
In 1973, a Super DC-3 Naval Aircraft went down over the glacial plains of Sólheimasandur in South Iceland. Thankfully, everyone aboard survived the crash. The wreckage is now a monument and has become a popular tourist destination and photography site.
Famous Buildings in Iceland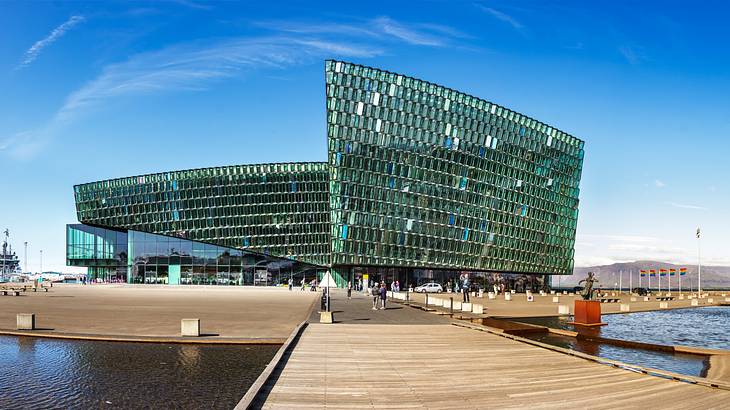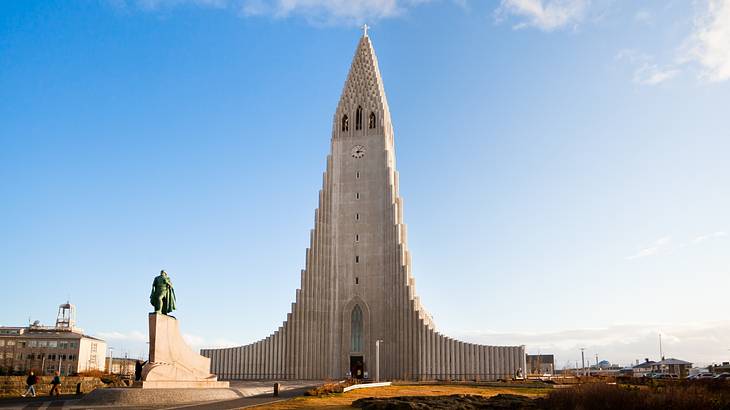 Hallgrímskirkja Church
One of the most famous landmarks of Iceland, Hallgrímskirkja Church towers over the capital city of Reykjavík. Founded in 1945, the church is styled in expressionist neo-gothic architecture and has a massive 74-meter tower that can be spotted from pretty much everywhere in downtown Reykjavík.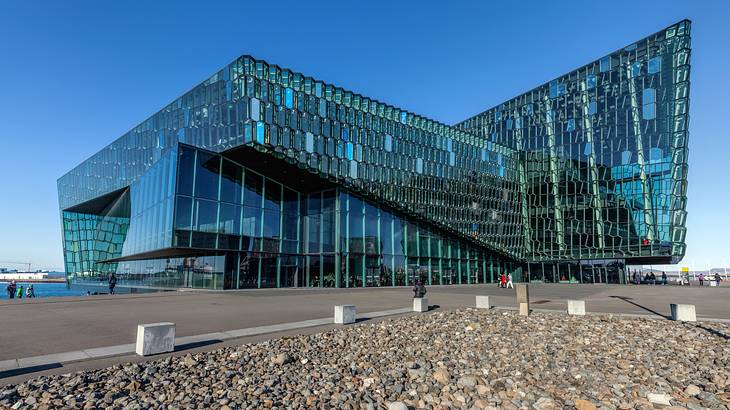 Harpa Concert Hall and Conference Center
Designed by famed artist Ólafur Elíasson, the Harpa is one of the most iconic buildings in Reykjavík. It opened its doors in 2011 as an event venue but the building itself is a work of art!
Covered from top to bottom in colorful, geometric glass panels that sparkle and create a kaleidoscopic effect in the sunlight, the Harpa is an impressive sight and favorite among photographers.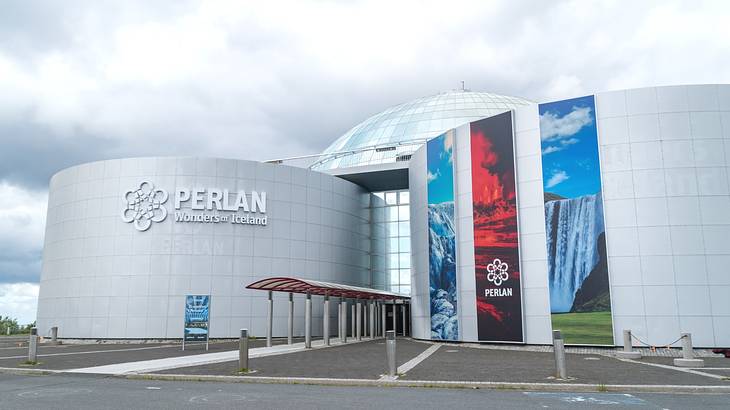 Perlan
Known for its giant pillars and dome-shaped top, the Perlan showcases the "Wonders of Iceland" experience. Guests can walk through a variety of exhibits displaying Iceland's natural features and animals. Highlights include a walk-through ice cave simulation made of 350 tons of ice and an Aurora Borealis planetarium show.
Friðheimar
Friðheimar is Iceland's famous tomato greenhouse and restaurant. Friðheimar grows a variety of tomatoes as well as basil and cucumbers in their 5000 square meter greenhouse space.
Famous for its tomato-centric menu, Friðheimar's restaurant is very popular with reservations being made months ahead. Their menu features tomato soups and salads, as well as some unusual offerings like tomato pie and tomato beer!
Famous Monuments in Iceland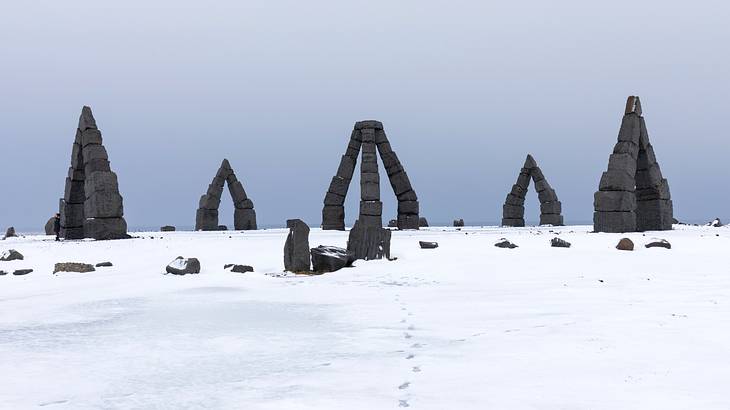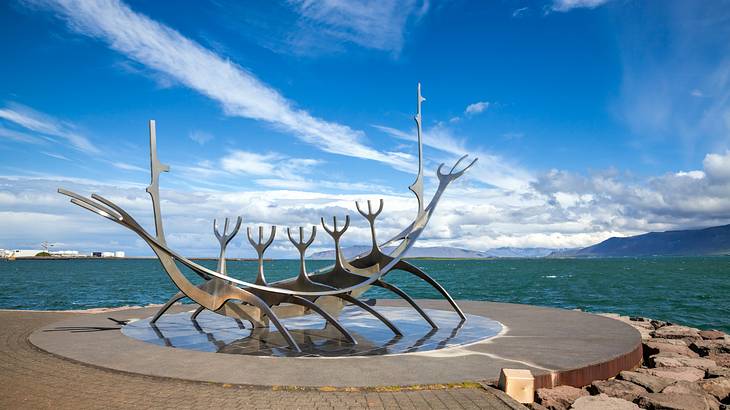 The Sun Voyager
Known as "an ode to the sun," the Sun Voyager or Sólfar, was designed by Icelandic Sculptor Jón Gunnar Árnason. It was the winning piece in an art competition to commemorate the 200th anniversary of Reykjavík in 1986. The large steel sculpture of a ship is now one of the most famous Icelandic sights presiding over the bay in Reykjavík.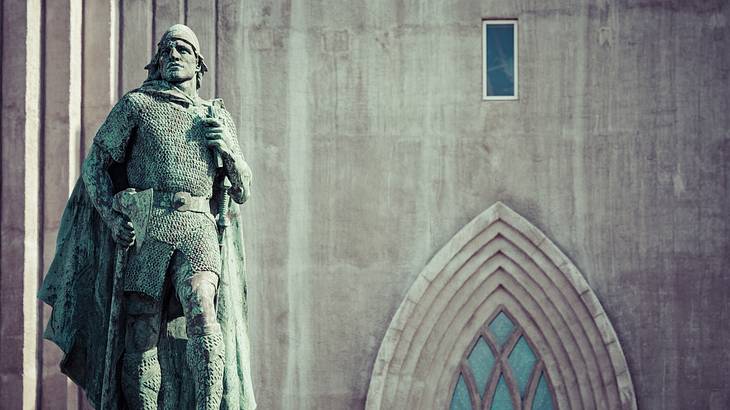 Leifur Eiríksson Monument
Leifur Eiríksson was a 10th-century Norse explorer believed to be the first European to arrive in North America. Eiríksson's travels were 500 years before those of the Italian explorer Christopher Columbus.
In 1931, the United States gifted a statue of Eiríksson to Iceland for the 1000th anniversary of their Althing–the oldest parliament in the world. The statue is now displayed at the iconic Hallgrímskirkja Church.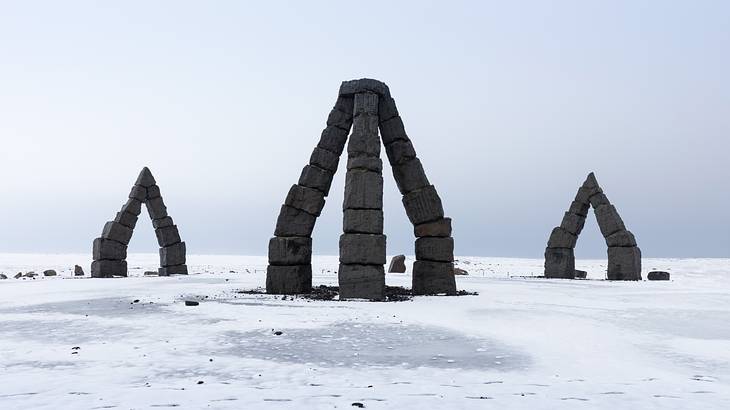 The Arctic Henge
The Arctic Henge lies in a remote area near the Arctic Circle. Inspired by the ancient nordic poem Völuspá, the monument honors the country's nordic and pagan roots.
Völuspá tells the story of the world's creation according to Norse Mythology. The stone blocks that make up the henge are representative of different elements in the poem.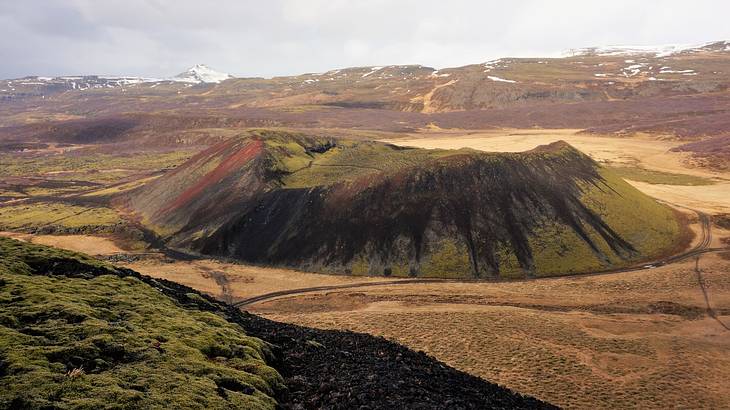 Grábrókargígar National Monument
Grábrókargígar has been a protected site in western Iceland since 1962. It is home to three craters, a lava field, and a volcanic valley. Grábrókargígar is located right off the Ring Road and is a popular tourist stop for an up-close look at the area's unique geology.
Historic Sites in Iceland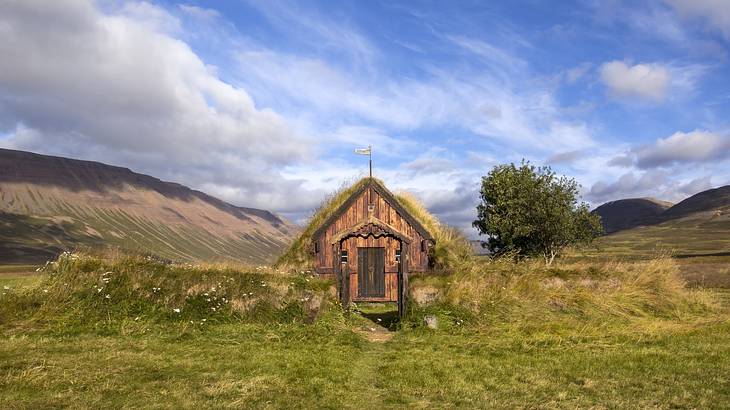 Viking Village
The historic Viking Village is one of many Viking-themed Iceland tourist attractions. The buildings are over 100 years old and host a hotel and restaurant.
Each floor of the hotel features a different Viking theme along with displays of Viking artifacts and art. The restaurant is also Viking-themed, complete with costumed performers serving traditional Icelandic cuisine.
The Settlement Exhibition
In 2001, ruins of an ancient Viking settlement were found at a construction site in Reykjavík. The Icelandic Institute of Archaeology excavated the area and found it dates back to the 10th century. The city preserved the site and built a museum around it so people could visit and learn about ancient Viking life.
Herjólfsdalur Viking Ruins
The Herjólfsdalur Viking Ruins are the remains of turf houses believed to be from some of Vestmannaeyjar's first settlers. The turf houses and other remains in the area were excavated between the late 1970s and early 1980s. Reconstructions were built to exhibit what these houses looked like over a thousand years ago.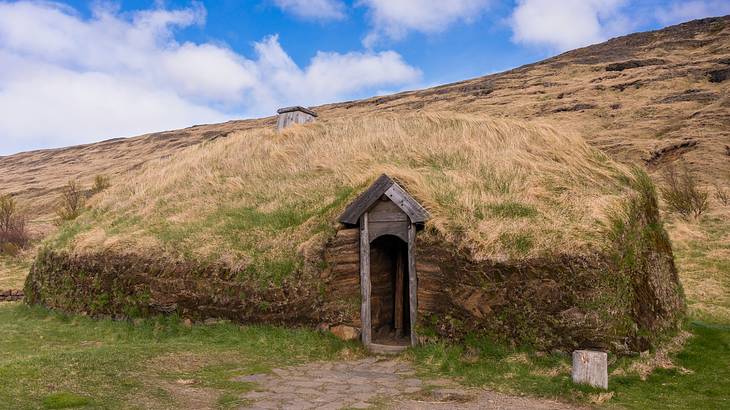 Eiriksstadir
The ruins of Eiriksstadir tell the tale of an ancient Viking homestead. Eiriksstadir was once the home of famous Vikings--Erik Thorvaldsson, known as "Erik the Red," and Leifur Eiríksson, known as "Leif the Lucky." Today, visitors to this former Viking settlement can tour the ruins and learn about its history.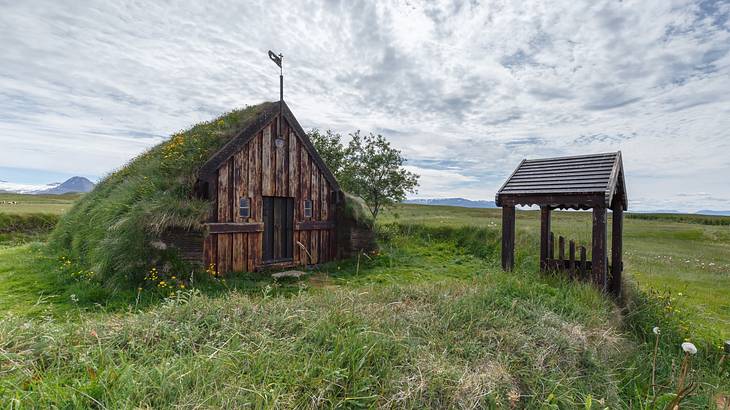 Grafarkirkja Church
Grafarkirkja is Iceland's oldest church, dating back to the 17th century. It is believed to be the work of a well-known wood craftsman named Guðmundur Guðmundsson.
The church has had some restoration but has survived the elements incredibly well due to its turf house design. Grafarkirkja is one of the most visited historic landmarks in Iceland.
Natural Landmarks in Iceland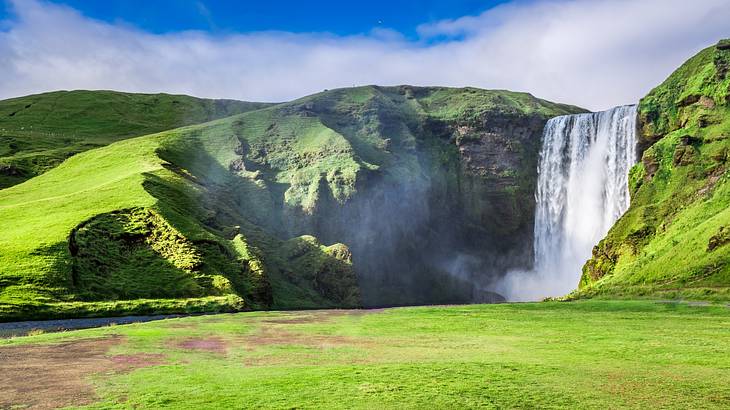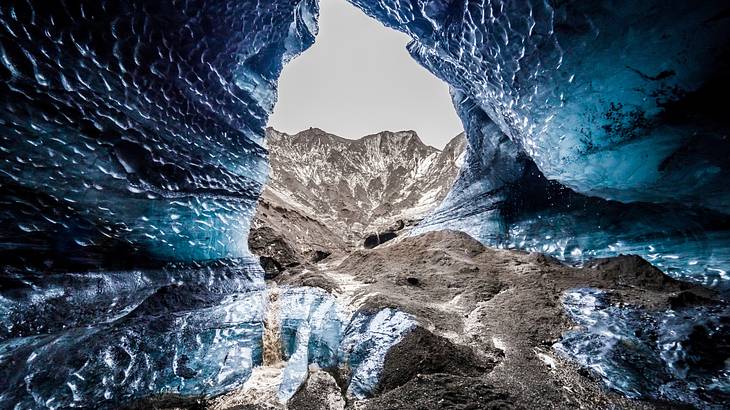 Katla Ice Cave
Known as the cave of "Dragon Glass," Katla Ice Cave is a stunning, natural ice cave formation situated under the Katla Volcano. It is part of the Mýrdalsjökull Glacier and is famous for its unique striations formed by layers of volcanic ash and ice.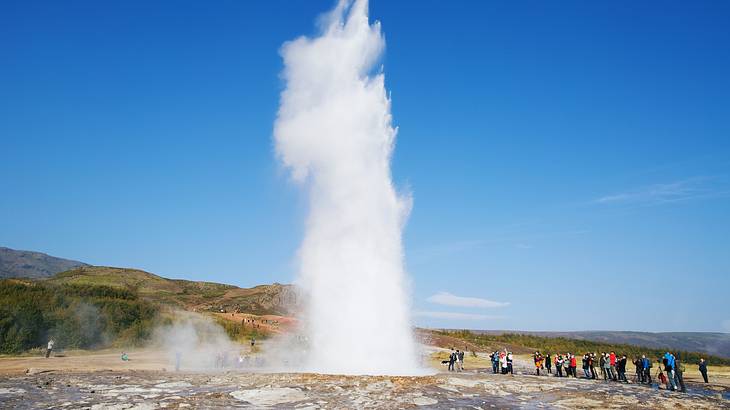 Geysir Geothermal Area
One of the most visited areas along the Golden Circle, the Geysir Geothermal Area is a hotbed of geological activity.
Among the many bubbling pits in this geothermal field is the famous geysir, Strokkur. Strokkur erupts every few minutes in a spectacular show of steamy water reaching heights of 30 meters!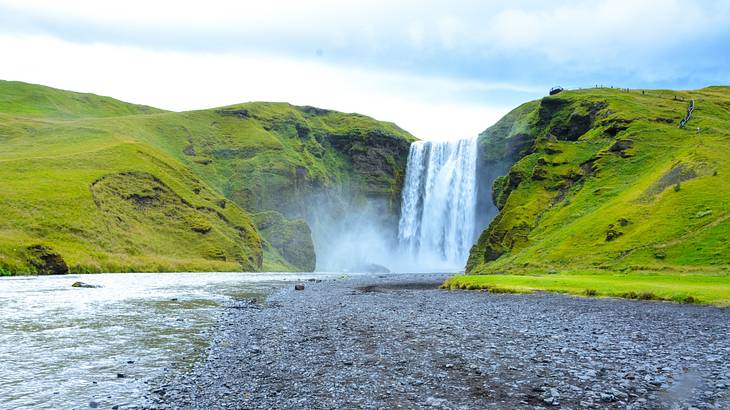 Skógafoss Waterfall
With a rushing veil of water over 60 meters tall, Skógafoss is one of the largest waterfalls in Iceland. Also known as one of the most beautiful falls, Skógafoss has been featured in a number of film and television productions including Thor, Vikings, and Game of Thrones.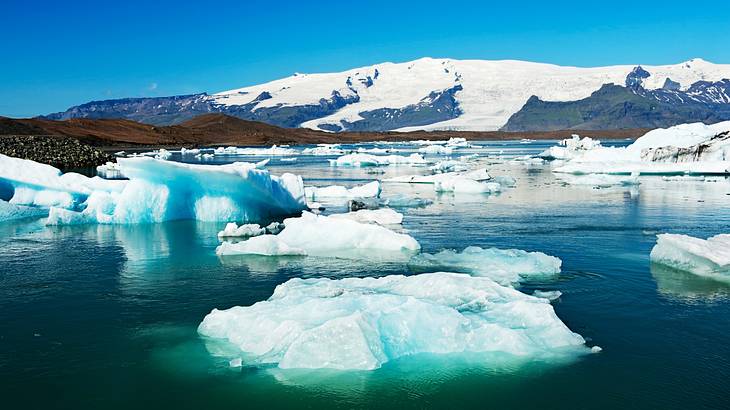 Jökulsárlón Glacier Lagoon
Jökulsárlón is Iceland's largest and perhaps most stunning glacial lagoon. A nearly constant flow of icebergs fed by the Breiðamerkurjökull Glacier are set adrift in Jökulsárlón--some up to 30 meters high!
The lagoon has grown considerably since the 1970s due to melting ice. While becoming an extraordinary sight for visitors, it points to an uncertain future for the Breiðamerkurjökull Glacier.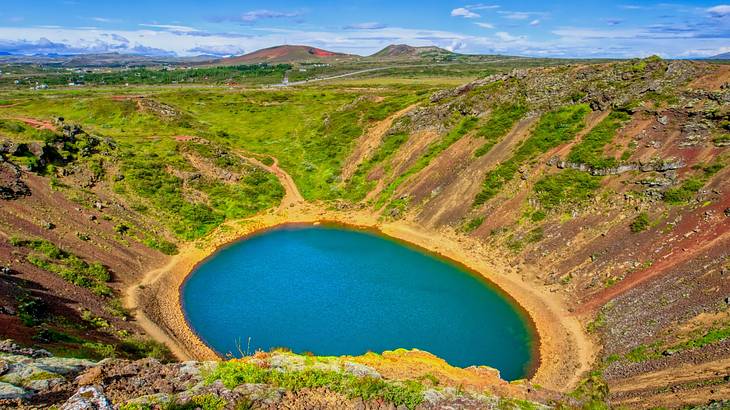 Kerið Crater
Formed sometime between 3000 and 6000 years ago, the Kerið Crater is another example of Iceland's fascinating geological history. A sparkling emerald lake now decorates the bottom of this collapsed volcano.
Visitors can take stairs down to the crater lake or an upper trail hike along the rim. Kerið Crater is one of the many top Iceland sights along the Golden Circle.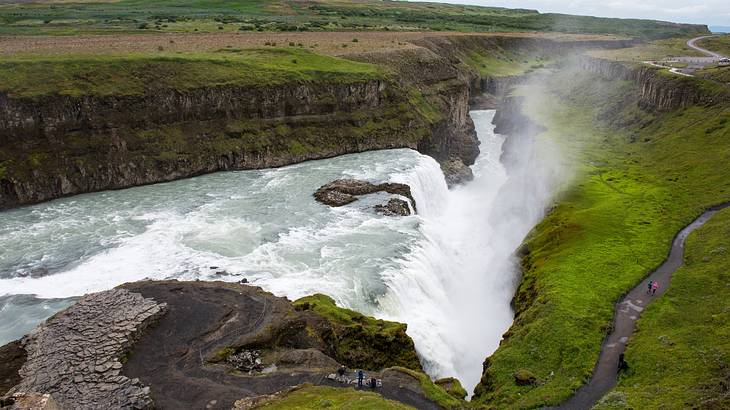 Gulfoss Waterfall
Located right off the Golden Circle, Gulfoss is another of Iceland's most popular waterfall stops. Gulfoss is a powerful double waterfall known for creating breathtaking rainbows when the light conditions are right. There are several viewing platforms both above and below.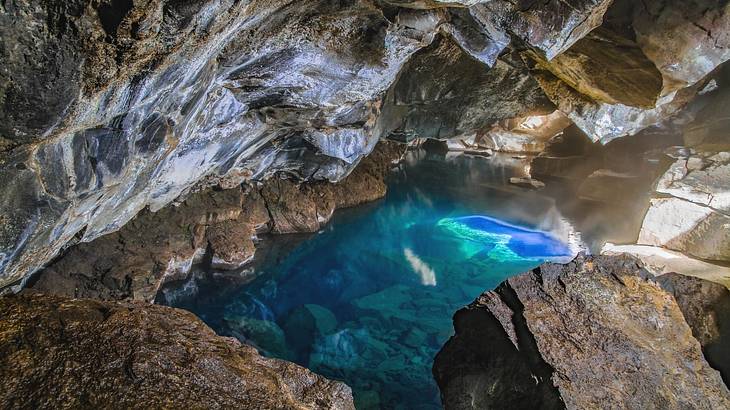 Grjótagjá Cave
The steamy blue waters inside Grjótagjá Cave have been mostly a locally kept secret, until 2013. It was then that Grjótagjá was featured in the television series "Game of Thrones."
The cave is now popular with fans of the show. Visitors are warned that no matter how idyllic the water looks, this active thermal spring is far too hot to bathe in!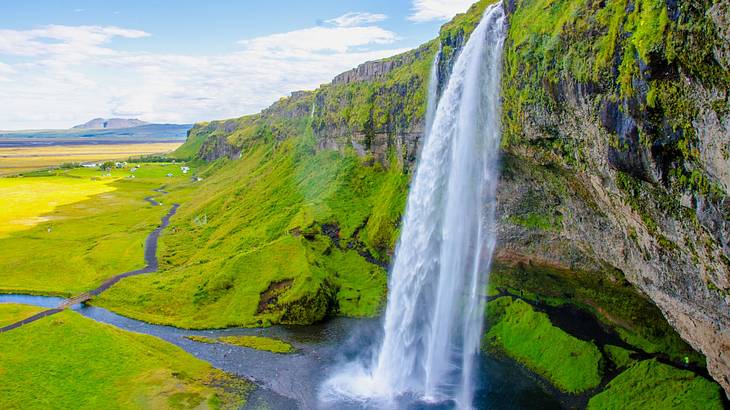 Seljalandsfoss Waterfall
Seljalandsfoss is one of the most famous waterfalls in Iceland. It is thanks in part to a unique geological feature that allows access behind the falls. Visitors to Seljalandsfoss should be prepared to wait in lengthy queues for their turn to get behind the falls, and good waterproof gear is a must!
Crystal Cave
Winter in Iceland opens up new opportunities to explore the country's many natural ice caves. The crown jewel of these caves is the Crystal Cave. It is admired for its unique and spectacular shades of blue. The Crystal Cave is only accessible in winter when temperatures are low enough to ensure stability.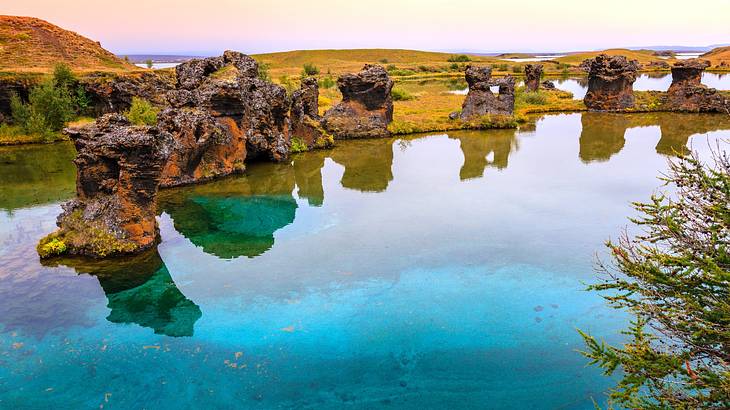 Lake Mývatn
Lake Mývatn is one of the largest lakes in Iceland. Its striking blue waters, dark volcanic rock formations, and green mossy wetlands are home to top attractions in Iceland's northern region. From the Krafla Volcano and lava fields to the boiling mud pits and hot springs, Lake Mývatn is full of geological activity.
In Summary
With so many unique and exciting things to do in Iceland, it's no wonder this country is a top travel destination. Whether you're hoping to see an active volcano, climb a glacier, or swim in the healing waters of the Blue Lagoon, Iceland has it all!
Give us feedback about this article
Read more articles about Iceland:
More articles about landmarks:
---
---
Want to keep exploring?
Subscribe for discounts on tickets and hotels and our latest guides.
Thank you for subscribing
We will be in touch soon with discounts on tickets and hotels and our latest guides.
Want to keep exploring?
Subscribe for discounts on tickets and hotels and our latest guides.
Thank you for subscribing
We will be in touch soon with discounts on tickets and hotels and our latest guides.
Related Articles