Where to Stay in Capri, Italy - 5 Best Areas & Hotels
Destguides may receive commissions from purchases made through affiliate links in this article.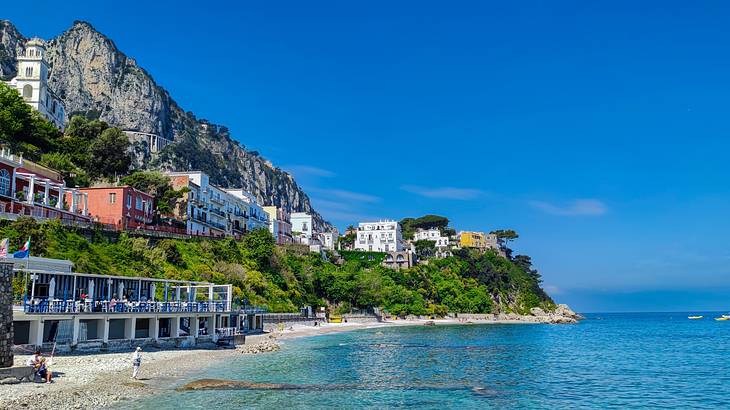 Capri is a beautiful island just off the coast of the Italian Peninsula. With blue water, warm year-round temperatures, and countless natural and human-made sites to see, it's not surprising it's a top tourism destination.
However, Capri has multiple towns and districts, all of which offer visitors something unique. For example, Marina Grande has direct access to the port, while Anacapri is quaint and quiet.
If you're trying to decide where to stay in Capri, Italy, keep reading. Here's a list of the top five areas on the island worth checking out!
5 Best Places to Stay in Capri, Italy
Capri Places to Stay Video
Check out our highlights video of Capri places to stay.
Capri Places to Stay Map
A map of Capri. Use the map to explore all the places to stay.
Best Areas to Stay in Capri, Italy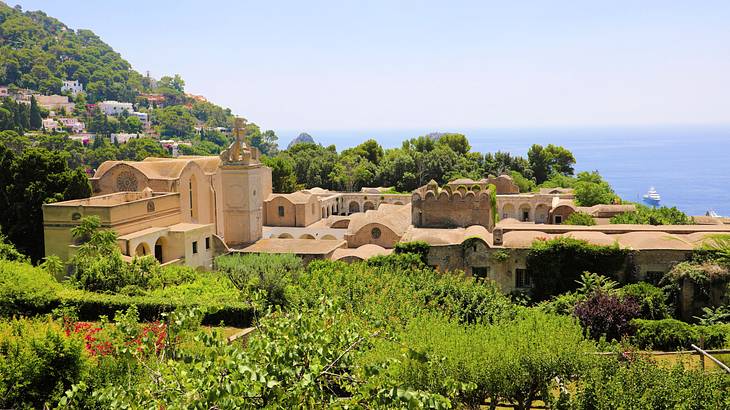 Capri Town
Capri is considered one of the jewels of the Amalfi Coast, and no neighborhood shows off the local culture like Capri Town. As the busiest area on the island, it's home to the most popular shopping streets, accommodations, and restaurants. It's an excellent location for first-time visitors and solo travelers who want to meet new people.
The neighborhood is very walkable, but remember that Capri Town typically refers to the hilly portions of Capri. So if you want to spend time down by the water, be prepared to take public transport or even a funicular to get to the marina.
Though many people picture the coastline when they think of Capri, you'll be able to find some sites tucked in the more elevated portions of the island too. For example, Certosa di San Giacomo and Villa Jovis are both slightly more inland and just a short car or bus ride from Capri Town.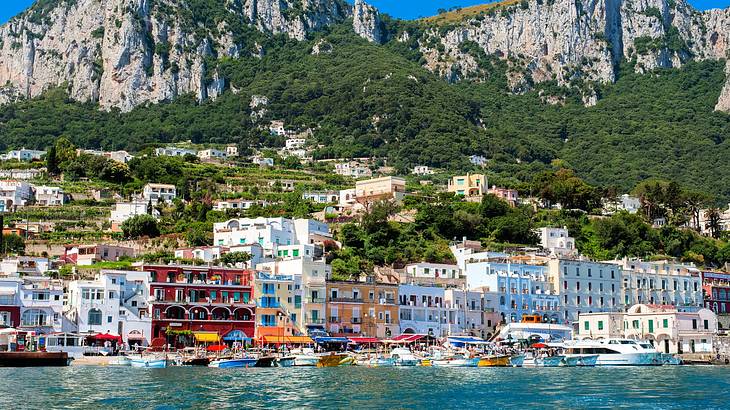 Marina Grande
Located right by the water, Marina Grande acts as the gateway to Capri. It's near the main harbor, where most boats dock, and the island's boat tours depart.
While there tends to be a lot of foot traffic, Marina Grande is one of the island's most relaxing and quiet places, especially during the evening. Many people tend to venture a little further inland for their overnight stays. So you're more likely to find openings and deals on lodging ranging from affordable to luxury hotels.
Marina Grande is the best place to stay if you plan to spend most of your time exploring Capri's coastline, like taking a boat to see the Blue Grotto or laying out on the beach.
However, you don't have to feel like you're stuck on this part of the island. There's a staircase and a funicular that lead to Capri Town, as well as multiple buses and taxis that connect you to other areas.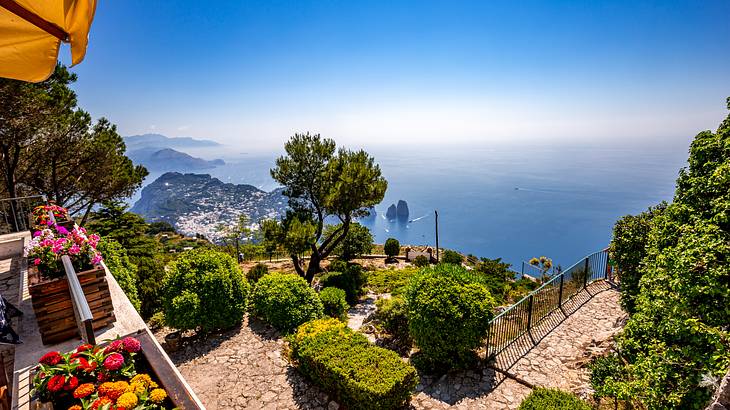 Anacapri
Anacapri is the best area to stay in Capri if you're looking for a place to relax. The town is much smaller than its more popular neighbor, Capri Town, so it attracts fewer tourists. Its location also adds to its tranquil ambiance since it's perched high up in the island's hills overlooking the Bay of Naples.
Despite being a more relaxed area, Anacapri still has many sites to see. Monte Solaro is a great hiking destination for nature lovers. In addition, history buffs can take a short ride to see the ruins of the Castello Barbarossa within Anacapri's limits.
Even if you want to spend your days in Capri Town or Marina Grande, Anacapri is still a great spot to stay. You can reach the harbor in approximately 10 to 45 minutes, depending on if you want to take a car, bus, or walk. Since Anacapri usually has more affordable accommodation options, it's an excellent option for families or budget travelers.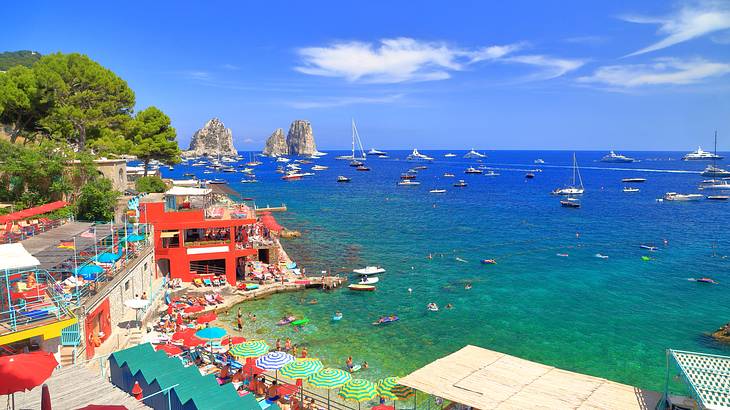 Marina Piccola
Marina Piccola is a neighborhood to consider if you're looking for a relaxing experience while visiting Capri. Tucked away near a bay on the southern part of the island, the town has become famous for its peaceful ambiance and beach resorts.
Many of the streets in Marina Piccola are quaint and quiet, with a few shops and restaurants for visitors to enjoy. So you don't have to worry about loud music or parties keeping you up at night. For that reason, it's a favorite among older travelers, couples, and families with small children who get overstimulated by too much noise.
Marina Piccola is also just a short car or bus ride from other areas on the island, like Marina Grande, where you can take a boat tour of the nearby grottos. However, you'll be able to see one of Italy's most famous landmarks, the Faraglioni Rock Formations, from a distance without even leaving the neighborhood.
Pizzolungo
Pizzolungo is the best place to stay in Capri if you're planning a luxurious trip. Though you won't be staying directly on the Pizzolungo footpath, there are many elegant, high-end accommodation options nearby.
A few factors have made this part of the island so popular and synonymous with luxury. The first element is its relaxing ambiance. The area is quiet and surrounded by nature. While many tourists, especially nature lovers, will come to do the Pizzolungo walk, not many linger in the area, so it's secluded and peaceful.
The surroundings have also helped to curate the area's exclusivity. As already mentioned, Pizzolungo is surrounded by nature. In fact, the path itself leads you on a walk around Capri's cliffs, giving you a view of the sea and rock formations below.
While staying on this part of the island might seem like a dream come true, it can be a bit too quiet for people who love nightlife and the bustle of the city. However, it can be a perfect spot for a peaceful romantic getaway.
Where to Stay in Capri, Italy
Where to stay in Capri with family?
There are two main Capri spots to stay in if you plan on visiting the island with family. The first is Capri Town. As the main city center, staying here will put you in the heart of the island's social and cultural life. Capri's harbor, beaches, and archeological sites are all within walking or driving distance, which can make getting around with children easier.
However, depending on the ages of the people in your travel group or how big your family is, Anacapri might be a better option. Since it's a quieter town, you don't have to worry as much about loud noises keeping young kids up past their bedtime.
The lower crowd levels can often lead to lower prices, as well. You might find a hotel with amenities like an outdoor swimming pool and on-site restaurant at a lower cost, making your travel budget go further.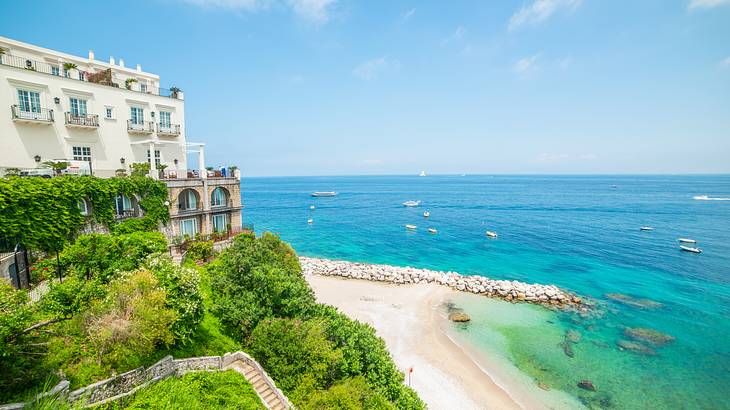 Where to stay in Capri for first-timers?
If you're planning your first trip to the island, the best location to stay in Capri, Italy, is either Capri Town or Marina Grande. Both of these neighborhoods put you within a short distance of the Faraglioni formations, the Blue Grotto, and the area's various villas and shopping districts.
Two main factors could help you determine which of these neighborhoods you should stay in. The first factor is the type of sites you'll be closest to.
Marina Grande is near Capri's main harbor, so it's the perfect place to stay if you plan to go to the beach or take boat tours every day of your trip. Capri Town, instead, is a little further inland. So, it's ideal for hiking or if you want to visit shops and inland sightseeing attractions.
The second factor to consider when planning your first Capri trip is what kind of traveler you are. Capri Town is the busiest part of the island and has the highest concentration of shops and restaurants. So, it's more lively and crowded, which is great if you love being around people. Marina Grande can get busy during the day, but it tends to calm down in the evenings if you prefer peace and quiet.
Where to stay in Capri for nightlife?
If you're a night owl searching for where to stay on Capri Island, Capri Town is the place for you. The neighborhood serves as the heart of the island's social life, so there's never a shortage of people. Therefore, restaurants, bars, and cafes stay open much later than elsewhere in the area.
However, remember that many of the people you might run into while enjoying a night out in Capri Town are tourists. So if you are looking for a more authentic evening experience, venture out to places like Anacapri, where more locals will be seen out and about.
For the best nightlife, no matter where on the island you decide to stay, plan your trip between April and September. This period is the high season for tourism, and businesses tend to stay open later to accommodate the influx of visitors. Weekends during this time are even better since most places will pick a "rest day" during the week to be closed.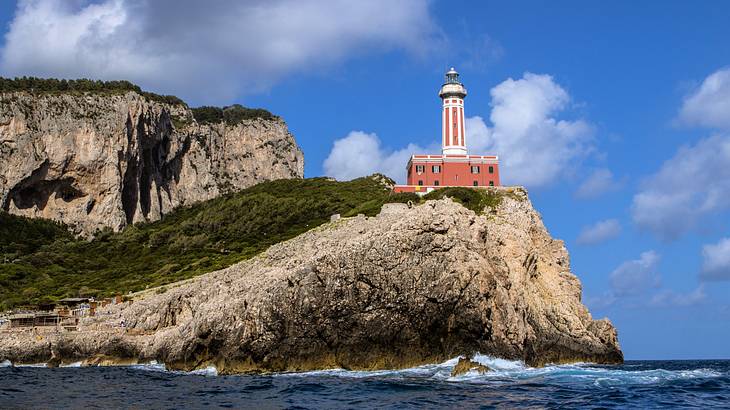 Where to stay in Capri on a budget?
Anacapri should be the first place you check out if you're planning an affordable trip to Capri. You won't have too much trouble finding a budget hotel or vacation rental because it's an often overlooked spot among tourists.
The trade-off, however, is distance. You'll need to add time to your daily itinerary to walk or take a car or bus ride to the coast. Anacapri does have a plethora of its own sites, though, like Villa San Michele and the Faro di Punta Carena, so you won't run out of things to see.
If you'd prefer to stay closer to the tourism center of the island but you're on a tight budget, plan a trip between October and February. This is the "off-season" for tourism, so there are fewer crowds, which tends to lower accommodation prices all over Capri.
In Summary
No matter what sort of traveler you are, there's a place in Capri that will make you feel right at home during your stay. Those looking for accommodations in nature should check out hotels near the Pizzolungo path. On the other hand, social butterflies will have the best time in Capri Town.
No matter where you choose to stay on the island, a trip to Capri is well worth all the efforts of travel planning. Now that you're one step closer to seeing this Italian jewel for yourself, all you have to do is book your getaway!
Give us feedback about this article
More articles about Campania:
Read more articles about Italy:
More articles about places to stay:
---
---
Want to keep exploring?
Subscribe for discounts on tickets and hotels and our latest guides.
Thank you for subscribing
We will be in touch soon with discounts on tickets and hotels and our latest guides.
Want to keep exploring?
Subscribe for discounts on tickets and hotels and our latest guides.
Thank you for subscribing
We will be in touch soon with discounts on tickets and hotels and our latest guides.
Related Articles