Where to Stay in Positano, Italy - 6 Best Areas & Hotels
Destguides may receive commissions from purchases made through affiliate links in this article.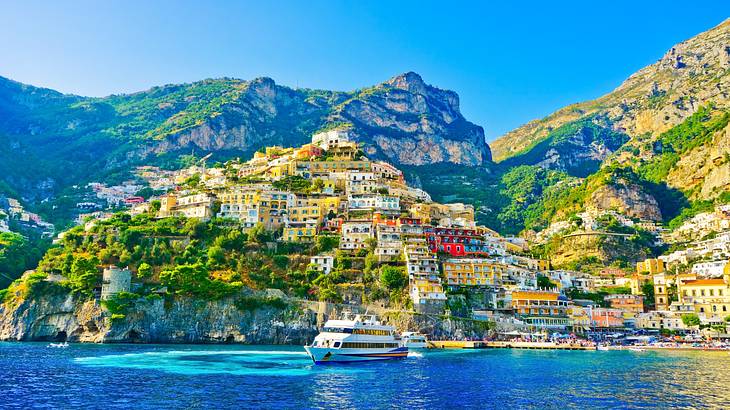 Positano is a picturesque city on the Amalfi Coast. Its blue coastal waters, winding city streets, and hilly scenery put it at the top of many people's travel bucket lists. However, choosing where to stay can be stressful, especially if visiting for the first time.
If you'd prefer to be close to all the major sites, choose Lower Positano in the heart of the city. On the other hand, if you crave peace and quiet, an area like Nocelle will probably suit you better.
Whether you're planning a family trip or a honeymoon getaway, there's a place in this corner of Italy for you. Keep reading to find out everything you need to know to decide where to stay in Positano, Italy.
6 Best Places to Stay in Positano, Italy
Positano Places to Stay Video
Check out our highlights video of Positano places to stay.
Positano Places to Stay Map
A map of Positano. Use the map to explore all the places to stay.
Best Areas to Stay in Positano, Italy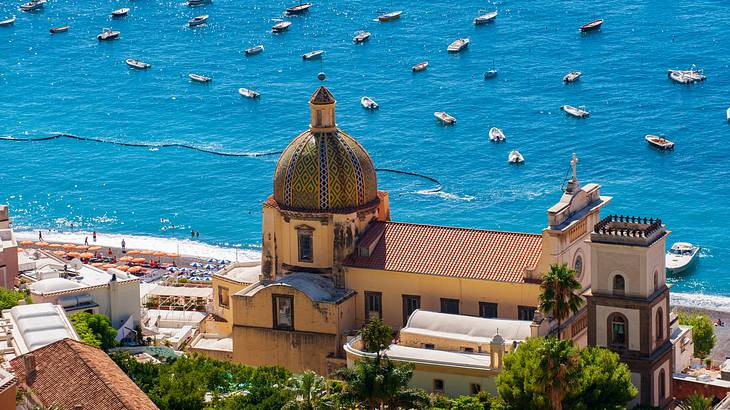 Positano Beach (Lower Positano)
Since Positano is spread out over various hillsides, where you stay can affect your ability to get around. If you'd prefer to be close to the city's center, want to spend a lot of time at the beach, or don't want to deal with going up and down stairs, stay in Lower Positano.
This neighborhood is around the foot of the city's hills, where the historic downtown area is. Therefore, most accommodations around here are close to popular attractions. Positano Spiaggia Grande (Positano Beach), Piazza dei Mulini, and the Church of Santa Maria Assunta are all within a five-minute walk of each other.
Lower Positano is also the busiest area in the city. This can be an advantage since you'll have plenty of restaurants to try and shops to browse.
However, it also means there will be a lot of crowds, especially during the summer months. In addition, many of the buildings here are a bit older, so they may not have air conditioning to make the summer heat more bearable.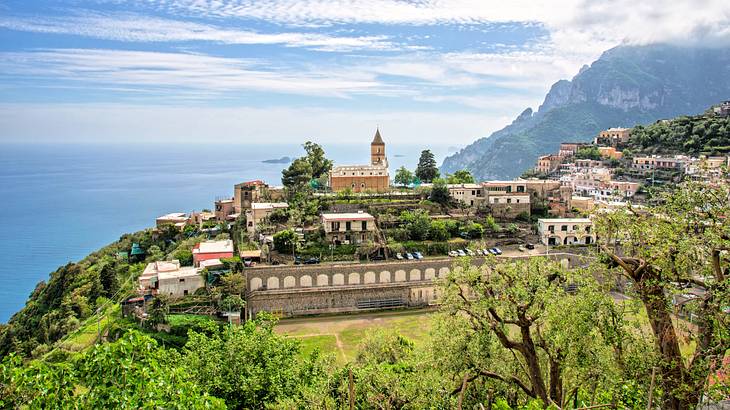 Montepertuso
If you love nature and peace and quiet, Montepertuso might be the best area to stay in Positano. The mountain sits above the rest of the city, so you'll be high above the crowds, even in the middle of the summer tourist season.
This area is known for its nature walks and relaxing atmosphere. The trade-off for all that seclusion is distance. Staying in Montepertuso puts you just outside of the main Positano area, so you'll be about a 15 to 20-minute drive away from the popular sites.
However, this area has its own list of things to see. Montepertuso il Buco is perhaps the most famous site. Reached by a hiking trail, this rock formation offers a great view of the coast.
Keep in mind, though, that hiking and nature exploring are the two main things tourists can do in this area other than relax by a hotel pool. So, if you're interested in shopping or museums, be prepared to head down to Downtown Positano.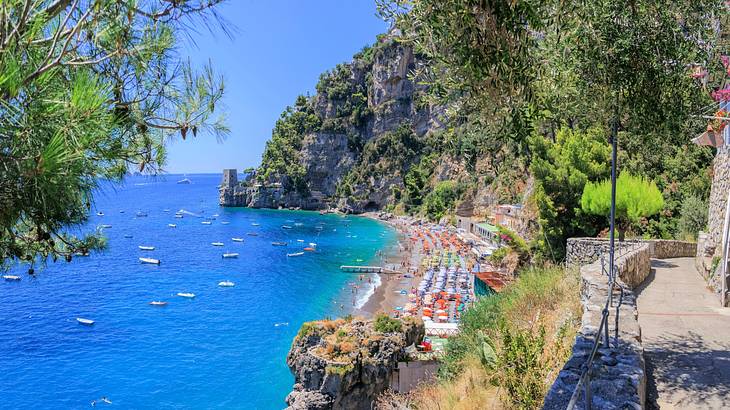 Fornillo Beach
If you plan to relax by the water for most of your Positano trip, consider staying around Fornillo Beach. Fornilllo Beach itself is a small, secluded shore that can be reached via a staircase. However, don't expect this to be a quick walk since it takes, on average, 10 minutes to climb up or down.
Luckily, Fornillo is near Positano's Main Beach, which is a little easier to get to if you or anyone you're traveling with is differently-abled. The proximity of these two beaches also makes this an excellent location for multiple types of travelers.
For example, couples or people taking a relaxing trip can rent an umbrella at the smaller beach where there's peace and quiet. On the other hand, families or solo travelers who want to meet new people can choose the busier main beach.
Fornillo Beach is also near most of Positano's most famous sites, like Piazza Flavio Gioia, where you can visit shops and cafes or admire the art in the local churches.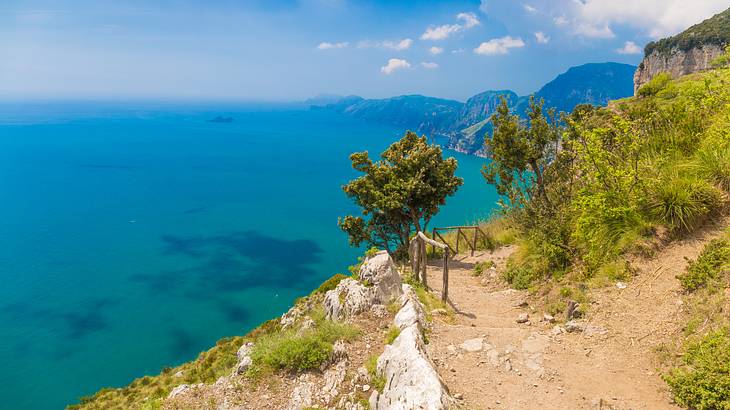 Nocelle
Nocelle may be a quiet little village in the mountains, but it's also the best location to stay in Positano if you want a relaxing vacation. Since it's above the main tourist areas, it's much calmer and less crowded.
However, that distance means you'll need to add 20 minutes to an hour of travel time to your daily plans if you want to see anything in the central Positano area. Taking your own car or a taxi will be the fastest option, but buses between Nocelle and Positano run about twice an hour until the evening. So that's also a viable option.
There aren't many things to see in Nocelle, but it offers access to one of the area's most famous natural attractions, the Path of the Gods. This over-three-mile hike takes you on a scenic tour through Positano's hills between the areas of Bomerano and Positano. Just keep in mind this is considered a challenging route and often takes about four hours to complete.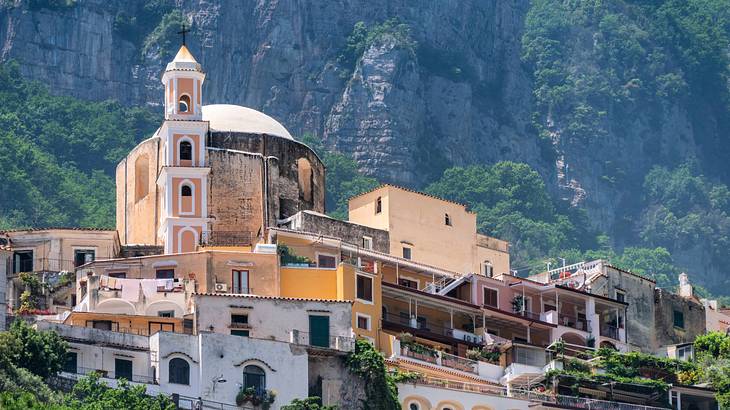 Chiesa Nuova
Chiesa Nuova is a great place to stay in Positano if you're looking for a picturesque location that's outside the main tourist bubble. Despite being outside central Positano, it's still within walking distance of the area's top sites.
Named after the "New Church," also known as the Church of Our Lady of Graces, the neighborhood is located a little further into the hills than the downtown area. Families particularly love this area since it's close to Viale Pasitea and coastal sites like La Scogliera di Positano and Fornillo Beach.
However, it's a quieter neighborhood which is great for people traveling with small children. It also tends to be a bit more affordable because there's less demand for accommodation.
You reach Lower Positano on foot or by car, but there's also a nearby bus stop. Note that upon first arriving, you should take a cab to your lodging since the roads can be a little difficult to navigate with luggage.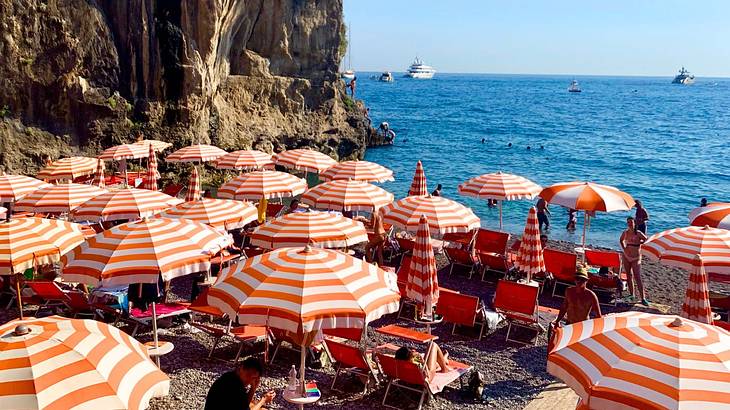 Arienzo
If you ask Italians, "Where is the best place to stay in Positano?" there's a good chance they'll mention the Arienzo area. Most well-known for the Arienzo Beach Club, this is one of the most luxurious places in the area to spend your vacation.
The beach here is private, so you won't find large crowds, which adds to the area's appeal. In fact, it's a popular spot for couples, especially those visiting the Amalfi Coast for their honeymoon.
Since Arienzo is between 10 and 30 minutes away from Downtown Positano, depending on if you travel by car or on foot, you're still near the heart of the city. You're also still close enough to enjoy the nightlife of Lower Positano or the shops on Via Cristoforo Colombo. Arienzo is even relatively close to Nocelle if you want to go on a nature walk along the Path of the Gods.
However, it's worth remembering that Arienzo's Beach Club closes in winter when it's typically too cold to swim. This will bring down hotel prices, but it also makes the area much quieter since many stores and restaurants will also close for the season.
Where to Stay in Positano, Italy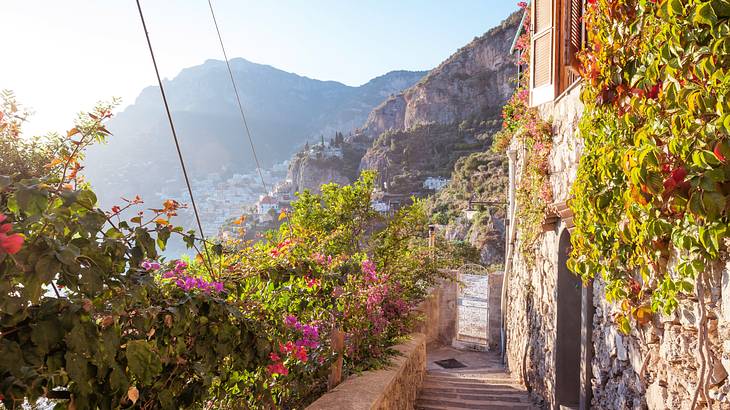 Where to stay in Positano with a view?
If you want the best views of Positano's coastline, stay higher up in the hills. Nocelle and Montepertuso are the best options since they also allow access to some of Italy's natural landmarks via hiking routes.
The hamlet of Nocelle grants you entrance to the Path of the Gods hike. While this trail is considered difficult, the over-three-mile hike offers stunning views of the coast. On the other hand, Montepertuso's main attraction is the Buco Rock Formation which acts as a picturesque natural window.
However, as part of the Amalfi Coast, Positano's scenery is virtually always beautiful. If your hotel doesn't have a sea view, you can always rent a car and ride along some of the Amalfi Drive road, which passes right through the town. You'll get an unobstructed view of the water for miles and can check out some nearby villages like Furore and Conca dei Marini.
Where to stay in Positano with kids?
The best place to stay in Positano, Italy, with kids is Chiesa Nuova. This neighborhood is close to the main sites like Piazza dei Mulini and the beach, without being in the middle of the crowds.
Not only will you be able to find accommodations at a lower price than in more central locations, but the area is also calmer. There's not much nightlife in this part of the city, so you don't have to worry about music or other loud noises keeping your kids up past their bedtime.
If you're traveling with teenagers or adults, Lower Positano is also a good option. This neighborhood is synonymous with the downtown area, so there are dozens of shops and restaurants to check out. You're also near some of the city's more underrated sites, like Museo Archeologico Romano.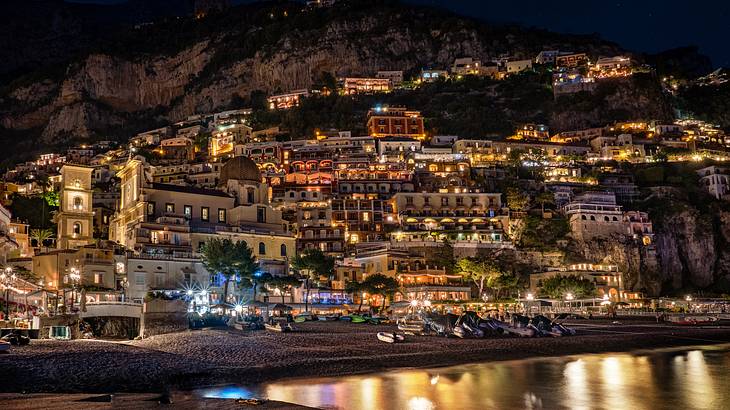 Where to stay in Positano for nightlife?
If you ask locals for the best nightlife area, you'll get many recommendations pointing you toward Lower Positano. Located in the heart of the city, it's the center of the area's social life among residents and tourists.
Lower Positano has everything from restaurants to bars with live music, all of which tend to stay open until late at night. However, there are a few things to keep in mind. For starters, some of these businesses are only open on the weekend, so during the week, you might be limited to just the restaurants in the area.
You should also consider the season. Positano is a great place to visit all year, but its biggest tourist months are spring and summer. That's when most businesses will be open. If you want a more authentic nightlife experience, try to check out places that are open all year since those are the places locals tend to frequent.
Where to stay in Positano on a budget?
If you're on a budget, the top places to stay in Positano, Italy, are Nocelle and Montepertuso. Both of these areas are outside the main borders of the city and higher up in the area's hills, so they tend to attract fewer tourists. This lower demand for lodging drives down prices, but you have to do a little more planning when it comes to getting around.
Since you're not in the downtown area, walking isn't as viable if you want to spend the day at the La Scogliera Positano, for example. However, both hamlets have natural attractions you can admire. Nocelle gives you access to the Path of the Gods hike, and Montepertuso has the Buco Rock Formation.
If you prefer to be closer to the coast, consider staying in the Chiesa Nuova neighborhood. You'll still need to walk to get to Positano's piazzas or the beach, but the distance is much shorter. There are also more frequent buses with shorter routes that pass through the area.
Where to stay in Positano for a honeymoon?
The Amalfi Coast towns are a top honeymoon destination. So it's not surprising that many couples come to Positano. If you're planning a romantic getaway, try to find a hotel near Arienzo or Fornillo Beach. Both of these places offer seclusion and relaxation by the sea.
Arienzo is more of a luxury destination. It's a little further away from Positano's city center, meaning there are fewer people around. The private beach club offers even more privacy, where you can enjoy amenities like food and refreshments while you lounge on the sand.
Fornillo Beach is secluded in itself since you have to walk down a fairly long staircase to get to it. However, the top of these stairs is located just off the main beach. So, staying nearby still puts you close to the downtown area. You can visit shops and try restaurants and bars until well into the night; just be prepared for higher crowd levels.
In Summary
Positano is a beautiful city with no shortage of places to stay. While families tend to prefer the calmer atmosphere of Chiesa Nuova, travelers going on getaways with friends might feel more at home in the bustling social life of Lower Positano.
No matter what sort of trip you're planning, Positano has a neighborhood for you. Hopefully, this article has helped you figure out which area suits you best, so you can move on to booking your trip!
Give us feedback about this article
More articles about Campania:
Read more articles about Italy:
More articles about places to stay:
---
---
Want to keep exploring?
Subscribe for discounts on tickets and hotels and our latest guides.
Thank you for subscribing
We will be in touch soon with discounts on tickets and hotels and our latest guides.
Want to keep exploring?
Subscribe for discounts on tickets and hotels and our latest guides.
Thank you for subscribing
We will be in touch soon with discounts on tickets and hotels and our latest guides.
Related Articles