Where to Stay in Bologna, Italy - 6 Best Areas & Places
Destguides may receive commissions from purchases made through affiliate links in this article.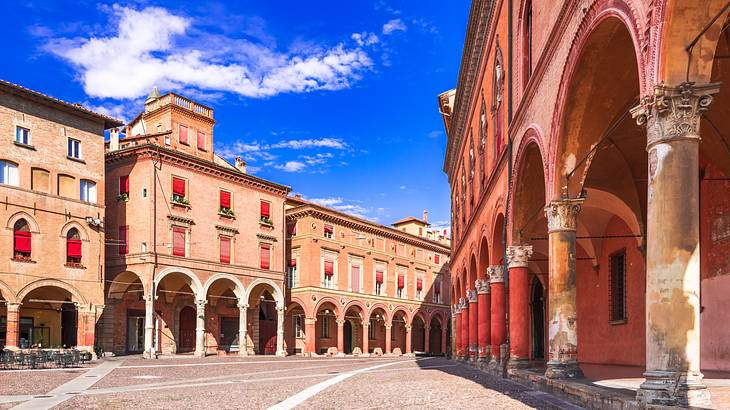 Bologna is one of Italy's largest and most diverse cities. So, it's not surprising it's a popular vacation destination for people visiting this part of the country. However, determining where to stay in Bologna can be overwhelming, especially if you've never visited before.
In general, the Centro Storico area will give you the best access to the city's famous sites. Though the city's walkability means even affordable neighborhoods on the outskirts, like Bolognina, are viable options for most travelers.
Whether you're planning a family getaway or a business trip, there's a neighborhood in the city for you. Keep reading so you can learn about which part of Bologna you should call your home away from home.
6 Best Places to Stay in Bologna, Italy
Bologna Places to Stay Video
Check out our highlights video of Bologna places to stay.
Bologna Places to Stay Map
A map of Bologna. Use the map to explore all the places to stay.
Best Areas to Stay in Bologna, Italy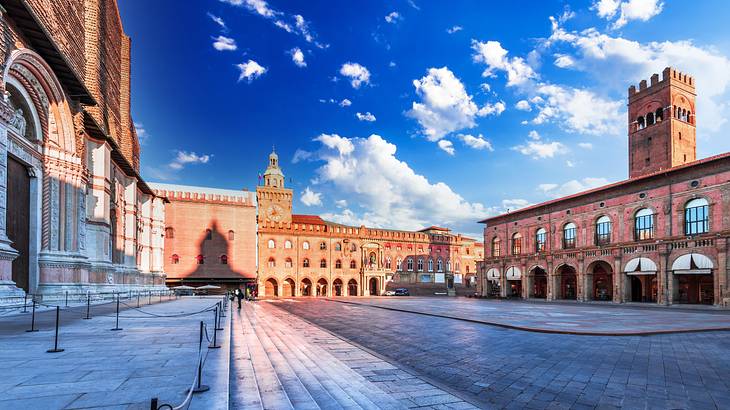 Centro Storico (Old Town)
Bologna's historic city center is one of the best places to stay if you want to ensure you're near all the main landmarks. One of Italy's most important sites, Piazza Maggiore is located right in the heart of the neighborhood. This square is home to Fontana del Nettuno, Basilica di San Petronio, and Palazzo d'Accursio, which even houses an art museum.
If you plan on spending most of your time in the historic parts of Bologna, you can likely get around on foot without any problems. However, you can also rely on the city's public bus system to get around the area or venture into other neighborhoods.
Staying in the heart of the city does come with two small potential trade-offs. Since this location is so close to a lot of the main tourist attractions, you'll encounter more crowds, especially if you visit during the spring and summer. For that reason, hotels in the area are likely to be expensive, and those that are more budget-friendly tend to be more outdated.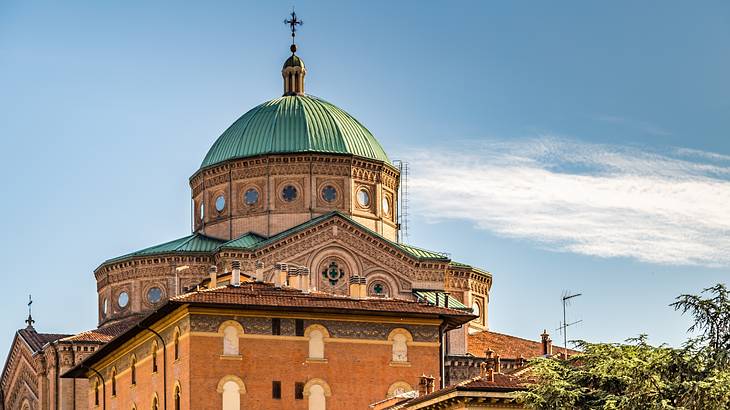 Bolognina (Little Bologna)
If you enjoy fully immersing yourself in the local culture when you travel, Bolognina might be the best area in Bologna to stay. This little neighborhood is slowly gaining notoriety for its multicultural and laid-back ambiance. Independently-owned hotels, bed & breakfasts, and apartment rentals are the most common accommodations here, all of which are usually pretty budget-friendly.
It's located just outside the downtown area, so you may need to familiarize yourself with the city's bus lines to get to many of the main sites. For example, Bolognina is about an hour from the medieval towers, Due Torri.
However, this part of the city is full of things to see as well. Bolognina is locally known for its street art that you can admire while wandering around. There's also Museo per la Memoria di Ustica, a museum devoted to a mysterious 1980 plane crash.
This is additionally an excellent place for food lovers. The neighborhood's diversity translates to its restaurants. You can find cafes, bars, and other eateries offering food from a multitude of cultures.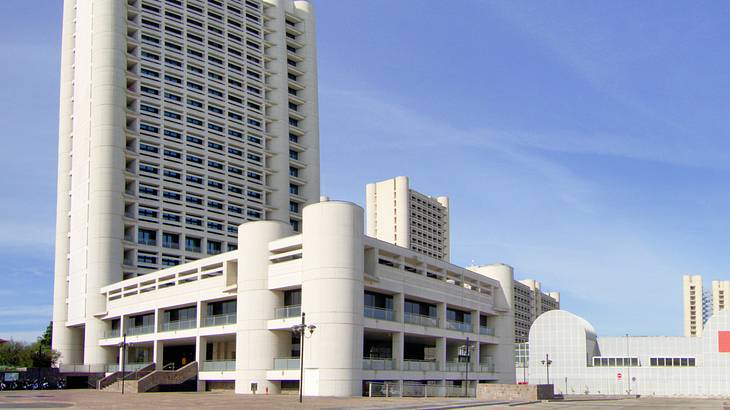 Fiera di Bologna (Bologna Fair)
If you're traveling to Bologna for work, you'll probably want to stay near the city's main business district, Fiera di Bologna. This area is full of offices, business headquarters, and even government buildings, though you'll also find a selection of hotels and restaurants.
That being said, many hotels here are built with short-term business trips in mind. So rooms tend to be very modern, but there are fewer amenities like pools or spas that tourists might enjoy. That can be a benefit since it often brings down prices, even during the busy tourist season.
However, if you stay here, expect to take the bus or walk to get to any significant sites. For example, the distance between this neighborhood and the heart of the Centro Storico is just over two miles. So, make sure you plan to spend between 20 and 60 minutes traveling to and from other districts.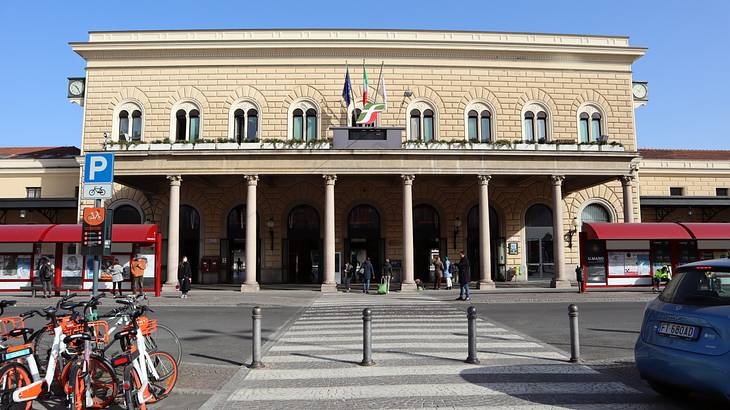 Stazione di Bologna Centrale (Bologna Central Station)
If you're planning a multi-city trip to Italy, the neighborhood around Bologna Centrale station may be the best location to stay in Bologna. Since the station is fairly close to most of the city's main sites, you don't need a car to get around, and there are numerous buses that stop here.
You can reach monuments like Porta Galliera in as little as three minutes, and Parco della Montagnola is also just over half a mile away. Even if you wanted to check out Piazza Maggiore in the historic district, you don't have to walk much more than 15 to 20 minutes to get there.
However, since this area has a lot of foot traffic, it can be crowded and noisy. So, if you have small children or want some peace and quiet when getting ready to head to bed, this might not be the right area for you. On the other hand, you can find some very affordable rooms here.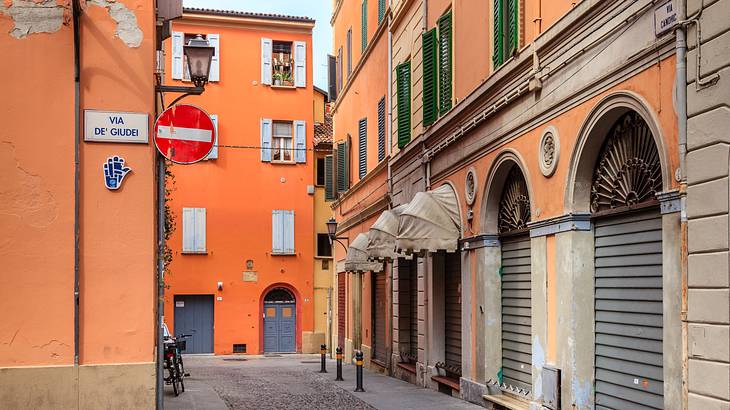 Ghetto Ebraico (Jewish Ghetto)
Located in Bologna's medieval district, this Jewish Ghetto has transformed into one of its most historic neighborhoods over the years. Circled by walls that separate it from the rest of the city, the Ghetto has a noticeably different ambiance, with colorful buildings and winding narrow streets.
It's also one of the more unique places to stay while visiting this part of Italy, especially if you'd consider yourself a history lover. Virtually all of the structures can be traced back to medieval times, so while there may not be many modern amenities, culture and history will surround you.
You'll be able to find a few small hotels and vacation rentals in this district but don't be surprised if some comforts like air conditioning are missing. Prices can also vary here, you can definitely find some cheap options, but there are also more high-end boutique hotels.
Don't expect cars or buses to run inside the neighborhood, though. However, that shouldn't be a problem since it's relatively close to many of the most popular sites. Piazza Maggiore, for example, is just eight minutes away on foot.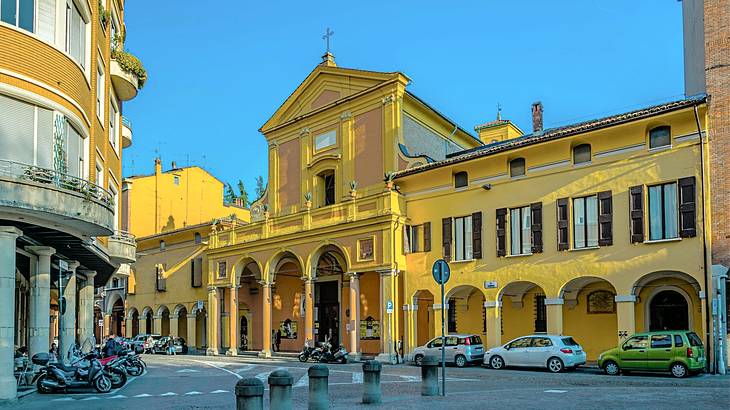 Università di Bologna (University District)
It might surprise you to learn that the University District is often considered the best place to stay in Bologna. Italian universities don't have typical campuses, so there aren't dorm rooms and a lot of partying near the school, as you might find in college towns in the US.
Instead, this area is one of the most historic and unique neighborhoods in Bologna. Not only is the University of Bologna the oldest university in the Western World, but it's also the most prestigious in the country. Even if you're not a student, you can explore the grounds and admire the architecture, museums, and libraries on campus.
Many people who stay in the area are aspiring students, so budget-friendly accommodations are available. However, remember that the school year lasts from September to early June. During that time, all of the university's facilities will be open, but there will also be more crowds of students in the area.
Where to Stay in Bologna, Italy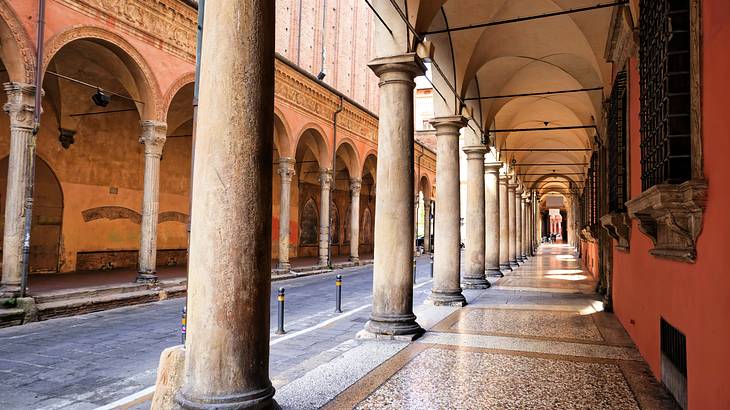 Where to stay in Bologna with family?
If you're planning a family trip to Emilia-Romagna that includes stopping in Bologna, there are a few areas worth considering when booking accommodations. One of the best options is the University District. Since it's near a school, it tends to be pretty calm, especially in the evenings. So, you don't have to deal with parties or loud music keeping young children up late.
If you'd prefer to avoid walking long distances or navigating the bus system while in a new city, you can also book a hotel in the Centro Storico. This neighborhood is the historic heart of Bologna, so you'll be near many of the oldest and most important landmarks.
Attractions that your family may want to visit in this area include Basilica di Santo Stefano, Piazza Maggiore, and Pinacoteca Nazionale di Bologna.
Both areas can get crowded, though, especially during the day. The University District tends to be most crowded between September and June when classes are in session. Centro Storico's busy season, instead, runs from April to September.
Where to stay in Bologna without a car?
If you don't want to deal with renting a car while on your trip, Centro Storico is probably the best neighborhood to stay in Bologna. Since it's literally the city's historic center, it's close to many of the main sites and allows you to explore without needing a vehicle.
Even if you want to venture out to attend a convention in Fiera di Bologna or to visit the Santuario di Madonna di San Luca, you can do that without driving. The city has an efficient bus system which is easy to learn, and there are taxis you can call. The city is also very walkable, with most locations within 15 minutes of the Centro Storico neighborhood.
If you plan on traveling to other cities, you can also look at hotels near the Bologna Centrale train station. This is also a good option if you have a flight to catch since it's relatively close to the airport.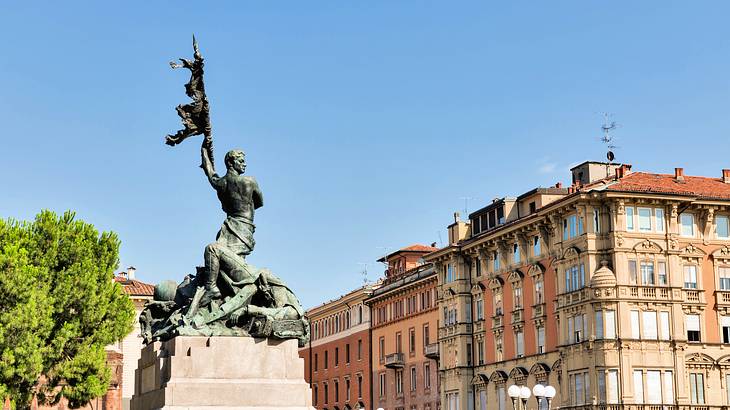 Where to stay in Bologna with a car?
If you're going on a road trip through Italy and want to spend a few days in Bologna, you'll want to book your accommodations carefully. Many of the city's neighborhoods, like Centro Storico, are "ZTL," which means traffic is limited to emergency vehicles, taxis, and residents. So, you probably won't be able to use your car to explore the city much.
Looking for a hotel near Piazza dell'Otto Agosto is recommended for those arriving with a car. Not only are there ample parking structures here, but the area is also very close to Piazza Maggiore, putting you within walking distance of some of Bologna's best sites.
Bolognina also has various accommodation options with on-site parking for visitors. You'll be able to reach the other areas of the city via bus or taxi if you want to venture out somewhere that has a "ZTL" in place.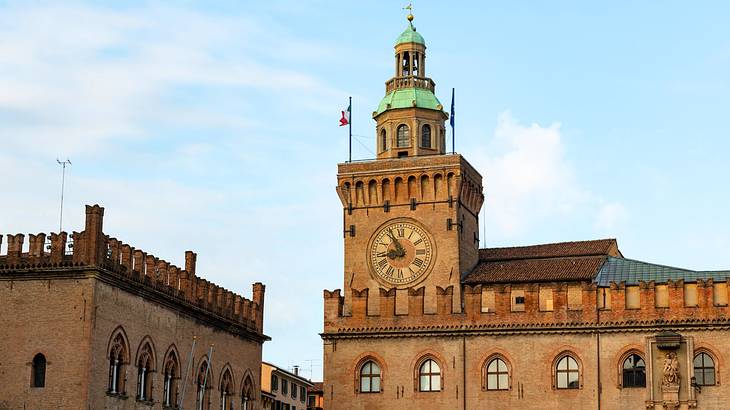 Where to stay in Bologna for sightseeing?
If sightseeing is your favorite thing to do when traveling, the best area to stay in Bologna is Centro Storico. This neighborhood is in the older part of the city, which happens to be near where most of the main sites are.
Right in the heart of this district is Piazza Maggiore, home to Fontana di Nettuno, Palazzo dei Notai, and numerous other historic buildings. Even if you want to explore other parts of the city, like Santuario di Santa Maria della Vita or Ghetto Ebraico, you can get around easily on foot or by bus.
If you're more of an academic, you can also stay in the University District. The University of Bologna has multiple gardens, exhibits, and buildings tourists can explore; just be aware that you might encounter crowds of students.
Where to stay in Bologna on a budget?
If you're traveling on a budget, there are a few neighborhoods in Bologna you can choose from for your vacation. The Bologna Centrale area is one of the most convenient.
Since it's near the city's main train station, this area is in a relatively central location. That means numerous buses go by each hour, and you can walk to most sites, like Le Due Torri, which is just over a mile away.
Fiera di Bologna also tends to have relatively cheap hotel options. Since this area is popular among business travelers, there are many accommodation options.
Hotels here have a lot of rooms as well, so it's a great option if you plan on traveling with a large group. However, it's a bit removed from the main tourist spots, and you'll notice fewer shops and restaurants in the neighborhood.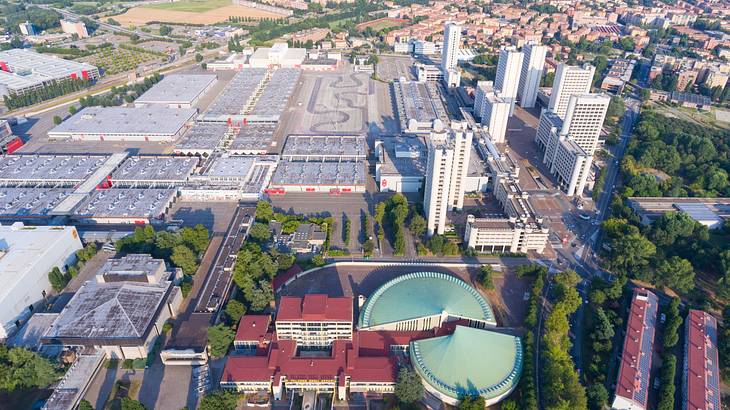 Where to stay in Bologna for a business trip?
If you're taking a business trip to the city, the best area of Bologna to stay is Fiera di Bologna. Most of the area's largest companies have offices in this neighborhood, and it's where the majority of local industry events are held. So you'll most likely be attending meetings here.
Most hotels are also equipped to deal with short-term business trips, with on-site parking and airport transportation available in many cases. You can also find accommodations to suit a wide variety of budgets.
The area around the Bologna Centrale train station can also be convenient if a business trip involves meetings or events in other parts of the city. You can easily get to and from the airport if you need to, and there are usually taxis and buses to take you where you need to go.
Where to stay in Bologna for nightlife?
If you're trying to decide what area to stay in Bologna when planning a night out on the town, consider looking at hotels around Bolognina. This lively, eclectic neighborhood is home to numerous restaurants and bars, many of which have live music performances in the evening.
Since this is a residential neighborhood, you'll be surrounded by locals who give the area more authenticity. Though that also means some establishments might have different operating hours during the week when most of their patrons are working.
Another good option is the Student District. This neighborhood is near the university, but don't confuse it with the University District. Via Zamboni and Via del Pratello are particularly popular among students since you'll be able to find numerous affordable restaurants open late at night.
Finally, Via dell'Indipendenza is known for being one of the trendiest places in the city. Finding a hotel nearby means you'll have easy access to stylish bars and restaurants, most of which are open until late at night.
In Summary
Clearly, Bologna is a city with a lot to offer. From its university to its restaurants, there's plenty to see and do while you're here. While family-oriented trips might stick around the Centro Storico, travelers looking for a place to party with the locals might prefer Bolognina or the University District.
Hopefully, this list has helped you get to know a little more about this beautiful Italian city. That way, you can take a dream vacation of your own. All you have to do now is plan it!
Give us feedback about this article
Read more articles about Italy:
More articles about places to stay:
---
---
Want to keep exploring?
Subscribe for discounts on tickets and hotels and our latest guides.
Thank you for subscribing
We will be in touch soon with discounts on tickets and hotels and our latest guides.
Want to keep exploring?
Subscribe for discounts on tickets and hotels and our latest guides.
Thank you for subscribing
We will be in touch soon with discounts on tickets and hotels and our latest guides.
Related Articles