The Best 2 Days in Turin Itinerary
Destguides may receive commissions from purchases made through affiliate links in this article.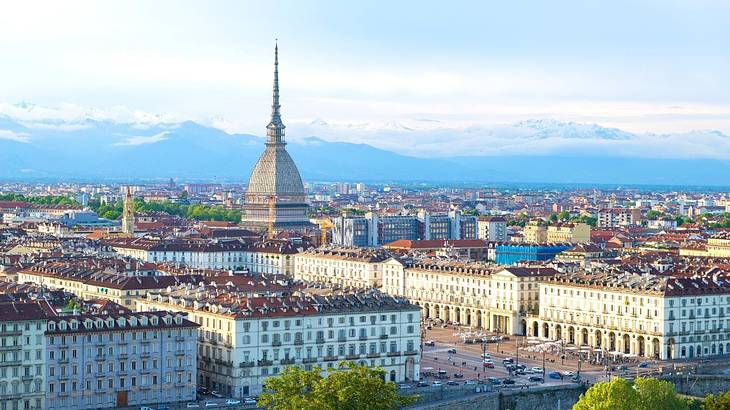 Nestled in the Piedmont area and surrounded by the Alps, Turin is a powerhouse of culture and beauty, making it one of the best destinations to visit in Northern Italy.
Unlike Rome, Milan, and Venice, Turin isn't top of mind when thinking about great Italian city break destinations. However, this small town has a lot to offer and is home to an array of Italian landmarks, unique attractions, and great dining options.
For those planning a quick getaway in the city, this 2 days in Turin itinerary is a must-read! It highlights all the best places to visit, from Mole Antonelliana and Museo Nazionale del Cinema to beautiful parks, like Parco del Valentino.
In addition, you will have plenty of time to wander the streets, marvelling at the Baroque architecture and soaking up the Italian atmosphere. Of course, there will also be time to stop for delectable Italian food, wine, and aperitivi.
Read on for an easy-to-follow, fun-filled Turin itinerary that allows you to experience everything the city offers in just 48 hours!
Two Days in Turin Italy
Historic Sights and Museums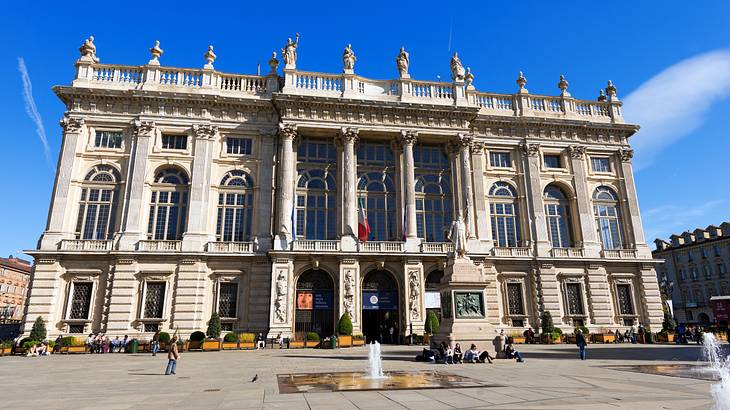 Your first day in Turin features many renowned European landmarks. However, before visiting the attractions, you will stop at Pastarell for a quick breakfast. There will be quite a few stops before lunch, so get enough to eat!
Next, head to the Church of Santa Maria del Monte dei Cappuccini before moving on to the fascinating Egyptian Museum and Madama Palace. You can then stop for lunch and drinks at Vintage 1997.
You'll begin the afternoon by visiting the Turin Cathedral and the stunning Royal Palace of Turin. You will then see the National Museum of Cinema housed in Mole Antonelliana.
If you are spending a weekend in Turin, there are several great bars to check out in the evening. Even if you are visiting during the week, you can still spend the evening having a delicious meal at one of the many restaurants around.
Pastarell
The most important meal of the day is breakfast! So the perfect way to start your exciting two days in Turin is by getting a morning coffee and a breakfast sandwich or pastry to go.
Turin has a thriving street food market, with fresh baguettes and sandwiches stuffed with brie, salami, and many other fillings. You could even find a small cafe to share a delicious Italian charcuterie board.
Alternatively, visit a charming Italian cafe like the famous Pastarell. Breakfast treats include croissants, other pastries, and authentic Italian coffee. For those looking to mix with the locals early in the morning, Pastarell is the place to be.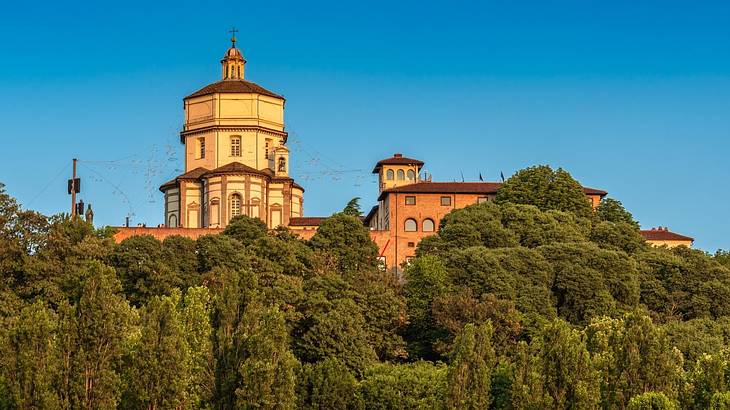 Chiesa di Santa Maria del Monte dei Cappuccini
The construction of the Church of Santa Maria del Monte dei Cappuccini (Chiesa di Santa Maria del Monte dei Cappuccini) began in 1583, with the church finally being completed in 1656. It is designed in a Renaissance style, and the building is an interesting piece of architecture that differs in design from many churches.
When visiting this hilltop church, you can enjoy views of Turin and the River Po. On a clear day, you can also see the Alps. After looking around the church and taking in the vistas, you can head back across the river to reach your next destination.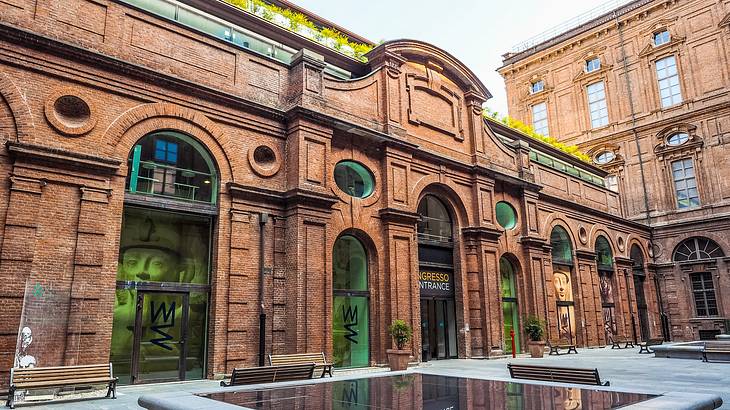 Museo Egizio
The Museo Egizio, or Egyptian Museum, is the only museum outside Cairo solely devoted to Egyptian art and culture. It is located on the edge of Piazza San Carlo.
In the museum, you can discover many hieroglyphs first deciphered by Jean Francois Champollion. You can also see ancient monuments to pharaohs and several other archaeological pieces.
It will take about two hours to see all of the exhibits. You can also access comprehensive audio guides to explain the pieces on display in more detail. Another great option is to book an Egyptian Museum guided tour.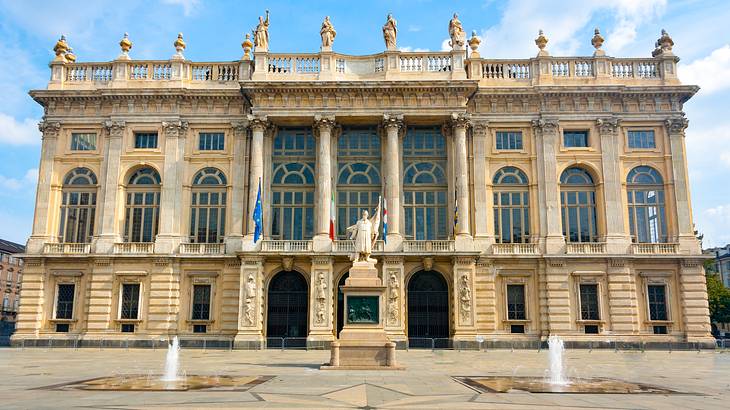 Madama Palace
Palazzo Madama, or Madama Palace, was designed by renowned architect Filippo Juvarra and is now a Unesco World Heritage Site. It features an impressive sweeping Baroque staircase and other regal details. The palazzo was home to and named after two queens, or "Madama," of the House of Savoy.
Along with admiring the architecture of the building, you can view an expansive collection of decorative arts that make up the Museo Civico d'Arte Antica collection. With pieces from the medieval period to post-unification, this museum has something for every art lover and history enthusiast!
Do note that the Madama Palace is closed on Tuesdays. All other days of the week, it is generally open from 10 AM to 6 PM.
Vintage 1997
One of the best places to stop for lunch in Turin city centre is Vintage 1997. This luxurious Michelin Star restaurant features candelabras, wood panelling, and red velvet accents.
Of course, the Italian food is also incredible. You can choose from various classic dishes with a modern, high-end dining twist. After your main meal, you can indulge in dreamlike desserts, including a selection of cinque Piccoli Dolci (five small desserts) that allows you to try the best sweets in Turin.
Vintage 1997 is a little pricey; however, if you're only spending a few days in Turin, splurging a bit here is well worth it. The eatery is more geared towards adults, so if you are travelling with kids, stick with some family favourites on the main strip!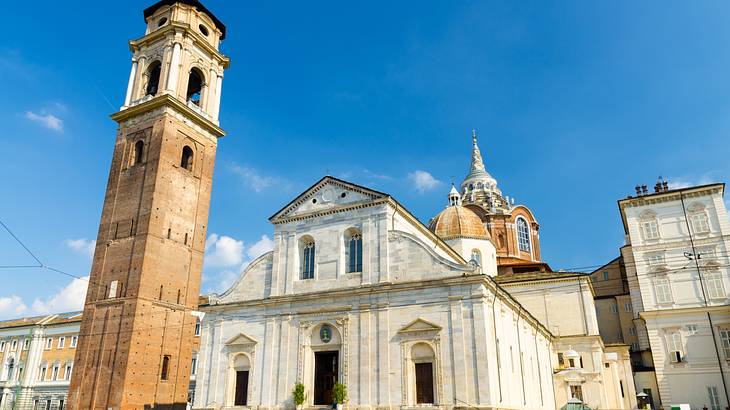 Duomo di Torino
Also known as Turin Cathedral or the Cathedral of Saint John the Baptist (Cattedrale di San Giovanni Battista), Duomo di Torino is another landmark building in Turin. The church currently serves as the seat of the Archbishops of Turin and opened in 1498.
Before construction in the 15th century, the site served as an Ancient Roman theatre. Another religious building, Lombard Church, also stood on the site; remnants of its stonework can still be found at the cathedral's base.
When visiting, you can spend some time wandering through the beautiful building, admiring the architecture. Notable features include the Guarini Chapel rooftop and the Giovanna d'Orlier de la Balme Tomb Monument, which is in ruins due to being destroyed by French troops during the Napoleonic occupation of Italy.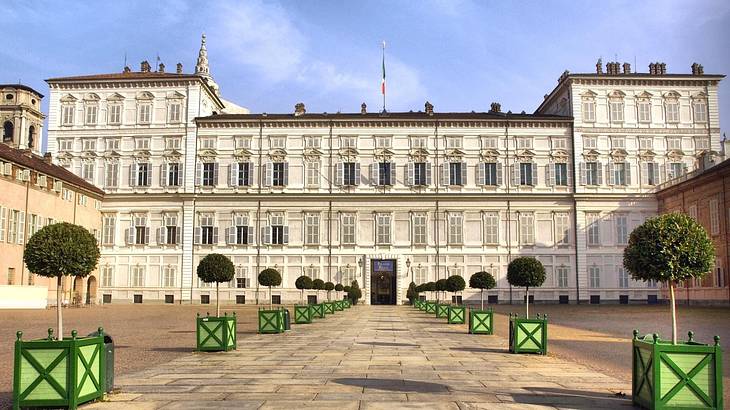 Palazzo Reale di Torino
Constructed in the 16th century, the Royal Palace of Turin (Palazzo Reale di Torino) served as the residence for the Kings of Savoy until unification in 1865. Interestingly, the building has been changed and updated several times to reflect numerous architectural styles.
For example, in the 17th century, baroque details were added to modernize the residence. Due to this, the building you see today is an expression of Turin history and artistic fashions over the last five centuries.
When visiting the Royal Palace, you will find fascinating royal museums, including the opulent Savoy Gallery, the Royal Armoury, the Royal Library, and the Archaeological Museum.
You can also wander around Piazza Castello, which features well-manicured gardens. To avoid lines when you arrive, order a Royal Palace skip-the-line ticket in advance.
Museo Nazionale del Cinema
The fabulous National Museum of Cinema, or Museo Nazionale del Cinema, is five minutes away from Madama Palazzo. This motion picture museum is housed inside the famous Mole Antonelliana tower.
The museum is well worth a visit, featuring over 20,000 devices used throughout cinematic history and over 300,000 movie posters. There is also a movie screen playing retrospectives and film festivals. The most famous festival to be shown here is the Torino Film Festival, the second-largest in Italy.
The museum offers a visual journey through the history of film, from black and white clips and silent films to modern movies and behind-the-scenes footage. To immerse yourself in the attraction, schedule a guided tour of the National Museum of Cinema.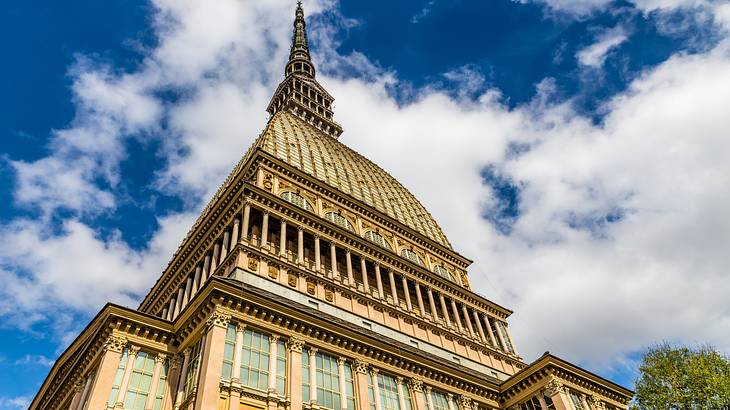 Mole Antonelliana
After looking around the Museum of Cinema, you can explore the rest of Mole Antonelliana. The tower was initially constructed as a synagogue and dates back to 1889. Today, it is a world famous landmark because it is the tallest museum in the world!
Taking a ride in the tower's elevator that offers sweeping views of Turin is a must. The glass elevator rises through the vast domed hall that houses the Museo Nazionale del Cinema collection, offering a beautiful view over the exhibitions. From here, at 85 metres above street level, you can take in the city from above and marvel at the winding laneways and red rooftops.
The Mole Antonelliana price is included in your National Cinema Museum ticket, so there is no excuse for not completing a tour of the attraction. However, heading straight for the fabulous glass elevator experience before visiting the museum is recommended if you find yourself short on time.
Top Attractions and Off-the-Beaten-Path Spots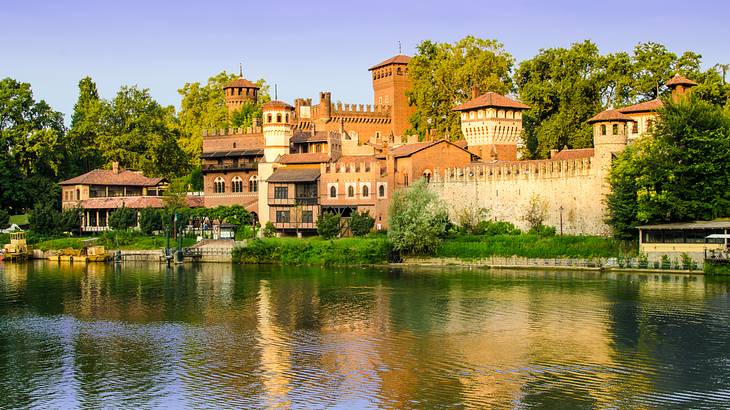 You will see beautiful parks and historical buildings on the second day of your Turin, Italy itinerary. Your day will begin with a stop for breakfast again, this time at Convitto Cafe. You will then head to a former royal residence, La Venaria Reale.
Afterwards, you will wander around the scenic Valentino Park before stopping for some sweet treats at Pasticceria Bizzi. The next landmark to see is Castello del Valentino, a 13th-century French Baroque castle.
Finally, after a long day hopping between attractions, you can relax with a drink at a cafe in Piazza Vittorio Veneto. For dinner, a stop at Trattoria Da Dino is highly recommended. You can choose from many Italian dishes, including Turin classics.
The last activity on your 48 hours in Turin itinerary is seeing an opera or ballet performance at Teatro Regio Torino.
Convitto Cafe
Convitto Cafe is the perfect place to start your second day in Turin! The classic Italian cafe serves various freshly baked cakes, tarts, and pastries, plus savoury meals like breakfast paninis.
This cafe has a great atmosphere too. It is always bustling in the morning and is a favourite with locals and tourists alike.
Accompany your meal with a cappuccino or other coffee for a truly Italian breakfast. If you can't decide on one thing to order, get some extra snacks to enjoy later in the day!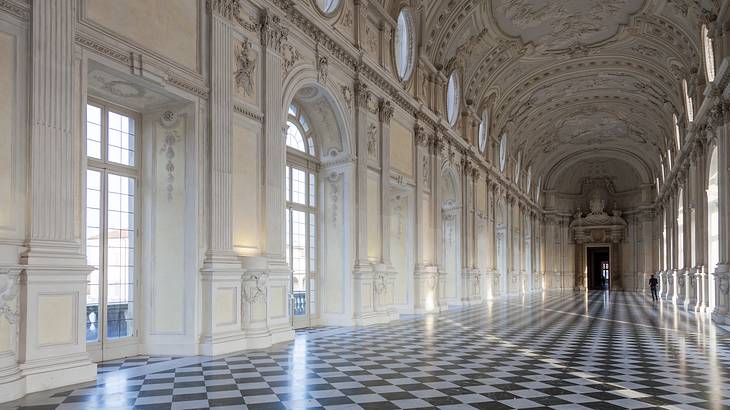 La Venaria Reale
To get to La Venaria Reale, you have two choices: catch the express bus, which stops at Piazza Castello every 15 minutes, or take a rideshare.
La Venaria Reale is often a stop on hop-on-hop-off bus tours if you have opted for a ticket during your visit. The UNESCO World Heritage Site is a former royal residence, constructed in 1675, with stunning architecture and impressive gardens.
The palace complex is filled with Baroque decoration and artwork and is a monument to the beauty of Italian design. After exploring the palace, you can get a coffee at an on-site cafe and relax in the gardens or on a terrace.
It will take approximately two hours to look around the palace and gardens. To ensure you don't waste time waiting in lines, buy a La Venaria Reale skip-the-line ticket before you arrive.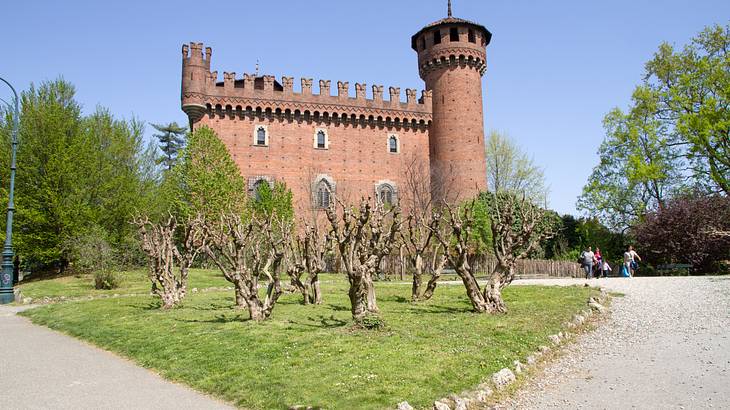 Parco del Valentino
After exploring La Venaria Reale, head back across town by taking the express bus to Piazza Castello. From here, it is a quick 15-minute walk or a ten-minute Line 9 tram trip to get to your next stop, Parco Del Valentino.
Valentino Park is a relaxing space filled with lush trees, flowers, and greenery on the banks of the Po River. If visiting in the autumn, you will also see the trees turning beautiful shades of red and orange.
Parco del Valentino has been a popular attraction in Turin for centuries. Opened in 1856, Italy's first public garden was also a racing circuit until the mid-20th century.
While in the park, you can additionally explore the Torino Esposizioni and an underground pavilion complex. Made with glass and wrought iron arches, these pavilions are a perfect example of the Nervi Ferrocemento style of architecture.
Pasticceria Bizzi
Located a five-minute walk from Parco del Valentino is Pasticceria Bizzi. This famous patisserie is a much-loved lunch spot and the ideal place to get some sweet treats.
Pasticceria Bizzi sells a range of beautifully decorated small cakes and delicious ricotta-stuffed pastries. You can also treat yourself to some world-famous Turin chocolate, a creamy flan, or a sweet croissant. If you want something other than sweets, savoury pastries and sandwiches are available, including vegetarian options.
Do note that getting a table at Pasticceria Bizzi can be challenging, especially if you visit Turin on the weekend. However, getting your food and drinks to go is highly recommended. You can then enjoy them in one of the nearby parks.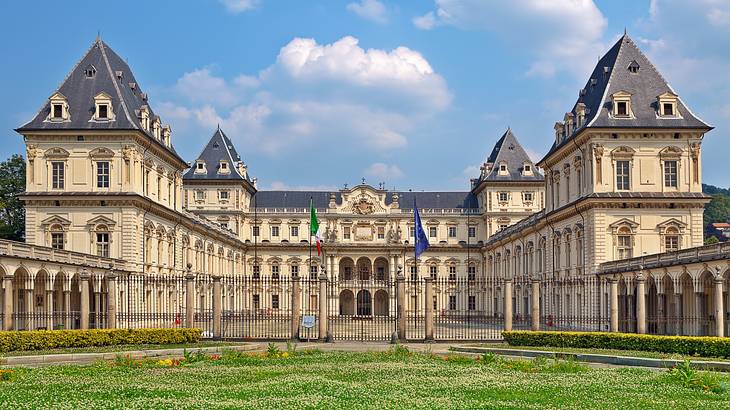 Castello del Valentino
After lunch, you will return to Parco del Valentino to see the Baroque Castle and UNESCO World Heritage Site, Castello del Valentino. This ancient castle is traced back to the 13th century but was modernized in 1630.
Today, it is a famous tourist attraction known for its fantastic interior and exterior design, predominately in a French Baroque style. Interestingly, the central part of the building is now used by the architecture faculty of the Polytechnic University of Turin (which seems fitting!)
However, you can still enter and explore the building, which houses several murals, paintings, and artefacts. The highlight for many is the vast gated courtyard and French antique-style turrets that adorn the exterior.
If you are interested in seeing some more Italian castles, you can also go to the Medieval Village and Castle (Borgo Medievale) located nearby. Built for the Italian World Fair in 1885, this mini-village is a great place to learn about Medieval life and culture. It is also a fun attraction to visit if travelling with kids.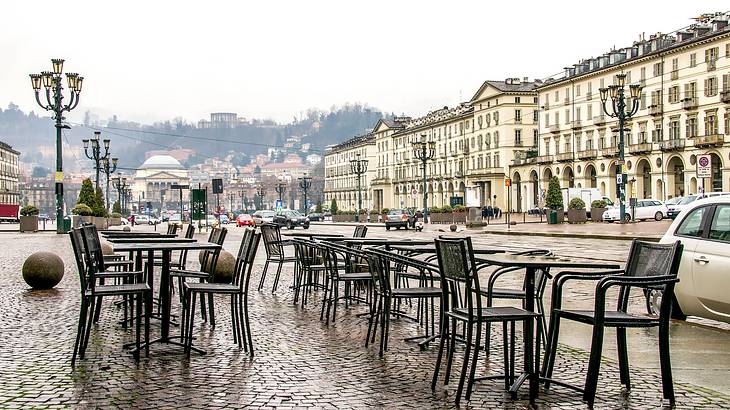 Piazza Vittorio Veneto
Piazza Vittorio Veneto is a charming square named after the Battle of Vittorio Veneto. The bustling square is also packed with great aperitivo bars to get a drink at.
Aperitvo's are part of Italian culture! These small alcoholic drinks are meant to whet the appetite before dinner, and enjoying the views of the square with a drink or two is the ideal way to unwind.
If unsure what to order, classics include an Aperol spritz, Campari on ice, or ice-cold limoncello. Almost any bar along the main city strips will have an aperitivo menu for you to choose from, so you can also order what takes your fancy.
No matter what you order, you will be able to relax with locals and experience Italian culture to the fullest. If you are interested in checking out some other bars and cafes, you will find a good selection in and around Piazza della Repubblica.
Trattoria Da Dino
After your aperitivo, head down to San Vincenzo. You can walk, which will take about 20 minutes, or take the tram, which will take ten minutes. Once you arrive, you can get a delicious meal at Trattoria Da Dino.
The eatery has excellent service and serves a buffet of Italian classics for lunch and dinner. Alternatively, you can choose from an extensive a la carte menu and try some Piemontese delights, such as the Piedmont tajarin pasta.
Every region in Italy has its own type of pasta, and tajarin, a long, ribbon-like egg pasta, is the speciality of the Piedmont region. It is a must-try when in Turin! Other dishes the area is famous for include agnolotti, bollito misto, and gianduiotto.
The latter, a delicious chocolate candy, is especially worth a try as Turin is famous for its chocolate. Turin is the birthplace of the chocolate bar and has a history seeped in chocolate making! If you are a chocolate lover, you will be spoiled for choice at Trattoria Da Dino or any other nearby cafe.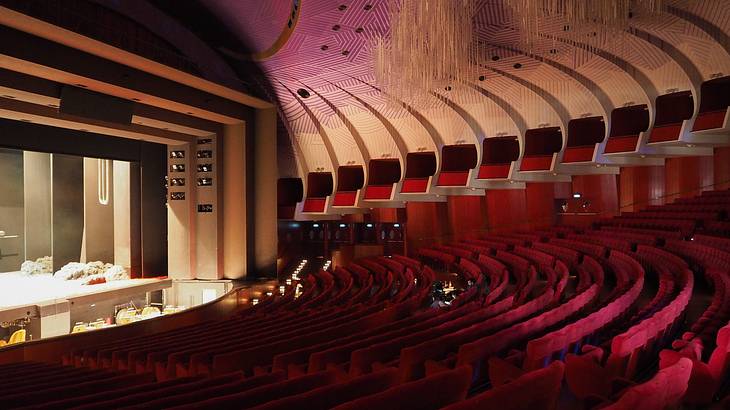 Teatro Regio Torino
If you have a little time to spare in the evening, why not see an Opera at the Teatro Regio Torino to cap off your trip to Turin? Tickets will set you back around 60 Euros; however, last-minute ticket sales do happen, so be sure to check at the box office.
The Royal Theatre dates back to the 16th century. However, a fire destroyed much of the original interior. The Baroque-style facade remains, but once you step inside, you will find a surprisingly contemporary theatre and performance space.
The more modern part of the structure was completed in 1973. Interior features include red velvet, wide modern arches, and a contemporary chandelier-style light fixture that covers the ceiling.
World-class operas, like the classic La Boheme and Tosca and contemporary performances like The Wizard of Oz and Tobias Picker's Emmeline, all grace the Turin Theatre stage. You can also see ballet performances and some other shows.
No matter what type of show you enjoy, you are sure to find a memorable performance to see at Teatro Regio Torino. A trip to this attraction will also give you a chance to fully immerse yourself in one of Italy's most famous triumphs: the operatic art form.
In Conclusion
If you've been wondering what to do in Turin in 2 days, this itinerary should have given you many ideas. With Porta Nuova train station located in the city centre, Turin is easily accessible from many other parts of Italy or Europe. Therefore, it is the ideal location for a city break or weekend getaway.
As you explore Turin, you will be able to visit a variety of iconic attractions and landmarks. The beautiful Church of Santa Maria del Monte dei Cappuccini and the unique Museo Nazionale del Cinema are just some of the places to see.
Of course, you will also find several tranquil parks to relax in and can indulge in classic Italian dishes as well as coffee, chocolate, wine, and aperitivi. If you have extra time in the city, you can add shopping on Via Roma to your itinerary.
Whether you follow this guide to a T or customize it to your liking, you are guaranteed to have a fantastic couple of days in Turin!
Give us feedback about this article
Read more articles about Italy:
---
---
Want to keep exploring?
Subscribe for discounts on tickets and hotels and our latest guides.
Thank you for subscribing
We will be in touch soon with discounts on tickets and hotels and our latest guides.
Want to keep exploring?
Subscribe for discounts on tickets and hotels and our latest guides.
Thank you for subscribing
We will be in touch soon with discounts on tickets and hotels and our latest guides.
Related Articles