36 Best Things to Do in Mexico City, Mexico
Destguides may receive commissions from purchases made through affiliate links in this article.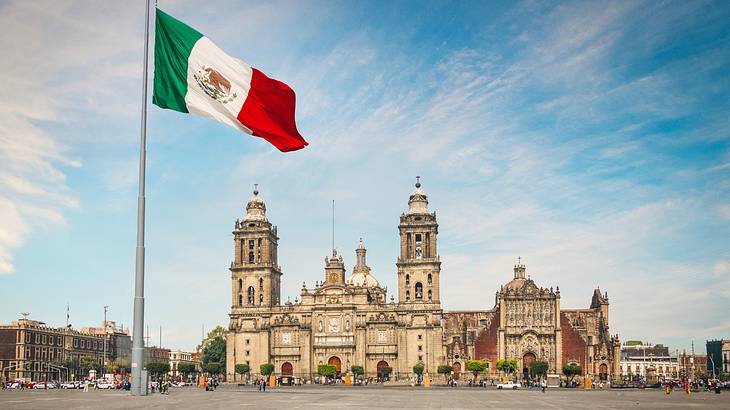 As the capital of Mexico, it's no wonder that Mexico City is a popular city break destination in Latin America. Home to over 160 museums, as well as parks, unique attractions, and historical landmarks, you'll find no shortage of fun things to do during a visit.
If you're unsure where to begin, this list of the 36 best things to do in Mexico City, Mexico, is an excellent place to start. It features top attractions to visit during the day and evening, plus some memorable day trips to take outside of the city. Read on to discover all the great activities you can enjoy in Mexico City!
36 Top Things to Do in Mexico City
Best Activities in Mexico City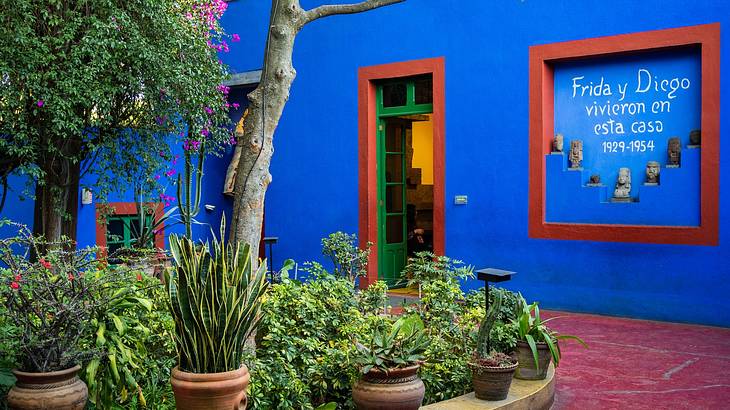 Appreciate artworks at the Frida Kahlo Museum
Frida Kahlo is one of Mexico's most well-known artists. Throughout her lifetime, she produced many famous paintings. Her works often depicted Mexican artifacts and nature, as well as many portraits and self-portraits. Her style was a blend of realism and fantasy.
You can learn more about her and see some of her best works by visiting the Frida Kahlo Museum. Interestingly, the cobalt blue house that the museum is located in was Frida's family home.
As this is a popular attraction, purchasing next-day tickets to the Frida Kahlo Museum in advance is recommended. You can also book via the website, but you must do well before your visit.
Try delicious dishes on a Mexico City food tour
Mexico City is most famous for its food. If you like trying the best local dishes, joining a food tour is one of the most fun things to do in Mexico City, Mexico.
The food tour takes you around the Historic Center of Mexico City, a UNESCO World Heritage Site, and allows you to visit a market and a cantina, street food stalls, and much more.
During the tour, you'll be sampling Black Mole Enchiladas, Ceviche Tostadas, Plantain Empanadas, and many other native Mexican dishes.
If you don't recognize the names of these dishes, or if you've heard of them but never had them freshly prepared for you, then attending a food tour is the best way to experience it.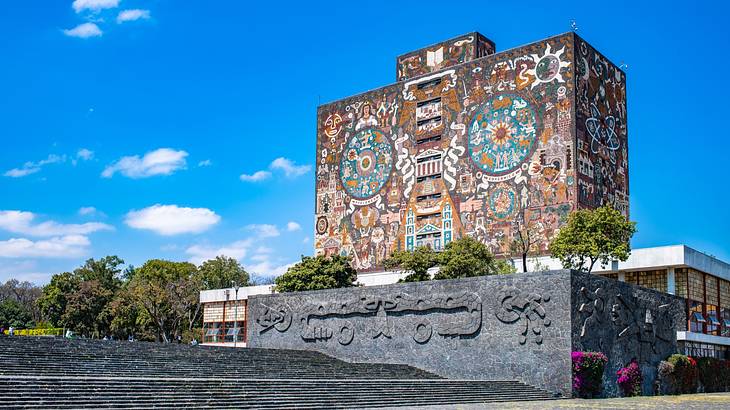 Take pictures of the murals at the UNAM Central Library
Opened in 1956, the Central Library at the National Autonomous University of Mexico is a must-visit landmark. It houses one of the largest literary collections in Mexico and is known for its impressive exterior mural. The Historical Representation of Culture mural covers most of the building and was created by Mexican artist Juan O'Gorman.
Whether or not you go inside the library, admiring the external artwork can't be missed. You can also learn more about the library and its design by going on a Mexico City tour.
Find out about the city of Tenochtitlan at the Templo Mayor Museum
The Templo Mayor was the main temple of the Mexica people in the city of Tenochtitlan, which is present-day Mexico City. When digging to build a metro, the Mexican government unearthed the temple's ruins, and the site is now a museum.
As the land here is somewhat unstable, and the old city buildings on top of the ruins were removed, the tallest part of the temple ruins is a bit taller than the rest. To learn as much as possible about the landmark, booking a Templo Mayor Museum guided tour is recommended.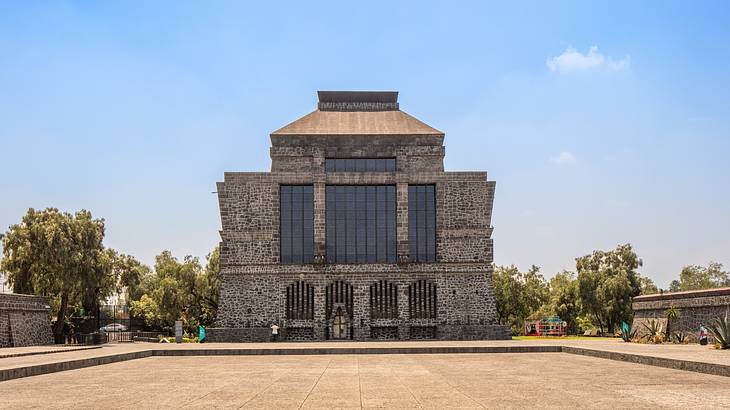 View pre-Columbian art at Diego Rivera Anahuacalli Museum
Another of the many interesting museums to visit in the city is Museo Anahuacalli. Housed within a Mesoamerican temple-style structure, the attraction has a vast collection of pre-Columbian artworks, including pottery, sculptures, and more.
Various mosaics can be seen as well, and there is even an ecological reserve on the museum grounds. You can buy Museo Diego Rivera-Anahuacalli Museum entry tickets in advance, which also includes admission to the Frida Kahlo Museum and their studio.
Discover the city's impressive murals
Lovers of art will have an excellent time exploring Mexico City due to its many art museums and stunning murals. To ensure you see all of the top murals in the city, take a Mexico City murals and street art tour.
You'll get to see famous sites like the Anfiteatro Simon Bolívar and Murales de la Secretaría de Educación Pública, which is where you can view fantastic works by the renowned Mexican artist Diego Rivera.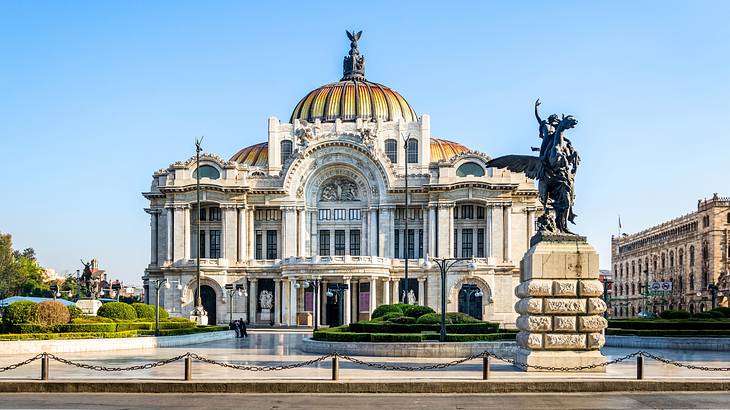 Admire the architecture of the Palace of Fine Arts
Mexico City has many impressive buildings to see, like Palacio de Bellas Artes. Construction of the building began in 1904, and it opened in 1934. The structure features multiple architectural styles, including Art Deco, Art Nouveau, and Neoclassical architecture.
Along with admiring the exterior architecture, you can go inside to explore the museum and see the main theatre. If you want to see this landmark with a guide and visit some other attractions, consider joining a historic downtown walking tour.
Look around the Zócalo
Also known as the Plaza de la Constitución, Zócalo is Mexico City's main square. Surrounding the square, you'll see many unique buildings, including the Metropolitan Cathedral.
It is not recommended to eat at the restaurants around the square as they are very touristy and most likely overpriced. To learn more about this landmark, you could join a Zócalo tour.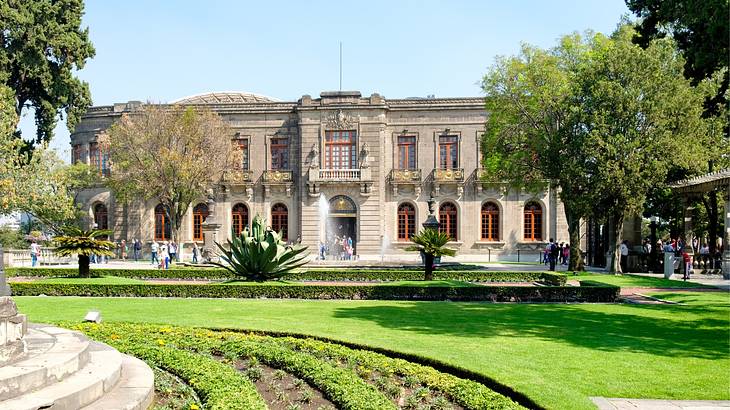 See Chapultepec Castle and Chapultepec Park
One of the best things to see in Mexico City is Chapultepec Castle. Located in Chapultepec Park, or Bosque de Chapultepec, the construction of the castle began in 1785 and was completed in 1864. Visitors can marvel at the design and go to a history museum found inside the building.
You can then explore the surrounding park, which includes trails, a lake, and other attractions, like Museo de Arte Moderno. To make the most of your experience, booking a Chapultepec Castle tour is recommended.
Visit Leon Trotsky's House Museum
Museo Casa de Leon Trotsky is one of the most famous Mexico City tourist attractions. Opened in 1990, the museum is housed in the home where Leon Trotsky, a Russian revolutionary and political theorist, lived and was killed in 1940. He is also buried on the museum grounds.
At the attraction, you can learn more about Trotsky's life and work as well. Visitors can explore the home and gardens, as well as an exhibit space and a library.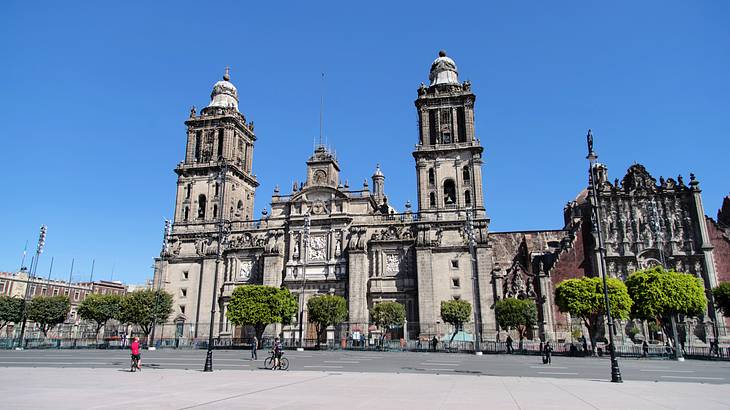 Look around the Mexico City Metropolitan Cathedral
The Mexico City Metropolitan Cathedral in the Historic Center of Mexico City is a notable landmark for many reasons. Built in parts between 1573 and 1813, its location is interesting as it was constructed on top of an Aztec Pyramid. In addition, it features Neoclassical (represented by the balconies), Baroque (identifiable by the red volcanic stones), and Gothic architecture.
Another interesting fact is that the cathedral is sinking! During a visit, you can see some of the sinking (caused by the lowering of the water table and instability of the soft clay foundations) to the left and right of the main stairs. The middle is not sinking because of the pyramid it's on top of.
Due to this damage, the landmark is on the World Monuments Fund's list of the 100 Most Endangered Sites. However, you can still visit the cathedral to marvel at the design and see religious artworks and ornately carved altars found inside.
Find a place to admire views over the city
Whether you want to take in views of the city during the day or at sunset, you'll find a few top places to go. One of the best viewpoints is the observation deck at Torre Latinoamericana.
There is a fee to go to the observation platform, but it's worth it! You can buy entry tickets for the Torre Latino Observation Deck in advance here.
The cafe on the 8th floor of the Sears Building is another great place for views of the city, but you will have to buy a beverage when here.
Learn new things at the National Museum of Anthropology
Another of these museums that you can't miss visiting is Museo Nacional de Antropología. Notably, it's Mexico's biggest and most visited museum.
At the anthropology museum, you can learn about ancient civilizations and see a range of artifacts. You can also book a private guided tour of the National Museum of Anthropology.
Plan a trip to the National Art Museum
Museo Nacional De Arte (MUNAL) is a haven for art lovers. But, even if you aren't a huge art aficionado, it's still worth a visit. Founded in 1982, the museum is housed in a breathtaking palace building and has a vast collection of Mexican art dating from the 16th century to the 20th century.
You can explore the attraction alone or join a historical buildings guided tour, which takes you to the National Art Museum and other stunning buildings, like Palacio Postal.
Wander around Roma Norte
Roma Norte is a scenic neighbourhood that's well worth exploring. It's known for its culinary and artistic attractions, tree-lined streets, and beautiful architecture.
Things to do here range from visiting independent shops to checking out unique bars and coffee shops. You could also go on a Roma Norte food tour, and don't forget to look out for the fantastic street art found around the district.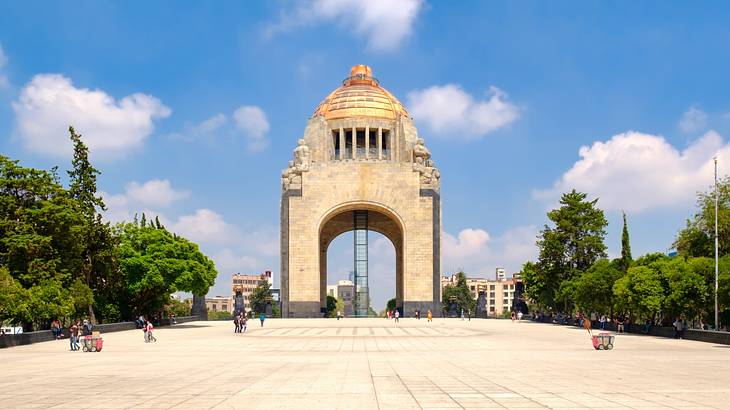 Enjoy the views from the Monument to the Revolution
Monumento a la Revolución is another of many Mexico City attractions that has to be on your list of places to visit. As the name suggests, this monument commemorates the Mexican Revolution and is found in Plaza de la República.
It was constructed between 1910 and 1938 and is thought to be the tallest triumphal arch in the world at 220 feet tall. Visitors can admire the monument from the street or go up to the observation deck within the structure, which offers views over the city.
Join a free guided walking tour
Deciding what to see in Mexico City can be overwhelming, with the city being home to many landmarks and attractions. To ensure you see the best spots, joining a free walking tour is recommended. Kactus is one of the best operators offering free guided tours.
The tour lasts around four hours, and your guide will take you to numerous landmarks, like the Metropolitan Cathedral, and some hidden gems. While this tour is free, tipping your guide is expected.
Tour the National Palace
Construction of the National Palace began in 1522, and today the Baroque building is the official residence of the President of Mexico. This important landmark is also open for tours, which allow you to explore some parts of the palace and learn more about its history.
A fun fact about the palace is that on Independence Day in September, the President rings the palace's bell, and celebrators in the surrounding square cheer back "Viva Mexico" three times. As this is the president's office and residence, you may also see some political protests on the grounds around the palace.
If you want to learn as much as possible about the National Palace and see some other nearby landmarks, you can book a private Mexico City tour.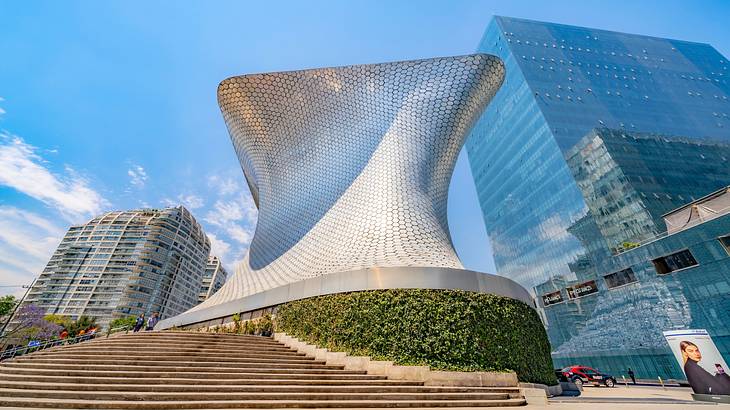 View art at the Soumaya Museum
Are you looking for more unique museums to visit? Then add a trip to Museo Soumaya to your to-do list! The museum, in Telcel Plaza Carso, comprises two buildings.
Across the two exhibition spaces, you can see an array of artworks, with the total collection having approximately 66,000 pieces. Works to see range from Meso-American pieces to contemporary art by Mexican artists and European masterpieces, including those by Auguste Rodin and Salvador Dalí.
Shop at Ciudadela Market
If you're looking for unique souvenirs or gifts, plan a trip to Mercado de Artesanías La Ciudadela. The daily market features an array of vendors selling Mexican handicrafts and more.
Items to purchase include colourful decor pieces, jewellery, and painted ceramics. Even if you don't buy anything, simply wandering around and seeing what's on offer is a fun activity!
Grab a coffee at Cucurucho Condesa
If you're looking for the best coffee shops in Mexico City, add Cucurucho Condesa to your must-visit list. The cute cafe serves a range of coffee drinks as well as breakfast and brunch dishes, such as French toast with fresh fruit. You can also get lunch items like sandwiches, and there's an outdoor patio to enjoy your refreshments under the sun.
Spend some time at The Main Post Office
Palacio Postal dates back to the start of the 1900s and remains a working post office to this day. It's free to enter the building that was designed by Italian architect Adamo Boari, but do note that no drinks are allowed inside, including water, and flash photography is also prohibited.
Along with admiring the architecture, you can see a unique mural comprising approximately 37,000 stamps. This artwork is located to the left of the entrance at the back of the main post office area.
Walk through the Telegraph Museum
Museo del Telégrafo is another of the niche museums to go to in Mexico City. It's free to visit and next to the National Art Museum, so it's worth checking out if you're in the area. This attraction focuses on the history of telegraphy in Mexico, and you can view artifacts, like old telegraph equipment.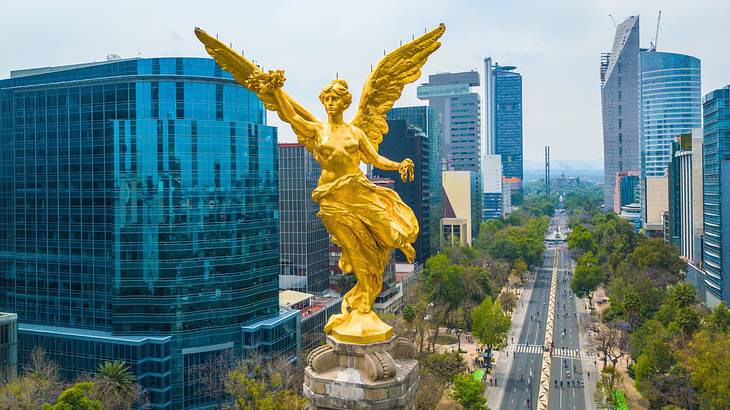 Snap a picture of The Angel of Independence
El Ángel, also known as Monumento a la Independencia or The Angel of Independence, is a Mexican landmark located in Paseo de la Reforma.
Opened in 1910, the monument features a column with a gold angel atop it. It was constructed to commemorate the centennial of the start of Mexico's War of Independence. When in the area, be sure to stop by to see the monument and take some photos.
Check out Santo Domingo Square
Plaza de Santo Domingo is another charming square to visit in Mexico City. It has a statue of Josefa Ortiz de Domínguez, a Mexican revolutionary, and is surrounded by stunning 18th-century buildings.
There are also some cafes and other eateries around the plaza, and it's an excellent place to get some Mexican street food. Interestingly, a printing business in the square is linked to the printing of counterfeit documents, including fake school certificates!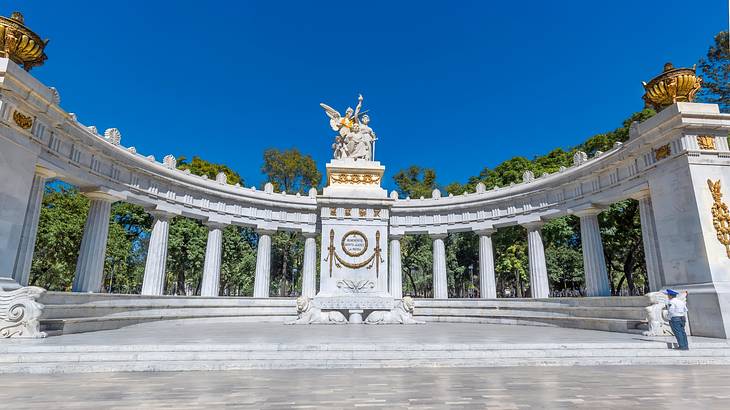 Escape the bustle of the city at Alameda Central
If you want to relax a little and escape the bustle of the city, spending some time at Alameda Central is an excellent idea. This urban park was the first official park of Mexico City and is also the oldest public park in the Americas, having been created in 1592.
As you wander along the tree-lined trails in the park, you'll see many statues and fountains. These include the Beethoven Monument and Benito Juárez Hemicycle, a large Neoclassical monument that opened in 1910.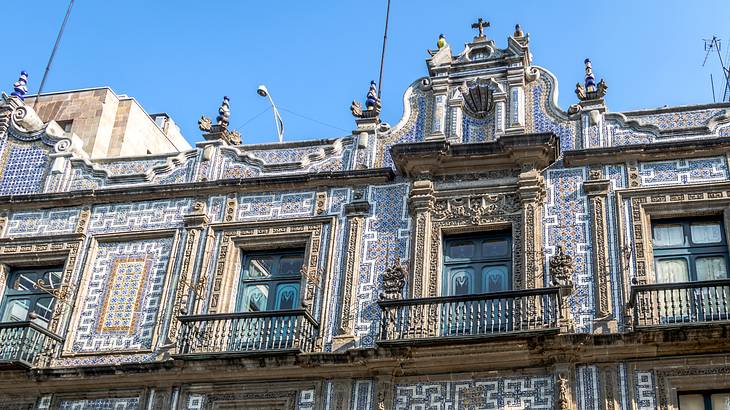 Get a photo of The House of Tiles
Casa de los Azulejos is a popular photo location in the city. The building is covered in blue and white tiles with pretty patterns, making it a great photo backdrop.
It was previously home to a wealthy family but now houses a restaurant. Even if you don't dine at the restaurant, you can enter the building for free from the side through the gift shop at Sanborns (a department store also in the same building).
Once inside at the restaurant, head up the grand staircase to the bathrooms, where you'll come across a mural from the famous Mexican artist, José Clemente Orozco. Make sure to also appreciate the beautiful internal architecture and design.
Dine at Veguísima
Veguísima is one of the best restaurants in Mexico City, Mexico that will appeal to all types of diners. The plant-based eatery serves a range of delicious dishes, ranging from Mexican classics like tacos to salad bowls, wraps, and burgers. You can also enjoy drinks, such as freshly made kombucha.
Marvel at the Equestrian Statue of Charles IV of Spain
Estatua Ecuestre de Carlos IV, also known as El Caballito or the Little Horse, is a famous statue in the city that's worth seeing. The bronze sculpture was cast between 1796 and 1803 to honour King Charles IV of Spain.
It's located in Plaza Manuel Tolsá in front of Museo Nacional de Arte, so it can easily be seen before or after visiting that attraction.
Best Things to Do in Mexico City at Night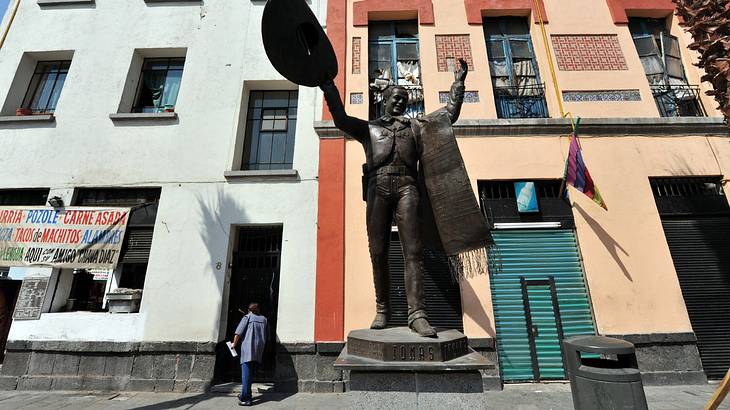 Catch a mariachi band performance at Garibaldi Square
Plaza Garibaldi is a pretty square that's worth checking out. It features many bars, serving great food and drinks. The plaza is also known as being the home of Mexico City's mariachi music!
You may see bands performing throughout the day, but for the best atmosphere, head to the square in the evening. You can grab some drinks, enjoy the music, and even dance along with the locals.
Watch a traditional Lucha Libre Wrestling match
If you've been wondering what to do in Mexico City, Mexico, in the evening that will be fun and memorable, add watching a Lucha Libre Wrestling match to your activity list! You can head to one of the multiple venues hosting the event, or opt for an organized Lucha Libre Wrestling experience.
During this experience, you'll be taken to a local tavern for drinks before going to Arena Mexico or La Arena Coliseo to see the wrestling match. Your guide will offer more information on the history and culture of the sport.
Make Mexican dishes at a cooking class
While you could spend the evening dining on delicious dishes at a top restaurant, learning to cook them yourself is just as fun! When participating in a cooking class, you'll spend the evening with a local chef who will teach you to cook some traditional Mexican dishes.
You'll shop for ingredients at a local market and then cook various dishes, like tacos, complete with tortillas made from scratch. The evening class begins at 5 PM, but a morning class is also offered.
Experience a folkloric ballet performance
Watching a folkloric ballet performance is another unique thing to do in Mexico City in the evening. The ballet dancers perform dances to traditional music in a show that's memorable to see. The performance is held at one of four excellent venues, including Chapultepec Castle or the Palace of Fine Art.
Dance the night away at a Salsa class
Whether you know how to salsa dance or want to learn, spending the evening enjoying a Salsa dancing experience is sure to be fun!
During this two-and-a-half-hour experience, you'll go to a top Salsa club to learn the basics or improve your skills while dancing to a live band. You can also get drinks at the club, with one complimentary beverage already included.
Best Things to Do Near Mexico City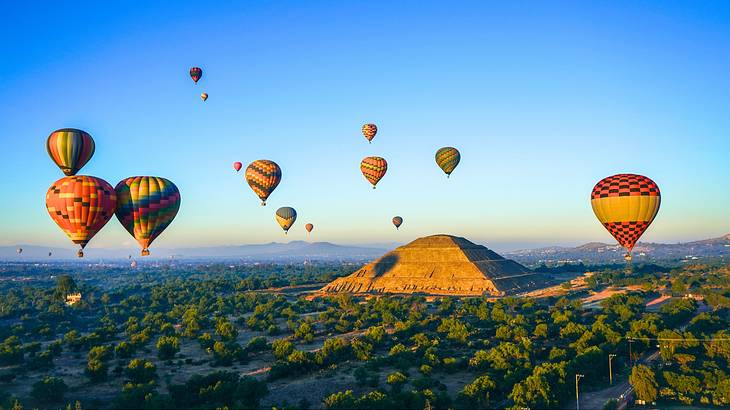 Fly above Mexico City on a hot air balloon ride
Going on a hot balloon ride is definitely one of the most memorable experiences around Mexico City. The flight take-off point is around 45 minutes outside of Mexico City, but this tour includes transportation.
Once aboard the hot air balloon, you can take in the views of the Teotihuacán Valley, including the Teotihuacan Pyramids, and Mexico City in the distance. You can also enjoy breakfast with the sunrise flight.
Have a fun day exploring Puebla
If you want to go on a day trip, joining a Puebla day tour is one of the best available options. You'll be transported to and from Mexico City, and your guide will take you to the top areas and attractions, including the town of Cholula, Templo de Santa María Tonantzintla, and Mercado El Parián.
Mexico City Travel Tips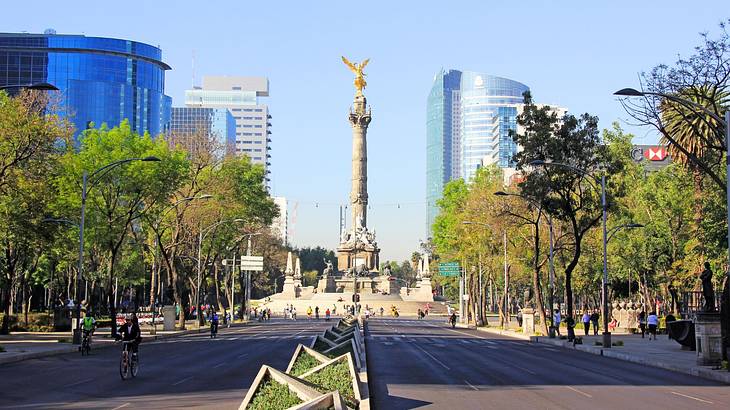 What are some tips for visiting museums in Mexico City?
If you plan to visit museums, note that most are open Tuesday through Sunday. They are typically closed on Mondays, but check the operating hours before going to a museum, no matter which day you choose. In addition, admission is generally free on Sundays, making this a good day to use for museum visits if you're on a budget.
What are some general tips for exploring Mexico City?
As you walk around, stop to look through some of the archaeological windows around the city. They give you a unique look into the Aztec ruins, where old city buildings haven't been removed. Looking in from the side is recommended to get the best view.
Don't forget that simply wandering around the city is a fun idea as well. Interestingly, you can find streets dedicated to specific things as you explore, like a street devoted to quinceañera dresses in Centro.
In Conclusion
If you're planning a trip to the Mexican capital, this list will be useful in deciding exactly where you want to visit. As you can see, there are many attractions to check out, from numerous niche museums to beautiful parks and historical landmarks.
No matter what you do in Mexico City, you're guaranteed to have an incredible and memorable trip!
Give us feedback about this article
Read more articles about Mexico:
More articles about things to do:
---
---
Want to keep exploring?
Subscribe for discounts on tickets and hotels and our latest guides.
Thank you for subscribing
We will be in touch soon with discounts on tickets and hotels and our latest guides.
Want to keep exploring?
Subscribe for discounts on tickets and hotels and our latest guides.
Thank you for subscribing
We will be in touch soon with discounts on tickets and hotels and our latest guides.
Related Articles