24 Famous Landmarks in Mexico You Must See
Destguides may receive commissions from purchases made through affiliate links in this article.
There are many famous landmarks in Mexico to explore. From ancient Mayan landmarks that define Mexico's early history to magnificent churches and modern art museums in Mexico City and more, there is a lot to discover in this part of the world. Let's also not forget about the stunning cenotes that can be found all around the Yucatán Peninsula as well.
I was privileged to spend a few months in Mexico and visited some of the well-known landmarks mentioned here. If you want to learn more about the notable attractions and famous historical places in Mexico to see, keep reading! The list below is in no particular order.
24 Famous Mexican Landmarks
Arena México
Arena México is the largest indoor wrestling venue in Mexico. It was built in 1956 and can seat up to 16,500 spectators. This famous arena in Mexico City is home to the Mexican-style masked Lucha Libre wrestling.
Arena México always has the "goodies" against the "baddies," which is unique to Mexico. This landmark allows tourists to enjoy authentic masked luchador wrestling, including all the series of acrobatic bouts and suspended disbelief.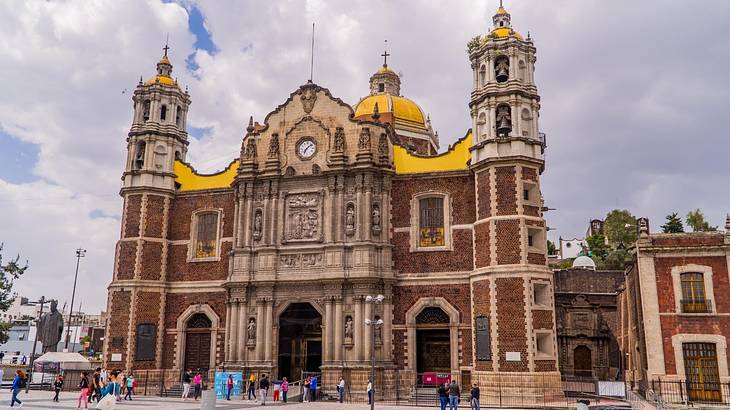 Basilica de Santa Maria de Guadalupe
Tourists often visit the Basilica de Santa Maria de Guadalupe in Mexico City as a religious pilgrimage, but it is also visited by architecture fanatics from around the world. The interior of this Catholic church is full of elegant embodiments, and it has a beautiful side chapel on a hill.
The Basilica of Our Lady of Guadalupe is worth a visit, whether you're a practicing Catholic or not. Since this is one of the many popular landmarks in Mexico, expect crowds throughout the day. There are parking and food options nearby.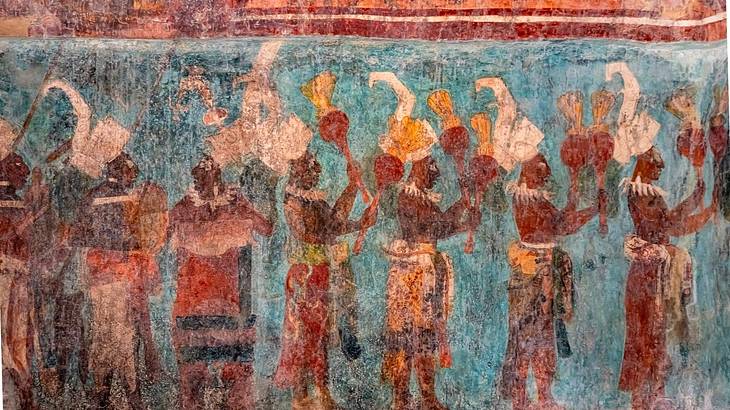 The Bonampak Murals
Throughout Mexico, there are many Mayan artifacts. The Bonampak murals in southern Chiapas exemplify the real life of the ancient Maya people. These floor-to-ceiling murals were curated between 790-792.
The murals also show the ancient Mayan rituals of bloodletting, torture, and sacrifice. These are the murals that confirmed the ancient Maya were not a serene and peace-loving community.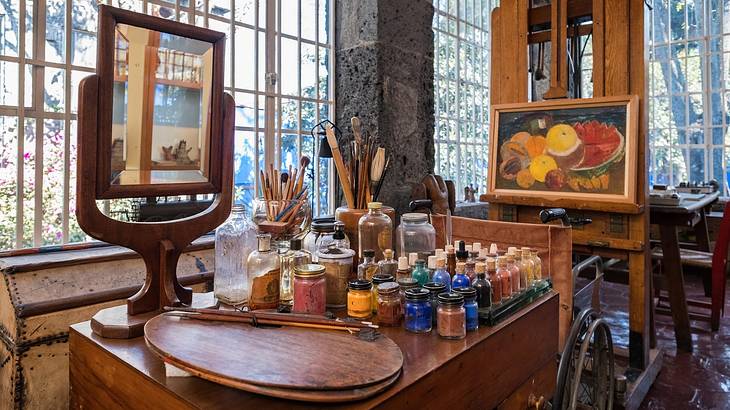 Museo Frida Kahlo
You can't miss the cobalt blue house that holds artwork from Frida Kahlo and Diego Rivera when in Mexico City! This house was Frida's birthplace. It is called La Casa Azul, or the Blue House in English.
The Blue House is also where she grew up as a child and lived after she married Diego. After she had a horrific bus accident, this is where she spent the majority of her life bedridden.
Diego Rivera donated the house in Frida's honor. It looks much like it did in the 1950s when it was donated, including memorabilia and the original furniture. Although the house is small and a quick walk-through, it is still worth a visit. There is a serene garden to take a few relaxing moments in as well.
The Frida Kahlo Museum is one of Mexico's famous landmarks because of how it portrays the renowned artist. It is an honorable devotion to the surrealist painter who put Mexican folk art on the map.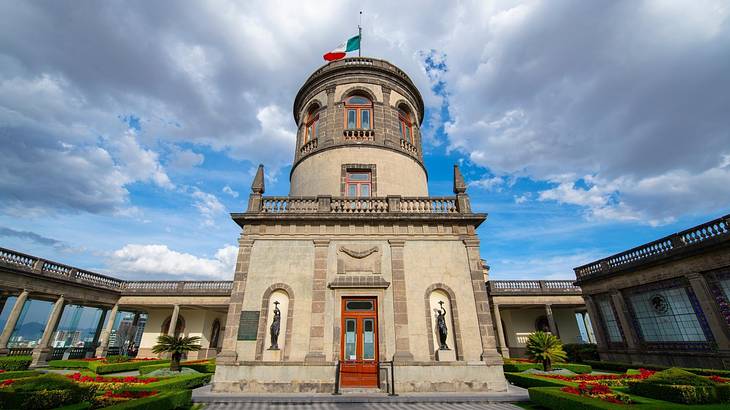 Castillo Chapultepec
Chapultepec Castle is said to reside on a holy Aztec site in Mexico City. It was built in the 18th century and is known for its exquisite gardens. The castle is also where the Mexican president lived until 1939 before being opened to the public as the National Museum of History. Previously, Castillo Chapultepec was also a military school, an imperial residence, and an observatory, among a few other things.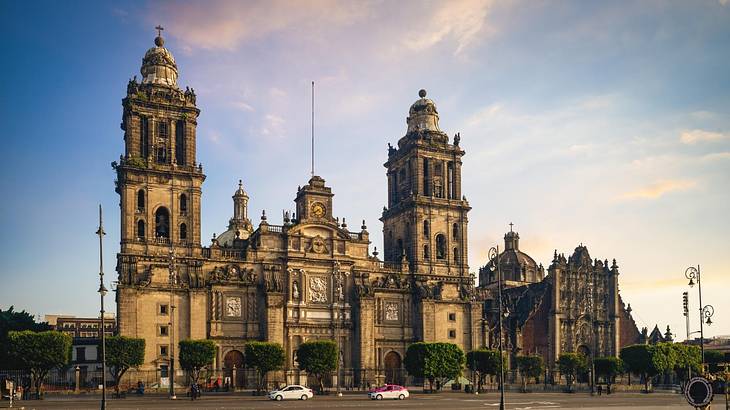 Catedral Metropolitana de la Ciudad de México
Catedral Metropolitana is one of the oldest and largest churches in Latin America. It was finished in 1813 and is impossible to miss when in Mexico's historic center.
The Metropolitan Cathedral houses incredible paintings and has one of the most beautiful high altars. If you have the opportunity to visit this famous landmark in North America during a mass, you will get to enjoy the large pipe organs. This cathedral houses two famous pipe organs that can be heard from outside!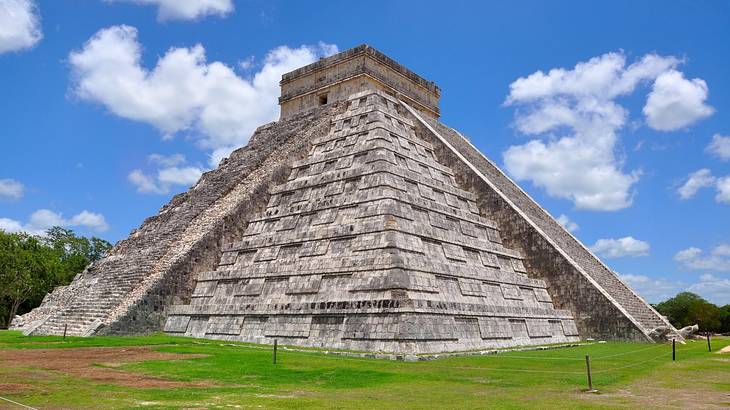 Chichén Itzá
Chichén Itzá is not only one of the most famous historical landmarks in Mexico, but also one of the unique places to visit near Cancun.
This ancient Mayan city predates the Columbian era, and the area spans four square miles. It once housed tens of thousands of people at its peak, and it contained religious, military, and political community centers.
Chichén Itzá was named one of the New Seven Wonders of the World in July 2007. The complex also includes The Observatory, The Temple of the Warriors, and the Mayan Ball Game Court.
Cineteca Nacional de México
Built in 1974 in Mexico City, this cinema brought Mexican art and folk films to light. This space became famous after showing the movie called "A Clockwork Orange," when over 153,000 people viewed the film in a 153-day run.
Unfortunately, a massive fire ruined rare movies and killed an unknown number of people. Besides the artistic movies that are played here, there is also stunning architecture to enjoy.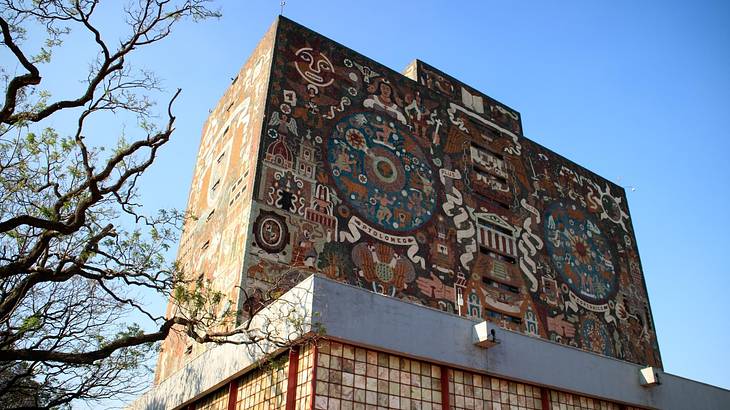 Ciudad Universitaria
Ciudad Universitaria is the main part of the oldest university in Mexico, Universidad Nacional Autónoma de México (UNAM). It was declared a UNESCO World Heritage Site in 2007 for being one of the exemplary monumental ensembles of the twentieth century of modernity.
Ciudad Universitaria was built in the mid-1950s in Mexico City and encapsulates the identity and values of the Mexican people. The most well-known building on this campus is the library. It is covered in a mosaic-tiled mural designed by Diego Rivera.
Parque Nacional Barranca del Cobre
Copper Canyon National Park is one of the significant landmarks in Mexico since it is four times larger than the Grand Canyon in the United States. It is made up of six river canyons, and it is a UNESCO World Heritage Site. The Tarahumara natives inhabit the canyon, which is located in the center of the Sierra Madre mountains.
Copper Canyon also has a train that goes through the terrain, known as the Copper Canyon Railway in English. The train route through the canyon is approximately four hours long and offers some of the most beautiful scenes of Mexico.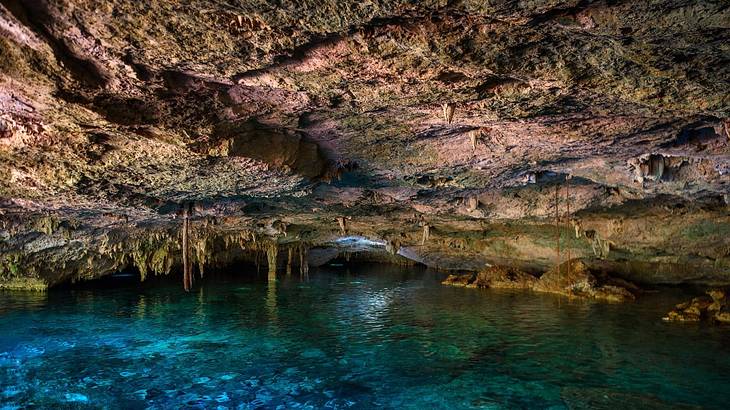 Dos Ojos Cenote
Dos Ojos Cenote, one of the most famous places in Mexico, can be found in the state of Quintana Roo, just north of Tulum. An underground tunnel connects the two cenotes, and it is one of the largest cave systems in Mexico. It is also known as the "Two Eyes Cenote" in English.
The visibility of the water is incredible, and the temperature is ideal all year long for snorkeling. Since this is a famous cenote, expect other tourists.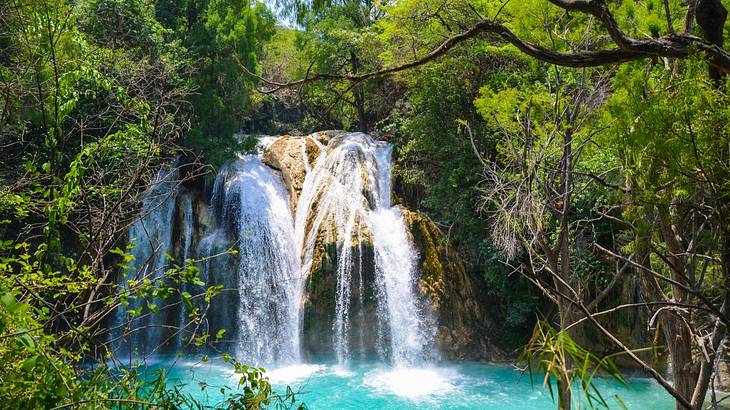 Cascada El Chiflón
El Chiflón Waterfalls is a series of five cascading waterfalls. It can be visited on a day trip from San Cristobal with or without a tour. The main waterfall is about 120 meters high. There are many endless turquoise pools to swim in that are connected by a relatively stress-free trail.
Make sure to bring your hiking shoes, sunblock, and mosquito repellent. The best part of the El Chiflón Waterfalls hike is the many stopping areas along the way called "miradors," providing an incredibly scenic experience!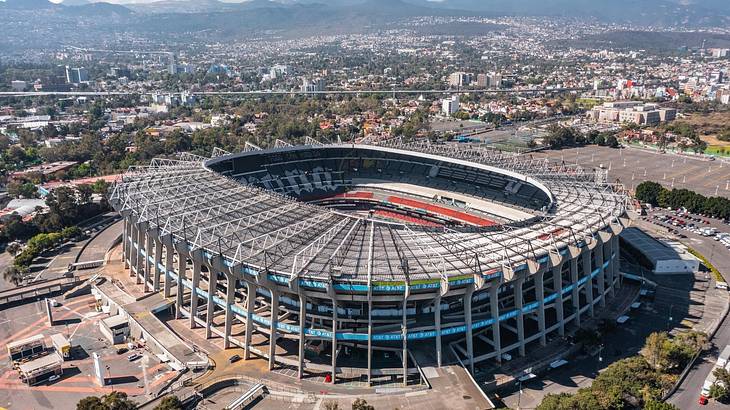 Estadio Azteca
Aztec Stadium in Mexico City is the 11th largest stadium in the world and can hold almost 90,000 spectators. It has hosted football world cups (fútbol in Spanish) and NFL games. You can buy tickets to watch a match at the stadium or enjoy the stadium from the outside.
If you are a fútbol fan or an American soccer fan, this is one of the major landmarks in Mexico to visit for followers of the sport. There are guided tours offered throughout the area, but the best experience to be had has to come from experiencing a game in person!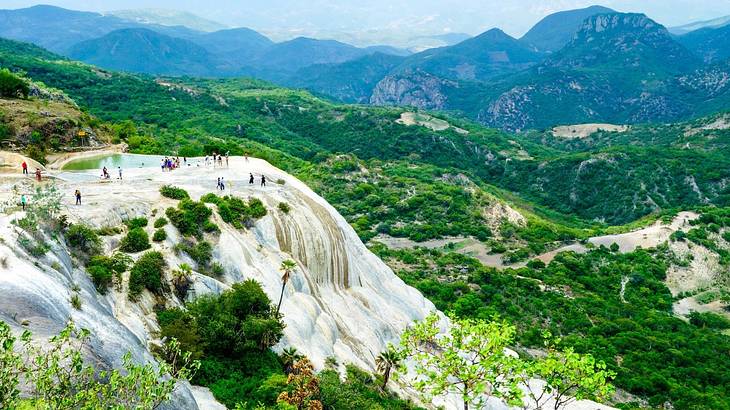 Hierve el Agua
Hierve el Agua waterfalls in Oaxaca translates to "the water boils" in English. It is located about 40 miles from Oaxaca. The two rock formations that make up Hierve el Agua are known for their petrified waterfall look that are created by the hot springs at the top that go over the cliff edges. This process has been happening for thousands of years.
Hierve el Agua made it on this Mexico landmarks list because of the breathtaking experience it provides. The road can be a little bumpy to get here, so expect some off-roading sections. You can join a private guided tour (recommended) or drive yourself here.
Monte Albán
Monte Albán is a UNESCO World Heritage site. It is located in the valleys of Oaxaca, between the Sierra Madre mountains. This area of ancient ruins was inhabited for over 1500 years and carved out of the side of a mountain. Its citizens built terraces, dams, canals, and pyramids within that time.
The Archaeological site of Monte Albán is one of Mexico's most-visited sites. It still stands tall today since the structures were designed to be earthquake-prone in a region with high seismic activity.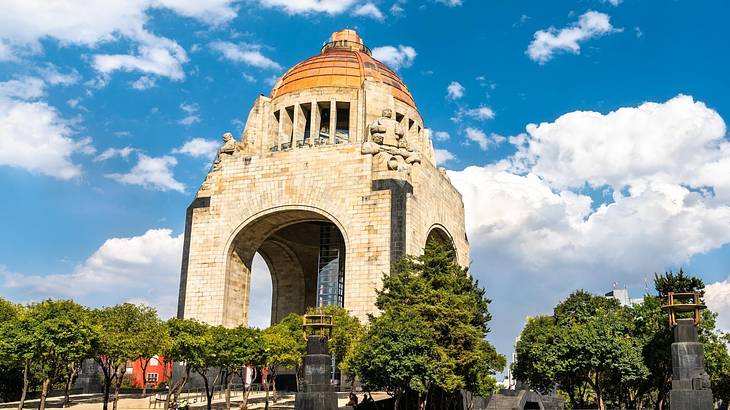 Monumento a la Revolución
The Monument to the Revolution in Mexico City is one of the most important monuments in Mexico. It is thought to be the tallest memorial arch in the world and currently houses The National Museum of the Revolution at the bottom of the monument.
After a walk through the museum, you can take an elevator to the top of the monument to enjoy the viewing deck. If you take a further climb inside the dome, you will find a small coffee shop with spectacular city views.
Museo Nacional de Antropología
As one of the must-see attractions in Mexico, the National Anthropology Museum in Mexico City has in-depth exhibitions on ancient Mayan ruins like Chichén Itzá and Teotihuacan, and much more. This world-class museum, which officially opened in 1964, should not be rushed through, but instead, be enjoyed in a way to avoid becoming overwhelmed by its size.
The Museo Nacional de Antropología is one of the world's most comprehensive anthropology museums and has 23 permanent exhibit halls. You would need several days to cover all the rooms.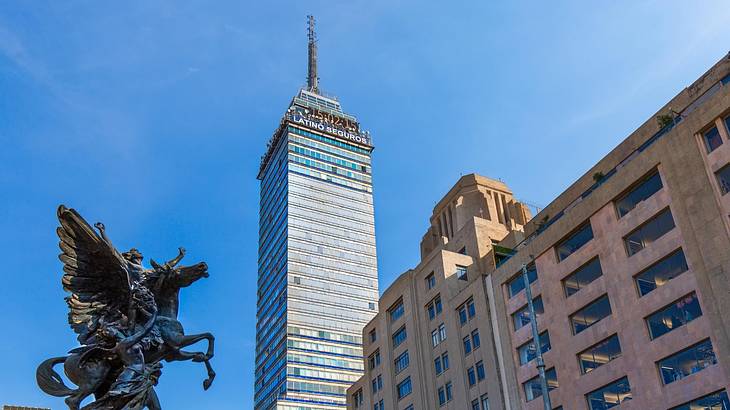 Torre Latinoamericana
Torre Latinoamericana, or the Latin American Tower in English, was once the tallest skyscraper in Mexico City for 27 years. It is one of the important landmarks in Mexico because it sits in the historic city center, and it has proven to withstand earthquakes that other buildings couldn't.
After the 1985 Mexico City earthquake, this building proved to be an engineering feat for a place that is a highly active seismic zone. It is a must-see on any Mexico City itinerary!
Uxmal
Uxmal is another of Mexico's landmarks related to the Maya people. This Mayan town was founded in 700 A.D. and proves that the Mayans knew astronomy. Uxmal is known as the ceremonial center of the town, and it is one of the best things to see near Mérida.
In the town are also hydraulic works and reservoirs for storing water, showing again that the Maya were ahead of their time. Uxmal had around 25,000 inhabitants and complex structures for things like politics, too. Its inhabitants abandoned Uxmal after the 10th century.
Playa Zipolite
Zipolate Beach in Oaxaca became popular in the '70s with tourists thanks to being the first and only legal nude beach in Mexico. It's also the deadliest beach in the country, apparently, taking dozens of lives each year.
If you're a backpacker or love the bohemian vibe, then you'll probably be attracted by the large yoga community in Zipolite that often offers free or donation-based classes. Very few places take credit cards here, so make sure to bring a small amount of cash with you everywhere you go.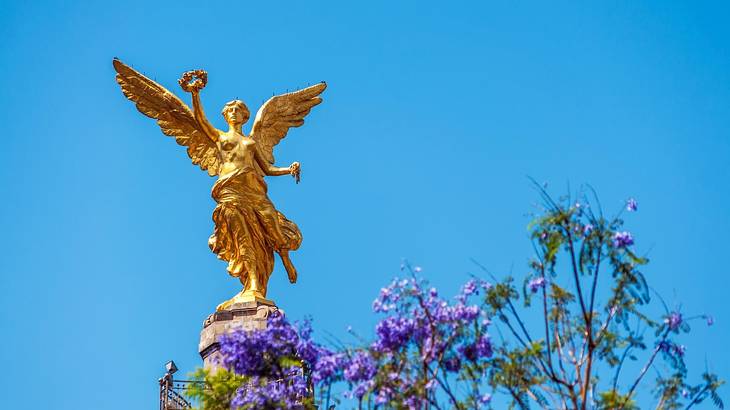 El Ángel de la Independencia
This landmark is known officially as the Monumento a la Independencia and the Monument to Independence and the Angel of Independence in English. It is located on a roundabout on the major thoroughfare of Paseo de la Reforma.
The famous angel stands atop a mausoleum created for the country's most important heroes in the War of Independence. Since it has a centralized location and is a recognizable landmark, it is also the site for many celebrations and protests. While a quick activity, seeing this landmark is one of the best things to do in Mexico City.
El Tajin
El Tajin in Veracruz is quieter and more remote than some of the more famous ancient sites in Mexico frequented by tourists. Historians believe El Tajin was abandoned in 1200 AD after being the home of around 20,000 people.
The majority of the city is in the thick of the jungle, but the temple has been cleared to allow visitors to explore. The main attraction at El Tajin is the Pyramid of the Niches, which is well preserved.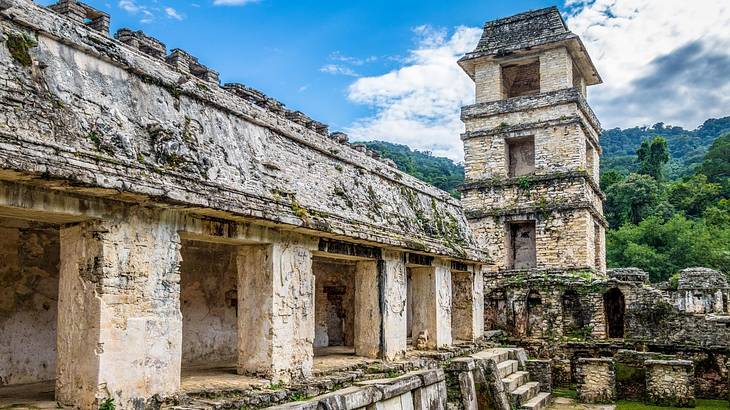 Palenque
Palenque, in the state of Chiapas, was first unearthed by a Spanish explorer in the 16th century. It is believed that this area dates back to 200 AD. The most important discovery made was inside the tomb of Pakal the Great. Pakal was a ruler at the age of 12 and was the one to rebuild much of Palenque. Pakal was also known for his demand that events be recorded in detail.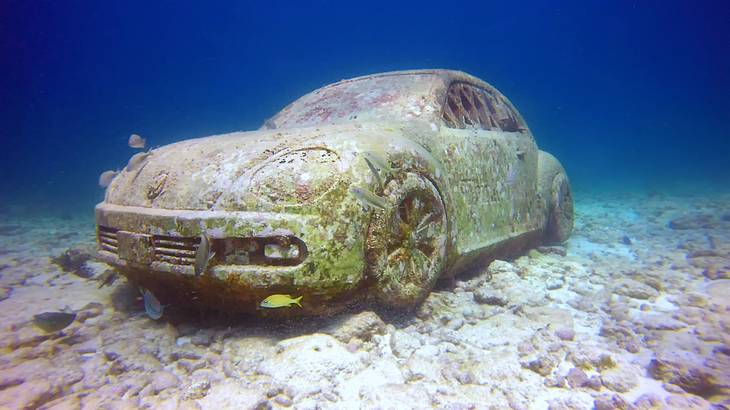 Museo Subacuático de Arte
A fun fact about Cancun is that it has one of the largest underwater museums in the world, Museo Subacuático de Arte (MUSA for short). The statues in the water are made from marine-grade cement, allowing ocean life like coral and algae to grow on their surfaces.
The best way to view this famous Cancun landmark is with a guided snorkeling tour or on a glass-bottom boat. There are around 500 fascinating sculptures to see on the ocean floor at the Cancún Underwater Museum.
In Summary
There are stunning places to see in other parts of Mexico than just Cancun or Mexico City. Whether you just wanted to know which cenotes or ancient Mayan ruins to add to your Mexico bucket list, or you just wanted to learn something new about the fifth-largest country in the Americas, this list should have helped get you started!
Give us feedback about this article
More visual stories related to this article:
---
---
Want to keep exploring?
Subscribe for discounts on tickets and hotels and our latest guides.
Thank you for subscribing
We will be in touch soon with discounts on tickets and hotels and our latest guides.
Want to keep exploring?
Subscribe for discounts on tickets and hotels and our latest guides.
Thank you for subscribing
We will be in touch soon with discounts on tickets and hotels and our latest guides.
Related Articles