35 Best Things to Do in Mérida, Mexico
Destguides may receive commissions from purchases made through affiliate links in this article.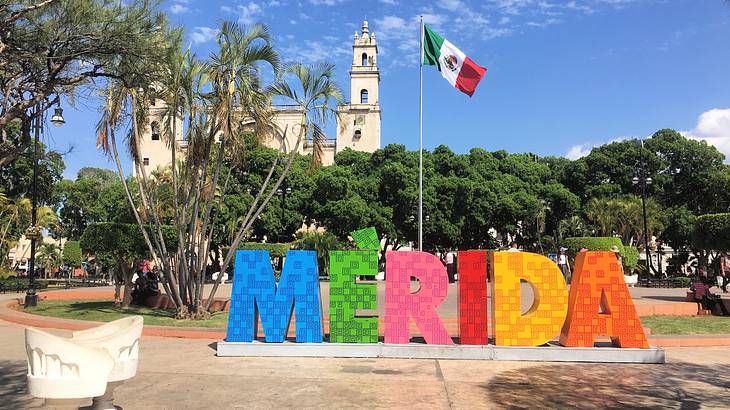 Located in the state of Yucatán near the Gulf of Mexico, Mérida is a captivating and unique colonial city to explore. If you're planning a trip to the area soon, this list of the best things to do in Mérida, Mexico, will help you plan a fun and memorable trip.
During the day, you can visit one of many interesting museums, relax at a local coffee shop, or look around independent stores like the Ki'Xocolatl chocolate shop. After dark, you can try tasty local cuisine at fantastic restaurants or even learn to Salsa dance!
Additionally, this Mérida guide includes some fun day trips, such as seeing Chichén Itzá or spotting flamingos at Reserva de la Biosfera Ría Celestún.
To discover everything to do in and around this Mexican city, keep reading - we spent a few weeks in this quaint town and absolutely loved it!
35 Best Things to Do in Mérida, MX
Fun Things to Do in Mérida, Mexico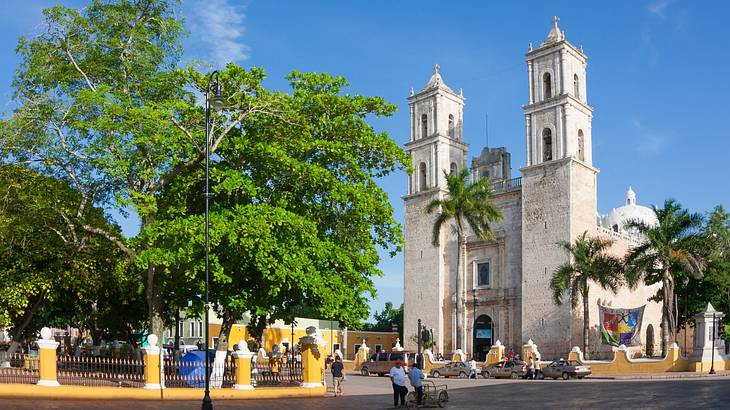 Appreciate the architecture of Catedral de Mérida - San Ildefonso
Catedral de San Ildefonso is a famous Mérida landmark that has to be on your must-visit list! The beautiful cathedral is designed in a Renaissance architectural style and dates to 1598, making it one of the oldest cathedrals in the Americas.
You can visit the cathedral during the day when services aren't taking place to admire the internal and external architecture. There's also a light show and narration on Thursday evenings at 8 PM. If you don't speak Spanish, understanding the narration will be a little challenging, but seeing the lights is still well worth it.
Taste delicious dishes on a food tour
It's probably no surprise that there's lots of great food to try in Mérida! One of the best ways to try all the top dishes is by going on a street food tour.
On this three-hour walking tour, your local guide will take you around the city centre to various food outlets where you can try things like tamales, panuchos (black bean quesadillas), and fresh fruit juice.
Learn to cook Yucatán dishes at a cooking class
One of the best and most memorable Mérida, Mexico, things to do for visitors that like to cook is taking a cooking class. You'll start by getting ingredients at a local market with your guide.
Then, you'll be taught to cook traditional dishes for a three-course meal. Once you return home, you can wow your friends and family with your new Mexican cooking skills!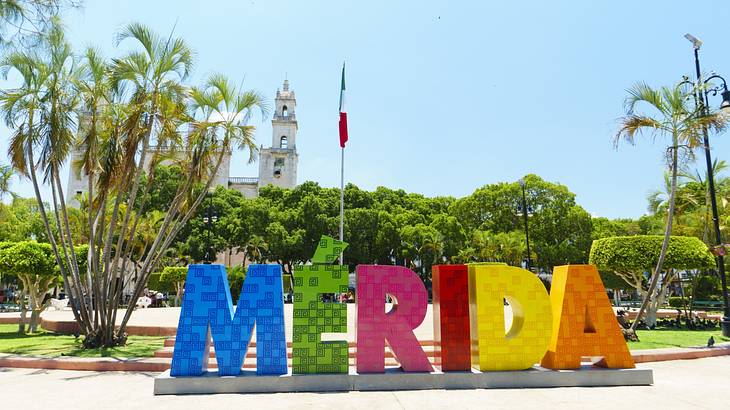 Snap pictures with the Mérida sign at Plaza Grande
Plaza Grande is another popular place to visit in the city. Located in Downtown Mérida (locally called Centro), the square contains plants and walking areas with beautiful historic buildings surrounding it. You can also find many places to sit and appreciate the square's beauty.
In addition, it's home to one of the top tourist attractions in Mérida, Mexico, the colourful Mérida sign. Snapping a photo with the sign is a must while at Plaza Grande!
Get sweet treats at Dulcería y Sorbetería Colón
If you have a sweet tooth, you'll want to stop by Dulcería y Sorbetería Colón. The popular local spot specializes in ice cream and sorbet. Popular flavours include coconut, pistachio, and mamey, a local fruit. Some baked goods and pastries are also available.
Purchase high-end chocolate at Ki'Xocolatl
Another excellent place to visit if you have a sweet tooth is Ki'Xocolatl. The high-end chocolatier sells an array of chocolate products using the best Mexican cacao.
After purchasing some chocolate bars or other sweets, you can visit the cafe for decadent hot chocolate or chocolate frappuccinos. You can even pick up some chocolate beauty products!
View artworks and artifacts at Gran Museo del Mundo Maya
The Mayan World Museum of Mérida is one of the best tourist attractions in Mérida, Mexico. At the cultural museum, you can see artworks, Mexican handicrafts, and exhibits on the area's history.
Notably, there are many Mayan artifacts and exhibits covering the Mayan empire. You're sure to leave learning some new things about Mayan culture.
Visit Museo de la Ciudad de Mérida
The Museum of the City of Mérida is another of the excellent Mérida museums to visit. This interesting museum has exhibits on the city's history, from pre-Hispanic times to the present day.
You can also see many artifacts and will find English descriptions. Entry is free, and you can easily spend a few hours looking around.
Walk through Museo Fernando García Ponce
Are you looking for more museums to visit? Then add Museo de Arte Contemporáneo Ateneo de Yucatán Macay - Fernando García Ponce (MACAY for short) to your list!
This art gallery showcases contemporary Mexican artworks within a colonial palace building. Pieces to see range from paintings to sculptures and statues.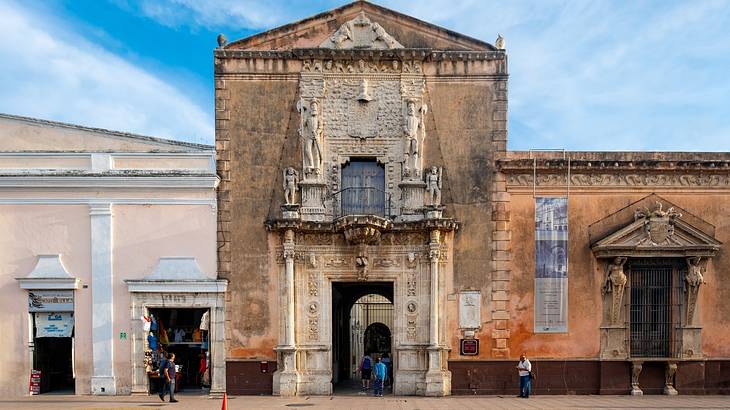 Look around the Museo Casa Montejo
Museo Casa Montejo is housed in a building that dates back to the 1500s. Construction was requested by Yucatán conquistador Don Francisco de Montejo.
Hundreds of years later, the building was converted into a museum and is now a popular tourist attraction. At the museum, you can see antique furniture and artworks from the 19th and early 20th centuries.
You can also see some other interesting exhibits and tours are available. Do note that there aren't any English descriptions relating to the exhibits. However, the museum is free to enter, so planning a visit is worth it.
Enjoy the view from Palacio Municipal de Mérida
Palacio Municipal de Mérida sits across from Plaza Grande and was constructed in 1735. It has been remodelled a few times since but remains a stunning piece of architecture.
The building is free to enter, allowing you to admire the design from the inside and out. You can also take in views over Plaza Grande from the balcony after you sign in.
Stroll along Paseo de Montejo
Paseo de Montejo is a famous avenue in Mérida known for having stunning buildings and unique shops and restaurants. It gets its name from Spanish conquistador Francisco de Montejo. When in the area, you can simply stroll along the street, stopping anywhere that takes your fancy, or just admire the architecture.
Wander around Palacio de Gobierno del Estado de Yucatán
Dating to the 1890s, Palacio de Gobierno del Estado de Yucatán is another beautiful building to wander around. It's free to enter, simply walk past the entry guards and through the pretty courtyard.
Inside, you can see artworks that relate to the city's history, and English descriptions are included within the exhibits. Don't forget to go up the first floor's grand staircase to view more artwork on the second floor. There's also a spectacular ballroom, views over Plaza Grande, and famous murals by the local artist Fernando Castro Pacheco.
Take a free walking tour around Mérida
Going on a walking tour is one of the best activities in Mérida and allows you to easily see all the city's top sites. Best of all, you can join a free walking tour that takes you around Mérida's historic city centre.
On a two-hour tour with Free Walking Tour Mexico, you'll visit famous landmarks and learn about the city's history, culture, traditions, and local folklore.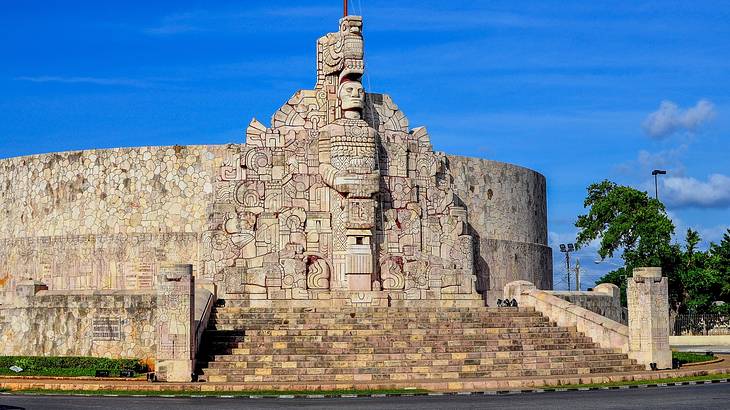 Take a picture of Monumento a la Patria
Translated to Monument of the Fatherland in English, Monumento a la Patria is a famous landmark in Mérida that you must stop by to take some photos. Constructed between 1945 and 1956, the monument honours Mexican history and features carvings inspired by Mayan designs.
Shop at Casa T´HŌ Concept House
Casa T´HŌ Concept House is an interesting place to browse or pick up some excellent gifts for friends, family, or even yourself. The small shopping complex has independent boutiques that sell chic clothing, jewellery, and home decor items. There's also a restaurant and an art gallery.
Admire El Pinar
Are you looking for more beautiful buildings in Mérida to visit? If so, plan a trip to El Pinar. This scenic pink French-style mansion is one of the city's most stunning properties and includes manicured gardens and an outdoor pool. Visitors can take a tour to explore the property and its grounds, and, of course, don't forget to take some photos!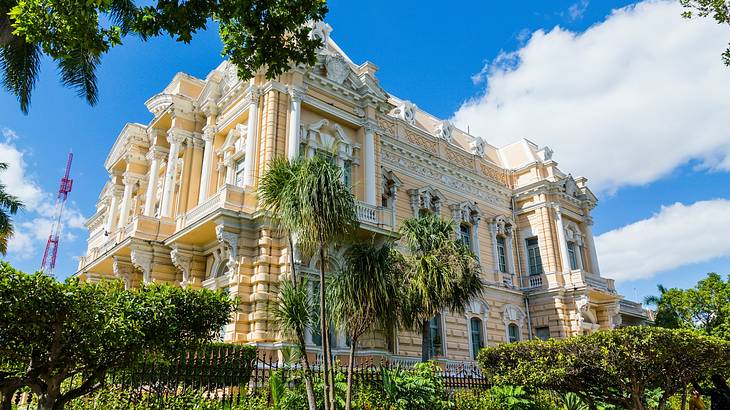 Marvel at Mayan artifacts at Museo de Antropología e Historia
This Mérida travel guide has no shortage of museums, and another top one to explore is the Museum of Anthropology and History, also known as Palacio Cantón.
The museum is housed in a stunning building and allows you to see a range of Mayan artifacts. You can also learn more about the area's culture and the ancient civilizations that have lived in the area.
Explore Reserva Ecológica Cuxtal
Cuxtal Ecological Reserve is another of many can't-miss Mérida tourist attractions. Located around 30 minutes from Centro, the reserve features forests full of wildlife and some tranquil cenotes. At the outdoor attraction, you can hike or bike along various trails before taking a dip in a cenote.
Things to Do in Mérida at Night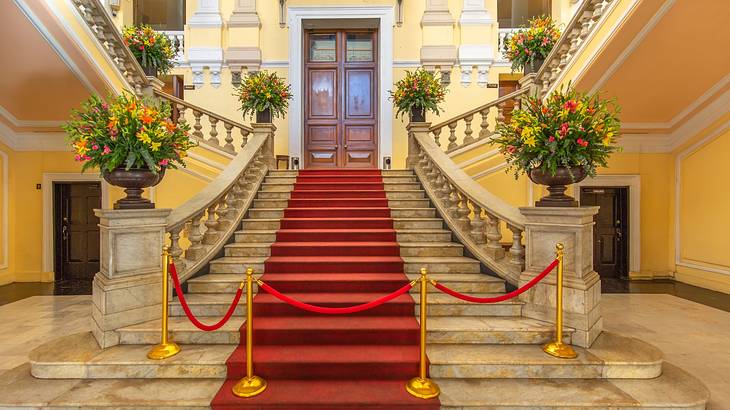 Watch the Yucatán Symphony Orchestra at Teatro José Peón Contreras
José Péon Contreras Theater is a beautiful theatre that is often considered one of the most important theatres in the country. Watching the Yucatán Symphony Orchestra perform here is something all classical music lovers should experience. Going inside the theatre will also allow you to admire the breathtaking Neoclassical architecture.
Dance all night at a salsa dancing class
If you want to learn a new skill while in Mérida, taking a Salsa dancing class is a great evening activity to enjoy. At the session, you'll learn all the basics and can practice to live Latin music. You can also learn more advanced techniques if you have some Salsa experience.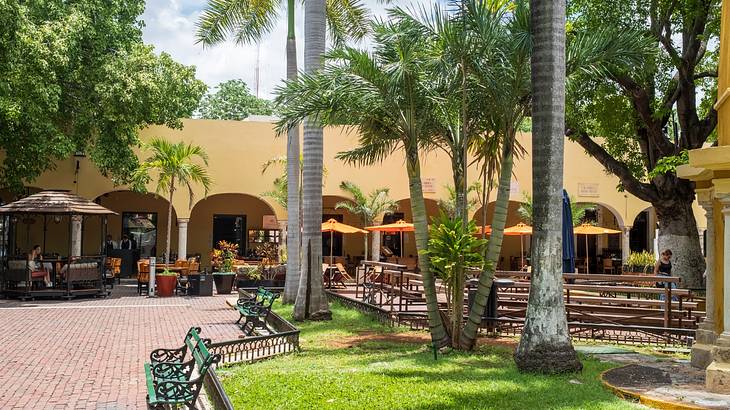 Catch a show at Parque de Santa Lucía
Santa Lucía Park is one of the most popular Mérida attractions. It contains greenery, small walking areas, and a square with cafes and restaurants.
You can visit at any time of the day, but many choose to go to the park on Thursday evenings. Starting between 8 and 9 PM usually, you will find traditional Mexican music and dance performances.
You'll find many places to sit to watch the show, although arriving early is recommended if you want a seat. You can also pick up food and drinks from one of the square's cafes or food and drink stalls while you wait for the show to start.
Best Restaurants in Mérida, Mexico
Apoala
Located in Parque Santa Lucía, Apoala serves delicious Oaxacan and Yucatecan cuisine. It also has an outdoor patio where you can enjoy the nice weather and views of the park.
Dishes to enjoy include fried zucchini flowers and ceviche. Notably, this is an excellent place to stop for dinner before or after the entertainment in the park on Thursday evenings.
Te extraño, extraño
Te extraño, extraño is a can't-miss eatery for breakfast, brunch, or lunch. The airy and aesthetically pleasing spot serves a variety of healthy and light but delicious dishes. Just a few menu options include French toast, chilaquiles, and a meze-style sharing board.
Taquería de la Unión
Going to Taquería de la Unión is a must if you love tacos and tortas. Meat favourites include the Cochinita Pibil and the Pork Belly Al Pastor. The eatery has a few vegetarian and vegan options as well.
Museo de la Gastronomía Yucateca
If you're still wondering what to do in Mérida, Mexico, for dinner, booking a table at Museo de la Gastronomía Yucateca is a great idea. The stylish eatery serves small plate dishes and delicious drinks, including fresh juice and agua fresca. You can also dine al fresco on the charming patio here.
La Chaya Maya
La Chaya Maya is another excellent place to try Yucatán dishes. Menu items range from stews, soups, and bean dishes to tacos and panuchos. The eatery is open for breakfast, lunch, and dinner, and you may even see staff making tortillas from scratch!
Best Mérida Coffee Shops
Arista Barista
Artista Barista is a great spot to stop for coffee and snacks. The coffee shop is plant-based and has many milk alternatives for coffee beverages. You can also get freshly baked cake and other baked goods, as well as sandwiches, smoothie bowls, and more.
Tinoc Café
Whether you want to stop for coffee and brunch or are looking for an excellent place to get some work done, Tinoc Café is a good option.
This Instagram-worthy cafe features pretty pink decor items and serves various coffee beverages, with plant milk like oat milk available. Brunch-style dishes to accompany your drinks include avocado toast, fruit-topped French toast, and smoothie bowls.
Baretto | Espresso Bar
Baretto | Espresso Bar is another of the excellent coffee shops to visit in Mérida. This spot has great coffee, with a range of drinks on offer, including cappuccinos, caffe lattes, and, of course, espresso. With your drinks, you can order delicious croissants or more decadent sweets like cheesecake.
Sempere
If you're looking for another coffee shop to check out, add Sempere to your list. The cafe has many coffee beverages to choose from, including great iced coffee. You can also get sandwiches and baked goods, and the relaxed atmosphere makes it an excellent place to work or hang out and chat with friends.
Things to Do Near Mérida, Mexico
Swim in a Cenote
Visiting a cenote is a Mexico bucket list activity, and there are a few cenotes around the city to check out if you want to swim in one of these underground natural pools.
Cenotes to visit include Cenote Noc Ac and Cenote El Pocito. If you don't mind driving about an hour from the city centre, you can also go to popular pools like Cenote X'batun or Cenote Kankirixche.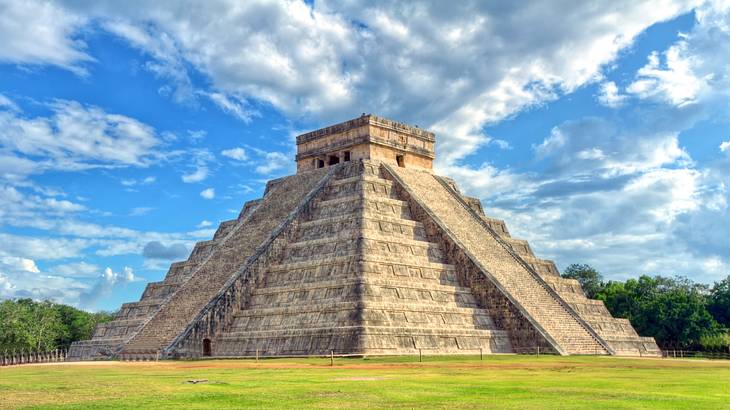 Plan a trip to Chichén Itzá
Chichén Itzá is one of the most famous landmarks in Mexico, one of the New Seven Wonders of the World, and a UNESCO World Heritage Site. Conveniently, the ancient Mayan ruins are located only two hours from Mérida, and planning a day trip to see the renowned site is a must!
You could rent a car and drive, but booking a guided tour from Mérida to Chichén Itzá is recommended. Not only will you be taken to the Mayan landmark, but you'll also get to visit the town of Izamal and a private cenote.
See the Mayan ruins in Uxmal
Another of the day trips from Mérida, Mexico, to enjoy is going to Uxmal. The ancient Mayan city is located about one hour from Mérida and features the Pyramid of the Magician Mayan ruins within the Uxmal Archeological Zone. As with Chichén Itzá, taking a tour of the site is recommended.
One option is to book a private Uxmal tour, which includes a trip to a cenote and the Choco Story museum. Alternatively, you could opt for a Uxmal group tour that also includes a visit to Zona Arqueologica de Kabah and Cenote Sambula.
Spot flamingos at the Reserva de la Biosfera Ría Celestún
Going to the Ria Celestun Biosphere Reserve is another fun day trip idea. The best time to see the flamingoes at Celestún is between December and February.
On this tour, you'll be picked up from Mérida and taken to the reserve, where you can see a range of wildlife, including the area's famous flamingos. You'll also get to experience a boat tour through a mangrove forest and relax on Celestun Beach.
In Conclusion
Visitors will find no shortage of fun Mérida activities to take part in. This list of 35 unique and exciting activities in and around the city should have given you many ideas about things to do on your upcoming Mérida vacation. Now all you need to do is finalize your to-do list and begin exploring Mérida!
Give us feedback about this article
Read more articles about Mexico:
More articles about things to do:
---
---
Want to keep exploring?
Subscribe for discounts on tickets and hotels and our latest guides.
Thank you for subscribing
We will be in touch soon with discounts on tickets and hotels and our latest guides.
Want to keep exploring?
Subscribe for discounts on tickets and hotels and our latest guides.
Thank you for subscribing
We will be in touch soon with discounts on tickets and hotels and our latest guides.
Related Articles