Where to Stay in Morocco? 6 Best Places to Stay in Morocco
Destguides may receive commissions from purchases made through affiliate links in this article.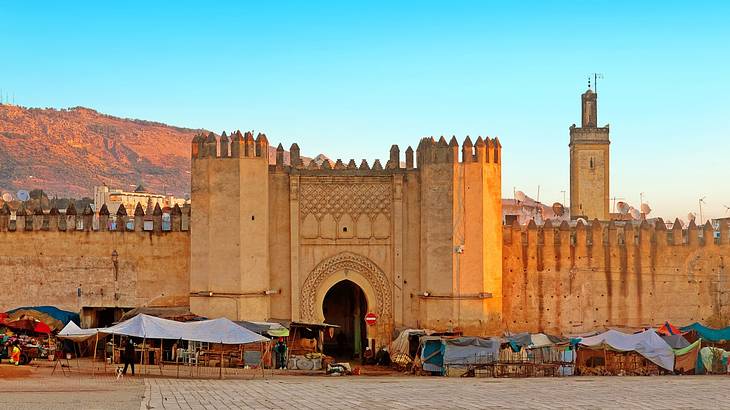 Morocco has over 12 million visitors annually, making it one of Africa's most popular tourist destinations. It has ancient medinas, cosmopolitan beaches, and relaxed seaside ports. From the hustle and bustle of an ancient city to great nightlife, scenic views, and the quiet solitude of the Sahara Desert, Morocco has something for every traveler.
If you're planning a trip, read on to discover some of the best places to stay in Morocco. Whether you're going on a romantic holiday, spending time with family, or want to do lots of sightseeing, this article will help you find the ideal place!
6 Best Places to Stay in Morocco
Morocco Places to Stay Video
Check out our highlights video of Morocco places to stay.
Morocco Places to Stay Map
A map of Morocco. Use the map to explore all the places to stay.
Best Areas to Stay in Morocco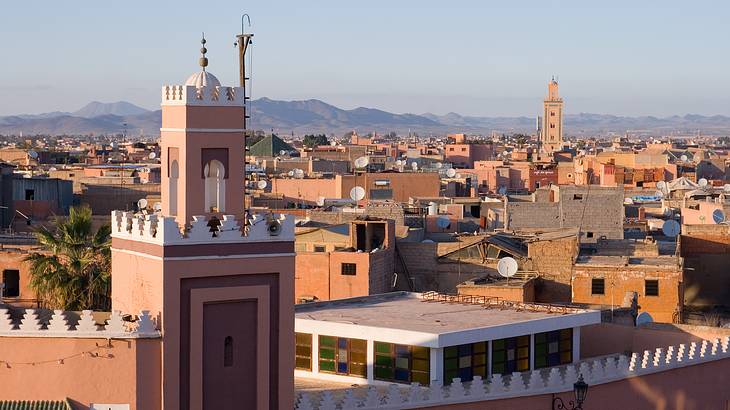 Marrakesh
Marrakesh is considered one of the best cities to visit in Morocco. With its buildings made of beaten clay, it's also known as the Red City. Built in 1070 by Emir Abu Bakr ibn Umar, this destination is a religious, cultural, and business hub.
If you love a bustling atmosphere and historic buildings, Marrakesh is a great choice. In addition, Marrakesh is often a popular area for history lovers and those who relish old architecture.
The Red City is also excellent for people looking for both simple and luxurious stays. You can book hostels and guest houses or opt for more lavish accommodations. You can also buy food at various street stalls, bars, or restaurants, depending on your budget.
Marrakesh can be accessed via taxi or bus after landing at the airport. In the ancient Medina, or city center, the world is a pedestrian zone. You can also use taxis, tuk-tuks, and buses to get around. Remember to negotiate a price beforehand.
There is a vibrant marketplace at the heart of the Medina selling clothes, food, lanterns, carpets, and other Moroccan goods. Don't forget to negotiate with the traders for the best prices. You can also meet artists, buskers, fortune tellers, henna artists, and snake charmers here.
Another famous landmark is Koutobia Mosque, the largest mosque in the city. Next to it, you'll also find beautiful gardens. You should additionally visit the fantastic Saadian Tombs.
Visiting the Mellah or Jewish Quarter and the tea and spice market nearby is also recommended. Lastly, the Jadin de Majorelle offers a tranquil space to unwind after exploring the bustle of the Medina.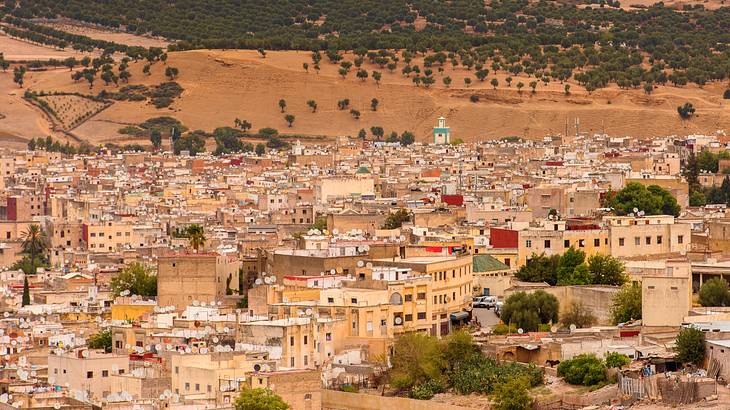 Fez
Fez is the oldest city in Northern Morocco, with a population of over 1.1 million. Founded in the 9th century, Fez reached its height in the 13th and 14th centuries, replacing Marrakesh as a capital.
Fez has been built on either side of the Fez River and includes the two old town sections, Fes el-Bali and Fes Jdid, as well as the more modern Ville Nouvelle. It's seen as the spiritual and historical capital of Morocco, with over 50 historical sites; it makes a great location to stay in Morocco if you want to step back in time!
Fez has its airport terminal but can also be accessed by train, bus, and car. The central Medina in Fez is a World Heritage Site and one of the world's largest pedestrian zones.
Another must-visit landmark is Quaraouiyine Mosque and University. This school has employed and educated many renowned Muslim scholars and still offers degrees. The landmark has exquisite marble fountains, beautiful blue and white mosaic tile work, and stone minarets.
Fez is a desert city, but if you love formal gardens, you can head to the Jnan Sbil Gardens. The gardens are a popular public space on eighteen and a half acres of land. They have over three thousand plant species, bubbling fountains, and a water wheel.
Additionally, you can explore souks, old synagogues, mosques, or madrasas. If you enjoy vibrant spaces mixed with the beauty of old Moorish and Moroccan architecture, Fez is the city for you!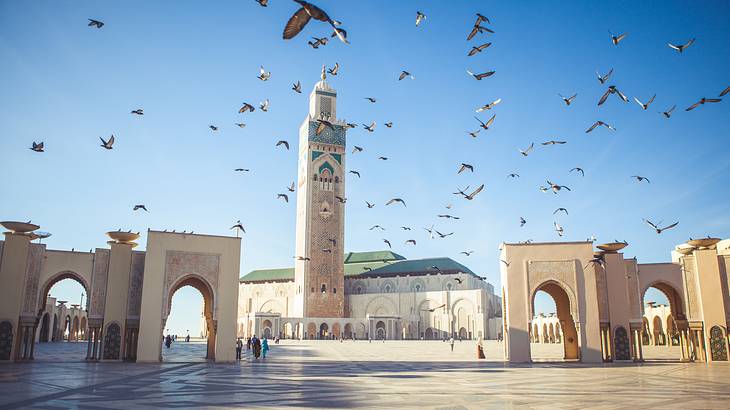 Casablanca
Modern-day Casablanca was founded in 1770 by Sultan Muhammad III ben Abdallah. Casablanca means 'White House' and is located on the Atlantic Coast of Morocco. The city has its own airport but can be accessed via coach. It is approximately a two-and-a-half-hour drive from Marrakesh if you plan to visit both cities.
This destination is a busy port, the financial center of Morocco, and the largest financial center in Africa. While not as touristy as Fez or Marrakesh, Casablanca is a cosmopolitan choice that offers beaches, shopping, and a vibrant selection of clubs and restaurants.
It's one of the best locations in Morocco for nightlife! It's also an excellent option for beach lovers, fashion enthusiasts, and those looking to enjoy film and theater.
Casablanca beaches have a deep blue Atlantic backdrop with cafes and restaurants alongside them. The beaches offer a space to surf as well as go horse riding. They are also a great place to people-watch, take in the sunset, or go for a stroll. If this appeals, the Ain Diab is the neighborhood to stay in Morocco for you as it sits right on the coast.
If you're a shopping fan, visit the Moroccan Mall. The mall has a large food court, a space for visitors to buy local and European clothing brands, and a kids' amusement park. You can also dine at the outside restaurants overlooking the coast.
Another top attraction is the Hassan II Mosque. This landmark is a combination of Moorish architecture and modern technology. Commissioned by King Hassan II, the mosque took seven years to build and has domes and a spotlight that faces Mecca.
Casablanca also has one of the most modern medinas in Morocco, with sea views, tree-lined squares, cafes, and narrow white-washed lanes. You'll even be able to see the remains of an old fort and browse shops near the clock tower entrance.
Casablanca owes its heritage to both Arabic and colonial history, so if you're a fan of Art Deco architecture and Moroccan buildings, Casablanca is definitely a choice for you.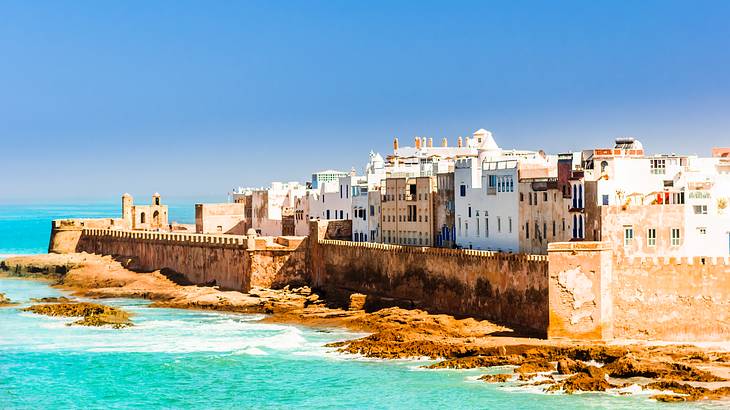 Essaouira
Just two hours from Marrakesh, Essaouira is a fortified and multicultural seaside fishing port. It was built in the 18th Century and can be found on the west coast of Morocco. You will love this destination as a single person, a couple, or a family.
This area is known for its relaxed charm and is also a top choice for windsurfers, backpackers, digital nomads, and those who love a slow-paced and casual atmosphere.
The ancient walls protect the locals from the sea and are a great place to watch the sunset. They represent the best in European and Moroccan architecture and have been declared a World Heritage Site.
Moulay Hassan Square is another popular place and offers the chance for you to enjoy teas and food from bakeries found there. You can also people-watch in the square before visiting nearby markets.
Other activities include enjoying the wide beaches, watching the windsurfers, and strolling beside the cliffs. Remember to also visit the harbor to enjoy fresh barbecued fish.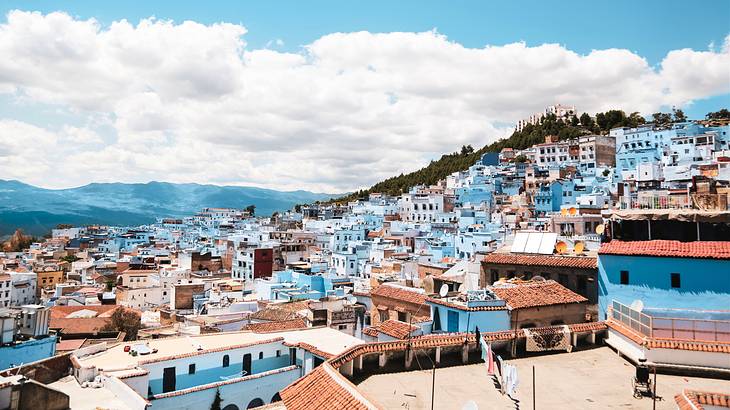 Chefchaouen
Chefchaouen was founded in 1471 and is known as the Blue City in Morocco. It is in the Rif Mountains between Tangier and Fez.
Notably, it's one of the most visually appealing mountain locations to stay in Morocco. It makes a fantastic choice for sightseers and hikers. Many buildings are painted an attractive blue, meaning it's also a photographer's paradise.
Visiting the Medina of Chefchaouen will take you to some exciting cafes. The marketplace in Chefchaouen is filled with farm stalls. Farmers from the nearby valleys bring a range of freshly grown vegetables, local produce, and mountain herbs to sell in the main city.
The Hammam El Harass baths are another populait'straction. You can have a traditional Moroccan soap and scrub bath during a visit. The bath dates back to 1594 and includes saunas and scrub or massage treatments.
Chefchaouen is situated in the mountains, so it's also an excellent place to go hiking. With the beautiful blue buildings below, you can take some fantastic photographs.
If you are taking photographs in Chefchaouen, remember to ask permission from the locals before photographing, particularly when the children are included in the photos. Also, it might be best to take photographs in the early morning while the streets are still relatively quiet.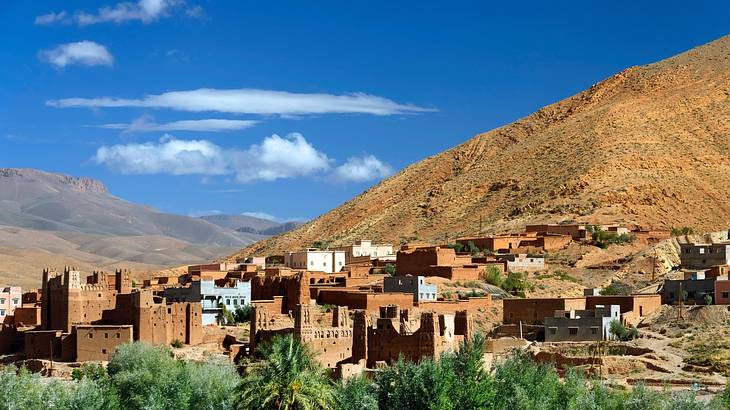 Atlas Mountains (Sahara Desert)
The Atlas Mountains offer a rural experience compared to the busy towns of Fez and Marrakesh. They make the perfect choice for nature lovers, sports enthusiasts, and photographers.
The mountains divide the Atlantic coastline from the Sahara Desert, and you can enjoy both mountains and the vast sand dunes. This is an excellent choice for adults, but children under 12 cannot be accommodated in many tours.
An ideal town to base yourself in when visiting the Atlas Mountains is Imlil. Imlil can be reached easily from Marrakesh and Fez. If you don't want to stay overnight in the mountains, you can arrange a day-trip tour or hire a car to explore. Most visitors from Marrakesh opt to go to Toubkal, which is the highest peak in Toubkal National Park.
When camping in the Sahara, you can camp in a traditional nomad's tent, join Berber camps, or go for a glamping experience. Then, you can watch the sunrise over the dunes in the morning.
During the day, you can go for camel rides, ride a quad bike, or take a ride in a 4x4. You might get to meet the Berber people, as well as the nomads who travel between desert and oasis. You can share a cup of tea and learn more about Morocco's traditional life.
On the way back to Marrakesh, you can stay in a traditional earthen house. Heading out of the Sahara towards Marrakesh, you can see the stone formations of the Atlas Mountains. Desert temperatures are extreme, so pack clothing that will keep you warm at night and protect you from the sun during the day.
Where to Stay in Morocco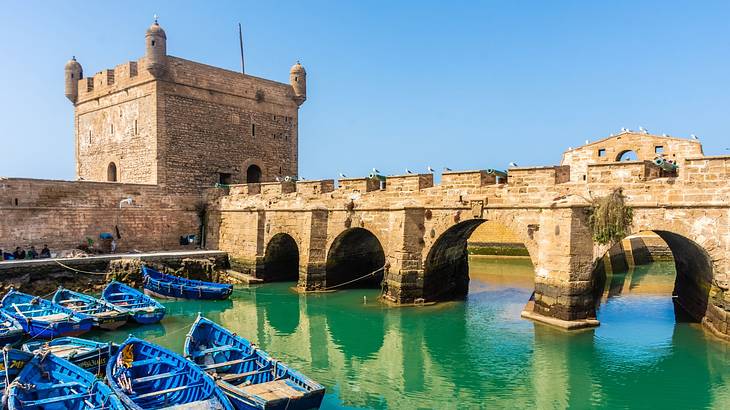 Where to stay in Morocco with family?
With its casual atmosphere, long beach walks, and the opportunity to watch the sailboats come in, the port of Essaouira is the perfect place to spend time with the family.
You can take the children to the beaches for a swim, ride a horse or camel together, or enjoy a cup of tea and a snack at a beachside cafe. You can also take your kids to a surfing lesson or go for a quad bike ride.
Essaouira was once the main fishing port in Morocco, and your family can walk around freely and visit the harbor to watch the fishermen come in with their catch of the day. You can purchase fresh fish from the harbor and have it grilled as a delicious treat.
Taking your children to the Old Fort, which was used to protect the port, is another fun activity. The fort was built during the mid-eighteenth century and is currently a UNESCO World Heritage Site. It combines European military and Arabic architecture and makes a great place to watch the sunset.
Additionally, if you're looking for fresh food, you can tour the Medina of Essaouira and visit the market with its relaxed traders. Finally, if your family loves artifacts, you could also stop at the Sidi Mohammed ben Abdallah Museum. The museum has a range of photographs, jewelry, utensils from a prehistoric age, and musical instruments to see.
Lastly, you could let your kids burn up energy while wandering through the Jewish area of the Medina and have an al fresco lunch together at one of the many cafes.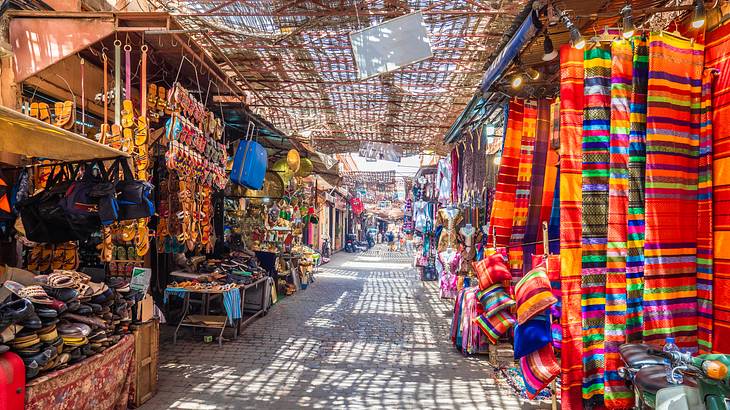 Where to stay in Morocco for a romantic getaway?
The Red City of Marrakesh is perfect for a romantic getaway. You can get lost together as you wander the city's winding streets and ancient buildings. Additionally, the Marrakesh Medina provides an excellent opportunity to shop for jewelry, souvenirs, perfumes, and embroidered slippers.
You can also head to Jemaa el-Fnaa, a plaza at the heart of the Medina. Here you will find a colorful and aromatic space offering various foods, spices, and carpets. You can also visit snake charmers and fortune tellers to learn about your future. At night, informal stalls offer tasty snacks to share.
The lush gardens and striking colors of the Jardin Majorelle offer the perfect spot for a chat after the vibey market. The gardens are beautifully curated with cacti and exotic plants and attract many birds. After exploring the attraction, you can sip mint tea and enjoy cookies together before heading to the art museum.
Additionally, if you both love beautiful architecture from another era, the Bahia Palace is for you. The palace is bound to impress with its marble, mosaics, and impressive ceilings. In addition, the courtyard has water fountains, and there's a lush garden filled with orange trees, jasmine, and cypress.
Where to stay in Morocco for sightseeing?
As a tourist, you have the option to travel through the peaks and canyons of the high Atlas Mountains or travel into the Sahara Desert. The mountains offer incredible views, remarkable sunsets, and various sightseeing opportunities.
The mountains contrast with fertile valleys where crops grow lush and green. You'll be able to take in the greenery of the countryside and enjoy the majestic waterfalls along the way. During springtime, the mountains are also filled with blossoms.
Coming out of the mountains, you'll find the deep and peaceful stillness of the Sahara Desert. This area can be accessed by camel, and there is the option to camp beneath the stars. After stargazing, you might want to take the opportunity to explore the dunes while riding in a 4x4. If you're a sports lover, you can even sand surf on the dunes.
Should you take a tour, you can also enjoy traditional Berber food cooked around a fire while camping in a traditional Moroccan tent. It's no wonder the Atlas Mountains and the Sahara Desert are a nature lover's dream!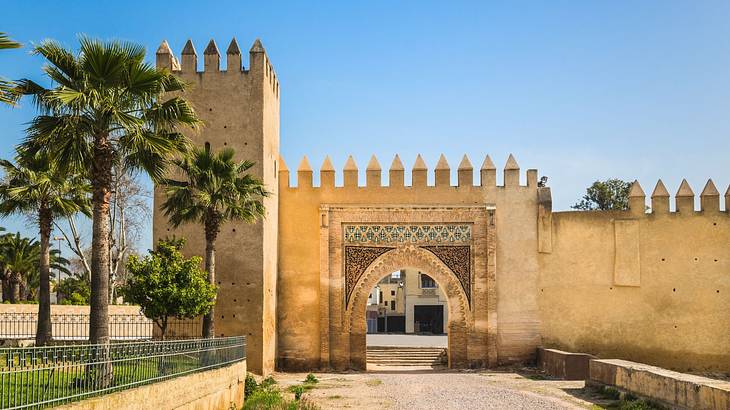 Where to stay in Morocco for a weekend trip?
Fez is known to be Morocco's cultural and spiritual capital and offers weekenders the opportunity to explore its old historic buildings, colorful Medina, attractive gardens, and ancient university. This makes it the best place to stay in Morocco for a weekend trip.
If you have a weekend in Morocco, begin by getting lost in the ancient streets of the old Medina. You'll feel as though you have been sent into another era. You can do everything, from exploring the ancient craft of carpet making to enjoying fresh bread from a bakery.
The Medina also offers up an excellent opportunity to try authentic Moroccan food. Moroccan food is tasty, spicy and can be enjoyed with traditional mint tea.
Next, it's time to negotiate with the locals, who will love to haggle with you. The open markets in Fez offer the opportunity to buy authentic Moroccan goods at a reasonable price. You can purchase luggage, carpets, and many beautiful ceramics to decorate your home.
The second day of a weekend trip offers the opportunity to explore the beautiful architecture in Fez. The Dar Batha Museum is a Spanish Moorish building with a beautiful inner courtyard. You can see textiles, carpets, and stunning blue ceramics.
Another can't-miss part of Fez is Mellah, or the Jewish area, which shows how the Jewish community in Morocco used to live. It has beautiful streets, a synagogue, and an old cemetery.
Additionally, Nejjarine Square offers up the Nejjarine Museum. The museum shows off beautifully engraved woodwork etched into the door and window frames of the building. You can also discover woodwork crafts before enjoying the view (and a tasty treat) at the rooftop cafe.
With all the culture in Fez, it will be a busy weekend! But you can end your trip with a calming visit to the Jnan Sbil Gardens.
Where to stay in Morocco for nightlife?
Do you love bars, clubs, concerts, or trendy restaurants? If so, Casablanca is for you. The cosmopolitan hub in Morocco is known for its nightlife and has some exciting yet atmospheric neighborhoods to spend a night on the town.
Casablanca will charm you with its bustling theaters, cafes, shopping hubs, and trendy clubs. You can even enjoy shisha (a type of tobacco or hookah pipe) at specialized bars. There are also rooftop clubs, cocktail bars, and clubs offering live music.
Casablanca even offers interactive theater. In May, the Amazigh Theater Festival will introduce you to the wonders of Berber culture. If you are a movie fan, the Megarama offers up a range of different movie options. If you like to go big, the iMax at the trendy Moroccan Mall offers a truly engaging experience.
For those that love to party in a beach-type setting, the Ain Diab area has exciting beach cafes, bars, and clubs. Set against the Atlantic Coastline, Ain Diab allows you to party the night away, making it one of the perfect neighborhoods to stay in Morocco when it comes to nightlife.
With its beautiful beach, top-class restaurants, and cosmopolitan hotels, Casablanca allows you to enjoy a stroll along the beach and a meal under the stars. You also have the opportunity to shop until you drop or dance until dawn at the trendy Ain Diab clubs.
In Summary
Whether you're looking for the best area to stay in Morocco for a beach holiday, a city getaway, or any other type of vacation, there is something for you in this beautiful country.
As one of the top tourist destinations in Africa, it offers the opportunity to brush up on ancient history, spend time in a busy medina surrounded by buskers, or relax in the solitude of the desert. There's really something for everyone!
Give us feedback about this article
Read more articles about Morocco:
More articles about places to stay:
---
---
Want to keep exploring?
Subscribe for discounts on tickets and hotels and our latest guides.
Thank you for subscribing
We will be in touch soon with discounts on tickets and hotels and our latest guides.
Want to keep exploring?
Subscribe for discounts on tickets and hotels and our latest guides.
Thank you for subscribing
We will be in touch soon with discounts on tickets and hotels and our latest guides.
Related Articles