A Fun 2 Days in Amsterdam Itinerary
Destguides may receive commissions from purchases made through affiliate links in this article.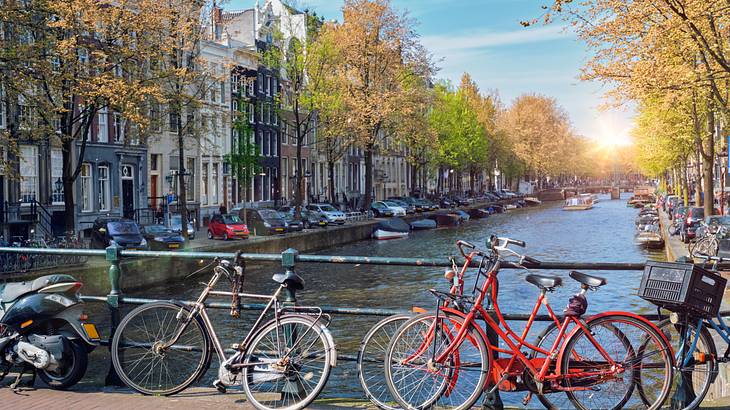 If you were asked what first comes to mind when you think of Amsterdam, you might say the Red Light District or marijuana. Oh, and the tulips, of course, check out the world-famous floating Flower Market - Bloemenmarkt. It's not just Amsterdam that's known for these flowers; however, all of the Netherlands has stunning tulip fields to explore.
This 2 days in Amsterdam itinerary is full of travel tips and exciting activities - ideas that will hopefully help you plan your trip to Amsterdam better. A Google map of all the recommended stops mentioned in this itinerary is also included below for your convenience.
Amsterdam, the capital city of the Netherlands, is widely known as a 'sin city'. The city's name originates from the Dutch phrase 'Dam of river Amstel' (Amstelredamme in Dutch). Later on, the name was changed to Amsterdam city. Today, it is one of the most visited cities in Europe and is usually included in most people's must-visit list.
Surrounded by numerous water canals and more than 1,500 bridges, Amsterdam is known as the 'Venice of the North'. Its narrow lanes hide beautiful gardens, boutique shops, cosy restaurants, art galleries and local pubs. You never know what you are going to find - every street has a surprise!
Getting around Amsterdam is relatively hassle-free. The easiest way to travel is by bicycle - everyone cycles in the city centre and around town. I suggest renting a bike if you visit Amsterdam in the warmer months as the city comes to life and there are beautiful flowers everywhere. If you are here in the winter or late autumn, public transportation is your best option to get around.
Don't worry about being new to Amsterdam's public transportation system as it is straightforward to use. You can travel by metro, tram, bus, ferry or train. If you are spending only 48 hours in Amsterdam, you can get an OV Chip Card (OV-chipkaart) to use on the trams, buses and metros. You can charge your card with an hourly or day ticket (from 1 to 7 days).
For your two days in Amsterdam, you can also get a 48 hour I Amsterdam City Card. This card is valid on GVB buses (blue & white), the tram, metro and ferry. It also gives you access to major attractions and 70+ museums, as well as a 1-hour cruise ride on the canal. Note, they also come in 24, 72, 96 and 120-hours options.
2 day itinerary
Average of 5 stops per day
Amsterdam 2 Day Itinerary
Exploring Extraordinary Amsterdam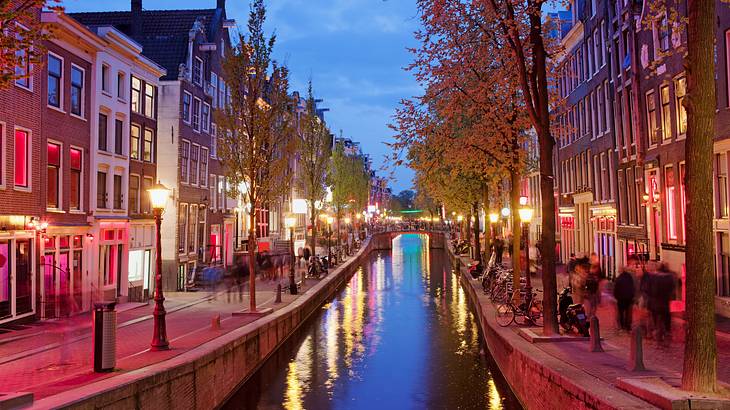 On your first day in Amsterdam, you will be visiting some of the more 'exciting' locations in the city. You will have a chance to wander through the soulful Vondelpark (Vondel Park), learn about the Amsterdam sex-scene at the Sex museum and roam around the famous Red Light District that tends to lure most tourists in.
To save time, I recommend taking a bus, tram or metro to our first stop at Vondelpark and then back again to Amsterdam Centrum (Central Amsterdam). The remaining attractions are located close to each other and are near Amsterdam Centrum.
Make sure you have your transport card (OV Chip Card or I Amsterdam City Card) ready to use. Be aware that cash is not accepted on the public transportation system.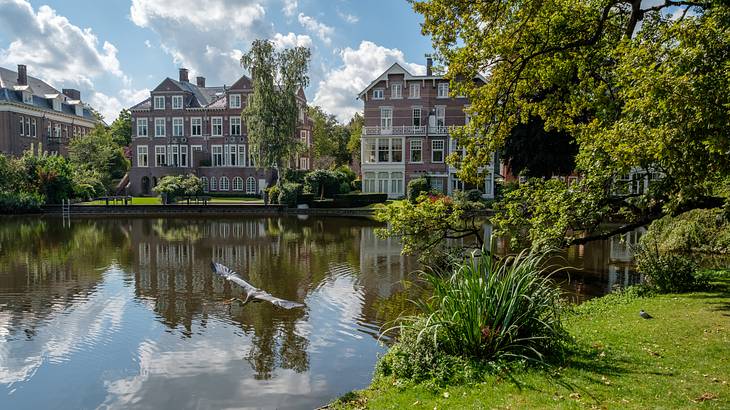 Vondelpark (Vondel Park)
The first stop of the day is Vondelpark - the largest park in Amsterdam city and the most well-known one in the country. Visiting this landmark has to be on your Europe bucket list!
Situated close to the iconic Van Gogh and Rijksmuseum museums, the park became famous for its 'no regulations' policy. Historically, visitors were allowed to have barbecues, camp and even have sex in the park. However, sex in Vondelpark is now illegal!
While roaming around the park, you will come across some massive sculptures, an open-air theatre, playgrounds and several cafes.
It is impossible to see the whole park in an hour. So if you don't have a bike, enjoy your time with nature and grab a lovely light brunch at one of the park's cafes. My personal favourite is Cafe Vertigo as it is located in a 19th-century building and serves excellent coffee and fresh baked goods.
Torture Museum
Situated in the heart of Amsterdam near the Flower Market and overlooking Singel Canal, the Torture Museum showcases a big collection of medieval torture instruments from all over Europe.
You will find torture instruments such as the Guillotine, Skull Crusher, Judas Chair, and more here. These torture devices are explained in great detail and are available in eight languages. The museum is tiny, so you won't need more than 1 hour to walk around. Please note there is a small admission fee. You can also find the opening hours on the website.
The Amsterdam Dungeon
Built in 2006, the Amsterdam Dungeon is a horror theatre show and one of the most fun things to do in Amsterdam.
While going through the dungeon, you will see short performances related to the Dutch's dark history. Performances include 17th-century torture techniques, a Rembrandt workshop with a human corps vivisection and the Plague.
All performances are bilingual (English and Dutch) and are conducted in complete darkness. It is a great way to learn more about Dutch history without visiting history museums.
The Amsterdam Dungeon is open all year round, daily from late morning to evening. Using your I Amsterdam City Card, you will receive a 25% discount at this site.
Venustempel Sex Museum
Your fourth stop is Venustempel (Temple of Venus) - the world's first and oldest sex museum. The museum is located on a busy street next to the Central Station.
The museum is the 4th most-visited museum in Amsterdam. It has a massive collection of erotic paintings, sculptures, photographs and objects related to sex.
Venustempel Sex Museum is open from morning till late evening, so there is no need to rush. Enjoy your time wandering through the museum and have fun looking at the funnily-erotic sculptures.
Be aware that there is a small admission fee and your I Amsterdam City Card doesn't provide a discount at this venue. Also, if you are travelling with kids, I suggest skipping this museum as well as the next stop.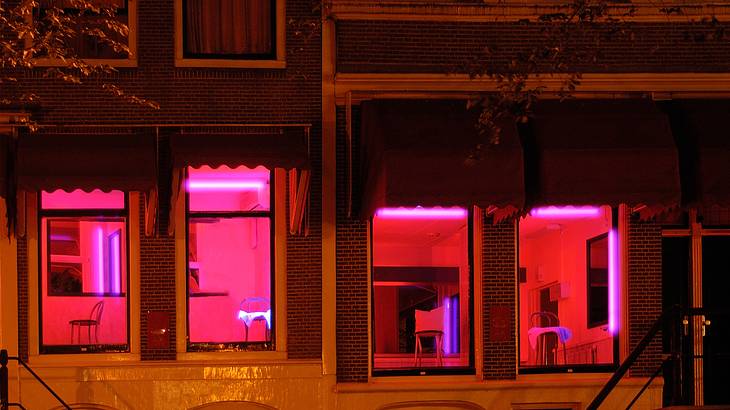 Red Light District - De Wallen
The final stop of the day is the controversial Red Light District (De Wallen in Dutch). Filled with brothels, restaurants, bars, and scenic canals, this neighbourhood is best explored by walking.
I suggest considering a Red Light District walking tour. Tours allow you to learn more about the area's rich history. Within the Red Light District, you will be able to see the world's first condom shop, brothels with red and blue lights, a magic mushroom shop, a banana bar, and many peep shows.
If you aren't interested in seeing sex shops and bars, this area of Amsterdam is still quite enjoyable. You can enjoy wandering along the beautiful canals and getting lost in the cobblestone alleys. The Old Church is located near the Red Light District and is the oldest building in Amsterdam.
Also, the Red Light District is an excellent place for a fancy dinner and cocktails, so don't miss this chance to enjoy great drinks and food. If you're vegan, not to worry, you won't be short on vegan food options in Amsterdam either!
Cultural Amsterdam and Evening Cruise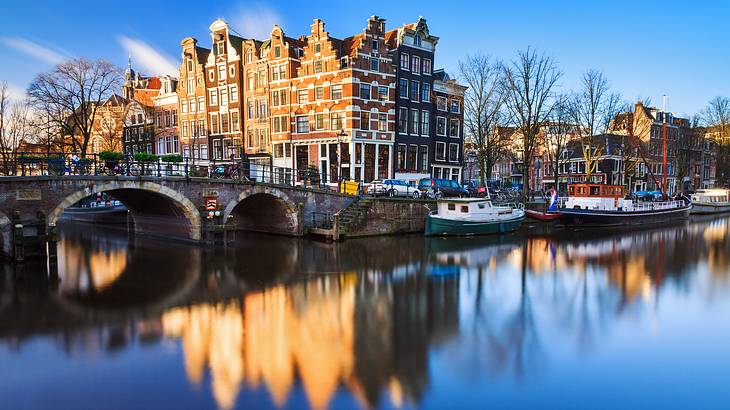 Your second and last day in Amsterdam will cover cultural and historical sites in the city. On this day, you will visit the most important museums, such as the Van Gogh Museum, Anne Frank House and the Royal Palace. Later on in the evening, you will have a chance to take a canal cruise and see the magnificent Amsterdam city covered in lights.
This day includes lots of walking, so wear comfortable clothes and shoes. Start early in the morning by taking a tram to the Van Gogh Museum. After the museum, head back to Central Amsterdam. Make sure to bring your I Amsterdam City Card to enter the museums for free.
Van Gogh Museum
Opened in 1973, this museum holds a massive collection from the well-known artist - Van Gogh. The Van Gogh Museum consists of two buildings designed by Gerrit Rietveld (main building) and Kurokawa Kisho.
The museum is home to 200 paintings, more than 500 drawings, and 700 letters from the artist. It also has exciting exhibits from other artists and a modern museum shop. I highly recommend spending around 2 hours in the museum as there are lots of things to see and learn.
If you want to visit this attraction, one of the travel tips to keep in mind is booking your ticket online to enter the museum for free with the I Amsterdam City Card.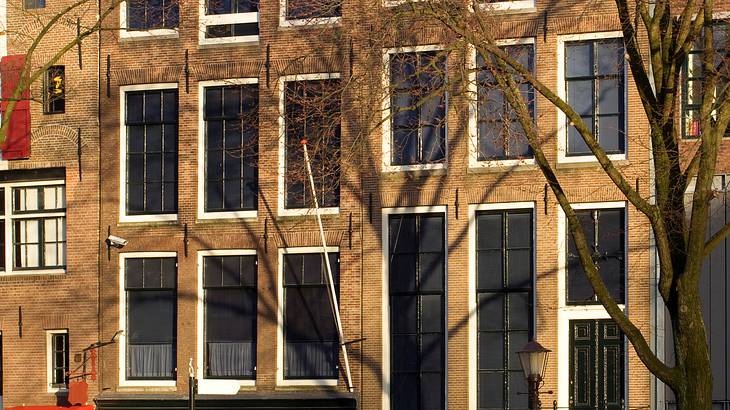 Anne Frank House
Your second stop of the day is the Anne Frank House, which stands at Prinsengracht 263 in central Amsterdam. Anne Frank and her family used to live in this house during WWII. On the 4th of August, 1944, Anne's family was betrayed and deported to concentration camps.
Today, the house has been converted into a museum. It now contains an exhibit on the persecution of Jews during the war and is one of the top holocaust sites to visit when in Amsterdam.
Within Anne Frank's House, you will have a chance to see the original copy of Anne Frank's diary and notebook, historical documents, photographs, and film images. The most moving part of the house is the original hiding place of the family. Remember to book your tickets in advance via the website.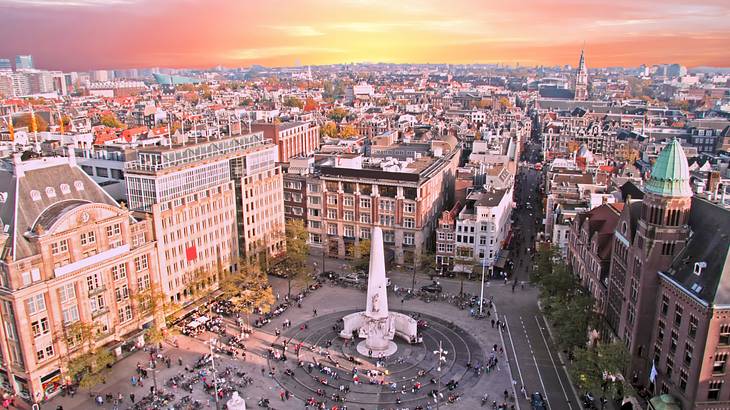 Dam Square
After visiting the Van Gogh Museum and Ann Frank House - two museums in a row, it's time to relax and enjoy the buzzing Amsterdam streets. The best place to do that is Dam Square - a central square packed with tourists and surrounded by many shops and excellent cafes.
Dam Square was built in the 13th century and was initially used as a marketplace. Now, the square is an ideal spot to relax and explore the never-ending stalls selling must-try Dutch treats and souvenirs.
I recommend grabbing a takeaway meal from one of the nearby cafes and finding a place in the middle of the square to sit and enjoy it. From the middle of the square, you will be able to enjoy spectacular views of the surrounding old Dutch houses. Be careful of pigeons, as they love stealing people's food!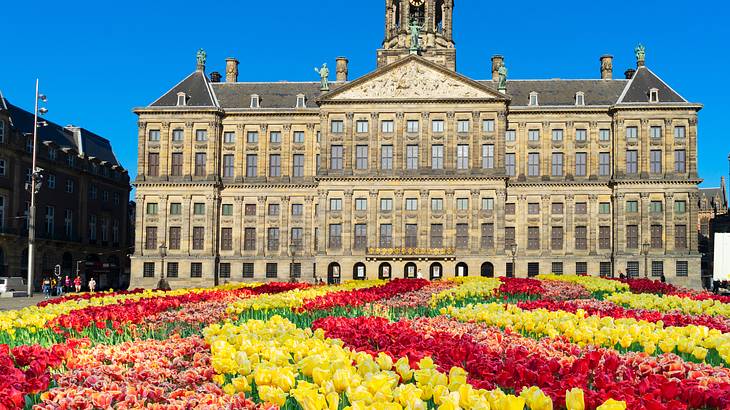 Royal Palace
Situated next to Dam Square, the Royal Palace is the number one attraction in Amsterdam and a famous Netherlands landmark. Originally built as a city hall for magistrates, it is now one of the country's three royal palaces that belong to the royal family.
It is used for royal events and receptions. The Royal Palace is open to visitors daily (except Mondays and during royal events) from morning to early evening. Inside the palace, you will be able to see traditional Dutch interior design and learn about the history of the royal family.
Don't forget to book tickets in advance, as well as a guided tour. A guided tour will give you in-depth knowledge about the palace's history. Also, if you are looking for souvenirs, I suggest checking the shop website as it is full of gifts and great books about the Netherlands.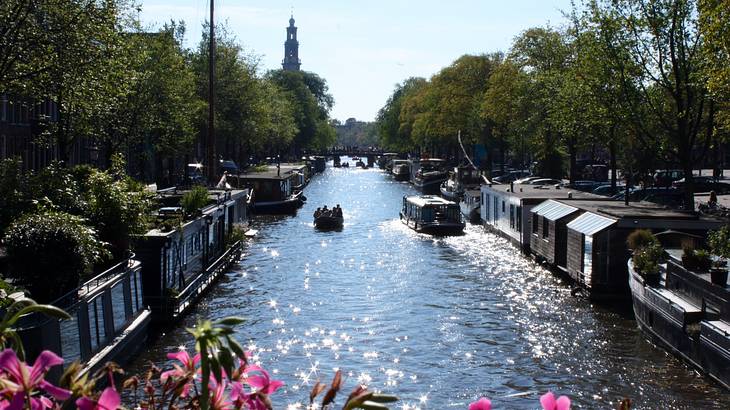 Evening Canal Cruise
The last stop of your 2 day trip is an evening canal cruise - an ideal way to end your trip on a positive note and enjoy night views of dazzling Amsterdam.
Canal cruises are all over Amsterdam, so I recommend getting the one that is most convenient for you or is closest to your accommodation.
Amsterdam Canal Cruises also offer dinner. The cruise usually lasts for an hour, which is enough time to enjoy dinner and views. Bring your I Amsterdam City Card to enjoy your free 1-hour evening canal cruise.
In Summary
Amsterdam is an exciting place to visit as it is filled with quirky, historic sites and fun things to do. This 2 Days in Amsterdam Itinerary covered several iconic landmarks as well as some fun and unusual experiences.
Feel free to amend this itinerary to your liking. My advice is to take it slowly and not to over plan your days because you don't want to rush everywhere.
If you don't need much time exploring one attraction, make use of your I Amsterdam Card. Enjoy the canal cruises, the trams and try and visit the other free Amsterdam attractions included with the card. I guarantee it's the best way to see Amsterdam over a few days!
Give us feedback about this article
Read more articles about the Netherlands:
---
---
Want to keep exploring?
Subscribe for discounts on tickets and hotels and our latest guides.
Thank you for subscribing
We will be in touch soon with discounts on tickets and hotels and our latest guides.
Want to keep exploring?
Subscribe for discounts on tickets and hotels and our latest guides.
Thank you for subscribing
We will be in touch soon with discounts on tickets and hotels and our latest guides.
Related articles