The Best 2 Days in Amsterdam Itinerary
Destguides may receive commissions from purchases made through affiliate links in this article.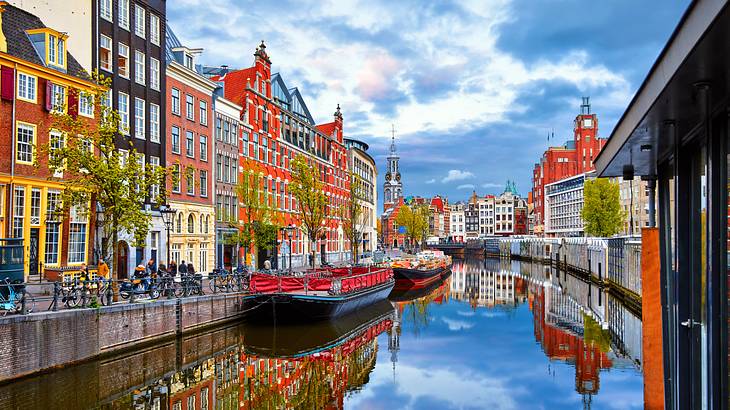 Are you planning a weekend getaway or a quick trip to this world-renowned Dutch city? If so, this 2 days in Amsterdam itinerary is for you!
The capital of the Netherlands is a vibrant and exciting city to explore, filled with cultural and historical landmarks and attractions, as well as stunning architecture, excellent bars and eateries, and much more.
Amsterdam is known for things like its winding canals and art museums, such as the Van Gogh Museum, its pretty floating flower market, Bloemenmarkt, and the notorious Red Light District. As such, the city is definitely worth visiting!
For your two days in Amsterdam, consider getting a 48-hour Amsterdam City Card. This card is valid on GVB buses, the metro, and the tram.
Moreover, the card gives you access to major attractions and 70+ museums, a free ferry trip and canal cruise, and a 24-hour bicycle rental. They also come in 24, 72, 96, and 120-hour options.
To discover all you can do in Amsterdam in just 48 hours, keep reading for an in-depth itinerary!
Amsterdam 2 Day Itinerary
Amsterdam 2-Day Itinerary Video
Check out our highlights video of the stops covered in this Amsterdam itinerary.
Amsterdam 2-Day Itinerary Map
A map of Amsterdam. Use the map to explore all the days and stops.
Exploring Extraordinary Amsterdam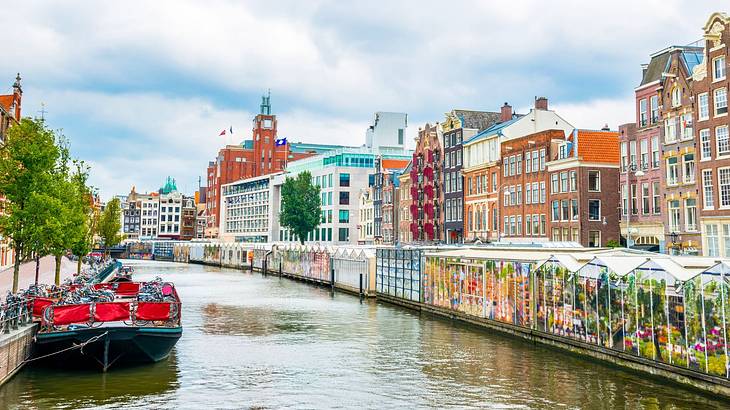 On the first day of your Amsterdam vacation, you'll visit some of the city's most popular locations. You'll have a chance to wander through Vondelpark before heading to Rijksmuseum, a Dutch art and history museum.
Next, you can visit the beautiful Bloemenmarkt, a floating flower market, before trying the famous Dutch treat stroopwafel at Van Wonderen Stroopwafels.
Your last two attractions of the day are the fascinating Amsterdam Dungeon and the Rembrandt House Museum. You can then spend the evening roaming around the eccentric Red Light District!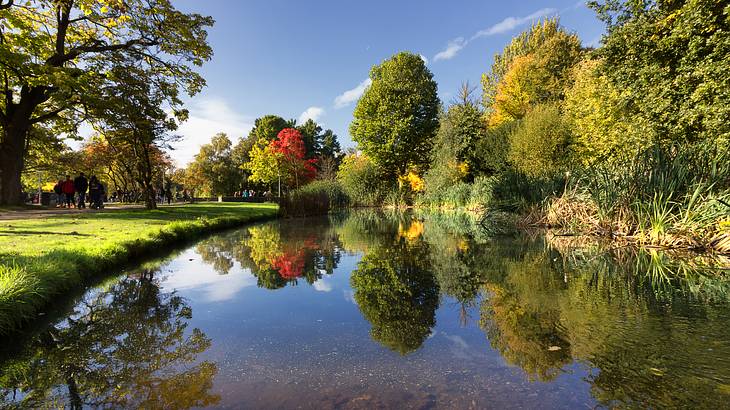 Vondelpark
The first stop of the day is Vondelpark, the largest park in Amsterdam and one of the most well-known ones in the country. Visiting Vondel Park has to be on your Europe bucket list!
While roaming around the park, you will come across some interesting sculptures, an open-air theater, playgrounds, and several cafes. Unfortunately, it's impossible to see the whole park in an hour if exploring on foot.
So if you don't have a bike, simply stroll around as much as you can and get a lovely light brunch or lunch at one of the park's cafes. Places to grab a meal in the park include De Vondeltuin and Proeflokaal 't Blauwe Theehuis.
You could also join a fun biking tour of Amsterdam. This three-hour excursion includes a trip to Vondelpark and a bike rental. After seeing the park, you can bike to other top landmarks.
Rijksmuseum
As the national museum of the Netherlands, a visit to Rijksmuseum has to be on your itinerary! Founded in 1798, the museum focuses on Dutch art and history.
In total, there are around one million artifacts to view, dating from 1200 to the beginning of the 21st century. This includes an array of artworks by renowned artists like Rembrandt and Jan Steen.
To ensure you don't lose time waiting in line, book Rijksmuseum tickets before arriving.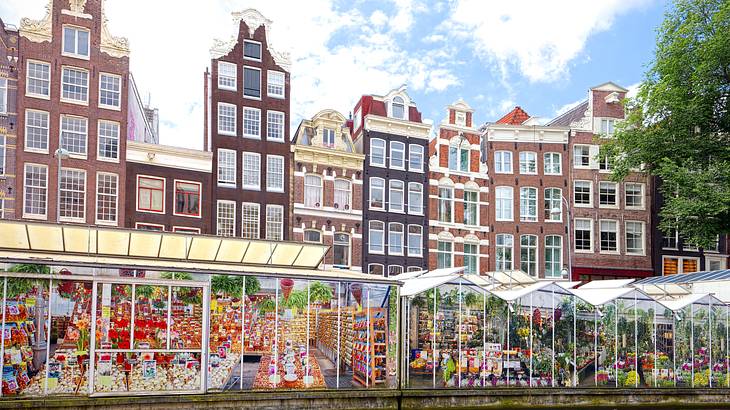 Bloemenmarkt Floating Flower Market
The Netherlands is known for its many stunning tulip fields, and you can purchase some of these colorful flowers by going to the world-famous floating flower market, Bloemenmarkt. This unique attraction also sells many other types of blooms, and you can get both fresh-cut flowers and bulbs to plant at home.
The market doesn't only sell flowers, though. You can also get souvenirs and see other classic Dutch products, like Delft pottery, known for its blue and white design. If you want to see a real tulip field, you can book a Keukenhof Gardens and tulip fields tour, which includes transport from Amsterdam.
Van Wonderen Stroopwafels
Stroopwafel is a popular Dutch snack that you must try at least once while in the city. It consists of two thin circular waffles sandwiched with caramel.
Being such a famous treat, Amsterdam has many places to try stroopwafels. However, Van Wonderen Stroopwafels is one of the most recommended shops and is conveniently located between Bloemenmarkt and your next stop, The Amsterdam Dungeon.
At Van Wonderen Stroopwafels, you can get a classic stroopwafel or opt for one with more unique toppings and fillings. You can also buy bags of the cookie to take home or purchase them in a pretty tin, perfect if you're looking for excellent souvenirs!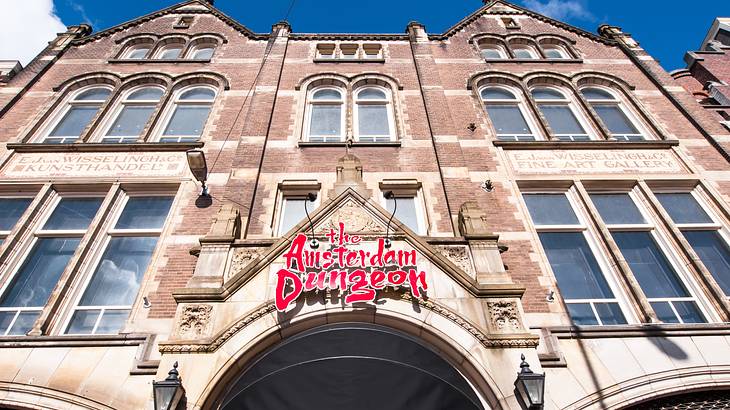 The Amsterdam Dungeon
Opened in 2005, the Amsterdam Dungeon is a horror theater show. Visiting is one of the best things to do in Amsterdam! While going through the dungeon, you will see short performances related to some of the dark history of the Netherlands.
Topics covered include torture techniques from centuries past and the Great Plague of the 1600s. All performances are bilingual (English and Dutch) and are conducted in complete darkness.
It's a great way to learn more about Dutch history in a unique way. To make admission easy, book Amsterdam Dungeon tickets in advance.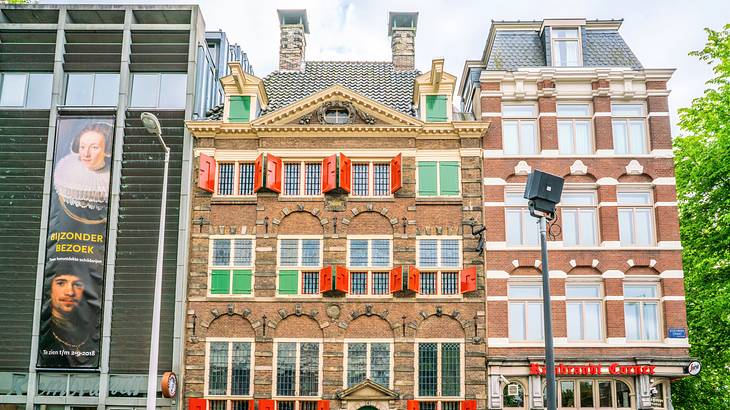 Rembrandt House Museum
One of the top cultural attractions to add to your 2 day Amsterdam itinerary is the Rembrandt House Museum (Museum Rembrandthuis). This museum is housed in a building that was home to the artist from 1639 to 1658.
As you look around, you'll see works by Rembrandt, including an almost complete collection of etchings. You can also see rooms like his art room and studio. Purchasing Rembrandt House Museum tickets online before you arrive is recommended to avoid having to wait in line.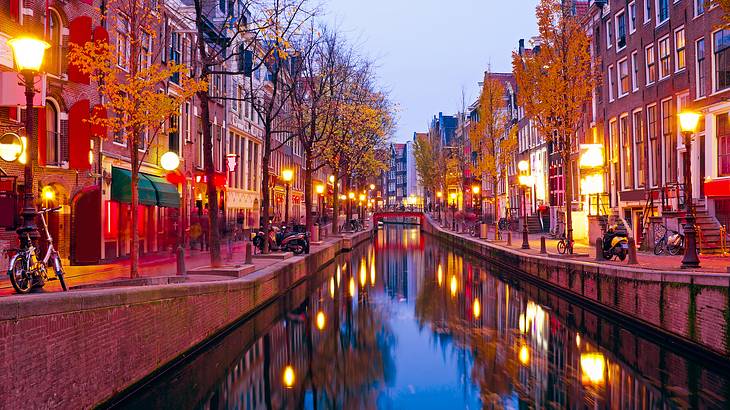 Red Light District
The day's final stop is the controversial Red Light District (De Wallen in Dutch). Filled with brothels, restaurants, bars, and scenic canals, this neighborhood is one of the most popular places to visit in Amsterdam.
You can look around on your own or opt for an informative Red Light District guided walking tour. Tours allow you to learn more about the area's rich history.
If you aren't interested in seeing sex shops and bars, this area of Amsterdam is still quite enjoyable. You can wander along the beautiful canals and get lost in the cobblestone alleys. The Old Church (Oude Kerk Amsterdam) is also located near the Red Light District and is the oldest building in Amsterdam.
The Red Light District is an excellent place for a fancy dinner and cocktails as well, so don't miss this chance to enjoy great drinks and food. If you're vegan, not to worry; you won't be short on vegan food options in Amsterdam either!
Amsterdam Cultural Landmarks and an Evening Cruise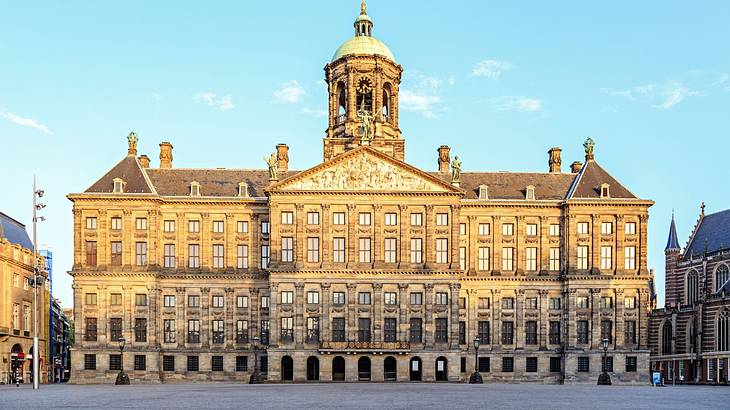 Your second day visiting Amsterdam will cover cultural and historical sites in the city. Places to go include the renowned Van Gogh Museum and the historically significant Anne Frank House.
You can also marvel at the Royal Palace, try delicious dishes at Albert Cuypmarkt, and wander around Dam Square. In the evening, you'll have the chance to take a canal cruise and see the magnificent Amsterdam city covered in lights.
This day includes lots of walking, so wear comfortable clothes and shoes. Starting early in the morning is recommended to ensure you have time to enjoy all attractions to the fullest.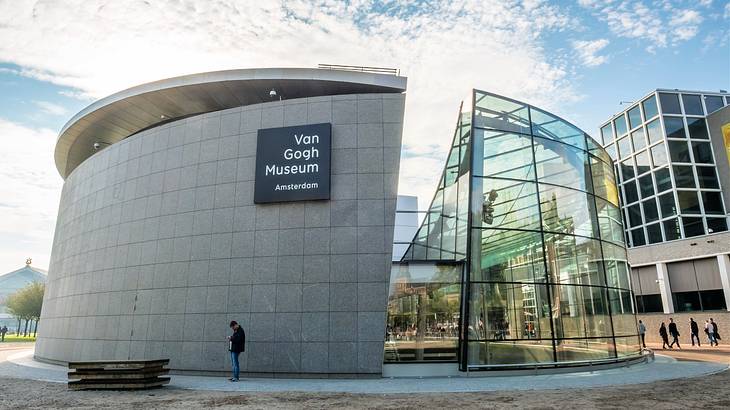 Van Gogh Museum
Opened in 1973, this museum holds a massive collection from the well-known artist Vincent Van Gogh. The Van Gogh Museum consists of two buildings designed by Gerrit Rietveld and Kisho Kurokawa.
The museum has 200 paintings, over 500 drawings, and 700 letters from the artist. It also has exciting exhibits from other artists and a modern museum shop. Spending around two hours in the museum is a good idea as there are many things to see and learn.
If you want to visit this attraction, one of the Amsterdam travel tips to keep in mind is booking your Van Gogh Museum ticket before you arrive as this popular attraction gets busy.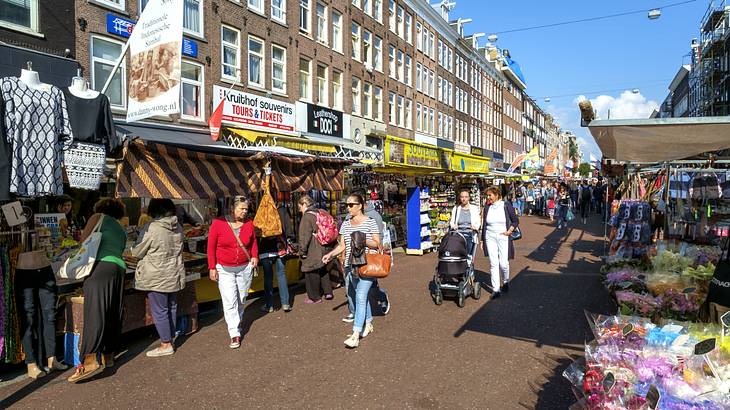 Albert Cuyp Market
Albert Cuypmarkt, or Albert Cuypstraat, is another popular market to plan a trip to. Since 1905, the attraction has been loved by locals and tourists for over a century.
It features around 260 vendors, many of which sell food dishes, including Dutch classics and a range of international options. Some other products like souvenirs are also on offer. To ensure you visit all the best stalls, go on a private Amsterdam food tour, which includes an hour and a half at Albert Cuyp Market.
After exploring the market, you can check out the shops surrounding it, which include clothing, jewelry, and plant and flower shops. There are also many cafes and bakeries near the market.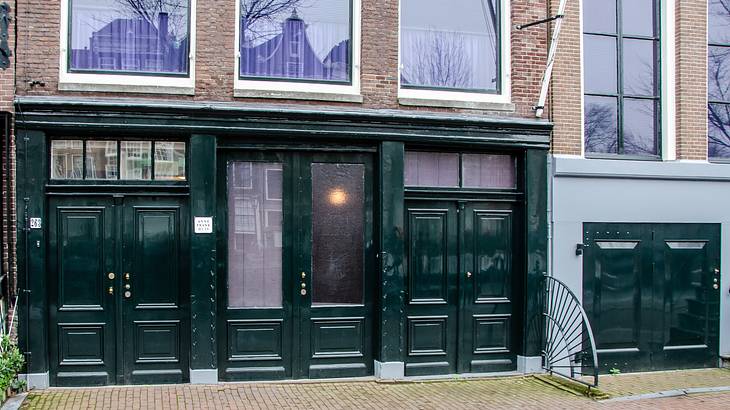 Anne Frank House
Your third stop of the day is the Anne Frank House in central Amsterdam. Anne Frank and her family hid from Nazi persecution in this house during WWII. On the 4th of August, 1944, Anne's family was betrayed and deported to concentration camps.
Today, this famous European landmark has been converted into a museum. It now contains an exhibit on the persecution of Jews during the war. Within Anne Frank's House, you can see the original copy of Anne Frank's diary and notebook, historical documents, photographs, and film images.
The most moving part of the house is the original hiding place of the family. Remember to book your tickets in advance via the website. You could also take an Anne Frank and World War II tour. Your guide will take you to the Anne Frank House as well as other landmarks relating to WWII.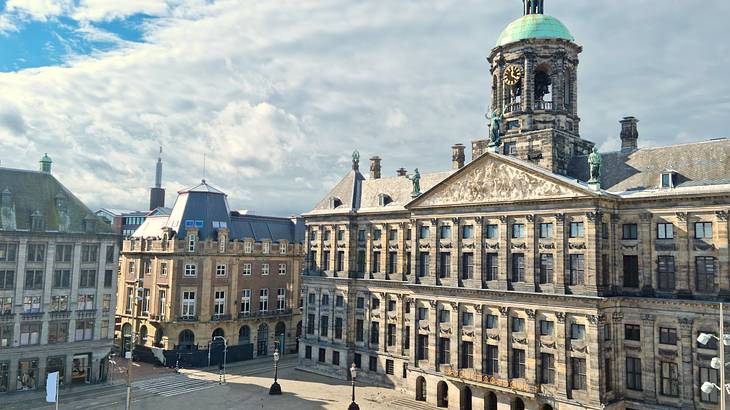 Dam Square
After visiting two museums and a bustling market, it's time to relax and enjoy the scenic Amsterdam streets. The best place to do that is Dam Square. Many shops and excellent cafes surround this central square.
Dam Square was built in the 13th century and was initially used as a marketplace. Now, the square is an ideal spot to relax and explore the never-ending stalls selling must-try Dutch treats and souvenirs.
Grabbing a takeaway meal or coffee from one of the nearby cafes and finding a place in the middle of the square to sit and enjoy it is recommended. You can enjoy spectacular views of the surrounding old Dutch houses from the middle of the square.
Just be careful of pigeons, as they love stealing people's food! You could also visit this square and other attractions by going on a sightseeing walking tour.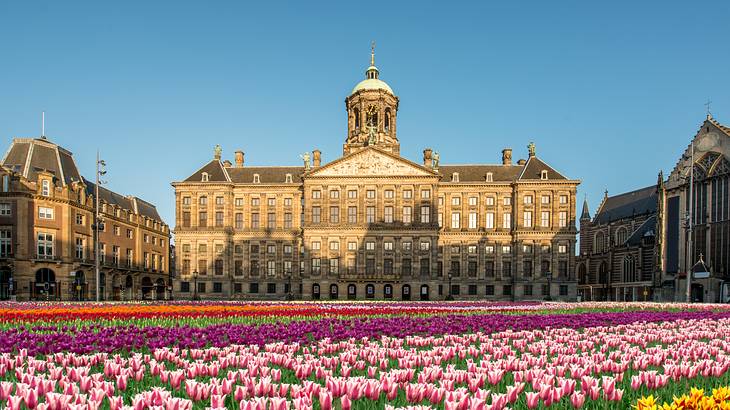 Royal Palace Amsterdam
Situated next to Dam Square, the Royal Palace is a famous Netherlands landmark and one of the best places to see in Amsterdam in 2 days. Originally built as a city hall for magistrates, it is now one of the country's three royal palaces that belong to the royal family.
It's used for royal events and receptions but is open daily to visitors from morning to early evening. Inside the palace, you can see traditional Dutch interior design and learn about the royal family's history.
Don't forget to book Royal Palace tickets in advance. Taking a guided tour is also a good idea and will give you in-depth knowledge about the palace's history.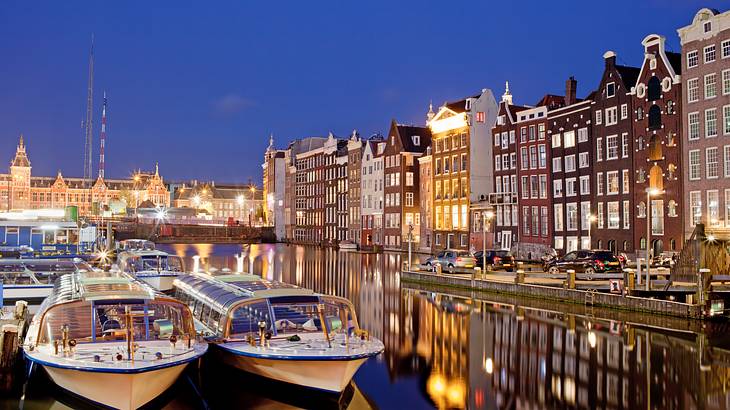 Evening Canal Cruise
One of the most memorable activities during your trip is experiencing an evening canal cruise. This excursion offers an ideal way to end your vacation on a positive note and allows you to enjoy the city's beautiful canals. Notably, this activity is one of the best things for couples to do in Amsterdam.
During the cruise, you'll also spot landmarks like Royal Theater Carré and A'DAM Tower. If you can't fit in an evening cruise, there are lots of daytime canal cruises to book, including those with an onboard bar.
In Conclusion
If you're planning a trip to Amsterdam, this two-day itinerary will help you see all the city has to offer. Of course, you can move stops around as you please and add or remove attractions as necessary.
You may also want to check out Rietveld Schröder House, a UNESCO World Heritage Site located around 40 minutes from central Amsterdam. No matter what landmarks and attractions you visit, you'll enjoy exploring this quirky and charming Dutch city!
Give us feedback about this article
More visual stories related to this article:
---
---
Want to keep exploring?
Subscribe for discounts on tickets and hotels and our latest guides.
Thank you for subscribing
We will be in touch soon with discounts on tickets and hotels and our latest guides.
Want to keep exploring?
Subscribe for discounts on tickets and hotels and our latest guides.
Thank you for subscribing
We will be in touch soon with discounts on tickets and hotels and our latest guides.
Related Articles