35 Fun Things to Do in Amsterdam for Couples
Destguides may receive commissions from purchases made through affiliate links in this article.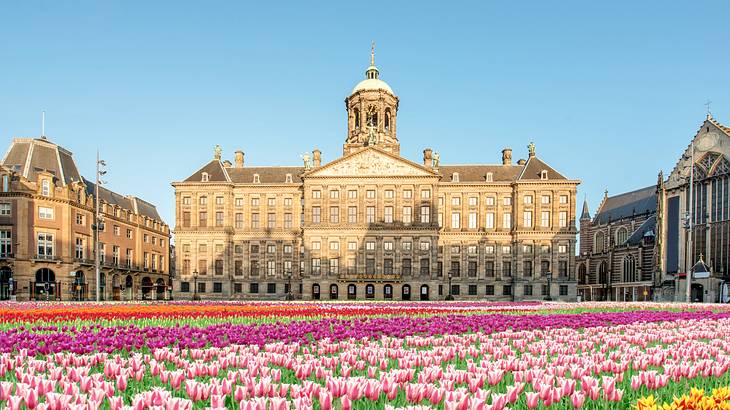 Amsterdam is one of the most romantic destinations for couples. The city's picturesque canals and historic architecture set the stage for couples seeking an unforgettable experience.
There's so much to do in the city together, from exploring museums to taking leisurely canal cruises; you won't struggle to fill your time here. The only challenge you may face is choosing which activities to participate in.
Thankfully, this article can help! If you're planning a trip with your loved one, keep reading to learn about 35 fun things to do in Amsterdam for couples.
35 Things for Couples to Do in Amsterdam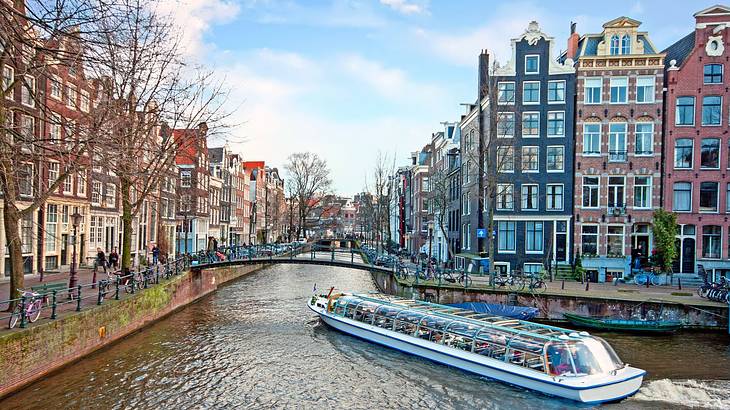 Hop on an Amsterdam canal cruise
You can walk along and over Amsterdam's many canals, but the best way to see them is by taking a boat ride. There are plenty of tour companies to choose from, so you can easily find a canal cruise that suits your budget and schedule. You could even book a private boat tour for a more romantic option.
Try local delicacies at Albert Cuyp Markt
Visiting Albert Cuyp Markt is one of the best Amsterdam couple activities. This attraction is the largest outdoor market in the country, with over 260 stands selling food from around the world.
Of course, you can also find local delicacies like stroopwafels and poffertjes. You can peruse the market on your own or book a Dutch street food market tour to learn about each dish you try.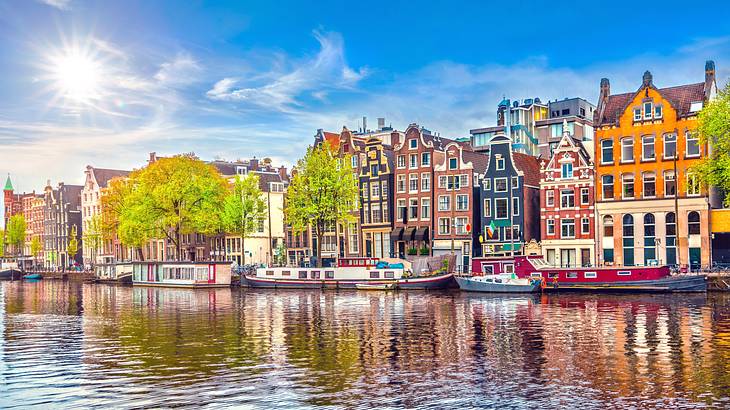 Traverse the heart of the city in Amsterdam-Centrum
Amsterdam-Centrum is the central borough of the city. This historic core is home to many of the city's landmarks, such as Dam Square, the Royal Palace, and the Anne Frank House. If you don't want to miss any important sites, book a guided cycling tour of Amsterdam-Cemtrum.
Play one of Amsterdam's arcade games
One of the best things to do in Amsterdam at night for couples is to go to an arcade bar. You can play classic games like pinball or Pac-Man while having a drink with your partner. You can also book your own arcade hall experience or find bars specializing in games like ping pong, pool, or boules.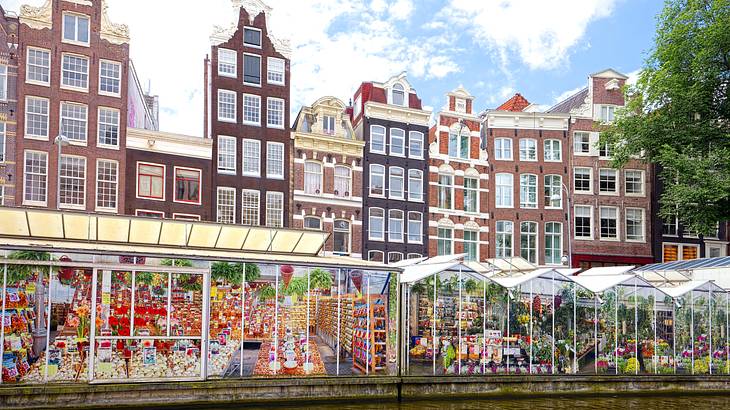 Pick up a fresh bouquet at Bloemenmarkt
Nothing says romantic like a bouquet of flowers. You can pick up your own to gift to your partner at Bloemenmarkt. Founded in 1862, it's the world's only floating flower market. The market stalls bob on the canal, selling fresh flowers, bulbs, and souvenirs.
The tulip bulbs are packaged for travel, so you can grow a piece of Amsterdam in your own home. Stroll through the market yourself or join a walking tour to visit Bloemenmarkt and various other landmarks with a guide.
Have fun at the TonTon Club West
One particular arcade bar you should go to in Amsterdam is the TonTon Club. You can find a variety of arcade games and board games, as well as an extensive food and drink menu. There are plenty of two-player games as well. This is another popular venue, so ensure you make a reservation online to secure a spot for you and your partner.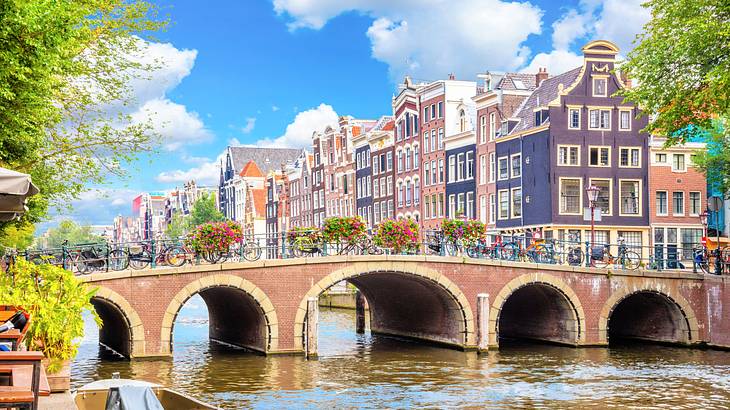 Admire the canal houses
As you walk or cruise along Amsterdam's canals, you'll notice that the buildings along the waterway all have a similar look. These narrow townhouses are canal houses that were built in the 17th century.
Taking time to admire these buildings and snap some pictures together in front of them is an excellent idea. If you visit during the Open Garden Festival in June, you can even explore the interior of some of these unique buildings.
Stroll through Amsterdam Old Centre
The old center of Amsterdam includes the neighborhoods of Dam, Nieumarkt, Spui, and De Wallen. These neighborhoods were built around Amsterdam's oldest building, Oude Kerk.
Many historic buildings in this area have been preserved, allowing visitors to imagine what Medieval Amsterdam may have looked like. Consider booking an Old Town walking tour to uncover more about the area's history.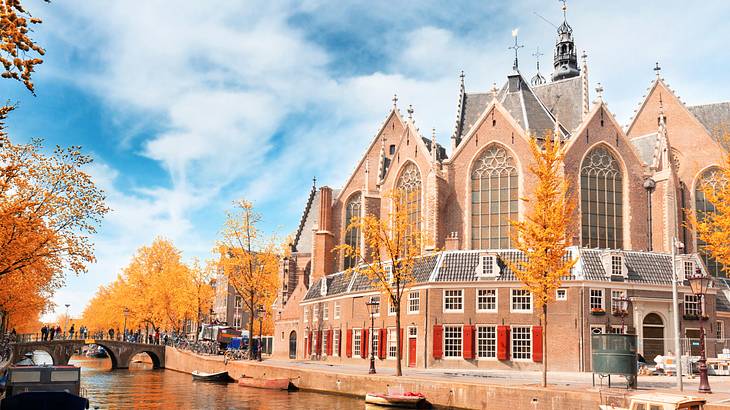 Step back into medieval times by visiting Oude Kerk
As mentioned, Oude Kerk is the oldest building in Amsterdam, as it was built in the 13th century. It was a Calvinist Church and is still used as such, but it's now primarily a center for contemporary art and heritage. So, one of the best date ideas in Amsterdam is admiring the building's medieval exterior and enjoying the art exhibits indoors.
Laugh at a comedic performance at Boom Chicago
One of the best date nights in Amsterdam is seeing a Boom Chicago comedy show. Boom Chicago is an international group that puts on improvisation, theatrical, and stand-up shows. Check the schedule to see what shows are on when you're in the city. Also, make sure you purchase tickets as soon as possible to avoid disappointment.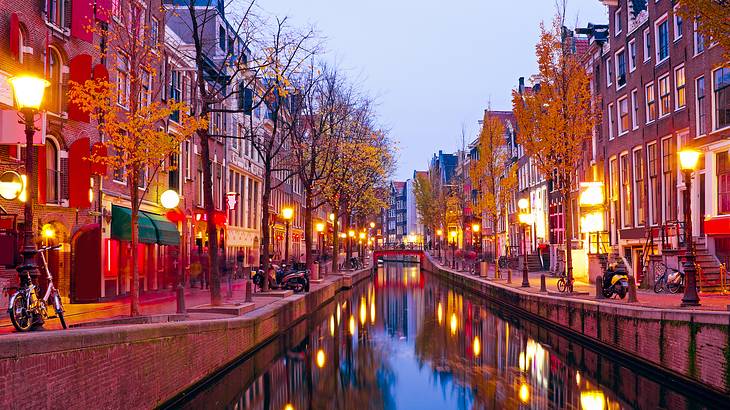 Explore the Red Light District
Curious couples can visit Amsterdam's Red Light District to get a taste of the city's nightlife. This area is not for the faint of heart at night as there are various explicit shops and other businesses. However, you could go on a guided tour of the area during the day instead if you're not comfortable with venturing into the Red Light District at night.
Bike ride along the winding canals
Cycling is one of the most popular forms of transportation in Amsterdam. It's more efficient and picturesque, as you can cycle along the canals. It's not just popular among locals; biking can also be a fun activity for tourists.
You can each rent a bike or get a tandem bike to cycle around Amsterdam together. If your navigation skills aren't the best, you could even book an Amsterdam bike tour to see the city more efficiently.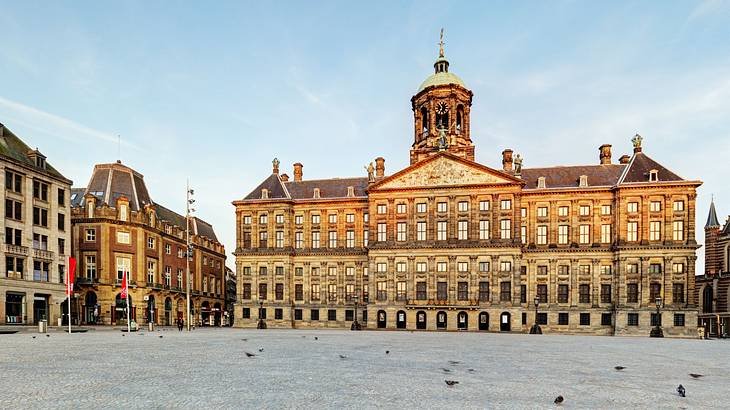 See how the Dutch royal family lives at the Royal Palace
The Royal Palace of Amsterdam is one of three palaces the monarch can use and reside in. This palace is King Willem-Alexander's official reception place, so state visits and royal occasions typically take place here.
However, you don't have to be invited by royalty to visit. You and your other half can tour the Royal Palace in Amsterdam to admire the architecture and learn more about the history of the monarchy.
Participate in a walking tour of the city
Joining a walking tour is a great way to see any city, but especially Amsterdam, as most of the landmarks are centrally located. Some companies offer free walking tours you can join at the last minute.
Alternatively, plan ahead and book a small group walking tour. Your guide will take you to an array of landmarks and important places. They will also provide information on the history of everything you see.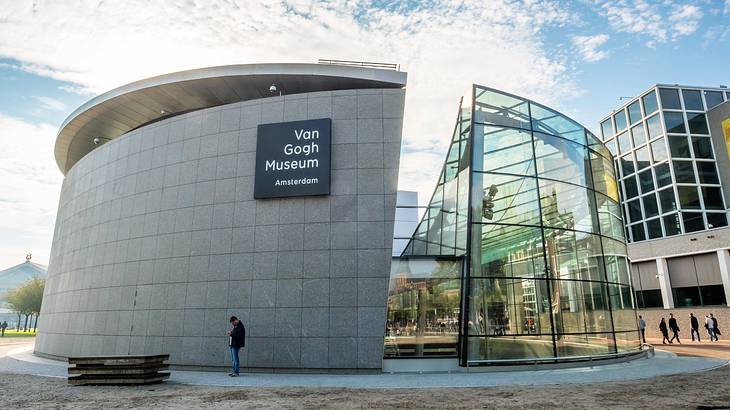 Immerse yourself in art at the Van Gogh Museum
If you and your partner love Vincent Van Gogh, the Van Gogh Museum is a can't-miss attraction. Since Van Gogh was Dutch, it only makes sense that his work is displayed here.
Purchasing Van Gogh Museum tickets before you arrive is a must. Even online, they can sell out quickly, so try to buy them at least a week or two before your trip.
Meet adorable cats on the canal at Pozenboot
One of the best Amsterdam date ideas for cat-loving couples is visiting Pozenboot, a cat shelter on a canal boat. You can reserve a time slot on the shelter's website to see the cats. Do note that these slots go quickly, so try to book one as soon as you know what days you'll be in Amsterdam.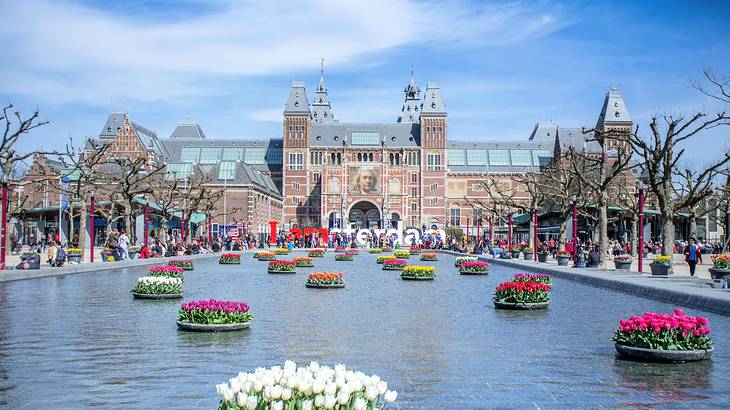 Learn about Dutch history at the Rijksmuseum
If you and your partner are museum buffs, you have to visit the Rijksmuseum. It's the national museum of the Netherlands, so it's dedicated to Dutch arts and history, helping you learn more about the region.
If you want to just visit the museum, you can buy Rijksmuseum tickets online. If you plan to visit multiple attractions, purchase an I Amsterdam City Card instead. Choose from a pass for one, two, three, or five days and gain access to the Rijksmuseum and many more attractions, like the Heineken Experience or A'DAM Lookout.
Set up a picnic in Vondelpark
Another great green space in Amsterdam is Vondelpark. It's the perfect place for a stroll, a bike ride, or even a romantic picnic. Pack your own snacks and find the perfect spot in the park for your romantic outing. No matter what you do in Vondelpark, a trip has to be on your Amsterdam itinerary.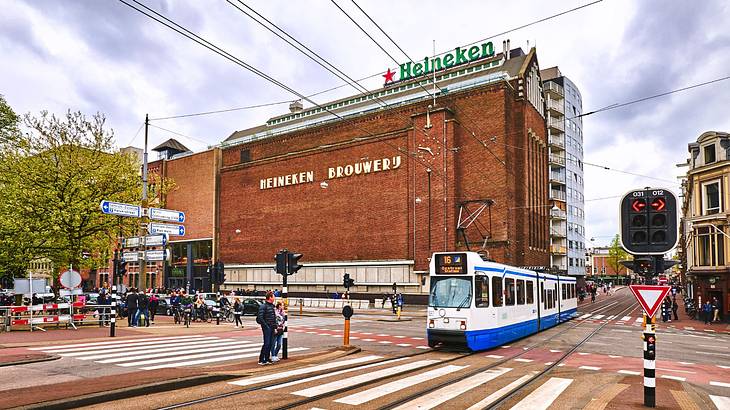 Tour a beer factory with the Heineken Experience
Heineken was created in Amsterdam in 1864 and remains popular across the country. An interesting activity relating to this brand is taking a one-hour self-guided tour of the first Heineken brewery built in Amsterdam. At the end of the tour, you can enjoy a beer or two together.
You can purchase Heineken Experience tickets in advance. While booking early is encouraged, tickets are generally available the day of.
Catch a Train at Centraal Station
Even if you don't take a train out of Centraal Station, this is a famous Netherlands landmark, so it's worth a visit. The exterior of the building alone is a sight to see. It dates to 1889 and is a beautiful mix of Gothic and Renaissance Revival styles.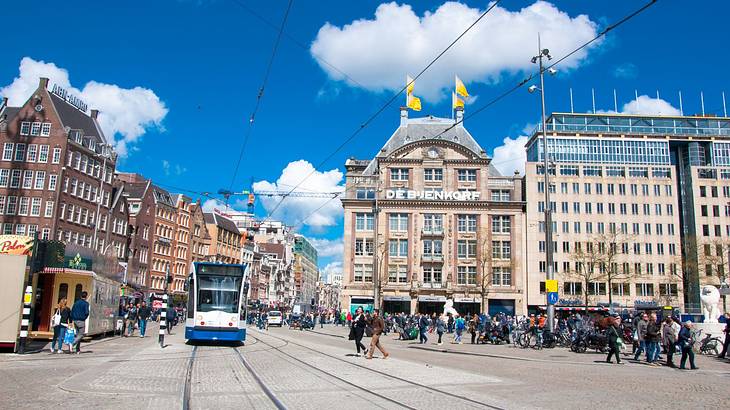 Shop till you drop in Dam Square
Dam Square, also known simply as The Dam, is the location of many landmarks, like the National Monument and Royal Palace. So, if you book an Amsterdam walking tour, you'll likely start or stop here. There's also great shopping around the square, so it's the ideal place to window shop or treat your loved one to some gifts.
Take in the view at the A'DAM lookout
To get an excellent panoramic view of Amsterdam, head to A'DAM Lookout. From the lookout, you can see iconic parts of the city, like the historical center and the many canals.
If you and your partner want to do something different, one of the best Amsterdam couples' activities is experiencing the A'DAM thrill attractions. You can try a VR rollercoaster or ride Europe's highest swing, located 100 meters above the city.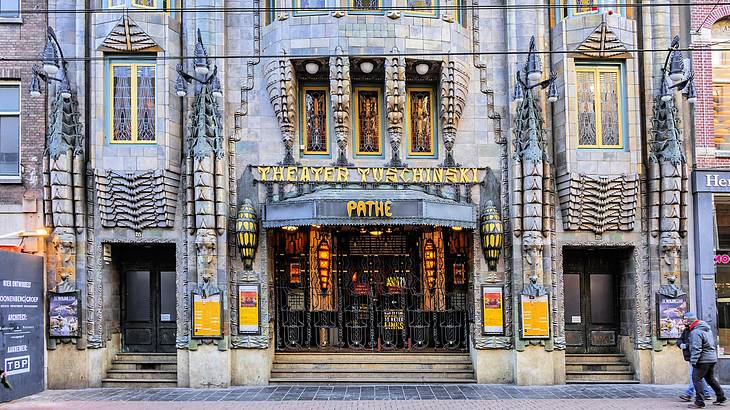 Watch a film at Pathé Tuschinski
Pathé Tuschinski, or Theater Tuschinski, is a French-owned cinema built in the Art Deco, Amsterdams School, and Jugendstil styles. This means the exterior is stunning, but watching a film inside is even better. Choose from big Hollywood movies or independent films, get a snack, and snuggle up with your partner.
Listen to jazz music at Bimhuis
Bimhuis is a prime jazz club, making it the perfect place for a date in Amsterdam. There are typically nightly shows, some of which are free. You can check the club's website for scheduling and tickets, as shows with well-known artists may sell out quickly.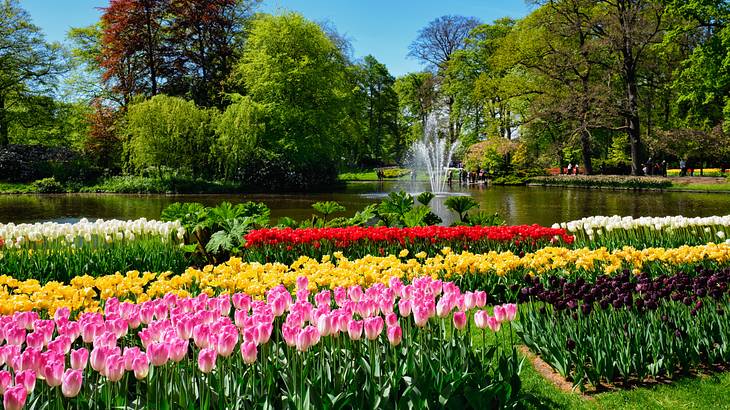 Smell the flowers at Keukenhof Gardens
If you travel to Amsterdam in the springtime, you can take a day trip to Keukenhof Gardens to admire the colorful tulips. The Netherlands is known for these stunning tulips, so you have to see the rows and rows of flowers in person.
Don't forget to buy some for your partner in the gift shop before you leave! Access to the gardens sells quickly, so ensure you purchase Keukenhof Gardens tickets ahead of time.
Enjoy drinks at Xtracold Icebar
One of the coolest venues to visit for a drink is Xtracold Icebar Amsterdam. When you arrive, you receive a warm jacket before entering the -10 degrees Celsius bar. The bar is also full of ice sculptures and furniture. You can buy same-day Icebar entry tickets online; just be ready to cuddle up to keep each other warm.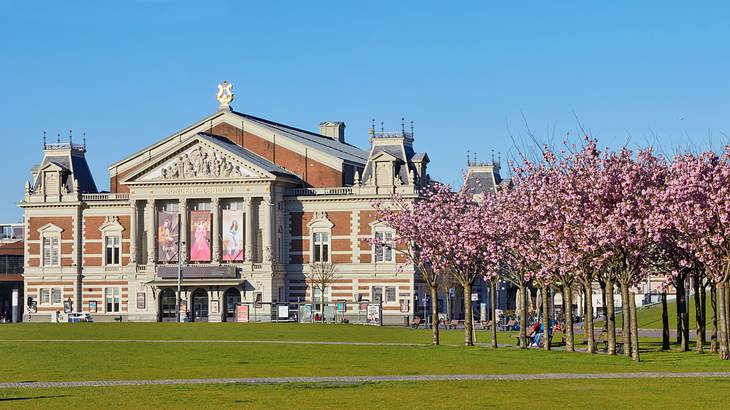 Attend a concert at Concertgebouw
Attending a concert with your loved one is always fun, so you have to visit one of the most famous concert halls in the world, Concertgebouw. The hall hosts hundreds of concerts a year, typically for classical music, so you're sure to find an event when you're in the city. Just try to buy your tickets ahead of time, as they sell out quickly.
Learn to make cocktails
While you could go out for drinks together, why not learn to mix them yourselves by attending a cocktail-making workshop? At the class, a professional bartender will teach you how to make various drinks. You can also find out more about Bols Amsterdam, one of the world's oldest spirit brands.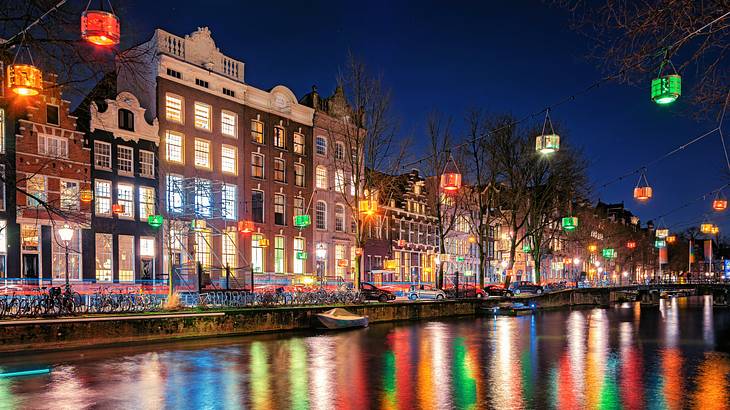 Visit the Amsterdam Light Festival
If you're in the city between the end of November and January, one of the most romantic things to do in Amsterdam for couples is attending the Amsterdam Light Festival. At the event, artists build illuminated art exhibits that you can see for free by walking through the city, hand in hand with your loved one. You can also book a canal tour to see exhibits from the water.
Travel to Zaanse Schans
Although it's not in Amsterdam, this unique neighborhood is only a short train ride away. Zaanse Schans is full of traditional houses and windmills, making it a picturesque area.
Upon arrival, you and your partner can stroll along the lake, pop into artisan shops, and admire the windmills for a perfect day date. You can also join an organized day trip to Zaanse Schans, with transport to and from Amsterdam.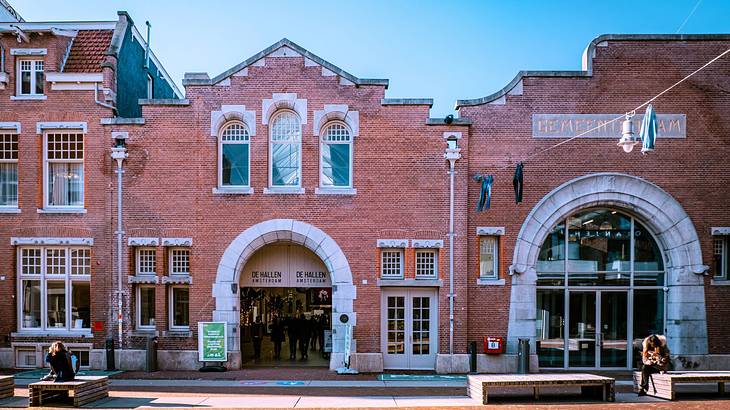 Grab a bite to eat at Foodhallen
Foodhallen is a food and drink hall with locations in Amsterdam, Rotterdam, and the Hague. There are 20 stands that sell local food and drinks, as well as international options. It's an excellent place for lunch or dinner. You and your partner can even share different dishes to maximize your tasting.
Visit the historic Anne Frank House
If you and your partner love history, you must plan a visit to the Anne Frank House. This is the hiding place where Anne Frank wrote her famous diary during World War II. During a visit, you can walk through the house and stop in the museum to learn more about the family's struggles.
Tickets sell out quickly, so ensure you purchase yours before your trip. To learn even more about Anne Frank, consider taking one of many Anne Frank history walking tours.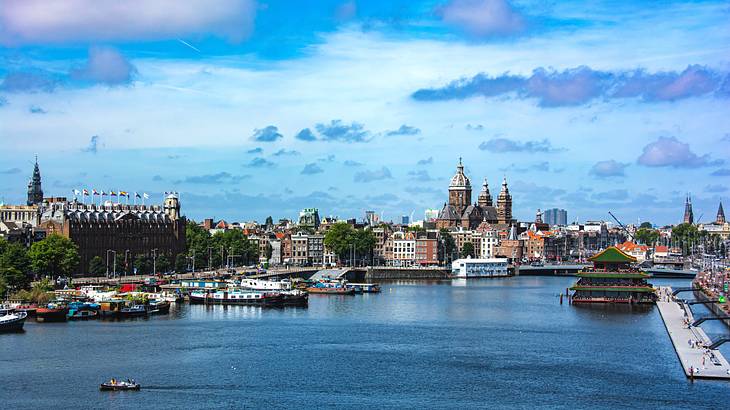 Overlook the city from the NEMO Science Museum terrace
The NEMO Science Museum has a stunning rooftop deck, allowing you and your partner to enjoy lovely views of Amsterdam. If you aren't into science, don't worry, you don't need tickets to the museum to go up to the terrace. However, if you want to view the exhibits, remember to get NEMO Science Museum admission tickets in advance.
Chill on the beach
Although Amsterdam is landlocked, there are some great beaches nearby. One of the best beaches near the city is Zandvoort Beach. Throw on a bathing suit and catch a train to spend the day in the sun with your partner.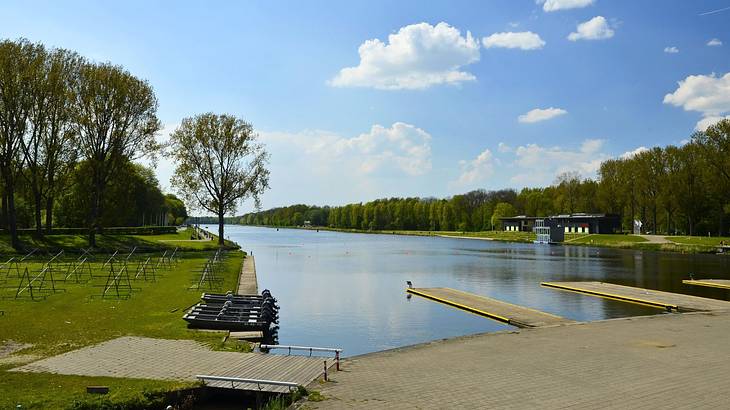 Follow the trails in Amsterdamse Bos
Although Amsterdam is a populated city, you can still find many green spaces, like Amsterdamse Bos (or Het Amsterdamse Bos). Just outside Amsterdam City Centre, this urban park has serene lakes and lush forests. You can hike, canoe, or have a romantic picnic with your loved one in the park.
In Summary
With its historic charm, picturesque canals, and a plethora of activities, Amsterdam is the perfect place for couples seeking a romantic getaway. There's so much to do, whether it's a leisurely canal cruise, savoring Dutch cuisine at food markets, or exploring the city by foot. Let's just say you won't be bored!
The city's welcoming atmosphere and cultural diversity also add to the experience, helping you and your partner create lasting memories. The only thing left for you to do is start planning your trip so you can experience it for yourself.
Want to keep exploring?
Subscribe for discounts on tickets and hotels and our latest guides.
Thank you for subscribing
We will be in touch soon with discounts on tickets and hotels and our latest guides.
Want to keep exploring?
Subscribe for discounts on tickets and hotels and our latest guides.
Thank you for subscribing
We will be in touch soon with discounts on tickets and hotels and our latest guides.