Where to Stay in Cusco, Peru? 6 Best Places to Stay in Cusco, Peru
Destguides may receive commissions from purchases made through affiliate links in this article.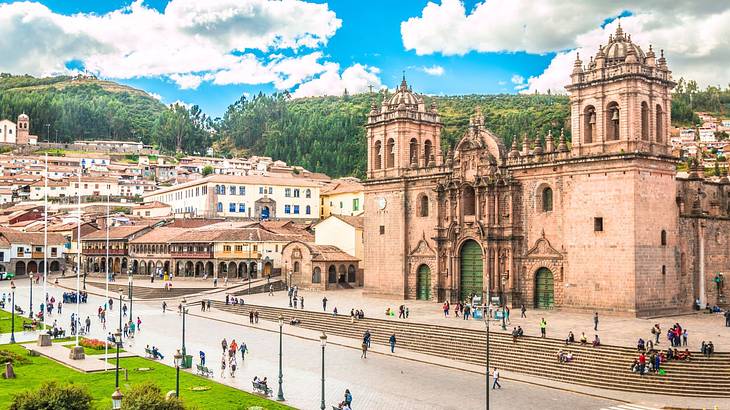 As the mountainous gateway to some of the country's top tourist sites and home to plenty of great history of its own, Cusco is one of the most visited cities in Peru. Modern Cusco was founded by the Spanish in the 1500s. Yet, the area's history as the capital of the Inka Empire dates back to the 12th century.
Most travelers coming to Cusco stay within Centro Histórico, the city's oldest part, which is divided into numerous smaller neighborhoods. They're all nearby one another, yet each different district offers a unique backdrop and ambiance for your Cusco vacation.
Cusco has accommodations for travelers of all types and budgets, from the busy and tourist-focused Plaza de Armas to the more rural community surrounding the Sacsayhuamán citadel. In this article, you'll discover everything you need to know about where to stay in Cusco, including a detailed breakdown of the six most popular tourist neighborhoods.
6 Best Places to Stay in Cusco, Peru
Cusco Places to Stay Video
Check out our highlights video of Cusco places to stay.
Cusco Places to Stay Map
A map of Cusco. Use the map to explore all the places to stay.
Best Areas to Stay in Cusco, Peru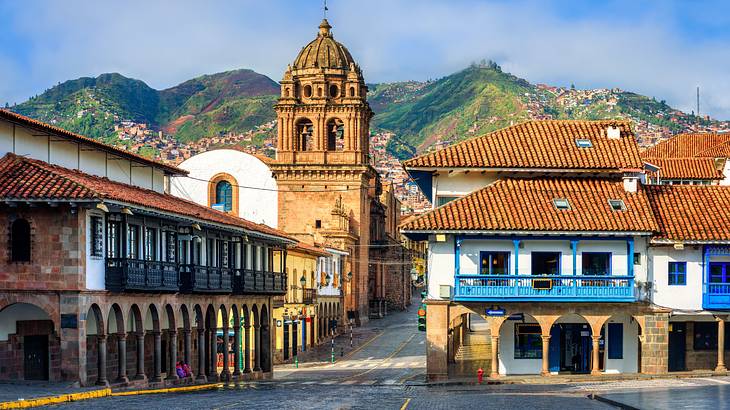 Centro Histórico (Historic Center)
With its origins dating back to the 12th century, the Historic Center is the oldest part of Cusco. It's a large area in the town center, comprised of several smaller neighborhoods like the vibrant Plaza de Armas and more residential Lucrepata.
In Cusco's old town, the streets are lined with well-preserved Spanish colonial architecture. Many buildings here date back to the 1500s, although some are set atop pre-Columbian Incan foundations. The Historic Center is where nearly all tourists traveling to Cusco will want to stay.
There are many types of accommodations within the Historic Center, from low-cost backpacker hostels to five-star luxury hotels in modernized colonial palaces. Prices generally get lower the further you are from the Plaza de Armas.
The Historic Center is 15 minutes by taxi from Cusco's Alejandro Velasco Astete International Airport. However, some of the area's higher-elevation neighborhoods, like San Blas and San Cristobal, can take slightly longer to reach.
Almost everything you will want to see within the city of Cusco is located in the Historic Center. Popular attractions like Cusco Cathedral, the Twelve Angled Stone, and San Pedro Central Market are all within this walkable, albeit hilly, part of town.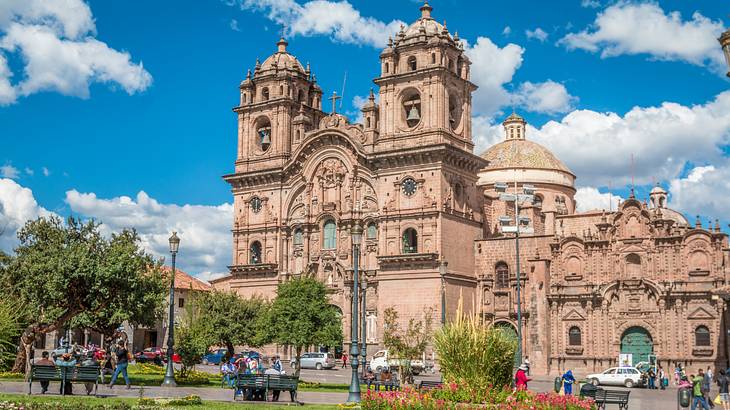 Plaza de Armas (Main Square)
Located right in the middle of the Historic Center, Plaza de Armas is Cusco's tourist hub. Centered on its namesake plaza and extending out for a few blocks in each direction, Plaza de Armas is a lively neighborhood brimming with hotels, shopping, and dining. After dark, it becomes the heart of nightlife in Cusco.
You'll find no shortage of places to stay in Plaza de Armas, with everything from reasonably priced inns to ultra-luxurious hotels. Prices generally decrease as you move away from Plaza de Armas. However, the exceptions are the five-star properties set back a few blocks from the often noisy square.
Plaza de Armas is the best neighborhood to stay in Cusco for travelers wanting to be in the middle of everything. This is especially true for first-time visitors and people only in town for a few days. Plus, Plaza de Armas is centrally located for exploring other nearby neighborhoods like San Blas and San Cristobal.
Many of Cusco's prominent landmarks are in and around Plaza de Armas. From exploring the Cusco Cathedral to learning more about tasty Peruvian traditions at the Chocolate Museum, this area offers plenty of exciting things to do.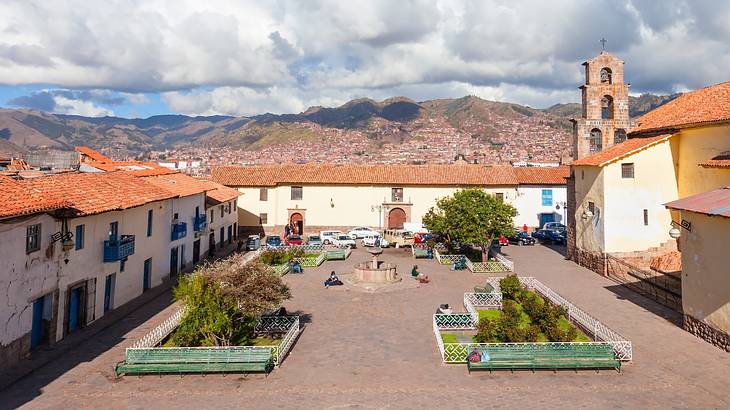 San Blas
Situated to the northeast of Plaza de Armas, uphill from the Cusco Cathedral, San Blas is the artistic neighborhood of historic Cusco. You'll find art galleries and workshops lining the narrow cobblestone streets, with plenty of small cafes and eateries scattered about.
Known as T'oqokachi during Incan times, San Blas is one of the oldest areas of the Historic Center. It has a more laid-back, hipster feel than Plaza de Armas, although it's still quite popular with tourists. Most accommodations in San Blas are reasonably priced hotels and inns, with some pricier boutique options mixed in.
San Blas is a short walk from Plaza de Armas, which is downhill, while San Cristobal is located slightly uphill to the north. The location is ideal for checking out the landmarks in Cusco; however, be prepared for the steep trek back up from lower-elevation neighborhoods.
Travelers enjoy staying in San Blas because of its bohemian ambiance in a location that's still within walking distance of the excitement of Plaza de Armas. But even within San Blas, you'll find plenty of sights like the San Blas Temple and adjacent San Blas Plaza. And remember to head up to the San Blas View Point for some of the best shots of Cusco.
Lucrepata
Located uphill and east of San Blas, the small neighborhood of Lucrepata is primarily residential. This means that you won't find many restaurants and shops in this area. Still, there are lots of hostels and cheap hotels along Lucrepata's quiet streets.
In fact, Lucrepata is the best location to stay in Cusco if you're on a budget or planning an extended stay in the city. The accommodations here are generally the cheapest in the Historic Center. The savings can add up for travelers spending weeks or months in Cusco.
Lucrepata is very walkable as well. For example, the nearby San Blas, which has plenty of quaint cafes and artisan shops, is under a 10-minute walk away. The San Blas Market is conveniently situated on the border of the Lucrepata and San Blas neighborhoods. Plaza de Armas is just a little further downhill, but be prepared for a challenging walk (or easy taxi ride) back up to Lucrepata.
Being a relaxed, residential area, you will find little to do in Lucrepata. But with the abundance of low-priced hotels, most travelers book here for the savings and spend their days elsewhere in the city.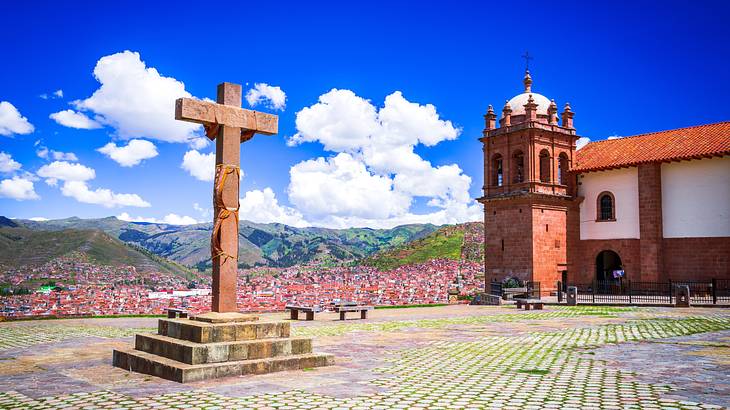 San Cristobal
North and uphill from Plaza de Armas is the neighborhood of San Cristobal, a quiet area at the foot of the Sacsayhuamán ruins. It's more peaceful here than in other parts of the Historic Center. However, expect some tourists during the day that come to visit San Cristobal Church and San Cristobal Plaza, as well as nearby Sacsayhuamán.
The best place to stay in Cusco for families searching for a quiet, kid-friendly setting, San Cristobal offers various guest houses and small hotels. Prices are reasonable here, typically cheaper than Plaza de Armas or San Blas. However, there are a couple of upscale options for luxury travelers.
San Cristobal is an excellent base for visiting nearby Sacsayhuamán, and Plaza de Armas is just a brief walk downhill. The trek back up can be challenging, mainly if you aren't accustomed to the elevation. Luckily, San Cristobal has wider roads and is more accessible by taxi than other hillside neighborhoods in historical Cusco.
Don't expect too much going on in San Cristobal. However, for most visitors, this change of pace from the vibrant Plaza de Armas draws them to the neighborhood. Still, you'll always be within a few minutes of dining and shopping options. You can also easily reach the starting point for most organized tours heading into the Sacred Valley.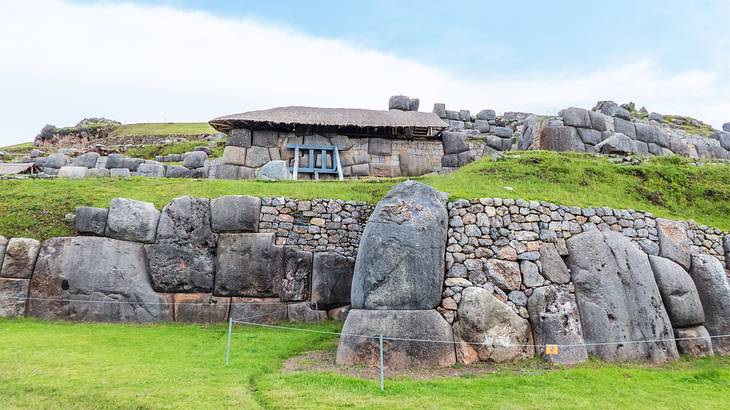 Sacsayhuamán (Saqsaywaman)
Sitting just north and uphill of San Cristobal is the neighborhood of Sacsayhuamán (Saqsaywaman). This area is remote and on the outskirts of Cusco, centered on the eponymous Sacsayhuamán Inca citadel.
Built in the 1400s, Sacsayhuamán is an impressive pre-Columbian site worth checking out on your visit to Cusco. Although not as famous as nearby Machu Picchu, Sacsayhuamán is still one of the most famous landmarks in Peru.
For most people, exploring the namesake citadel is the primary draw to the Sacsayhuamán neighborhood. But you'll also find many other Incan sites, terrific viewpoints, and the Cusco Planetarium. There are a few small restaurants up here, but plan to go further downhill into the Historic Center for most of your needs.
You won't find many places to stay in Sacsayhuamán. However, a few inns and homestays are located around the neighborhood's historical sites. These properties are best suited to tourists who want to be in a rural setting yet are still just a short drive from the center of Cusco.
But for most visitors wishing to be near Sacsayhuamán, nearby San Cristobal is a more practical and reasonably walkable area to stay.
Where to Stay in Cusco, Peru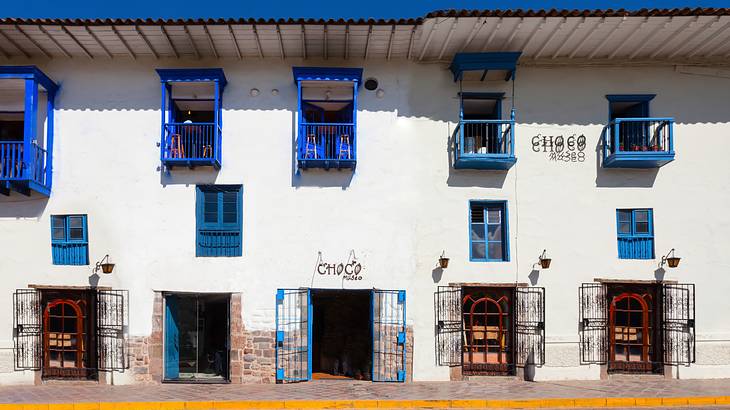 Where to stay in Cusco with family?
With centuries of rich history, Cusco is a fun and educational travel destination for families. Kids are immersed in the past wherever they are in the city, especially within the Centro Histórico. Plus, the area has other great family-friendly attractions, like the Cusco Planetarium and the Chocolate Museum.
While the central Plaza de Armas is an excellent place to stay for families, it can get pretty loud at times. Instead, travelers with children often stay in one of the other, quieter areas of Cusco's old town. There's Santa Ana to the west, although it's a little far from the historic Cusco neighborhoods that families usually want to visit.
San Cristobal, north of Plaza de Armas, is often considered the best place for families to stay in Cusco. Here you'll find reasonable prices, a peaceful ambiance, and convenient proximity to other neighborhoods.
San Blas is another popular choice for families who want to avoid the busy Plaza de Armas yet remain near various shopping and dining options. But San Blas can still get busy, and the narrow streets make it difficult to catch a taxi directly to your hotel. And with a steep climb from the central plaza, the walk can be exhausting for families with small children.
Where to stay in Cusco for first-timers?
With many landmarks and must-see sites throughout the Historic Center of Cusco, there's hardly a wrong place to stay. While some neighborhoods are more laid-back than others, they're all located close to one another. Pretty much everything is walkable. And taxis are cheap and abundant, in case the elevation change between areas becomes challenging.
But if it's your first time in the city and you want to be near the main attractions, the best area to stay in Cusco is Plaza de Armas. From the neighborhood's namesake plaza to its numerous museums and Incan sites like Qorikancha, this is where you'll find the highest concentration of things to do and see in Cusco.
Plus, being the center of tourism in Cusco means Plaza de Armas has many restaurants and local shops on the surrounding streets. The downside with Plaza de Armas is that hotel prices are among the highest in Cusco.
For first-time visitors on a budget, neighboring San Blas is another good option. It's bohemian and artsy, with plenty of local galleries and trendy restaurants. Though more expensive than Lucrepata further up the hill, San Blas provides a good balance of price and location for your first visit to Cusco.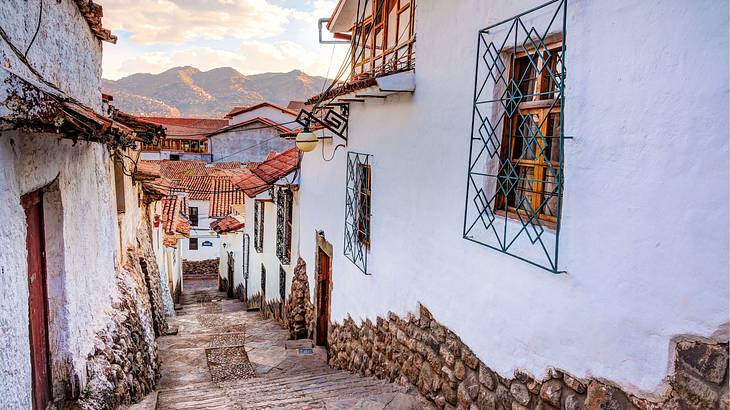 Where to stay in Cusco on a budget?
Affordable accommodations can be found all throughout the Historic Center of Cusco. But in general, prices are the highest around Plaza de Armas and decrease the further away you get from the square.
San Cristobal and San Blas offer reasonably-priced alternatives to the relatively expensive hotels in Plaza de Armas. San Blas is going to be the best option for a moderate budget.
But for travelers on a tight budget or planning to book an extended stay in Cusco, the residential neighborhood of Lucrepata offers an even more affordable alternative. Located uphill from San Blas, just past the San Blas Market, Lucrepata is a quiet and laid-back neighborhood where you'll find some of the cheapest hostels and hotels in the Historic Center.
Being primarily residential, Lucrepata has little to see or do. You probably won't spend much time in the neighborhood besides sleeping. But for budget travelers looking to pay a fraction of the price of hotels around Plaza de Armas, Lucrepata makes sense as a low-cost base for exploring Cusco and the surrounding historical sites.
Where to stay in Cusco for nightlife?
As with most popular tourist destinations, especially ones that draw a big backpacker crowd, Cusco has a lively nightlife scene. If you're trying to decide what area to stay in Cusco for nightlife, it's Plaza de Armas.
Plaza de Armas stays busy throughout the day with sightseers. But once the sun goes down, the area surrounding the plaza becomes the center of the city's nightlife. The largest concentration of bars in Cusco is located just to the north of Plaza de Armas. This is also where you find nearly all of Cusco's nightclubs, with many staying open until the early morning hours.
For a casual, hipster vibe, check out the nightlife in neighboring San Blas. Situated just uphill and to the east from Plaza de Armas, the artisan hub of San Blas has its own small nightlife scene with a handful of quaint bars and nighttime venues. However, don't expect the same energy as Plaza de Armas or for the party to last all night in San Blas.
In Summary
For most travelers to Cusco, Plaza de Armas is the optimal place to stay. It's the most convenient spot in the Historic Center, with the lion's share of restaurants, shops, and Cusco landmarks at your fingertips. It's typically the most expensive part of town, though, with prices lower in neighboring San Blas and San Cristobal.
San Blas is a relaxed, artisan neighborhood quieter than Plaza de Armas, yet still busy with tourists. Prices are lower, and you'll still find tons of eateries and local shops. Lucrepata, just uphill from San Blas, is where you'll find the cheapest hotels in Cusco.
San Cristobal, north of Plaza de Armas, is excellent for families because of its quiet-yet-close location and easy accessibility. Just uphill from there, the neighborhood of Sacsayhuamán offers a small handful of accommodations in a more rural setting surrounding the namesake historic site.
All of these neighborhoods offer something a little different, and you're sure to find a place to stay that meets your needs. Whichever neighborhood you decide on, you're guaranteed to have a fun time exploring Cusco!
Give us feedback about this article
Read more articles about Peru:
More articles about places to stay:
---
---
Want to keep exploring?
Subscribe for discounts on tickets and hotels and our latest guides.
Thank you for subscribing
We will be in touch soon with discounts on tickets and hotels and our latest guides.
Want to keep exploring?
Subscribe for discounts on tickets and hotels and our latest guides.
Thank you for subscribing
We will be in touch soon with discounts on tickets and hotels and our latest guides.
Related Articles