How Many of These 7 Puerto Rico Traditions Do You Know?
Destguides may receive commissions from purchases made through affiliate links in this article.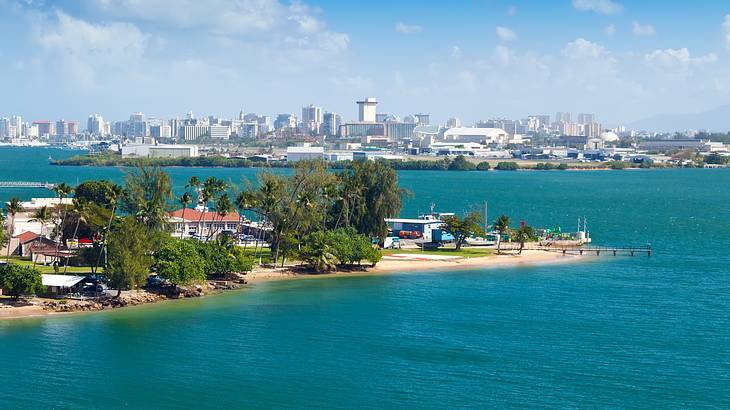 Located just off the coast of the United States, Puerto Rico is an unincorporated territory of the United States in the Caribbean. One main island, four smaller islands, and lots of cays and islets make up the territory, with San Juan as its capital.
Many of the customs in Puerto Rico have been heavily influenced by the territory's Spanish and African roots, which go back hundreds of years. So...
What are some traditions in Puerto Rico? You may ask...
This list of Puerto Rico traditions covers everything from the many customs of Christmas to a coming-of-age ritual for young women and more.
Are you ready to discover Puerto Rico through its traditions and customs? Then continue reading to learn about Puerto Rico.
7 Puerto Rican Traditions
Puerto Rico Traditions Video
Check out our highlights video of Puerto Rico traditions.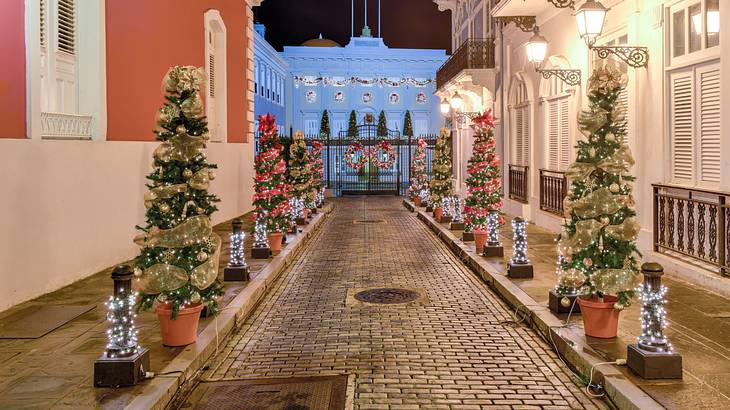 Traditional Christmas celebrations last around 45 days
Puerto Ricans take their Christmas celebrations incredibly seriously. The traditional Christmas season, known as La Navidad, lasts for around 45 days on the island. Festivities begin right after Thanksgiving in November and the holiday season lasts through until mid-January.
During the Christmas season, Puerto Ricans have many famous traditions that they complete each year. One of the most popular is taking part in Parranda, which is their version of a Christmas Carol.
Family and friends will gather in front of a home after 10 pm to sing together, which will lead to neighbors joining and sharing drinks between families. Often, this can last until the sun comes up, going from house to house.
Girls will have an extravagant Quinceañera party when they turn 15 years old
Quinceañeras are a tradition in many Latin American countries, and Puerto Rico is no exception. When a girl turns 15, she marks the important transition of becoming a woman by throwing a huge party to celebrate her birthday.
While this was one of the family traditions that was originally a religious symbol, today, many people decide to have a Quinceañera whether they are religious or not. Three main things need to be present at a traditional Quinceañera:
A religious ceremony where the girl's faith is blessed.
A waltz with her father.
Dinner and drinks to celebrate in style.
The party can last anywhere up to six hours. Of course, the dress is another key element of a Quinceañera, with many girls opting for big and bold dresses. The dress will also correspond with a color scheme, which is a really important factor when planning a Quinceañera.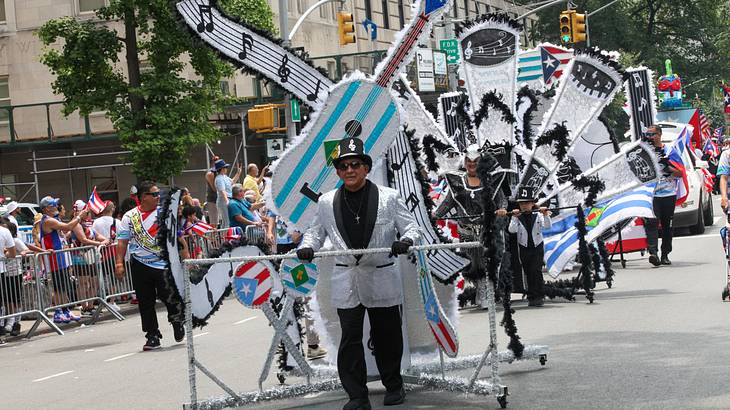 The Puerto Rican Day Parade in New York City is attended by thousands of people
New York has a Puerto Rican population of around 1 million, which is the second largest in the whole territory. Each year, thousands of these citizens will attend the parade in New York City, taking place on an iconic Fifth Avenue location.
The parade celebrates the entire Puerto Rico population in the US and is commemorated with music, dancing, and authentic street food. The date changes each year, but famous Puerto Rican guests always attend and kick off the party.
Many states host similar parades, although the New York one is arguably the most famous and lively, streamed by millions across the world.
Calle San Sebastián Street Festival celebrates the end of the Christmas season
There are plenty of Puerto Rican traditions that take place during Christmas, but a giant street fair signals the end of the festive season.
Named after Saint Sebastian, a religious martyr, San Juan is home to a festival that honors him through feasts and street parties. The event draws in large crowds from Puerto Rico and beyond.
The first-ever Calle San Sebastián Street Festival took place in the 1950s after a priest organized the event. This lasted for a few years, but eventually, the festival stopped taking place until it was restarted in the 1970s.
Since then, the festival has taken place towards the end of January each year, although the date often changes. If you're here during that time, make sure to include it on your Puerto Rico itinerary!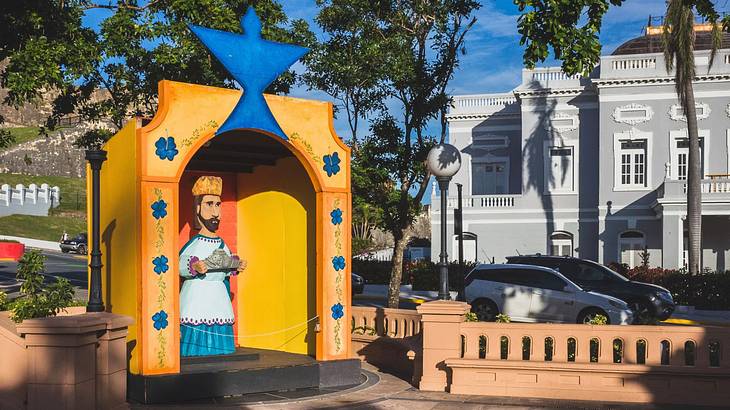 January 6th is Three Kings Day
Every year, Puerto Ricans celebrate Three Kings Day, or el Día de Reyes in Spanish, which is also known as Epiphany. This is another of the many religious customs in Puerto Rico and is to honor the Three Wise Men who visited Jesus not long after he was born.
Most of the el Día de Reyes celebrations happen in a small town, south of the main island called Juana Diaz. A big parade is held here for around 25,000 people, although smaller parades are still present throughout the territory.
A fun re-enactment of the Three Kings visiting Jesus is depicted during the event by actors with cartoonish beards and colorful costumes. Many families also choose to celebrate in private, sharing delicious food and stories.
Puerto Ricans celebrate Noche de San Juan (Saint John's Eve)
Religion plays a huge role in many of the traditions in Puerto Rico, so the island celebrates many Roman Catholic holidays. The 23rd of June is Saint John's Eve, and after sunset, many families will participate in religious customs.
It's called "La Noche de San Juan" because Christopher Columbus originally named Puerto Rico San Juan Bautista after the saint. The main tradition takes place near water. People will travel to a beach, pool, or lake and fall back into the water three, seven, or twelve times. This is said to cleanse the body of any bad luck and create new luck for the following year.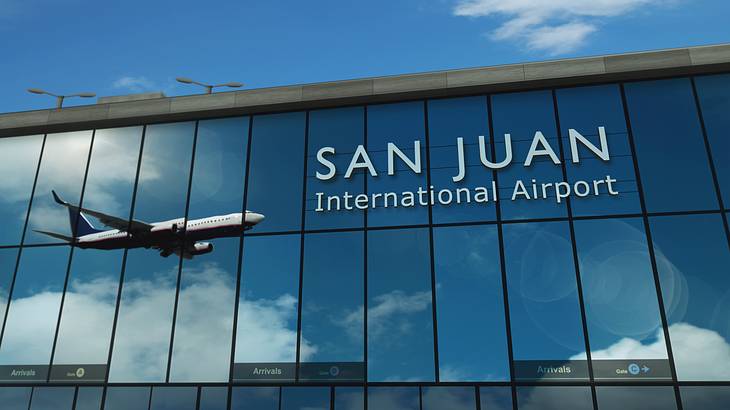 Puerto Ricans love to clap when a plane lands
Although clapping when the plane lands has a hit or miss reputation throughout the rest of the world, it is one of the most common Puerto Rican customs.
When you touch down in San Juan, don't be surprised when everyone around you begins to applaud. Nobody is quite sure why they love to do this, including many Puerto Ricans themselves.
Some people claim it is because they are happy to be safely back on land, while others state that it's because they want to applaud the pilot. Either way, it's a very sweet aspect of Puerto Rican culture that you will notice when you visit the island.
In Summary
Puerto Rico is a joyous island with a fascinating history and vibrant culture. Many of these Puerto Rico traditions have been influenced by the people who have called the archipelago home over several centuries.
From all-night Christmas caroling to indulgent Quinceañera parties, these rich traditions are important to people throughout the island. Make sure to keep an eye out for these customs when you visit, and you will be able to learn more about the culture of Puerto Rico.
---
---
Want to keep exploring?
Subscribe for discounts on tickets and hotels and our latest guides.
Thank you for subscribing
We will be in touch soon with discounts on tickets and hotels and our latest guides.
Want to keep exploring?
Subscribe for discounts on tickets and hotels and our latest guides.
Thank you for subscribing
We will be in touch soon with discounts on tickets and hotels and our latest guides.
Related Articles