The Best 4 Days in Istanbul Itinerary
Destguides may receive commissions from purchases made through affiliate links in this article.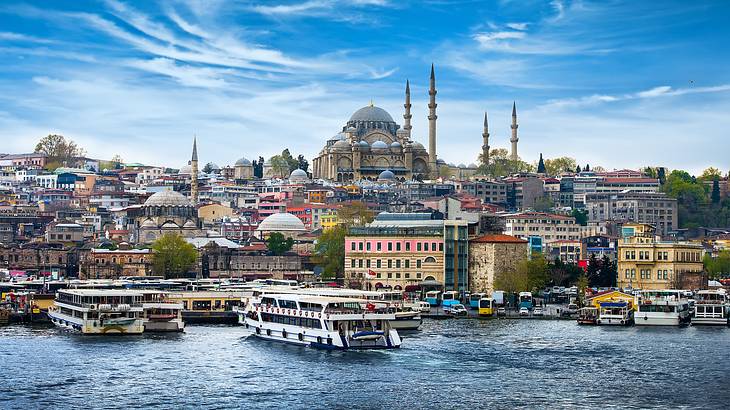 Istanbul is one of the most fascinating and beautiful destinations in the world. The Turkish city sits between Europe and Asia, along the Bosphorus Strait, and it is home to various attractions, from historical sites to parks and museums.
Deciding exactly what to see when on a city break can be challenging, but this 4 days in Istanbul itinerary is here to help! It takes you to all the main historical and cultural landmarks, plus hidden gems and places of natural beauty.
Whether you want to experience the winter in Istanbul or are planning a summer getaway, keep reading for the best 4 day Istanbul itinerary!
Istanbul 4 Day Itinerary
Wander Around Sultanahmet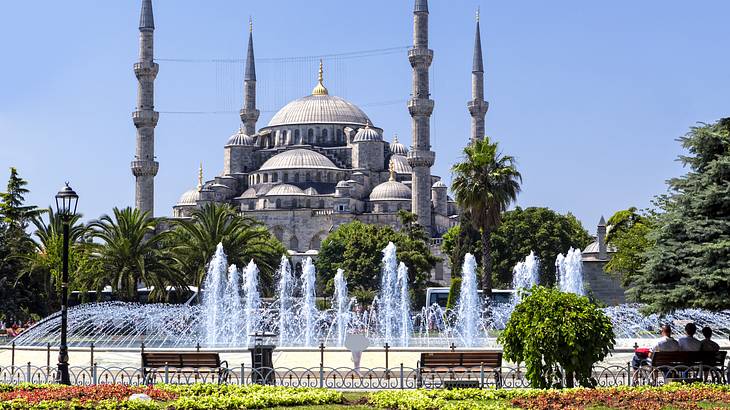 The first day of your four days in Istanbul itinerary will be spent exploring the historic Sultanahmet District. This neighbourhood is Istanbul's old town and where the Greeks first colonised the city.
Sultanahmet is a peninsula that is surrounded by water on three sides. The area is home to some of the oldest and top attractions of Byzantium and Constantinople, such as the famous Hagia Sophia and the Ottoman Topkapi Palace.
Things to do on your first day in the city include trying authentic Turkish cuisine, enjoying Turkish coffee, learning about Istanbul's history, and seeing the most remarkable monuments.
As you visit sacred religious sites, familiarise yourself with Turkey's culture and customs and dress appropriately. This is especially important if you are a solo traveller in Istanbul or visiting with small children.
Hafız Mustafa
Established in 1864, Hafiz Mustafa is a famous Turkish patisserie that serves traditional breakfast dishes, cakes, and drinks, including well-known Turkish coffee. Hafiz Mustafa is conveniently located near the Sultanahmet tram stop, making it a perfect location to start your day.
The eatery is best known for its pistachio baklava, Turkish delight, and pomegranate tea made from fresh pomegranates. Do be aware that Hafiz Mustafa is more expensive than other traditional Turkish cafes in the city. However, it is worth paying a visit!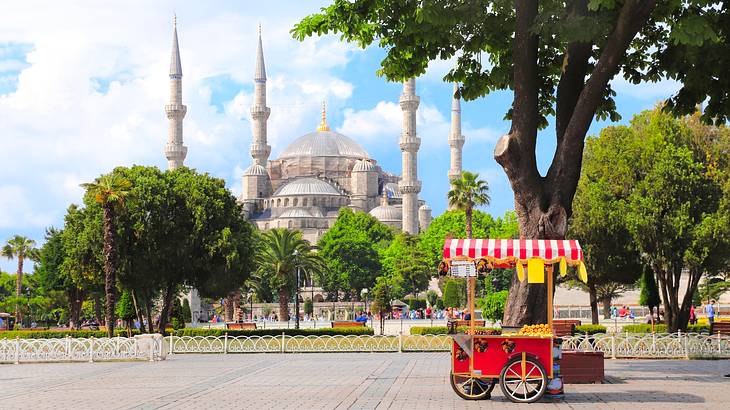 Sultanahmet Square
Named the "Historic Heart of the Old Sultanahmet," Sultanahmet Square is one of the most well-known squares in the city and a must on any Turkey itinerary. It features scenic fountains and is surrounded by famous monuments such as the Blue Mosque, Hagia Sophia, and the Obelisk of Theodosius.
This attraction also has the name "Hippodrome" due to the square housing a 4th-century Hippodrome built by Constantine the Great. To avoid crowds, arrive early in the morning. Also, be aware of strangers offering guided tours. Remember, you don't have to pay to wander around the square!
If you are interested in having a guided tour of the square and surrounding monuments, there are many verified tour operators to book through. Taking a four-hour Istanbul landmarks tour is a great choice and will allow you to see all the sights around Sultanahmet Square.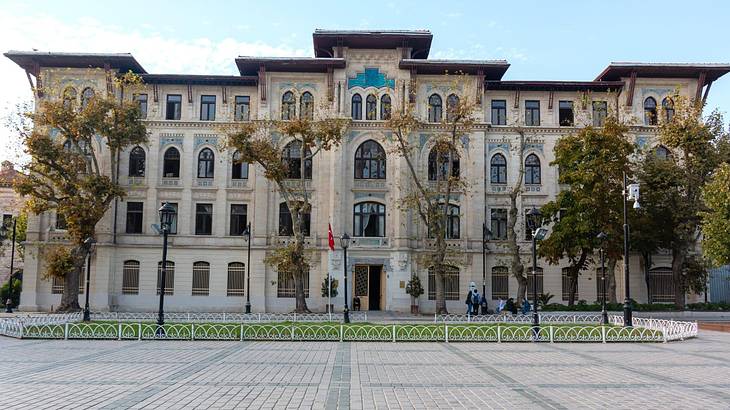 Museum of Turkish and Islamic Arts
The Museum of Turkish and Islamic Arts, also known as Türk-Islam Eserleri Müzesi, is a museum showcasing objects from the Ottoman Empire, the Seljuk Empire, and earlier periods. It is home to collections of ceramics, glassware, calligraphy, tiles, and carpets.
Opened in 1983, the museum is housed in İbrahim Pasha Palace, which was built in the 16th century. The Museum of Turkish and Islamic Arts is today considered one of the most important museums in the world. It is especially well-known for its collection of decorative carpets, which is the world's richest collection of carpet art.
Want to make seeing the Museum of Turkish and Islamic Arts and other renowned museums easy? One of the best travel tips is to book an Istanbul museum pass that includes access to the city's top museums and landmarks.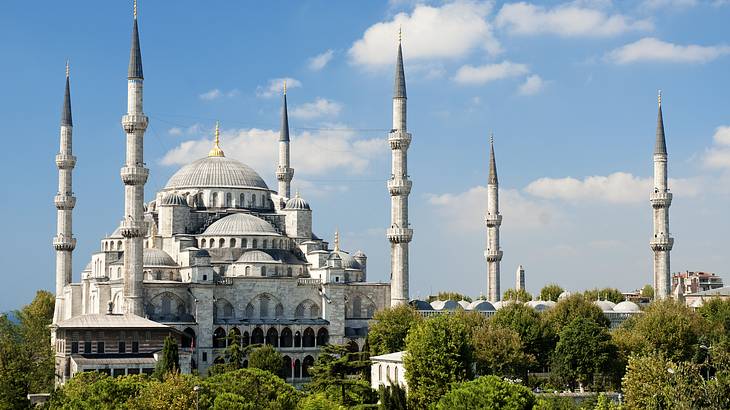 The Blue Mosque
Built in the 17th century, the Blue Mosque, or Sultanahmet Camii, is a popular tourist attraction and the most photographed landmark in Istanbul. It is also one of the most famous landmarks in the world!
The mosque was commissioned by Sultan Ahmed I and was originally called Sultan Ahmed Mosque. The temple got its current name from the blue tiles on its walls. You will find over 200 stained glass windows, chandeliers, marble columns, and elegant carpets inside the mosque.
Entry to the Blue Mosque is free of charge; however, it is closed during prayer times, usually around midday and late evening. Booking a tour of the Blue Mosque is highly recommended to get the most from your visit.
Mihri Restaurant
Located next to the Hurrem Sultan Hamam Turkish baths, Mihri Restaurant is a traditional Turkish restaurant serving authentic dishes and drinks. The restaurant has spacious indoor and outdoor seating areas that offer views of Hagia Sophia and the Blue Mosque.
Live music events with traditional dancing are often held at the eatery too! If you want to enjoy your lunch with music, look for signs outside the restaurant stating event times and dates. If you are travelling with friends or family, Mihri Restaurant has sharing platters and dishes suitable for three to four people.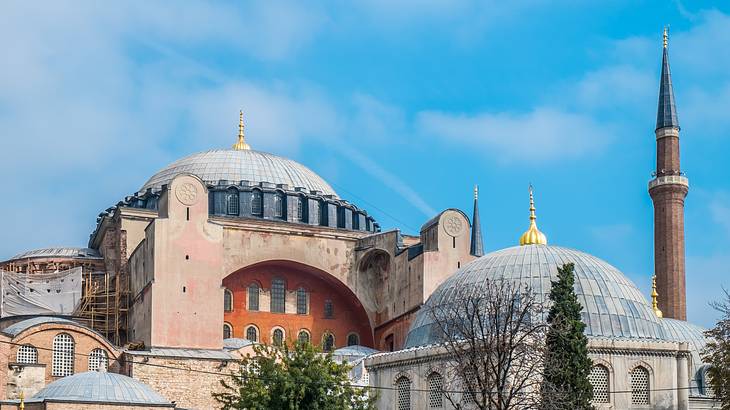 Hagia Sophia
Hagia Sophia was built as a Christian Cathedral in the 6th century and later transformed into an Ottoman mosque. The structure fascinates everyone with its architecture, age, size, and mystical atmosphere. Its name means 'Holy Wisdom.'
Today, Hagia Sophia is a museum where you can learn about the building's history and view its iconic mosaics and breathtaking interior. The museum receives millions of visitors annually and is the most visited museum in Turkey.
Due to its popularity, booking a Hagia Sophia skip-the-line ticket in advance is a must to ensure you get to see this stunning landmark.
Basilica Cistern
Istanbul has hundreds of ancient cisterns hidden underground; however, only two are accessible to the public. The Basilica Cistern is one of them. Built in 532 AD during the reign of Emperor Justinian I, Basilica Cistern covers an area of 105,000 square feet, and its roof is supported by 336 marble columns.
Today, Basilica Cistern is a popular tourist attraction that must be on your 4-day Istanbul itinerary. A great way to explore the underground passage is by taking a Basilica Cistern guided tour. You'll learn more about the landmark from your guide and can marvel at the beautiful architecture that has been untouched for centuries.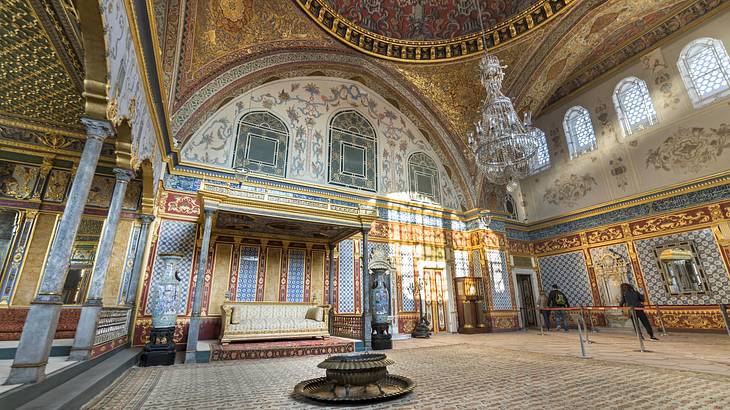 Topkapi Palace Museum
Established in the 15th century, Topkapi Palace is probably the most colourful building in Istanbul. For centuries it was used as the primary residence for Ottoman sultans. Today, it is a museum that showcases the luxurious lives that those sultans lived.
The palace covers approximately 7,535,000 square feet and has over 300 rooms. It comprises administrative buildings, pavilions, and two mosques, among other spaces. Beautiful gardens also surround the palace.
In addition, Topkapi Palace Museum has more than 80,000 objects on display. The museum collection is updated regularly, with pieces spread throughout the palace complex. To make admission to the attraction easy, book a Topkapi Palace Museum skip-the-line ticket and guided tour in advance.
Sarnic Fine Dining Restaurant
You can find many outstanding places to eat in Istanbul, and Sarnic Fine Dining Restaurant is just one of them! The high-end eatery offers its customers a unique dining experience. The restaurant's interior is modelled on Basilica Cistern, allowing customers to feel like they are dining in the basilica.
The restaurant serves authentic Turkish dishes, including various platters for sharing and extravagant mains. Trying the truffle oil-infused beef with goat's cheese or the salmon trio platter is highly recommended!
Sarnic Restaurant is, unfortunately, not a family-friendly dining establishment. However, this eatery is a must-visit if you are travelling alone or with other adults.
From the Roman Empire to the Ottoman Empire and Back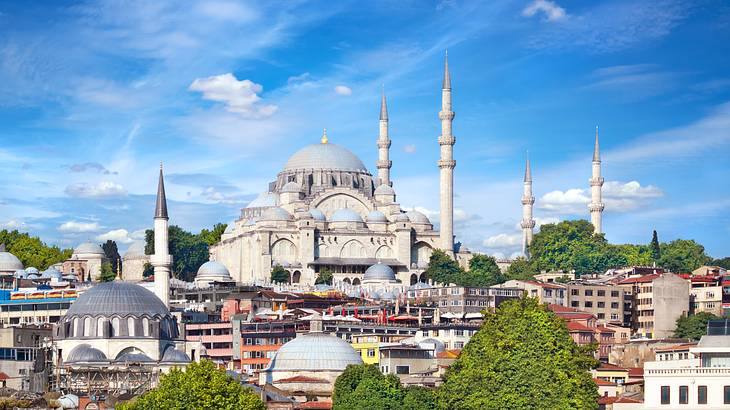 On your second day of this 4-day trip to Istanbul, you will move away from Sultanahmet to explore another side of the city. You will see some of the most extraordinary pieces of architecture in Istanbul. You will also visit several market alleys where you can enjoy the atmosphere and buy some Turkish souvenirs.
This day will be full of new experiences, with lots of walking and noise, so be prepared! All destinations are easily reachable on foot, but using public transport is recommended if you are travelling in Istanbul with kids. It's a fully packed day, so start as early as possible to see everything and avoid crowds.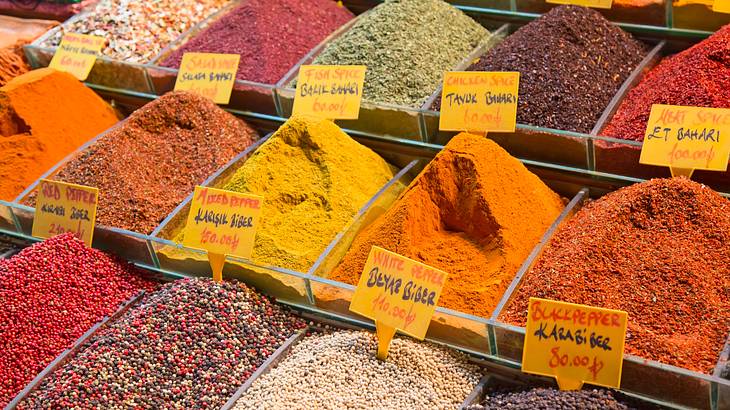 Spice Bazaar
Situated in the Eminonu quarter near Galata Bridge, Spice Bazaar is one of the city's biggest markets. Spice Bazaar's stalls specialise in spices, nuts, dried fruit, Turkish delight, and baklava. Delicious sandwiches and traditional drinks are also on offer.
The items sold here are highly affordable, and there are many things to see, so don't rush and have a good look around. While wandering around, grab yourself breakfast and some snacks for the day. You will need about an hour to look at all the stalls.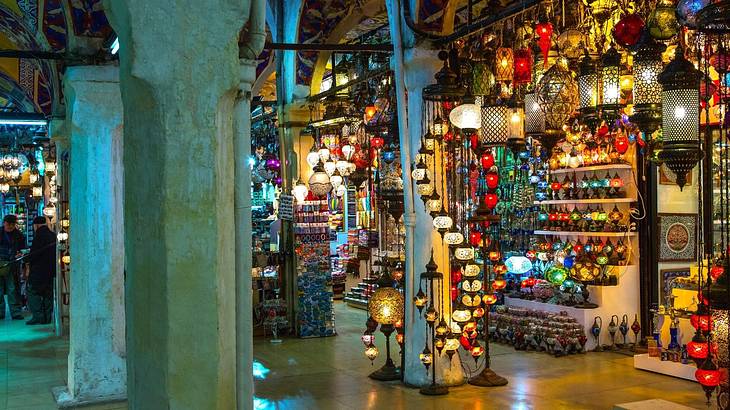 Grand Bazaar
The Grand Bazaar, also known as Kapali Carsi, is one of the largest covered markets in the world. Due to its size, it is a popular tourist attraction. It is also regarded as one of the world's first shopping malls.
Established in the 15th century, the Grand Bazaar covers about 60 streets and features more than 4,000 shops. As you explore, you can spot traditional rugs, homewares, lanterns, and other colourful items decorated in various patterns. Shopping here will make you feel like a resident of the Ottoman Empire! The bazaar is closed on Sundays and bank holidays.
Historical Vezneciler Bath
Established in 1481 by Sultan Beyazid II, Historical Vezneciler Bath is a Turkish bathhouse where you can relax after a busy morning in bazaars. The bathhouse offers Turkish mixed baths, body scrubs, and other spa treatments.
After enjoying your treatments, you will be served a traditional tea to complete the Turkish cleansing ritual. A bath ritual will help you feel refreshed and energised to continue exploring the city. As the baths are popular, book your appointment in advance.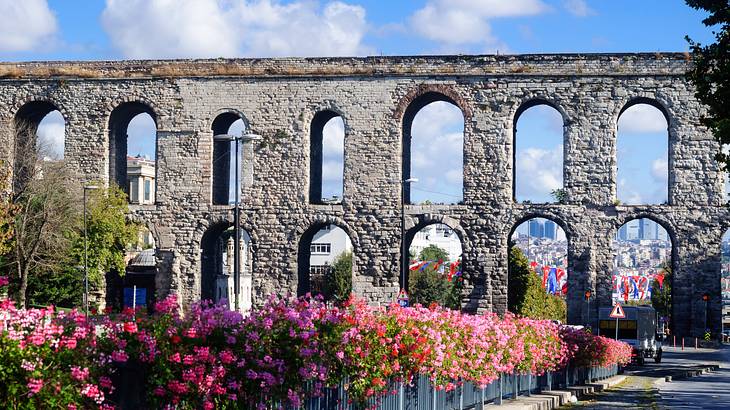 The Aqueduct of Valens
Completed in the 4th century, the Aqueduct of Valens is another of the fascinating places to see in Istanbul during your four-day visit. It is a masterpiece of Roman architecture that stretches for about one kilometre.
The aqueduct was initially an important structure that supplied water to Constantinople. Today, it's a breathtaking monument that you can't miss seeing!
Try to arrive no later than mid-day to avoid peak hours and tourist groups. You can take Instagram-worthy photos of the structure from the road. Just be careful and respect pedestrians and drivers.
Şehzade Cağ Kebap
Every Istanbul travel guide has to include at least one kebab restaurant! Before moving to the next attraction, stop for lunch at Şehzade Cağ Kebap, and taste the best kebabs in the city.
Situated in the small district of Hoca Pasa, the restaurant serves special kebabs that originated from Erzurum in Eastern Turkey. You can also order some extras for your meal as the restaurant serves snacks, salads, and various kebab toppings. It is also quite affordable and filling!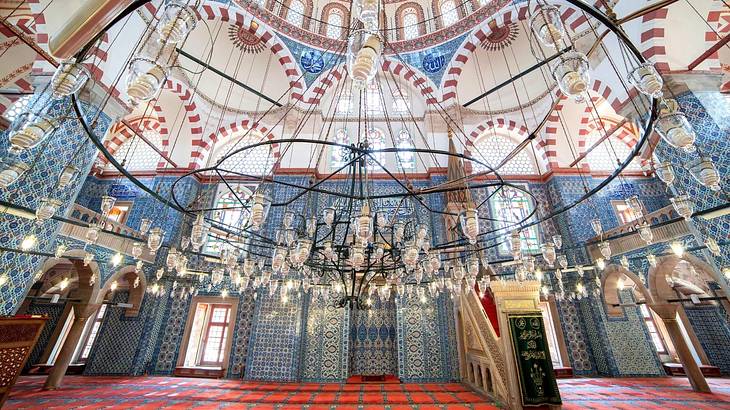 Rüstem Pasha Mosque
Situated in Hasırcılar Çarşısı (Strawmat Weavers Market) in the Fatih district near Golden Horn, Rüstem Pasha Mosque is a fascinating Ottoman mosque. Completed in 1563 and designed by Mimar Sinan, the mosque is decorated with mosaic tiles (Iznik tiles) that create different patterns.
The building features more than 80 different patterns, making it one of the most colourful buildings in Istanbul. If you want to learn more about the mosque's rich history, consider taking a guided tour. You can also visit on your own, just remember to cover your shoulders and avoid wearing shorts or short skirts.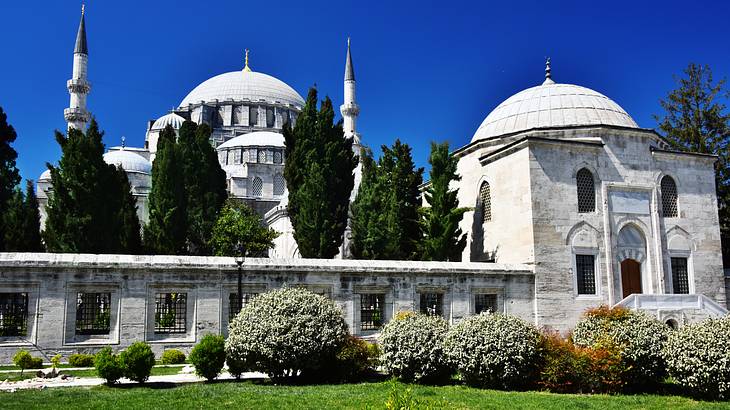 Süleymaniye Mosque
Süleymaniye Mosque is a landmark you can't miss seeing during your Istanbul visit. It is a fantastic building that you can see from nearly every part of the city. Completed in 1558 and designed by Mimar Sinan, Süleymaniye Mosque is Istanbul's second-largest mosque.
It is a vast complex with a Turkish bathhouse and kitchen, plus laundry and sleeping rooms. The mosque is also the resting place of Sulayman the Magnificent. The most famous feature is the interior, which is decorated with mosaic tiles and stained glass windows.
To learn about the landmark's history, make sure you book an informative Süleymaniye Mosque guided tour.
Follow the Strait of Two Continents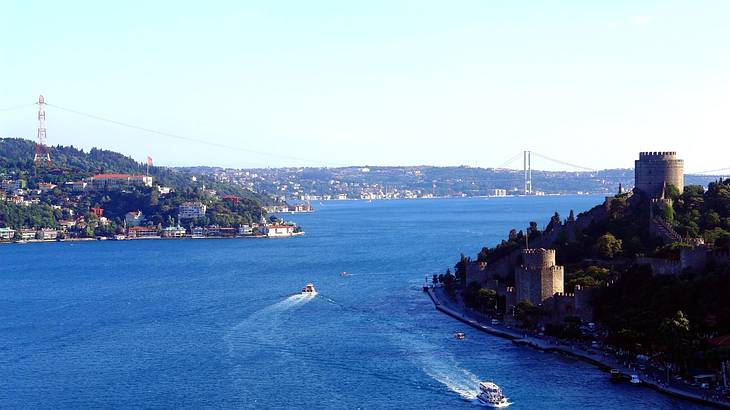 The third day of your 4 day trip to Istanbul is about visiting the city's modern Turkish landmarks. You will move further from Sultanahmet and surrounding districts, following the Bosphorus Strait, a natural waterway dividing Asia from Europe.
You will visit places like the Dolmabahçe Palace, the National Palaces Painting Museum, and Ortaköy Mosque. The day will finish with a luxurious sunset cruise on the Bosphorus River.
This day will be more relaxing, so you can sleep in and start your day a little later. Remember to wear comfortable clothes and shoes since you will spend the day on your feet.
Dolmabahce Cafe
The first stop of your day is to a charming riverside cafe located near Dolmabahce Palace. Dolmabahce Cafe offers delicious food and drinks at attractive prices. It is a great place to stop by if you want a sweet treat to start your day.
Trying the Turkish chai and lamb pancake is especially recommended if you're looking for a more filling breakfast. Dolmabahce Cafe is also famous for its magnificent views of the Bosphorus River, especially during the morning and sunset. As the eatery is well-known and gets busy, service might take longer than at other cafes, so be prepared to wait.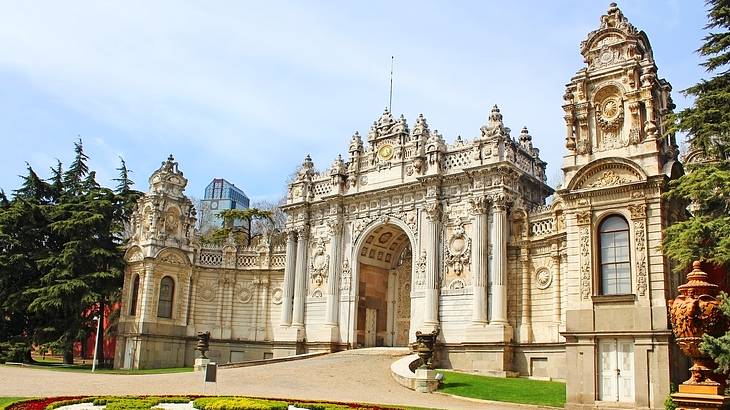 Dolmabahçe Palace
Located in the Besiktas district, Dolmabahçe Palace is a massive building decorated in gold and crystals. Constructed in the 19th century as an administrative residence of sultans, Dolmabahçe Palace was the first European-style palace in the Ottoman Empire.
It was built to provide luxury, comfort, and stunning views of the Bosphorus River. Today, the palace is one of Istanbul's most visited tourist attractions. Palace visitors can admire the luxurious interiors, roam around courtyards, and learn about the lives of sultans and their families in the 19th century.
As with other Istanbul landmarks, taking a guided tour of Dolmabahçe Palace is recommended to get the most from your visit. You will also find Dolmabahçe Mosque near the palace, which is worth visiting if you have spare time.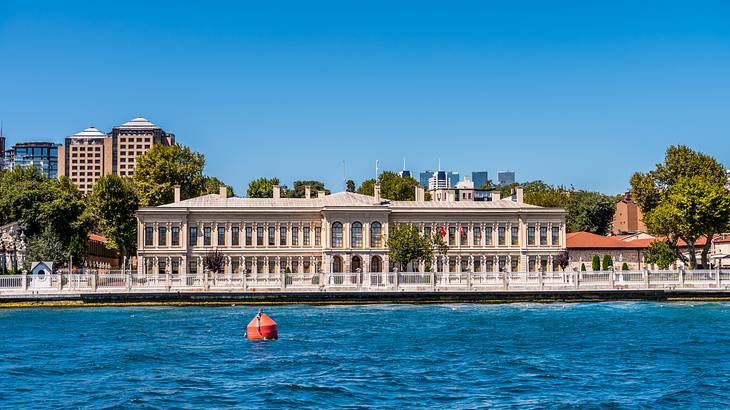 National Palaces Painting Museum
Situated inside the Crown Prince's chambers in Dolmabahçe Palace, National Palaces Painting Museum houses the palace's art collection. There are about 200 paintings in the museum by 19th-century Turkish and international artists.
The museum consists of two floors and is divided into several categories, including Westernization in the Ottomans, Court Painters, Oriental Painters, and Turkish Painters. The museum collection aims to introduce visitors to Turkish art. Expect to spend about an hour in the museum if you want to see every gallery.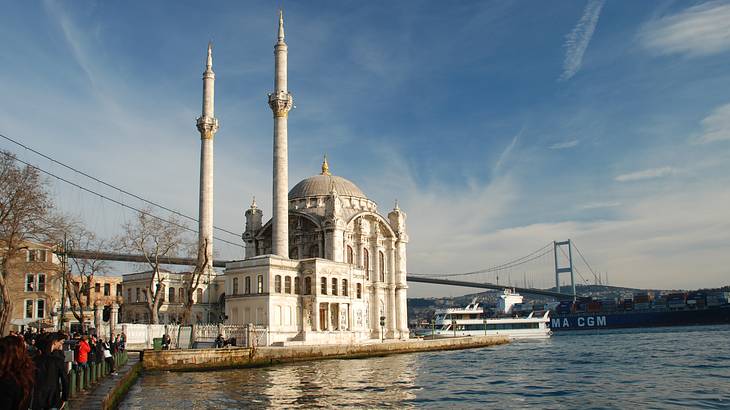 Ortaköy Mosque
Ortaköy Mosque, also known as Büyük Mecidiye Mosque, is another sight you can't skip during your four days in Istanbul, Turkey. Established in the 18th century, the mosque is relatively small yet still stunning to see. It's built in a Neo-Baroque style and features a domed roof, a ceiling covered in pink mosaics, and two tall minarets on the exterior.
The mosque is situated in the Ortaköy district, which also features art galleries and cafes that you can stop at after visiting the mosque. Ortaköy Mosque is open daily, from the morning to early evening. Do note that you can't enter during prayer times.
My Black Cafe
My Black Cafe is a chic restaurant near the Bosphorus Bridge and offers spectacular views over the river. The eatery has a selection of dishes on its menu, including pasta, salads, pizzas, and sandwiches. It is a perfect place to stop if you want a light meal that's also affordable.
If you don't want a full meal, My Black Cafe also has homemade cakes and traditional hot drinks. It is a perfect place to relax with refreshments after lots of walking.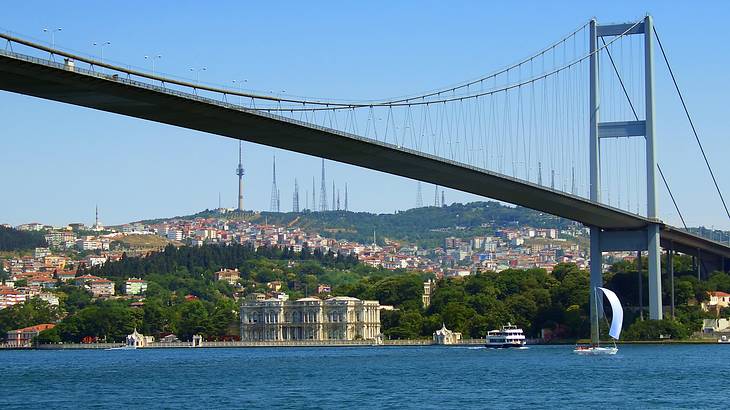 Bosphorus Bridge
Bosphorus Bridge, also known as the 15 July Martyrs Bridge, is one of two bridges in Istanbul that connect Europe to Asia. Completed in 1973, the bridge is over 1.5 kilometres long and 30 metres wide, making it one of the longest suspension bridges in the world.
The bridge is also a famous spot for taking photos of Istanbul and the river. It gets incredibly crowded at sunset, so try to visit earlier in the day to avoid crowds. If you want to watch the sunset from the bridge, arrive as early as possible to secure your spot.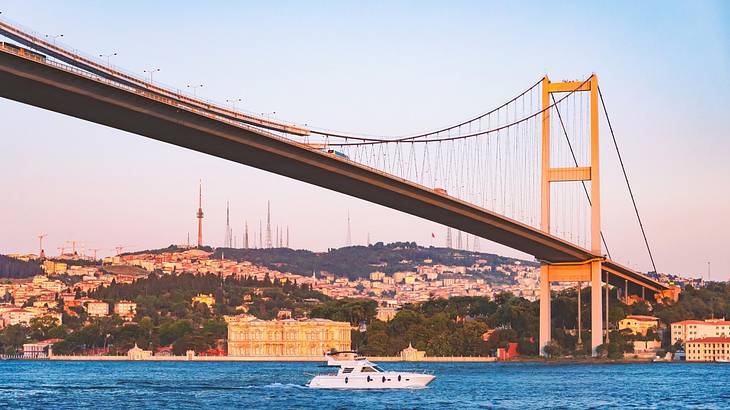 Bosphorus Sunset Cruise
Going on a Bosphorus sunset cruise has to be included on everyone's Istanbul bucket list! The luxurious Bosphorus cruise lets you see the city from a different perspective. You can spot magnificent mosques, notable landmarks, and the Galata Tower, which dominates the cityscape.
While on the cruise, you can also enjoy snacks and drinks, and a guide will point out places of interest that you sail past. Of course, you will also be able to admire the sunset over the city. Don't forget to bring your camera to capture the stunning Istanbul skyline!
The Best Views of Istanbul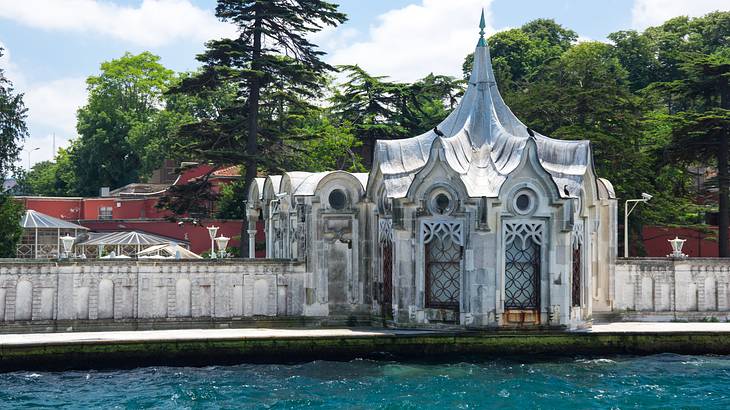 On your last day in Istanbul, you can relax your body and mind while exploring areas that offer spectacular views. Places to visit include Beylerbeyi Palace, Nakkaştepe Millet Bahçesı, and Çamlıca Hill.
These destinations are slightly scattered around, with Çamlıca Hill being the furthest from central Istanbul. While it can be reached on foot, use public transport if you don't want to walk long distances. This day is all about spending time outside and admiring the city's natural beauty!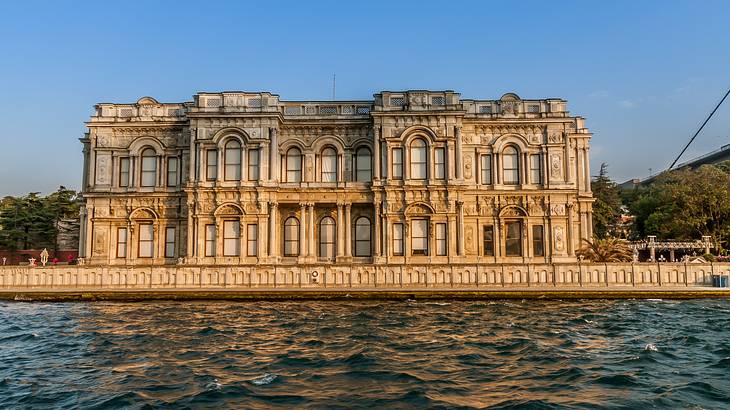 Beylerbeyi Palace
Located on the Asian side of the Bosphorus River, Beylerbeyi Palace was constructed as a summer residence for sultans. Today, the grand palace complex is open for tourists to explore. Completed in 1865, the palace has six large halls, 24 rooms, and beautiful courtyards.
Interestingly, the palace is divided into men's and women's sections, each with separate entrances. While wandering around the courtyards, you will notice several kiosks where sultans used to enjoy their tea and coffee. Further away from the main building is a bamboo forest where you can take lovely photos.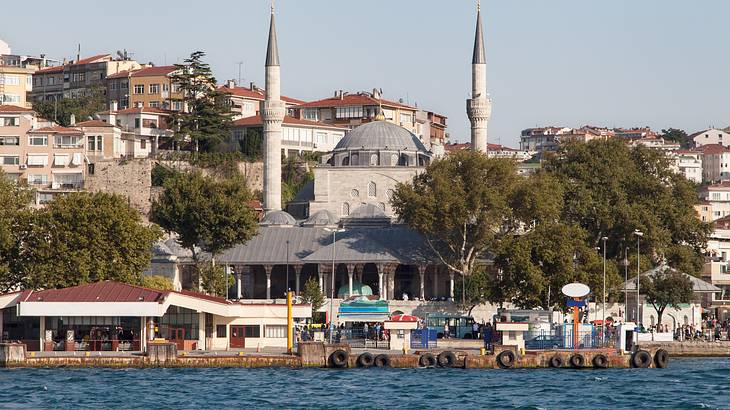 Uskudar Nakkastepe Millet Bahcesi
Uskudar Nakkastepe Millet Bahcesi is one of the biggest parks in Istanbul. It is most famous for its magnificent views of the Bosphorus Bridge and the European side of the city. Uskudar Nakkastepe Millet Bahcesi is a perfect place to enjoy the tranquillity of nature and escape from the noisy Istanbul streets.
The park is more popular among locals than visitors, so you're unlikely to find crowds of tourists here. If you are travelling with kids, the park has a big playground for them to enjoy too.
Ismet Baba Restaurant
A guide on what to see in Istanbul in 4 days wouldn't be completed without mentioning Ismet Baba Restaurant. The eatery is situated next to the river in the Kuzguncuk district and specializes in fresh seafood meals.
The quaint family-run restaurant has a simple menu filled with seasonal fish dishes and seafood appetizers. Fish on offer include bonito, sardines, sea bream, and salmon. The restaurant is a little pricey due to the incredible river views, but it's well worth it!
Icediye Caddesi
After enjoying a meal at Ismet Baba Restaurant, you can take a relaxing walk along the nearby main street named Icediye Caddesi. The leafy street in the Kuzguncuk district is filled with independent art galleries, local coffee shops, boutiques, and colourful townhouses.
Chocolatier Aziz Bey is a well-known building on this street, which sells various types of chocolate products. Products for sale include handmade chocolates, desserts, and hot chocolate that you can personalize with different flavours and add-ons, like whipped cream, fruit, and cookies.
After tasting a variety of sweet treats at Chocolatier Aziz Bey, you can visit some art galleries and pick up gifts from local independent shops.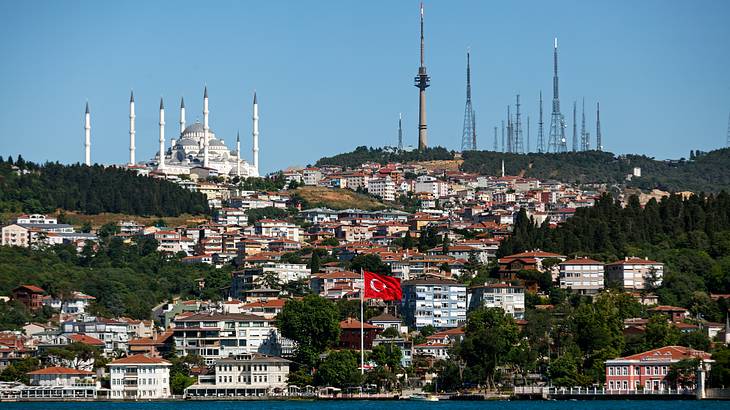 Çamlıca Hill
The last stop on your four days in Istanbul guide is Çamlıca Hill, one of the highest points in the city. The hill sits 267 metres above sea level and showcases the best views of Istanbul, the Marmara Sea, and the Bosphorus Strait. On a clear day, you can even see the snowy peaks of Uludag Mountain.
The best time to visit the hill is during or just before sunset, when the sun falls on the domes and minarets of Istanbul's mosques. If you are travelling in the spring, you will also be able to pass through dozens of tulips and wildflowers blooming on the hill. If you get hungry during your visit, several kiosks sell drinks, ice cream, and other snacks.
In Summary
If you've been curious about what to do in Istanbul in 4 days, this itinerary should have given you some ideas about all the attractions you can see!
Istanbul is a big city with an array of exciting places to visit. While you can see a lot during a short trip, it's impossible to fit everything into just three or four days.
If you have spare time or decide to stay longer, landmarks like Chora Church, Istiklal Street, Taksim Square, and the Galata Tower should be added to your itinerary. Enjoy your trip to Istanbul - a city where two continents meet!
Give us feedback about this article
More visual stories related to this article:
---
---
Want to keep exploring?
Subscribe for discounts on tickets and hotels and our latest guides.
Thank you for subscribing
We will be in touch soon with discounts on tickets and hotels and our latest guides.
Want to keep exploring?
Subscribe for discounts on tickets and hotels and our latest guides.
Thank you for subscribing
We will be in touch soon with discounts on tickets and hotels and our latest guides.
Related Articles