35 Best Things to Do in St Thomas, Virgin Islands
Destguides may receive commissions from purchases made through affiliate links in this article.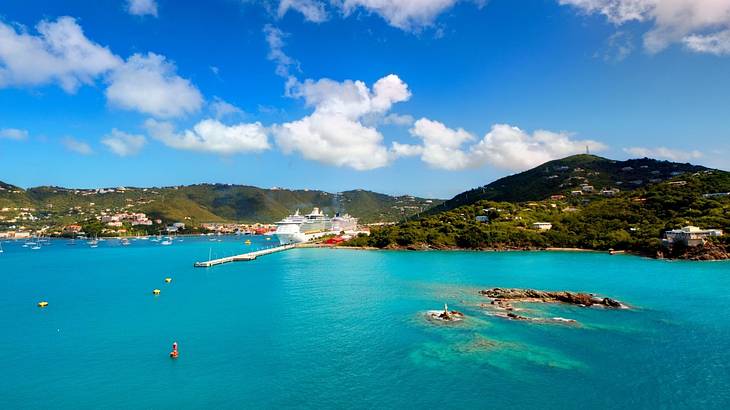 A stunning destination that should be on every traveler's bucket list is St. Thomas. Located next to the British Virgin Islands in the Caribbean sea, St. Thomas is one of the four US Virgin Islands.
This popular vacation spot has sandy white beaches, sparkling blue waters, and an array of activities to enjoy. Some of the best things to do in St Thomas, Virgin Islands, include snorkeling with tropical fish, relaxing on a sunset sail, and exploring the town of Charlotte Amalie.
If you want to know what to do in St Thomas, keep reading for 35 fun and memorable suggestions!
35 Best Things to Do on St. Thomas, Virgin Islands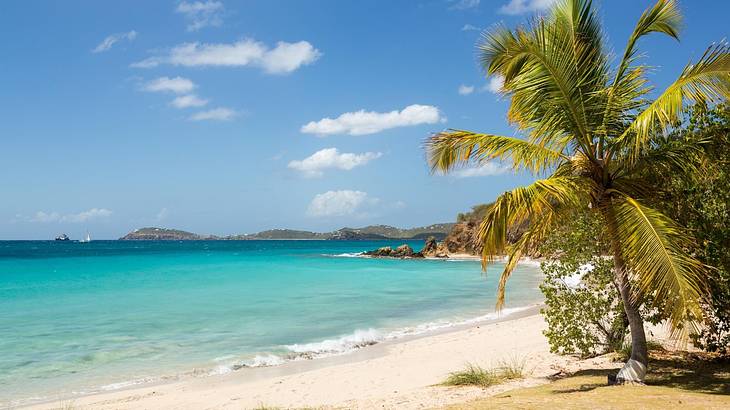 Bar hop around the island
If you're looking for one of the most fun ways to see the island, going on a bar and beach hopping tour has to be at the top of your to-do list!
The all-day tour will take you to four different beach bars across the island, with drinks included in the price. You'll also get to stop at some great eateries, like Pizza Pi.
Interact with sea life at Coral World Ocean Park & Undersea Observatory
Coral World Ocean Park & Undersea Observatory is an eco-marine park with lots of attractions to enjoy. At the park, you can see a variety of marine animals, including dolphins, sea lions, sharks, and rays.
You can also go inside the unique Undersea Observatory, which allows you to view a coral reef below the ocean. You'll spot tropical fish and turtles swimming around the reef too.
Purchasing Coral World Ocean Park admission tickets in advance is highly recommended due to the popularity of this attraction.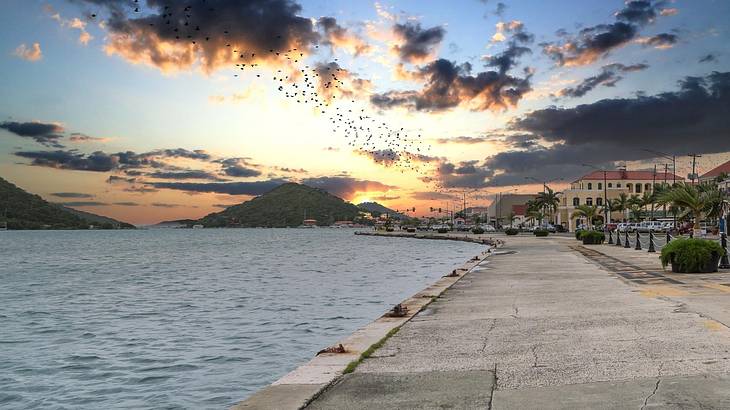 Kayak around St. Thomas after dark
Enjoying watersports, like kayaking, is extremely popular on the island. While many opt to do so during the day, one of the fun and unique activities in St Thomas is going kayaking at night.
During a night kayak session, you'll paddle from Frenchman's Cove Dock around the island. Things to see during this adventure include the illuminated Charlotte Amelie harbor and lots of wildlife, like turtles, rays, and fish.
Admire floral displays at Phantasea Tropical Botanical Garden
The Phantasea Tropical Botanical Garden opened in 2015 and houses an array of beautiful exotic plants and flowers. As you walk around the gardens, you'll discover colorful blooms like orchids, lilies, succulents, and more.
Before you leave, you can purchase some plant-themed souvenirs from the gift shop and pick up a refreshing fruit juice or ginger beer.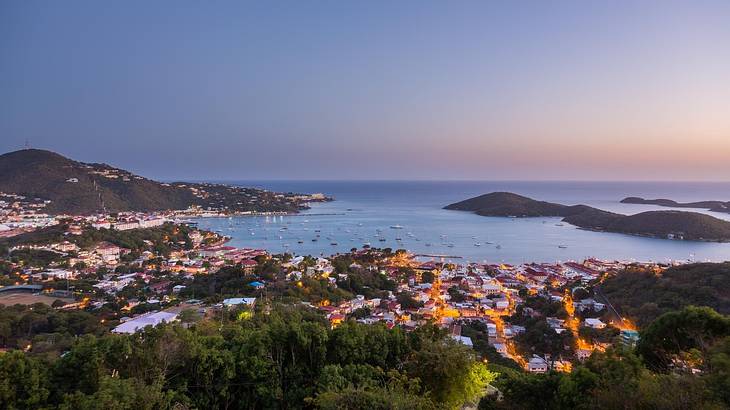 Dare to go on a pirate ghost tour
Another cool evening activity in St. Thomas is going on a pirate-themed ghost tour and treasure hunt. During the experience, you'll hear spooky tales of pirate activity and paranormal events on the island.
You'll also get to solve puzzles to find a variety of pirate treasure and clues that are hidden around the island.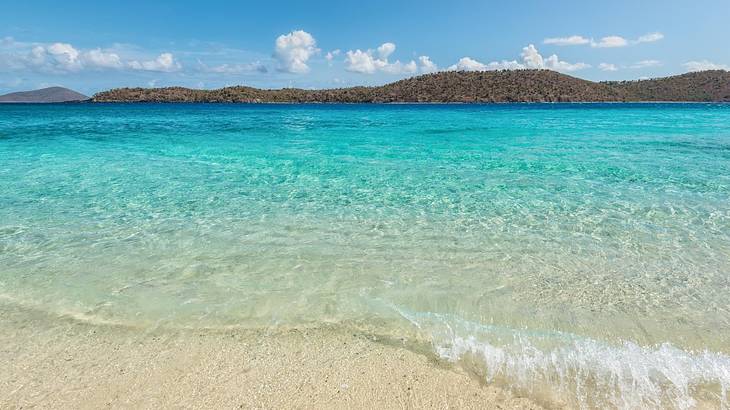 Sunbathe at Coki Point Beach
St. Thomas is known for its stunning white-sand beaches. Spending some time swimming and sunbathing on at least one of these beaches has to be on your to-do list.
A great beach to check out is Coki Point Beach, which features soft sandy shores and clear turquoise waters. At the beach, you can relax on the sand or hop in the water to snorkel and spot pretty colorful fish.
Delve into the world of pirates at the Pirates Treasure Museum
During the 17th and 18th centuries, St. Thomas and the waters surrounding it were a popular place for pirates. Today, you can learn more about the pirates that patrolled the waters around the island at the Pirates Treasure Museum.
The museum has exhibits on the history of piracy and showcases artifacts like coins and other items found within shipwrecks.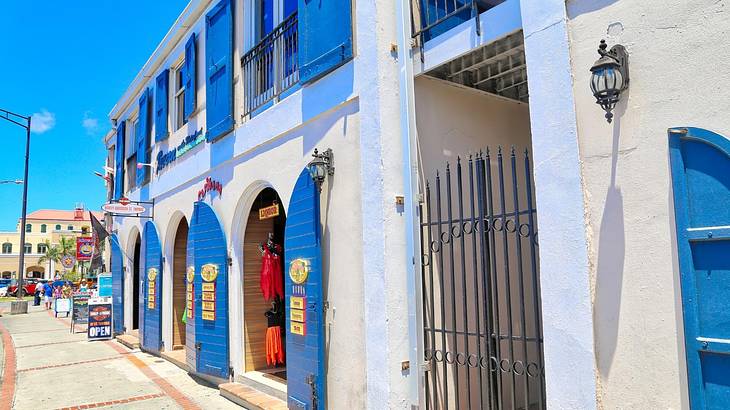 Shop and dine in Downtown Charlotte Amalie
One of the can't miss activities on St Thomas is exploring the Downtown Charlotte Amalie area. Main Street is the most popular part of Charlotte Amalie's downtown and is filled with unique shops, fun bars, and top restaurants.
Stores to check out include souvenir shops and clothing and swimsuit outlets. After shopping, you can relax at a bar with a tropical cocktail or enjoy a freshly made meal at one of many eateries.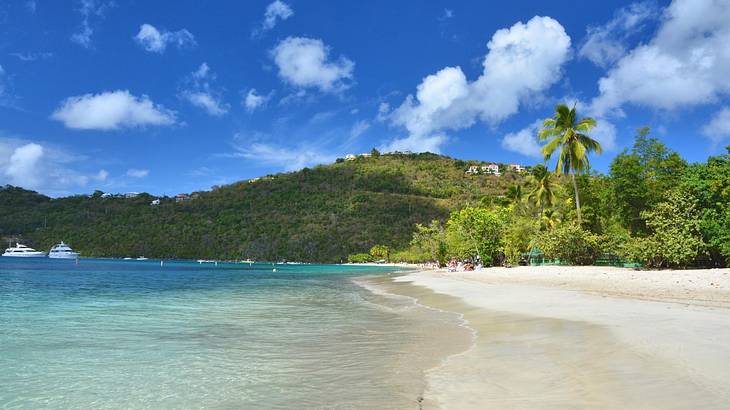 Hike around Magens Bay Beach on the Discovery Nature Trail
Magens Bay Beach is another stunning part of the island that features white sand, crystal blue waters, and lush greenery. If you're an outdoor activity lover, then going for a hike around the beach along the Discovery Nature trail is recommended.
The trail is rated of moderate difficulty and allows you to enjoy breathtaking vistas and spot some of the over 230 species of wildlife that live on the island. After your hike, you can head to the beach to sunbathe, swim, or enjoy watersports.
Explore Mangrove Lagoon with Virgin Island Ecotours
If you're looking to try an eco-tour, booking a Mangrove Lagoon kayak and snorkel session with Virgin Island Ecotours is a must. Mangrove Lagoon is a scenic area of the island that features calm waterways and lots of wildlife.
During the tour, you'll be guided through the water, spotting creatures like rays and turtles swimming beneath you. You also get the chance to hop in the water to swim and snorkel, allowing you to see the marine life up close.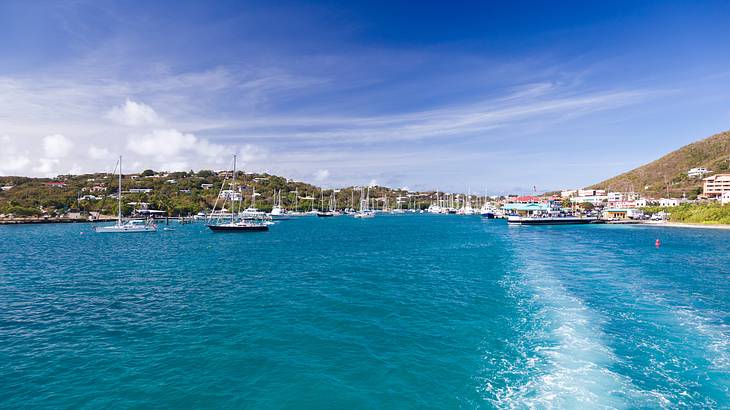 Spend some time in Red Hook
Another of the fun St Thomas activities to enjoy is exploring the town of Red Hook. Located on the east side of the island, Red Hook features independent shops and great restaurants. The area is also known for its many buildings with red-tiled roofs.
Along with doing some shopping and stopping for a meal or a drink, you can wander along the waterfront, admiring the boats and sparkling waters of the bay.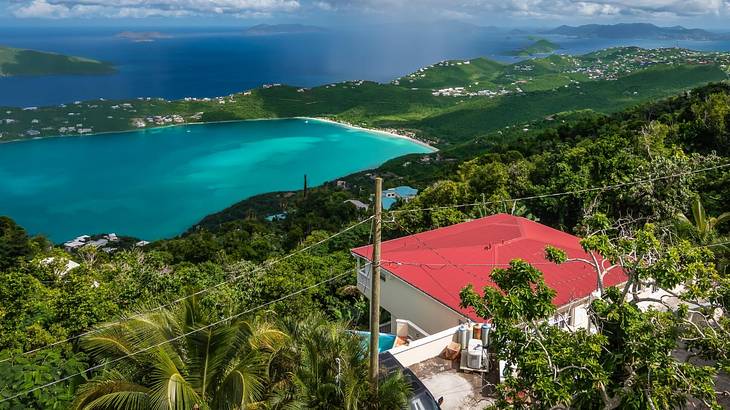 Drink a banana daiquiri and admire the views at Mountain Top
Mountain Top is a well-known landmark that also happens to be the highest point on the island. Once you reach the peak, you'll get to enjoy panoramic views of the bay and St. Thomas Island.
In addition, there's a bar here that serves a world-famous banana daiquiri. Stopping for one, or more, of these refreshing cocktails is an absolute must!
A convenient way to get to this attraction is by booking a Mountain Top sightseeing tour. Your guide will take you on a scenic drive to Mountain Top and then onto Magens Bay.
Fly through the forest with Tree Limin Extreme Zipline
A super fun activity that also offers breathtaking views is tackling a Tree Limin Extreme Zipline adventure course. The course features platforms, bridges, and six ziplines.
As you move from obstacle to obstacle, you'll be able to look out across the island at tropical jungle, turquoise ocean, and sandy beaches. Some wildlife, like iguanas, may join you too!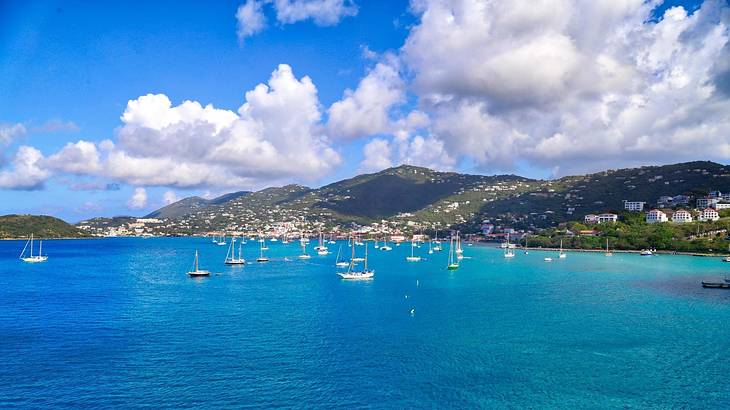 Take a cycle boat trip around Water Island
Water Island is a 491.5-acre island located just across the channel from St. Thomas and Charlotte Amalie. A unique way to see this part of the US Virgin Islands is by going on a Water island cycle boat tour.
Those on the tour will help pedal the boat as you explore the island, admire the views, and swim in the warm clear waters. This experience also includes rum punch, and you can bring alcoholic drinks along too!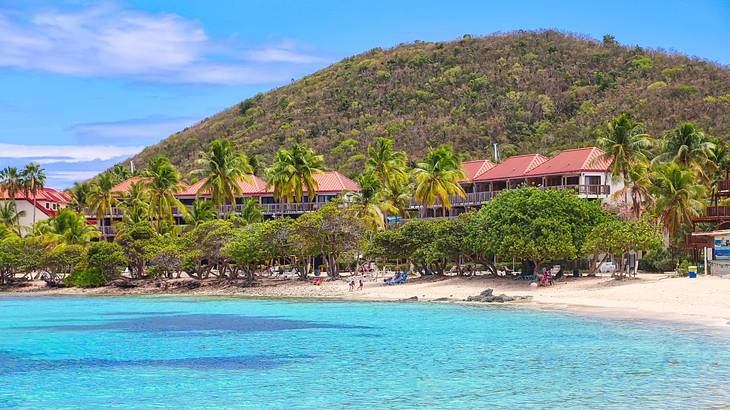 Parasail over Sapphire Beach
Parasailing over Sapphire Beach is one of the best things to do on St Thomas, USVI, for adventure activity enthusiasts. This experience allows you to fly high above Sapphire Beach Marina and offers views across the island.
Best of all, parasailing is suitable for all ages from six years up, making it a great thing to do if visiting St. Thomas with kids.
Look for Iguanas at Lindquist Beach
Lindquist Beach is another of many beaches in St. Thomas. Located near Smith Bay, this beach is the ideal place to spend the day relaxing under the sun. You're also likely to see iguanas exploring on the sand and sleeping within the surrounding trees.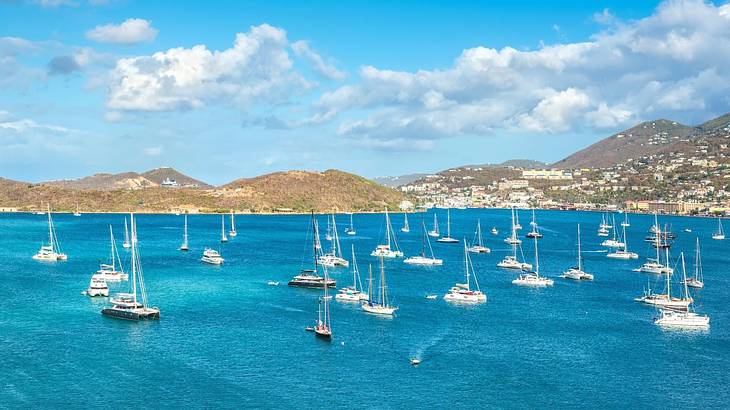 Luxuriate on a Turtle Cove catamaran snorkel and sail tour
Going on a Turtle Cove catamaran and snorkel sail is an ideal way to enjoy the ocean and wildlife that surround St. Thomas. This tour will take you around the Buck Island National Wildlife Refuge near Turtle Cove, allowing you to spot a range of sea life from the boat.
You can also get into the water to snorkel and swim among rays, turtles, and fish.
Learn about St. Thomas history at the French Heritage Museum
The French Heritage Museum was established in 1958 in the Frenchtown area of the island. This museum is intended to highlight the history and culture of St. Thomas, with a variety of artifacts on display.
At the museum, which is split across two buildings, you can see items from over one hundred years ago, like furniture, ceramics, and photographs of past residents of the island.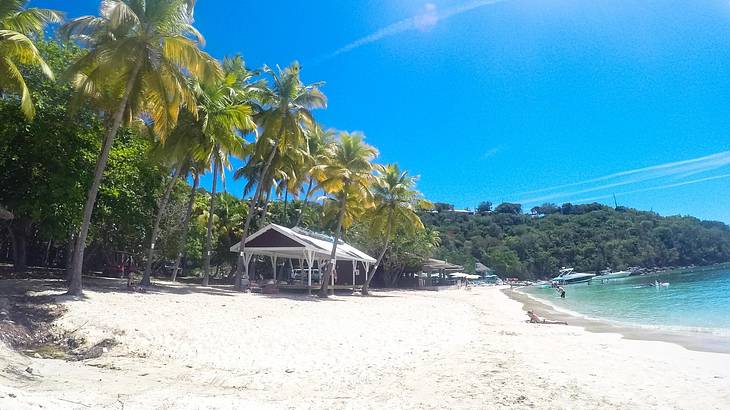 Relax on Honeymoon Beach
Located on Water Island, Honeymoon Beach is the perfect place to relax under the sun. This beach has soft white sand, a palm-tree-lined shore, and crystal-clear water.
If relaxing on the sand isn't your thing, you could instead take a snorkel tour around Honeymoon Beach that allows you to swim amongst turtles!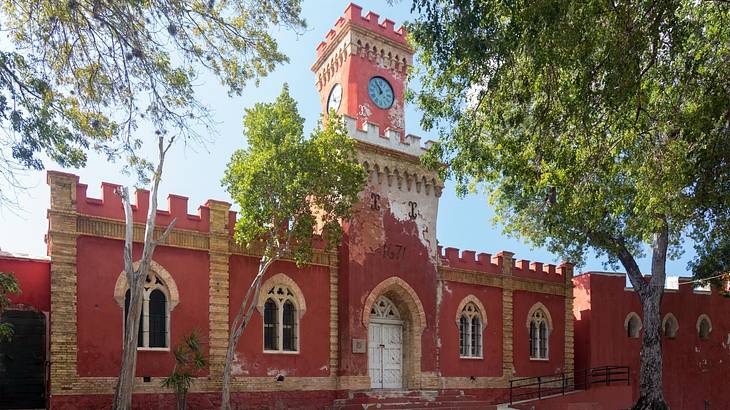 Visit Fort Christian
One of the most interesting attractions in St Thomas is Fort Christian. This Dano-Norwegian Gothic Revival-style fort was constructed in 1680 and became a National Historic Landmark in 1977.
Today, you can look around the unique red and green castle-like structure and visit a small on-site museum to learn more about its history.
Try scuba diving at the Aqua Marine Dive Center
Snorkeling is a popular activity in St. Thomas. But if you want to delve even deeper into the waters surrounding the island, booking a scuba diving session with Aqua Marine Dive Center is a must!
Divers of any level, including beginners, can participate and after an information session, you'll be able to go on a dive. During your scuba dive session, you can get up close with sea life and swim past colorful coral reefs.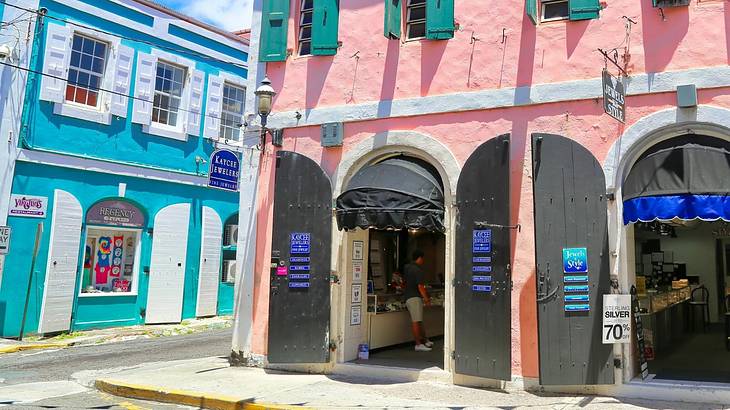 Go on a shopping and sightseeing tour
Booking a St. Thomas shopping and sightseeing tour is a great idea for first-time visitors to the island. Places of interest to visit include Mountain Top, Drake's Seat, and Coki Point Beach.
You'll also get some time to shop on Main Street in Charlotte Amalie, and your guide can provide recommendations on the best stores to check out.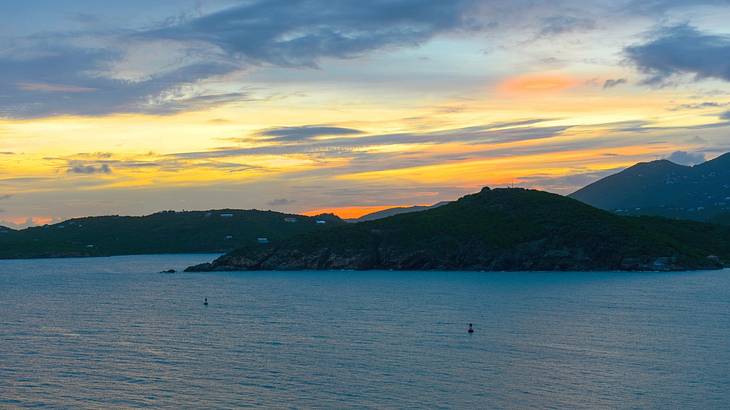 Dine on the water on a sunset dinner cruise
While you can find a vast selection of incredible restaurants on land, one of the best St Thomas things to do at night is treating yourself to a sunset dinner cruise. On this two-hour cruise, you'll get to enjoy an open bar and a barbecue dinner.
You can also admire the island as the sun sets and the starry night sky begins to appear. Places to sail by on the cruise include Turtle Cove and the Buck Island National Wildlife Refuge.
Speed around the island on a jet boat tour
While many enjoy leisurely sailing around St. Thomas, adventure lovers may be more interested in booking a jet boat tour. Once aboard the 750-horsepower jet boat, you'll speed around the island to a range of landmarks. Places to visit include St. John and the chain of Cays.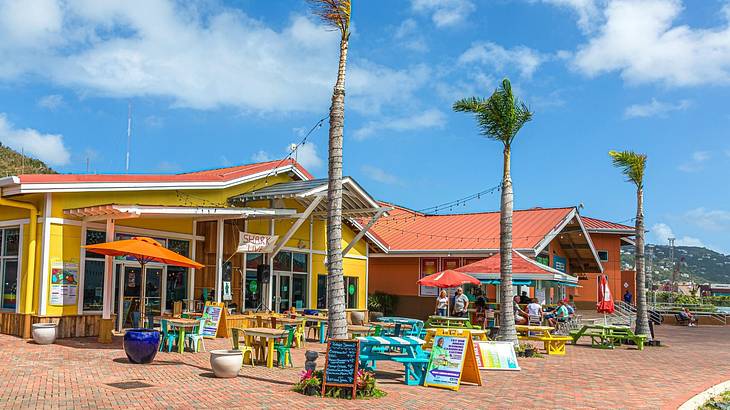 Taste delicious local dishes on a rum and food tour
St. Thomas has an array of outstanding food and drinks options. An ideal way to try the best the island has to offer is by eating and drinking your way through a rum and food tour.
Your guide will take you around the island, trying classic dishes and rum cocktails along the way, like Painkiller cocktails and curried chicken. Fun facts on landmarks you see will be provided too.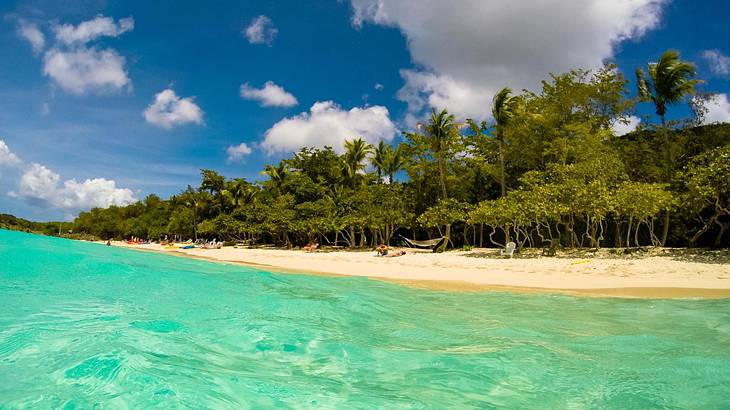 Grab lunch at a floating taco bar!
Lime Out VI is a fun floating taco bar located in St. John. After ordering tacos and cocktails, you can enjoy your meal in the water on floating rafts. A convenient way to get to this unique eatery is by going on a St. John sailing and snorkeling tour, which includes lunch at Lime Out VI.
Snorkel and kayak in Cas Cay
Cas Cay is an island located a little outside Mangrove Lagoon that features warm, clear waters surrounded by lush green jungle. Opting to go on a kayak and snorkel tour in this area is recommended.
Kayaks are provided, and a guide will lead you to areas with the best marine life. You can also hike around some parts of the island.
Sip cocktails on a sunset cruise
If you're visiting the island with your partner, one of the best things to do on St. Thomas, US virgin islands, is relaxing on a sunset cocktail cruise. This romantic activity allows you to sail around the island as the sun sets while enjoying a glass of champagne.
You can also order a range of other drinks from an open bar, and hors d'oeuvres are provided.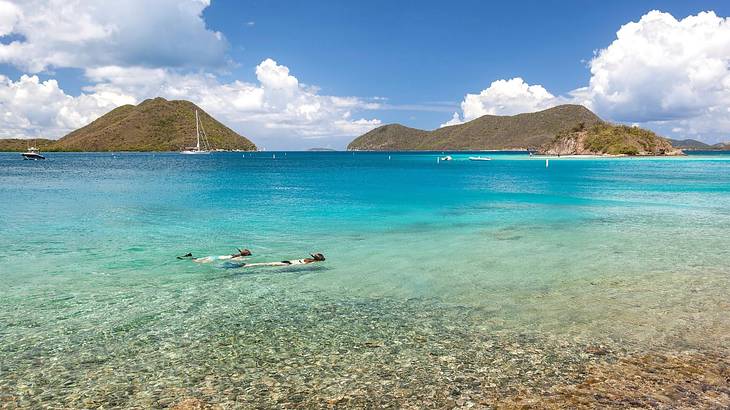 Spot turtles on a snorkel tour to St. John
There are numerous fun day trips to book when visiting St. Thomas. A popular trip to try is taking a snorkel and sail tour of St. John. St. John is the smallest of the three US Virgin Islands and is surrounded by protected waters.
When you visit, you can explore uninhabited islands and snorkel in the clear ocean that's full of marine life, like sea turtles. Breakfast, lunch, and an open bar are also included!
Experience a Sea Trek dive at Coral World Ocean Park
One of the most popular things to do at Coral World Ocean Park is experiencing the Sea Trek helmet dive. After a safety orientation, you'll dive below the water to follow an ocean trail around the Undersea Observatory.
Due to having a clear helmet when diving, you'll be able to admire the surrounding sea life, including coral reefs, colorful fish, and cute turtles.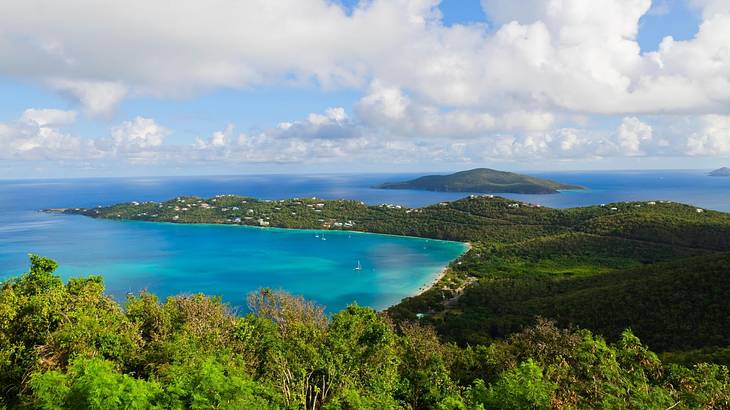 Look out to sea from Drake's Seat
Drake's Seat is a vantage point within the hills of St. Thomas. It gets its name from Sir Francis Drake, who supposedly would sit at the overlook to watch for enemy Spanish ships entering the bay.
If you go up to Drake's Seat today, you'll be able to admire views of the bay below and the surrounding green mountainous landscape.
Create artworks and sip wine at Art Uncorked
For visitors that like crafts, one of the most fun things to do in St. Thomas, US Virgin Islands, is spending the evening at an Art Uncorked event. This activity allows you to create an amazing artwork with the help of a talented art instructor. Wine is also available for purchase to sip on as you paint.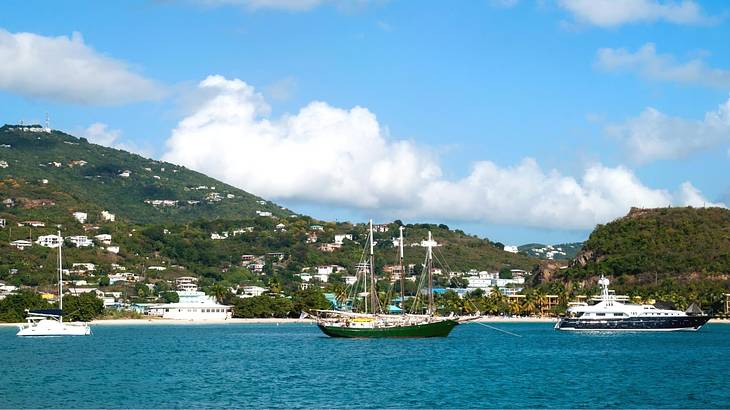 Treat yourself to a luxury yacht tour
Splurging on a luxury yacht tour for your group is a fun idea that will allow you to explore the island in style. You can bring a maximum of 12 guests onto the boat, and snorkel equipment, plus soda, bottled water, and alcoholic beverages are provided.
Once aboard, you'll sail around the beautiful island and past some famous landmarks. You can also get into the water to swim, snorkel, and spot sea creatures.
Get a drink at Duffy's Love Shack
Located in Red Hook, Duffy's Love Shack is one of the most fun places to hang out in St. Thomas. The beach-side spot has an extensive tropical cocktail menu and also serves a variety of delicious shots.
Lots of tasty bar snacks are also on offer, like chips and guacamole, coconut shrimp, and sharing platters.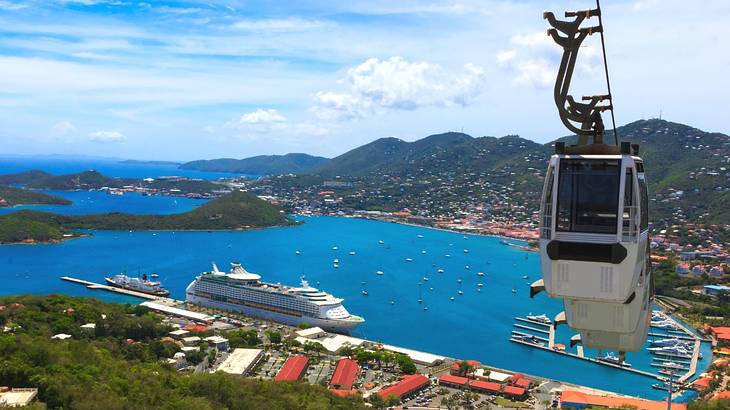 Enjoy the views on the Skyride to Paradise Point
A great way to enjoy views of St. Thomas is by going on the Skyride to Paradise Point gondola ride. The gondola will take you up 700 feet to an observation point that offers 360-degree views of the island.
At Paradise Point, you can also find a restaurant bar that allows you to enjoy a cocktail as you take in the vistas.
In Summary
As you can see, there are numerous fun things to do in St. Thomas, USVI. This destination is a paradise for anyone who loves incredible beaches and water activities like snorkeling and kayaking. St. Thomas also boasts beach-side bars to drink at, historical and cultural landmarks to visit, and more!
Give us feedback about this article
More visual stories related to this article:
---
---
Want to keep exploring?
Subscribe for discounts on tickets and hotels and our latest guides.
Thank you for subscribing
We will be in touch soon with discounts on tickets and hotels and our latest guides.
Want to keep exploring?
Subscribe for discounts on tickets and hotels and our latest guides.
Thank you for subscribing
We will be in touch soon with discounts on tickets and hotels and our latest guides.
Related Articles