Where to Stay in Glasgow? 7 Best Places to Stay in Glasgow
Destguides may receive commissions from purchases made through affiliate links in this article.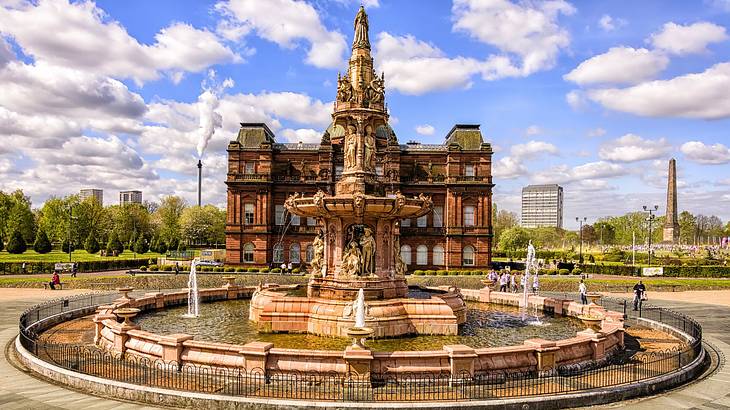 If you're wondering where to stay in Glasgow, Scotland, look no further. This guide covers the city's top neighborhoods and where to stay for every traveler.
This Scottish city is sometimes overlooked in favor of the capital, Edinburgh. But Glasgow has lots to offer in terms of history and culture.
In Gaelic, Glasgow (or Glaschu) translates to "Green Glen." And, while there are plenty of prehistoric spots in the city, it's believed that Glasgow first came to be in 550CE after St. Mungo set up a religious community in town.
Interestingly, Glasgow is still surprisingly leafy. The city is home to many parks, including a very famous botanical garden that comes alive in the summer months. Not to mention that Glasgow's art and music scene is among the best in the UK; the sheer number of art galleries and music venues proves that.
Glasgow also boasts some of the best restaurants in the United Kingdom, with Michelin-starred spots and cozy eateries in abundance. So, get ready to uncover the top places to book accommodations in Glasgow.
7 Best Places to Stay in Glasgow, Scotland
Glasgow Places to Stay Video
Check out our highlights video of Glasgow places to stay.
Glasgow Places to Stay Map
A map of Glasgow. Use the map to explore all the places to stay.
Best Areas to Stay in Glasgow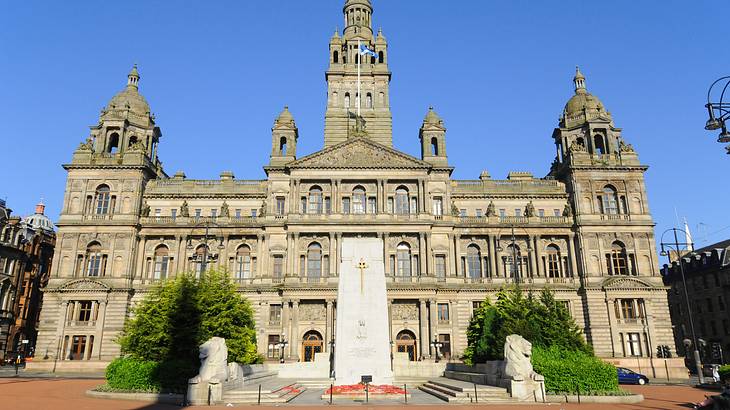 Central Glasgow (Glasgow City Centre)
Are you looking to see the best of the city? If so, Central Glasgow is where to stay, especially if it's your first time visiting Scotland. This is because the area features some top UK landmarks, such as the Squiggly Bridge and King's Theatre. You also have to see the Duke of Wellington Statue, which will, almost certainly, have a traffic cone placed on top of its head - it's a Glasgow tradition!
Another of the main draws of Central Glasgow is George Square. This is the central square, dating back to the 18th century, and the heart of the city. Here, as well as the nearby Buchanan Street, is where to head if you're in town to shop, dine, and check out cool bars.
The central area is the most expensive part of Glasgow, with a variety of high-end and boutique hotels. But it's worth spending a little bit extra if you want to be within walking distance of the main attractions. Especially if you only have a day or two in the city.
It's easy to explore the rest of the city from Central Glasgow. Public transport is fast and efficient, while the city's subway system runs around the outskirts of Glasgow.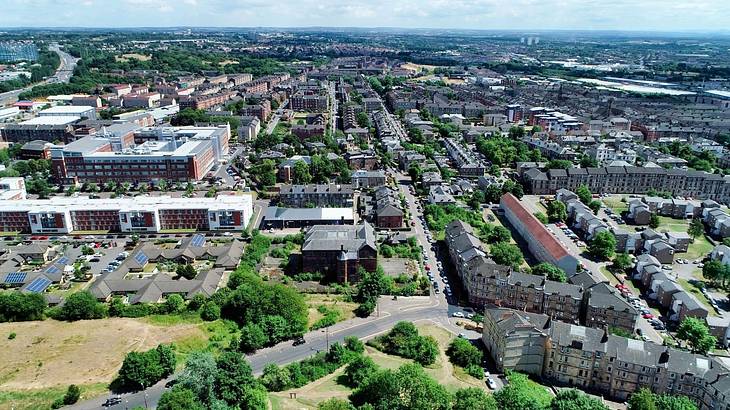 East End
To see a more authentic side of Glasgow, you need to base your stay in the East End of the city. There are far fewer tourists in this area. This means that, while accommodation options are slightly more limited, it's significantly cheaper to spend a few days in the city.
Despite being a little bit further out from the center of town, you can reach the likes of Merchant City in just 20 minutes. There is also plenty of things to see and do in this area. For live music lovers, Barrowland Ballroom is one of the city's top venues. Plus, there are lots of smaller art galleries here, too (many of which are free to enter).
Celtic Park, home to Celtic Football Club, is also situated in this area of Glasgow. If you're in town for a Celtic F.C. game, staying in the East End of the city is ideal.
If you're looking to immerse yourself in nature, Glasgow Green, the largest park in the city, is where to go. During a visit, the People's Palace and the Winter Gardens are top sights not to be missed.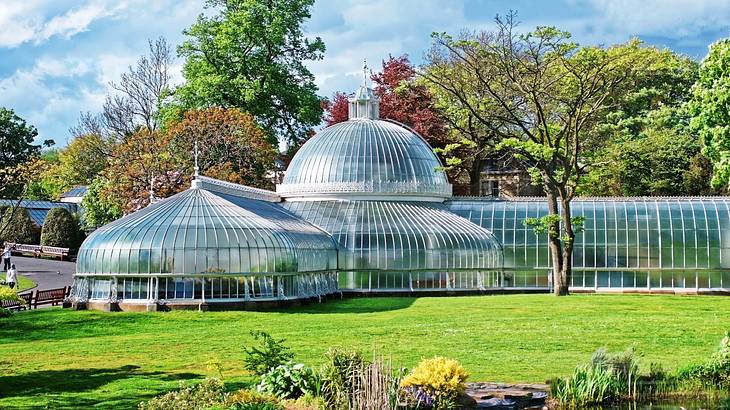 West End
Another of the best neighborhoods to stay in Glasgow is the West End. This is one of the cooler and more popular places to base your Glasgow trip. This is because it sits right next to Finnieston and the buzzy Napier Street. You're also just a short walk from the center of the city or a 30-minute bus ride from the East End.
Top sights in this area include Devonshire Gardens and Glasgow Botanic Gardens. And, if you're traveling with your family, Kelvingrove Park is a wonderful spot for a laidback walk on a sunny day. You can even grab picnic supplies at a nearby supermarket!
Staying in the West End is ideal if you want to immerse yourself in culture rather than spend all day sightseeing. This is perfect if you've visited Glasgow before or want to head off the beaten path (without straying too far from the center). It's not the cheapest area of Glasgow, but there is a variety of accommodations for all price points in this neighborhood.
The West End of Glasgow is also home to the city's university, which means it has a youthful energy. If this is what you're looking for, Ashton Lane is, without a doubt, the best place to drink, dine, and socialize.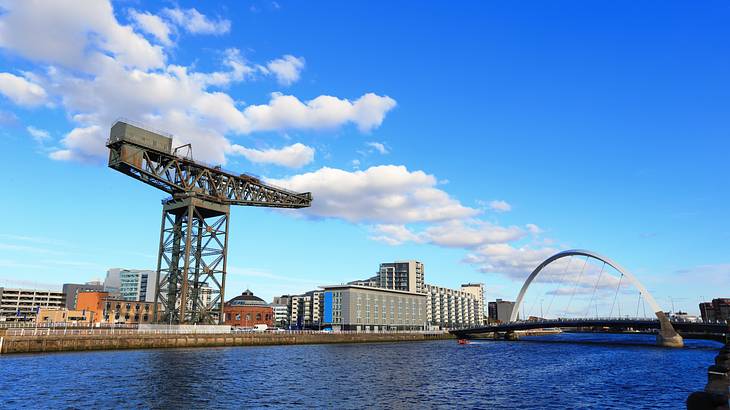 Finnieston
Are you searching for the coolest place to stay in Glasgow? There's only one answer: Finnieston. This area is situated to the west of the city center, a short walk from both the West End and Central Glasgow. Finnieston's Argyle Street is a hub of cozy coffee shops, intimate speakeasies, independent restaurants, and lively pubs.
Finnieston used to be a warehouse district, though it has transformed in recent years into one of the hottest destinations in the city. And, while it's not the cheapest of areas to stay, it's one of the more wallet-friendly neighborhoods in Glasgow. You can expect a variety of edgy boutique hotels and a few larger chains.
One of the main reasons to visit this area is to see the OVO Hydro and the SEC Armadillo. The former is the most famous live music venue in Scotland, playing host to gigs by the biggest names in showbiz, while the Armadillo holds a variety of events throughout the year.
North West
For those who don't want to spend all day sightseeing in the central part of the city, North West is a great option. It lies a little bit further out of the city, which means it's a cheaper place to stay. The subway system connects places like Kelvinbridge and Hillhead with the east and west of the city, and buses run frequently into the center.
The North West of Glasgow is not a very popular place to stay among tourists, which is why it tends to be more reasonably priced. However, the accommodations that are available cover a range of tastes, from budget places to higher-end options.
So, why should you stay in the North West? This spot is ideal if you want to take day trips out of the city to the likes of Glencoe and Loch Lomond, both of which can be reached in under two hours. This area is often nicknamed the "gateway to the Highlands" because of its ease of accessibility to the A9 road that travels all around northern Scotland.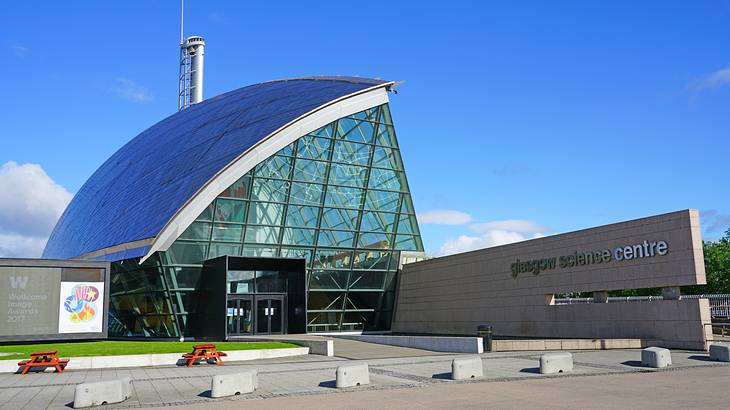 Glasgow South
Where is the best place to stay in Glasgow to spend time in the city's leafier areas? The answer is probably Glasgow South. The south of the River Clyde is stunning, and the Science Centre (which sits across the river from the Armadillo and OVO Hydro) is a brilliant day trip for all the family.
This is a more affluent (and largely residential) area which means there are plenty of boutique hotels taking over charming Victorian tenement flats. The best part? Because it's further from the center, you can find some fantastic deals on stylish accommodations.
The Shawlands residential area is known for being particularly impressive with large homes. It's here where you will find Queen's Park, a fabulous place to hang out, especially when the sun is shining.
Additionally, on the other side of Glasgow South, Bellahouston Park's House for an Art Lover is an epic hidden gem; touring this beautiful property and its grounds can't be missed. This area is a short walk from the West End and is connected to the rest of Glasgow by the subway and buses.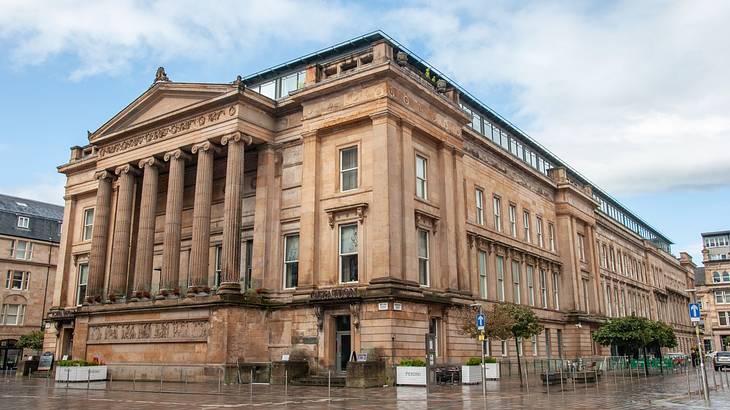 Merchant City
A popular place to stay in Glasgow is Merchant City. Stretching from George Square eastwards, this is a very central part of Glasgow. It's great for those who want to fill their trip with lots of sightseeing. Here you'll find a mix of cheap and high-end hotels, so it's an excellent area no matter what your budget might be.
You can walk to most places in Glasgow in less than 20 minutes, though you also have the option to catch the bus and train to head outside of the city center.
This neighborhood is known for boasting charming medieval buildings in abundance. There is nowhere better for a romantic escape or if you want to stay centrally without feeling too overwhelmed. There are lots of nearby art galleries, like South Block and Glasgow Print Studio, which are wonderful spots for wholesome dates, too.
The main reason to stay in Merchant City, however, is because of Royal Exchange Square. This is a stunning courtyard filled with shops and restaurants, near the Gallery of Modern Art.
Or, if you want to go shopping, head to Ingram Street. Here, you'll find a mix of high-end fashion stores and quaint boutiques. To the north of Merchant City are the Necropolis and Glasgow Cathedral, two of the city's top sights.
Where to Stay in Glasgow, Scotland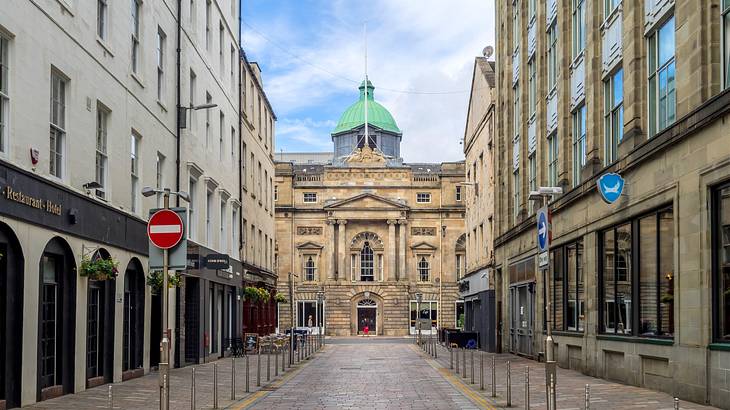 Where to stay in Glasgow for a romantic getaway?
Are you dreaming of a romantic escape in Glasgow? Merchant City is the place to go! This beautiful medieval quarter looks even prettier as the sun sets and the lights of Royal Exchange Square illuminate the courtyard.
This area is ideal as it is located in the city center but is slightly removed from the hustle and bustle of Central Glasgow. There's a handful of art galleries where you can head out on a romantic date, as well as many restaurants where you can enjoy a candle-lit dinner with your other half.
Where to stay in Glasgow with family?
If you're traveling as a family, the best location to stay in Glasgow is the West End. Not only is it incredibly close to the central district, meaning that the vast majority of landmarks are walkable, but it's also slightly quieter than the city center.
If you don't fancy spending the day sightseeing, you can always walk across the Millenium Bridge to the Science Centre. This is one of the top places to visit in the city, providing endless fun for both kids and adults.
Hungry? If you don't want to eat in the center of town, you can head to the area near the OVO Hydro. Here you will find numerous restaurants which are perfect for all the family.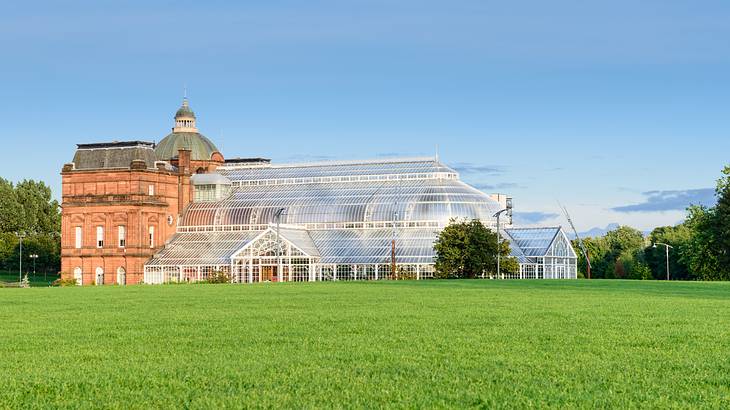 Where to stay in Glasgow on a budget?
If you're visiting on a tight budget, the best area to stay in Glasgow is the East End. While it's not a very popular area for tourists to stay, it's quieter than places right in the city center and has a range of wallet-friendly hotels.
Look for hotels near Glasgow Green or Duke Street for the best deals while remaining well-connected to the city center. These areas are top for those on a budget as there are lots of things to do, and you will still be within walking distance of Glasgow's top tourist attractions.
The area surrounding Barrowland Park is also perfect for finding high-quality food at a fraction of the cost of the restaurants in Central Glasgow. Going to the Barras Market is an excellent free thing to do on the weekend in the East End of Glasgow, too.
Where to stay in Glasgow for sightseeing?
If the main purpose of your trip is the see the top sights, make sure you stay in Central Glasgow. George Square, the Gallery of Modern Art, Argyle Street, and the King's Theatre are all within five minutes from each other on foot.
And, once you've explored all there is to see in this wonderful city, you're well-located to venture further. The two main train stations in Glasgow are Queen Street and Glasgow Central. These are both in the center and will help you get around the rest of the city and even the rest of the country.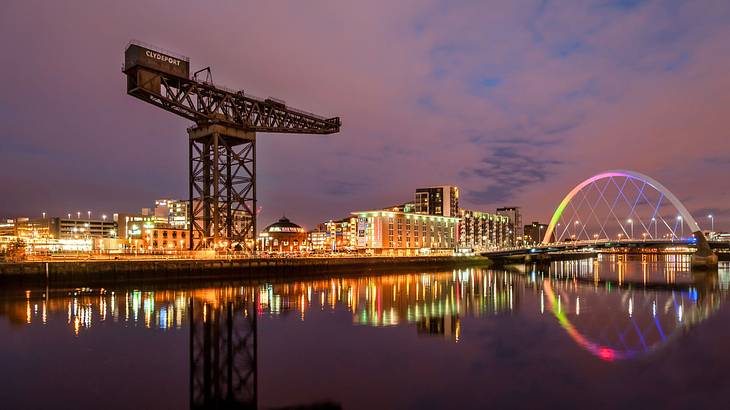 Where to stay in Glasgow for nightlife?
While Central Glasgow has the most nightclubs in the city, those seeking cool wine bars and buzzing restaurants will want to be based in Finnieston. This is the new nightlife hub of the city and the hippest spot in Glasgow.
If you're in town to catch a concert at the SSE Hydro, you can easily make your way home late at night by staying in one of the associated hotels. Or, if you want to spend an evening catching up with friends, there are plenty of places to drink and dine. The entire length of Argyle Street is peppered with restaurants, bars, and clubs where you can party until the wee hours.
In Summary
Glasgow is a wonderful UK destination. Not only does the city have a rich history, but it also boasts a vibrant culture that weaves throughout its different neighborhoods.
Whether you want to spend time dining and drinking in Finnieston, hitting up the city's top sights in Central Glasgow, or strolling through the parks of Glasgow South, this guide has covered the best neighborhood to stay in Glasgow for many travelers.
Ultimately, Glasgow is incredibly easy to navigate on foot or public transport. This means that wherever you are, you'll be able to make your way around the city with ease.
Give us feedback about this article
More articles about Scotland:
Read more articles about the United Kingdom:
More articles about places to stay:
---
---
Want to keep exploring?
Subscribe for discounts on tickets and hotels and our latest guides.
Thank you for subscribing
We will be in touch soon with discounts on tickets and hotels and our latest guides.
Want to keep exploring?
Subscribe for discounts on tickets and hotels and our latest guides.
Thank you for subscribing
We will be in touch soon with discounts on tickets and hotels and our latest guides.
Related Articles