50 Interesting & Fun Facts About Alabama State to Know
Destguides may receive commissions from purchases made through affiliate links in this article.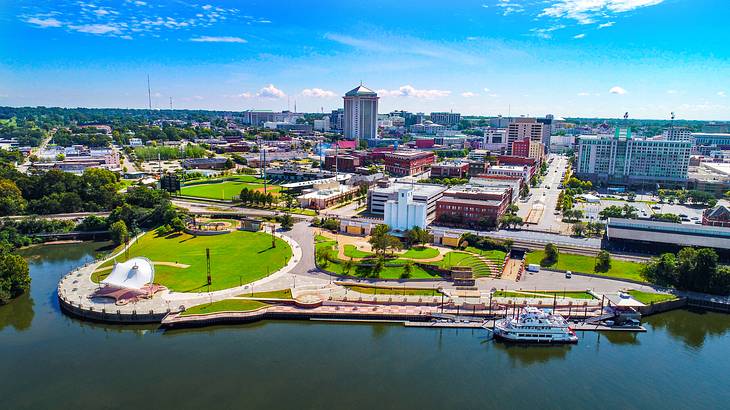 Everyone has heard of Alabama, but it's often an underrated state when compared to some of the more popular US travel destinations or cities with bigger populations. However, there's a lot worth knowing about Alabama that might surprise you!
From the funny to the scary, interesting and fun facts about Alabama state are so plentiful that there's something to intrigue people interested in any area of state trivia. Not to mention, you'll be prepared for when you visit!
So, get ready to learn some things you'd wish you had known earlier about the state with this list of 50 facts about Alabama!
50 Alabama State Facts
Alabama Facts Highlights Video
Check out our highlights video of Alabama facts.
Alabama Fun Facts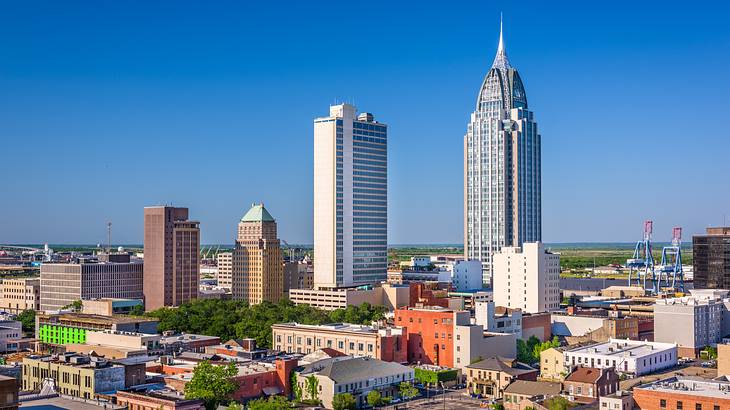 Alabama had the first electric streetcar system
To start this list of fun Alabama facts, did you know that Alabama had the first electric trolley in the world? It was opened in 1886 in Montgomery.
The trolley allowed people to move away from relying on horses. While horses and carriages were still popular for long distances, moving around the city became more efficient.
The southern longleaf pine is the state tree
Not every state has an official tree as one of its symbols. However, Alabama does.
In the 1940s, the Alabama congress first named a state tree. At the time, the tree was listed as the southern pine tree. This was later specified to be the southern longleaf pine which used to cover much of Alabama's territory.
It's a popular state in which to attend civil aviation school
You can get your pilot's license in any US state. Some states even have over 100 schools that teach aspiring pilots how to fly airplanes.
However, Alabama is one of the most popular states in which to pursue this certification. Alabama is known for having some of the best aviation programs in the country. So, if you've ever dreamed of being a pilot, Alabama is the place to do it!
The state's official motto is "audemus jura nostra defendere"
The people who call Alabama home love their state. Part of that love comes from the state's culture of maintaining people's independence.
It only makes sense then that the state's official motto is "audemus jura nostra defender," which is Latin for "we dare to defend our rights." You'll find this motto on official government buildings and wherever you see the state's official coat of arms.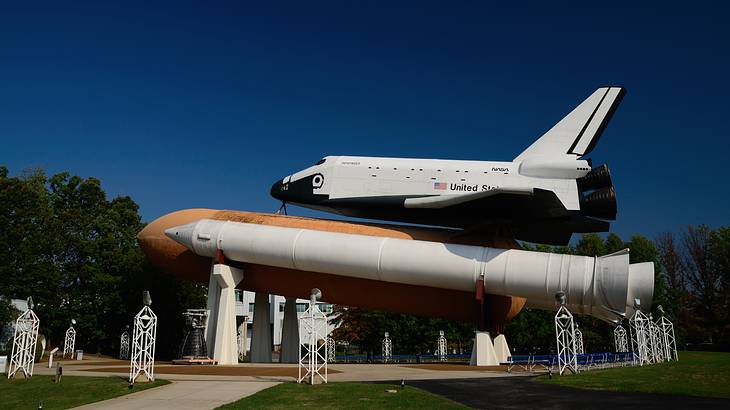 The NASA Marshall Space Flight Center is in Alabama
When you think about NASA, you probably think about the agency's bases in Florida and Texas. However, an important Nasa branch is also in Redstone Arsenal, Alabama.
You won't see any rockets launching from the Marshall Space Flight Center. Instead, it's a research center. It's where scientists work out how to get rockets into the air and where they need to go.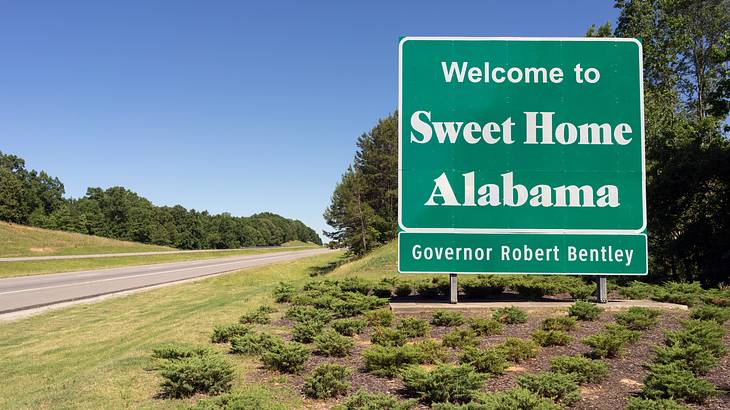 "Sweet Home Alabama" became an unofficial state anthem
You've likely heard the song "Sweet Home Alabama" at some point in your life. Though you won't find it listed as an official state anthem, it's become a calling card for the state.
The song has an interesting history. It was meant as a way to show Alabama state pride during a time when some people were ashamed to say they were from the South.
Mardi Gras in Mobile is the oldest celebration of Carnival in the US
Even if you know a few facts about Alabama history, you probably didn't know that the oldest celebration of Carnival in the US is in Mobile. Though New Orleans may be the Mardi Gras capital of the United States today, the holiday was first celebrated in Alabama.
Mardi Gras is traditionally celebrated in France. Since French settlers initially colonized the state, they understandably brought some of their customs to the new world.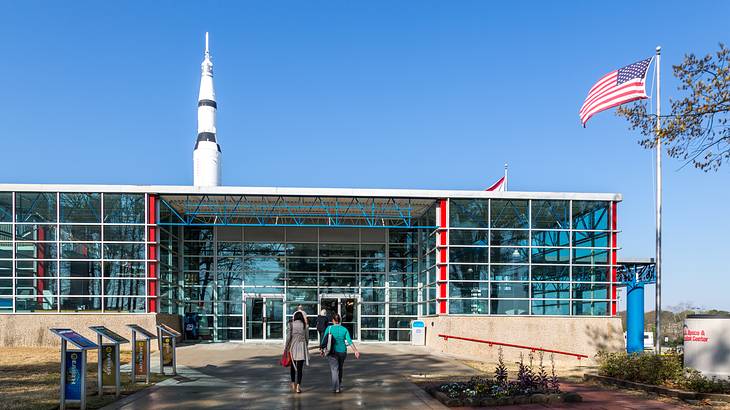 The Apollo 11 rocket was made in Alabama
In 1969, the first person set foot on the moon. The Apollo 11 mission is one of the most important moments in US history. It's also important to Alabama state history, specifically.
The rocket that took those brave astronauts to the moon was built in Huntsville, Alabama. Until then, this city was virtually unknown outside of the state. With the success of the mission, Alabama saw a surge in its popularity.
Alabama means "tribal town"
Alabama gets its name from some of the Native Americans who once populated the state. The Alabamas or Alibamons were a group of people who lived along what is now called the Alabama River.
In the language of the Alabamas people, the word Alabama would loosely translate to "tribal town." So, when it came to naming the state, the word was an obvious choice.
Alabama is very biodiverse
Alabama has a warm, humid climate all year. Though that means animals that prefer cold weather won't find themselves at home here, it's a perfect breeding ground for many other species.
It also has a varied landscape that allowed for different species to evolve over time and differentiate themselves. In total, the state has over 4500 different living species that call the state home, making it one of the most biodiverse places in the country.
Interesting Facts About Alabama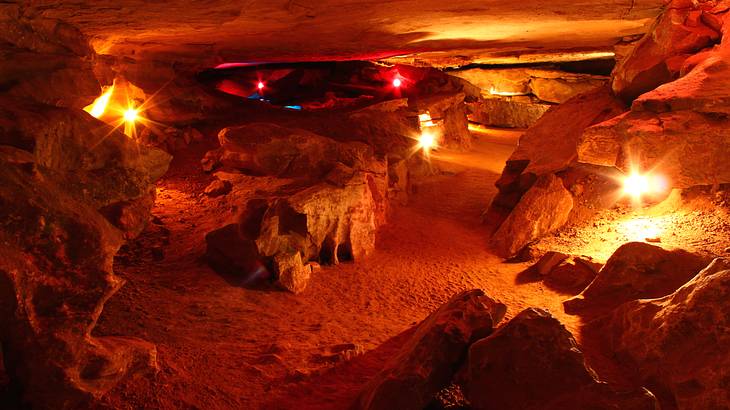 Helen Keller was born in Alabama
Helen Keller was an important female figure in American history. While initially born healthy in Alabama, she got sick with scarlet fever when she was a baby, which left her blind and deaf.
Through hard work and education, she learned to communicate. She went on to advocate for causes she was passionate about, like women's rights and the rights of people with disabilities.
Harper Lee lived in Alabama her whole life
Nearly every student in the USA has to read "To Kill a Mockingbird" at some point in their education. However, the life of the book's writer, Harper Lee, is almost as interesting as the book itself.
Harper Lee lived her entire life in Alabama. Her love for her home state is evident in her writing and helped inspire much of her work.
The red hills salamander is the state amphibian
One of the most interesting facts about the state of Alabama is that it has an official state amphibian. The red hills salamander gets the honor of being one of the state's symbols.
In 2000, an elementary student started a petition to nominate this little animal as the state's official amphibian. This petition was successful and brought attention to the animal's need for more wild habitats to live in.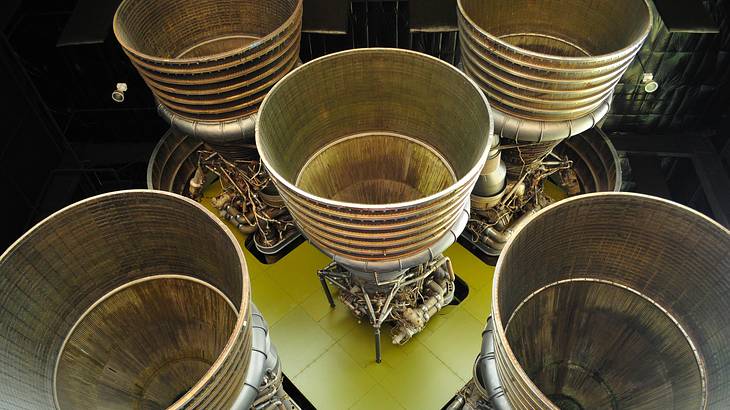 The US Space & Rocket Center is in Alabama
Since Huntsville is the place where the Apollo 11 rocket was built, it was the obvious place for the official US Space & Rocket Center. This museum showcases rocket history as well as the science involved in space study and travel.
The museum is government-run, which allows it to exhibit priceless mementos from the US Space Program's history. It also hosts events to celebrate special moments in space exploration.
There were 40 Native American tribes in Alabama
Like every US state, Alabama was populated by Native American tribes before settlers from Europe found their way to the area. When colonizers first arrived in what would become Alabama, 40 different tribes were distinguished.
Over the years, many of these tribes disappeared were forcibly relocated or merged together. Today, there are four tribes currently recognized in the state.
African Americans conducted a bus boycott
One of the most notable non-violent civil rights protests in North American History happened in Montgomery, Alabama. For just over a year, from December 1955 until December 1956, African Americans living in the city refused to ride the city bus.
At the time, buses were segregated. Not only that, but African American passengers were required to give up their seats to white passengers if no empty seats were available.
Rankin Fite is a famous Alabama politician
People who are passionate about government and civic history may recognize the name Rankin Fite. Though he never branched out into wider politics, he was an important political figure in the state.
He served as a member of the Alabama State House of Representatives for 24 years. During this time, he also served as the speaker of the house for 2 terms.
Alabama struggled financially in the 20th century
Today Alabama is known for its contributions in many fields. However, during the 20th century, the largest source of revenue in the state came from agriculture.
When the Great Depression hit, Alabama state farmers were hit particularly hard because of this. These hardships continued through WWII when many men were deployed to fight and had to leave their farms behind.
Alabama has a lot of underground caves
A list of state facts about Alabama wouldn't be complete without mentioning the state's underground caves. There are over 4000 caves in the state, but those that tourists can readily explore are some of the most interesting.
One of the most famous caves is Russel Cave. The inside of the cave system is not accessible by visitors, it is closed off to protect the rocks and ecosystem. However, a national monument and a museum are there to learn about the Russel Cave system.
The cave systems in Alabama date back millions of years and show the geological history of the territory. Due to the state's climate, these caves are well-preserved and haven't suffered ice damage the way some northern caves have.
F. Scott Fitzgerald lived in Montgomery
F. Scott Fitzgerald and his wife, Zelda, lived in many places around the world. They spent time in New York, Minnesota, and even Paris.
It's no surprise, then, that the duo also lived in Montgomery for a while. The home the couple lived in is still standing. Today it's a museum and state landmark honoring the literary legend.
Weird Facts About Alabama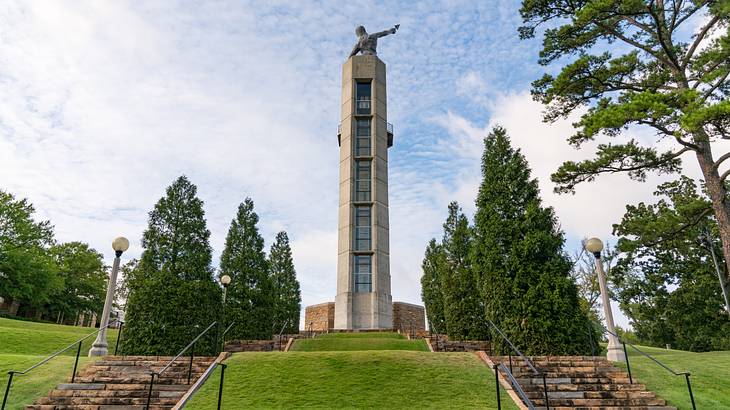 The University of Alabama's college sports are called "Alabama Crimson Tide"
Every state has pride in its state's college sports teams. However, Alabama takes that pride to a new level by calling the university sports organization the Alabama Crimson Tide.
This moniker has been used since 1907 after a long line of nicknames that didn't stick. The University of Alabama's main color is red, and the tide represents the hard work and competitive nature of the players.
Alabama has the longest state constitution
Every state must follow the federal United States Constitution above all other laws. However, this document doesn't cover every law imaginable.
To compensate for this and promote state freedom, each state has its own constitution as well. Alabama's current constitution has been in place since 1901.
However, this is the 6th version of the document. Due to these revisions, it's the longest of all 50 state constitutions.
The largest cast iron statue in the world is in Birmingham
If you look up Birmingham, Alabama, one of the first things you'll find is the "Vulcan Statue." It's become the symbol of the city.
It's a 50-ton cast iron statue that sits high above the surrounding area. It depicts the Roman god Vulcan, the god of metalworking, volcanoes, and fire, pointing an arrow toward the sky.
Alabama has a water mail route
An interesting piece of information about the state of Alabama is that it is one of the few states in the US with a water mail route. In Magnolia Springs, many people live along the water and don't have easy road access.
To get their mail delivered, the postal workers in the town deliver parcels by boat. Though you'll find waterfront homes all over the US, most don't have a water delivery route like Magnolia Springs. Magnolia Springs has year-round water delivery service thanks to its milder temperatures.
There are a lot of snails in Alabama
Snails love humid weather. Their bodies aren't suitable for cold conditions, and dry climates make it impossible for them to survive.
Alabama is a perfect place for snail species to thrive because it has the optimal balance of humidity and temperature. You've also already seen that the state is one of the most biodiverse in the country. In fact, there are over 200 freshwater snail species that thrive in Alabama.
Funny Facts About Alabama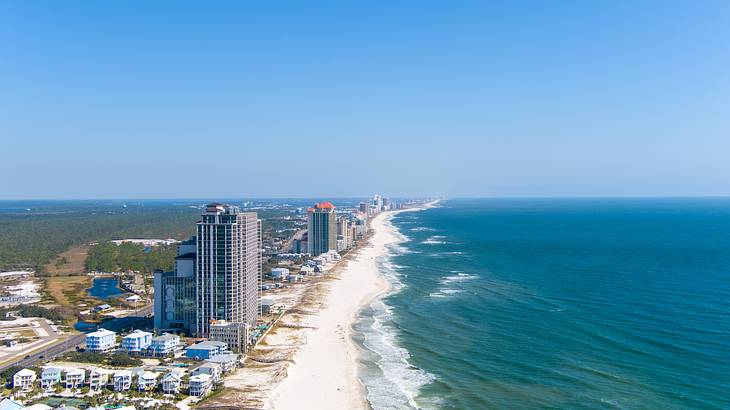 Alabama has the world's largest office chair
To gain attention, the Miller's Office Supply retailer in Anniston decided to build something big. So they built the world's largest office chair.
In 1982, the statue was officially named a Guinness World Record breaker. Throughout its history, the chair has undergone some periods of disrepair, but its recent fame as a roadside attraction has renewed efforts to keep it well-maintained.
Bear wrestling was legal in Alabama until 2015
One of Alabama's lesser-known historic pastimes was bear wrestling. For years, brave men would try to prove their strength by wrestling bears, often at underground fights.
Due to the danger that this activity caused to both the bears and the humans involved, bear wrestling for profit was made illegal in the 1990s. Then, in 2015, the entire sport was outlawed by repealing the laws that made it legal Act 2015-70, HB40.
Alabama has 1500 miles of inland waterways
Alabama has some of the most extensive waterways in the US. There are 1500 miles of waterways large enough for boats to navigate and countless other miles of smaller streams.
It has the most waterways of this type in the country. The Alabama waterway system is so extensive you can even reach the Great Lakes in the US north by water, starting in Alabama.
The world's fastest home-building happened here
How long would you expect to need to build a house? Weeks? Days? Months maybe? In Alabama, Habitat for Humanity built a home in just over 3 hours and 26 minutes.
This home building was done to help bring attention to the organization, which builds homes for people in need. It did so by breaking the previous world record for the fastest home construction which was set at nearly 3 hours and 45 minutes.
You can't play dominoes on Sunday
Funny facts of Alabama obviously have to cover some of the silly laws that have been passed through the years. Supposedly, one such law states that you can't play dominoes on Sunday.
This law has likely been repealed, as the state reevaluated its obsolete laws in 2015. However, if it's still in effect, officers likely won't enforce this particular law.
Cool Facts About Alabama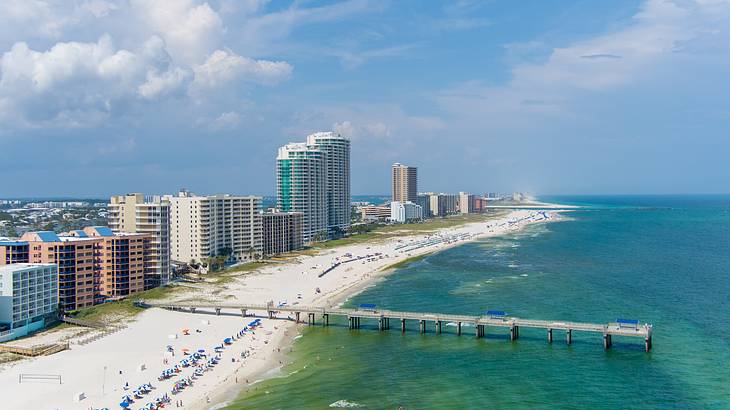 George Washington Carver founded a school there
George Washington Carver was an important figure in botanical and agricultural science. He helped develop products made from soybeans and peanuts, which were easily grown in the South.
Though he dedicated his life to research, he was also passionate about promoting education. He founded Tuskegee University to help future agricultural engineers get the education they needed.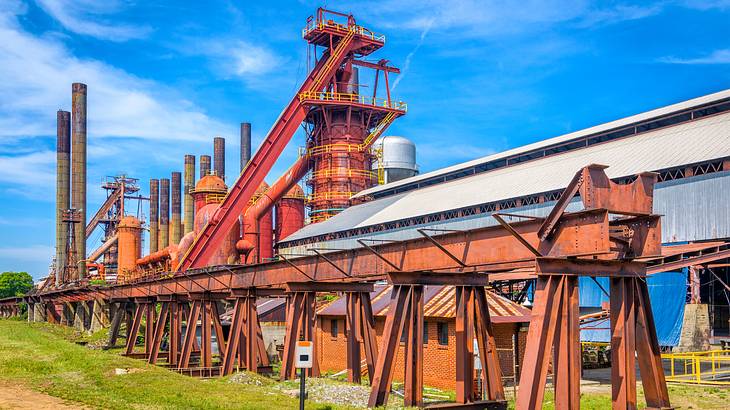 Alabama is rich in natural resources
Alabama's climate and location make it one of the locations in the US which is richest in natural resources. Iron, limestone, fish, and oil are just a few examples of these resources.
These elements have helped drive the state's economy and growth over the years. They've also helped the state become an agricultural haven in the South.
Conecuh Ridge Whiskey is the state beverage
Alabama-style whiskey is known all over the country. A fact that's a little less known, though, is that Alabama-style whiskey is derived from Conecuh Ridge Whiskey, the state's official beverage.
This whiskey was illegal for most of the 20th century, but that didn't hurt its popularity. Since becoming legal, the whiskey has only become more well-loved and, in 2004, was officially made a state symbol.
An Alabama woman invented windshield wipers
On a rainy day, you've probably been grateful for the windshield wipers on your car. Little did you know, those handy little tools were invented by an Alabama woman.
In 1903, Mary Anderson patented the first automated window cleaners. They're indispensable now, but at the time, she couldn't find a company willing to buy her idea!
It's on the Gulf Coast
Alabama may not be the first place you think of when you think of the coast, but it borders the Gulf Coast and has a popular state park, Gulf State Park, protecting the beaches on this stretch of coastline.
Its coastal location helps contribute to its humid and warm temperatures. It's also one of the causes of the state's biodiversity since its inland territory is quite different from the areas near the sea.
Quick Facts About Alabama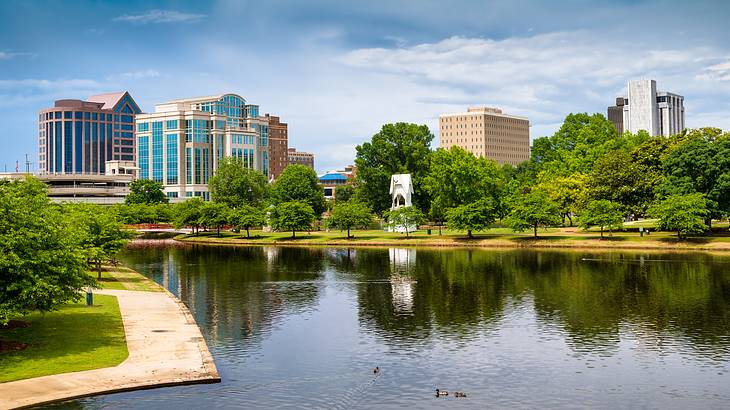 Star Blue Quartz is the Alabama state gemstone
If you look up Alabama facts and information, you'll likely find the state gemstone. Star Blue Quartz may be a common gem, but it's still widely considered beautiful.
The gem is abundantly found in Alabama, which earned it its status as a state symbol. It's also an affordable gemstone since it's so commonly found. You'll find it used in art and souvenirs throughout the state.
The state population is around 5 million
Alabama may have been the site of many important historical events, but that hasn't caused an extreme increase in the state's population. Alabama's population today hovers around 5 million people.
It's the 24th most populated state in the country. Its most populated city is Huntsville due to its many jobs. Its population sits at a little over 220,000 citizens.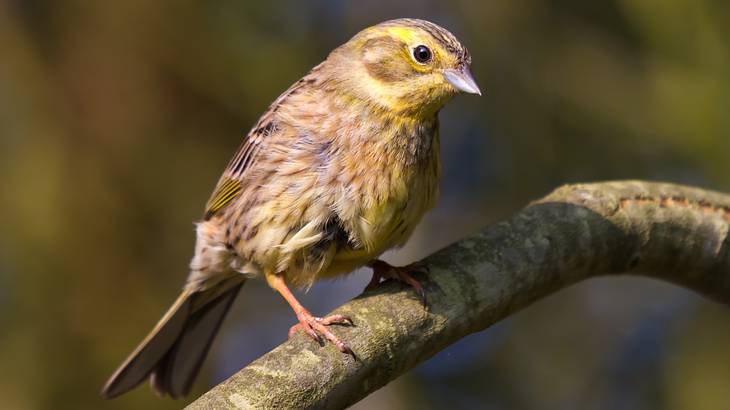 It's also called the "Yellowhammer State"
Alabama, like most states, has a nickname you'll find on state signs, souvenirs, and some license plates. Its most common official nickname is the "Yellowhammer State," after the state bird.
You'll find the yellowhammer bird throughout the state. It's easily recognizable by its yellow color with brown accents. The state has a few other nicknames, but this one has been around since 1927.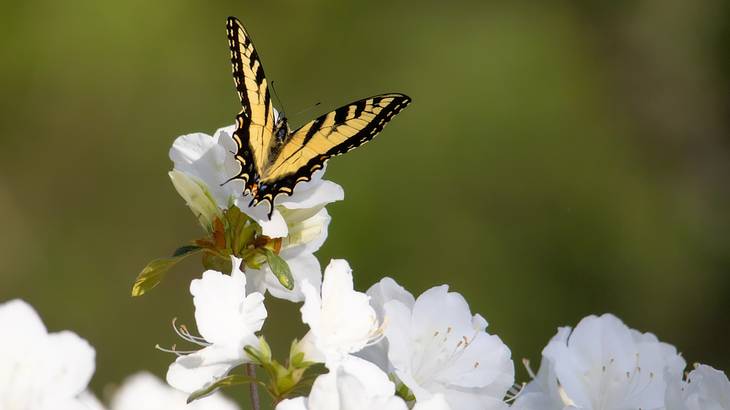 The eastern tiger swallowtail is the most common butterfly
Since the weather is warm in Alabama, you'll be able to find butterflies all year. Even if you aren't passionate about butterflies, you'll easily be able to recognize the eastern tiger swallowtail after a while.
You won't find them in the state during the winter when they travel a little further south. However, from spring through fall, you'll find these yellow and black butterflies flying and perched on trees.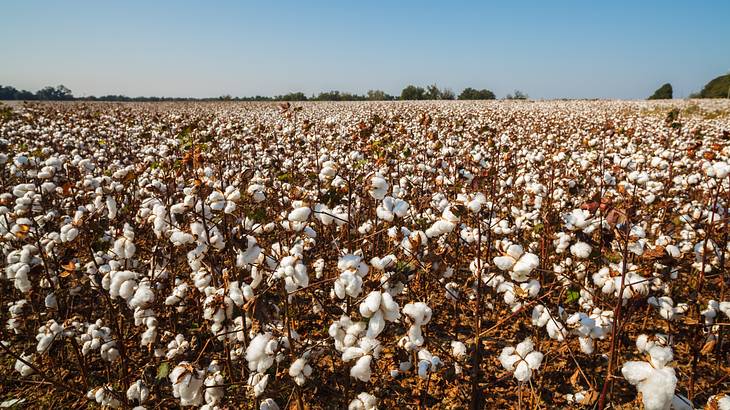 It's also called the "Cotton State"
Alabama's more widely-known nickname is the "Cotton State." During the 19th and 20th centuries, Alabama's agriculture was heavily focused on producing cotton.
While cotton was grown throughout the South, Alabama was one of the top producers. Today the cotton industry isn't as widespread in the state, but its history has caused the name to stick around.
Scary Facts About Alabama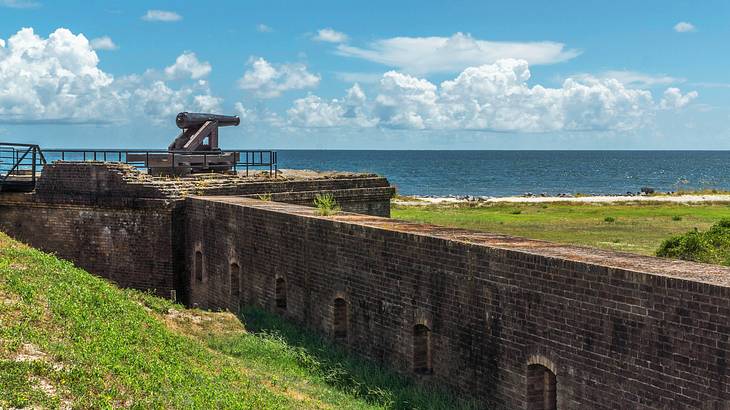 The Civil War started because of Alabama
The Civil War was one of the worst periods in American history. The country was split in two, and many soldiers lost their lives.
One could easily argue that the war was started because of Alabama. As the first state to announce it was seceding from the Union, it is responsible for the birth of the Confederacy.
Alabama schools are underfunded
One of the most unfortunate facts on Alabama is the state of its school systems. Alabama's schools are routinely among some of the lowest-ranked in the country.
The schools in the state are underfunded, which can cause a lack of enriching study opportunities. However, these concerning statistics have raised awareness of the problem, and efforts are being made to fix it.
There are many haunted places
Alabama is a treasure trove of haunted places. Every city claims to have multiple haunted locations, some of which have been visited by paranormal investigators.
Many of these haunted places are related to the Civil War since so many people lost their lives during the battles fought then. However, the spirits that are said to roam the state span many different time periods.
Mt. Nebo Cemetery headstones have "death mask" carvings
Though initially meant to honor the deceased, the "death masks" in Mr. Nebo Cemetery have become notorious for their spooky appearances. The gravestones with these masks date back to the 1880s and have been deemed nationally historic and important.
The masks are carvings that are done in the image of the person buried. These masks were also a status symbol of sorts.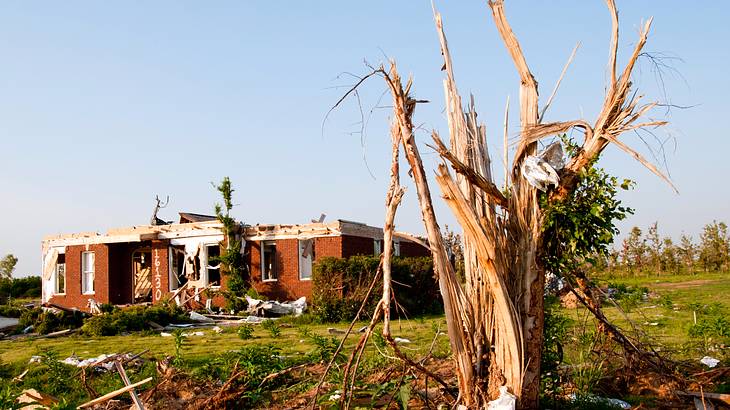 Alabama gets hurricanes and tornadoes
Alabama is prone to severe weather like many other states. However, unlike other places, it has to deal with multiple types of severe weather that often don't occur in the same places regularly.
Alabama is prone to tornadoes and hurricanes and regularly deals with both. Due to its humid weather, it's also prone to tornadoes for more extended periods throughout the year.
Historical Facts About Alabama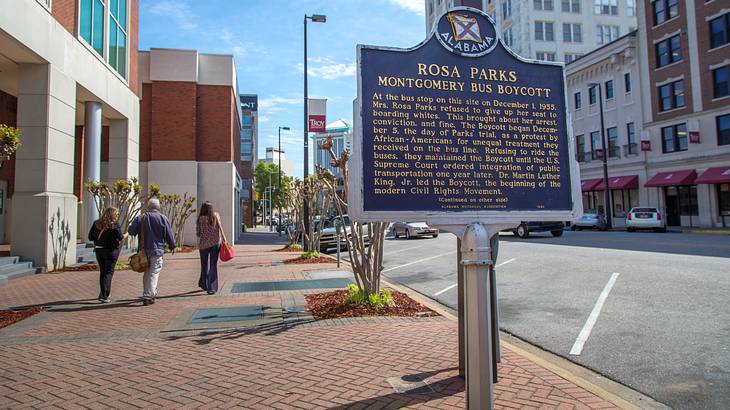 Alabama was the 22nd state in the USA
Alabama may have been the 1st state to secede from the Union, but it was the 22nd territory to become a state. In 1819, Alabama officially became part of the United States of America.
Alabama's territory changed hands a few times before its statehood. It was settled by the French but later inhabited by the British and the Spanish.
Rosa Parks helped initiate the civil rights movement in Alabama
Rosa Parks became a symbol for the civil rights movement in 1955 after refusing to give up her bus seat to a white passenger, for which she was later arrested.
Though everyone learns about this event, not everyone knows it took place in Montgomery, Alabama. This event started the year-long bus boycott, which is often cited as one of the first major civil rights protests.
Martin Luther King Jr. led a protest in Montgomery
Martin Luther King Jr. may have been from Georgia, but he was a minister in Alabama. After Rosa Parks' arrest, he became a leading figure in the bus boycott.
A decade later, he led another non-violent protest in the state. Thousands of African Americans marched to the state Capitol in Montgomery to end a 5-day march from Selma.
Mobile Bay was a major port during the Civil War
Though Alabama's coast may make up a small portion of its territory, it was still of the utmost importance during the Civil War. Mobile Bay allowed access to the Gulf Coast.
Having water access allowed troops to receive supplies. When the Union took over New Orleans, Mobile Bay became the major port the Confederate army relied on.
Alabama was important in the civil rights movement
Alabama was home to some of the pivotal moments that helped the historic civil rights movement. From the bus boycott to the Freedom Riders, Alabama was at the forefront of the fight for African Americans to have equal rights.
Tensions had been rising for years all over the South. However, had the events that occurred in Alabama not taken place, it's impossible to know how the civil rights movement would have gone.
In Conclusion
Clearly, Alabama is an incredibly interesting state with a rich history. Were there any facts that made you scratch your head in surprise? Probably a few!
While it might not be talked about as much as some other US states, there's tons of trivia that will intrigue or surprise anyone.
This list had 50, but there are countless more facts. Hopefully, our categories helped you figure out an Alabama trivia topic that interests you. That way, you can continue your research into this wonderful southern state.
Before you know it, you'll be planning your trip to the state and falling in love with it in person, too!
Give us feedback about this article
More articles about Alabama:
Read more articles about the United States:
More articles about facts:
---
---
Want to keep exploring?
Subscribe for discounts on tickets and hotels and our latest guides.
Thank you for subscribing
We will be in touch soon with discounts on tickets and hotels and our latest guides.
Want to keep exploring?
Subscribe for discounts on tickets and hotels and our latest guides.
Thank you for subscribing
We will be in touch soon with discounts on tickets and hotels and our latest guides.
Related articles