13 Nicknames for Alaska and the Reasons for Them
Destguides may receive commissions from purchases made through affiliate links in this article.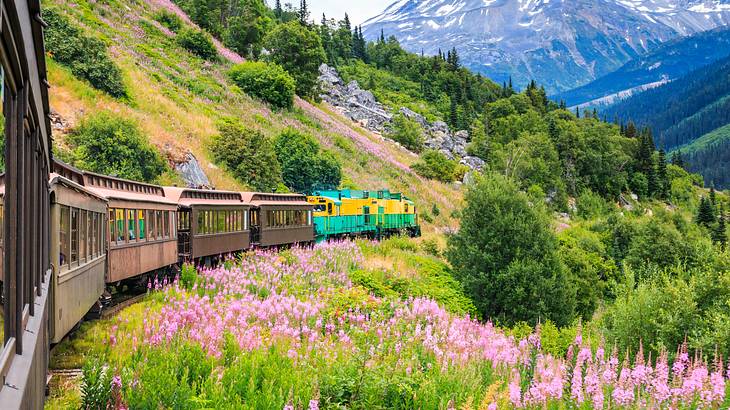 Alaska may be one of the least-populated states in the US, but it's one of the most fascinating. Its expansive territory, harsh climate, and dense wilderness make it a mysterious corner of the country.
One way to get to know the state a little better is by learning about some of its monikers. Of course, most people know it's referred to as the Last Frontier, but there are many other nicknames for this territory that might surprise you.
Whether you're planning a trip or just in the mood to learn a little more about this northern territory, keep reading. Here are 13 nicknames for Alaska and the interesting reasons for them.
13 Alaska Nicknames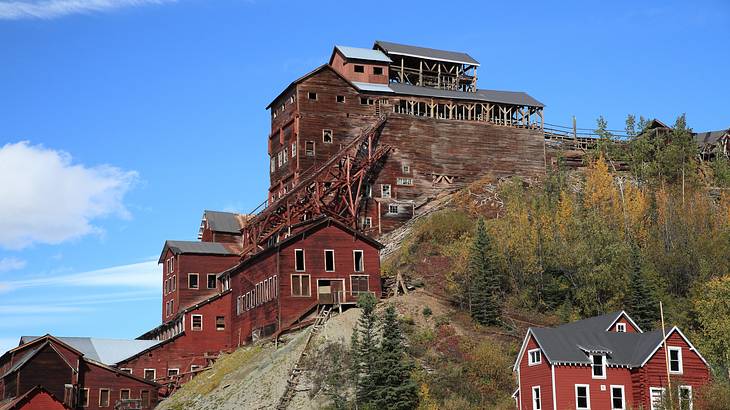 The Great Land
The Great Land is a nickname that has its roots in the native Aleut culture. These tribes called the land "Alyeska," which roughly translates to this moniker.
There are numerous reasons why this particular title might have stuck. For example, the Klondike Gold Rush brought over 100,000 people to the territory in search of gold. They saw it as a "great land" due to the wealth that was available to be discovered.
Today, this nickname is primarily used when referencing the Aleut term. However, the title can also be found in promotional tourism information.
The Last Frontier
The Last Frontier is the official state nickname for Alaska. Though this is a commonly-known Alaskan fact, few people actually know the origin of the term.
While it's unclear who the first person to use the term was, this moniker was derived from Alaska's expansive territory. Since Alaksa is so vast and has such a harsh climate, the state has never been fully settled or mapped out, inspiring the name.
The Last Frontier can be found on much of Alaska's tourist information, as well as promotional material for trips to the area. You can also find it on artwork and souvenirs referencing the state.
Territory of Baranov
The Territory of Baranov is one Alaskan nickname that points toward the area's Russian history. The nickname comes from Aleksandr Andreyevich Baranov, a Russian Governor who ruled Alaska and helped it become a settled land.
Since Baranov managed to establish virtually complete control over Alaska by 1799, he came to be closely linked with the territory. Though this nickname is no longer in use, Baranof Island is still named after the former governor.
The Sourdough State
Alaska's reputation as the Sourdough State is one of its most endearing. When Alaska was first settled, being able to prepare food in the cold climate was imperative. Sourdough bread was a perfect dietary staple since the dough starter could last long periods of time.
This bread was so important to pioneers in Alaska the starter was often worn around a person's neck so their body head would keep it from freezing. Today Alaska isn't as commonly referred to as the Sourdough State; however, long-time residents and businesses are still called sourdoughs to honor their longevity.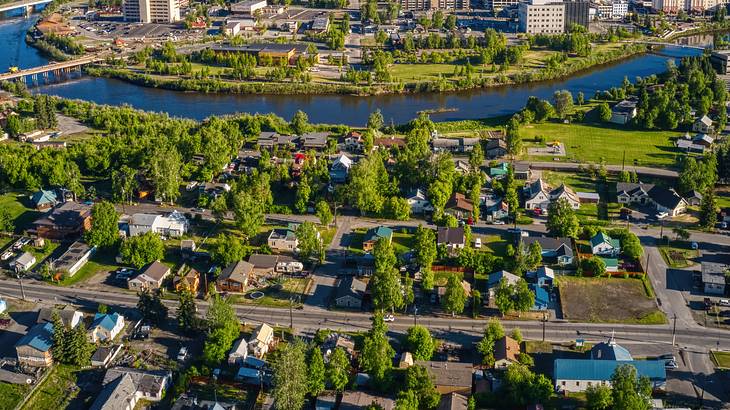 The 49th State
The 49th State is perhaps one Alaska name that should be obvious. It was coined in 1959 when this snow mountain state was accepted into the Union.
However, despite not being a state until then, it became a US territory in 1867. The purchase of this territory was, in part, a political move made put an end to Russia's claims in North America. This nickname is most often present in history and reference texts commemorating Alaska's statehood. You can also find it on souvenir items.
Land of the Midnight Sun
Land of the Midnight Sun started as a nickname for the city of Fairbanks, but it's gone on to be used in reference to the entire state. Due to Alaska's northern location, there are 70 to 85 days of continuous sunlight during the summer months, thus prompting the moniker.
Though this title isn't the official state nickname, a sun design can be seen on some Alaskan license plates. The phrase is also found in promotional material for summer vacations to the state.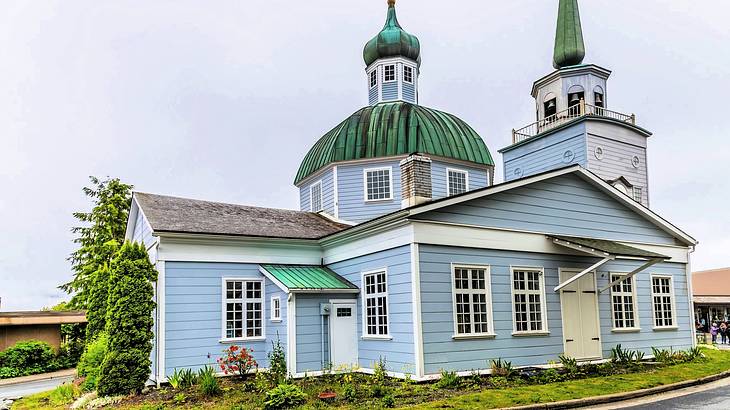 Russian America
Russian America may not be a common nickname today, but it was once an official term used to refer to Alaska. It references Russia's North American colonies, which included the entire Alaskan territory. After the US purchased this land in 1867, the moniker largely fell out of use.
Today, it's not often used on a day-to-day basis. However, the term is present in textbooks and reference material. You can also still see some evidence of Russian heritage in the area. For example, the Russian Bishop's House is a famous Alaskan landmark in Sitka connected to the Russian settling of the area.
Up Over
Up Over, or Up and Over, is a funny Alaska State nickname that references its location, which is northwest of the mainland United States. If reaching Alaska from the US, you effectively need to go "up" through Canada and then "over" to the west to get to Alaska.
Taking a cue from Australia's title as the Land Down Under, Alaskans began to refer to their home state as Up and Over. As one of the most comedic nicknames for the state, it's often used on t-shirts and other novelty items. You'll also hear it in joking conversations between locals and tourists.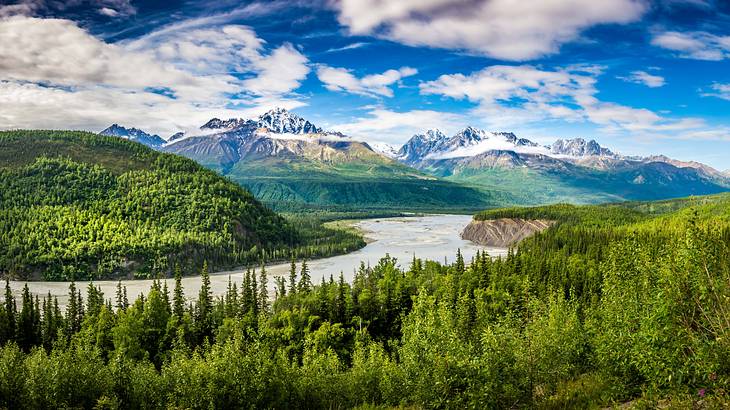 The Mainland
Alaska's nickname as the Mainland or Mainland state can be traced back to the language of one of the territory's original cultures. The Aleut people often referred to the peninsula by the term "Alaxsxaq," which most simply translates to this moniker. These days, this term is typically used in association with the original Aleut term, though it is occasionally present in artwork and promotional material.
Seward's Folly
If it weren't for Secretary of State William H. Seward, Alaska may have never become a US territory. In 1867, he oversaw the purchase of this vast territory from Russia.
At the time, many people didn't understand the reason behind Seward's decision to move forward with the purchase. Thus, the act and subsequent territory came to be known as Seward's Folly. Today, this nickname is no longer in use. However, you can still see it referenced in history textbooks regarding the acquisition.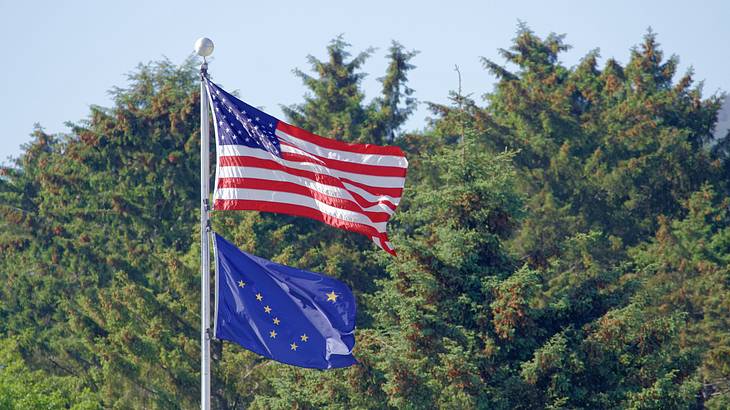 The North Star State
The North Star State is a nickname that can be associated with both Alaska and Minnesota due to their northern locations. In Alaska's case, the term refers to the state flag, which depicts the "Big Dipper" constellation and the North Star. This design symbolizes a guiding light toward the state's future.
Since this is a shared moniker, it's not often used in official material. However, it can be found alongside images of the state flag on souvenirs and commemorative items.
Seward's Ice Box
Seward's Ice Box is a humorous nickname given to Alaska and its purchase by critics of US Secretary of State William Seward. In 1867, he authorized the purchase of the future state in an attempt to remove Russia's presence in North America. "Ice Box" came about as many saw Alaska as a cold and barren land, effectively just covered in ice.
His goal was ultimately successful, but many people were quick to judge the acquisition. While this moniker is no longer used, it is cited in many articles and texts from the time.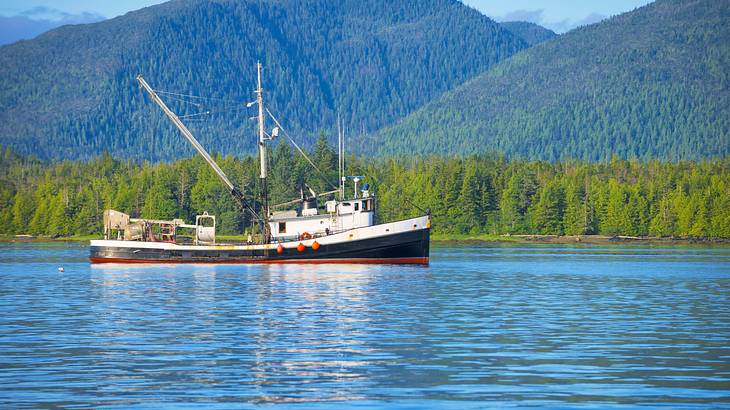 The Salmon State
The Salmon State might seem like one of the funniest Alaska names, but it actually has its roots in the state's wildlife. For as long as people have been living in Alaska, salmon has been a dietary staple.
To this day, salmon are still widely fished, and it's even one of the state's biggest exports. You can even see them wild in the waters of the state's national parks if you visit in the summer when they're most active.
In Summary
Alaska is a place that's full of history and culture, despite largely remaining a mystery to most people. While you might have already known a few of the state's nicknames, did any others surprise you? Whether you knew a few, all, or none of the Alaskan monikers on this list, hopefully, you learned a little more about what makes this northern state so special.
Give us feedback about this article
More articles about Alaska:
Read more articles about the United States:
More articles about nicknames:
---
---
Want to keep exploring?
Subscribe for discounts on tickets and hotels and our latest guides.
Thank you for subscribing
We will be in touch soon with discounts on tickets and hotels and our latest guides.
Want to keep exploring?
Subscribe for discounts on tickets and hotels and our latest guides.
Thank you for subscribing
We will be in touch soon with discounts on tickets and hotels and our latest guides.
Related Articles