15 Fresno Landmarks You Shouldn't Miss
Destguides may receive commissions from purchases made through affiliate links in this article.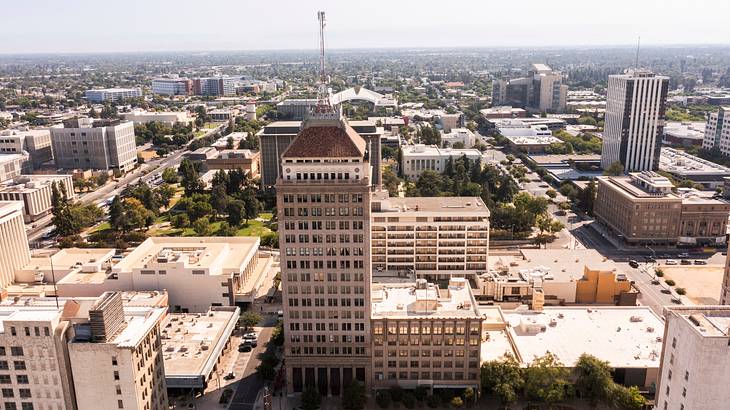 Whether you're a nature lover or you're more into the art scene, Fresno has something to catch your attention. Its Central California location helps guarantee you're just a few hours away from some of the state's biggest cities, like San Francisco or Los Angeles. So it's a perfect stop while on your West Coast getaway.
However, when it comes to adding sites to your itinerary, deciding which to visit first can be overwhelming. If you're planning a trip to the city or you just want to brush up on your California facts, keep reading. Here are 15 Fresno landmarks you shouldn't miss.
15 Landmarks in Fresno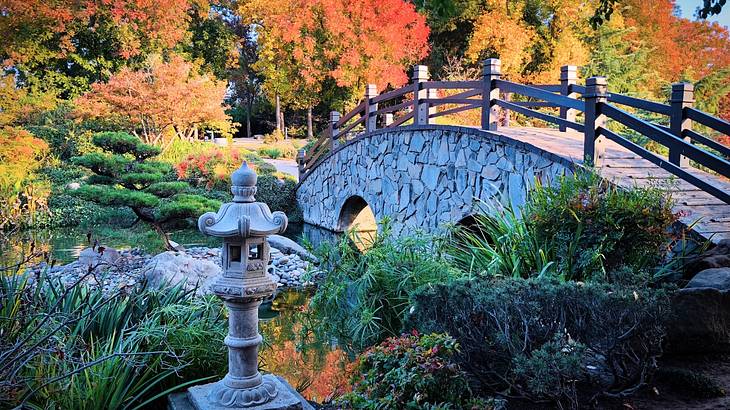 Shinzen Friendship Garden
Fresno's Japanese-American community is to thank for this beautiful and peaceful garden. Plans for the property began in 1967, but the current garden wasn't open until over a decade later, in 1981. Since then, the location has gained popularity by hosting cultural events like the Spring Blossom Festival and educational workshops.
Woodward Regional Park
Woodward Park is a favorite California landmark among Fresno locals when it comes to getting a little fresh air. It was named after its previous owner, Ralph Woodward, who donated some of his estate to become a park and sanctuary for birds. From within the park, you can even get a view of some of the mountains that surround the city.
Fac Water Tower
Also known as the Old Fresno Water Tower, this historic Fresno structure was completed in 1894. Throughout the years, the tower has served multiple functions.
Originally, a public library was supposed to be housed within the building, but that plan never came to fruition. Instead, it was used as a traditional water tower for nearly 70 years before becoming a parking meter repair factory. It's currently a visitor's center.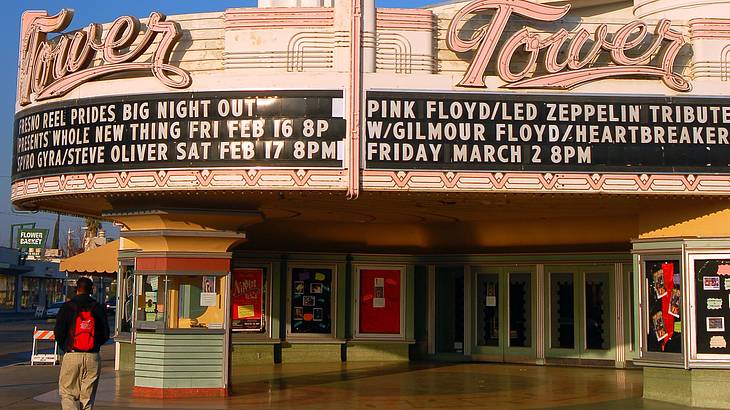 Tower Theatre for the Performing Arts
Opened in 1939, the Tower Theatre for the Performing Arts is one of the most historical attractions in Fresno, CA. The theater isn't just notable for its age, it's also a pristine example of the Streamline Modern style that dominated the 1930s. This building also became a blueprint for future movie theater designs by its architect S. Charles Lee.
Fresno Art Museum
Thanks to its diverse collection of work, this art museum is one of the most popular Fresno, California, points of interest. It houses 3,600 pieces in its permanent exhibits ranging from contemporary to pre-Colombian pieces. Even if you've visited before, its regularly rotating galleries and plethora of events guarantee every trip will be different.
Island Waterpark
If you're planning a trip to Fresno during the summer, don't forget to check out Island Waterpark. With eight attractions that range from relaxing to thrilling, the park has something for everyone. If you're visiting with children, just be aware that some of the slides at the park have minimum height requirements.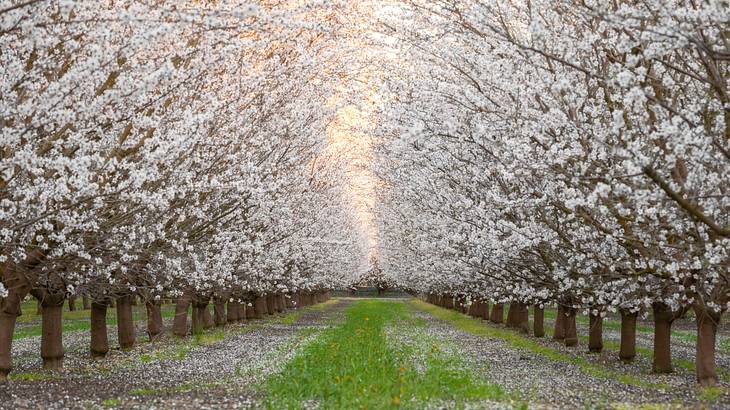 Fresno County Blossom Trail
Between February and March, the Fresno County Blossom Trail bursts with color for you to enjoy. This scenic road is nearly 70 miles in length and is the perfect place to go for a drive while in the area. Even if you miss the trees during peak blossom seasons, you can enjoy the wildflowers along the trail throughout the spring and summer.
The Vineyard Farmer's Market
The California fact that the state produces a lot of raisins is quite common knowledge. However, most people don't know that many of them come from Fresno.
If you want to enjoy even more of what the local agriculture has to offer, head to the Vineyard Farmer's Market. It's held twice a week, on Wednesday afternoons and Saturday mornings.
Meux Home Museum
The Meux Mansion is a well-preserved example of Victorian architecture that uses many of the style's main characteristics, like towers and asymmetry. It was first built by Thomas Richard Meux in 1889 after taking up residence in Fresno. The home was later acquired by the city and converted into a museum to honor its original owner as a pillar of the community.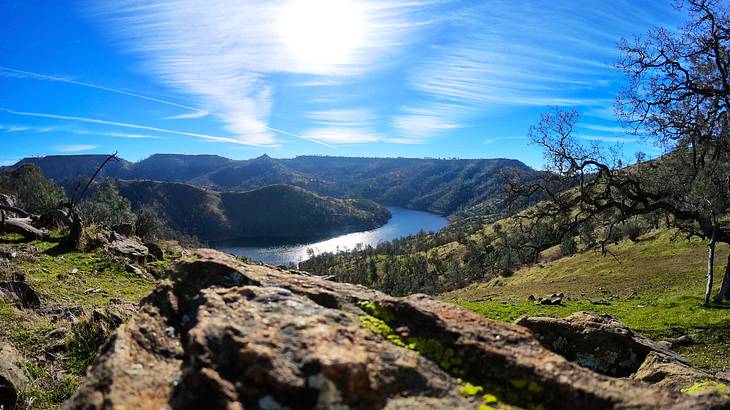 San Joaquin River
At 366 miles long, the San Joaquin River is the longest river in Central California. It starts in the Sierra Nevada Mountain Range and flows through the San Joaquin Valley before eventually emptying into the Pacific Ocean. This river isn't just important to the state's natural landscape; it also supplies up to 67% of California's water supply.
Storyland Amusement Park
Do you want to find a fun place to spend the day with your family in Fresno? Then you can't go wrong with Storyland. Built in 1955, the park quickly became a favorite place for locals and visitors to take their children.
This amusement park is unique in that it is storybook-themed, with rides and attractions centered around beloved stories like "The Three Little Pigs."
River Park Shopping Center
If you want to feel like a local, you don't want to miss a chance to visit this Fresno landmark. River Park Shopping Center has two shopping areas and a designated lifestyle zone with businesses in the beauty and health industries. Since it's at the heart of the city's social life, the facility also regularly hosts markets, art exhibitions, and other events.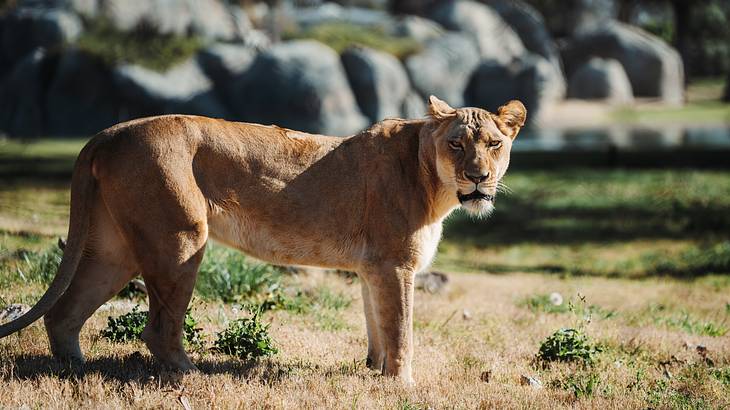 Fresno Chaffee Zoo
The Fresno Chaffee Zoo is the 39-acre home to nearly 200 animal species. The first iteration of the zoo was built in the early 1900s and, at the time, housed mostly birds.
Since then, the facility has grown and now takes care of animals from around the world. With annual visitors numbering over 800,000, it's one of the most popular family-friendly attractions in the city.
Kearney Mansion Museum
A list of Fresno historical landmarks wouldn't be complete without Kearney Mansion Museum. The home's original owner, M. Theo Kearney, was a notable pioneer in land development who helped grow Fresno's agricultural industry.
Today, visitors can explore the 250-acre Kearney Park that used to be a ranch. They can also tour the Victorian mansion, which is furnished with authentic period decor and antiques.
Forestiere Underground Gardens
The Forestiere Underground Gardens are one of the most interesting landmarks in Fresno. Built by Baldassare Forestiere between 1906 and 1946, the "gardens" are actually a series of subterranean rooms meant to help Forestiere tolerate the summer heat. Due to its unconventional nature, the attraction was added to the National Register of Historic Places in 1977.
In Summary
Fresno is a lively city with a lot to offer. From family-friendly amusement parks to unconventional architecture, there's something to interest any sort of traveler.
Hopefully, this list has helped inspire you to take a trip to The Raisin Capital of the World. After all, these 15 landmarks are just the tip of the iceberg. There are plenty of other sites to see, and you could even add a trip to the nearby Kings Canyon National Park to your to-do list!
Give us feedback about this article
Learn more about Fresno:
More articles about California:
Read more articles about the United States:
More articles about landmarks:
---
---
Want to keep exploring?
Subscribe for discounts on tickets and hotels and our latest guides.
Thank you for subscribing
We will be in touch soon with discounts on tickets and hotels and our latest guides.
Want to keep exploring?
Subscribe for discounts on tickets and hotels and our latest guides.
Thank you for subscribing
We will be in touch soon with discounts on tickets and hotels and our latest guides.
Related Articles