15 Landmarks in Oakland to Visit
Destguides may receive commissions from purchases made through affiliate links in this article.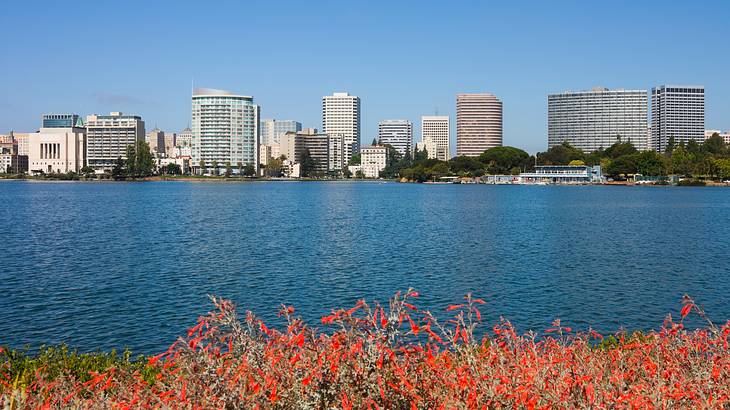 When planning a trip to California, many people often overlook the charm of Oakland city. However, this part of the Bay Area has a lot to offer visitors. Nature lovers can trek to see the Old Survivor redwood, while literary fans can visit Heinold's First And Last Chance Saloon, where Jack London used to enjoy a few drinks.
Whether you're doing some research for an upcoming visit to "the bright side of the Bay" or you want to brush up on your "Golden State" history, keep reading to learn more about the 15 landmarks in Oakland you don't want to miss.
15 Oakland Landmarks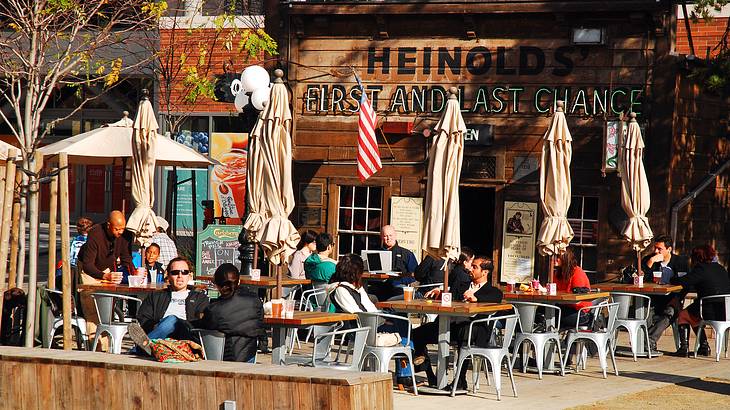 Heinold's First And Last Chance Saloon
Heinold's First And Last Chance Saloon is one of the oldest attractions in Oakland. It opened in 1883 and was a favorite sailor saloon, but how did it get its name?
Since drinking wasn't often permitted or possible while on board, Heinold's was among the last places to grab a drink before setting sail. It was also a favorite of the famed author Jack London, and it's said that he was even inspired by some of the stories he heard from the saloon's other patrons.
The bar is a great place to grab some drinks during the day or in the evening and is also one of the best places for a date in Oakland.
Alameda County Title Insurance Co. Building
The Alameda County Title Insurance Co. Building is an underrated Oakland landmark from the 1920s. Made of steel and concrete, this seven-story building was a sort of architectural test for different design features, and these were incorporated into Manhattan buildings shortly after that.
While the front of the building conserves Oakland's history, the back showcases the city's artistic side, featuring many art murals. One of the most famous is Mitzvah, the Jewish Cultural Experience, added in 1985.
Joaquin Miller Park
Locals around the Bay Area love coming to Joaquin Miller Park for a day of hiking or biking through nature. With 500 acres of space, there's plenty to explore, whether it's your first, fifth, or tenth time visiting.
Since the park is just a few minutes outside downtown, it's an ideal place for a little peace and quiet. You can even bring your dog for your walk. You can also see some of the plant life that California is famous for, like coast live oaks and redwoods.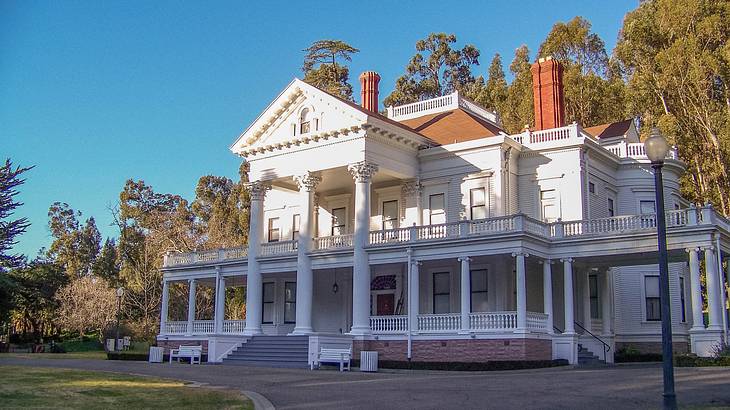 Dunsmuir Hellman Historic Estate
Built in 1899, Dunsmuir House was a wedding gift to Alexander Dunsmuir's bride. However, the wealthy coal magnate's son died on his honeymoon. His bereft wife lived in the home for two years until she also passed on. This tragic history has now made the property one of the most-visited Oakland, CA, landmarks.
Though Oakland's original plans to use the house as a conference center never came to fruition, it has been put to good use. In fact, since being taken over by a non-profit organization in the 1970s, the property has been used as an educational site and event venue. It was also added to the National Register of Historic Places in 1972.
Charles And Lucretia Bates House
After the great 1906 earthquake shook the California Bay Area, the Adams Point neighborhood in Oakland was decimated, but the inhabitants slowly rebuilt. Designed and built in 1907, one of the most spectacular homes was that of local leader Charles Bates and his wife, Lucretia.
For decades, the home remained in the Bates family before being converted into a bed & breakfast for visitors who wished to experience Oakland's history first-hand. Though it's now no longer used as an accommodation option, it's still a symbol of the city's past that deserves to be seen and admired.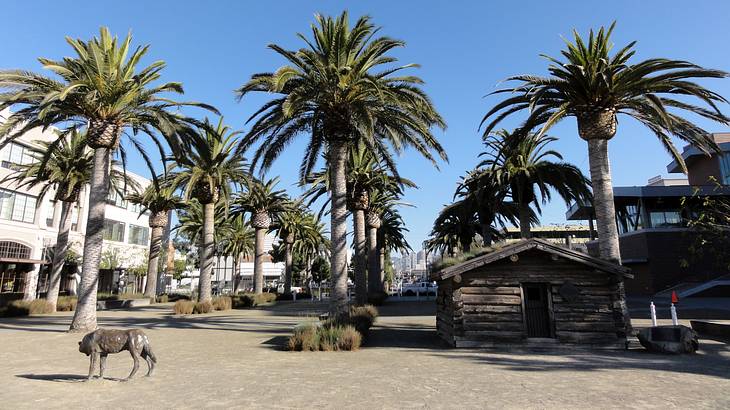 Jack London Square
Named after the famed adventure writer who spent much of his time in Oakland, Jack London Square is a bustling district in the city. Located between San Francisco Bay and downtown, there are numerous activities for visitors to enjoy when exploring Jack London Square.
Just a few activities to try include renting a kayak or exploring the area's parks and waterfront. You can even see a replica of a cabin Jack London inhabited while in Dawson City, Canada.
Ellen Kenna House
The Ellen Kenna House was built around the time of the California Gold Rush in the late 1800s. However, despite its roots, it's remained one of the most integral Oakland, California, landmarks.
Named after the house's original owner, the building symbolizes independence since Ellen purchased the home with her own money, a rare occurrence at the time. Today, it's used for various purposes: a set for documentaries, a party venue, and even a co-living space.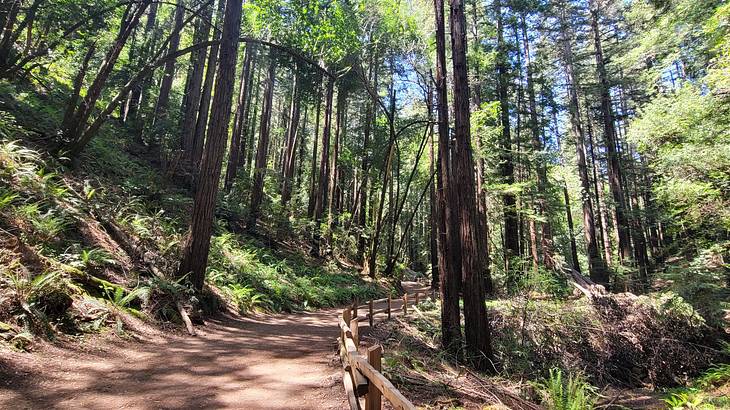 Old Survivor Redwood Tree
Not far from the city center, you'll find one of the most unique California historical landmarks. Old Survivor Redwood Tree is the last of the so-called old-growth trees in the Oakland Hills. According to university researchers, the tree could be up to 430 years old.
You can hike through Leona Heights Park to discover the tree. However, if you're not up for a day full of hiking, you can see Old Survivor from the Carl B. Munck Elementary School parking area, where there's a plaque with its history.
Roos Brothers Building
In the late-1800s, the Roos Brothers were taking over the fashion industry in California. Known for their high-quality clothing, they opened their flagship store in San Francisco and expanded to neighboring cities in the years that followed.
One of these stores was opened in Oakland in the 1920s. Though the store is no longer operating, it's a monument that represents the city's economic boom in the early years of the 20th century in the aftermath of the Gold Rush and the great earthquake.
San Francisco – Oakland Bay Bridge
The San Francisco – Oakland Bay Bridge, or as it's commonly known, Bay Bridge, is actually a bit of a misnomer. In reality, the structure is made of two segments that, together, span the 2,300-foot distance between these two cities.
Although not quite as busy as a nearby California landmark, the Golden Gate Bridge, this viaduct still gets an estimated 260,000 cars worth of traffic daily. It's so busy it even has two decks to accommodate all its drivers. However, you don't need a vehicle to access it. There's a pedestrian lane if you want to take on the 60 to 80-minute-long walk to cross both ways.
Chinese Presbyterian Church
Oakland's Chinese Presbyterian Church is one of the oldest of its kind in the San Francisco Bay area and shows just how diverse the area is. In the 1800s, many Asian immigrants settled around San Fran and formed a tight-knit community to alleviate the culture shock of being so far from home.
Initially, the church was a meeting spot to practice English, but it soon became a place for bible study and then a fully-functioning church with regular services. The congregation's numbers swelled with the construction of another important San Francisco landmark, the San Francisco - Oakland Bay Bridge.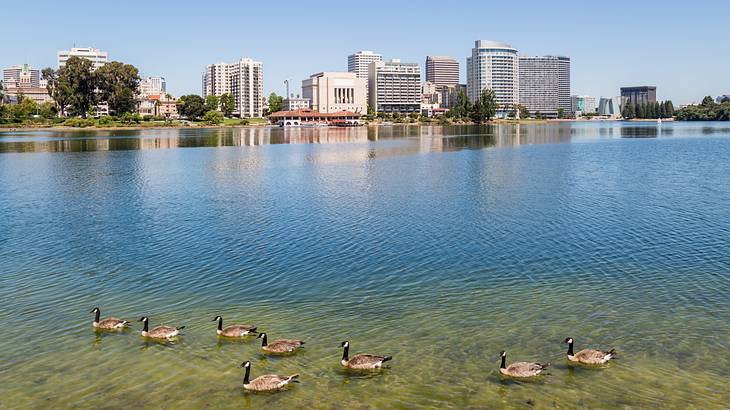 Lake Merritt Hotel
Lake Merritt is a 140-acre lake in the center of Oakland that has long been a favorite destination for those who want a tranquil place to relax outdoors. To accommodate visitors who would prefer that sort of ambiance for the duration of their stay in the Bay Area, the Lake Merritt hotel was built.
Initially, the Madison-Lake Apartments hotel offered lodging for the huge influx of people who came to the city in the early 1900s. Today, the building is still operational but now goes by the name, The Terrace Room, and is a lakefront restaurant instead of a hotel.
Joe & Rose Shoong House
One fact about California that can't be denied is that it has always had a diverse population. Many immigrants from around the world settled in the state to build a new life, especially during the 1800s and early 1900s.
Joe Shoong is just one of the many Oakland immigrants who helped make the city what it is today. After coming to California from China, he and his family lived in the Adams Point neighborhood.
This area is where he began his business ventures, eventually opening the National Dollar Store. He became a pillar of the community, and to honor his contributions to the city, the home he shared with his wife, Rose, is now one of Oakland's designated landmarks.
Oakland Title Insurance Building
One of the Oakland historical landmarks that best represents the city's growth in the 1920s is the Oakland Title Insurance Building. It was once the company's headquarters, built in 1921, and was noted for its terracotta facade.
Though the title insurance company has since gone out of business, you can still see the original built-in "OTIG Co." signs that identified it. Its legacy is also able to endure since its the location of a small local business school.
Antonio Maria Peralta House
When exploring Oakland, make sure to visit the Peralta Hacienda Historical Park. Spread over six acres, the area represents the first European settlement on the eastern shores of the Bay.
One of the most famous structures in the park is the Antonio Maria Peralta House. Constructed in 1870, it replaced the adobe home Antonio and his family previously lived in. Today, you can walk through the home on a guided tour.
The house is nearby other historical Oakland buildings; for example, the Oakland Laundry Company is only a few minutes further north.
In Summary
Oakland is a short distance from San Francisco, so it's an easy stop for anyone traveling to the Bay Area. As you explore, you'll come across many landmarks, including lots of historical buildings.
Hopefully, this list has inspired you to visit "Oaktown" to see all the nature, culture, and entertainment the city offers. All that's left for you to do is pack your bags and hit the road!
Give us feedback about this article
Learn more about Oakland:
More articles about California:
Read more articles about the United States:
More articles about landmarks:
---
---
Want to keep exploring?
Subscribe for discounts on tickets and hotels and our latest guides.
Thank you for subscribing
We will be in touch soon with discounts on tickets and hotels and our latest guides.
Want to keep exploring?
Subscribe for discounts on tickets and hotels and our latest guides.
Thank you for subscribing
We will be in touch soon with discounts on tickets and hotels and our latest guides.
Related Articles