15 Landmarks in Palm Springs, California, to Visit
Destguides may receive commissions from purchases made through affiliate links in this article.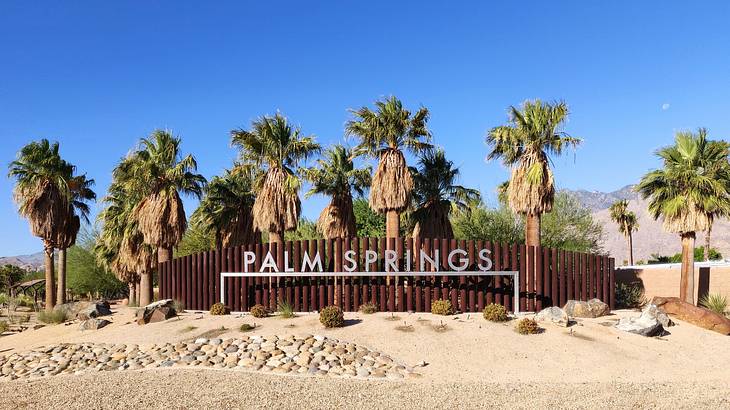 Southern California is home to many beautiful cities, like Palm Springs. This stylish destination is surrounded by the Sonoran Desert and features impressive Mid-Century Modern architecture, relaxing spas, trendy hotels, and unique shops and restaurants.
There are also an array of landmarks in Palm Springs, California, from natural attractions like the Coachella Valley Preserve to museums, such as the Palm Springs Air Museum. So if you're planning a trip, keep reading for 15 of the best landmarks that have to be on your Palm Springs itinerary!
15 Palm Springs Landmarks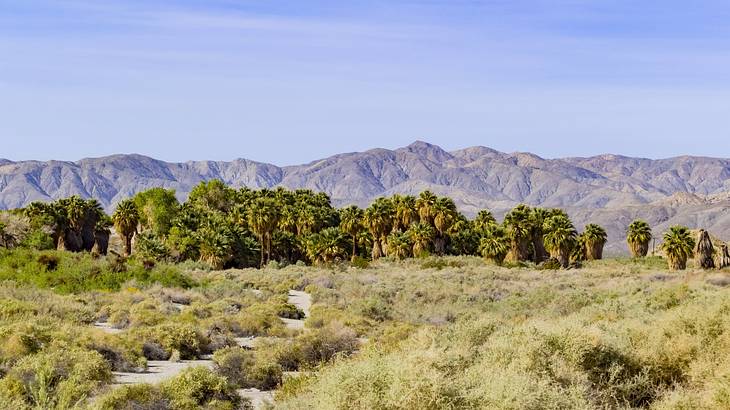 Coachella Valley Preserve
Established in 1985, the Coachella Valley Preserve covers 17,000 acres and houses the over 3,700-acre Coachella Valley National Wildlife Refuge.
The natural landmark is notable as it's an important habitat of the Coachella Valley fringe-toed lizard, an endangered species. The Coachella Valley Preserve is also home to a range of native plants and wildlife, making it one of the most important ecological sites in the state.
Cornelia White House
Managed by the Palm Springs Historical Society, the Cornelia White House dates to 1893 and is one of the oldest structures in Palm Springs. The residential property belonged to Cornelia B. White, an early pioneer in the area. Interestingly, it was constructed from railroad ties from the Palmdale Railroad.
This wooden home has been restored and is open for tours, on which you can learn more about its history and what life was like in Palm Springs in the late 19th and early 20th centuries.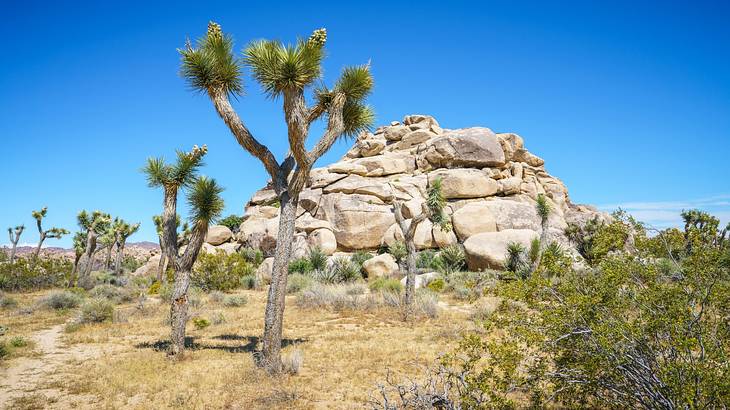 Joshua Tree National Park
Palm Springs is the closest major city to the renowned Joshua Tree National Park, meaning it deserves a mention on this list of Palm Springs landmarks!
The famous West Coast national park covers almost 800,000 acres and welcomes over two million visitors annually. At the park, you can follow numerous hiking trails, spot wildlife, and marvel at the park's namesake Joshua Trees, among many other activities.
The McCallum Adobe
Another of the important Palm Springs historical sites is the McCallum Adobe, which sits next to the Cornelia White House. Constructed in 1884, this structure is almost a decade older than its neighbor and is the first adobe house known to have been built in the area. Today, the home can be toured and features some exhibits.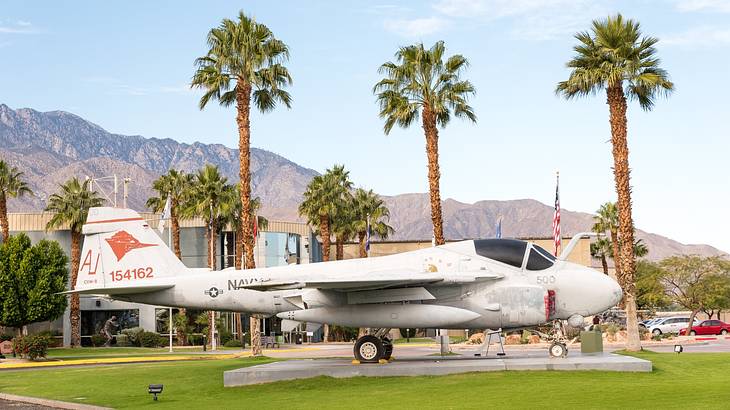 Palm Springs Air Museum
The Palm Springs Air Museum is a must-visit spot for those interested in World War II aviation history. This landmark along North Gene Autry Trail was founded in 1994. It features exhibits on the important role of aircraft and American pilots in the war.
Along with viewing educational displays, you can see over 40 aircraft, including a Boeing VB-17G Flying Fortress and a Curtiss P-40 Warhawk.
Indian Canyons
Indian Canyons is, without a doubt, one of the most fascinating Palm Springs attractions. The landmark is the ancestral home of the Agua Caliente Band of Cahuilla Indians.
Visitors can see many features relating to this community, including rock paintings, house pits, and food preparation areas. As you explore the area, you'll also see indigenous flora and fauna.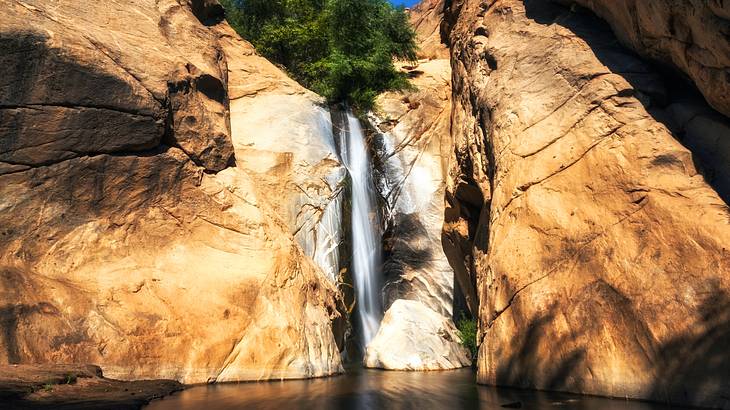 Tahquitz Canyon
Tahquitz Canyon is another site connected to the Agua Caliente Band of Cahuilla Indians. It's situated just 3.6 miles from Indian Caves along South Palm Canyon Drive.
This landmark has natural features like a 60-foot waterfall and many plant and wildlife species. Like with Indian Canyon, you can also see rock art here, and there's a visitor center with educational exhibits.
Moorten Botanical Garden
If you want to see flora native to the area, the Moorten Botanical Garden is the landmark for you! Visitors to the one-acre attraction can see around 3,000 species of cacti and other desert plants.
Displays are spread across conservatories and scenic outdoor gardens. Along with plants found in the deserts of California, you can see those from other areas, including the Patagonian Desert and the Chihuahuan Desert.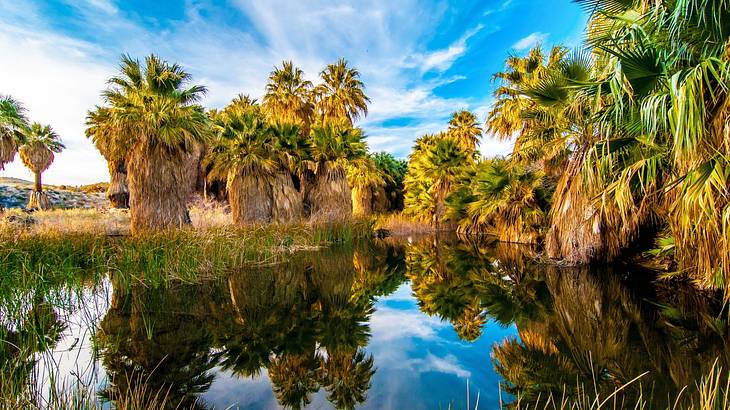 Thousand Palm Oasis
Thousand Palm Oasis is located in the Coachella Valley Preserve and features an array of beautiful palm trees. This attraction is also home to over 180 bird species, plus lots of other wildlife and desert plants.
Interestingly, the area is fed by water that seeps out of the San Andreas Fault. This water helps create small lakes home to aquatic life, like the endangered desert pupfish.
Walk of the Stars Palm Springs
While nearby Los Angeles' Hollywood Walk of Fame is world-renowned, a fun California fact is that Palm Springs also has a walk of fame that was established in 1992. The Walk of the Stars Palm Springs in downtown features around 400 stars dedicated to various famous figures, from writers and actors to United States presidents.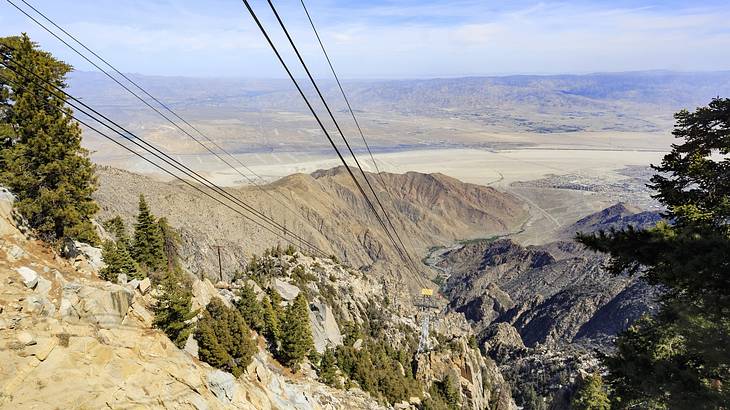 Palm Springs Aerial Tramway
As it holds the title of the world's longest rotating aerial tramway, the Palm Springs Aerial Tramway is one of the most famous Palm Springs, CA, attractions. Constructed in the 1960s within Chino Canyon, the tramway covers two and a half miles and offers stunning views of the surrounding area.
At the end of the approximately ten-minute tram ride, you'll find yourself at the peak of San Jacinto Mountain (San Jacinto Peak) in the east of Mount San Jacinto State Park.
VillageFest
Villagefest is a landmark event loved by locals and visitors. This market has been held for over 30 years, beginning in 1991 with the goal of bringing people to the downtown area.
Today, the outdoor market is hosted on Thursday evenings and offers a space for over 180 vendors to showcase and sell their products. There are also street food stalls, and you can enjoy live entertainment.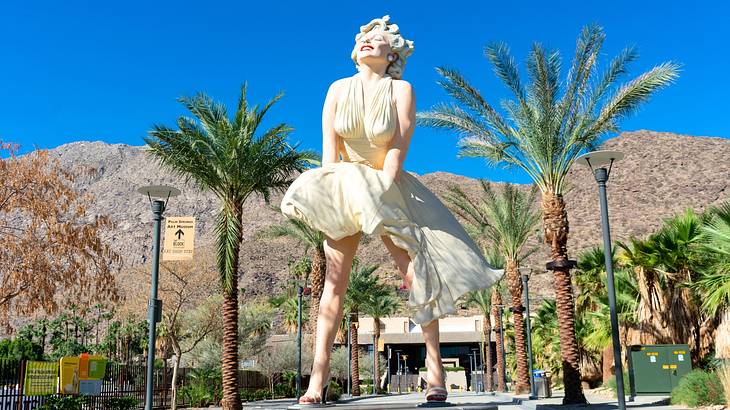 Forever Marilyn
You can find many unique sculptures around Palm Springs, with one of the most renowned being Forever Marilyn. The 26-foot-tall statue depicts the actress in the famous pose and white dress from Billy Wilder's 1995 film The Seven-Year Itch.
The statue was created in 2011 and has been displayed in various cities, including Palm Springs, between 2012 and 2014. In 2021, the sculpture returned to Palm Springs, where it's found in front of the Palm Springs Art Museum.
Palm Canyon Drive
Palm Canyon Drive sits within the historical heart of Palm Springs and is lined with a range of shops and restaurants. It's also home to attractions like the Palm Springs Art Museum, the Forever Marylin statue, and the Walk of the Stars Palm Springs. Visiting this landmark street is a must for all tourists in the city!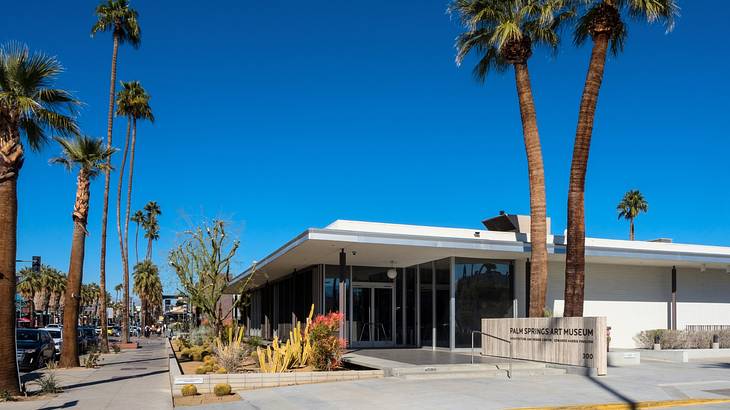 Palm Springs Art Museum
The Palm Springs Art Museum is one of the top cultural attractions in Palm Springs, CA, and the biggest cultural institution in the Coachella Valley.
Centrally located in Downtown Palm Springs, the California landmark houses a permanent collection of around 12,000 pieces, including sculptures and paintings. The gallery also features temporary exhibitions and is home to the Annenberg Theater.
In Conclusion
The stunning city of Palm Springs has an array of one-of-a-kind landmarks to check out. Whether you like exploring the outdoors, going to museums, or visiting historical attractions, this list will have shown you that there's something for you in this part of Southern California!
Want to keep exploring?
Subscribe for discounts on tickets and hotels and our latest guides.
Thank you for subscribing
We will be in touch soon with discounts on tickets and hotels and our latest guides.
Want to keep exploring?
Subscribe for discounts on tickets and hotels and our latest guides.
Thank you for subscribing
We will be in touch soon with discounts on tickets and hotels and our latest guides.