Weekend in Denver - The Best 3 Day Denver Itinerary
Destguides may receive commissions from purchases made through affiliate links in this article.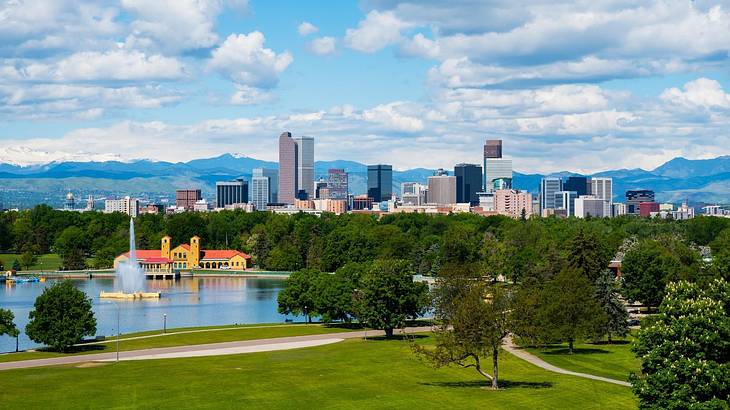 Located in the western United States, Denver is an exciting and vibrant destination that should be on every traveler's bucket list.
The city is conveniently located near Denver International Airport, and you can find a train station downtown, making Denver easy to reach for almost everyone. Even if you only plan to spend a weekend in Denver, you can still see a lot in just a few days.
This 3 day Denver itinerary will keep you organized as you get to know the city, ensuring you don't miss any Mile High City highlights! To find out which Colorado landmarks and attractions you must see in Denver, keep reading.
3 day itinerary
Average of 5 stops per day
3 Day Denver Colorado Itinerary
From Top Sights to Shopping and Sports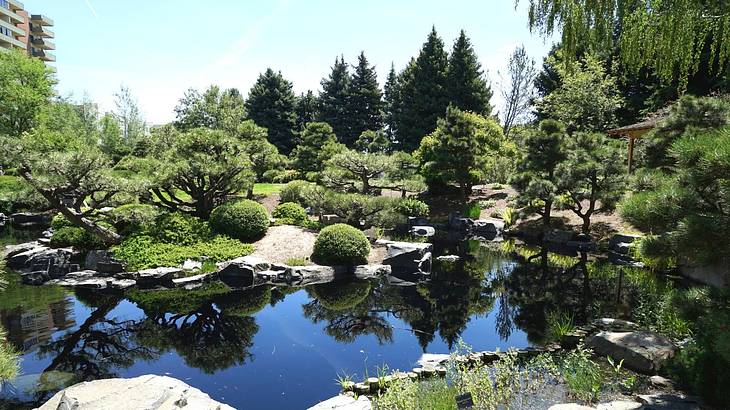 Your first day in the Mile High City will begin at the spectacular Denver Botanic Gardens. After wandering around these tranquil gardens, you'll next head to the Colorado State Capitol Building. Here you can take an informative tour before checking out the surrounding Civic Center Park.
In the afternoon, you'll pay a visit to the Denver Art Museum to view the gallery's vast collection. A range of renowned works from American and international artists can be admired there.
Your next attraction to see is Union Station. The station houses some independent shops that you can check out before grabbing dinner at one of numerous restaurants. Your evening will be spent at Ball Arena, watching a concert or catching a Denver Nuggets or Colorado Avalanche game.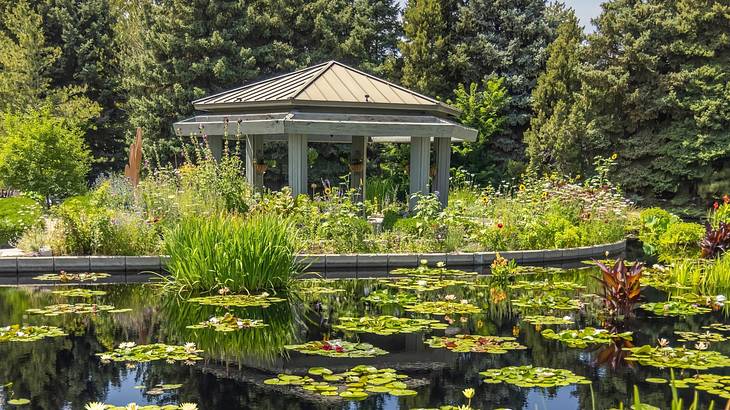 Denver Botanic Gardens
The Denver Botanic Gardens are one of the most popular attractions in Colorado. The beautiful 24-acre gardens house a variety of plant species which are showcased in indoor and outdoor gardens.
Plant and flower varieties to see include alpine plants, succulents and cacti, aquatic plants, and more. Along with admiring the manicured gardens, you'll spot water features, ponds, and sculptures throughout the gardens.
In addition, the Denver Botanic Gardens house a range of internationally-inspired displays. You can discover Japanese tea houses in the Bonsai Pavilion and Tea Garden and a South African-inspired collection, among many others.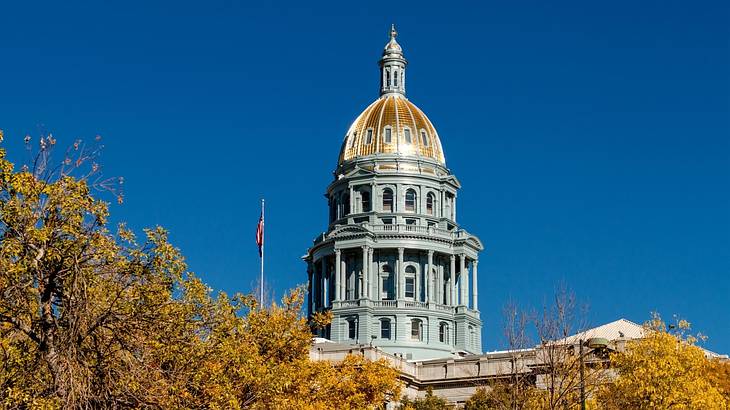 Colorado State Capitol Building
As the state capital, Denver is home to the Colorado State Capitol Building. The grand Greek-style building was opened in 1894 and acts as the office for the Colorado General Assembly and the state's governors.
When in the city, visiting this Denver landmark in Civic Center Park is a must! If you're interested in politics, then taking a tour of the building is highly recommended too.
During a tour, you'll get to view parts of the building with your guide while learning more about politics and political history in the state. You also get the opportunity to climb the 99 steps into the building's domed roof, which features an observation deck.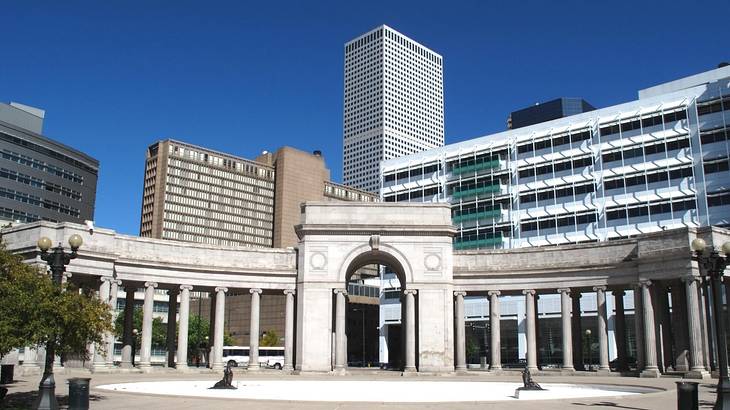 Civic Center Park
Civic Center Park is a 33-acre urban park located in downtown Denver. The park is notably home to government buildings, including the Colorado State Capitol Building.
Along with visiting the gold-roofed Capitol Building, you'll find a Greek amphitheater, water fountains, and charming flower gardens in the park. Civic Center Park is the perfect place to go for a relaxing walk while admiring your surroundings and taking some photos.
The park also frequently hosts events, including concerts, workout classes, and food truck festivals. Simply check the park website's event calendar before visiting to see what's on!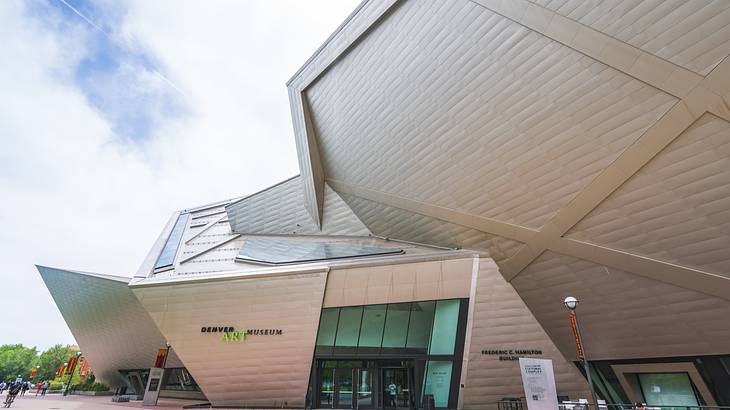 Denver Art Museum
If you're an art enthusiast, one of the most exciting stops on your Denver weekend itinerary will be the Denver Art Museum. Founded in 1893, the gallery houses over 70,000 works making it the biggest art gallery on the West Coast.
Artworks to see include paintings, sculptures, and drawings by both American and international artists. Additionally, Denver Art Museum has one of the largest collections of Asian art in the Rocky Mountains, along with a substantial Indigenous art collection.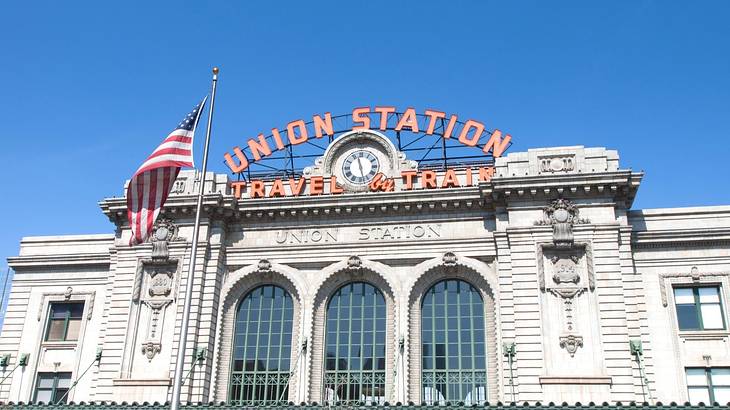 Union Station
Union Station is a transport hub in downtown Denver. It also houses a range of shops and restaurants, making it a convenient place to get something to eat.
Restaurants in the station include pizza places, Mediterranean grills, and ice cream parlors. If you want to shop, you can explore charming flower stores, bookstores, and gift shops.
If you're in Denver a little longer, you can also catch the Winter Park Express from Union Station. This scenic train ride takes you to the Winter Park Resort, where you can do snow sports or enjoy the apres-ski atmosphere.
Ball Arena
The iconic Ball Arena has been in Denver since 1999 and became "Ball Arena" in 2020 after having the name "Pepsi Center" for 21 years. Located five minutes from downtown, the 20,000-seat arena holds a range of events throughout the year.
A great way to spend an evening at Ball Arena is by attending a Denver Nuggets NBA or Colorado Avalanche NHL game. You can also watch wrestling matches and lacrosse games. If sports aren't your thing, Ball Arena also hosts events like concerts.
If you want to catch an NBA or NHL game, the best time to visit Denver is between mid-October and Mid-April as both leagues play their regular season between these dates.
Discovering the Gateway to the Rockies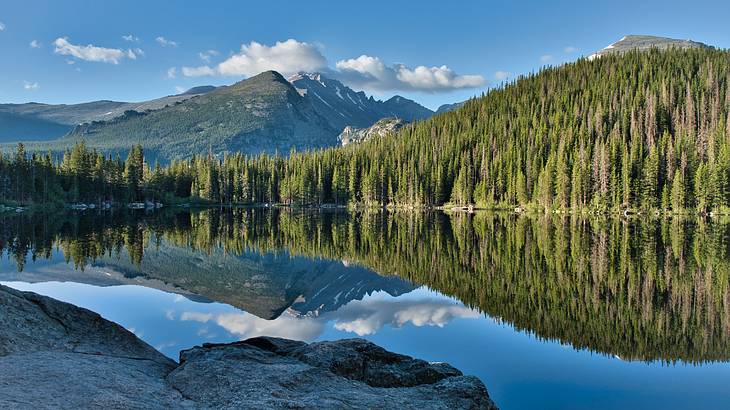 A famous Colorado nickname is the "Gateway to the Rockies." The second day of your itinerary for Denver, Colorado, will allow you to see where this name comes from with a trip to Rocky Mountain National Park. At the park, you can hike and take in the spectacular views.
Once back in the city, you can relax with a drink or some spa treatments at the Brown Palace Hotel & Spa. Afterward, you can partake in some retail therapy at the open-air 16th Street Mall.
If visiting Denver during the winter, a great place to stop next is at the Downtown Denver Rink for some festive ice skating. Lastly, you'll head to Larimer Square to shop, sip on craft cocktails, and sit down to a delicious dinner.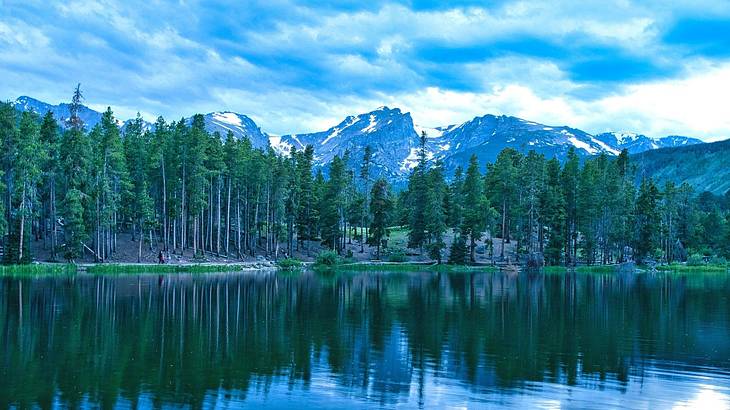 Rocky Mountain National Park
Rocky Mountain National Park is undoubtedly one of the best parks on the West Coast of the United States. It's also the highest park on the West Coast, with mountain peaks reaching 12,000 feet in height.
Located just an hour and a half from Denver, Rocky Mountain National Park is a must-see and easily accessible attraction. At the park, you can hike some of the over 400 miles of trail found there. As you explore, you'll be met with views of snow-capped mountains, dense forests, and alpine lakes.
You're also guaranteed to spot wildlife, with the park being home to numerous bird species, reptiles, and mammals. Animals you could see include elk, moose, bears, and even mountain lions.
If unsure how to best get around the park, consider going on a Rocky Mountain National Park tour. This experience will ensure you see all the best parts of this iconic attraction.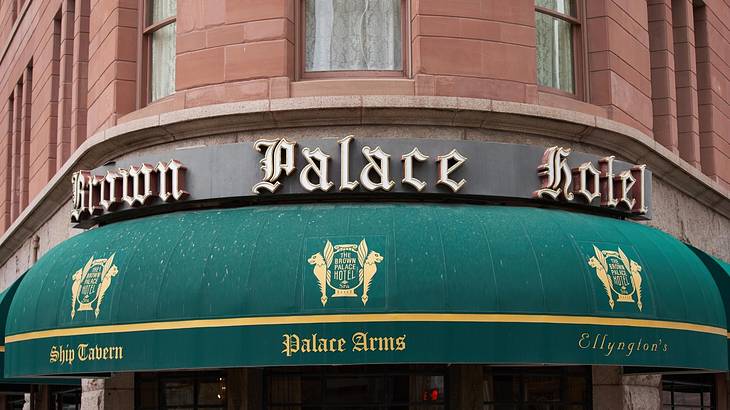 Brown Palace Hotel & Spa
An ideal way to relax after a busy day or so of activities is going to Brown Palace Hotel & Spa. The luxury hotel features a spa, as well as two stylish bars and multiple dining options.
If you're really looking to unwind, be sure to spend some time at the spa. You can choose from various treatments, including massages, facials, and manicures. As you relax, you can also enjoy champagne or tea.
Afterward, you can head to the bar for a craft cocktail or enjoy a decadent afternoon tea, among other dining options. A trip to Brown Palace Hotel & Spa is especially recommended for couples visiting Denver!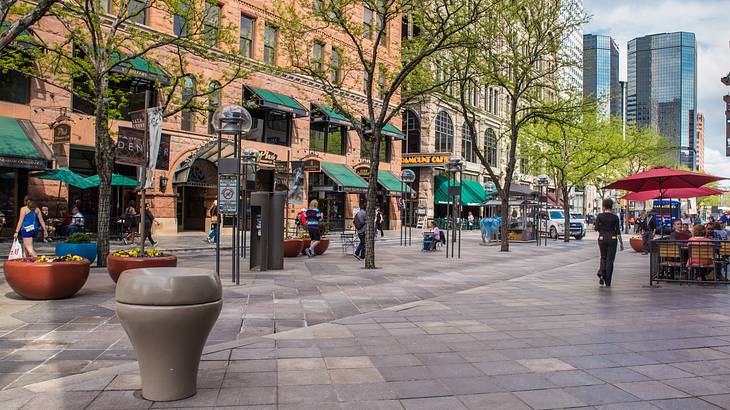 16th Street Mall
Denver's 16th Street Mall is a pedestrian mall that covers approximately one and a quarter miles of street. The shopping mall offers visitors an array of stores and restaurants to choose from.
Shops you can check out include gift and confectionery stores, chain shops like Banana Republic and H&M, and some independent shops. A selection of coffee shops, dining outlets, and bars are also found here.
If looking to grab a drink, options range from cocktail bars to local cafes. Dining options include pizzerias, oyster bars, Mexican restaurants, and much more.
Adding a stop at the 16th Street Mall to your long weekend in Denver itinerary allows you to pick up some souvenirs or treat yourself to something special.
Downtown Denver Rink
If you're visiting Denver in the winter seasons, ice skating at the Downtown Denver Rink is a great way to get into the holiday spirit. Also known as the Southwest Rink at Skyline Park, the rink generally operates from the last week of November through February.
Those that want to skate can bring their own pair or you can rent skates for affordable rates. Once on the ice, you can practice your skating moves while enjoying the pretty lights that surround the rink.
There may also be events while you're visiting, such as DJ nights and family-friendly events. Free skate lessons are offered throughout the season as well.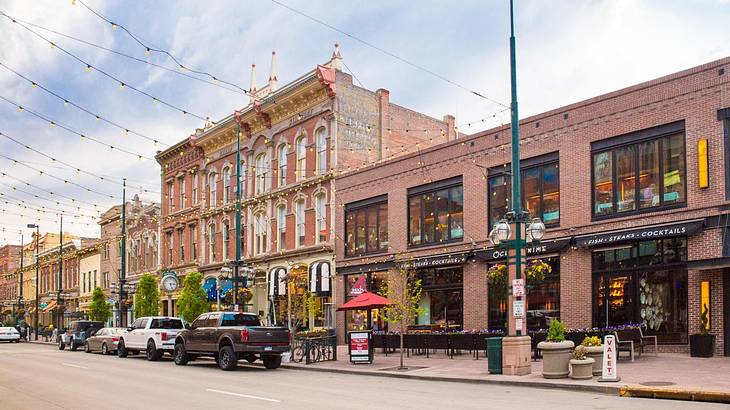 Larimer Square
Larimer Square is a trendy area of downtown Denver that houses bars, shops, and restaurants. The lively area of the city offers locals and tourists alike lots of fun things to do.
For those wanting to shop, a selection of luxury and independent stores are found in Larimer Square. Items on offer include jewelry, flowers, and vintage clothing.
After having explored the shops, you can visit a stylish bar or high-end restaurants. Places to eat and drink range from French Bistros and steakhouses to wine bars and craft beer spots.
You'll also find a comedy bar in Larimer Square, and events are hosted throughout the year, such as movie nights and scavenger hunts.
A Quick Road Trip, plus Gourmet Eats and Craft Beer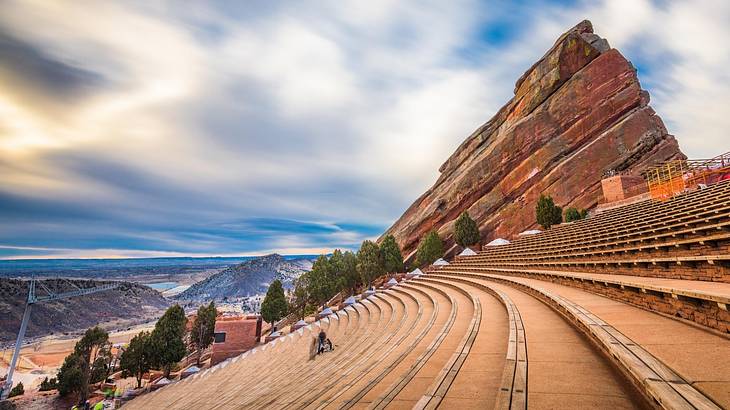 The last of your three perfect days in Denver will begin with a trip to Red Rocks Park and Amphitheatre. At this interesting park, you can hike and catch a show or event at the theater. If the show you want to see is on later in the day, move this trip to where it works with your schedule!
The second place to check out on day three is the Denver Central Market. You can pick up some gourmet snacks at this high-end food market before going over to the River North Arts District.
In this trendy neighborhood, you can shop, look for street art, and try some craft beer and cocktails. This theme will keep going through your next activity, a pub crawl on the Denver Beer Trail. You can end the day by heading back to your favorite area or eatery for dinner.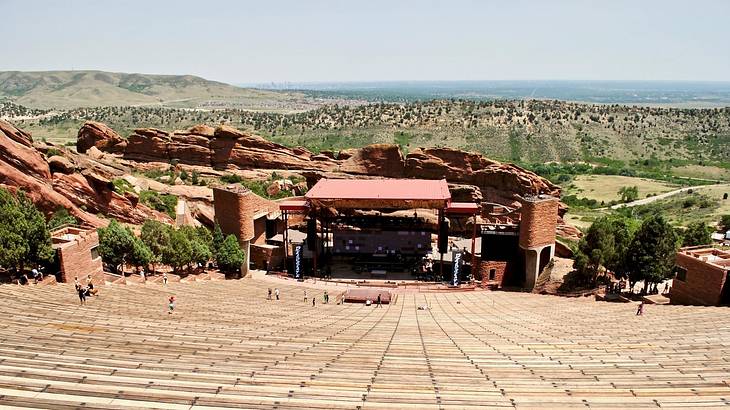 Red Rocks Park and Amphitheatre
Red Rocks Park and Amphitheatre is a Colorado landmark located 30-minutes from Denver. The park is known for its open-air amphitheatre that's built directly into the surrounding red rocks.
At the park, you can watch a live performance in the outdoor theater. A range of genres of show are available to watch depending on when you visit, including concerts and comedy shows. Outdoor movies are also played, and you can even attend workout classes.
You also have the opportunity to explore more of the park. Hiking trails are abundant, and following them allows you to admire the scenery and spot wildlife.
Denver Central Market
There's no denying that Denver has lots of great bars and restaurants to try! One of the can't miss food-based destinations in the city is Denver Central Market.
This food hall features luxury and gourmet products from a range of vendors. Stalls and eateries to shop at sell everything from Italian food and sweet treats to salad and smoothies.
In addition to food, a range of local artists showcase their works at the market. You can discover some cool street art-style pieces and purchase one-of-a-kind canvases and other artworks.
River North Arts District
A must-see area during your three perfect days in Denver is the River North Arts District, also known as RiNo. The trendy neighborhood features independent stores, cool street art and galleries, and a selection of unique bars and restaurants.
While in the area, stopping for a craft beer or cocktail is a great idea. If you can't decide where to go, trying a River North Arts District beer walking tour is an ideal way to try a few bars in the area. This experience allows you to check out four local breweries, and you can taste samples at each.
Denver Beer Trail
Denver offers visitors lots of places to get craft beer. There are so many great breweries in the city that a Denver Beer Trail has been created! The beer trail includes over 100 brewpubs in a range of neighborhoods. Areas the trail covers include RiNo, downtown Denver, Five Points, and East Denver.
Just a handful of the bars and breweries to visit are River North Brewery, Jagged Mountain Brewery, 10 Barrel, and Epic Brewing. No matter where on the trail you visit or how many of the over 100 bars you go to, you're guaranteed to have an amazing time trying delicious local beers.
In Summary
Hopefully, this Denver trip itinerary will help you see everything the city has to offer! Whether this is your first visit to the Mile High City or you've been before, you're guaranteed to fall in love with this laid-back destination.
Give us feedback about this article
Learn more about Denver:
More articles about Colorado:
Read more articles about the United States:
More visual stories related to this article:
---
---
Want to keep exploring?
Subscribe for discounts on tickets and hotels and our latest guides.
Thank you for subscribing
We will be in touch soon with discounts on tickets and hotels and our latest guides.
Want to keep exploring?
Subscribe for discounts on tickets and hotels and our latest guides.
Thank you for subscribing
We will be in touch soon with discounts on tickets and hotels and our latest guides.
Related articles