25 Denver Landmarks for Your Bucket List
Destguides may receive commissions from purchases made through affiliate links in this article.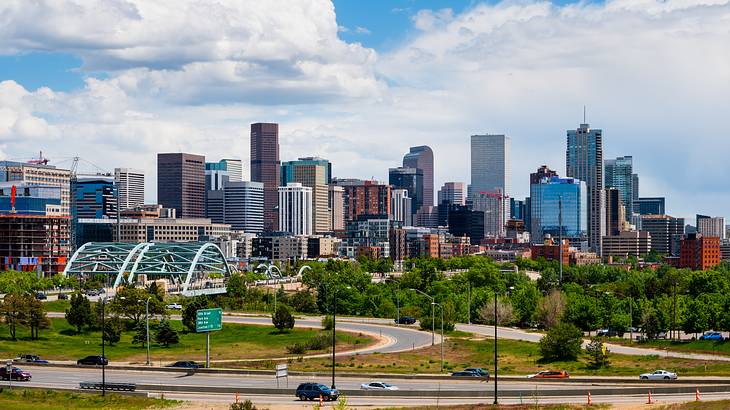 Known as the Mile High City, Denver sits at a whopping 5,280 feet above sea level. It's one of the highest cities in the United States and one of the most visited, with over 30 million travelers a year.
Denver is full of outdoor adventure, with more than 300 parks offering everything from hiking and biking to whitewater kayaking and rock climbing. In addition, the lively downtown area has museums, historical buildings, and much more. To discover all the sites to see, keep reading for 25 of the most famous Denver landmarks!
25 Landmarks in Denver
Denver, Colorado, Landmarks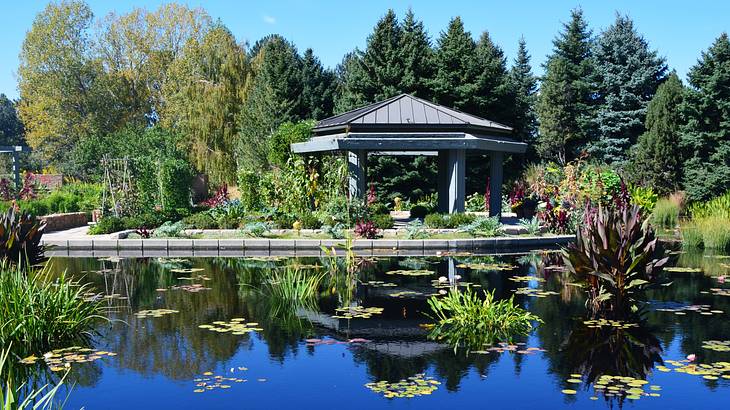 Denver Botanic Gardens
Known as one of the top five botanic gardens in the nation, Denver Botanic Gardens boast over 23 acres of lush greenery, flowers, and trees. Ponds, fountains, and artistic statues add to the theme of peace and tranquility that the gardens are known for.
It's estimated that over one million visitors come to Denver Botanic Gardens every year, making it one of the top Denver tourist attractions. The gardens also hold special events, including flower shows, musical performances, and light displays. It's especially busy in the summer, which is one of the best times to visit Denver.
RiNo Art District
Where art comes to life, the RiNo Art District is a unique blend of art galleries, live performance studios, and outdoor art. A walk down these bustling streets is filled with large-scale murals, sculptures, and lively cafes and breweries.
If you're feeling creative, many studios offer art classes, from painting to glass blowing and everything in between!
16th Street Mall
A premier shopping, dining, and gathering place in the heart of downtown, the 16th Street Mall is one of Denver's top tourist attractions. This outdoor shopping mall is over a mile long and has more than 250 stores.
You can walk, bike, or take the free shuttle to explore all the shops, and there are also coffee shops, bars, and cafes to stop at for refreshments. There's so much to do here; the 16th Street Mall deserves a spot on your Denver itinerary!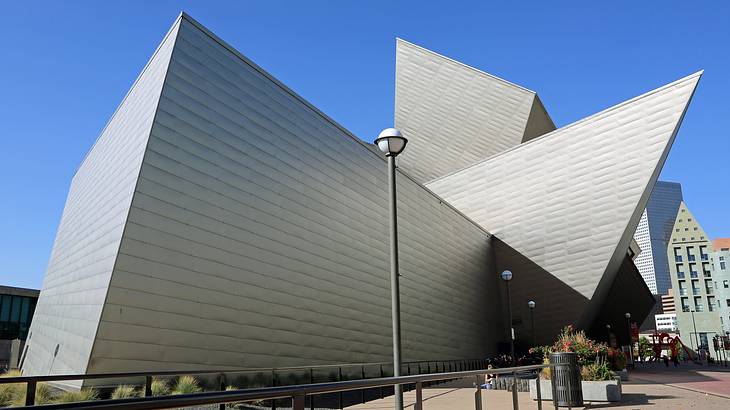 Denver Art Museum
Founded in 1893, the Denver Art Museum is one of the oldest and largest art museums in the US. It holds a whopping 70,000 art pieces from around the world. You can easily spend a few hours or even a whole day there admiring the vast collection of global art.
The Denver Art Museum also hosts painting classes, artist workshops, lectures, symposiums, and other educational opportunities. To round out your visit, the museum has two on-site restaurants and a shop full of unique art-themed souvenirs.
Byron White Courthouse
One of the most famous historical buildings in Denver, the Byron White Courthouse, was completed in 1916 and has been a noteworthy landmark ever since. The structure spans over 244,000 square feet and is clad in Colorado Yule Marble.
Massive columns and statues of native Colorado bighorn sheep adorn the grand entrance of this Neoclassical-style courthouse. Its dramatic architecture, grand size, and artistic details make it a very popular photo spot, including for couples who often take their wedding photos on the steps of this grand old building.
Denver Beer Trail
Denver is widely known for its craft beer scene and the aptly named Denver Beer Trail showcases over 100 breweries, pubs, and taprooms across the city. Beer lovers can grab a map and explore on their own or partake in one of many brewery tours offered throughout.
With a brew for every taste, you'll find everything from classic IPAs, stouts, and fruity sours to the more eclectic oyster-flavored and gummy bear beer. Yes, you read that right; Denver takes its beer seriously but not too seriously!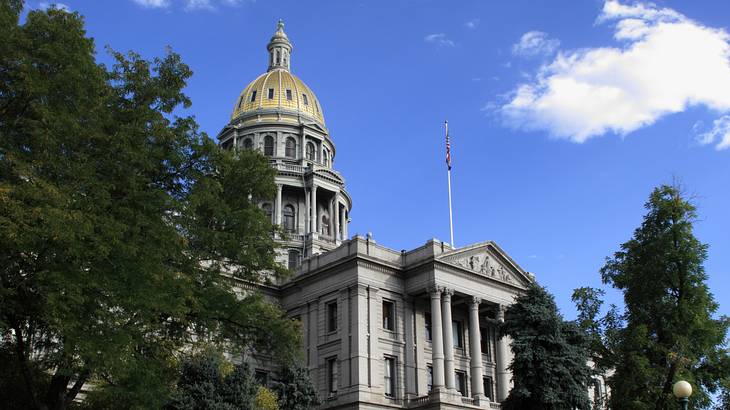 Colorado State Capitol
The Colorado State Capitol was completed in 1894 and is one of the most famous buildings in Denver. With its impressive Neoclassical-style architecture, the capitol is adorned with elegant stained glass windows and a gilded dome. Interestingly, the inside is outfitted with the only known supply of Colorado rose onyx, a rare rose-colored marble.
Today, it remains a working State Capitol building, with the state legislature and the governor's office housed inside. Tours of the capitol are available on weekdays when guests can climb the famed 99 steps to the dome observation tower to get a great view of the grounds.
Colorado Convention Center
If you're coming to Denver for an event, there's a good chance you're headed to the Colorado Convention Center. A hub of local and global events, the Colorado Convention Center hosts everything from technology conferences to comedy shows and beer festivals.
In addition, the Colorado Convention Center must be seen for its ornate architecture and displays of public art. You can admire the outdoor sculptures dotted around the grounds, while unique art installations and paintings can be found throughout the center's halls.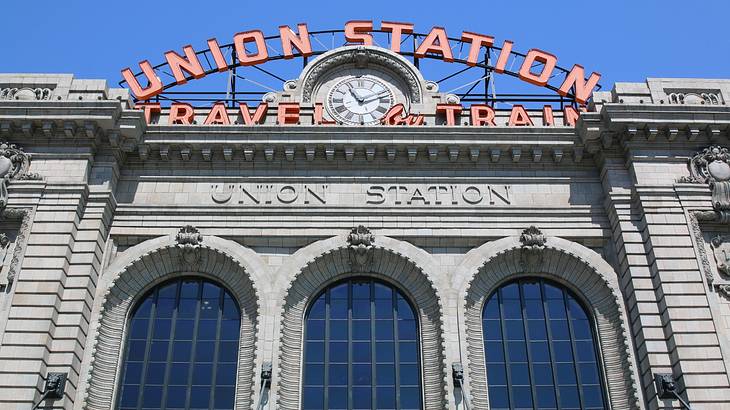 Denver Union Station
Rivaling Grand Central Station in New York City, Denver Union Station is a famous and charming train station and one of the most historical places in Denver.
Completed in 1881, Denver Union Station has had several upgrades over the years but still retains its old-world charm. Elegant bronze chandeliers, Roman numeral clocks, and plush tufted couches greet travelers with more than a touch of old-fashioned splendor.
Part transportation hub, part dining and entertainment complex, Denver Union Station has numerous bars, restaurants, shops, and an on-site hotel. Even if you are not traveling by train to Denver, the station is still a worthwhile stop for a night out in the city.
Denver Public Library
The Denver Public Library was founded in 1889 and is on the National Register of Historic Places. The building has undergone multiple restorations, most recently in 2020, and is now a massive multi-story, 540,000-square-foot community hub of information.
The library holds a collection of over two million pieces, including books, photographs, music, and videos. It's a great place to learn some interesting facts about Colorado! The outside is equally impressive with its ornate post-modern architecture.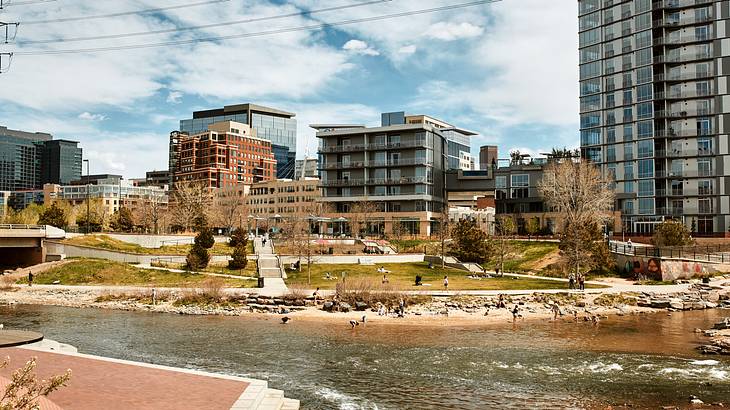 Confluence Park
Confluence Park is a unique area where the Cherry Creek and South Platte rivers meet, creating a series of small rapids. Notably, it's a favorite spot among kayakers.
In the summer, kayakers, as well as tubers and swimmers, come from all over to test their skills on the whitewater. There is also a small sandy beach to relax on at the river's edge.
Coors Field
If you're visiting Denver during baseball season (March through October) a visit to Coors Field is a must! There's nothing quite like catching a home game of the Colorado Rockies or sipping a cold beer at the iconic Sandlot. The Sandlot was the first brewery established inside a Major League Baseball Park.
During the off-season, you can still tour the venue and get a behind-the-scenes look at one of the most famous ballparks in the US!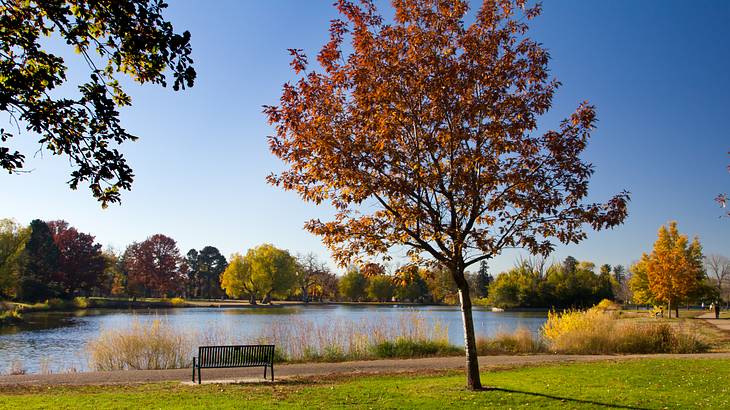 Washington Park
With its sparkling lakes and endless flower gardens, Washington Park is one of Denver's most popular green spaces. It's the perfect place for a picnic or an afternoon stroll and has numerous walking paths and bike trails.
Those looking for adventure on the water can rent paddleboards, kayaks, and canoes and head out on one of the two lakes within the park.
Meow Wolf
A sister site to the famous gallery in Santa Fe, Meow Wolf opened in 2021 and has quickly become one of the top Denver sites of interest. This gallery combines elements of digital art, light, and sound to create a unique, immersive art experience.
Upon entering Meow Wolf, you will move through different "portals" that will challenge all your senses in various ways.
Denver Historical Sites
Larimer Square
Known as "the beating heart of Downtown Denver," Larimer Square has been a cultural hub since the late 1800s. Historically, Larimer Street was the city's very first block, and many of the buildings are original 19th-century Victorian, with trademark brick facades.
Larimer Square has a little bit of everything. You can grab a cocktail or a bite to eat at one of many restaurants and lounges. There's a plethora of stores to browse, or you can even catch a comedy show or live music. It's the perfect place to stroll, dine, and shop while soaking up the area's history.
Humboldt Street Historic District
Home to a stretch of scenic houses built between 1895 and 1920, the Humboldt Street Historic District is a favorite among architecture enthusiasts and history buffs. The houses are styled in Renaissance Revival, Colonial Revival, and Georgian Revival architecture.
Humboldt Street was the first residential area to be declared historic by the Denver Landmark Preservation Commission in 1978. This beautifully preserved block of homes is a popular stop among Denver's historical tours.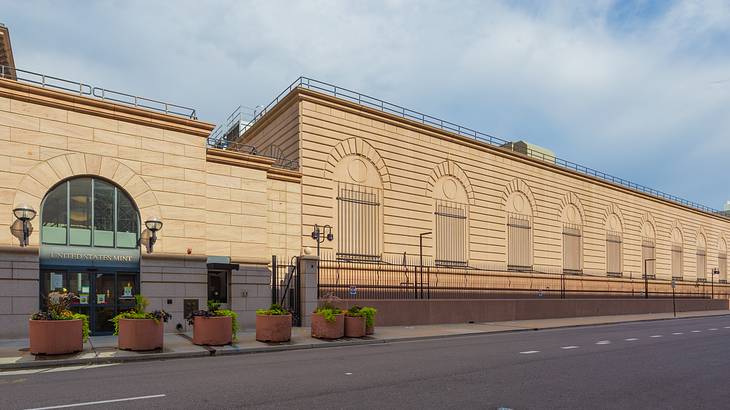 Denver Mint
The Denver Mint is another charming historical building in downtown Denver that has produced currency since the mid-1800s. The facility was originally a producer of gold bars during the Colorado Gold Rush. It also made silver coins when Colorado was known as the Silver State, one of Colorado's many nicknames over the years.
Around the turn of the century, it came under the operation of the government to produce currency. Today, the Denver Mint is still fully operational and produces billions in US currency. You can take a behind-the-scenes tour to see how the money is made and learn about the building's history.
Molly Brown House Museum
Constructed in 1889, the Molly Brown House is one of the most popular Denver sights and attractions. The Victorian-style house was once home to Margaret Brown, a well-known turn-of-the-century socialite and philanthropist who survived the sinking of the Titanic.
The Molly Brown House Museum preserves Mrs. Brown's fascinating life story. Inside the home, you'll get an up-close look at original furnishings, her personal artifacts, and some exhibits related to the Titanic.
Nicknamed the "Unsinkable Molly Brown," Mrs. Brown was one of the Titanic's most famous survivors. As the ship went down, Mrs. Brown was lauded for her help in getting other passengers to safety. After the tragedy, she led charity efforts to assist the survivors who lost loved ones.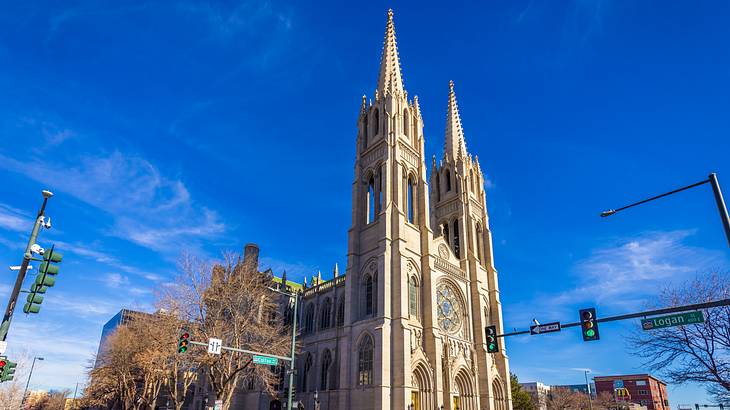 Cathedral Basilica of the Immaculate Conception
One of the oldest churches in Denver, the Cathedral Basilica of the Immaculate Conception, is widely admired for its incredible architecture. Built over a century ago in the French Gothic style, the building features Italian marble pillars, colorful stained glass windows, and two 210-foot spires.
The Cathedral Basilica of the Immaculate Conception is a popular Denver site for those interested in history, theology, or architecture.
The Brown Palace Hotel and Spa, Autograph Collection
The Brown Palace Hotel has been a Denver icon since it opened its doors in 1892. Known for its luxurious amenities, elegant decor, and five-star hospitality service, the hotel has been a favorite among travelers for over a century. It has even served many presidents, foreign diplomats, royals, movie stars, and musicians.
Whether you plan to stay at the hotel or not, The Brown Palace Hotel is still worth a visit. Many come to admire the historical architecture, dine in one of the restaurants, or enjoy a cocktail in the opulent lounge.
Denver Monuments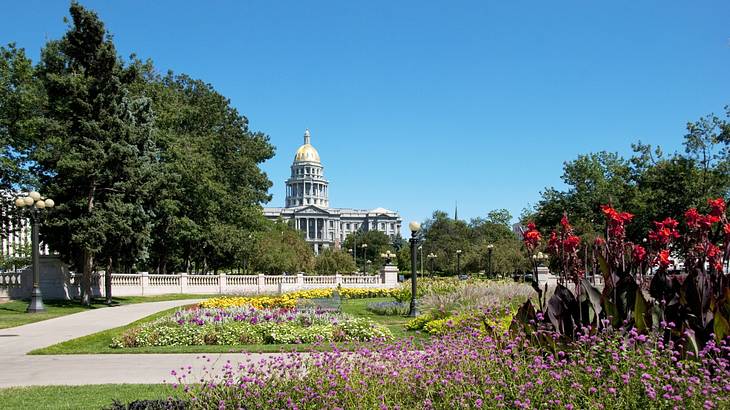 Civic Center Park
Known as the "civic and cultural heart of Denver," Civic Center Park is a 12-acre urban park that borders the Colorado State Capitol. This sizeable open-air area has artistic landscaping, flowers, fountains, and walking paths.
There are also many monuments in the park, like the Colorado Veteran's Monument, a 30-foot tall sandstone pillar honoring veterans of the armed forces. Additionally, you'll see the Voorhies Memorial Fountain, the Greek Amphitheater, and statues of historical figures.
Joseph Addison Thatcher Memorial
A beautiful monument sculpted in 1918 to represent the state of Colorado, the Joseph Addison Thatcher Memorial is on display in City Park. The monument features a bronze statue of a woman holding a sword and the Colorado state shield.
She is surrounded by three other figures who represent loyalty, learning, and love and are known as the three virtues of Colorado. A fountain and gardens surround the monument offering a quiet place of reflection and admiration for this unique art piece.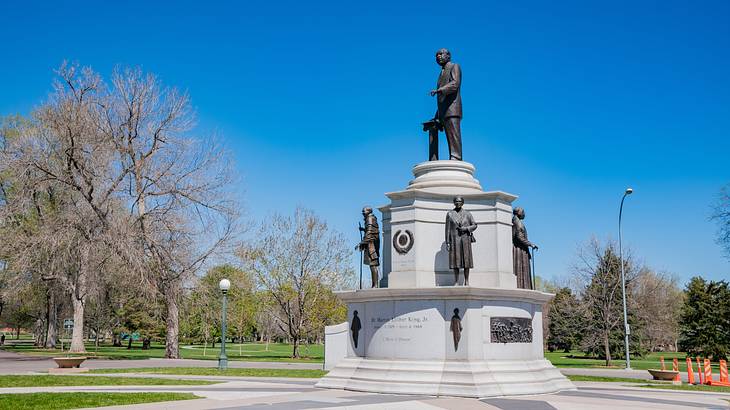 Martin Luther King Jr. Memorial
Located in Denver's popular City Park, the Martin Luther King Jr. Memorial features a bronze statue of Dr. King on a marble base. Around the base stand statues of other notable Civil Rights activists, Fredrick Douglas, Sojourner Truth, Mahatma Gandhi, and Rosa Parks.
The monument is surrounded by an open green space and walking paths offering a beautiful and peaceful place of remembrance.
Babi Yar Park
Babi Yar Park was completed in 1982 as a memorial to the victims of the Babi Yar Nazi Massacre in Kyiv, Ukraine. This is a place of education, remembrance, and reflection.
A collection of stone pillars, inscribed plaques, and a grove of lindens have been placed to represent the 200,000 victims of the massacre. Beautiful yet somber, this Colorado landmark is a must-see commemorating one of the darkest times in history.
Jack Swigert Memorial Statue
If you're arriving through Denver International Airport, take a moment to admire the finely detailed Jack Swigert Memorial Statue. A native of Colorado with a storied past, Jack Swigert was a University of Colorado football player, mechanical engineer, fighter pilot, astronaut, and politician.
Swigert was most famous for his "Houston, we have a problem" distress call on the historically ill-fated Apollo 13 mission. He later received a Presidential Medal of Freedom for his role in the safe return of the spacecraft after an equipment failure endangered the mission.
In Summary
This is just the tip of the iceberg relating to Denver's top places to visit. From exploring Union Station to walking through Civic Center Park, there is much to see and do in the Mile High City. Whether you have just a few hours or a few days in the city, be sure to check out some of these famous Denver landmarks!
---
---
Want to keep exploring?
Subscribe for discounts on tickets and hotels and our latest guides.
Thank you for subscribing
We will be in touch soon with discounts on tickets and hotels and our latest guides.
Want to keep exploring?
Subscribe for discounts on tickets and hotels and our latest guides.
Thank you for subscribing
We will be in touch soon with discounts on tickets and hotels and our latest guides.
Related Articles