20 Famous Landmarks in Delaware You Have to Visit
Destguides may receive commissions from purchases made through affiliate links in this article.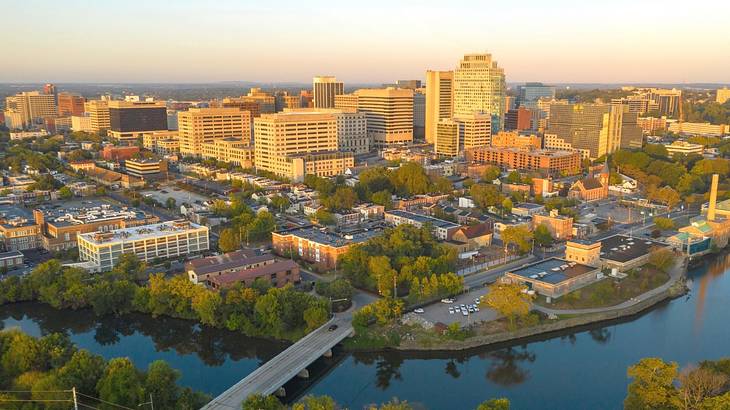 Located on the Northeastern coast of the United States, Delaware is a great option when wanting to visit a beautiful destination in the USA.
Although most people plan their Delaware itinerary around well-known beach spots, there are plenty of other exciting places to visit in the state. Delaware is, in fact, a mosaic of natural beauty combined with culture and national historic landmarks.
Bathed by the Atlantic Ocean, the second-smallest state in the U.S. has a lot to offer. Surprisingly, there are quite a few famous landmarks in Delaware to see, despite its small size.
Measuring a mere 35 miles at its widest point, Delaware is an absolute dream for beach lovers, nature buffs, and history aficionados! Ready to dive in? Continue reading to learn more!
20 Famous Delaware Landmarks
Air Mobility Command Museum
Have you ever wondered where old airplanes retire? Well, some of them go to the Air Mobility Command Museum in Dover, one of the most cherished historic places in Delaware. The Air Mobility Command Museum is unique because it is the only one in the U.S. dedicated to airlift and refueling history.
The museum houses an interesting collection of vintage aircraft ranging from WWII propellers to modern four-engine jets. You can also enjoy exciting flight simulators and fascinating tours. The best aspect, however, are the warm and friendly volunteers, who are retired restorers and veterans.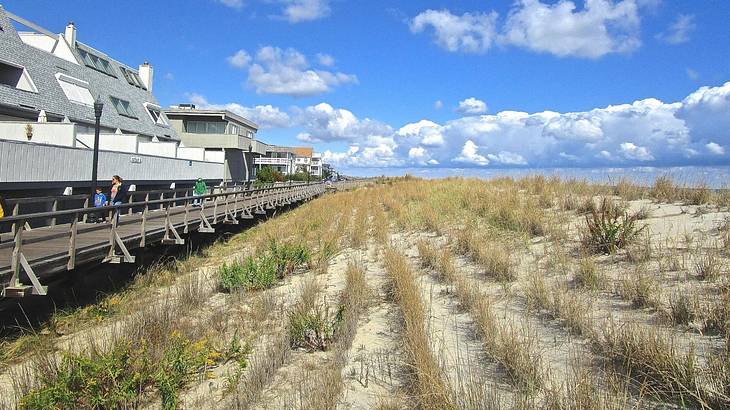 Bethany Beach
Bethany Beach is one of the three seaside towns in Delaware dubbed "The Quiet Resorts." One of the prettiest beaches in the state, its 1-mile-long boardwalk in the downtown area is a popular Delaware landmark.
Featuring restaurants, shops, ice cream parlors, and the traditional hand-cut French fries stands, a stroll along the boardwalk is a relaxing experience.
Golf and beach events are other popular activities in the town. Of course, it goes almost without saying that you can swim, sunbathe, or simply relax at the white-sand beach.
Brandywine Creek State Park
Brandywine Creek State Park is located a mere 3 miles from Wilmington. Harboring the Brandywine Creek, this state park is home to the first two nature reserves in Delaware: Tulip Tree Woods and Freshwater Marsh.
The 933 acres that cover the park were once part of the Dupont estate and Dairy farm. In fact, the gray stone walls built in the 1800s to protect the farm are still standing and are considered in and of themselves historical landmarks in Delaware.
Brandywine Creek State Park is a wonderful place for hiking, running, and bird watching along the creek. Its calm waters are also great for swimming and kayaking. During the winter, sledding and cross-country skiing are popular activities.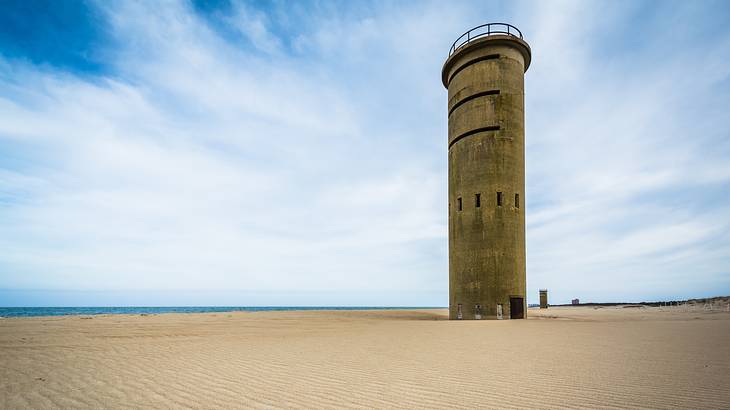 Cape Henlopen State Park
Cape Henlopen State Park features the perfect mix of beach fun, outdoor adventure, and history rolled into one. You can spend a lovely day at the beach swimming or sunbathing, then hike or bike for a while to explore the park.
Afterwards, you can head to the Fort Miles Museum, one of the most important historic sites in Delaware. Here, you can learn about the state's role in WWII, which was when the fort was used to protect the Eastern coast of the United States from possible attacks.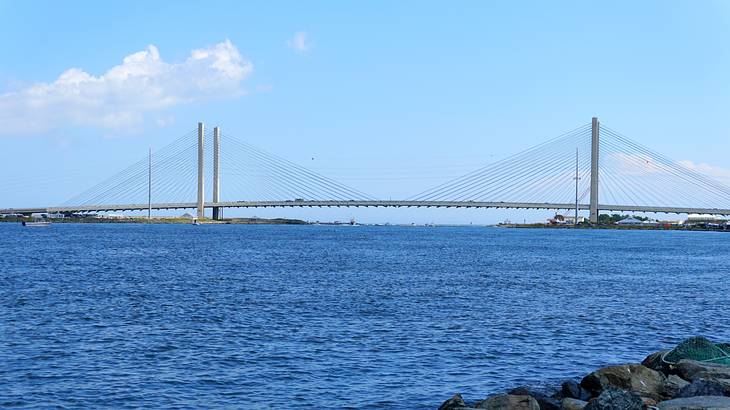 Delaware Seashore State Park
Delaware Seashore State Park is another gem where you can have your pick at enjoying the white-sand beach, reveling in nature, or visiting national historic landmarks, all in one day!
Don't miss walking to the top of the Indian River Inlet Bridge. Here, you'll get a stunning view of the Delaware coastline and its 26 miles of shores along the Atlantic and the state's inland bays.
Hike one of the trails at Burton Island Preserve or visit the Indian River Life-Saving Station. Sea rescuers operated from this historic place in Delaware to save lives more than 100 years ago.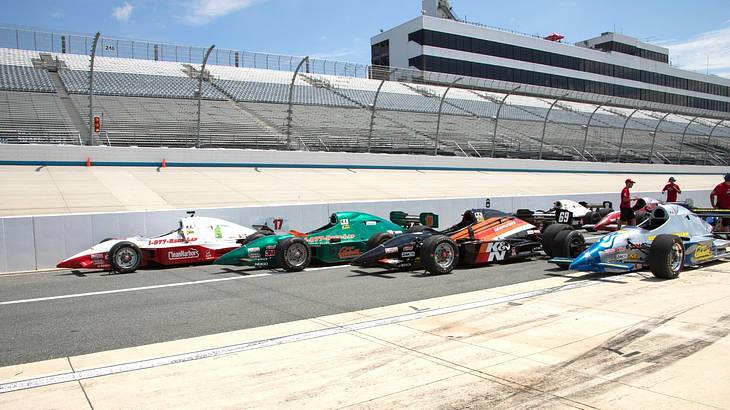 Dover Motor Speedway
One of the most famous landmarks in Delaware is the Dover Motor Speedway, where NASCAR race weekends have been taking place annually for more than 52 years.
Also known as the Monster Mile because of its difficulty level, the Dover Motor Speedway is the ideal place for an exciting weekend for visitors of all ages.
A Fanzone for meeting the drivers is available, as well as on-site campgrounds if you're an invested fan wanting to immerse yourself fully in the racing vibe.
Fenwick Island Lighthouse
Fenwick Island Lighthouse is another famous historic landmark in Delaware. Built to help seamen avoid dangerous shipwrecks that were commonplace in the Fenwick shoals, the lighthouse tower is 87 high. It was lit for the first time on August 1, 1859, with whale oil and a special lens that helped the light beam shine 15 miles into the ocean.
Today, the iconic lighthouse is considered an important heritage piece of Delaware's history. A group of volunteers who help with its preservation are happy to offer tours on the grounds below.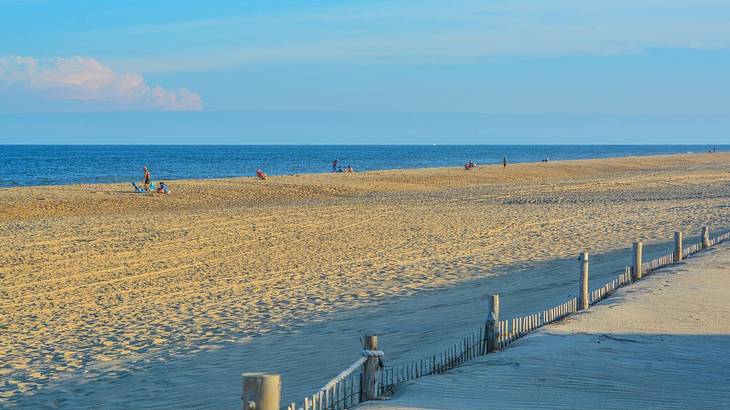 Fenwick Island State Park
Fenwick Island State Park is a gorgeous barrier island located on the Southeastern tip of Delaware, right on the border with the state of Maryland.
Three miles of white-sand beaches with access to the Little Assawoman Bay make up this coastal park where you can swim, sail, kayak, or fish to your heart's content. You can also search for ghost crabs!
Home to another one of the special historical sights in Delaware, a fire control tower that dates back to WWII, Fenwick Island Park also features all kinds of amenities, including a modern bathhouse, beach chairs, and special mats for wheelchair access to the beach.
First State Heritage Park
First State Heritage Park is quite unique because it is the first urban park without boundaries. Delaware is also the first state to ratify the United States Constitution, and thus, the first state to join the union.
Needless to say, the city of Dover, which is the state's capital city, is brimming with historical landmarks and national monuments in Delaware. This urban park will allow you to stroll around while transporting you back in time.
Tour guides in period dress will take you around the Dover Green, a historic district where many events in the history of the United States took place. You will have the opportunity to visit the John Bell House, Old State House, Legislative Hall, Public Archives, and a few museums.
Fort Delaware State Park
The fort at the Fort Delaware State Park was built in 1859 to protect the ports of Philadelphia and Wilmington, but it ended up being used to keep Confederate prisoners of war.
You have to take the ferry ride from Delaware City to Pea Patch Island to access the place. Once you arrive at the island fort, you'll find people in period dress cooking over fires and blacksmithing. A cannon show featured in the afternoon is fun to watch.
Hagley Museum & Library
Hagley Museum and Library is located in the place where the Dupont Company founded their original black powder works in 1802.
The remnants of the factory, along with the first home built by the Dupont family in America, are open to the public. 235 acres of land along the Brandywine River give testimony to how the day-to-day life used to be.
Besides learning about history, you can stroll around and relax in one of the pretty gardens surrounding the magnificent mansion.
John Dickinson Plantation
The John Dickinson Plantation offers a bittersweet opportunity to connect with America's past. It was the first museum in the United States dedicated to telling the story of the people who lived on a wealthy plantation.
When here, you will get an insight into the stories of the farmers, indentured servants, and enslaved people who spent their lives at this historic landmark in Delaware.
Situated in the Dover area, the plantation belonged to John Dickinson, one of the United States' founding fathers. It features the original brick home, reconstructed farm buildings, and the living quarters of the servants and enslaved persons. The plantation is one of the monuments in Delaware every history enthusiast must visit.
Mason-Dixon LIne
The Mason-Dixon line in Newark is another famous landmark in Delaware that tells a tale about how life used to be in the past. The imaginary line was drawn in 1764 by surveyors Mason and Dixon, who were hired to set the boundaries of the Calvert and Penn family properties.
The survey results finally resolved the dispute, but they also established the boundaries of the states of Delaware, Maryland, and Pennsylvania.
The irony is that both families lost their properties a few years later during the War of Independence, but the first crown stone marker remains in place, protected by an iron cage.
New Castle Court House Museum
If you want to visit the exact place where the state of Delaware was born, head to The New Castle Court House Museum. This small historic landmark in New Castle was built in 1732 as a courthouse.
At New Castle, the counties of New Castle, Kent, and Sussex declared their independence from Pennsylvania and England in 1776, and that's how the First State came to be.
Guided tours are available to learn about the importance of this site, which eventually became the state capitol building and today is one of the most famous places to visit in Delaware.
Old Swedes Historic Site
Did you know that there was a colony of Swedish and Finnish settlers who established themselves in Delaware almost four centuries ago? Not many people know about this, but they arrived in what is now Wilmington.
Old Swedes Church is one of the few surviving structures of that legendary community in the Delaware Valley. Built in 1698, and having survived the test of time until today, it is one of the oldest buildings in the area.
If you want to learn more about their life in the state, you can visit the church and its burial ground, two Delaware famous landmarks,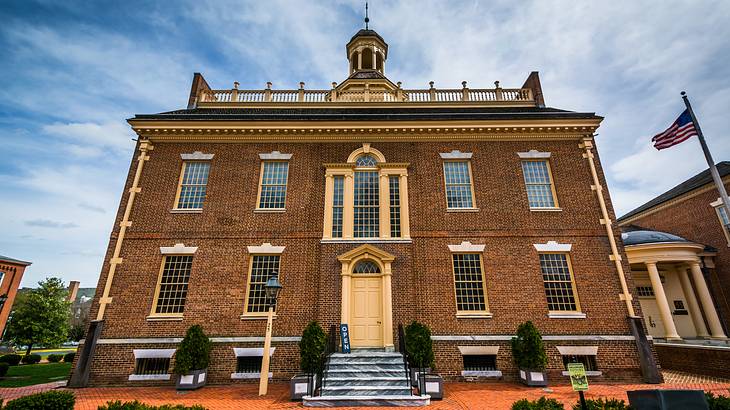 The Old State House
Built in 1791, the Old State House in the Dover Historic District served as Delaware's capitol during the United States' first years as an independent county.
The building continued to serve as the state capitol until 1933, when they moved to a new building and turned this one into a museum, which is one of the myriad of Delaware sights to see.
The colonial building has been carefully preserved, and it is quaint and beautiful. Home to legislators' desks, documents, and paintings, guided tours are recommended so you can get the most out of your visit.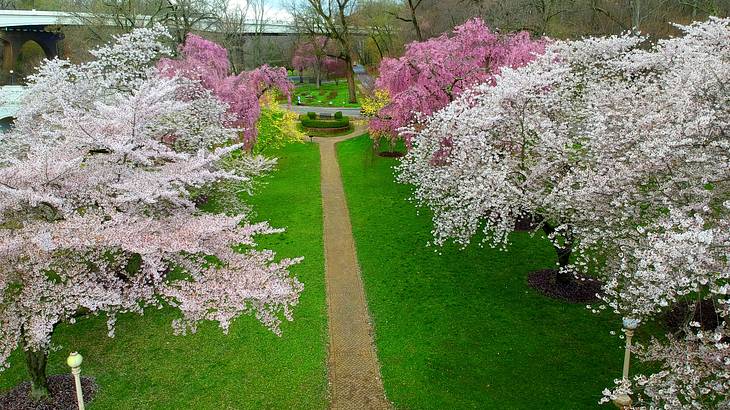 Wilmington State Parks
Wilmington State Parks is a fantastic network of parks in Wilmington. Brandywine, Rockford H. Fletcher Brown, and Kentmere Parks, as well as Hobbs Property, are situated within Wilmington State Parks.
A vast array of activities are available for visitors and locals alike. You can check out the Jasper Crane and Rose Garden, Josephine Fountain, Rockford Tower, and the Sugar Bowl. Historic bridges also connect the different areas where countless memorials and monuments are situated.
Tennis courts, exercise stations, and ballparks are also available for fitness enthusiasts as well. The cherry on top of the cake is the Brandywine River running through the place, though.
Winterthur Museum, Garden and Library
Winterthur is another famous landmark in Delaware that deserves a place on any Delaware bucket list. This splendid 175-room mansion displays a vast collection of 90,000 American decorative art pieces.
The museum is surrounded by 1,000 acres of beautiful gardens, ponds, and woodlands. The art complex is the result of founder Henry Francis Dupont making his life-long dream come true. He worked hard and sold part of his property to donate it, with a research library and graduate degree programs also being on offer.
Nemours Estate
Nemours Estate is a spectacular 77-room mansion in the Wilmington area. The 18th-century French-style mansion is surrounded by 200 acres of perfectly tended gardens that definitely deserve a visit. After all, they are the largest French gardens in the United States!
The 77 rooms in the mansion, distributed across three floors, are all exquisitely furnished and decorated. To top it off, there's a Chauffeur's Garage complete with a collection of vintage automobiles!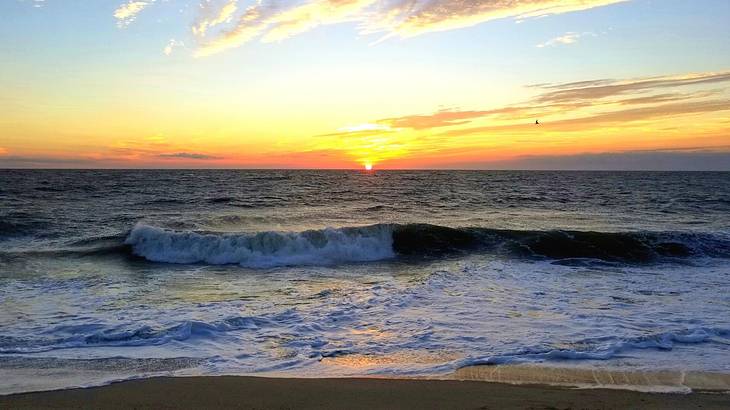 Dewey Beach
If you're yearning for ocean fun and beach relaxation, combined with dining, wining, and dancing, Dewey Beach is the perfect spot for you. If your idea of bliss is watching a sunset with a tropical cocktail in hand, Dewey has you covered!
Lying placidly between the Atlantic Ocean and Rehoboth Bay, Dewey Beach is famous for having the best nightlife of all the beach spots in Delaware. Young and young-at-heart people of all ages love to come here for a fun getaway.
This lively beach town features a white-sand beach and water sports, mixed with great restaurants, bustling bars, and live music.
In Summary
Hopefully, this list of Delaware attractions and landmarks has given you a good idea of everything the state has to offer. Whether you're a beach lover, history buff, or an outdoors adventurer, Delaware has activities and landmarks for you to enjoy!
Give us feedback about this article
More visual stories related to this article:
---
---
Want to keep exploring?
Subscribe for discounts on tickets and hotels and our latest guides.
Thank you for subscribing
We will be in touch soon with discounts on tickets and hotels and our latest guides.
Want to keep exploring?
Subscribe for discounts on tickets and hotels and our latest guides.
Thank you for subscribing
We will be in touch soon with discounts on tickets and hotels and our latest guides.
Related Articles