The Perfect Long Weekend in Key West Itinerary
Destguides may receive commissions from purchases made through affiliate links in this article.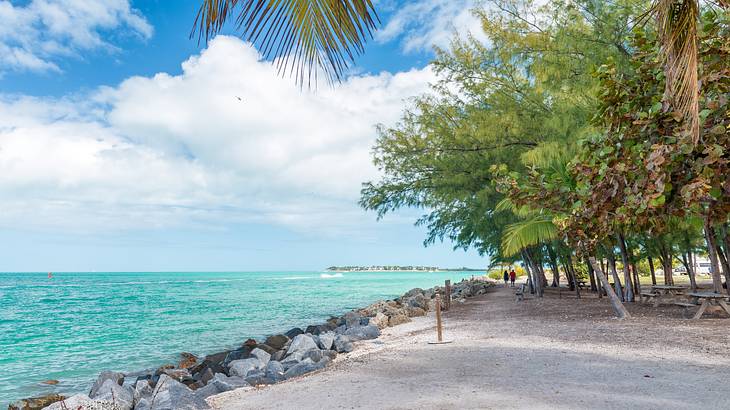 When visiting Florida in the United States, many opt to go to popular destinations, such as Orlando. However, another incredible location within the state is Key West.
This beautiful destination is part of the Florida Keys and boasts stunning beaches and unique attractions. The area is also the perfect place to visit on a road trip from Miami, being around a three-hour drive away, and makes for an ideal long weekend getaway spot. If planning a weekend escape to the area, this long weekend in Key West itinerary will ensure you see all the best attractions and landmarks!
3 day itinerary
Average of 5 stops per day
3 Days in Key West Itinerary
Key West Map
A map of Key West. Use the map to explore all the days and stops.
Aquatic Attractions and a Presidential Home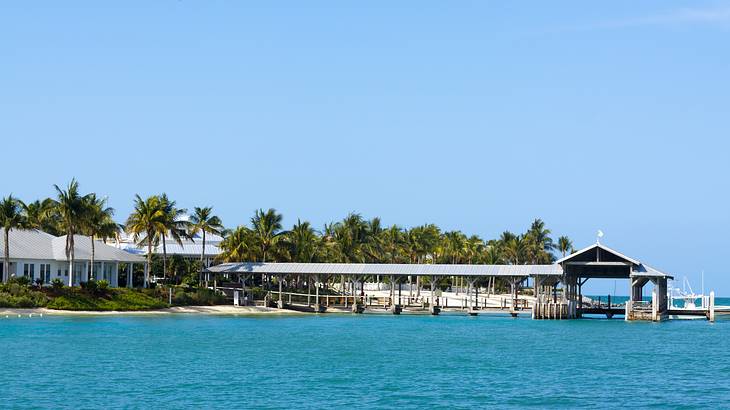 Your first day in Key West, Florida, will be spent visiting a range of marine-themed attractions, along with the winter home of a former President. Before these attractions, you'll hop on to the Old Town Trolley Tour to get a feel for downtown Key West.
The next attraction to see is the Key West Aquarium, where you can discover a range of beautiful aquatic creatures. You'll then move on to the interesting Key West Shipwreck Treasure Museum. The next place to visit, Harry S. Truman Little White House, is a little different. This presidential museum was the winter residence of President Truman.
The rest of the day will return to the marine theme by trying activities offered by Fury Water Adventures. From snorkeling to dolphin watching and cruises, it's the perfect afternoon for lovers of the ocean and water activities.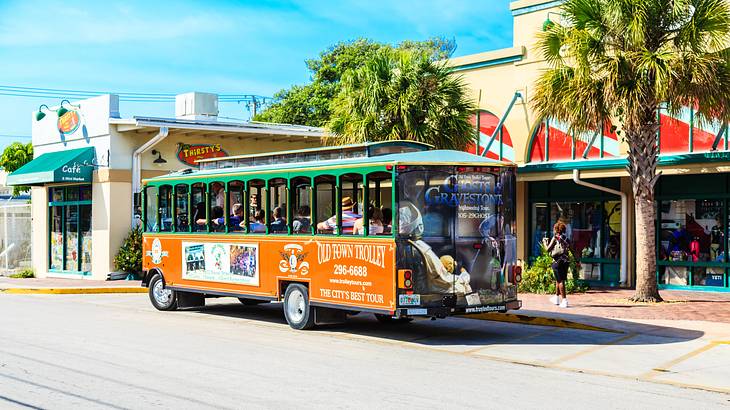 Old Town Trolley Tour
Start your Key West vacation by getting to know the area on an Old Town Trolley Tour. This hop-on-hop-off tour allows you to see a selection of Key West landmarks.
Points of interest you'll pass by include South Beach, the Southernmost Point of the US, and Fort East Martello Museum. You can hop off to explore sights that take your interest or stay on the bus and ride around to get a feel for the city.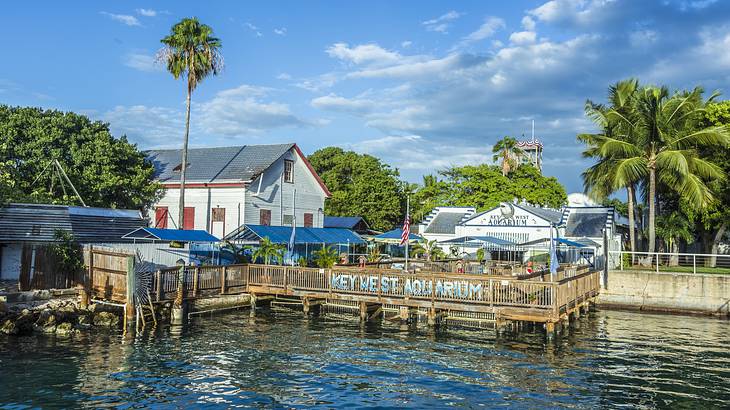 Key West Aquarium
The waters around Key West are home to amazing marine life and your next stop on your weekend in the Keys allows you to see some of these creatures up close. The Key West Aquarium is home to an array of underwater animals, waiting to be discovered.
Animals to see range from sharks and alligators to sea turtles and stingrays. You'll also spot various beautiful tropical fish and fascinating moon jellyfish. If visiting Key West with kids, the aquarium is a must-visit attraction!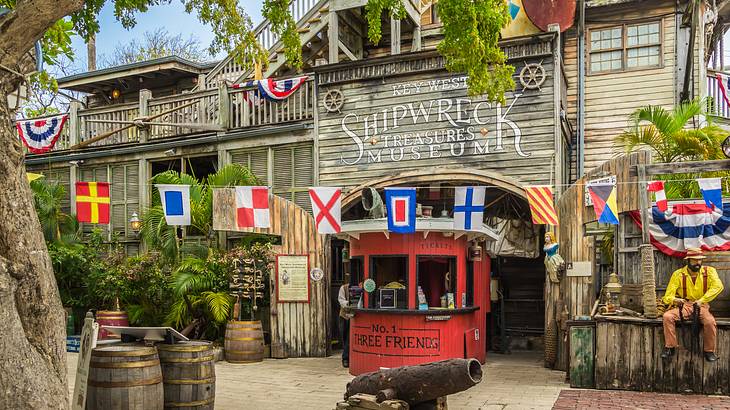 Key West Shipwreck Treasure Museum
Another fun underwater-inspired attraction to see is the Key West Shipwreck Treasure Museum. The museum features real-life artifacts as well as actors and fictional stories. There's also a 65-foot lookout tower to climb up which offers incredible views of Key West.
Other things to do at this unique attraction include climbing aboard a 19th-century ship reproduction and viewing actual shipwrecks. The Key West Shipwreck Museum is an interesting attraction that both kids and adults will enjoy.
Harry S. Truman Little White House
The Harry S. Truman Little White House was the winter residence of the former President. Famous guests that visited the home include Dwight D. Eisenhower and Thomas Edison.
Today, the home acts as a Presidential museum with information on the house's history and important former residents and visitors. Having toured the museum, you can also take in the stunning surrounding grounds.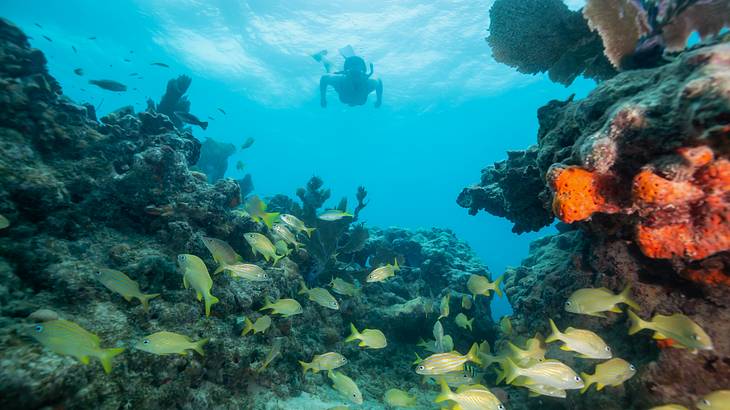 Fury Water Adventures
Getting out on the water when in Key West is a must, and you can find lots of water-based activities to try thanks to Fury Water Adventures. Exciting activities to choose from range from sunset cruises or dolphin watching to coral reef snorkeling and tackling water obstacle courses.
All activities allow you to take in the beauty of the waters surrounding Key West, and you may spot some stunning marine creatures. Whichever activity you choose, the adventure will be one of the best parts of your Key West weekend getaway!
An Exotic Day Trip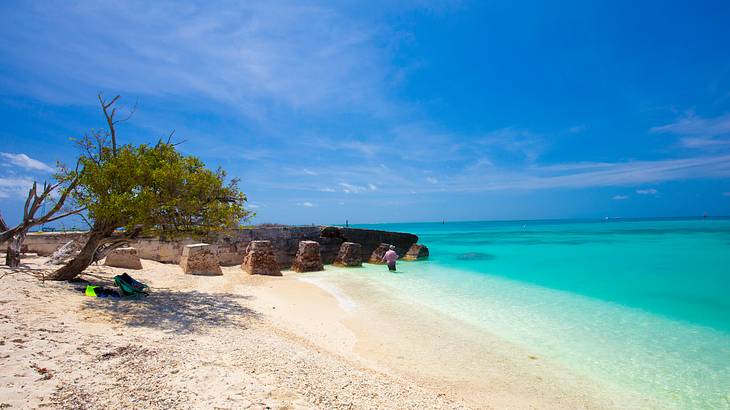 On the second day of your weekend trip to Key West, Florida, you'll be taking a trip to Dry Tortugas National Park. This island chain has stunning beaches, perfect snorkeling conditions, and a 19th-century fort. Visiting the latter, Fort Jefferson, will be your next activity. This unfinished fortress has a fascinating history and offers amazing coastal vistas.
You'll head back to Key West in the early evening to visit Mallory Square. Here you can view the beautiful sunset along with doing some shopping and grabbing something to eat. For dessert, a visit to Kermit's Key Lime Shoppe to have a delicious slice of pie is the ideal way to end the day.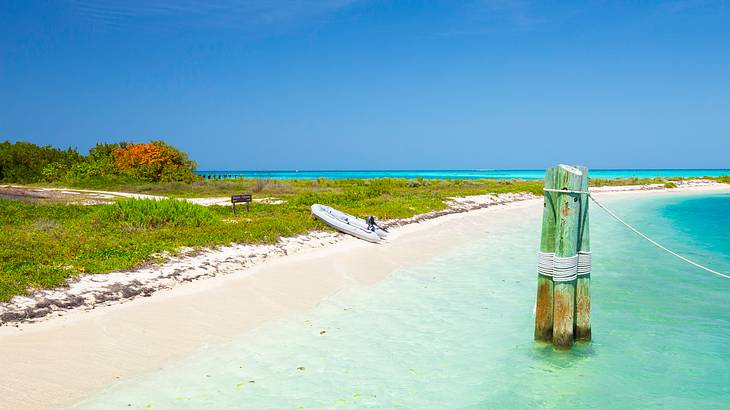 Dry Tortugas National Park
Dry Tortugas National Park is a beautiful island chain located about two hours from Key West by boat. You can also reach the area more quickly via seaplane. The park boasts beautiful turquoise waters and sandy beaches.
This stunning location is also the ideal place to go snorkeling. As the waters are shallow, even novice snorkelers can participate, and you'll spot tropical fish and coral reefs. If you enjoy birdwatching, this is an ideal place to do so as well.
To reach the island, you must take the ferry or a seaplane. Alternatively, you can reach Dry Tortugas National Park via Catamaran! A knowledgeable guide will accompany you and take you to the best places in the area.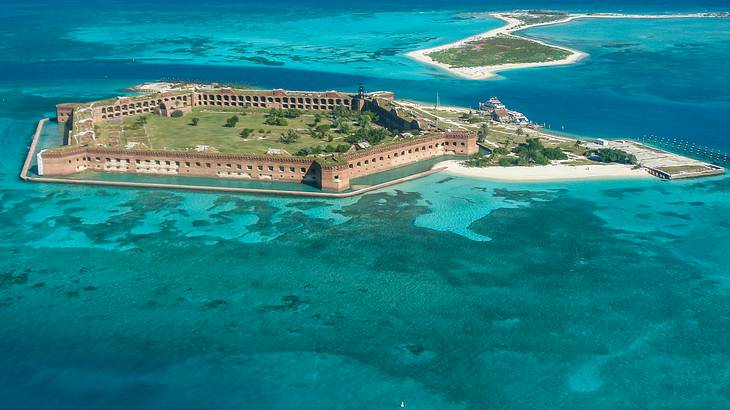 Fort Jefferson
While in Dry Tortugas National Park, you must explore Fort Jefferson. This landmark is a large unfinished fortress whose design includes over 16 million bricks. Fort Jefferson is also the third-largest fort in the US.
When looking around the fort, you'll learn about its construction and use, primarily as a Civil War base and prison. You can also take in the beautiful coastal views. Tour guides are available to show you around this fascinating attraction, or you can take a self-guided tour.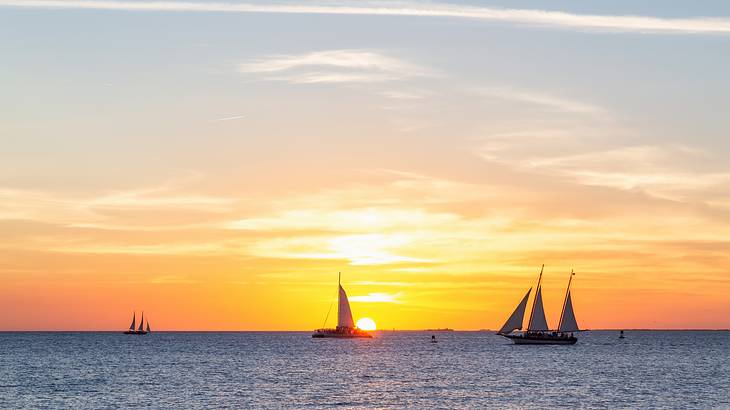 Mallory Square
Mallory Square is a waterfront area that's filled with shops, bars, and restaurants. It's the ideal place to spend a relaxing few hours shopping before spending the rest of your night at delicious eateries and fun bars.
Due to being right on the waterfront, the views from Mallory Square are also breathtaking, especially at sunset. The Key West Sunset Celebration is a free nightly event that happens at sunset and features a range of entertainers. If you want to view the spectacular sunset, doing so at Mallory Square is a must!
Kermit's Key Lime Shoppe
End your day on a sweet note with a delicious slice of key lime pie from Kermit's Key West Key Lime Shoppe. This namesake pie was created in Key West in the late 19th-century, and many say that the best slice is found at Kermit's. Other desserts to order at this location include key lime cookies and strawberry and coconut pie.
Key West's Top Tourist Spots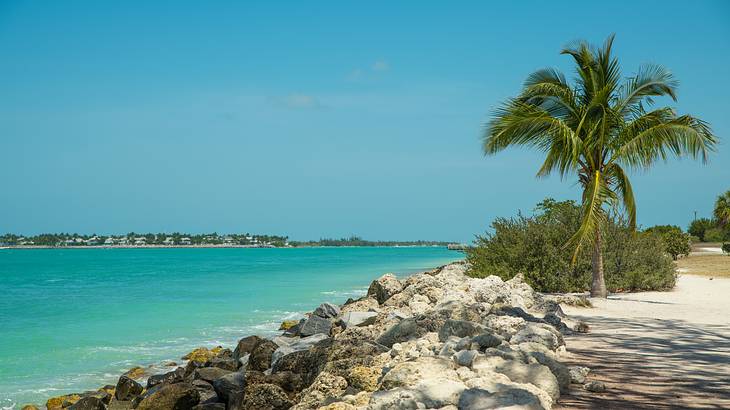 The last day of your Key West weekend getaway will allow you to see even more of the area's amazing attractions. Your day will begin at the pretty Key West Butterfly and Nature Conservatory, where you can view over 50 butterfly species. You'll then move on to the Ernest Hemingway House and Museum to learn more about the writer and spot one of over 60 cats that now inhabit the grounds.
You can then stop for a delicious lunch at Caribbean-style eater Blue Heaven before heading to the Key West Lighthouse and Keeper's Quarters Museum. Not only was this the first lighthouse on Key West, but it also had a female keeper in the 1800s, which was rare for the era. Your time Key West will finish by taking a Conch Tour Train ride and finally relaxing at the spectacular Fort Zachary Taylor State Park Beach.
Key West Butterfly and Nature Conservatory
The Key West Butterfly and Nature Conservatory is located on Duval Street and is home to over 50 butterfly species. At the conservatory, you can walk through a range of enclosures to view hundreds of beautiful butterflies. You'll also see colorful plants and tropical birds, like flamingos.
The attraction also has a learning center, where you can increase your knowledge about butterfly habitats and life cycles. Before you leave, be sure to visit the butterfly art gallery and the gift shop to pick up some pretty souvenirs.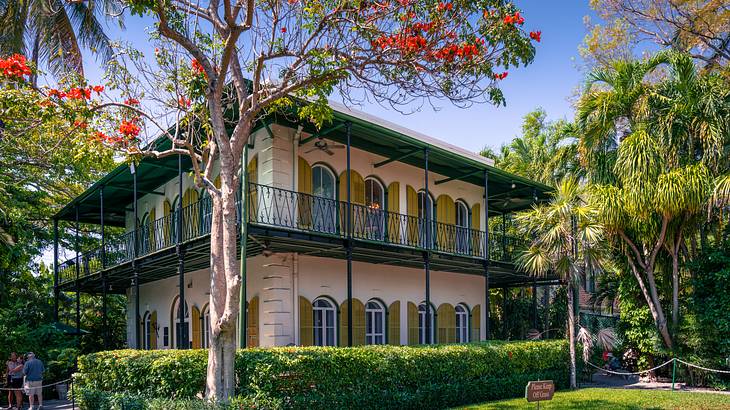 Ernest Hemingway Home and Museum
During the 1930s, Ernest Hemingway was a resident of Key West. His quaint home today acts as a museum dedicated to his life and literary works.
The living museum is decorated as it was when Hemingway lived there, and each room features informational exhibits discussing a range of topics relating to Hemingway. Once you've toured the interior, head outside to view the beautiful gardens.
Keep an eye out for the 60 resident cats too! These felines are descendants of Ernest Hemingway's cat, Snow White, and are all unique polydactyl (six-toed) cats.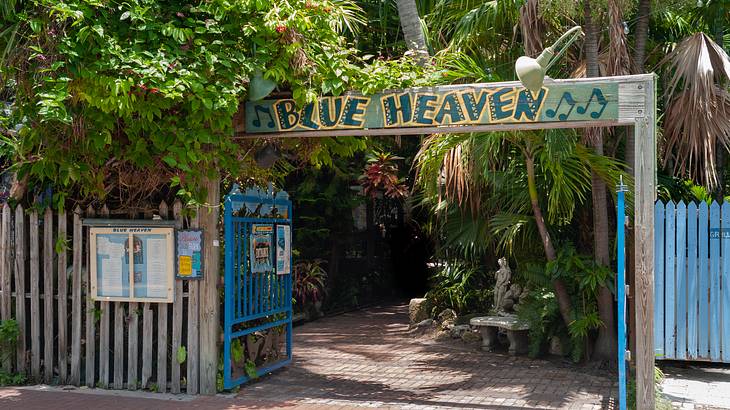 Blue Heaven
Blue Heaven is a well-known restaurant that you have to dine in at least once during your weekend trip to Key West, Florida. The Caribbean-style restaurant features bright-colored decor, tropical foliage, and a charming outdoor courtyard. There are even cats and chickens that wander around the eatery.
The restaurant serves breakfast, lunch, and dinner, along with brunch on Sundays. Dishes to order include BBQ shrimp, yellowtail snapper salad, and jerk chicken. The eatery additionally serves fun cocktails and hosts live music nights in the evenings.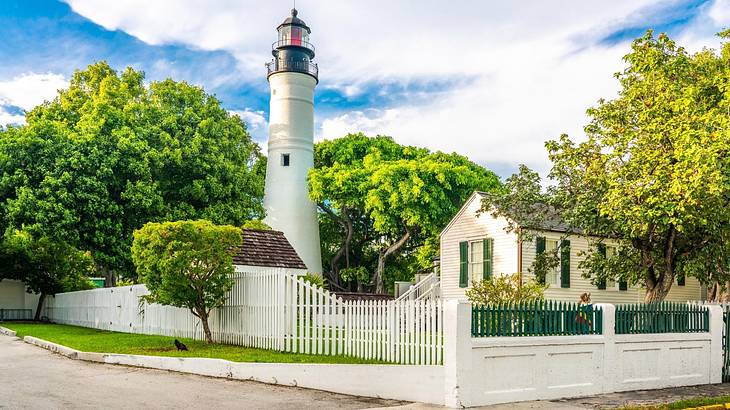 Key West Lighthouse and Keeper's Quarters Museum
This landmark was the first lighthouse constructed in Key West. The structure stands at 65-feet-tall and was built in 1825 after a US Navy base was established in the area.
While in Key West, you can visit this historical attraction and learn more about its background. You'll also learn more about the lighthouse's first keeper, who was a woman. A woman holding this position was practically unheard of in the 1800s, with the role otherwise assigned to men.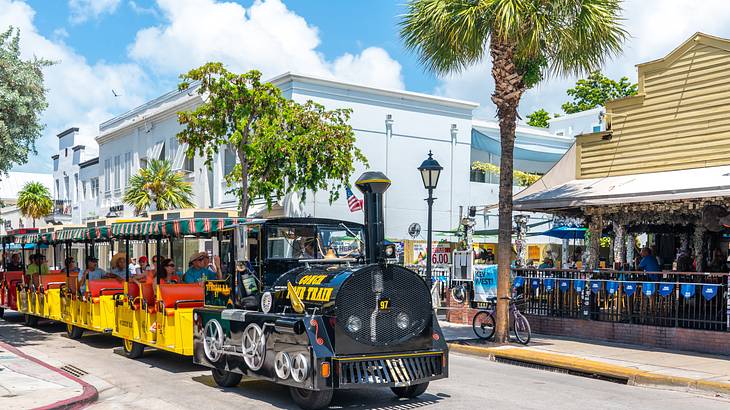 Conch Tour Train
Hopping aboard the Conch Tour Train is an ideal way to see even more of Key West's incredible attractions. The narrated tour will take you past some famous landmarks in Florida, and your driver will be able to provide local information and stories relating to everything you see. Enjoy the journey in one go, or hop off as you go past attractions you haven't yet visited.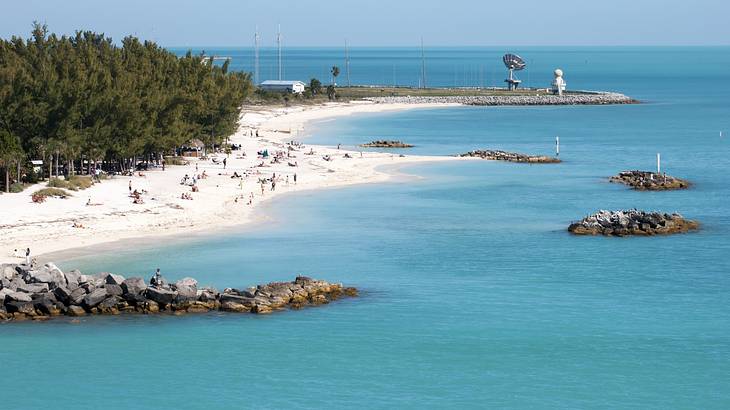 Fort Zachary Taylor Historic State Park Beach
The perfect way to end your weekend in Key West is by hanging out at Fort Zachary Taylor Historic State Park Beach. This popular beach features sandy beaches and clear, calm waters.
Fun activities to try at the beach include snorkeling, swimming, and fishing. You can also play beach games, sunbathe, or enjoy a picnic. If you stay until later in the evening, you'll also be able to watch the sunset over the ocean.
In Summary
Key West is the ideal weekend getaway destination in Florida. This scenic location offers everything, from beautiful beaches to historical landmarks and high-quality restaurants. If you can, taking a Key West weekend vacation is highly recommended.
Give us feedback about this article
For more interesting articles about United States, read:
For visual stories related to this article, take a look at:
---
---
Want to keep exploring?
Subscribe for discounts on tickets and hotels and our latest guides.
Thank you for subscribing
We will be in touch soon with discounts on tickets and hotels and our latest guides.
Want to keep exploring?
Subscribe for discounts on tickets and hotels and our latest guides.
Thank you for subscribing
We will be in touch soon with discounts on tickets and hotels and our latest guides.
Related articles