20 Kauai Attractions - The Most Fun Things to Do in Kauai
Destguides may receive commissions from purchases made through affiliate links in this article.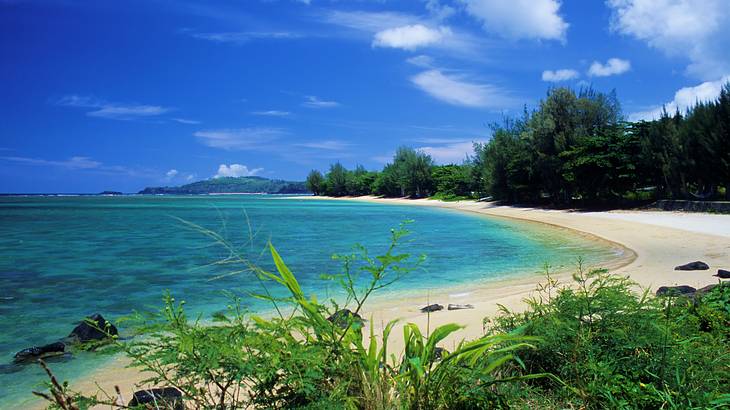 Hawaii in the United States is a popular tourist destination, and Kauai is one of the state's islands you won't want to miss. Kauai attractions range from stunning beaches to scenic nature trails and quaint farmers markets.
Some more of the fun things to do in Kauai include going whale watching, snorkeling, and attending a luau. If planning a trip to the Garden Isle, be sure to add at least a few of these activities to your vacation itinerary. A Kauai attractions map is also included below to make planning what to do and when to do it easy!
20 Things to See in Kauai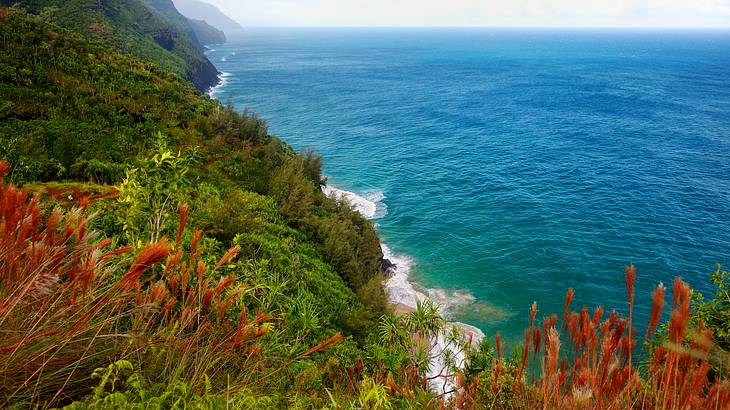 Enjoy the views at Na Pali Coast State Park
The Na Pali Coast State Wilderness Park is one of the most beautiful parks in Hawaii. This scenic state park features stunning waterfalls and greenery-lined trails.
You can also enjoy breathtaking coastal views by following hiking trails to a range of cliff lookouts. While in the Na Pali coast area, also consider visiting nearby beaches, snorkeling, or taking a helicopter ride above the forests.
Hike the Kalalau Trail
Another Kauai attraction, located in Na Pali Coast State Park, is the Kalalau Trail. This beautiful hike takes you from Ke'e Beach to the Kalalau Valley and past Hanakapiai Falls.
If intending to try this trail, note that it's recommended for experienced hikers. If you want to hike the whole trail, camping along the way will be necessary. While you will have to obtain a camping permit, sleeping under the Hawaiian stars is well worth it!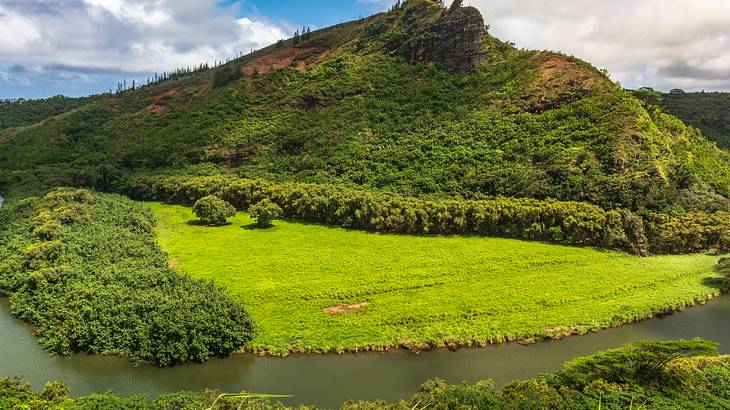 Kayak at Wailua River State Park
One of the best places on Kauai for outdoor activity lovers is Wailua River State Park. This park features dense green forests, rivers, and waterfalls. A fun activity to try here is kayaking on Wailua River.
When going on a kayaking tour, you'll be provided with equipment, and a knowledgeable guide will accompany you. On this kayak tour, you'll get to hike in the lush forest and discover the serene Sacred Fall waterfall.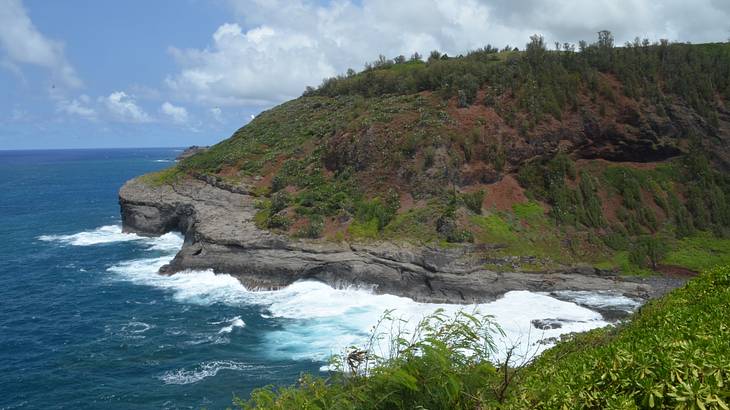 Visit the Kilauea Point National Wildlife Refuge
Kilauea is home to the Hawaiian landmark of Kilauea Lighthouse However, another of the must-visit places in Kilauea is the Kilauea Point National Wildlife Refuge.
This wildlife reserve protects various animals that you can spot as you explore the park-like refuge. Creatures you may see include Hawaiian geese, Laysan albatross, and hundreds of other birds. You might also see spinner dolphins, monk seals, and humpback whales in the surrounding ocean water.
Go to the museum in Koke'e State Park
Koke'e State Park is a lush park with hiking trails and a museum. If you're looking to hike, there are 18 trails in total. You can also find biking and running trails if you want to be more active.
You will additionally find a quaint museum in the park. This museum has exhibits relating to nature found in the park, on Kauai, and in Hawaii in general. When visiting, the staff can also help you choose the best trails to try, and there's a gift shop to get souvenirs at.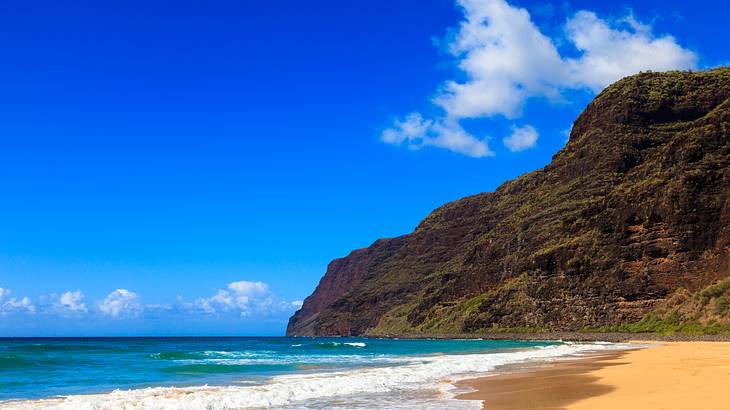 Hang out at Polihale State Park
Polihale State Park is a remote beach, and exploring this tranquil oasis is one of the must-do things in Kauai. The beach also sits on the most western point of Hawaii that is accessible to the public.
When visiting Polihale State Park, you can enjoy the ocean views and relax on the sand. Due to strong currents, swimming here isn't recommended, and you will need to walk a little way from the parking area to access the beach.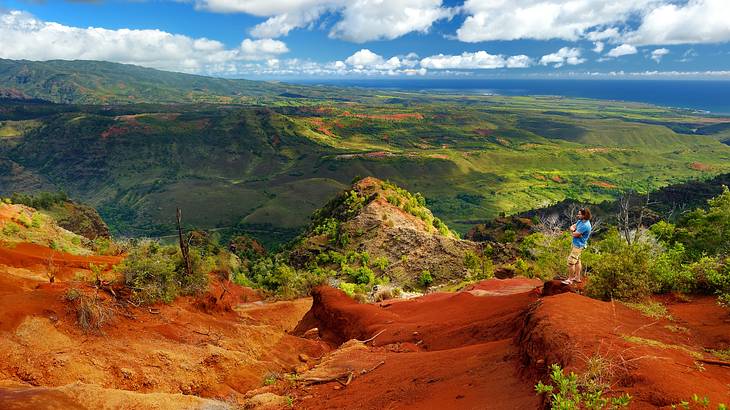 Bike at Waimea Canyon State Park
Waimea Canyon State Park is one of the most visited Kauai landmarks. There are many ways to explore this beautiful park, that's known as the Grand Canyon of the Pacific.
Along with hiking or taking a helicopter tour over the Canyon, a bike tour offers the ideal way to see Waimea Canyon State Park. You will be provided with a bike and can follow a selection of trails that will offer incredible views of the canyon and Kekaha Beach.
Spot humpback whales on a whale watching tour
Hawaii is home to many amazing marine creatures. One popular sea species to see in the state is the humpback whale. When visiting Kauai, you are likely to see these gentle giants in the waters surrounding the island.
To guarantee a humpback whale sighting, go on a whale watching tour. A fun one to try is a Catamaran Cocktail Whale Watching tour. Once aboard, you can enjoy wine, beer, and cocktails while you sail to spots known to be home to whales.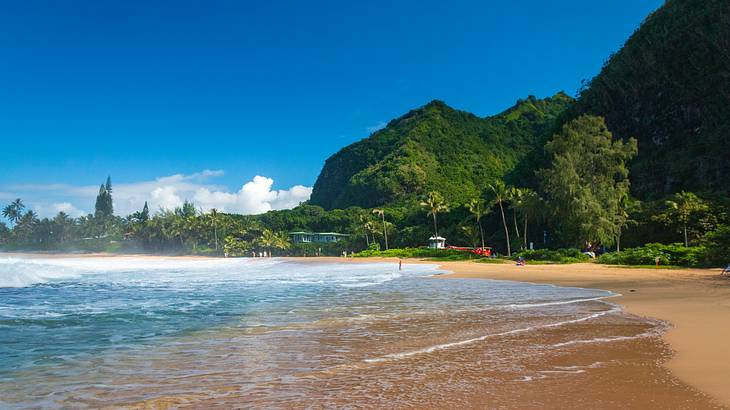 Explore Ha'ena State Park
Ha'ena State Park is another of the breathtaking parks in Kauai. This is one of the Kauai Island attractions that will appeal to all types of travelers.
Outdoor lovers will enjoy the range of hiking trails to follow in the park. If you prefer taking in pretty views and relaxing on the beach, the tranquil beach in the park is sure to appeal.
Ride ATVs around Kauai
You can discover plenty of outdoor activities in Kauai, and riding ATVs is one of the most fun. An ATV tour around the island is sure to please adventure lovers and nature enthusiasts alike.
On this tour, you ride past the Waita Reservoir and along a range of backcountry trails. These trails include those that take you past mountains and the ocean. You may even get to drive past an active volcano!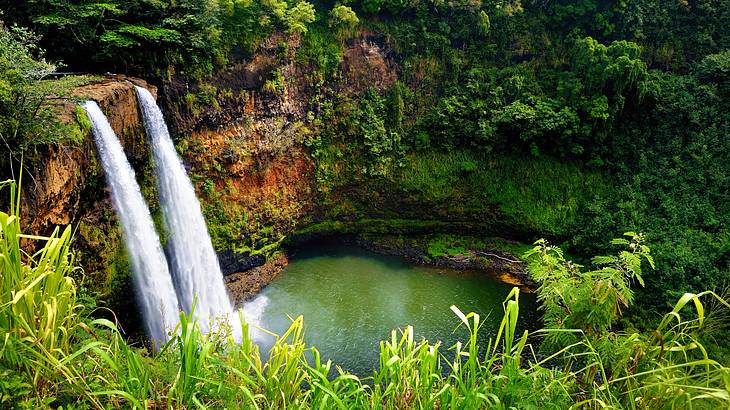 See the stunning Wailua Falls
Located within Wailua River State Park, you'll discover Wailua Falls. This breathtaking waterfall stands at 173 feet tall and is found on the South Fork of the Wailua River.
A great way to view the falls is on a Kauai waterfalls tour. Not only will you be driven most of the way to Wailua Falls, but you'll also get to see other landmarks, like Spouting Horn and the Menehune Fish Pond.
Attend a luau at Kilohana Plantation
Going to a luau is one of the must-do things in Kauai. A fun luau to attend is the Kilohana Plantation luau. The Kilohana Plantation is a sugar farm with beautiful tropical plants surrounding, an ideal luau location.
On arrival, you'll be treated to champagne and Hawaiian cocktails. You can then watch the traditional Polynesian performance while enjoying a four-course meal.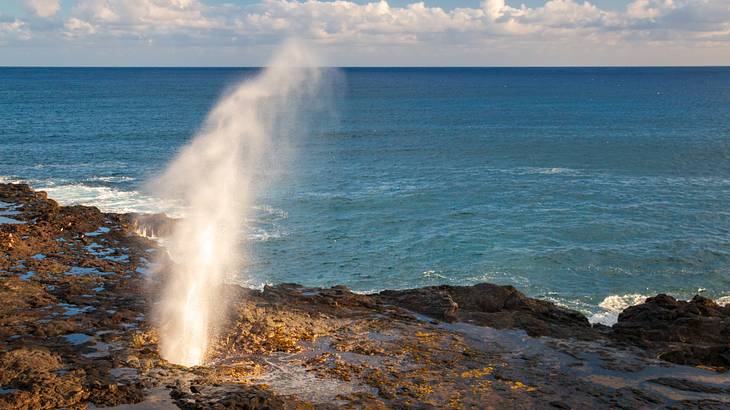 Marvel at the Spouting Horn Blowhole
Spouting Horn is a well-known volcanic rock blowhole located on the Kauai South Shore. This fascinating geological feature spouts out water at heights of up to 50 feet as waves crash against the shore.
When at the blowhole, you can view this unique phenomenon for yourself. The surrounding coastal area here is also breathtaking and well worth a visit.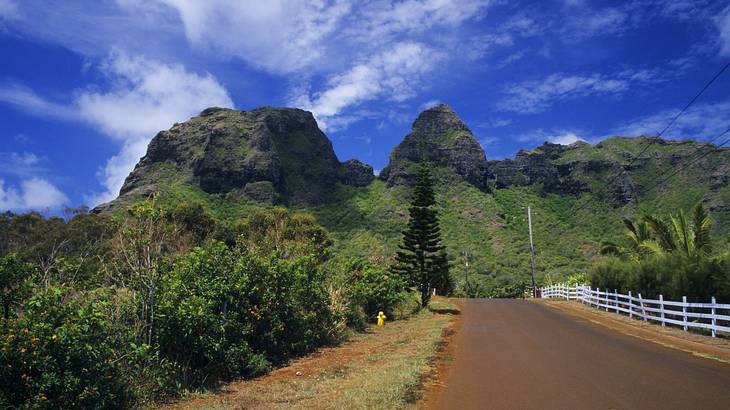 Follow hiking trails at Sleeping Giant
Sleeping Giant, also known as Nounou Mountain, is a tall greenery-covered mountain located in the west of Kauai. This is another amazing hiking location on the island and is found in Nounou Forest Reserve.
At the park, you can find a few trails taking you to the mountain's peak. Most of them take about two hours to hike and cover around five kilometers. The trail is relatively easy for all activity levels and provides stunning views the entire way up.
Eat your way around the Kauai Culinary Market
The Kauai Culinary Market is a weekly farmers market that also happens to be one of the best places to visit in Kauai, Hawaii. The market is hosted at the Shops at Kukuiula, another great dining and eating complex.
When at the market, you'll find many stalls selling local produce, and there are often food trucks serving Hawaiian dishes too. After exploring the market, be sure to check out the stores in the Shops at Kukuiula mall.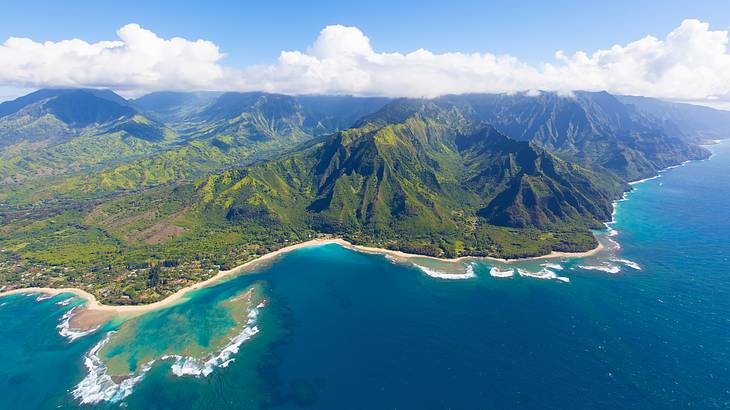 Take a Kauai helicopter tour
Taking a Kauai tour by helicopter is one of the best ways to see the island. Conveniently, you can discover a vast selection of operators offering Kauai helicopter tours.
Types of tours to choose from include eco-tours, rides that take you over waterfalls, and even "door-off" helicopter tours. No matter which style of tour you settle on, you will be able to appreciate the most stunning aerial views of Kauai.
Zipline through the forest
Another great outdoor activity to try in Kauai is ziplining. This activity takes place in the Koloa area of the island and is ideal for thrill-seekers. As you fly through the jungle on a zipline, you can enjoy the stunning surrounding views. You'll also be able to see the pretty Waiata Reserve.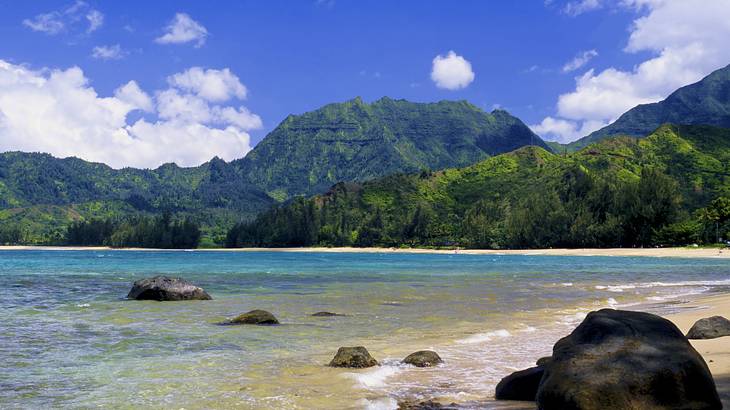 Snorkel at Hanalei Bay
With so much marine life in the area, one of the cool things to do in Kauai is going snorkeling. An ideal place to do so is at Hanalei Bay with a kayak and snorkel tour.
Once you get to this beautiful beach, surrounded by mountains, hop in a kayak to paddle to some perfect snorkeling spots. Creatures you could see when snorkeling include Hawaiian green sea turtles and many tropical fish.
Wander around the pretty Princeville Botanical Gardens
Kauai is home to multiple gorgeous botanical gardens. A tourist favorite is Princeville Botanical Garden on the North Shore. This stunning set of gardens features lush greenery and vibrant colorful plants.
Interestingly, cacao is also grown in the gardens. Chocolate is actually made on-site with these plants, and you can participate in tastings when there. To ensure you get into this fun attraction, be sure to buy a Princeville Botanical Garden skip the line pass!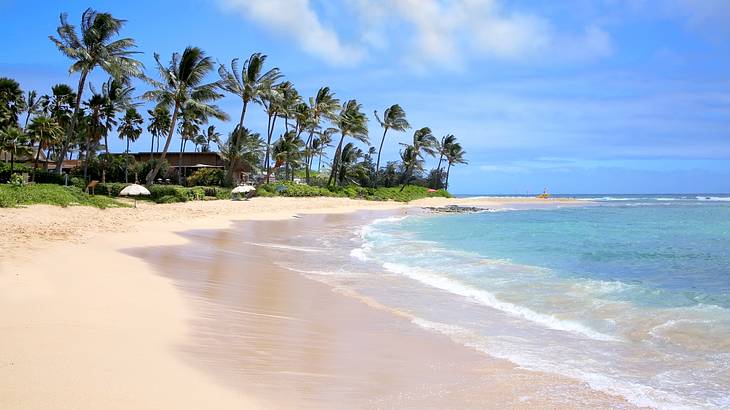 Try watersports at Poipu Beach Park
Poipu Beach Park is a favorite beach of locals and tourists and is an ideal place for a family day out. This beach is the perfect spot to take a picnic to and hang out on the sand, appreciating the warm weather.
You can also try a range of watersports. Along with swimming in the sparkling turquoise ocean, you can surf, bodyboard, and snorkel. There's also a kids' wading pool nearby if visiting with little ones.
In Summary
Kauai is an exciting destination to visit with lots to offer tourists. Attractions include an array of beaches, beautiful national and state parks, and pretty botanical gardens. No matter what activities you enjoy doing on vacation, you're sure to have a great time on this Hawaiian island!
Give us feedback about this article
Learn more about Kauai:
More articles about Hawaii:
Read more articles about the United States:
More articles about things to do:
---
---
Want to keep exploring?
Subscribe for discounts on tickets and hotels and our latest guides.
Thank you for subscribing
We will be in touch soon with discounts on tickets and hotels and our latest guides.
Want to keep exploring?
Subscribe for discounts on tickets and hotels and our latest guides.
Thank you for subscribing
We will be in touch soon with discounts on tickets and hotels and our latest guides.
Related Articles