60 Interesting & Fun Facts About Iowa State You Need to Know
Destguides may receive commissions from purchases made through affiliate links in this article.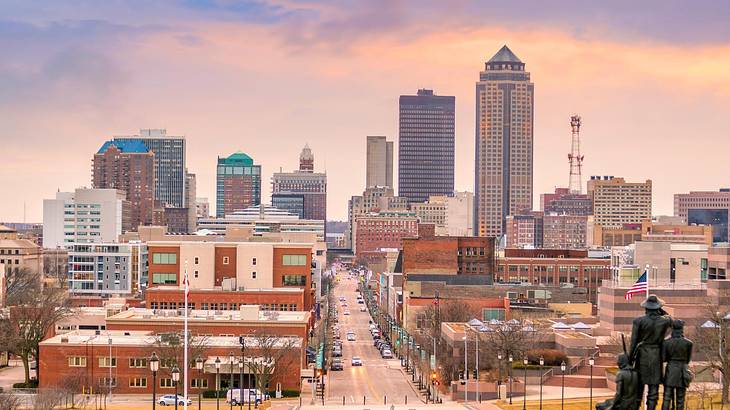 Most known for cornfields and the famous Iowa State Fair, people are often surprised that there is much more to Iowa than meets the eye.
From literary achievements to cutting-edge cancer research and bike races to wine tastings, there are many interesting and fun facts about Iowa State to discover.
Iowa has a rich history of influential people and was home to artists, inventors, movie stars, and presidents. Iowa also has many historical, cultural, and even "haunted" landmarks.
There is much happening in Iowa to learn about. Here are 60 interesting things about Iowa!
60 Iowa State Facts
Iowa Facts Video
Check out our highlights video of Iowa facts.
Iowa Fun Facts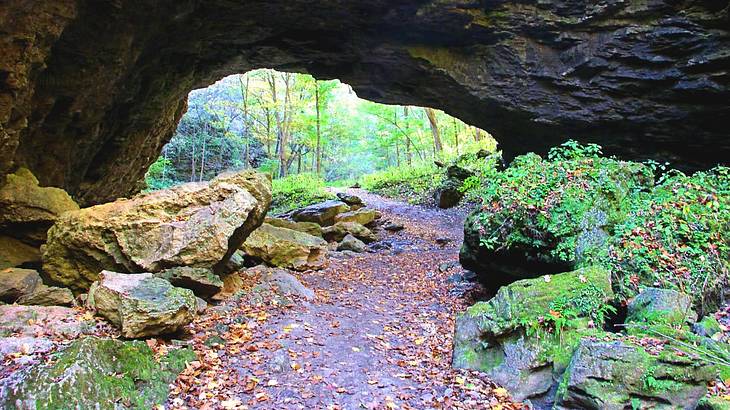 Iowa is famous for corn
One of the most well-known facts about the state of Iowa is that they are the top corn producer in the United States. Iowa farms produce over 2 billion bushels of corn per year. Iowa's corn is not only for eating but also used to produce ethanol, a renewable fuel source. Iowa also leads the US in ethanol production.
Iowa has over 30 million acres of farmland
Agriculture is king in Iowa. Over 30 million acres of farmland can be found throughout the state. Although most well-known for corn, Iowa is also a major producer of soybeans and oats.
With so much farmland covering the state, driving through Iowa showcases miles upon miles of rolling grass hills and tall cornfields.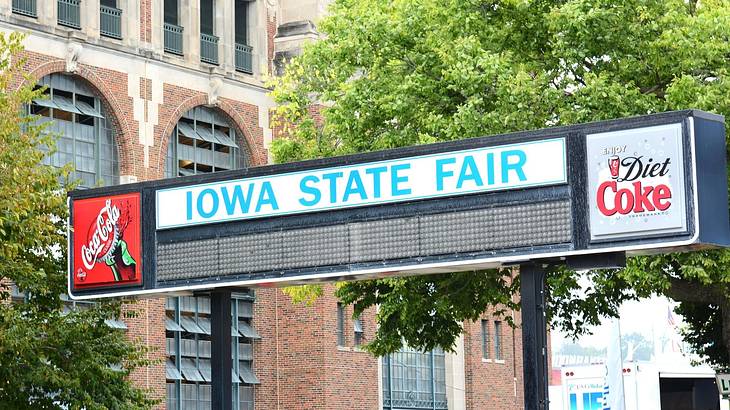 The Iowa State Fair attracts over a million visitors a year
Since 1854, the annual Iowa State Fair has been a major attraction in the state. It is known as "one of the oldest and largest agricultural and industrial expositions in the country." The Iowa State Fair takes place for 11 days every August at the Iowa State Fairgrounds in Des Moines. It features exhibits, shows, music, food, and carnival rides.
Inventor Otto Frederick Rohwedder was from Iowa
In 1927, Iowa inventor and engineer, Otto Frederick Rohwedder invented the automatic bread-slicing machine. After patenting it and selling it to one baker, every bakery in town soon wanted Rohwedder's machine.
By 1930 sliced bread became a hot commodity. The first commercial pre-sliced bread, the famous Wonder Bread, appeared on store shelves,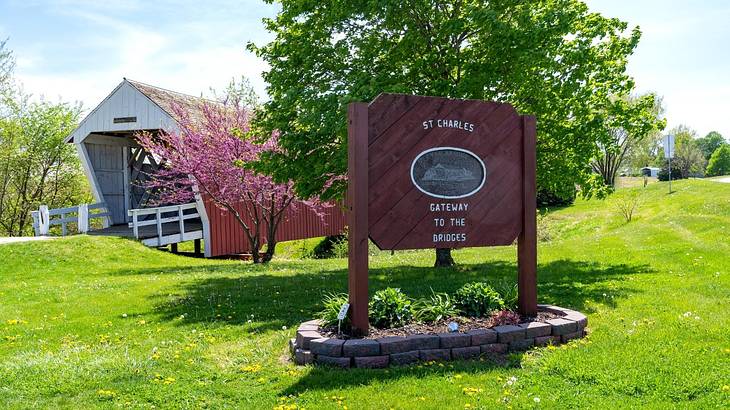 The Red Delicious apple came from Iowa
While most people tend to think of corn as Iowa's most famous crop, a lesser-known interesting fact about Iowa is its history of apple agriculture. The Red Delicious apple, in particular, was first recognized in 1872 in Madison County, Iowa. Now a US staple, Red Delicious apples are one of the most cultivated apples in the US.
The Iowa State Bird and Flower is the Goldfinch and Wild Rose
The Wild Rose was designated as the state flower in 1897. A type of prairie rose with bright pink petals, they can be spotted in the meadows and wildlands around Iowa.
In 1933, the American Goldfinch was declared the state bird of Iowa. The Goldfinch is a small migratory bird that prefers meadow habitats. It can often be seen in Iowa's many meadows in the winter and spring.
Iowa hosts the longest recreational bicycle event in the world
One of the fun facts about Iowa state is that it is host to a large bicycle event. Register's Annual Great Bicycle Ride Across Iowa, known as RAGBRAI, is an 8-day group bike ride across the state. RAGBRAI started in 1973 with a group of friends. It has grown into a massive event with participants from all over the US.
RAGBRAI covers over 460 miles across Iowa, with several towns hosting participants along the way. Festivals, food, entertainment, and lodging are all set up in towns along the route.
Iowa is full of wineries
Although most people think of corn when they think of Iowa, they're surprised to learn that Iowa is also known for wine. One of the most fun facts of Iowa is its rich soil also grows great grapes! Over 40 different varieties are grown in the state's 100 wineries.
With an abundance of wineries, vineyards, and tasting rooms, Iowa's wine tourism scene has grown considerably. An estimated 358,000 tourists visit Iowa's wine country per year.
The American Gothic House is in Iowa
The Dibble House in Eldon, Iowa, was the real-life backdrop for the famous American Gothic painting. Iowan artist Grant Wood painted the iconic piece in 1930. Grant was known for his paintings of rural Midwest landscapes.
The Dribble House is now a historical landmark and tourist attraction. People visit the Dribble House in costume to take photos, intimating the famous painting.
The trampoline was invented in Iowa
Iowa native George Nissen invented the trampoline in the 1930s. His prototype was built in his parent's garage. Nissen was a gymnast and later part of a traveling acrobatics act which is how he introduced his invention to the world. The trampoline soared in popularity and is still a common fitness and recreation device used today.
Iowa has an annual Tulip Festival
Orange City, Iowa holds an annual Tulip Festival to pay homage to the early Dutch settlers that called Orange City home in the 1800s. The Tulip Festival started in 1933 and has been a yearly tradition ever since.
Mirrored after similar festivals in Holland, the Orange City Tulip Festival showcases colorful tulips in parades and floral shows. Dutch food, music, and art are also part of the festivities.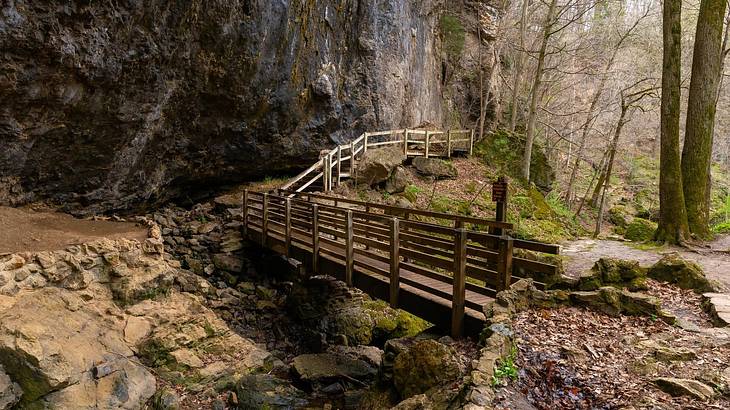 Beneath all the cornfields of Iowa lies hundreds of prehistoric caves
One of the most interesting facts of Iowa is there are hundreds of caves throughout the state. One of the highest concentrations of caves in an area of Iowa is within Maquoketa Caves State Park. Thirteen caves are open for public exploration in this park alone.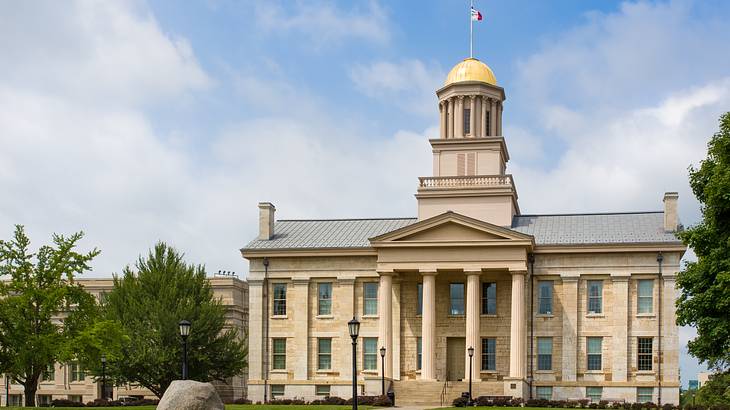 The butterfly stroke was created in Iowa
The University of Iowa is credited with being the birthplace of the butterfly stroke. Head swim coach Dave Armbruster came up with the butterfly stroke technique in 1935. The butterfly stroke is now a standard in swimming from the Olympics to your local pool or local waterpark.
Scotcheroos are Iowa's favorite dessert
A popular midwestern treat, called scotcheroos, is made with rice cereal, peanut butter, and chocolate. Scotcheroos have been voted as Iowa's top treat. Many versions of the popular dessert bar exist, and they are a staple at potlucks and gatherings in Iowa.
Iowa has 9 different species of bats
Iowa's not the first state that comes to mind when people think of bats, but surprisingly the state has a healthy bat population. Bats in Iowa have an important job as the state's natural pest control. Bats eat hundreds of insects an hour which in turn helps Iowa's residents and farmers.
Interesting Facts About Iowa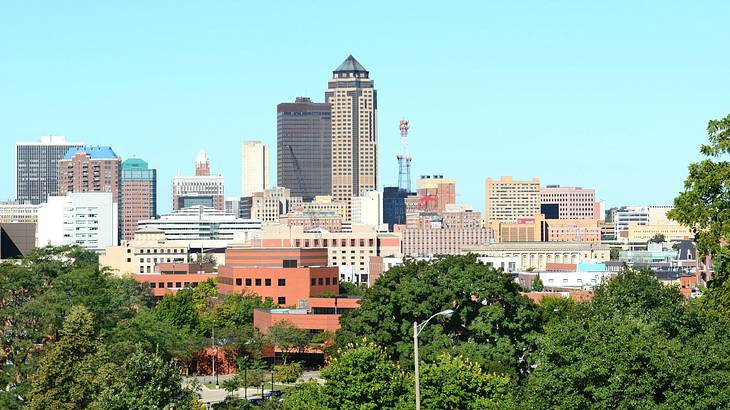 Iowa is known as the Hawkeye State
Iowa is known as The Hawkeye State, but there has been much debate over the exact source and timing of the nickname. Most Iowans agree it is rooted in the history of a Native American Sauk Warrior, Black Hawk. Black Hawk County in Iowa is also named for the famed warrior.
The world's first electronic digital computer was built in Iowa
Iowa State University professor, John Vincent Atanasoff, and student Clifford Berry, built the first electronic digital computer. They worked on the computer from 1937 to 1942 at the University of Iowa. Once completed, the Atanasoff-Berry Computer, known as ABC, was a far cry from the computers of today at 750 pounds. Nevertheless, it was a monumental achievement and went down in the record books of Iowa facts and history.
Iowa is part of Tornado Alley
Tornado Alley refers to a cluster of midwestern plains states that tend to get the most frequent and destructive types of tornadoes. Iowa averages 50 tornados a year, mostly in the spring. Iowa teaches tornado safety and has tornado warning systems in most public areas. Many homes, schools, and other public buildings have storm shelters.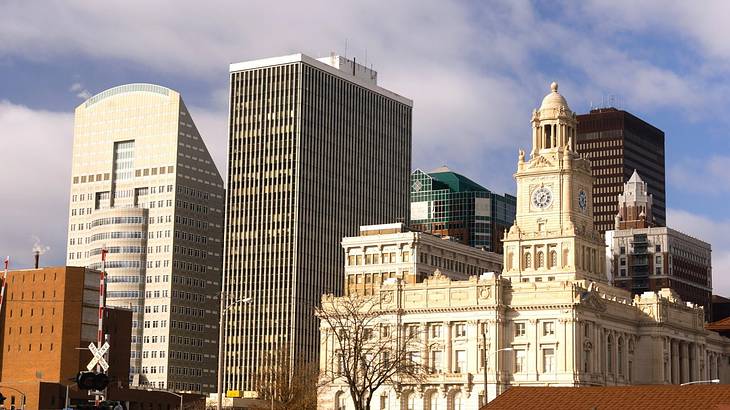 Iowa is a major hub of insurance and financial institutions
Des Moines is the capital of Iowa state as well as the epicenter for US insurance companies and financial institutions. There are thousands of insurance and finance companies headquartered in Iowa. This has been attributed to the lower cost of doing business in Iowa as well as a heavily educated population, to fill jobs.
Iowa had the first public veterinary school in the United States
Founded in 1879, The Iowa State University College of Veterinary Medicine was the very first public veterinary school in America. To date, they have graduated over 7,500 veterinarians.
The college also holds one of the largest concentrations of veterinary professionals, including the USDA's National Animal Disease Center, the National Veterinary Services Laboratories, and the Center for Veterinary Biologics.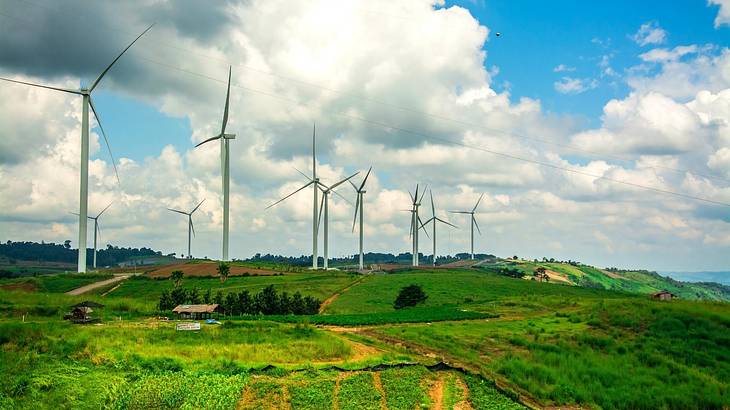 Iowa is a leader in wind energy
Another interesting fact about Iowa is that over half of the state's electricity comes from wind generation. The plains have become ideal locations for wind farms, and 28 of them now cover the state.
The development of wind energy began in 1983 and has grown since. In MidAmerican Energy's fleet alone, there are over 3,400 wind turbines.
The National Mississippi River Museum and Aquarium resides in Iowa
An educational powerhouse, the National Mississippi River Museum and Aquarium hosts dozens of exhibits relating to history, culture, and science. They also house over 30 animal habitats including aquariums.
In addition to education initiatives, the museum advocates for conservation and works with local organizations on research and restorative projects.
Iowa has unique geography
Iowa sits in the midwestern region of the United States and is bordered by 6 other states. Nebraska, Illinois, Wisconsin, Missouri, South Dakota, and Minnesota all share borders with Iowa.
Iowa is mostly comprised of flatlands, prairies, and lakes. The state also has major rivers along its border. The Mississippi, Missouri, and Big Sioux Rivers all flow through the outer borders of Iowa.
Famous author Mildred Wirt Benson was from Iowa
Best known for the Nancy Drew series, author Mildred Wirt Benson was an Iowa native. Benson was born in 1905 in Ladora, Iowa. She later attended the University of Iowa and became the first student there to earn a master's in journalism. Benson wrote over 120 books during her lifetime and received several awards.
Iowa has a UNESCO City of Literature
Registered as a UNESCO City of Literature in 2008, the University of Iowa is known for several literary advancements. From writing classes and workshops to extensive libraries, bookstores, and literary festivals, avid readers and writers find solace in this site.
The Iowa City Public Library alone boasts a collection of over 250,000 books. It is one of the busiest libraries in the state and holds much information on Iowa for research.
The canine kennel cough vaccine was developed in Iowa
Veterinarian and researcher, Dr. William Switzer created the first kennel cough vaccine at the Veterinary Medical Research Institute at Iowa State University in 1977. The kennel cough vaccine is now given around the world to protect dogs from this highly contagious respiratory virus.
President Herbert Hoover was born in Iowa
Herbert Hoover was born in West Branch, Iowa to a Quaker family in 1874. He later attended Stanford University and became a mining engineer. Hoover's popularity grew during WWI when he led several humanitarian efforts.
In 1928 Hoover was elected as the 31st President of The United States, serving from 1929 to 1933. His childhood home is now a historic landmark in Iowa.
Iowa is home to Living History Farms
Featuring live demonstrations of farm life from the 1700s to the 1900s, Living History Farms is a major educational attraction just outside of Des Moines.
Visitors tour the 500-acre outdoor museum to see costumed historians performing various farming duties. Replicas of original structures and machinery are also displayed.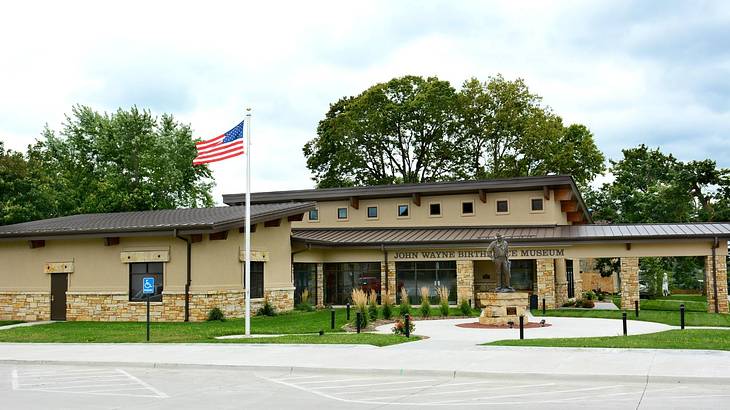 Actor John Wayne was born in Iowa
John Wayne, famous for his roles in American Western films, was born in Winterset, Iowa in 1907. His birthplace home is now a museum.
Wayne later moved to California and ended up starring in some small supporting roles before his big Western breakthroughs. His film career ended up spanning several decades, and he became both an icon and controversial figure in American pop culture.
Drones are being used to fight food waste in Iowa
Iowa State University's Department of Agricultural and Biosystems Engineering is researching ways to fight food waste through drone usage to collect information on Iowa crops. The study involves flying drones over fields after harvest to ensure no crop is left behind. Commercial farming that utilizes large equipment can sometimes leave patches unharvested. The new drone technology being developed hopes to reduce that.
Scary Facts About Iowa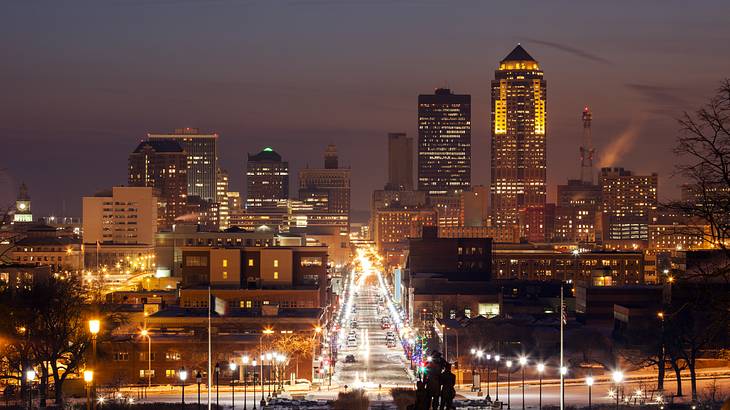 Iowa is home to haunted Edinburgh Manor
Edinburgh Manor is known for being "one of the most haunted places" and one of the scary state of Iowa facts. Over 150 people have died on the grounds of Edinburgh Manor. The deaths occurred during its history of being a "poor farm" in the 1800s and as a psychiatric facility in the 1900s. Paranormal investigators have flocked to Edinburgh Manor over the years to study and document alleged hauntings.
The Black Angel Monument in Iowa is believed to be haunted
The Black Angel was created as a representation of a dream had by Ruth Dodge before her death in 1916. It is believed that Mrs. Dodge predicted her own death and was visited by angels in her sleep. Her daughters commissioned the statue to honor their mother's vision. The statue sits in the Council Bluffs Cemetery. Visitors to the site have reported strange activity that has led some to believe it's haunted.
Iowa's Mason House Inn is a "Ghost Hunting" site
Built in 1846, the Mason House Inn is a historic site in southeast Iowa known as a prime "Ghost Hunting" site. According to the owner, the spirits that reside there are previous owners of the house, civil war soldiers, and tuberculosis patients who all died on-site. The owner invites paranormal investigators and interested guests alike to visit Mason House Inn.
Stony Hollow Road is among the "most haunted places" in Iowa
According to local legends, a small country road in Burlington, Iowa is haunted by the ghost of Lucinda. The cliff above Stony Hollow Road is where Lucinda allegedly jumped to her death. Drivers along the road have reported sightings of Lucinda over the years.
Creepy cult classic "Children of the Corn" was filmed in Iowa
The horror film that follows the story of murderous cornfield children was filmed in several locations around Iowa. Local Iowans performed as extras in the film. Several more installments of the movie were later created, turning it into a series. "Children of the Corn" now tops many lists of creepy and cool Iowa facts.
Cool Facts About Iowa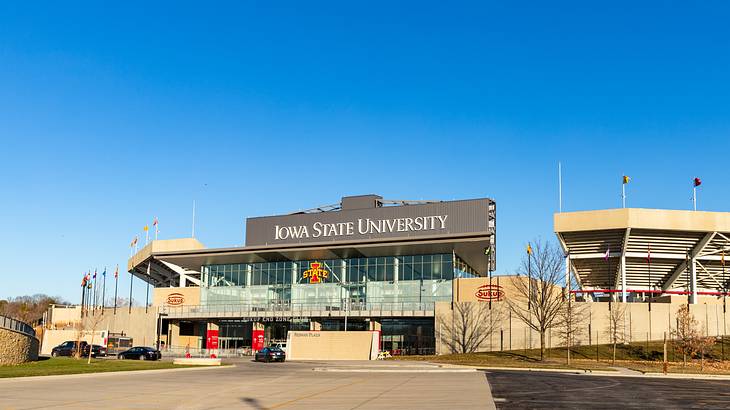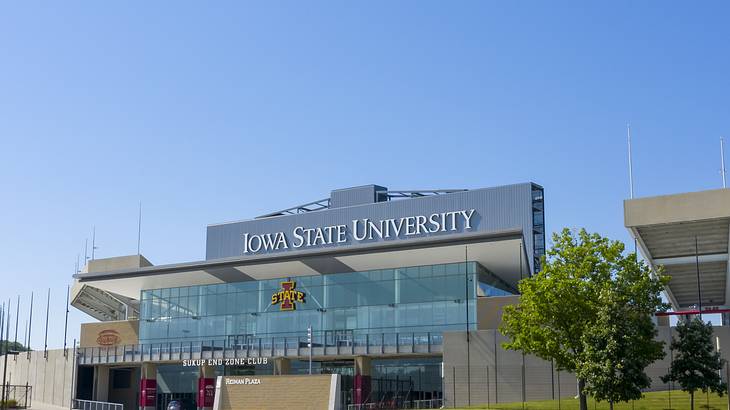 Iowa State University is the state's largest research university
With over 100 majors, Iowa State University is leading the way in science and technology in Iowa. Iowa State University also has dozens of agricultural programs and hands-on experiences that are rooted in Iowa's agricultural ties. Off-campus, the affiliated ISU Research Park is a 400-acre complex of research, learning, and business innovation.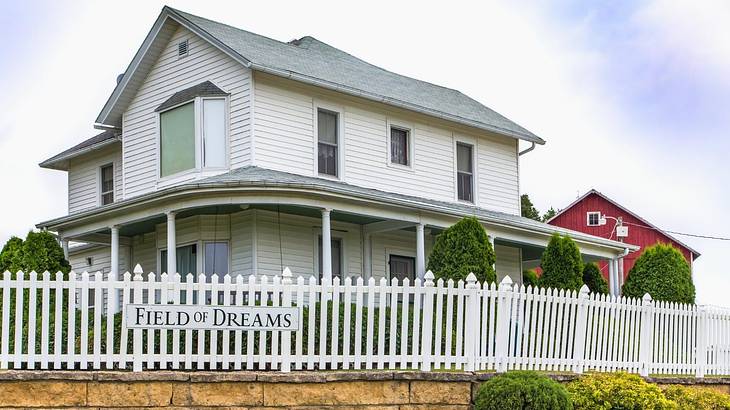 Iowa has served as a filming location for some of Hollywood's biggest hits
The famous cornfield where Kevin Costner lamented over baseball legends in Academy Award-nominated "Field of Dreams" was filmed in Dyersville, Iowa.
Hollywood headliners, Clint Eastwood and Meryl Streep filmed their famous love story, "Bridges of Madison County" on location in Madison County, Iowa.
Parts of the blockbuster disaster film, "Twister", were filmed in Ames, Iowa. Iowa's real-life tornado-prone plains served as the perfect backdrop for the fictional tornado film.
The heavy metal band Slipknot came from Iowa
In 1995, 3 Iowa musicians, Shawn Crahan, Joey Jordison, and Paul Gray formed the band Slipknot. They started off playing small music clubs and Des Moines and later grew into the world-famous heavy metal band they are today. In 2001, they titled one of their studio albums "Iowa" and promoted their "Iowa World Tour".
Famous television host Johnny Carson was from Iowa
Johnny Carson was born in Corning, Iowa in 1925. His birthplace home is now a historic landmark that fans visit.
Johnny Carson went on to serve in the US Navy during WWII before beginning his famous entertainment career. He hosted one of the longest-running television shows, The Tonight Show. It ran for nearly 30 years and became an icon in American television.
Organic farming is growing in Iowa
Iowa has always been known for farming, but in recent years there has been an increase in the organic farming sector. Iowa now ranks fifth on national records for organic farming. The Iowa Organic Association is leading the way to help farmers that want to convert to organic farming. The Iowa Organic Association also makes information on Iowa organic farming more accessible to the public.
Weird Facts About Iowa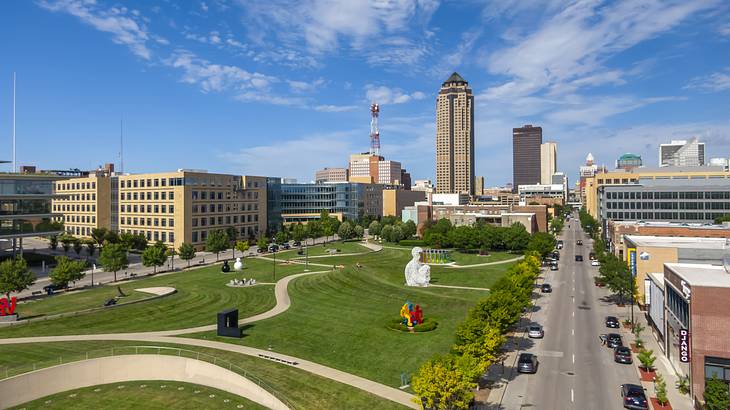 Iowa's State Flower, the Wild Rose, is actually 3 different flowers
Wild roses are native to Iowa and can be found growing in the many meadows and prairies throughout the state. The wild rose was officially designated as the state flower in 1897. Although they look similar, 3 distinct rose species make up what is considered Iowa's state flower, the Rosa arkansana, Rosa blanda, and Rosa carolina.
Iowa is the proclaimed future birthplace of Star Trek's Captain Kirk
In the futuristic series, Star Trek, Captain James T. Kirk was portrayed as being born in Riverside, Iowa in 2223. The town now has a small plaque dedicated to the fictional character that fans are known to visit.
Iowa is a wild mushroom hunter's paradise
In the spring, wild mushroom hunters descend into Iowa's woodlands, prairies, and meadows in search of some of the most rare wild mushrooms.
Iowa has over 50 varieties of wild mushrooms that spawn from spring to fall. The elusive puffball and morel mushrooms are among the most sought-after by local foragers and chefs.
Iowa has one of the most crooked streets in the world
Designated a Ripley's Believe it or Not Odd Spot, Snake Alley in Burlington, Iowa is one of the most crooked streets in the world. The winding road of Snake Alley was constructed in 1894 as an experiment intended to replicate European vineyard paths. The road is now considered a historic marvel and one of many weird Iowa facts.
Iowa was once home to a giant sloth
Approximately 12,000 years ago, giant sloths roamed the wildlands of present-day Iowa state. These prehistoric creatures stood 10 feet tall and weighed 2 or more tons. Giant sloth bones and exhibits can be found at the University of Iowa Museum of Natural History.
Random Facts About Iowa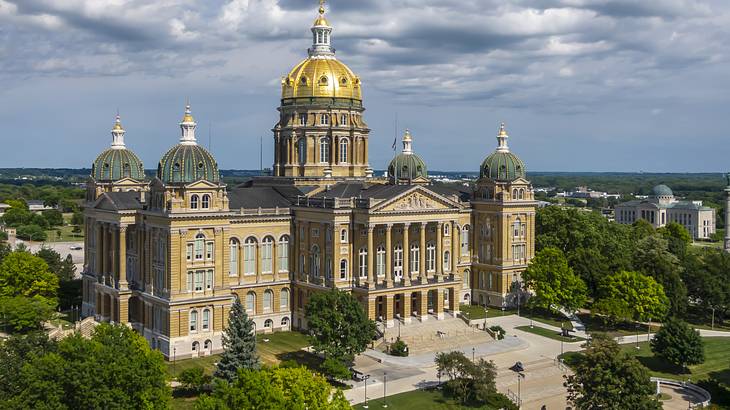 Iowa has the world's largest wooden nickel
Originally erected as a form of political protest, artist Jim Glasgow's wooden nickel project has become a record-breaking roadside icon. The 16-foot wooden nickel, protesting a county road paving proposition, sits off Iowa Interstate 80 and has become a popular tourist stop.
Lord of the Rings star Elijah Wood is from Iowa
Long before his Hollywood days, actor Elijah Wood was born and raised in Cedar Rapids, Iowa. As a child, he starred in a production of "The Sound of Music" and "The Wizard of Oz" at his Iowa Elementary School. He later moved to Los Angeles and won his title role as Frodo Baggins in "Lord of the Rings," launching his now-famous career.
Iowa has 3 different state universities
Iowa State University was established in 1858 as an agricultural college. It is now a science and technology school.
The University of Iowa was founded in 1847 and is the oldest university in the state. It is known as a research university and home to the famed Hawkeyes football team.
Centered around business, education, arts, and science, the University of Northern Iowa was founded in 1876 and is a public university.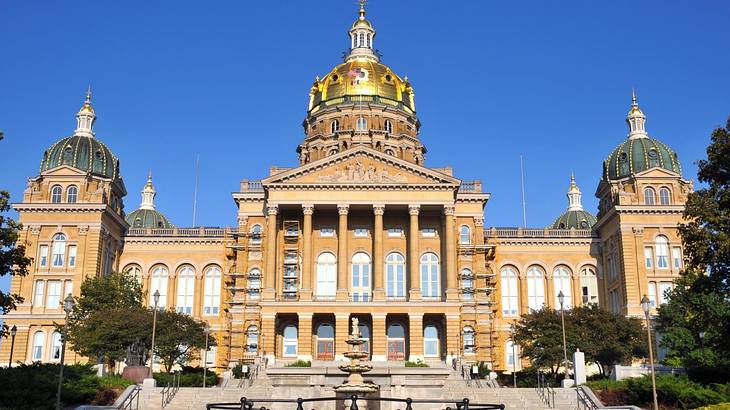 The Iowa State Capitol is the only State Capitol with 5 domes
Known for its golden domes and Renaissance Revival architecture, the Iowa State Capitol is one of a kind. It is the only capitol with 5 domes in the United States.
Completed in 1886, the Iowa State Capitol was an architectural wonder of its time. It now sits on the Register of Historic Places and is one of the most interesting facts of Iowa.
Infamous criminal duo Bonnie and Clyde once had a shootout in Iowa
The 1930s crime spree brought about by Bonnie and Clyde once came through Iowa. While on the run from the police, Bonnie and Clyde hid in an abandoned amusement park in Dexter, Iowa for several days. Authorities eventually found their hideout and a shootout ensued. A marker now covers the field where the shooting took place.
Historical Facts About Iowa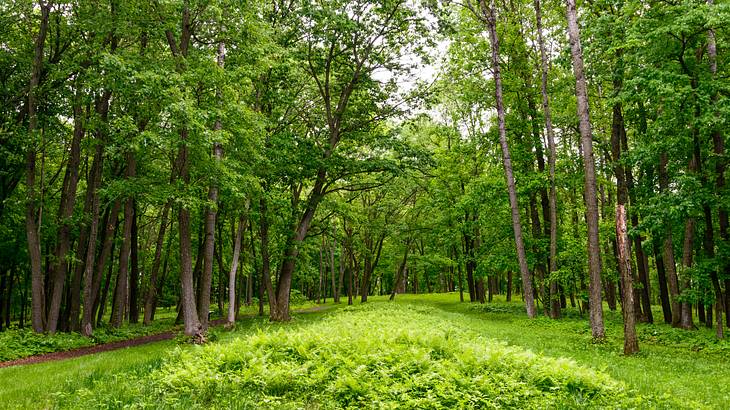 Iowa's name comes from the Native American Tribe Iowa
The Iowa Tribe, also known as the Ioway, was part of the Sioux people that once inhabited the Midwest. Before European colonization, there were thousands of Iowa people across the great plains. Today, about 800 descendants of the Iowa people live on the Iowa Reservation in Oklahoma.
Iowa was the 29th state inducted into the union of the United States
On December 28th, 1846, Iowa was officially signed into the unionby President James K. Polk. Once statehood was achieved, Iowans began setting up the system of farmlands that continued to grow through the next century and into modern-day Iowa. These lands make up the vast majority of the farmlands that currently support the local economy with agricultural products.
There are historical sites from the Underground Railroad in Iowa
There are 5 areas in Iowa that have been preserved as part of the Underground Railroad. The Pearson House, Lewelling House, Jordan House, Hitchcock House, and John Todd House all served as safe houses for the Underground Railroad. These houses are all now historical sites, museums, and educational centers.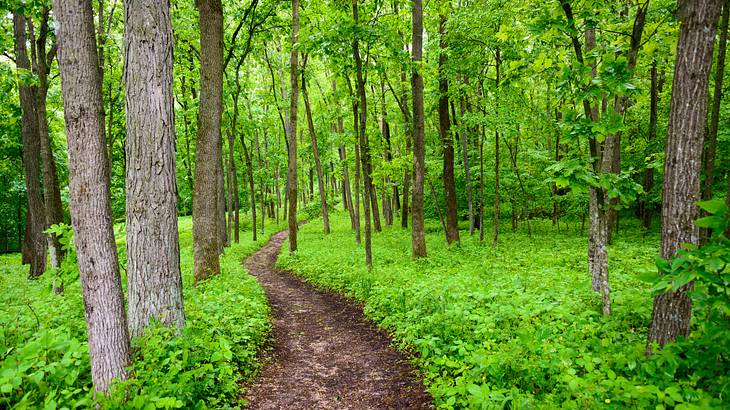 Iowa's Effigy Mounds National Monument has ancient Native American Burial Mounds
The Effigy Mounds are believed to have been constructed during a prehistoric period over 10,000 years ago. The mounds are shaped like different animals, including deer, bears, bison, and panthers.
The mounds are now a National Historic Site and are considered sacred to Native Americans. Over 20 modern-day tribal nations across the Midwest have cultural associations with the Effigy Mounds.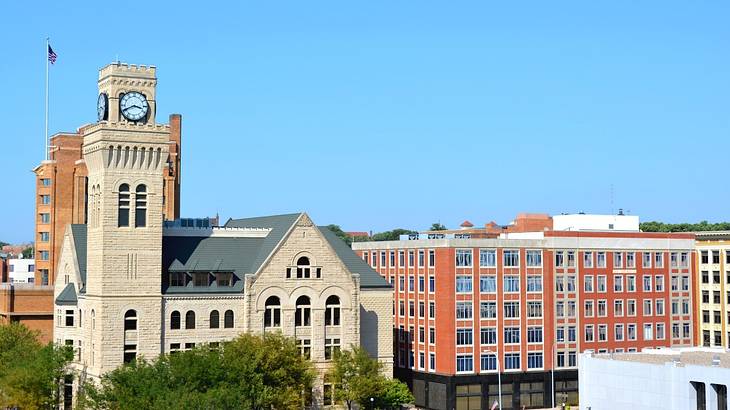 Iowa was a historical stop on the Lewis and Clark Expedition
Iowa was an important location in the Lewis and Clark Expedition of 1804. Sergeant Charles Floyd died during the expedition in what is now known as Sioux City, Iowa. A memorial to Sgt. Floyd now sits on a bluff overlooking the Missouri River. Sioux City is also home to the Lewis and Clark Interpretive Center, offering information on Iowa history.
Important Facts About Iowa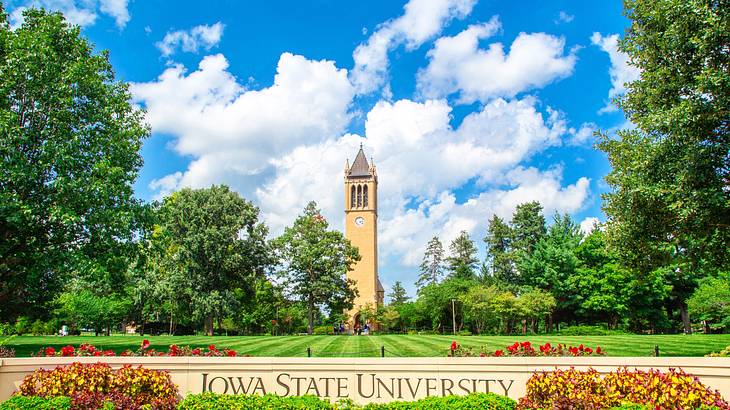 Iowa is home to the largest non-governmental seed bank in the United States
Seed Savers, a non-profit organization dedicated to preserving and protecting plant biodiversity for generations is headquartered in Decorah, Iowa. Thousands of heirloom vegetables are grown and seed-banked on this 890-acre farm.
Seed Savers also hosts the world's largest seed exchange, a marketplace network of farmers, home gardeners, and seed collectors.
The University of Iowa holds important clinical trials in the fight against cancer
The Holden Comprehensive Cancer Center at the University of Iowa is known for groundbreaking cancer research and treatment. They frequently hold clinical trials and have been credited with saving many lives. Patients come from all over Iowa and surrounding states for treatment at their esteemed cancer center.
Iowa inducted the first female lawyer in the United States
In 1869, native Iowan Arabella Mansfield became the first female lawyer in the US. After receiving high scores on her bar exam and challenging the state's law restricting females from legal practice, Mansfield won her case and made history. She later went on to become an educator and activist in the women's suffrage movement.
Iowa has some of the best soil in the country
Sometimes referred to as "black gold," there's a reason why Iowa leads in agriculture. They have some of the best soil in the US. Iowa's farmlands cover 85% of the state. Industrial farming has started to take its toll on Iowa's soil, so many scientists are working towards regeneration techniques.
Iowa is doing important tornado research
The Department of Aerospace Engineering at Iowa State University is leading the way in tornado research with its tornado simulator. Developed by Engineering Professor Partha Sarkar, the simulator helps scientists study the effects of tornadoes for better planning on communities they threaten.
In Summary
With all these interesting facts about Iowa, it's hard not to develop a newfound appreciation for the state. From their technological, medical, and environmental advancements, Iowa is leading the way in many fields and has a bright future.
Give us feedback about this article
More articles about Iowa:
Read more articles about the United States:
More articles about facts:
---
---
Want to keep exploring?
Subscribe for discounts on tickets and hotels and our latest guides.
Thank you for subscribing
We will be in touch soon with discounts on tickets and hotels and our latest guides.
Want to keep exploring?
Subscribe for discounts on tickets and hotels and our latest guides.
Thank you for subscribing
We will be in touch soon with discounts on tickets and hotels and our latest guides.
Related Articles