8 Maine Nicknames You Should Know
Destguides may receive commissions from purchases made through affiliate links in this article.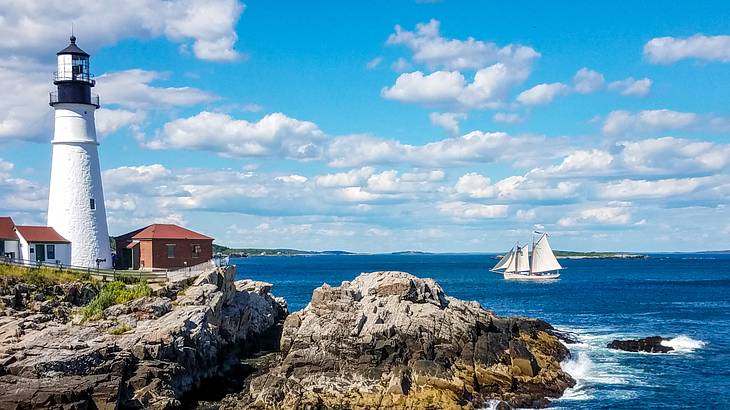 Maine is known for many things, from its forests to its fishing industry. However, this great state is often underappreciated due to its low population density and out-of-the-way location.
One way to get to know this part of the country better is by learning a little about some of the most popular Maine nicknames. From being known as the Pine Tree State to literally leading the country as the Old Dirigo State, Maine's monikers can teach you a lot about its history and culture.
Whether you're planning a visit to this northern part of the East Coast or are just interested in brushing up on your New England history, keep reading. Here are the top nicknames for the state of Maine and their origins.
8 Nicknames for Maine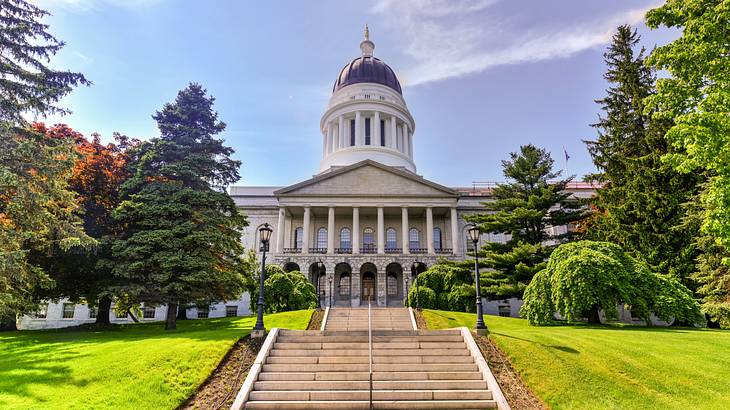 Old Dirigo State
This nickname comes from Maine's official state motto. In 1820, this slogan was decided, consisting of just one word, "Dirigo," Latin for "I lead." Dirigo was chosen as the motto after local politicians noticed other states follow its lead in holding September elections, thus directing the nation when it came to politics.
It wasn't long before this motto helped inspire the moniker Old Dirigo State. However, while you can find the slogan all over Maine due to its presence on the state seal, this nickname isn't widely popular. It's mainly used on some souvenir items and occasionally in conversation.
The Lumber State
Due to the state's plethora of pine forests, Maine became one of the country's leading lumber producers in the 19th century, earning it the moniker of the Lumber State. Even today, 500,000 acres worth of wood are processed and sold in Maine annually.
Since most of the state is made up of forestland, harvesting so much wood hasn't significantly impacted the area's landscape. You're most likely to hear this Maine state nickname used by companies in the industry. You can also find it used on tourist items in gift shops near Maine's forests.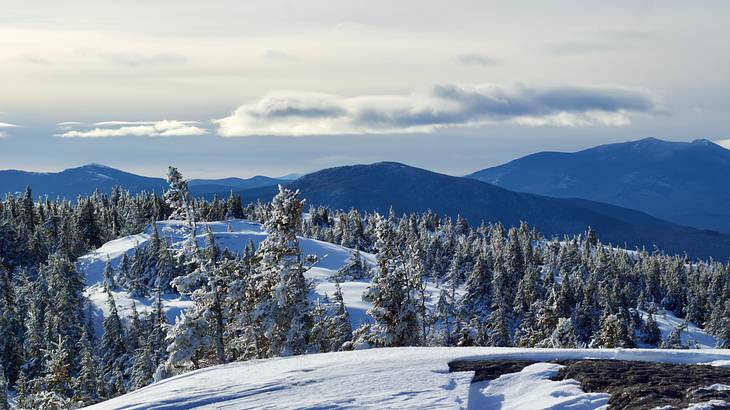 The Switzerland of America
There are a few states in the New England region that have been dubbed the Switzerland of America over the years. New Hampshire, New Jersey, and Colorado, among a few others, have all been on the receiving end of this particular moniker.
The state's landscape is the primary reason behind this Maine name. Due to its position so far north and its numerous mountains, Maine sees a lot of snowfall during the colder months.
This snowy wonderland is reminiscent of the Swiss Alps, and you can find a similar ski culture at the area's ski resorts as in Switzerland. This moniker was applied as far back as the early 1900s and can be found on some souvenir items and old tourism literature.
Down East
Used to refer to the coast of the Northeastern United States since around 1825, Down East (also written as DownEast or Downeast) has its roots in the thriving maritime industry of the New England area. Many boats traveling to this part of the globe from the west had to travel downwind towards eastern locations. So, the term soon became a moniker for the states on the Eastern Seaboard, including Maine.
This particular nickname was initially used in nautical papers. However, its use spread during the 19th century and became part of the everyday vernacular. Today, you can find it mostly in historical texts and occasionally on maritime-themed souvenirs. It's even the name of a digital magazine based in Maine.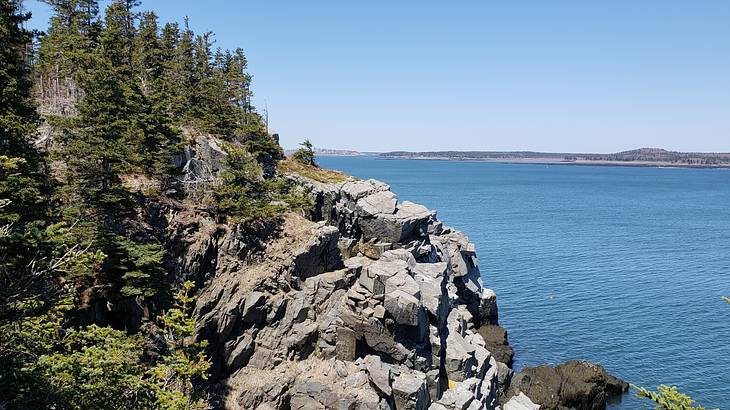 Border State
A commonly-known Maine fact is that it's one of the US states that shares a border with Canada. Since travel between the two countries was relatively easy due to this shared land division, it was dubbed Border State.
This Maine nickname isn't unique to this East Coast state. It's been used to refer to all 13 US territories bordering Canada. However, it's arguably been used in association with Maine most of all since it's one of the northernmost states. Today, the nickname can be found in some historical texts and heard in everyday conversation among locals.
The Polar Star State
If you look at a map of the US, you'll notice Maine is one of the northernmost states in the country. This location has helped it earn the Polar Star State nickname, as it was considered the North Star for the nation.
The Maine state seal further solidifies this nickname. First designed in 1820, this seal depicts a moose, a pine tree, and the state motto, all beneath a bright North Star. Since places like Minnesota and Alaska share iterations of this name, it's not one of the most popular monikers and is mainly used on souvenirs.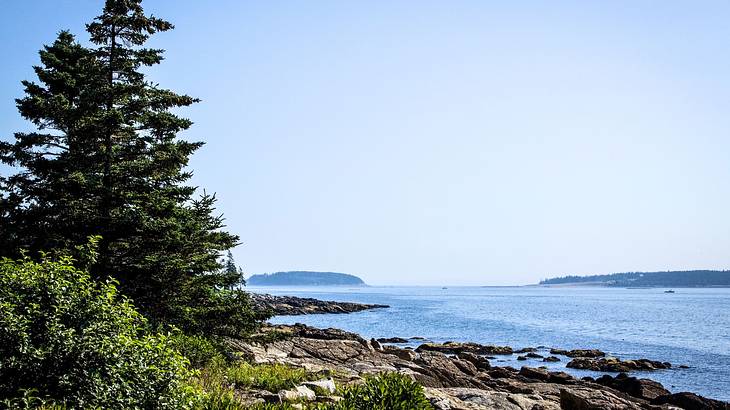 The Pine Tree State
Maine's state nickname as the Pine Tree State has relatively straightforward origins. In 1945, the Eastern white pine was declared the official state tree since so many of them grew in the territory. Not long after that, Maine became further associated with the tree by being dubbed with the Pine Tree State moniker.
To this day, approximately 80% of the state's area is forest land, more than any other state in the country. This nickname is found on official tourism brochures printed by public and private companies. It's also seen on souvenirs, particularly in natural areas like Acadia National Park, which is one of the most famous landmarks in Maine.
Vacationland
As far as alternate names for Maine are concerned, Vacationland may seem like a more recent addition to the list, but it actually dates back to the 1890s. A publicist coined the term in the hopes of urging people to visit this part of the East Coast.
The slogan was revived in 1936 when it was added to Maine's license plates. To this day, the nickname continues to hold true. Over 15 million people visit Maine's forests, towns, and Atlantic Ocean coast annually. So, this title isn't going away any time soon.
In Summary
Maine is a fascinating state, and perhaps that's made most clear by the diverse range of nicknames that have been associated with it. While some monikers like Border State are more obvious in their origins, others, like Vacationland, have a more complex story behind them.
Hopefully, this list of Maine state nicknames has helped you better understand the state's history and culture. Now, you just have to pick your new favorite moniker to use when referring to this scenic US destination.
Give us feedback about this article
More articles about Maine:
Read more articles about the United States:
More articles about nicknames:
---
---
Want to keep exploring?
Subscribe for discounts on tickets and hotels and our latest guides.
Thank you for subscribing
We will be in touch soon with discounts on tickets and hotels and our latest guides.
Want to keep exploring?
Subscribe for discounts on tickets and hotels and our latest guides.
Thank you for subscribing
We will be in touch soon with discounts on tickets and hotels and our latest guides.
Related Articles