16 Michigan Nicknames You Should Know
Destguides may receive commissions from purchases made through affiliate links in this article.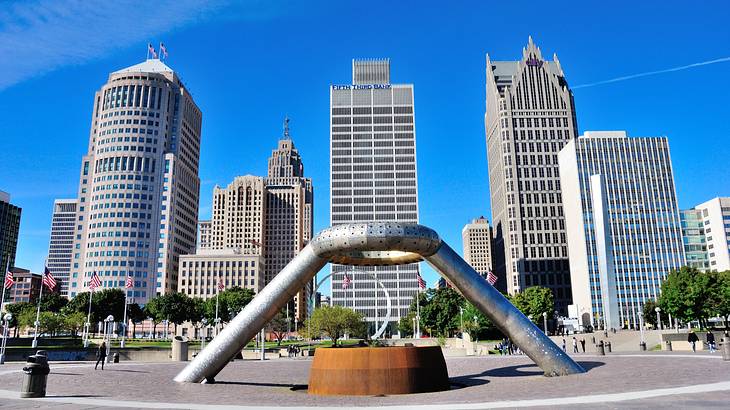 Michigan is known for a lot of things. It was one of the most important cities in the car industry for years, it's notoriously shaped like a mitten, and it's on the shore of the Great Lakes. It also has a lot of alternate names relating to the area's history and culture.
While some of the state's monikers, like Pure Michigan and Water-Winter Wonderland, are known nationwide, there are numerous other Michigan nicknames you've likely never heard of. To help you get to know this great US state a little better, keep reading. Here are the top 16 nicknames for Michigan you should know before you visit.
16 Nicknames for Michigan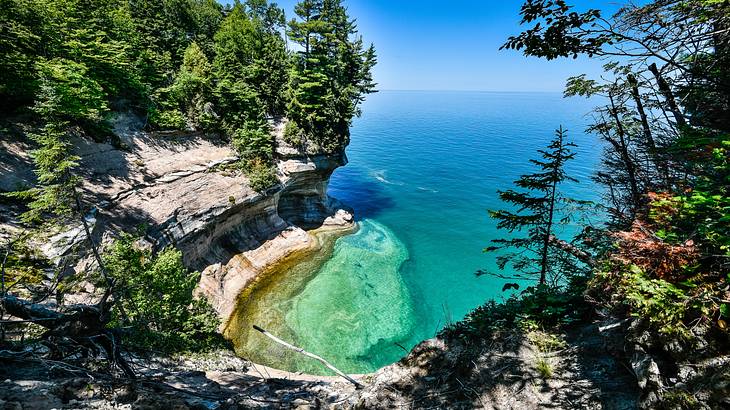 America's Left Hand
America's Left Hand is a Michigan name that comes from the state's peculiar shape. On a map, Michigan's main outline looks vaguely like a left hand wearing a mitten. Furthermore, the detached upper peninsula looks like it's about to receive a high-five or pat.
The moniker has gained so much popularity that it's even been adopted as an unofficial state slogan among locals and tourists. Designers use it in novelty and souvenir artwork, particularly t-shirts and hats.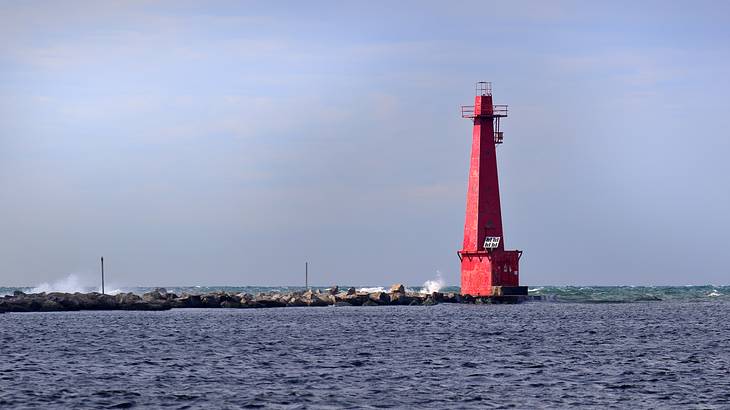 Port City
Port City was initially a nickname for the Michigan town of Muskegon. However, the state's many lakeside coastlines have caused this title to spread to other parts of the territory as well. For example, it's not uncommon for this particular title to cause confusion with the similarly named town of Bay City.
This nickname is typically only found in Muskegon's literature or articles referencing lakeside towns. However, out-of-towners use it more often in day-to-day conversation.
The Mitten State
The state being shaped like a mitten is one of its most famous Michigan facts. It's instantly recognizable on a map of the US for its peculiar borders, resembling a left mitten. So, it's not surprising that it's often referred to as the Mitten State.
The exact origin of this name is unknown, but researchers have found it began to pop up as early as the late-19th century. Over the years, the title has been embraced by locals, and it's even an official state nickname. As such, it's used in various tourism literature and promotional material.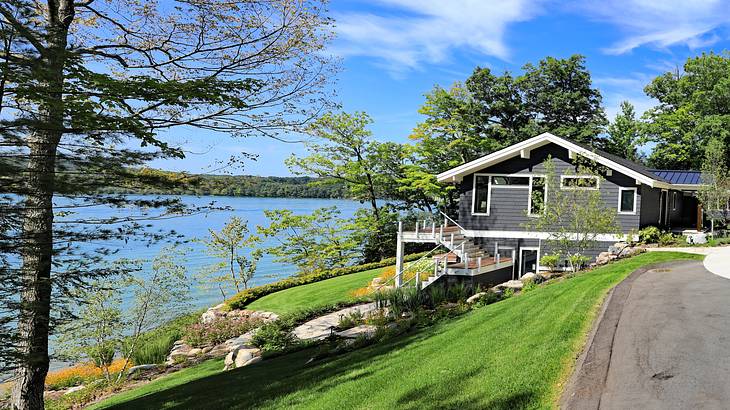 Lady of the Lake
Michigan's many bodies of water have helped inspire its nickname as Lady of the Lake. Nearly all of the state's water sources connect to one of the Great Lakes, like the Detroit River, which flows between Lakes Saint Clair and Erie.
Some people believe this particular moniker derives from a poem of the same name by Sir Walter Scott. This idea is supported by how the name is used. While it's not present in much promotional material, schools and other organizations in the state have adopted the name.
The Great Lakes State
It's widely known that Michigan sits on the border with four of the five Great Lakes (which are all famous Michigan landmarks). For this reason, the state has been dubbed Great Lake State or Great Lakes State.
In addition to these massive bodies of water, the territory is also home to over 11,000 other inland lakes and thousands of miles of streams. This term has become so popular that it's been used on license plates as well as in other tourism literature.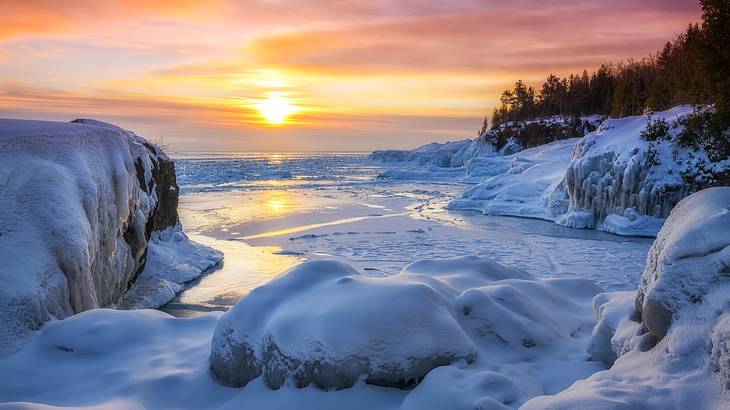 Water-Winter Wonderland
Water-Winter Wonderland is a commonly heard Michigan nickname. Coined in the 1950s, this slogan first began appearing on license plates in the 1960s and again in 2020. This nickname was used to promote summer and winter tourism to the area.
Since the state touches Lake Erie, Superior, Michigan, and Huron, it's easy to participate in water activities during warmer months. However, in the winter, Michigan can accumulate up to 63 inches of snow in some areas. This diversity helped inspire the moniker.
Stink Bug State
Since 1998, the stink bug has slowly managed to find a home in nearly every corner of the continental US, including in Michigan. This particular insect was first reported in the state in 2010, and since then, the title Stink Bug State has become popular among locals.
The exact origin of this particular title is unknown, as it seems to have spread by word-of-mouth. Since it's also not a nickname that's been embraced by the state government, you'll only find it on the occasional novelty souvenir.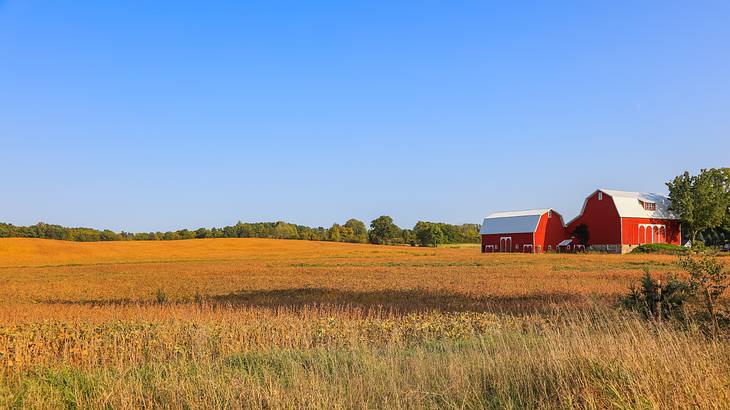 Wheat State
Each year, over 35 million bushels of wheat are produced in Michigan's 500,000 acres of designated farmland. This particular crop is so bountiful that it's one of the state's most important exports.
For that reason, Michigan is sometimes referred to as the Wheat State. However, since this moniker is also shared by Kansas, it's not used in any official capacity. Instead, it's sporadically used in rural areas where wheat is grown and among tourists.
Land of Snow Machines and Bass Boats
In 2007, the University of Michigan and multiple other news sources started publishing a list of humorous potential new slogans for the state. On that list was the moniker Land of Snow Machines and Bass Boats. This particular nickname harkens back to the Water-Winter Wonderland title that was popular enough to be printed on license plates.
Though tongue-in-cheek, the nickname is quite accurate. Fishing and sailboats can be found on Lake Michigan, Erie, and more, while the five feet of average winter snowfall provides ample opportunity for snowy activities.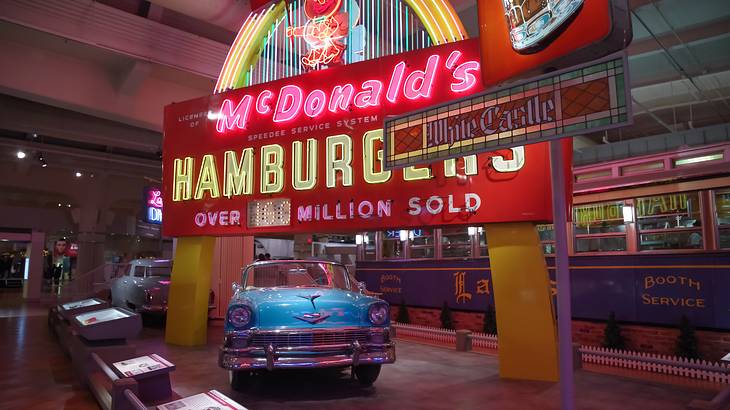 Auto State
The Auto State nickname for Michigan has an obvious origin if you know a little about state history. In 1899, Detroit became home to the Detroit Automobile Company, a large conglomerate started by Henry Ford, which kicked off the car industry.
Car manufacturing would go on to be one of the most important industries in the state until 2008. This reputation allowed the nickname to spread, though it's most often found in literature relating to that sector.
Pure Michigan
Pure Michigan has become one of the most famous Michigan slogans. First coined in 2006, the phrase was used as part of an advertising campaign to help bring more tourists to the state.
This marketing really started gaining momentum in 2008 when it was used in televised commercials with celebrity endorsements. Since then, this nickname has been used on car plates, signs, and other official literature and visitor material, including the official state tourism website.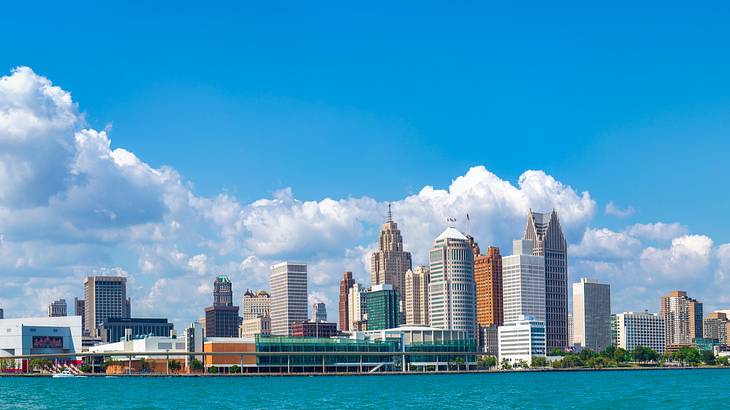 The Automotive State
Michigan's reputation as the Automotive State has persisted since 1899 when Henry Ford opened the Detroit Automotive Company in Detroit, Michigan. Though the state's car manufacturing industry has slowed down over the years, particularly after the 2008 economic crash, this nickname has remained.
This moniker isn't usually used in industry and economic settings, though. You likely won't find it on any official statewide material either. However, it's heard a little more often around the original Motor City, Detroit.
Wolverine State
Not many people know that the official Michigan state nickname is Wolverine State. This moniker may seem a little nonsensical, but it actually has its roots in the area's history. Though no one knows for sure who came up with the nickname, however, many believe it's inspired by the fur traders who helped the territory's economy in its early years.
Since many of these pelts came from wolves and wolverines, the Wolverine State stuck as a nickname. This moniker can be found in tourist literature as well as news articles. It's even used in official state promotional material on occasion since it's been embraced by the local government.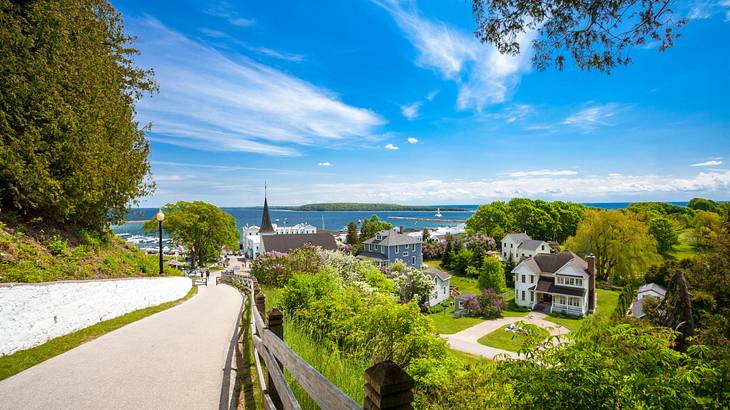 The Fudge State
Michigan's title as the Fudge State can be traced to Mackinac Island, located on Lake Huron. When this area's tourism industry began to grow in the 1850s, sweet shops began opening to accommodate visitors. As the years went on, fudge became a local favorite until the island became the self-proclaimed fudge capital of the world.
Eventually, this moniker began to spread, and out-of-state tourists would make the journey to Michigan just to try Mackinac's fudge. Today, the moniker isn't as popular as it once was around the rest of the territory, but the island is still famous for its sweets.
Orange Barrel State
Orange Barrel State is a humorous nickname adopted by Michigan residents to describe the bright orange traffic cones that seemingly appear on the state's roads overnight. Due to harsh winter conditions and traffic, Michigan's roads require a lot of maintenance, thus the need for these orange cones.
Not only have residents taken their frustration with the traffic and turned it into humor with the use of the nickname, but they've also unofficially dubbed traffic cones as a state symbol. Private businesses and companies often sell novelty items sporting this phrase with one of the famous barrels.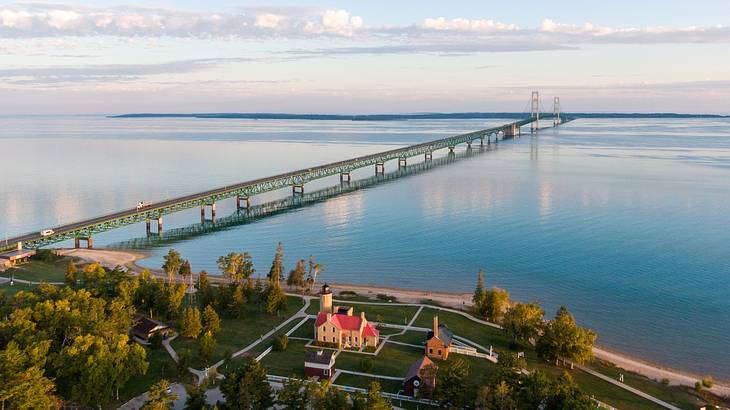 Peninsula State
Peninsula State is one of the least-used Michigan state nicknames since it's often foreshadowed by the state's mitten-shaped geography. Due to the vastness of the Great Lakes that create parts of the state's borders, Michigan is made up of two separate peninsulas, thus inspiring this particular moniker.
The main part of the territory, the mitten, is the Lower Peninsula and is the larger of the areas. The Upper Peninsula of Michigan, instead, is separated from the rest of the state by Lake Huron, meaning you need a boat to get from one area to the other.
In Summary
Clearly, Michigan is an interesting city with a lot of culture and history worth knowing. While nicknames like the Mitten State and the Great Lakes State might have been pretty obvious, others, like the Fudge State, may have been a complete surprise.
Hopefully, this list of nicknames has helped you get to know Michigan a little better. Now you just have to decide which of these monikers you should start using first!
Give us feedback about this article
More articles about Michigan:
Read more articles about the United States:
More articles about nicknames:
---
---
Want to keep exploring?
Subscribe for discounts on tickets and hotels and our latest guides.
Thank you for subscribing
We will be in touch soon with discounts on tickets and hotels and our latest guides.
Want to keep exploring?
Subscribe for discounts on tickets and hotels and our latest guides.
Thank you for subscribing
We will be in touch soon with discounts on tickets and hotels and our latest guides.
Related Articles