15 Landmarks in Minneapolis to Visit
Destguides may receive commissions from purchases made through affiliate links in this article.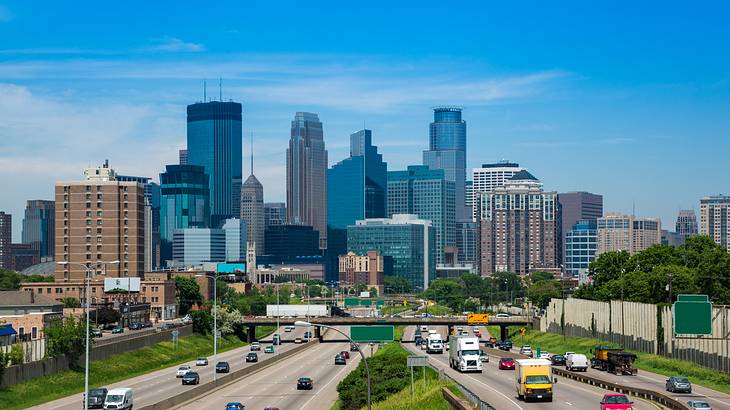 Minneapolis is a large city in Minnesota next to the city of St. Paul, which combine to make the "Twin Cities." As the largest city in Minnesota, it's not surprising that there are many attractions and landmarks in Minneapolis to see.
Apart from being a scenic city with many lakes, parks, and of course, the mighty Mississippi, it offers many unique monuments and places of interest, from Stone Arch Bridge to the Mary Tyler Moore Statue.
There are also many historical sites in Minneapolis, such as St. Anthony Falls and the Mill City Museum. Whether you want to know more about this Minnesota city or are planning a visit, take a quick tour of the handpicked landmarks in the article below.
15 Minneapolis, Minnesota, Landmarks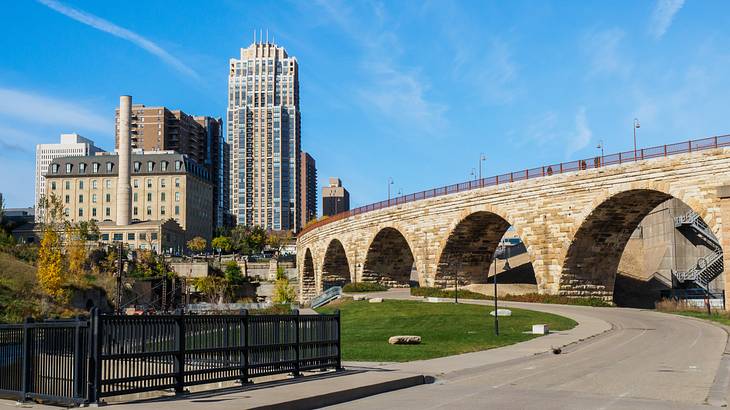 Mill City Museum
Opened in 2003, the museum was built beside Mill Ruins Park along the Mississippi River. The exhibits cover Minneapolis's establishment and development, focusing on the flour milling industry that used hydropower from Saint Anthony Falls.
The city is so proud of its flour milling history that, along with being the museum's name, Mill City is a popular Minneapolis nickname. Interestingly, Mill City Museum is also located in the ruins of what was the world's largest flour mill at its completion in 1874. The Minnesota Historical Society names this museum as one of its must-see landmarks.
Stone Arch Bridge
One of the most well-known famous places in Minneapolis is the James J. Hill Stone Arch Bridge. Completed in 1883, the bridge was built to transport the Minneapolis Union Railroad over the Mississippi River. It has 23 limestone arches and spans a total length of 2,100 feet.
The bridge is now a pedestrian path along the St. Anthony Falls Heritage Trail and is a National Historic Engineering Landmark. Stone Arch Bridge is one of the famous Minnesota landmarks that you can't miss seeing!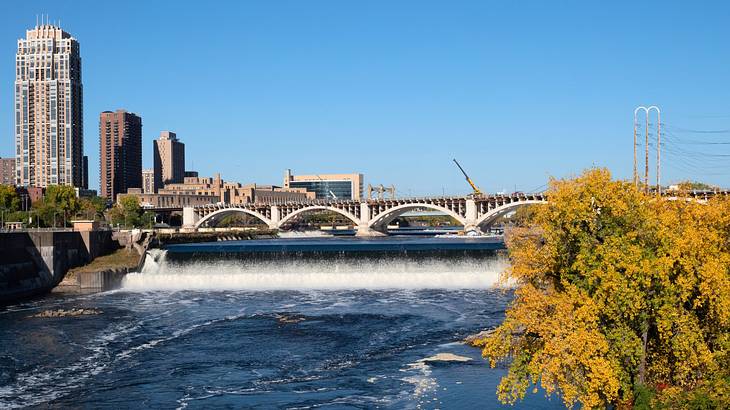 Saint Anthony Falls
Saint Anthony Falls stands as the Mississippi River's only natural major waterfall. In the mid-to-late 1800s, several dams were constructed on the east and west sides of the falls to bolster the milling industry, propelling the growth of Minneapolis.
Father Louis Hennepin (the first person to put Minnesota on the map for Europeans) renamed the falls in 1680 in honor of his patron saint, St. Anthony of Padua. A Historic District Area surrounds St. Anthony Falls, allowing visitors to explore the self-guided, two-mile Heritage Trail.
Mary Tyler Moore Statue
Only two blocks from the Nicollet Mall Metro Station, the Mary Tyler Moore Statue is one of the most well-known Minneapolis monuments. It was dedicated in 2002 in the presence of Mary Tyler Moore.
The depiction was chosen from 21 submitted designs and captures the scene from the opening credits of the Mary Tyler Moore Show when Mary throws her tam in the air.
W Minneapolis – The Foshay Tower
The Foshay Tower is one of many famous buildings in Minneapolis and symbolizes the city's skyward growth. It was the first building to surpass the height of City Hall, which was the tallest building in the city for over 20 years. The tower remained the tallest structure in Minneapolis until the IDS Center was built in 1972.
Today, Foshay Tower is home to the W Minneapolis, a luxurious Art Deco-style hotel. In addition, the Foshay Museum and Observation deck on the 30th floor offers guests breathtaking 360-degree views of the city's skyline.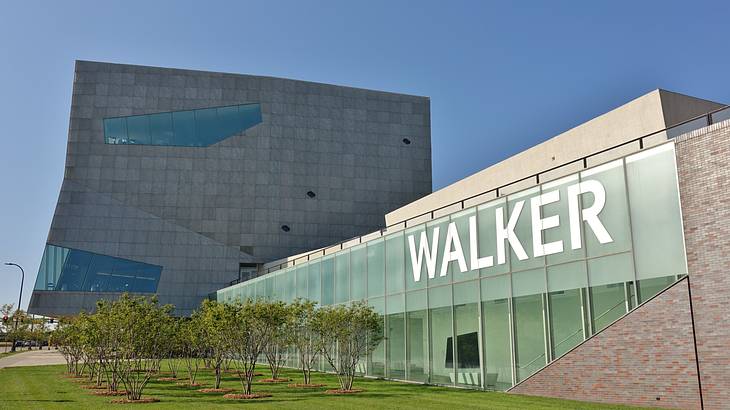 Walker Art Center
Located on the former land of the indigenous Dakota people, The Walker Art Gallery started over 125 years ago as a one-room space for Thomas Barlow Walker's art collection.
It evolved into the Walker Art Center, a hub for new art production and preservation of culturally significant artifacts. Today, the gallery houses almost 12,000 works by approximately 2,300 artists.
Theodore Wirth Regional Park
Theodore Wirth was a Swiss-born designer who played a pivotal role in creating the Minneapolis parks system in the early 20th century.
Today, Theodore Wirth Park is the largest park in the Minneapolis park system, covering 743 acres and serving as a popular recreational destination.
If you're wondering about the best time to go to Minneapolis to visit Theodore Wirth Park, opt for a spring trip when the flowers are in bloom.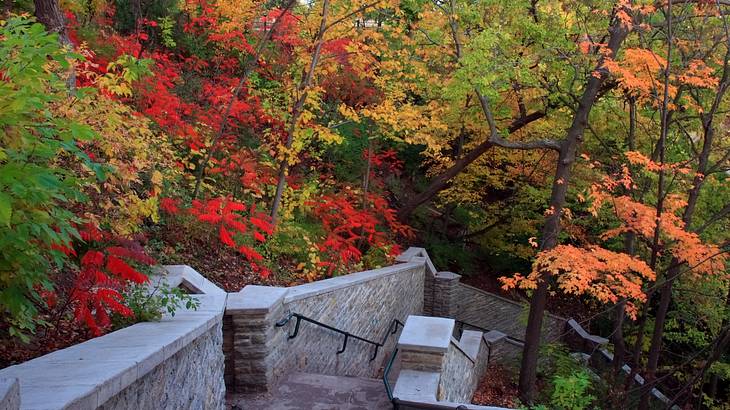 Minnehaha Regional Park
Minnehaha Park is the beautiful home to Minnehaha Falls and Minnehaha Creek. Landscape architect Horace W.S. Cleveland designed it in 1883 as a crucial part of the Grand Rounds Scenic Byway system which links the city's parks.
This scenic area was also included in the popular steamboat tour of the Upper Mississippi River named the "Fashionable Tour." Today, you can hike trails through the park, spot wildlife, and marvel at the waterfalls and other natural scenery.
Lake of the Isles
The Lake of the Isles is an artificial lake created in the early 1900s. The Park Board dredged a shallow lake and marsh complex and used the material to construct a beautiful parkland. The result is a picturesque green space frequented by 5.5 million visitors annually.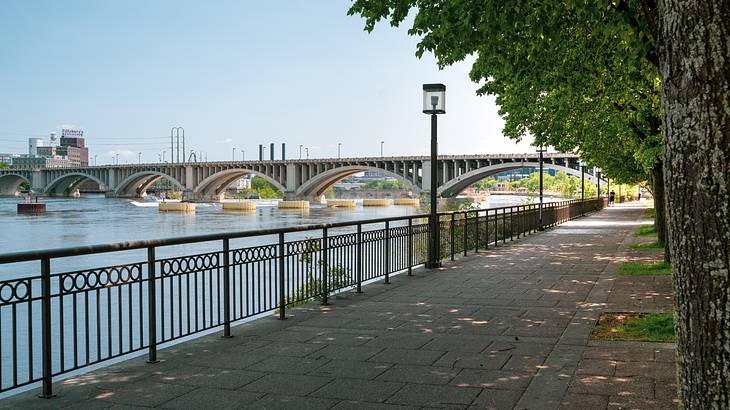 Mississippi River
The Mississippi River flows south for 2,340 miles to the Gulf of Mexico. An interesting Minnesota fact relating to the Mississippi River is that the source of the river is located in Minnesota, and it flows through 10 states and numerous cities, including Minneapolis.
This river has shaped American culture and inspired many artists and musicians. A cultural treasure, it represents a common thread weaving together America's history and identity. You can see the renowned Mississippi River from various places in Minneapolis, with many areas featuring scenic walking paths alongside it.
Weisman Art Museum
The Frederick R. Weisman Art Museum, part of the University of Minnesota, was established in 1934. It was named for prolific art collector and philanthropist Frederick R. Weisman.
The gallery houses over 20,000 pieces and is widely recognized as a modern art museum. It boasts extensive collections of art by well-known artists, as well as Native American Mimbres pottery and traditional Korean furniture.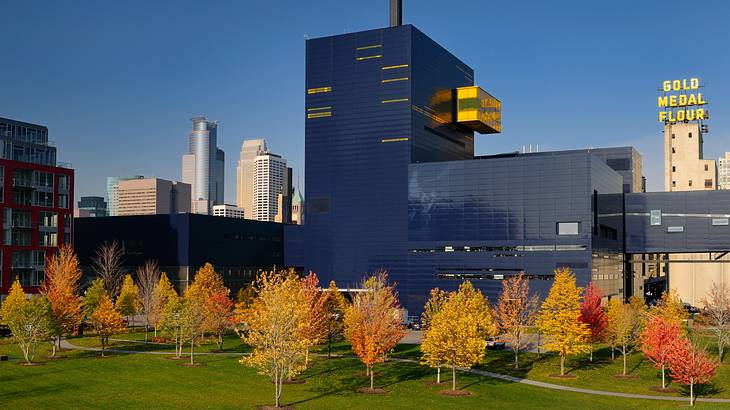 Guthrie Theater
The Guthrie Theater was inaugurated on May 7, 1963, with a performance of Hamlet under the direction of Sir Tyrone Guthrie, its founder. Disillusioned with what Broadway had to offer, Guthrie conceptualized and built a new theater.
The theater had a remarkable start with 22,000 season ticket holders and $300,000 in advance sales for its first season of four plays. In June 2023, it celebrates its 60th birthday, still going strong as a much-loved theater venue.
Rev. Dr. Martin Luther King Jr. Park
The park, previously known as Nicollet Field, was renamed on October 9, 1968. Shortly after the civil rights leader's assassination, it became the Martin Luther King Jr. Park in his honor.
This versatile recreation center offers many amenities, including baseball fields and basketball courts. You can also wander along tree-lined trails, and there's a playground for kids.
Loring Park
Loring Park is named after Charles Loring, known as the "Father of Minneapolis Parks." It's an outdoor landmark that attracts many to wander through the picturesque setting, admiring the over 19,000 flowers and bedding plants.
In addition, Minneapolis Parks' first permanent recreation center was built in Loring Park in 1906. The park also boasts a lake and offers other amenities such as a playground, biking and walking trails, and even a fishing pier!
Mississippi Gorge Regional Park
Along the Gorge at 36th Street in Minneapolis lies a natural landmark consisting of scattered oak trees and a layer of prairie grasses and wildflowers. Visitors can partake in either biking or hiking along the various trails. During the spring and fall migration seasons, also enjoy bird-watching along the gorge.
In Summary
This article on Minneapolis, Minnesota, colloquially known as "Mill City," gave you a cross-section of landmarks to pique your interest in learning more about this historic city. No matter what landmarks you choose to visit, you'll be impressed with what Minneapolis has to offer!
Give us feedback about this article
Learn more about Minneapolis:
More articles about Minnesota:
Read more articles about the United States:
More articles about landmarks:
---
---
Want to keep exploring?
Subscribe for discounts on tickets and hotels and our latest guides.
Thank you for subscribing
We will be in touch soon with discounts on tickets and hotels and our latest guides.
Want to keep exploring?
Subscribe for discounts on tickets and hotels and our latest guides.
Thank you for subscribing
We will be in touch soon with discounts on tickets and hotels and our latest guides.
Related Articles