20 Best Outdoor Activities in Kansas City, MO
Destguides may receive commissions from purchases made through affiliate links in this article.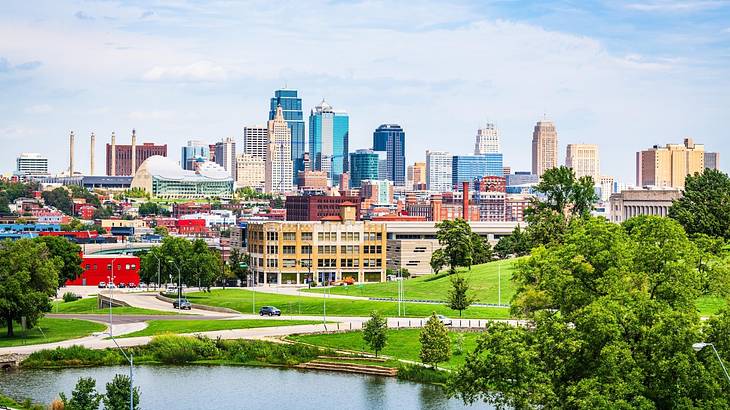 Kansas City is one of the most interesting cities in the Midwestern United States. This destination sits on the border of Kansas but is actually located in the state of Missouri. The city has a host of incredible indoor attractions and Missouri landmarks to see; however, you can also discover many things to do outside.
Some of the best outdoor activities in Kansas City, MO, include watching local professional sports teams play, exploring parks and botanical gardens, and dining on pretty patios. If you've been wondering what to do outdoors in KC, keep reading for 20 fun suggestions!
20 Kansas City Outdoor Activities
Things to Do Outdoors in Kansas City
Go to the Worlds of Fun and Oceans of Fun amusement parks
Worlds of Fun is an exciting amusement park located about 20 minutes from downtown. Next to the theme park, you can also find Oceans of Fun, a water park.
At Worlds of Fun, you'll find a range of rides for all thrill levels. These amusements include roller coasters, bumper cars, and carousels for little ones. At the water park, you can go on a selection of water slides, a wave pool, and an aquatic obstacle course. A splash pool with a jungle gym is on-site too.
The best time to visit Kansas City to go to Worlds of Fun is in the spring and summer. The park generally opens at the end of April and closes for the season at the start of October. Oceans of Fun usually opens at the end of May and operates through August.
See a show outside at Starlight Theatre
The Starlight Theatre is an outdoor theater located in Swope Park, approximately 15 minutes from downtown. The outside venue has slightly over 7,590 seats and shows Broadway and other theater productions.
Oklahoma! and Hairspray are just a few of the performances that have been on in the past. Concerts are also held here, and attending a concert at Starlight Theatre offers a different experience from seeing a music performance inside or at a festival.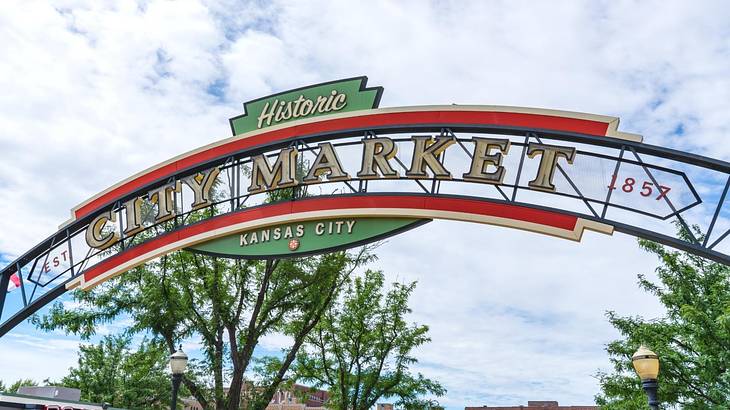 Shop at City Market
Dating back to 1857, City Market is one of Kansas City's oldest attractions. At the open-air market, you can check out a variety of market stalls. Vendors sell products such as locally grown fruit and veg, flowers and plants, pet treats, and baked goods.
You'll also find restaurants around the market, with indoor and outdoor seating, as well as some indoor shops and specialty grocers. If you're looking for the best laid-back outdoor things to do in Kansas City, you have to plan a trip to City Market!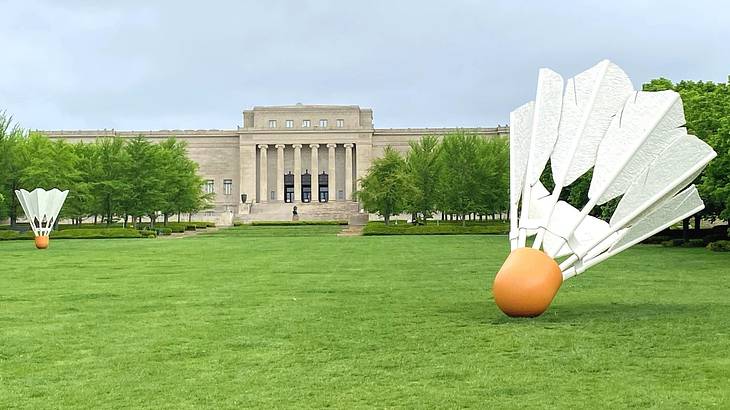 Picnic on the lawn at the Nelson-Atkins Museum of Art
One of the laid-back KC outdoor activities is relaxing with a picnic on the lawn at the Nelson-Atkins Museum of Art. The museum itself opened in 1933 and houses a vast collection of art, especially a notable collection of Asian art.
Whether or not you go inside this famous Kansas City landmark or not, the vast lawn surrounding the attraction is a great place to hang out. You can appreciate views of the museum's pond from here and will spot the interesting shuttlecock sculptures that sit on the lawn. Some outdoor events are held throughout the year at the museum too.
Follow trails at the Lakeside Nature Center
Lakeside Nature Center is a wild animal rehabilitation facility that also has trails and some wildlife exhibits. Start your visit by seeing the exhibits and a few of the animals that live at the center, including Wilma, the ornate box turtle who is the center's oldest resident.
You can then follow a trail through the scenic woodland surroundings. Routes to hike include a lakeside trail and a marshland trail on which you'll spot creatures like frogs, toads, and herons.
Watch the Kansas City Royals
One of the best outdoor activities in Kansas City for sports lovers is watching a Kansas City Royals game. The Major League Baseball team plays at Kauffman Stadium, located 10 minutes away from downtown KC.
At the ballpark, you can cheer on the team and enjoy the atmosphere. You can catch regular-season games between April and October.
Catch a Kansas City Chiefs game
Another professional sports team that plays in Kansas City is the Kansas City Chiefs NFL team. The Chiefs play at Arrowhead Stadium, located next door to Kauffman Stadium.
This team has some high-profile players and a loyal fan base, making for a great atmosphere at games. The Kansas City Chiefs play from September to January in the regular season, with playoff games possible through mid-February.
Spend some time at Mill Creek Park and see the Mill Creek Fountain
Located ten minutes from downtown Kansas City, Mill Creek Park is another perfect place to spend some time outdoors. Attractions in the 11.4-acre park include grassy areas to sit, scenic paths to follow, and fitness trails and tennis courts.
A notable feature at the park is the Mill Creek Fountain. The fountain was installed in Kansas City in 1951 after being brought over from New York. When in the park, make sure you take some pictures of the fountain! If you're in the park at night, you can the fountain illuminated too.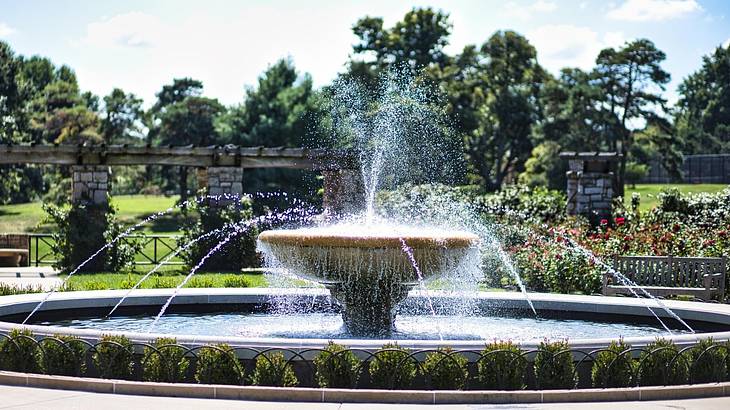 Enjoy the attractions at Jacob L. Loose Park
Loose Park, also known as Jacob L. Loose Park, is the third-largest park in Kansas City. The scenic outdoor space features trails, a lake, water features, and a beautiful rose garden with over 3,000 roses of 130 varieties.
After exploring the park, you can find a range of places to relax and share a picnic with friends or family. If visiting with young children, you'll also find a kid's playground for them to use. Loose Park additionally has tennis courts for those that want to keep active.
Cheer for Sporting Kansas City
Soccer lovers will be pleased to learn that Kansas City has a Major League Soccer team, Sporting Kansas City. You can watch the team play between March and October at Children's Mercy Park.
As with other sporting events in the city, you'll be able to cheer along with the home fans and appreciate the electric atmosphere! Going to a Sporting Kansas City game isn't just for soccer enthusiasts though. You can enjoy the game and follow along easily, even as a newbie fan.
Have a fun day out at Kansas City Zoo
Going to the Kansas City Zoo is one of the best outdoor Kansas City activities for those in the area with kids. Founded in 1909, the zoo covers 200 acres and is home to approximately 1,300 animals from across the globe.
Penguins, toucans, elephants, and leopards are just a few of the creatures to see at the zoo. After seeing all of the animals, from mammals to reptiles and amphibians, small children can ride a cute safari-themed merry-go-round!
You can also take a sky ride over some of the animals' enclosures, spotting giraffes, lions, zebras, and more.
Hang out at the William E. Macken Park
Located in North Kansas City, William E. Macken Park is a beautiful public park. The 60-acre outdoor attraction has children's playgrounds, tennis and basketball courts, baseball fields, and much more.
Of course, you can also find scenic walking trails and areas to relax on the grass and admire the views. Additionally, the Waggin' Trail Dog Park is found next to William E. Macken Park which is a fun place to check out if you have a pup with you!
Dine on the patio at Gram & Dun
Gram & Dun is a trendy restaurant serving contemporary American dishes. Along with a beautiful indoor dining room, they have a great patio area to relax on with a delicious meal.
The eatery is open for brunch, lunch, and dinner, and dishes on the menu include tequila-lime chorizo meatballs, Tuscan kale Caesar salad, and a selection of sushi rolls. You can order indulgent desserts too, plus signature cocktails, beer, and wine.
While dining on the patio at Gram & Dun is perfect during warmer weather, they also have cozy fire pits allowing you to dine outside even when it's mild.
Explore the Kauffman Memorial Garden
Another great outdoor attraction to visit in Kansas City is the Kauffman Memorial Garden. At the two-acre garden, you can wander along with a selection of trails that feature flower displays, water features, and sculptures.
Some of the pretty flowers you can expect to see include petunias, tulips, daffodils, and geraniums. A trip to the Kauffman Memorial Garden is the ideal way to unwind while in nature. You can also snap some great pictures here!
Things to Do Outdoors Near Kansas City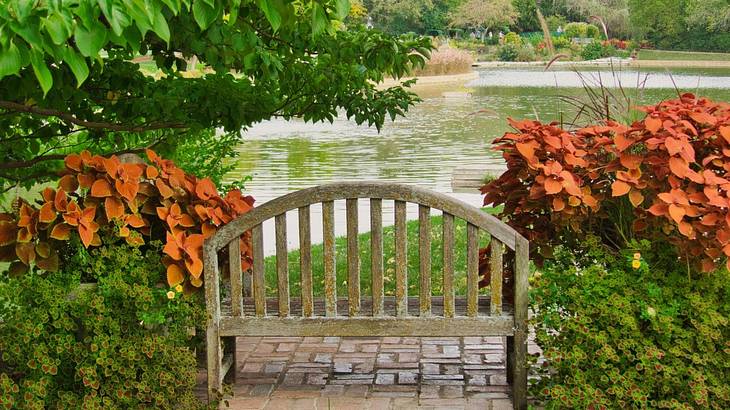 Admire flowers at the Overland Park Arboretum & Botanical Gardens
Overland Park Arboretum & Botanical Gardens is located just across the Missouri border in the state of Kansas. Opened in 1991, the outdoor attraction features beautiful flower and plant displays, ponds, sculptures, and more.
During a visit, you can follow a range of paths through the gardens. Areas to see include the sculpture garden, the water garden, and Byrd's Grove, which has ponds and lots of wildlife. There's also a children's garden to explore if you're traveling to Kansas City with kids.
Spot wildlife at the Parkville Nature Sanctuary
If you're looking for an activity that allows you to get out in the fresh air, going to the Parkville Nature Sanctuary is a must. The attraction has miles of scenic hiking trails that take you through woodlands and past streams and waterfalls.
Animals you may see while at the sanctuary include deer, squirrels, turtles, and turkeys, among many others. Parkville Nature Sanctuary is one of the best places to go birdwatching near Kansas City too.
Wander around Powell Gardens
Going to Powell Gardens is one of the best and most relaxing things to do around Kansas City, MO. During a visit, you can see 6,000 plant varieties. Gardens to explore include a fountain garden with lots of water features, a harvest garden with vegetable plots, and a perennial garden with pretty flowers and butterflies.
There's a children's garden as well to keep kids occupied. Before a visit, check Powell Gardens' calendar as they hold a range of events, such as gardening 101 classes and plant pot painting sessions for children.
Interact with animals at the Martha Lafite Thompson Nature Sanctuary
Visiting the Martha Lafite Thompson Nature Sanctuary is another of the best things to do outside in the Kansas City area. This attraction is located about 30 minutes from central Kansas City and has walks that allow you to see lots of wildlife and plants.
Lizards, raccoons, and a variety of birds are some of the animals you may pass. If you like birdwatching, you can download a bird checklist from the venue's website that highlights all the birds you may see. At the sanctuary, you can also see exhibits on wildlife in the area.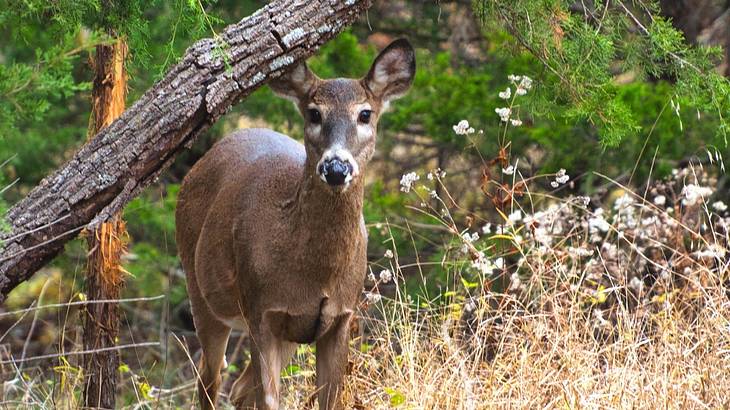 Visit the Ernie Miller Park and Nature Center
Located 25 minutes from downtown, the Ernie Miller Park and Nature Center is another of the must-visit attractions in the Kansas City area. This 116-acre site has a wildlife preserve, plus trails and an education center.
Exhibits in the education center cover wildlife in the area and nature conservation. After looking around the center, you can follow paths that feature animals, plants, and trees. The center hosts lots of events too, especially for small children.
Take your kids to the Deanna Rose Children's Farmstead
One of the outdoor activities near Kansas City to try if you have kids is going to the Deanna Rose Children's Farmstead. At the farm, your family can meet a variety of animals, like sheep, cows, and ponies.
Children can also learn about farming and how fruit and vegetables are grown. Other activities to try range from following nature trails to learning about Native Americans at the Kanza Native American Display.
In Summary
Kansas City is a fun destination to explore! Along with indoor attractions, you'll find an array of outdoor activities in KC to enjoy.
From watching local baseball, football, or soccer teams, to shopping at farmers markets and wandering around gardens, this midwestern city has something for everyone to do outside.
Give us feedback about this article
More visual stories related to this article:
---
---
Want to keep exploring?
Subscribe for discounts on tickets and hotels and our latest guides.
Thank you for subscribing
We will be in touch soon with discounts on tickets and hotels and our latest guides.
Want to keep exploring?
Subscribe for discounts on tickets and hotels and our latest guides.
Thank you for subscribing
We will be in touch soon with discounts on tickets and hotels and our latest guides.
Related Articles