7 Fall Activities in St Louis, Missouri That You Must Do
Destguides may receive commissions from purchases made through affiliate links in this article.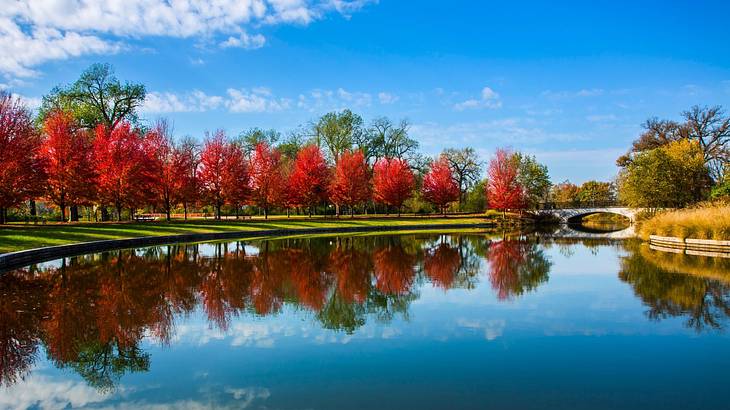 As summer comes to a close, the air becomes crisper, and the days shorter. The change in weather also calls for enticing new activities, from exploring corn mazes to attending festivals.
St. Louis, MO, is notably one of the top places to enjoy in the fall. You'll discover lots to see and do, and the weather is perfect. So it's time to take out your cozy sweaters and warmer clothes to explore all the best fall activities in St Louis!
7 Fall Things to Do in St Louis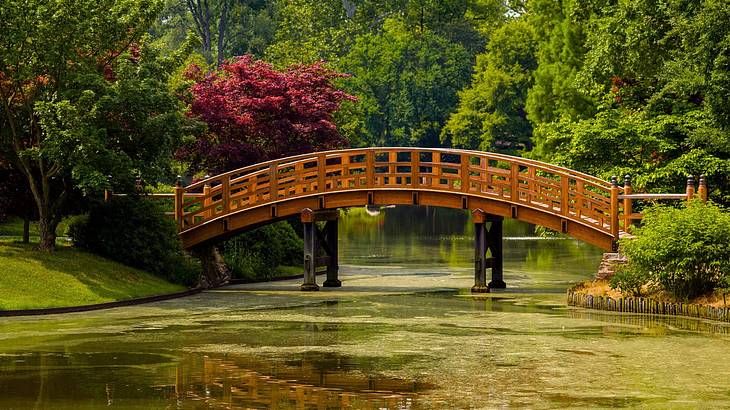 St. Louis Japanese Festival
The Japanese Festival is held over the Labor Day long weekend at the Missouri Botanical Garden. This garden is a St. Louis landmark and the oldest botanical garden in America. It was founded in 1869 by Henry Shaw.
The entire garden is 79 acres, and the Japanese Garden is 14 acres, providing a calm and tranquil atmosphere within the city of St. Louis. Throughout the festival, there are scheduled events, including Sumo wrestling and dancing. There are also many Japanese food vendors.
Feel free to eat all the sushi your heart desires! The festival aims to promote Japanese history and culture and appeals to all ages.
Scarefest
Arguably the most popular activity during the autumn months in St. Louis is Scarefest. This event includes three attractions: The Darkness, Creepyworld, and The Haunted Lemp Mansion. All of these events employ real people who wander around the houses to scare you.
The houses are mostly all pitch black, and you kind of have to feel your way around without being able to see anything. You can expect chainsaws, strobe lights, creepy costumes, loud noises, and everything else that you're probably terrified of.
The Darkness is said to be the BEST haunted house in America. It's located in Downtown St. Louis. Creepyworld is 13 smaller haunted houses in a group. All the houses have a different theme, and you have to walk through all of them to get to the exit.
The Haunted Lemp Mansion is actually a real-life haunted house. The Lemp family committed three suicides in the house during the time of the Great Depression. They have a fascinating family history that is tied to the beer culture in St. Louis, which you should read about before visiting!
Visitors have been known to see ghosts and experience paranormal activity. Walking through this haunted house is especially creepier during Halloween.
St. Louis Renaissance Faire
Be transported back in time at the Renaissance Faire in Wentzville, MO. This event is organized by Mid-America Festivals, a large organization that puts on many events all across America.
The St. Louis Renaissance Faire runs from mid-September to mid-October during the weekend only. You'll be able to experience traditional medieval jousting, plus food and games. You may even meet the King and Queen.
You can also participate in numerous contests, including a costume contest, a fantasy mask contest, a mural contest, and a fairy house competition. Throughout the day, there are various events and different dining options.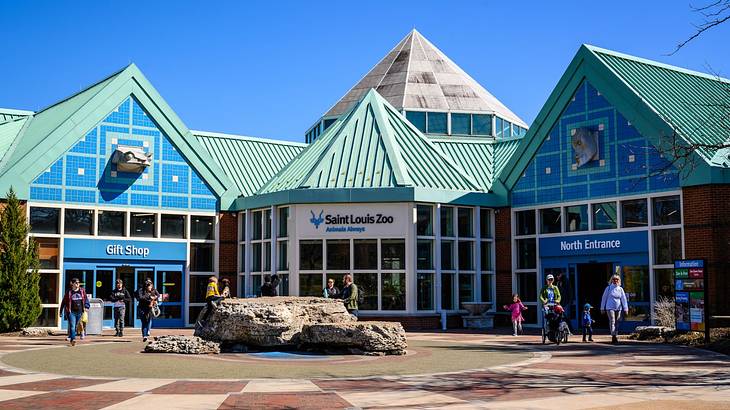 Boo at the Zoo
This event is definitely a kid-pleaser and fun for the whole family. Boo at the Zoo is held at the St. Louis Zoo inside the Forest Park. The event occurs during the second half of October. Be sure to come in costume and get ready to go trick-or-treating after dark. You'll get to visit all your favorite zoo animals while admiring the park's festive decorations.
Themed events and activities are set up throughout the park for visitors to participate in, including pumpkin painting, a haunted house, craft activities, and more. The St. Louis Zoo was first created in 1904 during the World Fair. However, it wasn't until 10 years later that it became an official zoological park.
There was much excitement in the early years of the zoo when the first elephant was purchased, and the bear pit was created. Today, the zoo is a leading zoological center covering 90 acres of land for 18,700 animals. The zoo is made of six sections: Historic Hill, Red Rocks, Lakeside Crossing, River's Edge, The Wild, and Discovery Corner.
The Great Godfrey Corn Maze
The Great Godfrey Corn Maze is held over on the Illinois side in Godfrey, IL, in conjunction with the Fall Corn Festival. It is one of the largest corn mazes in the area.
There are plenty of family-friendly activities here, such as a hayride, petting zoo, mini-maze, and pumpkin picking. It is open from September to October, weekends only.
Frightfest St. Louis
If you're seeking a thrill, you won't want to miss Frightfest at Six Flags in the evening. This event is held nationally at all Six Flags locations in America and begins at the end of September.
During the day, the park operates as usual, but once the sun goes down, you can expect a creepier atmosphere. The entire park is decorated for Halloween, and special events are put on. There are haunted houses and scare zones to give you a scream. You can even ride the coasters in the dark.
Art Festivals
Almost every autumn weekend in St. Louis, there is an art festival that showcases local St. Louis artists.
The Art Fair at Queeny Park features artists from 20 states and takes place at the end of August.

The St. Louis Art Fair is held in the business district of Clayton at the beginning of September. The streets are closed off during the evening, and you can wander the tents in search of your next unique art piece.

Art in the Park takes place in Forest Park near the Art Museum. It has been held annually for 14 years near the end of September.

The Best of Missouri Market takes place at the beginning of October. It is popular for food vendors but also has handmade goods and art.

The Historic Shaw Art Festival is held in the Shaw neighborhood in St. Louis. It is also held at the beginning of October. The proceeds go toward improving the Shaw neighborhood.
It is a good idea to have an understanding of the different neighborhoods in St Louis, so you can plan your events accordingly.
In Conclusion
Now that you have all your autumn activities to do in St Louis planned out, you'll be wanting the autumn months to come sooner rather than later. St. Louis is an amazing city full of local artists. I can't wait for you to explore this historic city for yourself!
Give us feedback about this article
More visual stories related to this article:
Want to keep exploring?
Subscribe for discounts on tickets and hotels and our latest guides.
Thank you for subscribing
We will be in touch soon with discounts on tickets and hotels and our latest guides.
Want to keep exploring?
Subscribe for discounts on tickets and hotels and our latest guides.
Thank you for subscribing
We will be in touch soon with discounts on tickets and hotels and our latest guides.