25 Famous Landmarks in Montana You Must Visit
Destguides may receive commissions from purchases made through affiliate links in this article.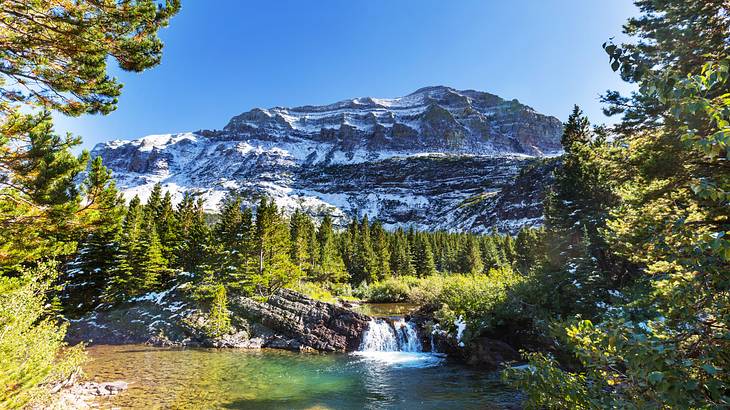 As one of the less-populated US states, often, when people think about Montana, not much comes to mind. So, you might be wondering:
What is Montana famous for?
Montana is famous for its state and national parks, such as Yellowstone, which extends from Wyoming into Montana and has some of the most diverse wilderness in the United States. However, Yellowstone National Park is not all that's worth visiting in Montana!
There are many famous landmarks in Montana to visit. History buffs also have plenty of landmarks to see in this great state. As one of the territories explored by Lewis and Clark during their renowned Westward expedition, there are plenty of spots in Montana that mix history and natural beauty.
There are also many historic districts, from the first Montana settlements that are still around today to museums that showcase what life in the Rocky Mountains entailed for pioneers. There's plenty to see in this great state!
To help you plan your trip, here's a list of 25 famous places to visit in Montana.
25 Famous Montana Landmarks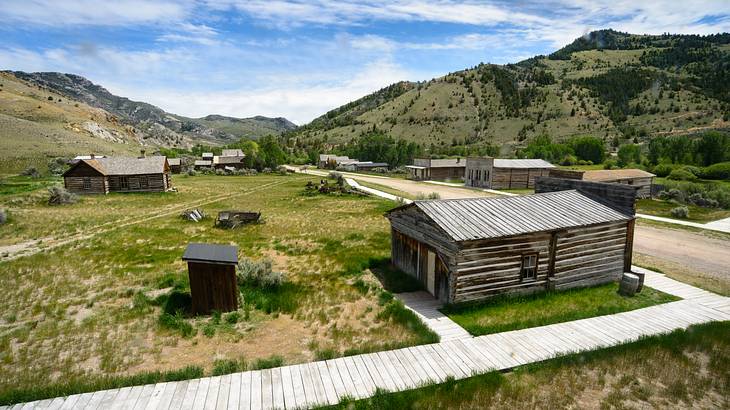 Bannack State Park
Before the 1860s, Montana was a largely deserted state. It only saw occasional settlements and pioneers passing through on their way to the West Coast. All that changed after 1862 in the area that would become known as Bannack when the earlier settlers found gold.
Until then, Montana wasn't a large part of the gold rush. Today the Bannack ghost town is a famous landmark in Montana that's perfect for history lovers to visit and explore.
Original Governor's Mansion
Helena, the state capital, is the heart of Montana's Lewis and Clark county. As the center of the state's government, it was only logical that the governor resides there. Though a businessman and not a politician initially constructed it, the Original Governor's Mansion was soon given over to the Montana government.
Thus started the multi-generational tradition of governors and their families calling the mansion home. Today the governor's home has moved, but the original mansion is open to the public as a museum.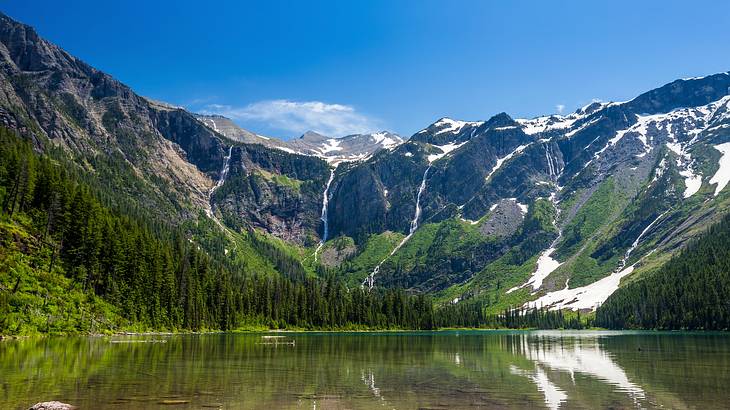 Avalanche Lake
Though Glacier National Park is full of trails and views, Avalanche Lake is one of its natural landmarks that visitors can't miss. Local hikers highly recommend this trail above all the park's others.
The lake is found at the end of a nearly three-mile-long trail that usually takes a couple of hours to reach. Though the trek is considered moderately challenging, most people say it's worth the effort. The beautiful mountains around the lake will also help you understand why Montana nicknames like the Mountain State and Land of Shining Mountains exist.
Yellowstone National Park
Everyone has heard of Yellowstone National Park. This massive natural landmark spans multiple states and is famous worldwide.
However, Montana has some of the park's most famous attractions. For example, the West Yellowstone gateway leads visitors to the Old Faithful geyser. You can also visit the Grizzly and Wolf Discovery center from Montana's Yellowstone territory.
Whether you're a nature lover, a natural science buff, or you're looking for some adventure, Yellowstone is a Montana landmark you can't miss.
Beaverhead-Deerlodge National Forest
Though Yellowstone might be the largest National Park in the United States, most of its territory isn't found in Montana. Beaverhead-Deerlodge National Forest gets the honor of being the state's largest national park.
Covering over 3 million acres of land, Beaverhead-Deerlodge National Forest has beautiful scenic views around every corner. Its size also means you can do virtually any outdoor activity within the park. From hiking to horseback riding, there's something for everyone in the park.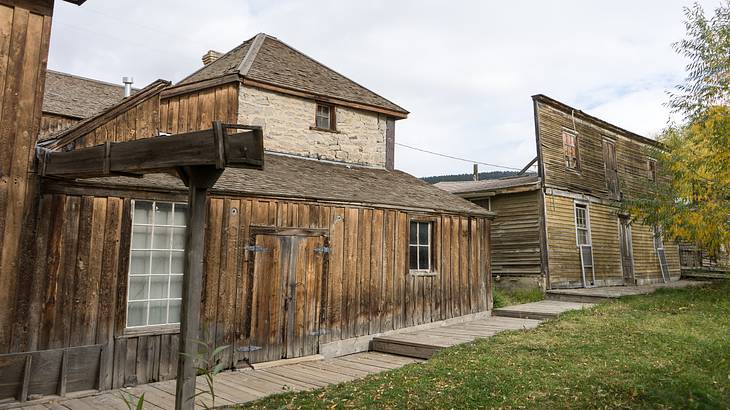 Virginia City Historic District
Once prospectors discovered gold in Montana, it became a hotspot for those wishing to capitalize on the gold rush. Virginia City was, during its heyday, a metropolis thanks to successful mining in the area.
Though it was eventually abandoned, Virginia City was one of the state's original capitals. It was also remarkably well-preserved over time.
Today there are still over 200 original buildings in the historic district. All that makes Virginia City one of the most historical places in Montana.
Butte–Anaconda Historic District
Most people think of gold when they think about early American mining efforts. However, copper was another resource routinely mined and used in the early industrial US.
The Butte-Anaconda Historic District marks the importance of copper mining in American history. The towns of Butte, Anaconda, and Walkerville were some of the largest copper producers in the country. Due to their proximity, the entire territory was named a historic district in the 1960s and was expanded in 2006.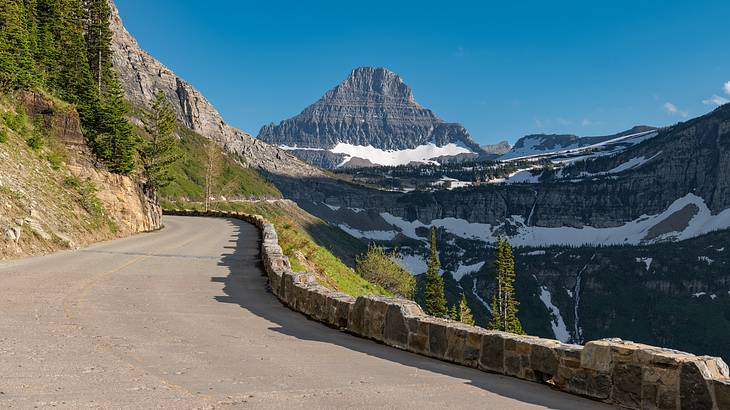 Going-to-the-Sun Road
If you're looking for a scenic drive to take while visiting Montana, you have to see Going-to-the-Sun Road in Glacier Park. This 50-mile stretch of road is so beautiful it's been named a national historic landmark.
There are glaciers, canyons, waterfalls, and more that you can't replicate in any other park in America. All of which makes it a favorite spot among locals. You can drive your car. However, you need reservations, and the road closes nightly. You can also take a bus tour.
Fort Benton Historic District
If you're a history buff that's always been interested in early Western US settlements, you have to visit Montana for the Fort Benton Historic District alone. This small town has the honor of being the oldest continuous settlement in the state.
Since 1846 there's been a steady population in the town. Initially, Fort Benton was predominantly a trading post and mercantile town. As industries started to settle in larger cities, Fort Benton's population dropped, but its historical significance garnered its new popularity.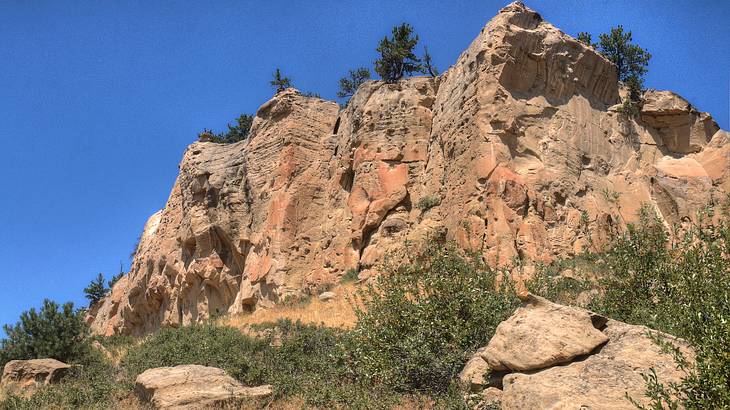 Pictograph Cave State Park
It's not hard to see why Pictograph Cave State Park got its entry into the US national register of historic places. With cave paintings that date as far back as 2000 years, it's a historically and archaeologically significant area.
The pictographs are located in three caves that were first discovered in 1937, making it one of the state's earliest archaeological sites. Surrounding the caves are beautiful trails and wildlife, making it a great day-trip spot.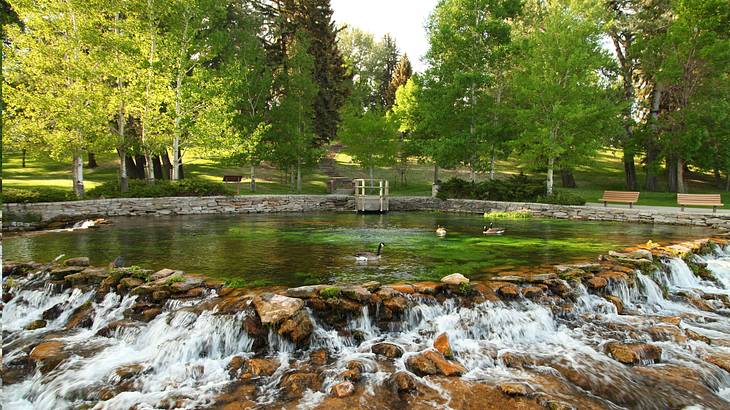 Giant Springs State Park
Along the Missouri River, you'll find the natural Montana landmark Gian Springs State Park. Home of one of the United States' largest freshwater springs.
Initially explored by Lewis and Clark, this park is now a favorite wilderness location for locals and tourists alike. With miles of hiking trails, campgrounds, and other recreational areas, you can easily fill multiple days and still feel like you want more time in the park.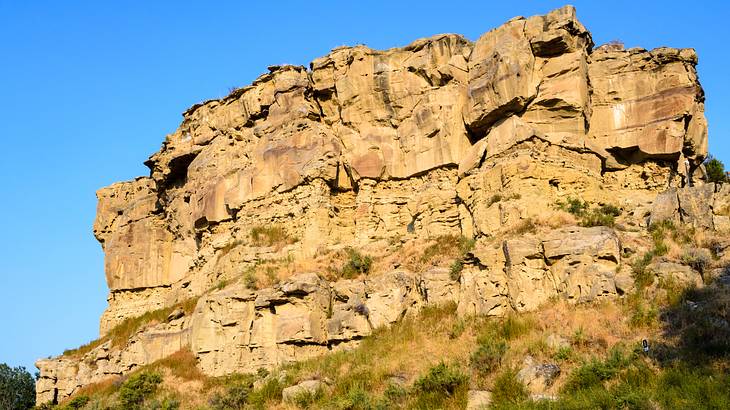 Pompeys Pillar National Monument
Pompeys Pillar is a 51-acre territory near the Yellowstone River. However, the rock formation found at its center makes this area one of Montana's national historic landmarks. Covering 2 acres of land and reaching 120 feet in height, the Pompeys Pillar is a natural sandstone outcropping unique to the area.
In fact, there aren't any other sandstone structures like it in the state. Due to its particular shape and size, it was likely used as a ceremonial location for the native tribes in Montana.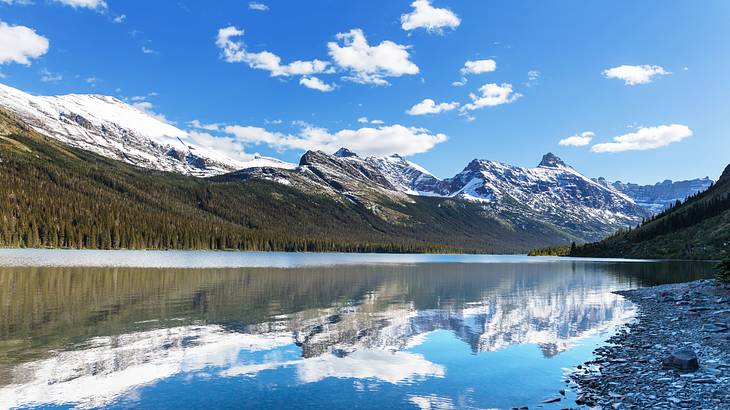 Glacier National Park
You've already seen Glacier Park show up on this list, but the entire park is worth visiting, not just its main attractions. Since the National Park Service christened it in 1910, Glacier Park has been considered one of the West Coast's best parks.
There are over 700 miles of trails and countless mountains, lakes, and valleys to explore. Whether you're a seasoned outdoors person or new to hiking and camping; Glacier National Park needs to be on your must-visit list.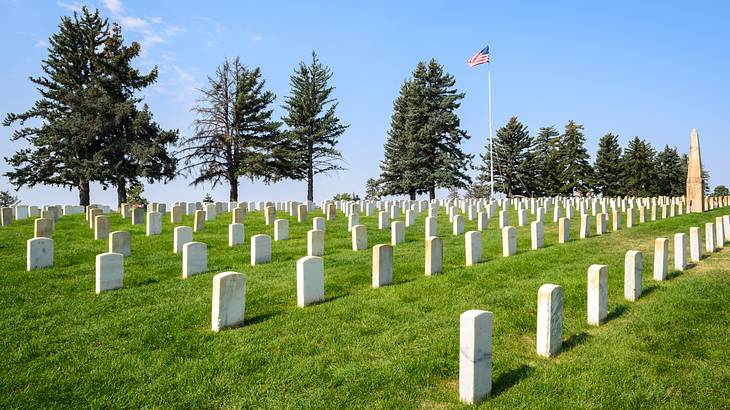 Little Bighorn Battlefield National Monument
With America's Westward expansion came conflicts with the native tribes that called that land home. The Little Bighorn Battlefield National Monument aims to pay tribute to the region's people and ensure their history isn't forgotten.
Visitors can walk around the battlefield and visit the exhibits to learn about the 7th Cavalry's battle against the Lakota and the Cheyenne tribes. Generally, audio and guided tours are available to ensure you don't miss anything.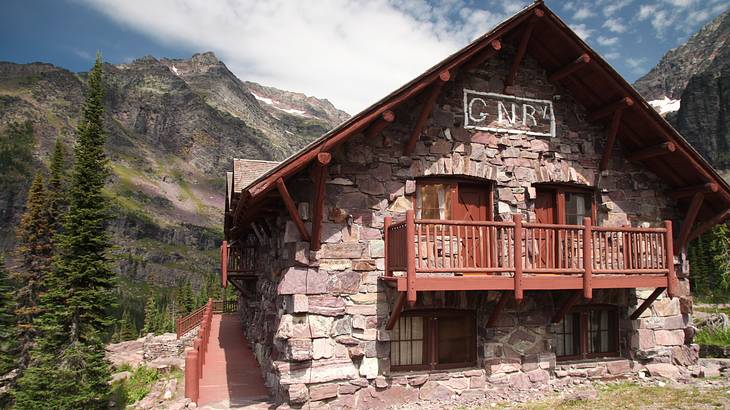 Great Northern Railway Buildings
Glacier National Park has, since its conception, been a tourist attraction Montana locals are proud of. The park's existence is what spawned the construction of the Great Northern Railway Buildings.
This complex was made up of five buildings around Glacier Park to allow guests amenities while they visited. Funded by the Great Northern Railway, it was one of the first major pushes in the US tourism market. The buildings offer an exciting look at the park's early days.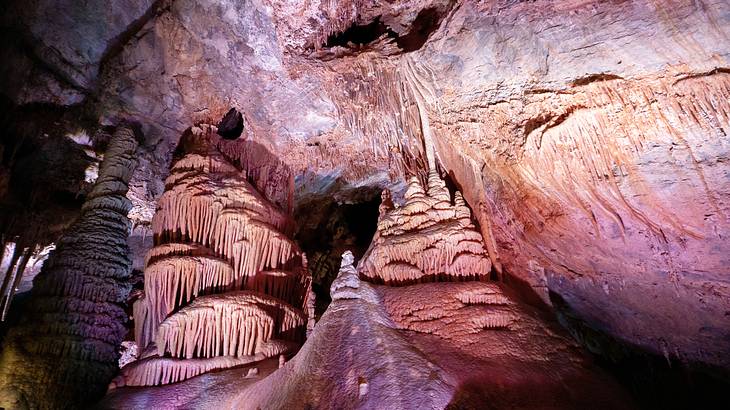 Lewis & Clark Caverns State Park
One of the most famous places in Montana you must visit is Lewis & Clark Caverns State Park. The park's main attraction is its limestone caves known for their impressive stalactites and stalagmites.
However, the park sits on 3000 acres of land, so there are plenty of other things to do. You can hike the numerous trails and camp or learn about the park's history in its visitor centers.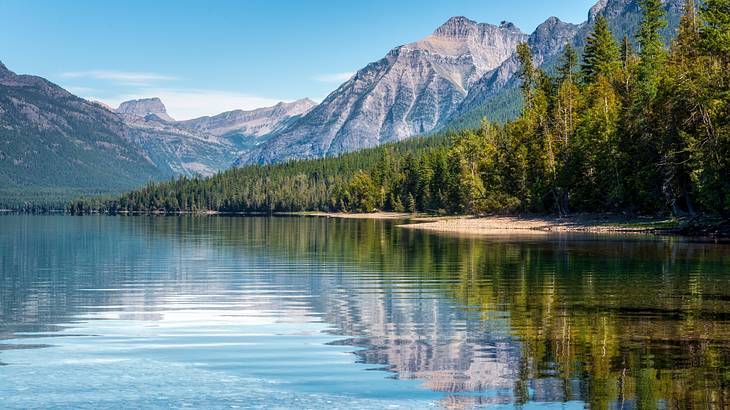 Lake McDonald
While you're visiting Glacier Park, make sure you take time to check out Lake McDonald. As the park's largest lake, it's a favorite spot for hikers to rest and enjoy the scenic view.
The lake itself is impressive in size, thanks to the glaciers that give the park its name. It's 10 miles long and a mile wide. The lake bed is 472 feet below the water's surface at its deepest points.
Lake McDonald Lodge
Though still open to the public as a hotel, the Lake McDonald Lodge is a historic part of the Glacier Park Experience. Initially built in 1913, the lodge aimed to promote tourism to the park.
If you wish to stay at the lodge, you'll get all the amenities you're used to from a hotel. However, you'll also get the rustic park ambiance that visitors love. Its views of Lake McDonald make the lodge one of the most recommended accommodations around Glacier Park.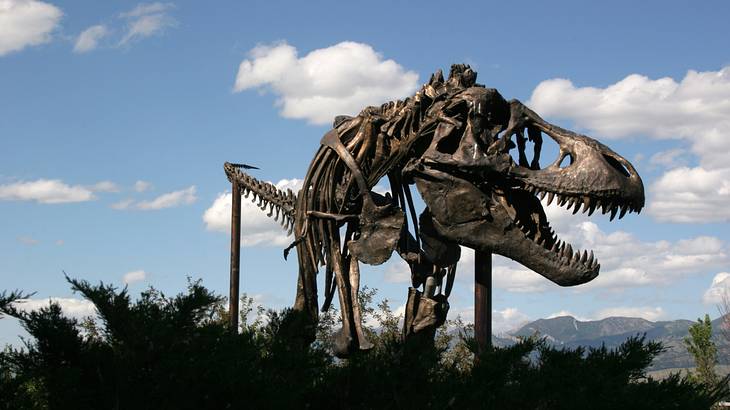 Museum of the Rockies
No trip to Bozeman, Montana, would be complete without a stop at the Smithsonian-affiliated Museum of the Rockies. From Montana's natural history to the history of early native tribes and settlements, there's something in the museum to interest everyone.
Since the museum also has constantly rotating exhibits, every visit is slightly different. So, even if you've seen it once, you'll want to keep going back again and again.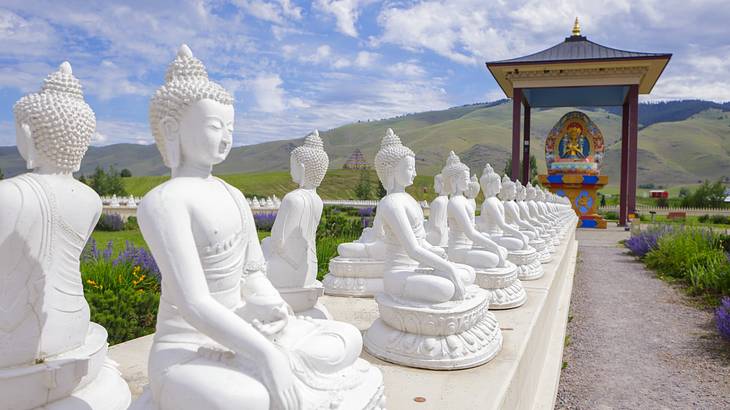 Garden of One Thousand Buddhas
If you're looking for something fun to do while visiting Missoula, consider checking out the Garden of One Thousand Buddhas. This spiritual site is just a short hour-long drive away in the Flathead Indian Reservation.
Since 2012, volunteers who maintain the park have been casting and constructing the 1000 Buddha statues for the garden. Despite the name not being entirely accurate yet, the garden is a peaceful place that will make you feel like you've left Montana for a while.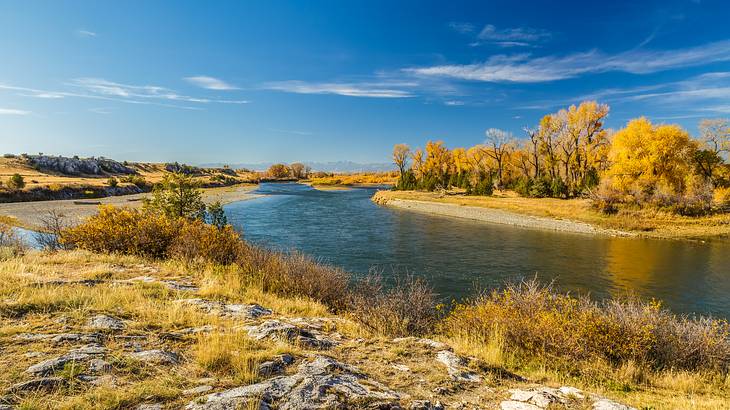 Missouri River
At the beginning of the Lewis and Clark expedition, the explorers likely had no idea that their trip would mark some of the most historic places in Montana. The Missouri River is no exception.
As the longest river in the United States, the Missouri River's size is already enough to put it on the map. However, the fact that its path takes it through some of Montana's most picturesque wilderness is a bonus. No matter where along the Montana portion of this river you visit, you'll be in for breathtaking views.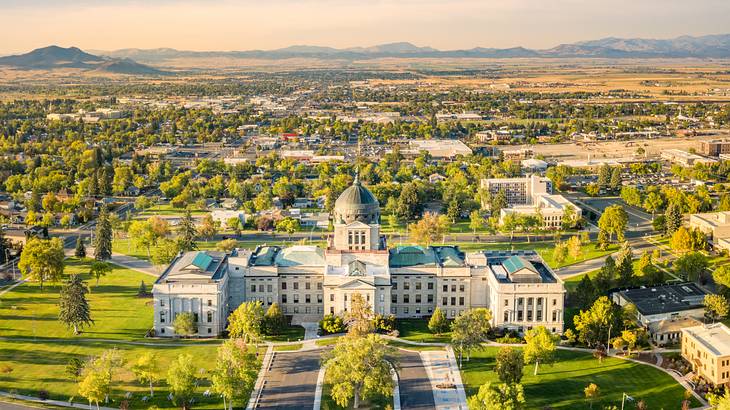 Montana State Capitol
Visitors can find the heart of Montana's government at the Montana State Capitol. Since the early 1900s, this is where all the state's laws have been decided upon.
The Montana State Capitol is located in Montana's capital city, Helena. It resides on 10 acres of land allow the Capitol to seem like it's in a spacious world of its own.
It was also constructed with beauty in mind, thanks to its neo-classical renaissance architecture. All of which makes it a must-see stop on your trip.
First Peoples Buffalo Jump State Park
The First Peoples Buffalo Jump State Park offers visitors a mixture of awe-inspiring scenery and native American history. As the site of one of the largest buffalo cliff jumps in the US, the park sits on the major hunting ground for the native tribes.
Today, you can explore nearly 1500 acres of land in the park's territory. While you're there, you can also learn about the land's history and the people who called it home.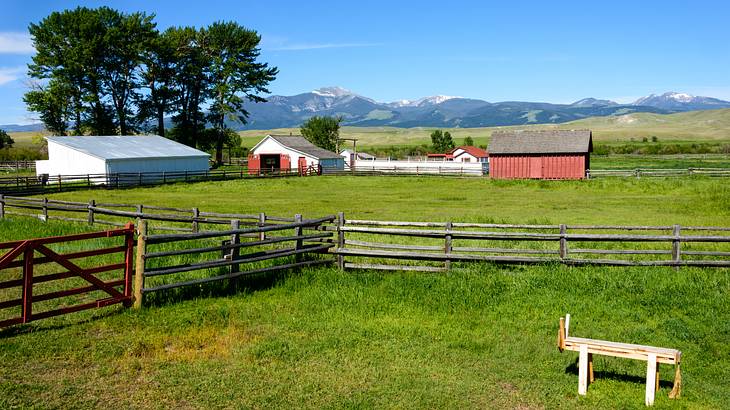 Grant-Kohrs Ranch National Historic Site
Settlers in Montana weren't always chasing the gold rush. Many became renowned cattle farmers. The cattle industry became a driving force of the Montana economy.
The Grant-Kohrs Ranch National Historic Site aims to pay tribute to the early days of cattle ranching. You can see how the industry has changed over time to adapt to the modern world while visiting. This site is a must-see spot for history buffs and those who love the country.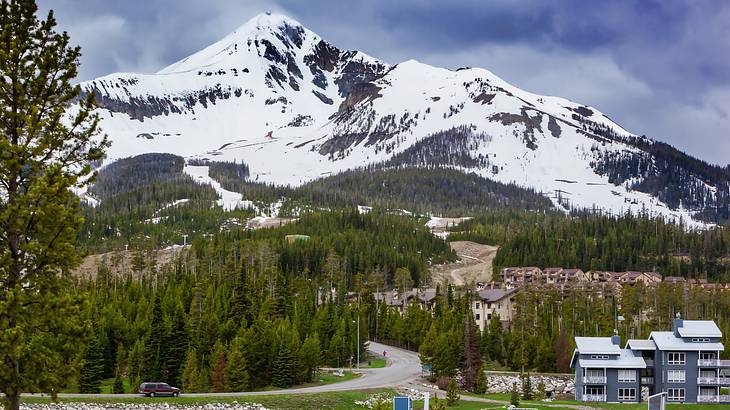 Big Sky Resort
If your Montana trip was inspired by a desire to have fun in the great outdoors, you must visit Big Sky Resort. Locals flock to this mountain destination to ski, hike, and snowboard.
The snowy season for the resort generally lasts from November until April. So, make sure to visit during those times if you want to get out on the slopes. However, you can also hike around and enjoy the area during the off-season as well.
In Conclusion
Montana might be an underrated state to many, but as you've just learned, it has so much to offer! Whether you're a nature lover or a history buff, there are plenty of things to see and experience in Montana.
By the time you've visited all 25 of these Montana state landmarks, the state will surely become your favorite home away from home. The best part is that you don't have to worry about running out of things to do!
Give us feedback about this article
More visual stories related to this article:
---
---
Want to keep exploring?
Subscribe for discounts on tickets and hotels and our latest guides.
Thank you for subscribing
We will be in touch soon with discounts on tickets and hotels and our latest guides.
Want to keep exploring?
Subscribe for discounts on tickets and hotels and our latest guides.
Thank you for subscribing
We will be in touch soon with discounts on tickets and hotels and our latest guides.
Related Articles