20 Landmarks in Omaha, Nebraska, to See
Destguides may receive commissions from purchases made through affiliate links in this article.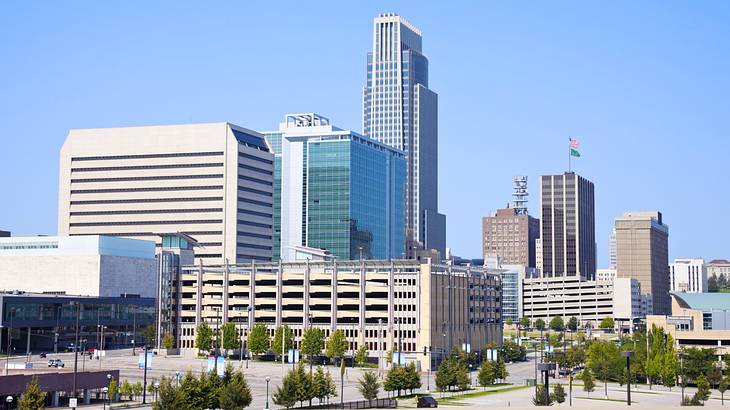 Omaha is a city full of history, and its location on the banks of the Missouri River made it a first stop for pioneers moving west. So, it's not surprising that it's developed a diverse culture throughout the years and is home to many landmarks.
From the world-renowned Henry Doorly Zoo and Aquarium to the traditional Gold Coast Historic District, "The Gateway to the West" has something for everyone. Are you planning an Omaha trip? Or want to brush up on American history? If so, here's a list of the 20 landmarks in Omaha, Nebraska, you should become familiar with.
20 Omaha, Nebraska, Landmarks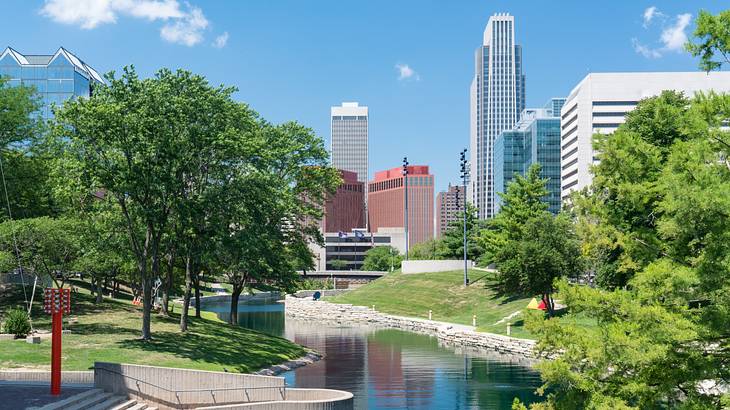 The Durham Museum
If you find yourself in the downtown area, visit one of Nebraska's most famous landmarks, the Durham Museum. With 16 permanent exhibits, the museum offers visitors a chance to learn about the western parts of the US.
The exhibit galleries include immersive sets with life-size sculptures and a combination of authentic and replica artifacts. Visiting this landmark provides a family-friendly and fun way to learn new things while on vacation.
Gold Coast Historic District
Between the 1880s and 1940s, Omaha's Gold Coast was an upper-class neighborhood known for its opulent and valuable homes. Today, this 30-block district serves as a window into the state's past and is one of the most renowned historical sites in Omaha, Nebraska.
Visitors can walk down the streets and admire the pristine Colonial, Tudor Revival, and Queen Anne architecture. However, remember that many of these homes are private residences to this day, so act respectfully.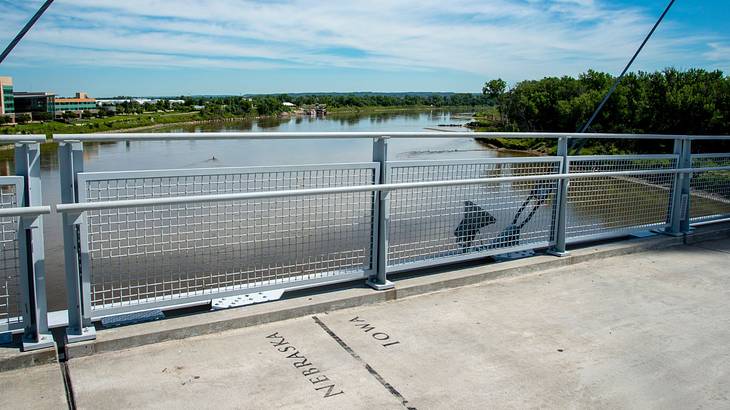 Missouri River
Measuring over 2,300 miles, the Missouri River is the longest in the United States. The river runs through various cities in seven states, including through Omaha.
The river serves as a natural border separating Nebraska from Iowa and helps preserve some of the area's natural wildlife. There are multiple trails for hikers, bike riders, and bird watchers to enjoy.
General Crook House Museum
George Crook, an esteemed general during the American Civil War, moved to Nebraska when he became commander of Fort Omaha in the years after the war. Though he lived in the home for only two years, it became the residence of the fort's subsequent commanders.
When the fort officially closed in 1973, it was restored to its original 19th-century style to be turned into the present-day museum. Since its foundation dates back to 1879, it's also one of the oldest residential buildings in the city.
The Old Market
Due to its characteristic brick streets and selection of restaurants, shops, and art galleries, the Old Market district is one of the most popular Omaha historical sites.
However, the market area isn't only important for its current offerings; it also symbolizes the city's booming economy in the 19th century. Many buildings in the heart of the Old Market are over 100 years old and bear many of their original features.
Vinton Street Commercial Historic District
At the beginning of the 20th century, many of South Omaha's residents felt cut off from the city's economic heart at the time. To help meet their needs, the Vinton Street Commercial District was built.
The district took up two blocks and allowed the Omaha streetcar system to extend to this part of the city. It also brought numerous shops to the city. Today, it's a lively neighborhood with an array of unique local businesses.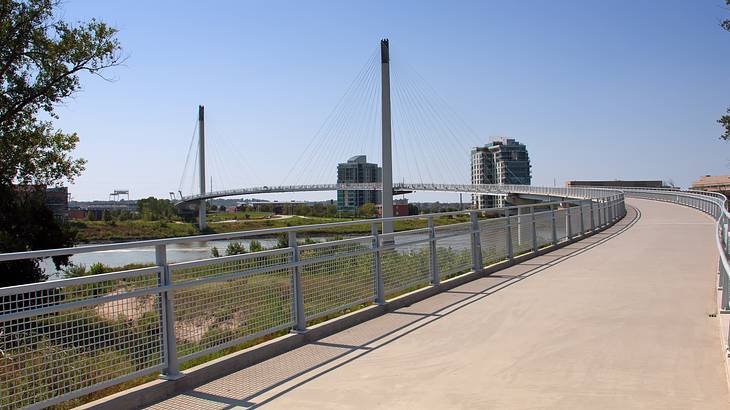 Bob Kerrey Pedestrian Bridge
Since 2008, the Bob Kerrey Pedestrian Bridge has been one of the most famous points of interest in Omaha, Nebraska. Spanning 3,000 feet in length, it connects the city with Council Bluffs, Iowa.
The bridge was built for two reasons: the first was to add a new and recognizable landmark to Omaha's skyline, and the other was to showcase how interconnected the two states' cities are.
Omaha Rail and Commerce Historic District
Nineteen blocks in the southeastern part of Omaha make up Omaha's Rail and Commerce Historic District. The area highlights how the city grew to keep up with railway development. When the transcontinental railroad was completed, the local economy thrived.
Today, the district includes ten prominent buildings that showcase the various businesses and architectural styles from back in the day. That same diversity is seen in present-day enterprises.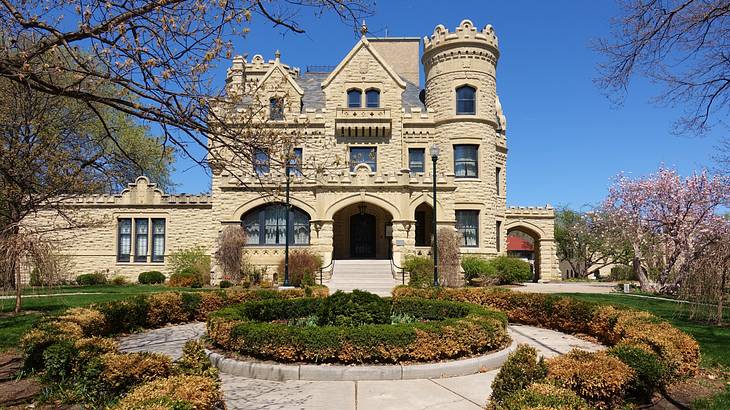 Joslyn Castle & Gardens
Joslyn Castle has been an Omaha landmark since construction was completed in 1903. Its Scottish Baronial architecture, which gives it its castle semblance, makes it one of the most easily recognized buildings in the city.
The 35-room home can be toured with a knowledgeable guide who can tell you about its history. Visitors can independently stroll and admire the beautiful gardens, which feature hundreds of plants and ornamental pieces.
Fort Omaha
Previously known as Sherman Barracks, Fort Omaha was an important supply station for troops in the American West. It became a guard post and was used as a prison during the American Frontier Wars.
The landmark spans over 80 acres and includes buildings like a bakery, barracks, and independent residences for the married men stationed there. All of these areas can be visited today.
First National Bank Of Omaha
Thanks to its U shape, the First National Bank Of Omaha is one of the city's more unique and visually noticeable landmarks. Constructed in 1917, it served as the bank's headquarters for over 50 years.
The building is also noteworthy for its roots. This banking institution was founded in 1857 by the Kountz brothers when Nebraska saw an increase in pioneers settling in the area, so it's also one of the city's oldest businesses.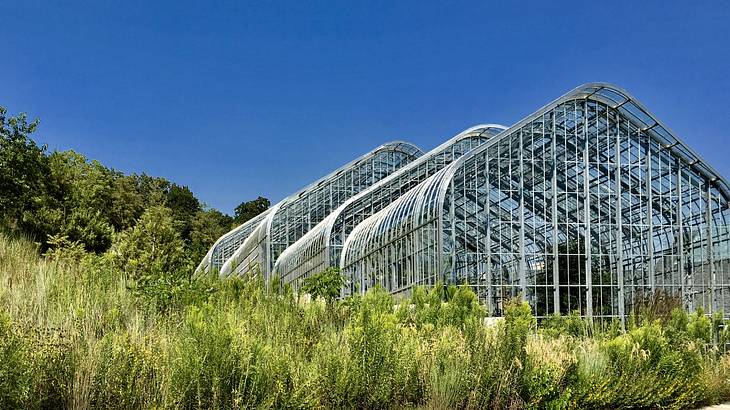 Lauritzen Gardens/Kenefick Park
Lauritzen Gardens/Kenefick Park in South Omaha is a peaceful place for plant lovers to explore. The gardens and park cover over 100 acres of land and house hundreds of plants and exhibits.
As a living museum, it's also ever-changing, and displays are rotated seasonally, so no two visits will be the same. In addition, there are events and programs to attend throughout the year.
Ackerhurst Dairy Barn
In 2002, the Omaha Landmarks Heritage Preservation Commission made the Ackerhurst Dairy Barn a city landmark. It was entered into the National Register of Historic Places just a few weeks later.
The milk and other dairy products produced at this particular barn were of such high quality that it was named the best dairy farm in the Midwest. Though it's now an event venue and no longer operational as a farm, its history remains.
Omaha Children's Museum
The Omaha Children's Museum is full of fun and educational exhibits, making it a favorite spot for local and visiting families. With areas dedicated to animals, technology, creativity, and more, children can learn about the world around them and use their imaginations to have hours of fun.
In addition to the museum's 13 permanent exhibits, there are also rotating displays. This means you can visit the museum again and again and have a different experience each time! You can even rent areas for special events, so it's a great event venue if you're planning a children's birthday or field trip in the city.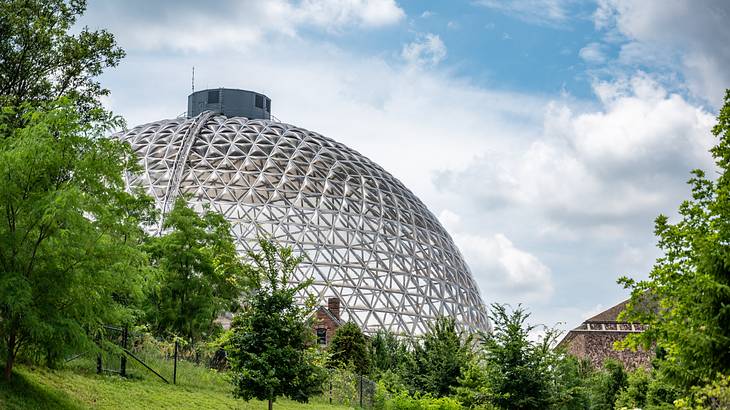 Omaha's Henry Doorly Zoo and Aquarium
A little known fact about Omaha is that the Henry Doorly Zoo and Aquarium is renowned for its dedication to animal preservation; it's been nationally recognized as one of the best zoos in the country.
Covering 130 acres near downtown Omaha, the zoo houses around 17,000 animals from over 950 species. It's also home to the Lied Jungle, one of the largest indoor rainforest habitats in the world, as well as the world's largest indoor desert exhibit.
Freedom Park
If you're interested in naval history, stop by Freedom Park while in Omaha to see one of the city's National Historic Landmarks, the USS Hazard.
Aside from the Hazard, five other decommissioned aircraft and ships are displayed in the park. However, since it's located on the banks of the Missouri River, the park will be closed if there is flooding. This landmark is also open seasonally, generally between May and October.
Pioneer Courage Park
Pioneer Courage Park was opened in 2005 to immortalize the many pioneers who passed through Nebraska on their way west during the 1800s, making their historical journey named the Westward Expansion. Its centerpiece is a 40-foot-tall sculpture of a covered wagon, horses, and a family, representing the pioneers who faced the frontier.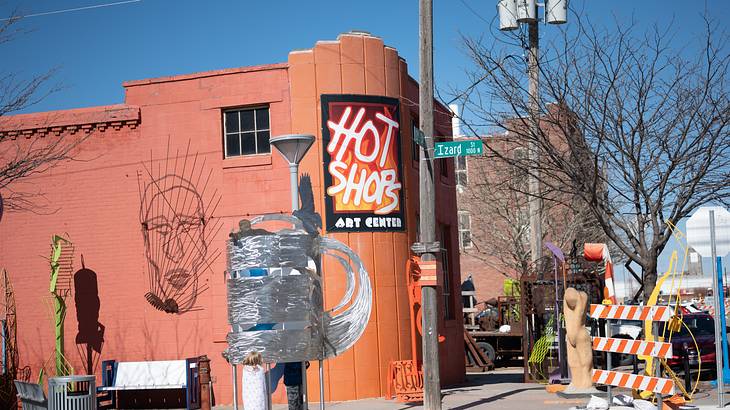 Hot Shops Art Center
When choosing Omaha monuments to visit, Hot Shops Art Center is an art lover's dream. After opening in 1999, the center has welcomed local artists at its dozens of in-house studios.
It's not just a private place for art to be created; visitors can tour the center and admire numerous sculptures and paintings from the approximately 80 artists operating out of the space.
Lewis & Clark Landing at The RiverFront
Between 1804 and 1806, Lewis and Clark made their historic expedition of the newly acquired US territories west of the Mississippi. In 2003, Omaha commemorated this journey by creating the Lewis & Clark Landing at The RiverFront.
The park is located on the exact spot where they landed on the Missouri River's western banks. Today, it features multiple trails and recreational areas. Do note that this landmark is undergoing renovations; however, they are set to be completed soon.
Omaha Quartermaster Depot Historic District
As a supply center for many troops posted in the American West, the Quartermaster Depot Historic District was an essential part of military history. For that reason, it's one of the most historical landmarks in Omaha.
Several well-preserved buildings on the seven-acre property still present their original architectural design features. Though the main depot building is privately owned, visitors are free to walk around the district area.
In Summary
As the cultural heart of Douglas County, Omaha has no shortage of sites to visit and experience. It doesn't matter if you're an art lover, a history buff, or anything in between, you won't have any trouble finding something to interest you in "O-Town." All you have to do now is plan your trip!
Give us feedback about this article
Learn more about Omaha:
More articles about Nebraska:
Read more articles about the United States:
More articles about landmarks:
---
---
Want to keep exploring?
Subscribe for discounts on tickets and hotels and our latest guides.
Thank you for subscribing
We will be in touch soon with discounts on tickets and hotels and our latest guides.
Want to keep exploring?
Subscribe for discounts on tickets and hotels and our latest guides.
Thank you for subscribing
We will be in touch soon with discounts on tickets and hotels and our latest guides.
Related articles