25 Famous Nebraska Landmarks You Must See
Destguides may receive commissions from purchases made through affiliate links in this article.
Are you looking to answer the question: "What is Nebraska known for?" If so, you've come to the right place!
Nebraska, in the Midwest United States, is a unique destination. It features a variety of outdoor attractions, like state and national parks, and is known for its rich cultural and archeological history and landmarks.
Just a few of the famous Nebraska landmarks to see include Ashfall Fossil Beds, the Nebraska State Capitol, and the Dr. Susan LaFlesche Picotte Memorial Hospital.
Keep reading to discover 25 can't-miss landmarks in this Midwestern state!
25 Famous Landmarks in Nebraska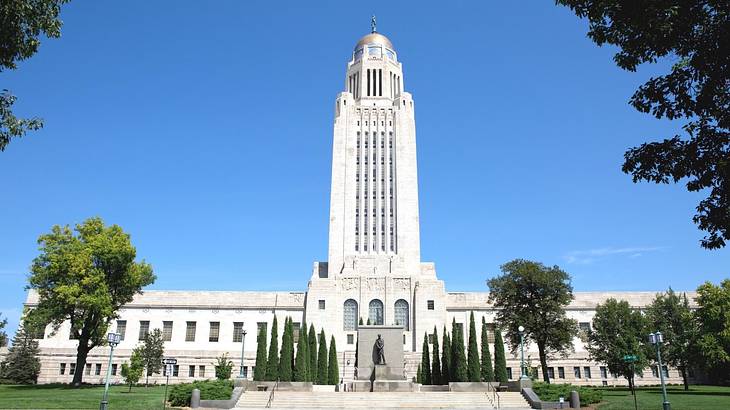 Nebraska State Capitol Building
The Nebraska State Capitol is located in the capital city of Lincoln. This Art Deco Gothic Revival building was constructed in the 1920s and opened in 1932. The design features a tall tower and a gold dome with a statue atop it. There's also a large star incorporated into the design, which led to the Nebraska nickname, Star City.
Inside the political building are the offices of the Governor of Nebraska and the Nebraska Legislature, Supreme Court, and Court of Appeals. Notably, it's the second-tallest US state house at 400 feet, with the Louisiana State Capitol in Baton Rouge being the tallest.
Willa Cather Childhood Home
The Willa Cather Childhood Home is located in the city of Red Cloud. It was home to the author from when she was 12 in 1885 to when she left for college in 1890.
The house itself was built in 1878, was added to the National Register of Historic Places in 1969, and was named a National Historic Landmark in 1971. If visiting Red Cloud, you can tour the 19th-century residence and learn more about Willa Cather's life and career.
Ash Hollow State Historical Park
Ash Hollow Cave is one of many National Historic Landmarks that's a natural attraction. This area is located within the Ash Hollow Historic District and comprises two main sites, Ash Hollow Cave and Windlass Hill.
Historically, this area was used by Native Americans and was part of the Oregon Trail and the California Trail which people followed in the 1800s. Some even say you can still see trails in the ground left from wagons making the journey westward.
The park was also the site of the 1855 Battle of Ash Hollow, in which the United States Army launched an attack on a Brule Sioux encampment.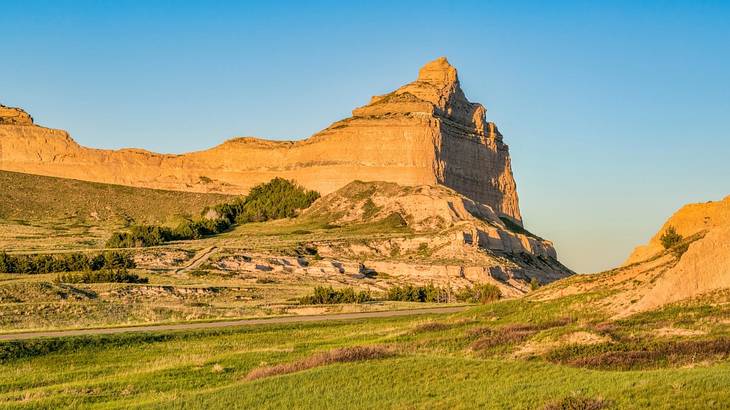 Scotts Bluff National Monument
Another famous landmark in Nebraska for those who like exploring the outdoors is Scotts Bluff National Monument. It is managed by the National Park Service.
The 800 feet tall bluffs are part of the trails of various groups, including Native Americans, Mormon travelers, and those emigrating to the Western United States.
Visitors can hike the monument and enjoy stunning views across the valley from the top of the bluffs. You'll also see many plant and animal species, like prairie dogs and mule deer.
William Jennings Bryan House
Located in Lincoln, the William Jennings Bryan House was home to the politician and 41st Secretary of State from 1902 to 1921. It's found on the Bryan Health hospital campus.
The house was added to the National Register of Historic Places in 1966. Today, you can tour the home, which is run as a museum by the Nebraska Historical Society.
Ashfall Fossil Beds State Historical Park
One of the most fascinating and educational famous landmarks of Nebraska is Ashfall Fossil Beds State Historical Park. The United States Natural Landmark is found in Antelope County and features rare fossils.
The fossils are lagerstätten fossils, a type of fossil that is incredibly well preserved. The bones preserved here are of animals that lived in the area approximately 12 million years ago. It's thought that a volcanic hotspot and ash fall from the Yellowstone super-volcano is what preserved the fossils so well.
At the 360-acre site, you can see some of these fossils, explore a museum, and learn more about this incredible paleontological landmark.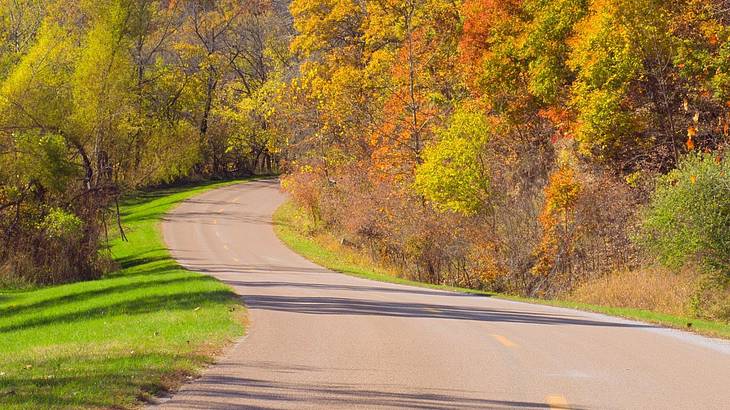 Indian Cave State Park
Located along the Missouri River, Indian Cave State Park covers 3,400 acres. The park is named after the large cave found within it and is a popular place to hike and go wildlife watching. There's also a lake for boating and lots of scenic picnic areas.
If you decide to explore the caves found here, you may come across petroglyphs. These drawings are thought to be thousands of years old.
Homestead National Historical Park
Also known as the Homestead National Monument of America, the Homestead National Historical Park commemorates the Homestead Act of 1862.
This act allowed "qualified individuals" to purchase land from the government in return for them cultivating that land for at least five years. Interestingly, it allowed many groups who had not previously been allowed to own land, including women, formerly enslaved people, and immigrants, to apply.
When visiting Homestead National Historical Park today, you can learn more about the act, including its advantages and disadvantages. You can even use a museum database to see if any of your ancestors homesteaded in Nebraska.
Dr. Susan LaFlesche Picotte Memorial Hospital
The Susan LaFlesche Picotte Memorial Hospital is one of the famous places to visit in Nebraska that pays homage to a notable Nebraska woman. Susan LaFlesche Picotte was a Native American doctor who practiced in the state in the 19th century. She was also one of the first Indigenous peoples to earn a medical degree.
The hospital in Omaha was opened in 1913, two years before Susan LaFlesche Picotte passed away. It has since also been a museum with exhibits on her life and work.
Currently, the Omaha landmark is under renovation and, on completion, will be a medical, substance abuse, and mental health clinic. There will also still be a small museum and areas for cultural events and youth programs.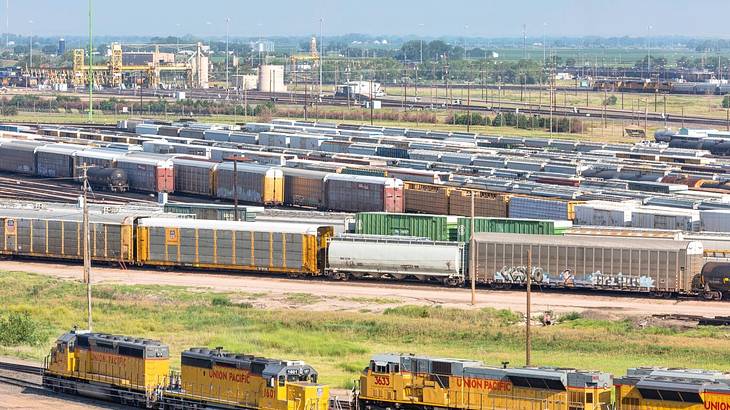 Golden Spike Tower and Bailey Yard
Located in North Platte, the Golden Spike Tower offers views of Bailey Yard. This famous world landmark is the largest rail yard in the world!
You can look across the rail yard and the surrounding city from the tower's observation deck. The viewing decks are located 95 feet above the ground on the 7th and 8th floors. There's also a museum at Golden Spike Tower with exhibits on Bailey Yard and railroad history in North Platte.
Arbor Lodge State Historical Park & Mansion
The Arbor Lodge State Historical Park & Mansion features Arbor Lodge and an arboretum. It's located in Nebraska City, and the estate covers 72 acres.
The mansion was constructed in 1855 and has been added to over the years. It was originally built for the Secretary of Agriculture J. Sterling Morton who founded the Arbor Day Foundation that's dedicated to planting trees across the US.
Visitors to the site can explore the beautiful home and grounds and learn a little more about Arbor Day. There's also a restaurant, terrace, and wine tasting opportunities.
Fort Atkinson State Historical Park
Fort Atkinson State Historical Park is a National Historic Landmark and living history park. The park sits on the site of the first US Army post built west of the Mississippi River. It's also considered the site of the first official town in Nebraska.
Activities offered at the park include looking around buildings constructed and decorated as they would have been in the 19th century, and watching re-enactments. You can also see a replica of Fort Atkinson, constructed in the 1980s.
Robidoux Pass
Robidoux Pass is another of the famous sites in Nebraska that was part of the Oregon Trail. This natural feature passes through Wildcat Hills near Scottsbluff. Before those on the Oregon Trail passed through, travelers, including traders and fur trappers on the way to the Rocky Mountains, used the pass.
The area today features markers that point out spots of historical significance. You can hike trails around these markers and take in the breathtaking views.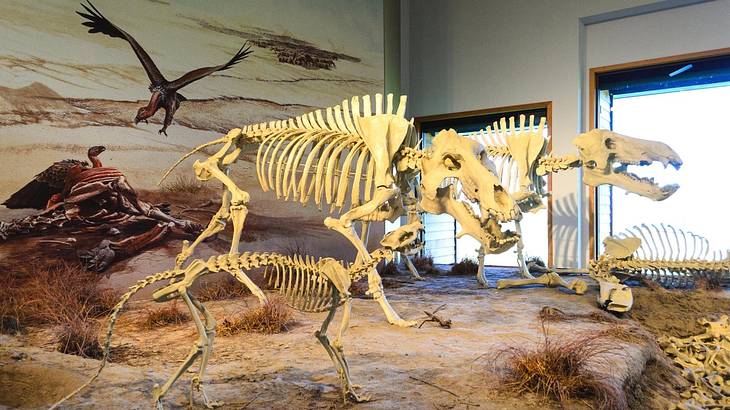 Agate Fossil Beds National Monument
Agate Fossil Beds National Monument is another significant archaeological site in Nebraska. The site houses well-preserved Miocene fossils of about 11 species.
Before the fossils were discovered here, the site had a life as a ranch and was used by Native Americans. An on-site museum not only teaches you about the fossils found here but also displays artifacts relating to the land's uses over time.
Strategic Air Command & Aerospace Museum
An interesting museum to mention that's in Nebraska is the Strategic Air Command & Aerospace Museum. The museum is run by a Smithsonian Institute affiliate and has exhibits on aircraft, spacecraft, and space exploration.
There's also a planetarium, and kids can enjoy aerospace-themed rides. In addition, you can see over 30 actual aircraft, including a B-29TB Superfortress and an F-105 Thunderchief.
Omaha Old Market
One of the can't-miss Nebraska state landmarks in Omaha is Omaha Old Market. This district is found downtown and was added to the National Register of Historic Places in 1979.
Within the area are several historic buildings, including The Windsor Hotel, built in 1885, and The McClure-Smith Building, constructed in 1887 as a steam bakery. Old Market today also has many tasty restaurants, independent shops, and art galleries.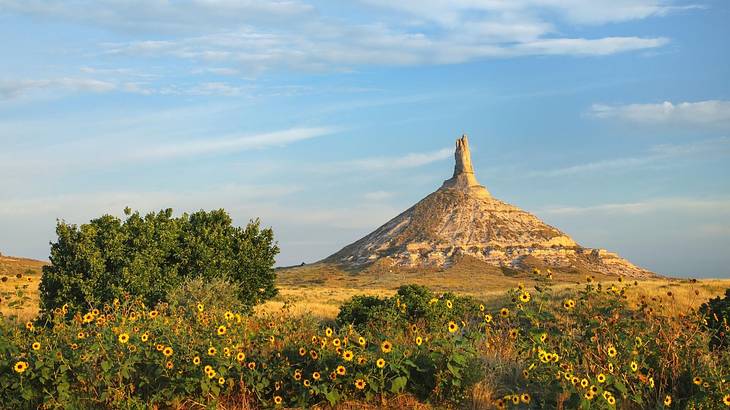 Chimney Rock National Historic Site
Chimney Rock sits in the North Platte River Valley, and its peak reaches about 4,228 feet above sea level. The geological feature is made of volcanic ash, Brule clay, and Arikaree sandstone.
Visitors can see this well-known rock tower when in the area. There's also the Chimney Rock Museum, which offers more information on the landmark. You can also see artifacts relating to the Oregon, California, and Mormon Trails that passed by Chimney Rock.
Platte River State Park
Platte River State Park is one of many famous places in Nebraska that allows you to enjoy the outdoors. Located in Cass County, the park covers 452.5 acres and features hills, dense forests, and waterfalls. Visitors can hike, enjoy water activities, and camp overnight surrounded by nature. Wildlife is also abundant in the park.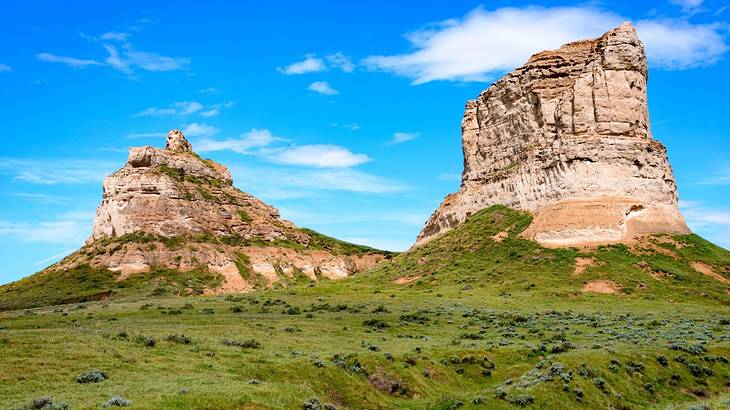 The Oregon National Historic Trail
The part of the Oregon Trail that runs through Nebraska begins in the small town of Odell and goes through the state until it reaches Wyoming. Nebraska's Oregon National Historic Trail features an array of historical and geological landmarks.
Notable sights along the trail include Scotts Bluff National Monument, Courthouse and Jail Rocks, and Fort Kearny. You can tackle the route as much or as little as you like. No matter how much you complete, you'll get an idea of what following the Westward Trails was like in the 1800s.
Toadstool Geological Park
Located in northwestern Nebraska, Toadstool Geological Park features a variety of rock formations that resemble toadstools, hence the park's name. You'll also find a desert-like badlands landscape and a replica of a 1920s sod house within the park.
Visitors to the park enjoy hiking trails and admire the interesting geological formations. Camping is also popular within Toadstool Geological Park.
Rock Creek Station State Historical Park
Rock Creek Station State Historical Park was originally a stagecoach and Pony Express station. Built in 1857, the site is also known as the place where David McCanles, part of the outlaw McCanles Gang, was killed by Wild Bill Hickok.
The area has since left its Wild West history in the past and is now a tourist attraction, managed by the Nebraska Games and Parks Commission. During a visit, you can explore the site, learn more about its history, and see historical re-enactments.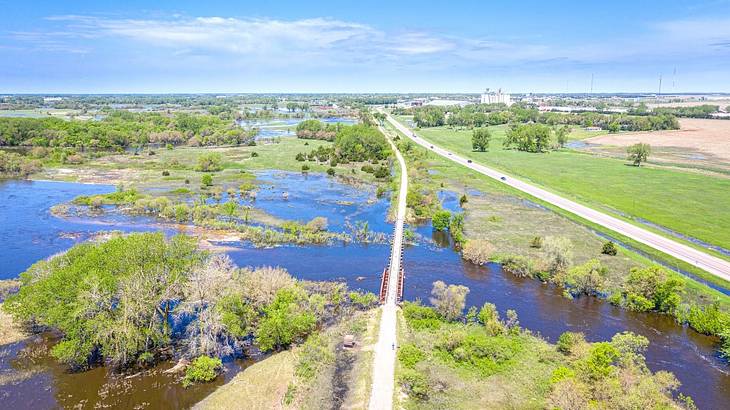 The Cowboy Trail
One of the fun Nebraska landmarks and attractions for those that like to hike or bike is the Cowboy Trail. The 321-mile trail runs from Chadron to Norfolk and follows old railway tracks that made up the "Cowboy Line."
This line was built in the 1870s by the Chicago and North Western Transportation Company. It was abandoned as a railway line in 1992 and became the trail in 1996. As you follow the route, you'll pass small towns, rivers, creeks, and forests.
Nebraska History Museum
The Nebraska History Museum is a must-visit cultural landmark for those wanting to learn more about the state. Exhibits feature artifacts covering hundreds of years of Nebraska history, including notable events and people.
You can also learn more about archaeology in the state and the array of fossils that have been discovered in the last century.
The Durham Museum
Another outstanding museum in Nebraska is The Durham Museum. This attraction focuses on Nebraska's history and archaeology and is housed in a converted railroad depot.
Archeology exhibits cover fossil discoveries, dinosaurs, and what Nebraska was like during prehistoric eras. There are also exhibits on more recent Nebraska history and culture, covering the 1600s to the present. The displays here change frequently, so you'll be able to learn something new with each visit.
Fort Robinson State Park
Fort Robinson is a somber landmark and one of the most important Nebraska historical sites. Added to the National Register of Historic Places in 1966, it was first used as a US Army Fort in the 1870s as a base for troops forcing the Red Cloud Agency to new land.
It was also the site of the Fort Robinson Massacre in 1878 and 1879, when US troops brutally attacked and killed, injured, or captured Native Americans. This landmark is where Sioux Chief Crazy Horse was killed too.
Today, you can learn more about the stories of the Native Americans that lived in the area. You can also see the fort and explore the surrounding park with a lake and hiking trails.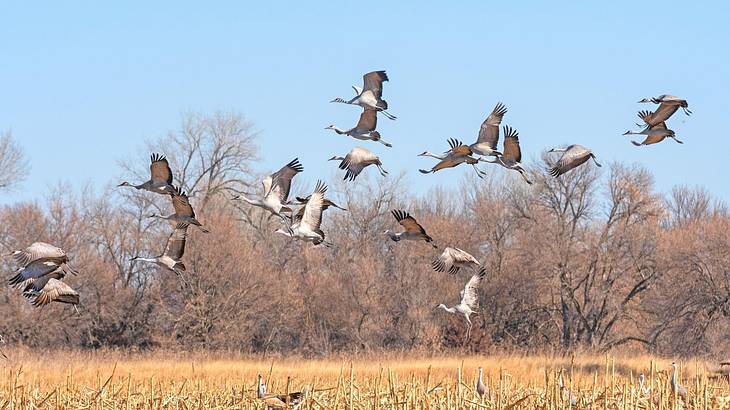 The Platte River Valley Sandhill Crane Migration
This landmark isn't so much a physical Nebraska landmark but more a landmark event. Every year from mid-February to Mid-April, Sandhill Cranes descend on the Platte River Valley as part of their migration pattern.
Estimates suggest that over one million Sandhill Cranes come to Nebraska during this migration period. If you're visiting during this time, you're guaranteed to see these fascinating birds that can reach three to four feet in height!
In Summary
If planning a trip to the Midwest, making a stop in Nebraska is highly recommended! Nebraska famous places to visit range from museums and markets to parks and geological and archeological sites. Whether you visit one or all of these landmarks, you're sure to have a memorable trip!
Give us feedback about this article
More visual stories related to this article:
---
---
Want to keep exploring?
Subscribe for discounts on tickets and hotels and our latest guides.
Thank you for subscribing
We will be in touch soon with discounts on tickets and hotels and our latest guides.
Want to keep exploring?
Subscribe for discounts on tickets and hotels and our latest guides.
Thank you for subscribing
We will be in touch soon with discounts on tickets and hotels and our latest guides.
Related Articles