20 New Jersey Nicknames That Will Surprise You
Destguides may receive commissions from purchases made through affiliate links in this article.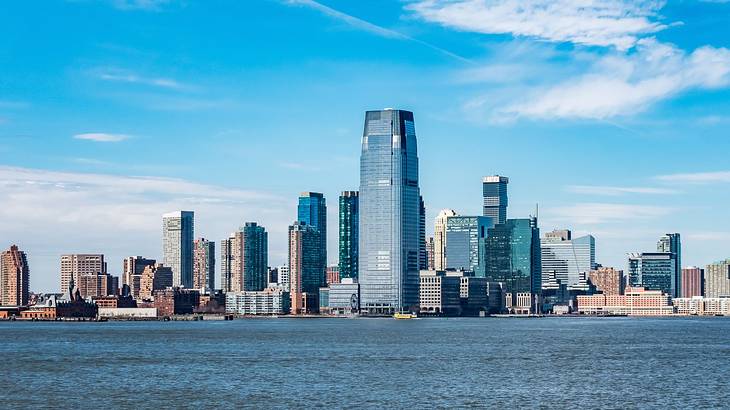 While often closely associated with its neighbor, New York, New Jersey, is a fascinating place full of its own history and culture. It certainly has the list of nicknames to prove it. Each of the state's monikers can help you get to know this area a little better.
Whether you're brushing up on your East Coast trivia or are planning a trip to the Garden State, keep reading. Here are 20 New Jersey nicknames that will surprise you!
20 Nicknames for New Jersey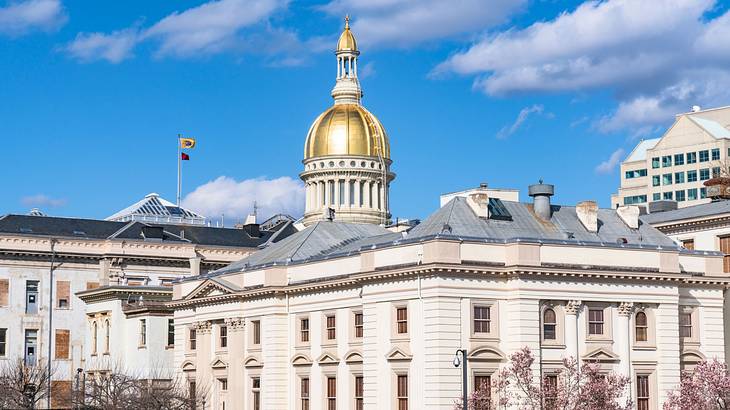 Jersey Blue State
Jersey Blue State is perhaps one of the most historical nicknames for this part of the US. First coined around the time of the Revolutionary War in the 1770s, the moniker refers to the uniform soldiers from New Jersey wore. To distinguish themselves from the British soldiers who wore red, New Jersey's fighters wore blue uniforms.
This might be one of the area's oldest nicknames, but it never gained much popularity. So, you're most likely to find it used in historical texts and on souvenirs commemorating the American War of Independence.
However, it does have some political relevance today as New Jersey is a Democratic stronghold. As Democrat states are called "blue states," some connection to the Jersey Blue State remains.
Clam State
Clam State may be a funny New Jersey name but it has straightforward origins. As a coastal state, fishing is a large part of the local economy. While all sorts of seafood can be found off the Jersey shore, clams are particularly abundant. In fact, the state is one of the world's largest suppliers of surf clams and ocean quahogs (another type of clam).
The Atlantic Ocean and the brackish waters of Delaware Bay have ideal conditions for clam population growth. Unfortunately, the exact date when this nickname was coined is unknown, and is one of the state's less common monikers. However, it can be seen on souvenirs near the coast and occasionally at seafood eateries.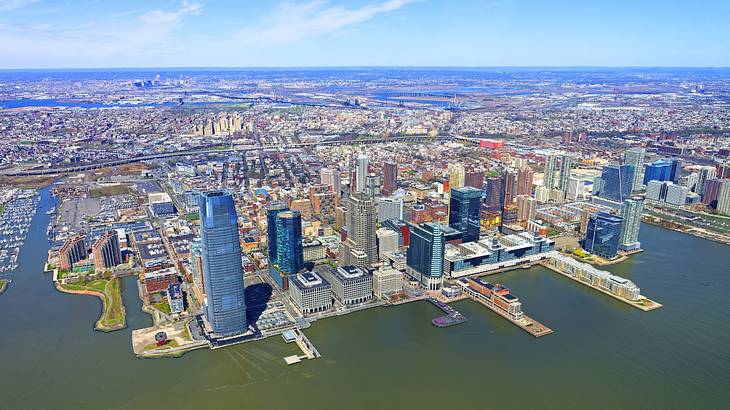 The People State
Not many people realize that New Jersey is the most densely populated state in the country, with just over 1,200 people per square mile on average. This simple fact even helped inspire one of the area's lesser-known nicknames, the People State.
However, though this is a humorous name, it's not a very commonly heard one. It's really only used by New Jersians in conversation as a little inside joke referring to how packed the population is. So, don't expect to see it on souvenirs or other tourist information.
The Crossroads of the American Revolution
The Crosswords of the American Revolution is perhaps the most historic NJ nickname. It was one of the original colonies and was located midway between the British and Patriot strongholds, making it the setting of regular battles between these two forces.
Due to its historical significance, this nickname is regularly found in informational texts about the territory's Revolutionary War days. It's also written on souvenirs around patriotic holidays like Independence Day and New Jersey Day, which is celebrated on July 27 (the anniversary of its statehood).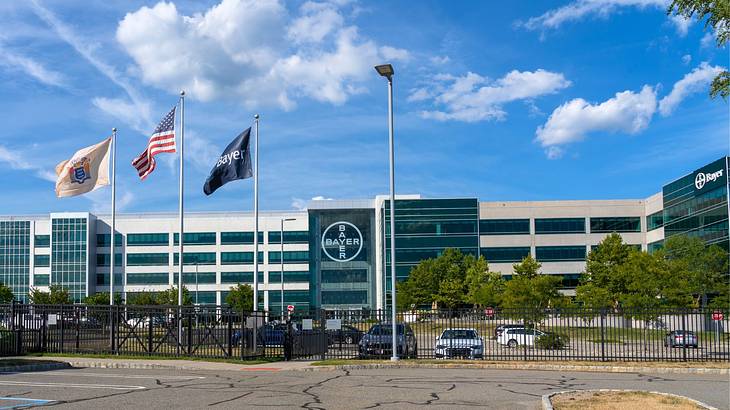 Medicine Chest of the World
Not many people know that New Jersey has often been referred to as the Medicine Chest of the World. This nickname's origins can be traced back to the early days of the 20th century when the biomedical field first started to grow.
Due to the relatively low cost of living in New Jersey, many doctors and pharmaceutical companies set up their headquarters in the state. The region was also chosen thanks to its proximity to highly populated areas like New York City and Philadelphia. Today, this nickname is mostly used among people in the medical field.
Mosquito State
Mosquito State may not be one of the most pleasant New Jersey names, but it's an accurate one. In the 1880s, New York and New Jersey noticed an increase in mosquitoes coming from the territory's marshes. As these wetlands were developed into cities like Atlantic City, more and more people were exposed to these bugs.
Both of these factors helped inspire the creation of this moniker. However, since it's not the most flattering name, it's not published in any official tourism literature. You can still find it on novelty items and humorous souvenirs, though.
Switzerland of America
Switzerland of America is a nickname that New Jersey shares with a handful of other states. This particular moniker was inspired by the area's natural landscape, which is diverse and classified by forests and mountains.
Since this nickname also refers to Maine, Colorado, and even Vermont, it's not implemented in any official tourism material to avoid confusion. However, it is sometimes found in promotional material for mountain resorts. In general, it's a nickname that's most often used in conversation and occasionally in articles about the state.
The Armpit of America
No one is quite sure how New Jersey became known as the Armpit of America, but it's a name that's been surprisingly well-embraced by many people in the state. The origin of this title is similarly a mystery.
Most people agree that it likely derives from the area's shape, which looks similar to the crook of an arm. Less favorable interpretations of the nickname cite the odors that come from New Jersey's oil refineries and factories.
Though the local government hasn't officially endorsed this moniker, it's still gained traction. It's seen in publication articles and was even featured on a billboard ad for deodorant for a short time.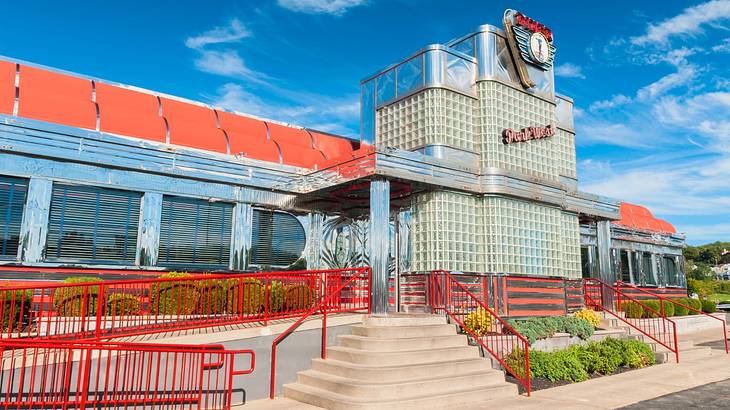 Diner State
With a reported 530 diners open within its borders, it's no wonder that New Jersey has become known as the Diner State. While no one is quite sure why so many of these eateries opened here compared to the rest of the country, there are a few theories.
One of the most widely believed reasons for New Jersey's large number of diners is its population. The state has a proud working-class population, many of whom commute and can't always go home to eat during their lunch hour. Diners provided an affordable meal option for many of these workers.
No matter the reason behind this moniker, it's been embraced by locals. You can find this nickname in numerous articles about the state, and it's even spotted on souvenir items and diner menus.
The Camden & Amboy State
The New Jersey nickname Camden & Amboy State might seem a little nonsensical today, but it actually refers to an important part of the area's history. The name is derived from the Camden and Amboy Railroad, which ran through the New Jersey territory.
When these tracks opened in the 1830s, they signified the first major railroad in the region. Since the train system helped revolutionize travel and trade in the country, the companies behind these railways were incredibly influential, thus inspiring the moniker.
This nickname isn't as widely heard today, mainly because rail travel has decreased over the centuries. However, you can still find it in historical texts referring to this part of the country.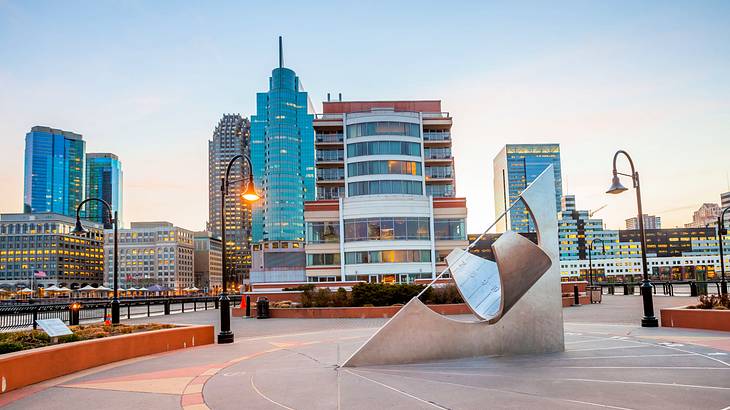 Diversity State
Though New York City is often considered to be a prime example of America's melting pot of cultures, so is its neighbor across the Hudson River. New Jersey's population is considered one of the most diverse in the country.
This is largely due to the cost of living in New Jersey. Many people who work in New York commute from the Jersey area because it's much more affordable. The state's multicultural population has helped inspire the title Diversity State, which is occasionally seen in publications when referring to New Jersians.
Exit State
The Exit State is likely to top any list of funny New Jersey nicknames. This moniker relates to New Jersians identifying where they live according to what exit they take on the Garden State Parkway.
Since this is the main road to get virtually anywhere in New Jersey, locals are sometimes more likely to be familiar with exit names than other recognizable markers for different areas in the state. As a result, this nickname is used on humorous novelty items and souvenirs.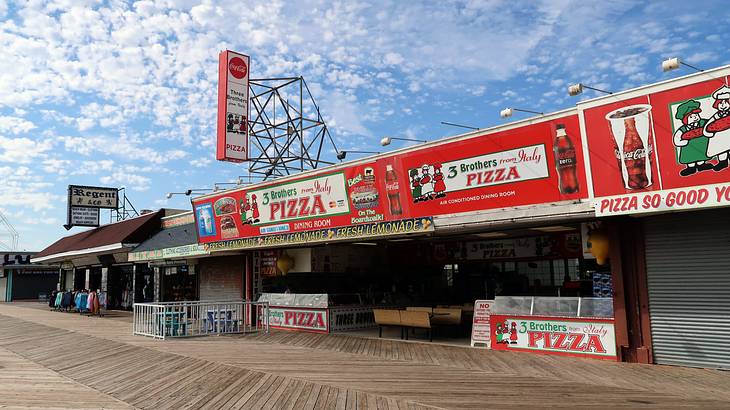 Pizza State
The Pizza State might seem like an unlikely nickname for New Jersey, but there are some valid reasons behind this moniker. For one, it regularly tops lists for the best pizza in the country. New Jersey is also one of the US states with the largest number of pizza places.
In 2020, New Jersey even declared itself the unofficial Pizza Capital of the World, which only added to the local circulation of the Pizza State title. You'll often find this slogan in food-related publications and in promotional material for pizzerias.
The Mandate State
The Mandate State is another nickname that's virtually unknown to out-of-towners. That's because this particular moniker has to do with local politics. In order to ensure public safety and order, New Jersey's government isn't afraid to issue mandates regarding new or temporary laws.
This nickname truly began to circulate after the frequent changes to the state's rules regarding the 2020 COVID-19 pandemic. Since it's so new and really only used in conversation, this isn't a title you'll find printed anywhere. However, you might surprise New Jersians by bringing it up in conversation!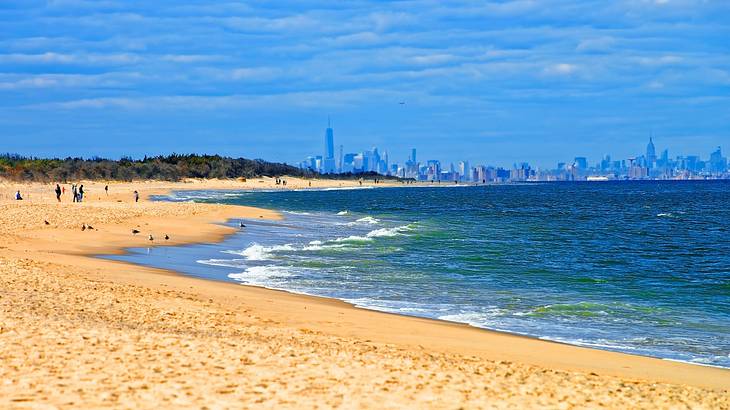 The Shore State
The Jersey Shore is one of New Jersey's most famous landmarks. However, while this 141-mile area is typically referenced when talking about the shore, the state actually has about 130 miles of coastline within its borders. So, it's not surprising that the Shore State is a common nickname for the area.
While no one is quite sure who first coined the term, its use soared in popularity after the reality TV show The Jersey Shore began to air. As a result, this nickname is sometimes seen in promotional material for coastal towns and businesses. It's also been used in artwork and souvenir items.
Tomato State
The Tomato State is a New Jersey state nickname that's a bit obscure for anyone who doesn't live in the region's farming areas. This particular moniker was created in response to the bountiful tomato crop that is harvested each year at New Jersey farms in the southern portion of the state.
The area's soil is sandy, which helps provide drainage and allows plants to put down roots easily. As a result, millions of pounds of tomatoes are grown in the state annually. For example, in 2020, 80 million pounds were harvested at a value of around 48 million dollars!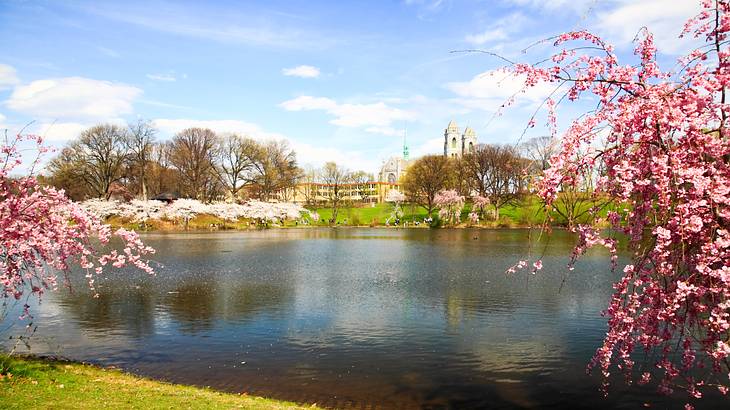 The Garden State
It's a well-known New Jersey fact that the region is referred to as the Garden State. First coined in 1876 by the state attorney general Abraham Browning, the slogan was inspired by the local economy. At the time, much of the state's land was dedicated to agriculture, making virtually the entire territory a garden.
Though it's been used for over a century, it wasn't until the 1950s that Garden State became the official New Jersey nickname. Since then, it's been written on license plates, official state and tourism information, and even souvenirs and other merchandise.
The State of Innovation
New Jersey's nickname, the State of Innovation, is a recent one, but it's well-earned. The moniker was officially embraced in the late 2010s when there was a boom in the number of pharmaceutical and medical advancements made at in-state labs.
In addition to being home to labs and factories for over half of the top pharmaceutical companies in the country, the state also has a number of world-renowned research universities. These schools help ensure that New Jersey will continue to be at the forefront of scientific discoveries in the medical field. Unsurprisingly, the nickname is typically used in scientific and academic articles.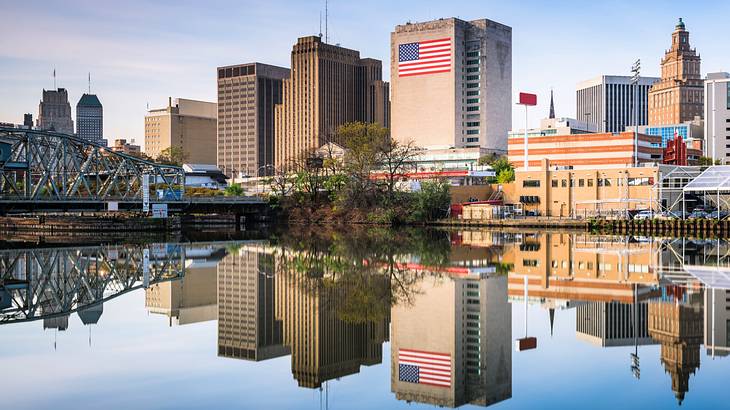 The Foreigner State
New Jersey was historically referred to as the Foreigner State. This particular name arose partly due to the large influx of immigrants who have come to the area at various times throughout the state's history.
This nickname was likely coined around 1812 when King Bonaparte of Spain was forced to flee to the US. As a result of his arrival in the country, many of his devoted subjects also immigrated. So, this name is most often found in articles dating back to this time. However, it's still relevant today as around one-quarter of New Jersey residents were born outside the United States.
Pathway of the Revolution
As one of the first states in the US, New Jersey developed the title Pathway of the Revolution. This nickname derives from both the state's participation in America's War of Independence and its location.
The New Jersey territory was almost exactly halfway between Britain's camps in New York and the colonies' stronghold in Philadelphia. Numerous battles were also fought on New Jersey soil, including the critical Battle of Trenton.
Unsurprisingly, New Jersey's patriotism continued throughout history, adding to the relevance of this particular moniker. It was one of the first states to join the country, and it was an essential supplier of equipment and Union soldiers during the American Civil War. Today, this nickname is found on fliers for holidays like Independence Day and souvenirs.
In Summary
Though New Jersey is one of the smallest states in the US by size, it's a vibrant and fascinating place that's well worth getting to know.
From the history behind the title, the Crossroads of the American Revolution, to the humorous Exit State, learning about the area's nicknames can help you get to know the state better. You might have even found a name or two you'd like to use next time you're discussing New Jersey!
Give us feedback about this article
More articles about New Jersey:
Read more articles about the United States:
More articles about nicknames:
---
---
Want to keep exploring?
Subscribe for discounts on tickets and hotels and our latest guides.
Thank you for subscribing
We will be in touch soon with discounts on tickets and hotels and our latest guides.
Want to keep exploring?
Subscribe for discounts on tickets and hotels and our latest guides.
Thank you for subscribing
We will be in touch soon with discounts on tickets and hotels and our latest guides.
Related Articles