15 Newark Landmarks That Can't be Missed
Destguides may receive commissions from purchases made through affiliate links in this article.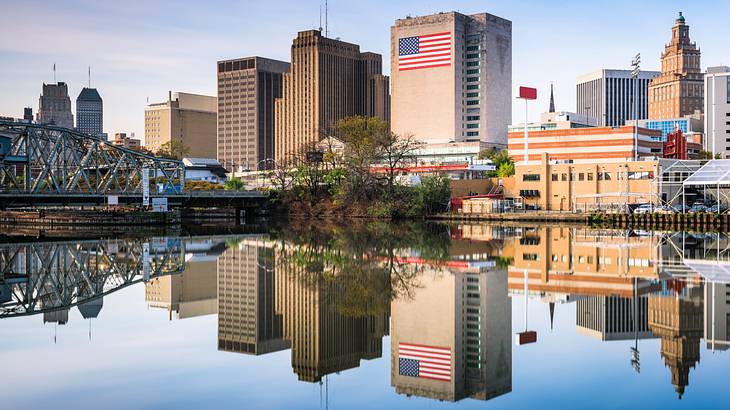 Newark is a city in Essex County, New Jersey, that is often eclipsed by New York, its louder, shinier neighbor. However, there are many Newark landmarks to visit, which you won't find anywhere else.
Newark is known for many historical places of interest, like the Old Presbyterian Church and Lincoln Park. If you're interested in performing arts and museums, you can't miss New Jersey Performing Arts Centre and Newark Symphony Hall. To find out more about these handpicked historical and cultural landmarks, keep reading.
15 Newark, NJ, Landmarks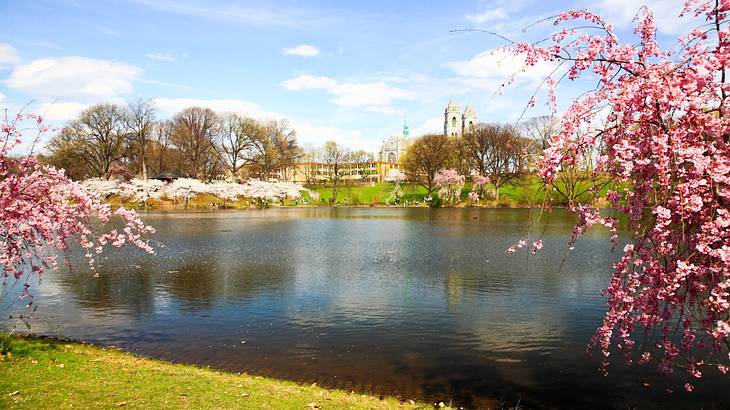 Branch Brook Park
This 360-acre park is Essex County's first and largest public park. Branch Brook Park, created in 1895, contains what is said to be the most extensive assortment of cherry blossom trees in the US.
Every year, the park holds the very popular Cherry Blossom Festival in April. The site for the park was chosen for its panoramic views of Newark and the Manhattan skyline.
Krueger-Scott Mansion
A worthy listing on the New Jersey and National Registers of Historic Places, the Krueger-Scott Mansion is located on Martin Luther King Jr. Boulevard. Gottfried Krueger, the Gottfried Krueger Brewing Company founder, finished building this stunning mansion in 1888. It was restored and landscaped over a century later, with work on the 40-room estate completed in early 2023.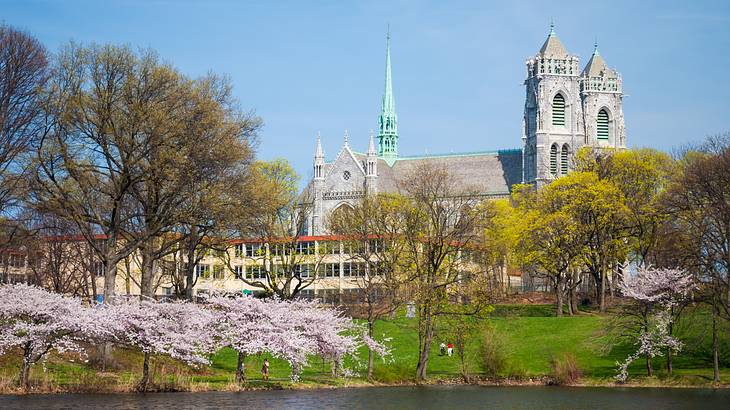 Cathedral Basilica of the Sacred Heart
Styled in French Gothic Revival architecture, the Cathedral Basilica of the Sacred Heart is an awe-inspiring Newark building. Its construction spanned over 50 years and was finally finished in 1954. The cathedral's 260-foot spire can be seen for miles, and it's definitely one of the Newark, NJ, landmarks you must visit.
Lincoln Park
The Lincoln Park neighborhood in Morris County was named after President Abraham Lincoln. It has many historical Revolutionary War landmarks, including John Dods House and Tavern.
New Jersey facts will state that George Washington passed through New Jersey during the Revolution. Letters uncovered suggest he used the John Dods Tavern in Lincoln Park as a reference point for directions.
Lincoln Park was one of three original colonial-era areas where land or resources belonged to the community, the others being Washington Park and Military Park. It also still retains its distinctive fashionable residential flavor.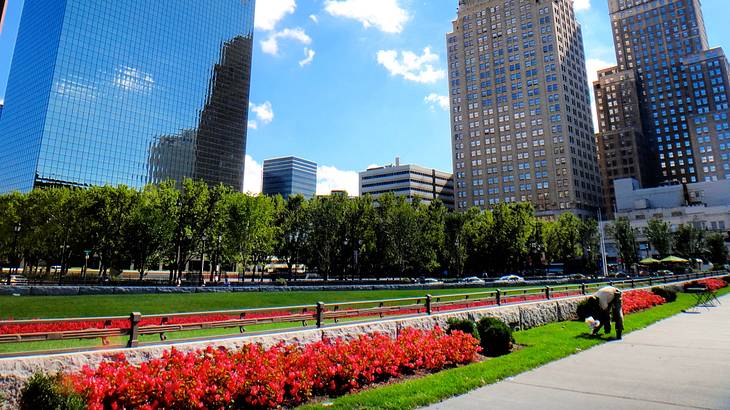 Military Park
Along with Lincoln and Washington Park, Military Park was part of the trio of parks laid out in Newark during the colonial era. Almost triangular, the area was used to train soldiers involved in the American Revolution, the French and Indian War, and the War of 1812. Today, it is a public park used for jazz concerts and a regular farmer's market.
Mount Pleasant Cemetery
Mount Pleasant Cemetery covers around 40 acres and can be found on both the New Jersey and National Registers of Historic Places. It opened officially in 1844, but there are gravesites dating to the 17th century. Today, the graves of some of Newark's most distinguished citizens are located in the cemetery.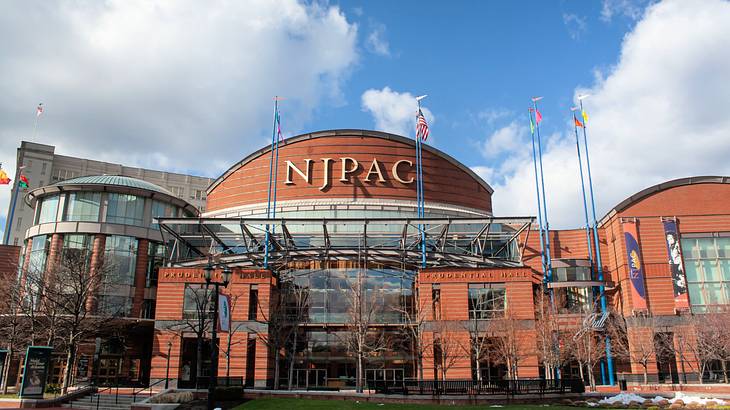 New Jersey Performing Arts Center
The New Jersey Performing Arts Center has seen more than nine million visitors pass through its doors since 1997. Notably, the venue is home to the New Jersey Symphony Orchestra.
It comprises four performing art arenas: Prudential Hall, seating 2,800; the 514-seat Victoria Theatre; the Chase Room, which fills its 350 seats with lovers of cabaret and hip hop and finally, the 88-seat black box theater. When construction was completed, the building received glowing reviews from the New York Times architecture critic.
Harriet Tubman Monument
Harriet Tubman was an abolitionist and a major player in the history of the Black Liberation Movement. In March 2023, the long-standing statue of Christopher Columbus was removed to make way for this tribute to an extraordinary pioneer.
One of many Newark monuments, the "Shadow of a Face," designed by Architect Nina Cooke John, represents the ongoing battle against racial inequality.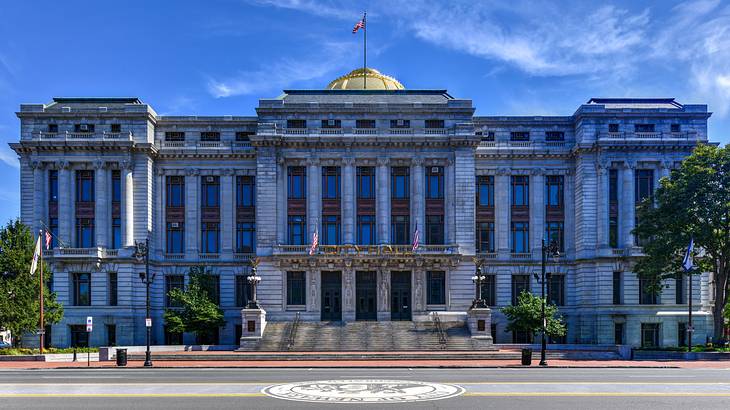 Newark City Hall
Newark City Hall was completed in 1902. The structure is a five-story architectural marvel in Beaux-Arts style featuring a 24-carat gold dome. The cost then was around $2.6 million because no expense was spared to kit it out with stained glass skylights, a grand central staircase, and wrought-iron features.
But that was nothing compared to the renovation done in 2006, costing around $18 million. This is one of the beautiful landmarks in Newark, NJ, that should be on your bucket list of places to see.
Newark Penn Station
Newark Penn Station, also called Pennsylvania Station, is a major transportation hub for the New York Metropolitan area and one of the most historical landmarks in Newark, New Jersey. It's also the eighth busiest rail station in the United States.
Additionally, the interior of the station is very unique. Medallions depicting the history of transportation adorn the main waiting room, and Zodiac signs embellish the chandeliers. The station was built in Art Deco and Neo-Classical styles. The first train to collect passengers was during a New York-Philadelphia run on March 24, 1935.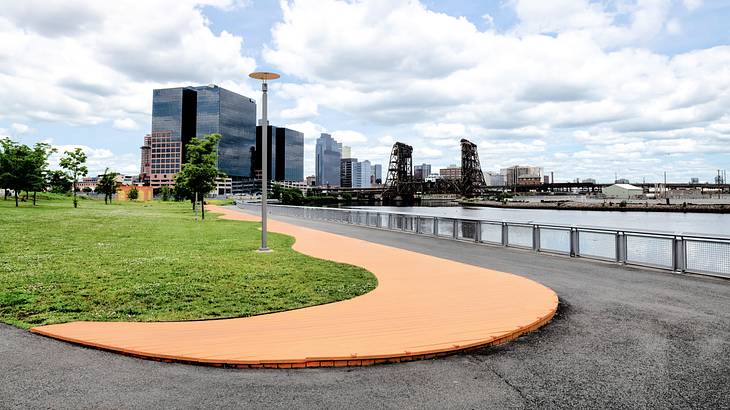 Newark Riverfront Park
A section of the Newark Riverfront Park opened to the public in 2012. It has 12 acres of soccer and baseball fields, a boardwalk, playgrounds, and walking trails.
When fully completed, the park and promenade will run along the Passaic River for three miles and cover 30.5 acres. The Riverfront Park is a groundbreaking construction as New Jersey residents and visitors can now walk along the previously inaccessible river.
Newark Symphony Hall
The Newark Symphony Hall was completed in 1925. Formerly known as the Mosque Theatre, it hosts orchestras like the Newark Symphony, ballet, and opera. The interior of the Neo-Classical, four-story building is outstanding with its Egyptian and Greek themes, a crystal chandelier, gold-leaf work, and columned promenades.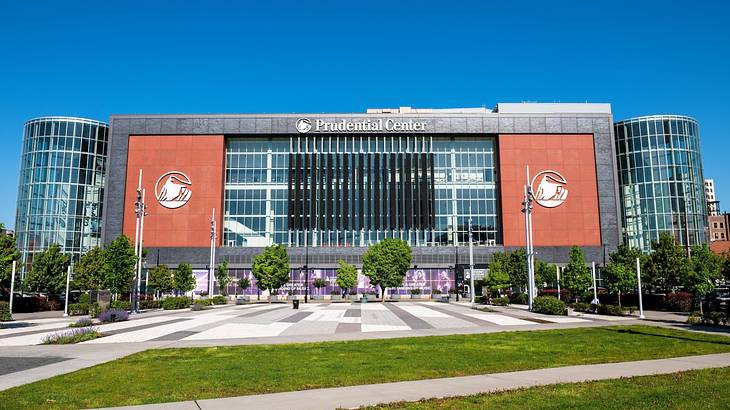 Grammy Museum Experience Prudential Center
If you would love to be part of the recording artists' process, then the Grammy Museum Experience in the Prudential Center is one of the Newark, New Jersey attractions to check out.
Spanning 8,200 square feet, the museum opened in 2017. It allows visitors to learn about the history of the Grammy Awards, play instruments, and virtually interact with music stars and legends.
Old First Presbyterian Church Newark
The Old First Presbyterian Church is a Colonial Georgian landmark in Newark. Its 1787 pedigree contributed to it being added to the National Register of Historic Places in 1972. The grounds in the Four Corners Historic District include an old burial site where some notable government representatives are buried.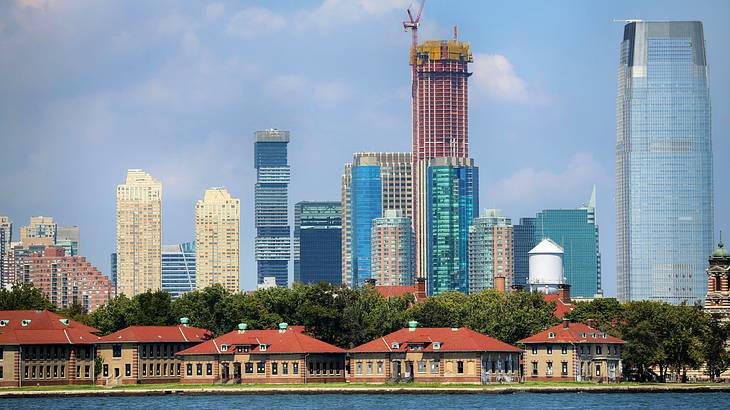 The Newark Museum of Art
The Newark Museum of Art is a New Jersey landmark and the largest museum in the state. It was founded in 1909 by librarian and reformer John Cotton Dana.
The museum contains incredible American and contemporary art collections, and its Tibetan art galleries are world-renowned. It's worth visiting to view the in-situ Buddhist altar consecrated by the Dalai Lama.
This fantastic museum also houses a planetarium and the Victoria Hall of Science. The Alice Ransom Dreyfuss Memorial Garden at the back of the museum is home to a 1784 old stone schoolhouse and the Newark Fire Museum.
In Conclusion
Now that you've spent time reading through some of what Newark, New Jersey, has to offer, maybe you'll have decided to pack your bags to visit New York's little sister. If you want to visit more landmarks, other places of interest include the Newark Public Library, the New Jersey Historical Society, and St. Stephen's Church in Ironbound.
Give us feedback about this article
More articles about New Jersey:
Read more articles about the United States:
More articles about landmarks:
---
---
Want to keep exploring?
Subscribe for discounts on tickets and hotels and our latest guides.
Thank you for subscribing
We will be in touch soon with discounts on tickets and hotels and our latest guides.
Want to keep exploring?
Subscribe for discounts on tickets and hotels and our latest guides.
Thank you for subscribing
We will be in touch soon with discounts on tickets and hotels and our latest guides.
Related Articles