15 Albuquerque Landmarks You Have to See
Destguides may receive commissions from purchases made through affiliate links in this article.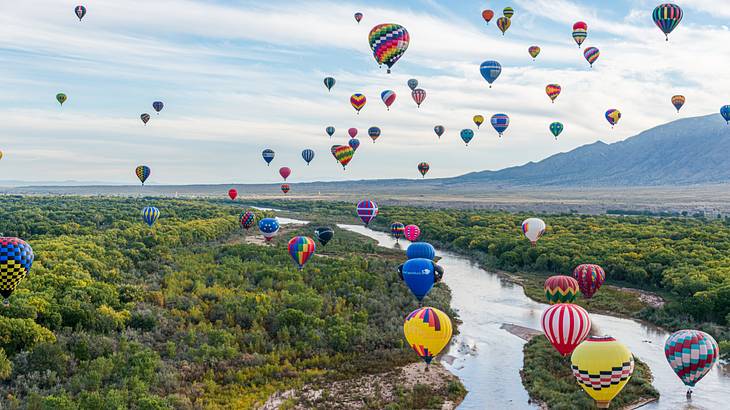 Albuquerque is one of the most vibrant and unique cities in the United States. Its eclectic variety of sites guarantees there's something for everyone to enjoy.
History buffs will love learning about the petroglyphs you can see at the Piedras Marcadas Canyon. On the other hand, an animal lover could spend hours at the American International Rattlesnake Museum.
Whether you're planning an upcoming trip to The Duke City or want to learn a little more about this New Mexico gem, keep reading! Here are 15 Albuquerque landmarks you have to see.
15 Landmarks in Albuquerque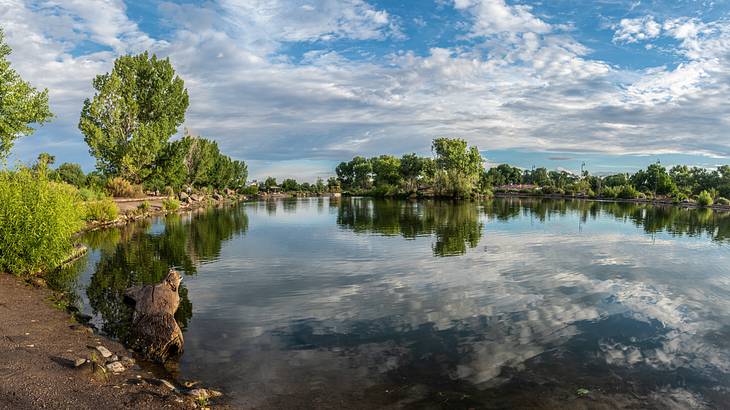 Tingley Beach
Tingley Beach, originally called Conservancy Beach, is a small artificial divergence from the Rio Grande, which helped bring water to other parts of the city. However, despite having the word "beach" in its name, it's important to remember that swimming isn't allowed in the area's water.
Instead, this shore is used for fishing and to help preserve Albuquerque's wildlife. You can relax, watch the birds, and keep an eye out for the hot air balloon rides floating in the distance.
Rio Grande Nature Center State Park
Located on the Rio Grande River, this New Mexico landmark is a 38-acre nature preserve and park. Since 1982, it's been an essential part of Alberquerque's dedication to protecting the local flora and fauna. Today, it's not only a protected place for the area's wildlife but also a beloved bird-watching spot.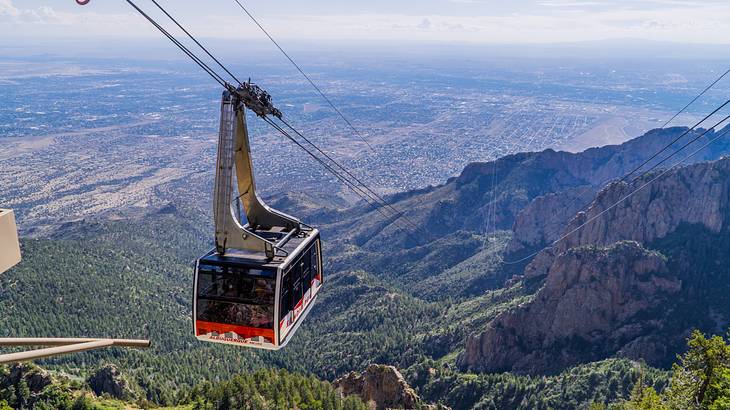 Sandia Mountains
If you're wandering around Albuquerque and look to the east, you'll no doubt see the Sandia Mountains. Stretching across 17 miles, this range acts as a backdrop for the city.
You can enjoy the views from numerous places around town. However, if you venture just outside the metro area, you can take the Sandia Peak Tramway up into the peaks.
Bataan Memorial Park
Bataan Memorial Park is one of the most beloved monuments in Albuquerque. It was created to be a peaceful place where visitors could relax and enjoy some quiet while surrounded by trees and greenery.
The park's centerpiece is the several stone sculptures depicting the names and stories of over 2,000 New Mexico soldiers who fought in World War II.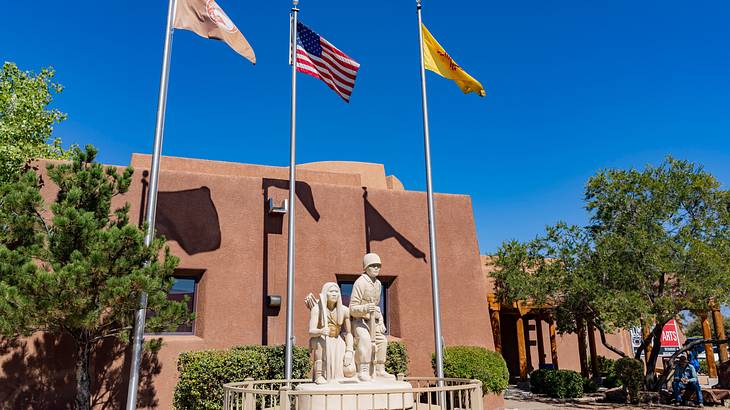 Indian Pueblo Cultural Center
The Indian Pueblo Cultural Center has aimed to educate and celebrate the culture of the 19 Native American communities that call New Mexico home since 1976. The focal point of the center is its museum which spans 10,000 square feet and showcases the history, traditions, and contemporary art of the Pueblo people.
Roosevelt Park
Roosevelt Park is one of the most popular points of interest in Albuquerque, New Mexico. For some, it serves as a beautiful and quiet place to relax and enjoy some fresh air and shade. However, others love it for its history because the park represents the city's growth and evolution throughout the 1900s.
Initially, this area was designated as a green space for the growing communities in East Albuquerque. Through the years, it went from being a spot for social gatherings to being a popular place for protests. Today, it's a family-friendly area that's beloved by locals and tourists alike.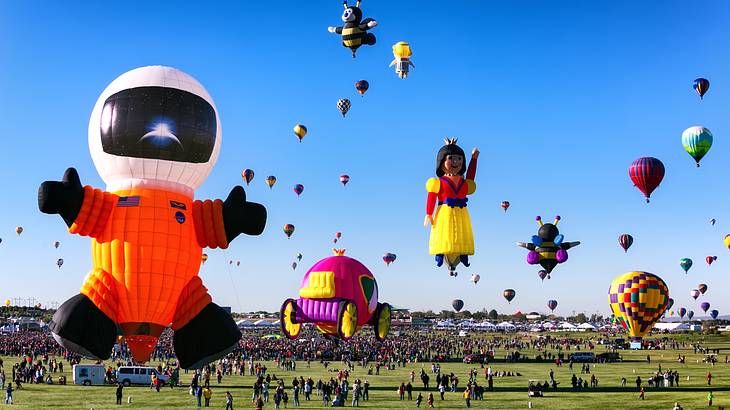 Balloon Fiesta Park
While this park is used all year for events, it's most well-known as the setting for the annual Albuquerque International Balloon Fiesta. This week-long event is held every October and sees over 500 hot air balloons from around the world lift off into the sky.
As you can imagine, such an event needs a lot of space, so this park was set aside for it. The city has become so well-known as a ballooning spot that the Albuqueque nickname, Hot Air Balloon Capital of the World, was created.
Albuquerque Museum
While visiting the adobe homes and wandering the narrow streets of Old Town Albuquerque, take some time to visit the city's history museum. The facility has a collection of 35,000 artifacts that date back to 12,000 BCE. With pieces that range from cultural to geological in nature, the museum's exhibits help tell the story of the Rio Grande Valey.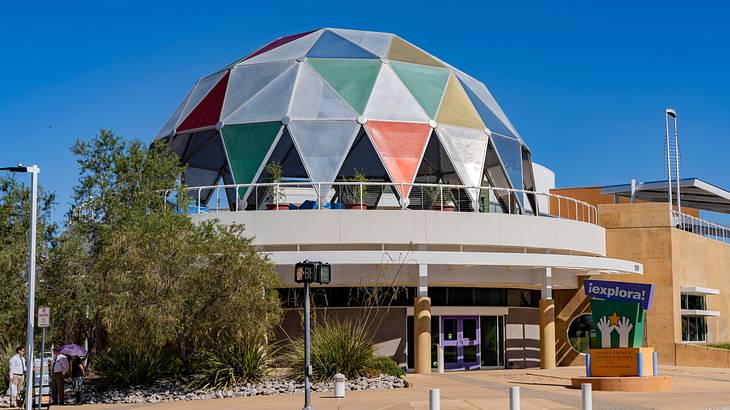 New Mexico Museum of Natural History and Science
The New Mexico Museum of Natural History and Science isn't just a popular attraction for families. It's also a highly recommended Albuquerque date spot according to locals. That's largely because the facility explores topics ranging from dinosaurs to technology in ways that visitors of all ages can enjoy.
KiMo Theatre
If you wander down Central Avenue, keep an eye out for the historic KiMo Theatre. Built in 1927, the structure blends Pueblo and Art Deco architectural styles, a combination that wasn't often used in construction.
The building isn't just a design marvel, though. Even locals aren't aware of the New Mexico fact that, at over 90 years old, KiMo is one of the oldest theaters in the state.
Piedras Marcadas Canyon
When discussing Albuquerque's historic landmarks, you can't forget Piedras Marcadas Canyon. In English, this canyon translates to "marked rocks" and is part of the Petroglyph National Monument. Over 5,000 ancient petroglyph markings dating back up to 700 years have been found carved into the canyon's rocks.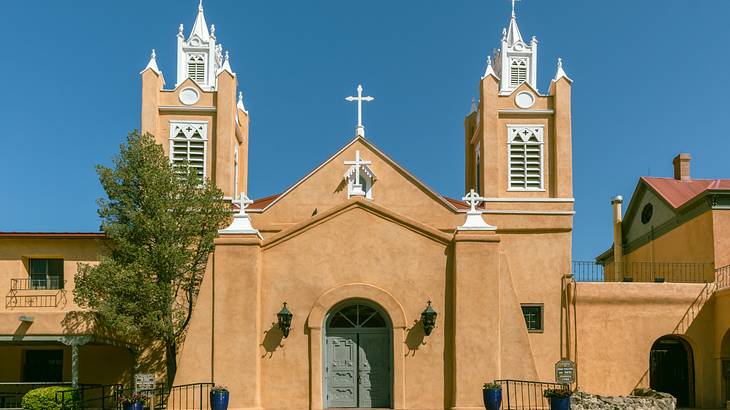 San Felipe De Neri Catholic Church
Constructed in 1793, San Felipe De Neri Catholic Church is one of the oldest churches in New Mexico and one of the must-visit Albuquerque monuments. What's even more impressive is that the current 230-year-old church has foundations that go back even further to 1706.
Since it's one of the few remaining structures from the area's roots as a Spanish colony, the church was entered into the National Register of Historic Places in 1969.
American International Rattlesnake Museum
If you prefer more out-of-the-box places, there's no shortage of unique Albuquerque attractions for you to visit. Since 1990, the American International Rattlesnake Museum has educated visitors about these often misunderstood animals.
The museum houses 34 rattlesnake species, but since it's also a conservation site, it's not unusual to find other types of serpents here as well.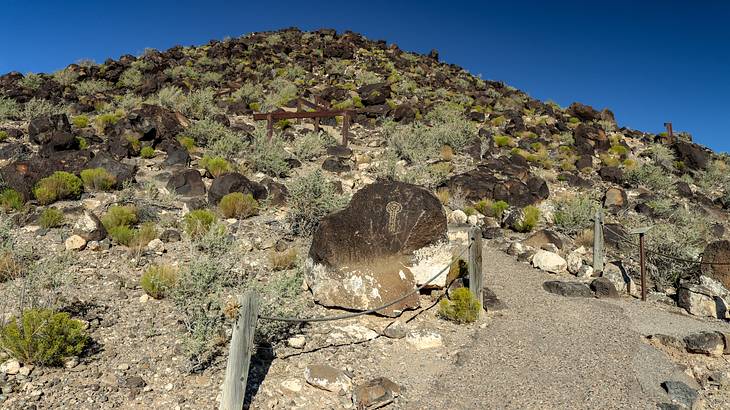 Boca Negra Canyon
Thanks to its 100 confirmed rock carvings, Boca Negra Canyon is another popular spot within Petroglyph National Monument's limits. However, the canyon isn't just beloved for its history.
Boca Negra has three maintained trails that take visitors into the mountains and offer one-of-a-kind views of the area's lava rock formations.
New Mexico Steam Locomotive
For over a decade, the AT&SF 2926 locomotive traveled around the United States before it was decommissioned in 1956. For years, it sat unused in Albuquerque until the New Mexico Steam Locomotive & Railroad Historical Society began restorations in 2000.
Through donations and the passion of the society's volunteers, the train was fully restored. In 2021, it ran for the first time since being retired.
In Summary
Whether you're spending a day at Balloon Fiesta Park or learning about the Rio Grande Valley at the Albuquerque Museum, there's no shortage of interesting sites to visit. This article has shown you some of Albuquerque's top landmarks, but if you visit, you'll find out that the 15 in this list are just the tip of the iceberg!
---
---
Want to keep exploring?
Subscribe for discounts on tickets and hotels and our latest guides.
Thank you for subscribing
We will be in touch soon with discounts on tickets and hotels and our latest guides.
Want to keep exploring?
Subscribe for discounts on tickets and hotels and our latest guides.
Thank you for subscribing
We will be in touch soon with discounts on tickets and hotels and our latest guides.
Related Articles