10 Albuquerque Nicknames You Should Know
Destguides may receive commissions from purchases made through affiliate links in this article.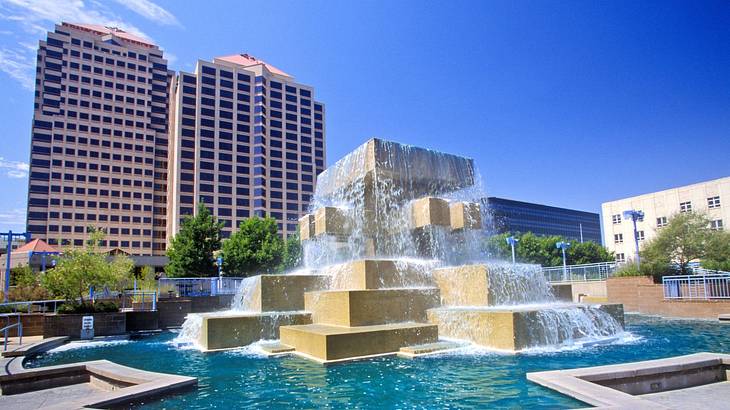 Albuquerque is one of the most vibrant and unique cities in New Mexico, and nothing reflects these characteristics better than the nicknames the area has picked up over the years. While you might have heard of some, like Duke City, others are likely a surprise, even if you're a local.
Whether you're planning to visit New Mexico or just trying to get to know this part of the Southwest a little better, keep reading. Here are the top 10 Albuquerque nicknames you should know!
10 Nicknames for Albuquerque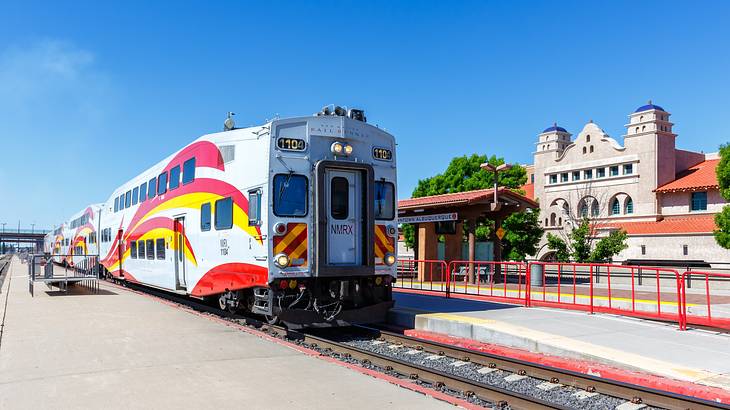 Albuquirky
Albuquirky has been one of the most beloved local nicknames since at least the 1990s. This moniker references the natural and cultural quirks that set the city apart from others in the US.
The varied landscape of this part of New Mexico provides the area some of its unique charm. However, the art and colors found in the city truly give it its quirks. Notably, the New Mexico landmark of Old Town Albuquerque is considered one of the neighborhoods that best exemplifies this name. Today, this title is often found in articles and used in local event names.
ABQ
The Albuquerque name ABQ might seem familiar if you've ever flown into this part of New Mexico. That's because this moniker is the same as the Albuquerque International Sunport airport code.
This code has been in use since roughly the 1970s; however, it wasn't used to refer to the rest of Albuquerque until years later. Today, you can find it in tourist information and on souvenirs. Of course, it's most often used when referencing the airport.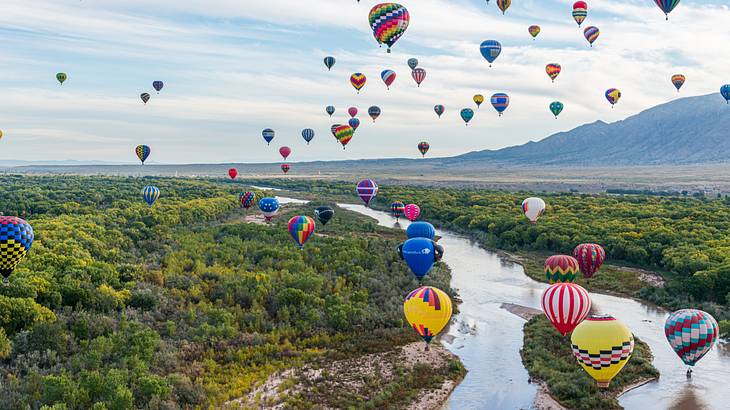 Hot Air Balloon Capital of the World
Not many people know that Albuquerque is the Hot Air Balloon Capital of the World. Due to the area's predictable winds and dry climate, it offers consistent conditions for balloons to take off. The relatively open landscape also offers plenty of places to land safely without many obstacles.
True to this slogan, the city is home to the Albuquerque International Balloon Fiesta, which is held each October. So, you can expect to find this name used in stores and on souvenirs around Fiesta Park, one of Albuquerque's most famous landmarks.
Burque
Originally, this part of New Mexico went by a slightly different name with an additional "r," Alburquerque. This name from the 1700s helped to create the moniker Burque. However, the exact date when this Albuquerque nickname was coined is unknown.
This shortened version of the city's original title is most often used among younger locals, especially in conversation. It's also occasionally used in publications.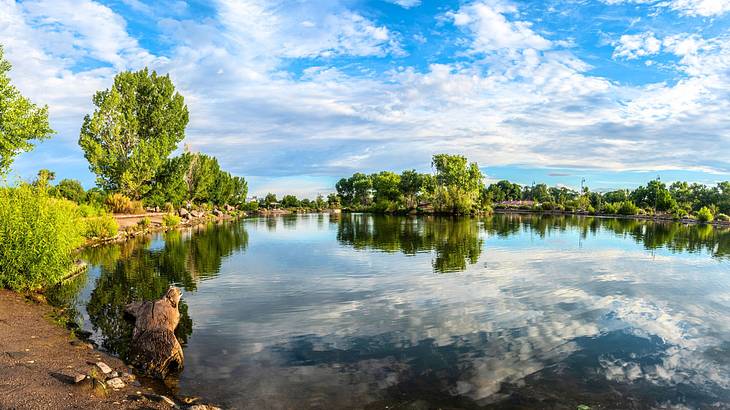 The Duke City
When Spanish settlers first founded Albuquerque on the banks of the Rio Grande, it was initially named after the 10th Duke of Alburquerque. Many things have changed since, including the city's metropolitan territory expanding to encompass North Valley and Valencia, but its history hasn't been forgotten.
In fact, one of the ways the area's origins are remembered is through the nickname Duke City. This moniker has been embraced so much that it's now considered the official alternative name for Albuquerque. As a result, it's used in tourist information and articles as well as on souvenirs.
Albuturkey
Albuquerque is no stranger to unique and sometimes unusual nicknames. Perhaps one of the strangest is Albuturkey. No one is quite sure when or why this moniker was coined, but it gained some traction among New Mexico residents.
Locals are divided on their feelings about this particular name. Some find the name to be an endearing albeit alternative, while others find its use to be annoying. Due to this, you'll really only see it on novelty souvenir items.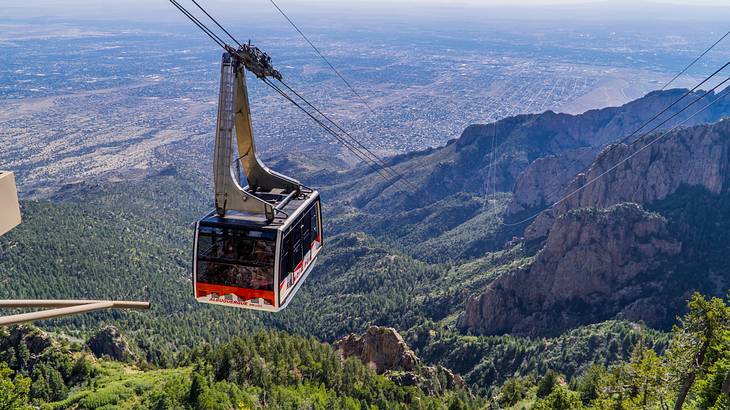 Sun Port
Sun Port is a nickname for Albuquerque that has a few different origins. The most obvious of which is the Albuquerque International Sunport. Since it's the busiest airport in the region, the moniker came to be associated with all of Albuquerque.
The local climate is another reason why the city is referred to as Sun Port. This part of New Mexico gets approximately 280 to 310 days of sunshine per year, which can be enjoyed while exploring the city or hiking trails on the Manzano Mountains and the Sandia Mountains.
The 505
The 505 may seem like a strange nickname, but if you're from Albuquerque, it makes a lot of sense. This title comes from the city's main area code.
While phone numbers with a 575 area code are also found in the city, 505 is used most often and is the oldest of the two, having been established in 1947. Eventually, this led locals to use the 505 as a shorthand way to refer to the city. It's often used in conversation, but it can also be found in local articles and on souvenirs.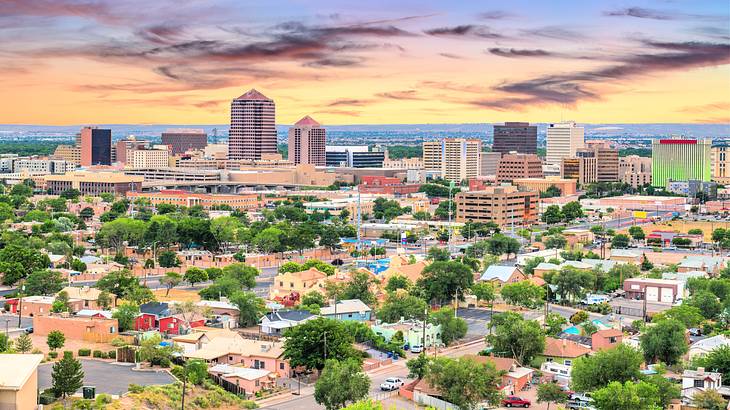 The Q
The multiple Qs in Albuquerque's name helped inspire its reputation as the Q. This moniker was particularly promoted in the 1990s when the mayor aimed to rebrand the area to promote tourism and relocation to Albuquerque.
In the years since, the name has been used in fliers, brochures, and even local business names. It is also still occasionally heard in conversation, though its popularity has waned in favor of other titles.
White Oak
Have you ever found yourself wondering, "What does Albuquerque mean?" The answer is actually quite simple. The name approximately translates to White Oak. Today, this translation has become one of Albuquerque's nicknames.
While it's a commonly known New Mexico fact that Native American tribes originally inhabited this part of the US, it was Spain that gave the area its name. White Oak never gained much traction as a nickname, but it has occasionally been found on souvenirs and in texts about the city's history.
In Summary
Albuquerque has managed to acquire a number of unique names throughout its history. Some, like White Oak, can be traced back to the city's early history, while others, like Burque, are a little more contemporary.
Were you surprised by any of the names on this list? Whether you're a local or a visitor, hopefully, this article helped you a little more about Albuquerque.
Want to keep exploring?
Subscribe for discounts on tickets and hotels and our latest guides.
Thank you for subscribing
We will be in touch soon with discounts on tickets and hotels and our latest guides.
Want to keep exploring?
Subscribe for discounts on tickets and hotels and our latest guides.
Thank you for subscribing
We will be in touch soon with discounts on tickets and hotels and our latest guides.